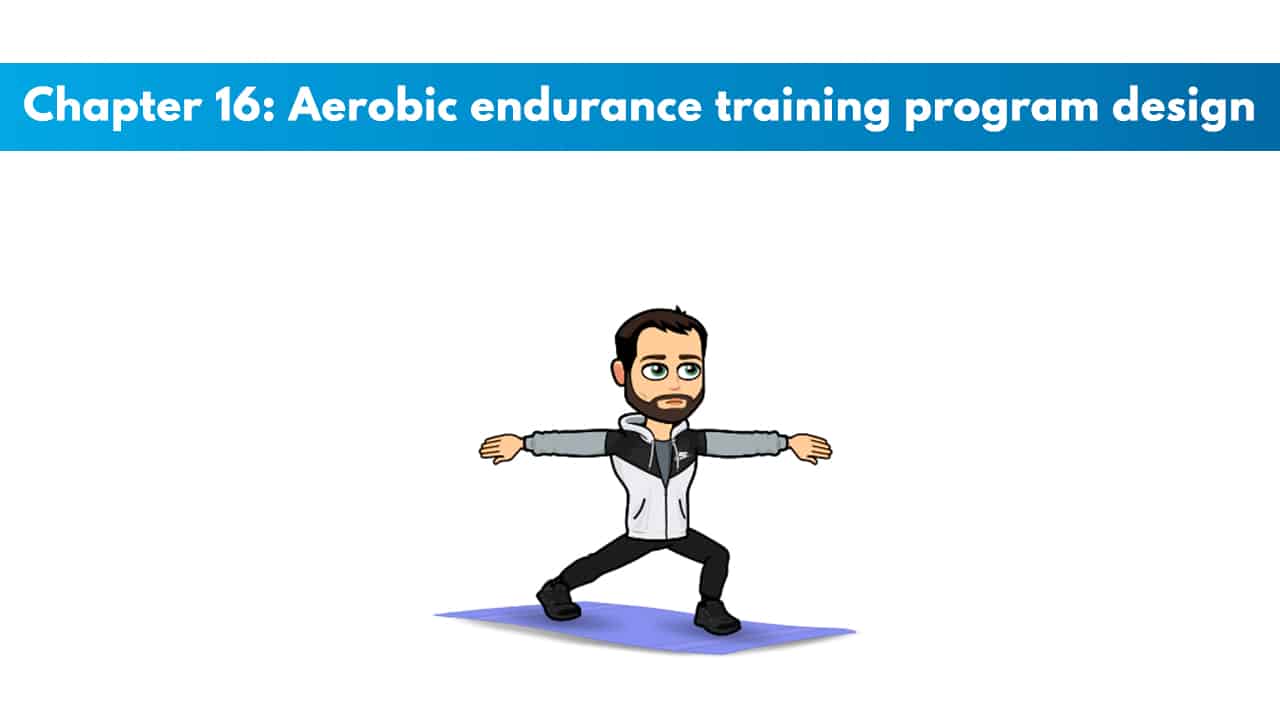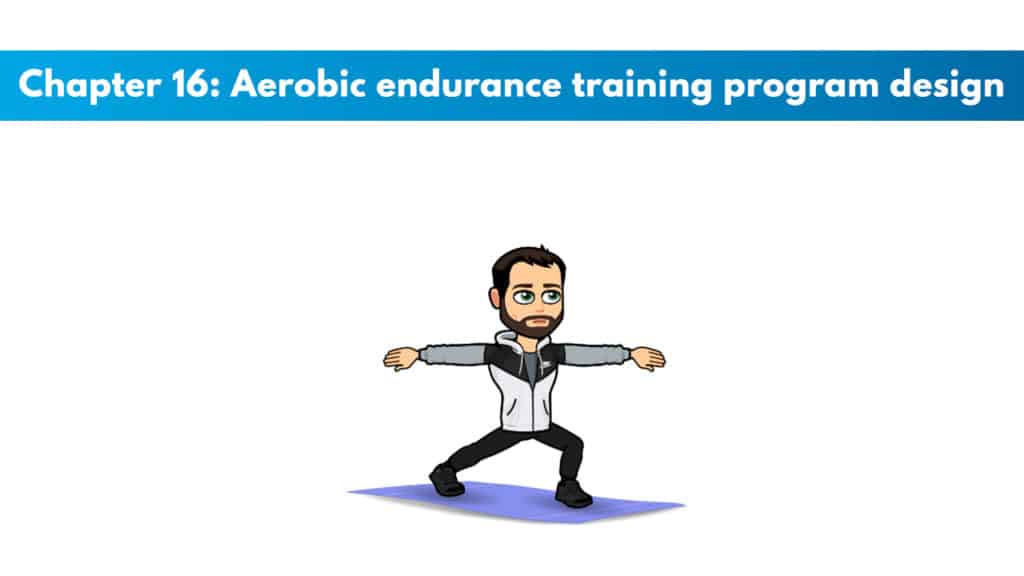 Get your copy of the NSCA CPT exam cheat sheet. It helps immensely for studying for the exam.
Make sure to check out Trainer Academy for premium NSCA CPT study materials. They will reduce study time by 50% and have an exam pass guarantee. Read my full review on them here. You can save $100 on their MVP study system with the code: PTPSUB
Post 18 of 27 in the NSCA CPT Study Guide
Chapter Objectives:
Make Aerobic Endurance Training Programs on the basis of specificity and client goals.
Determine the right mode of aerobic exercise.
Decide on aerobic endurance training intensity and duration.
Understand the interactions and effects of intensity and duration on training outcome.
Find the intensity by calculating with the target heart rate zone, RPEs, and metabolic equivalents.
Make programs that have the right warm-up, cool down, and progressions.
Apply long slow distance, pace/tempo, interval training, cross-training, arm exercise, and combination training with the client's desired goals.
The specificity of Aerobic Endurance Training
The specificity principle that applies to resistance training is the same for aerobic training. So, the results of the training program will be specific to the type of training performed. If you cycle a lot, you are going to get better at cycling. There is not an equal amount of improvement between different exercise modes.
Components of an Aerobic Endurance Training Program
Exercise Mode
This is the first step to take when designing a program for aerobic endurance training.
Mode is the activity that is going to be performed.
You could wish to compete in a 5k race at some point and your training mode is going to relate to this by revolving around running of some kind. There are both machine and nonmachine cardio types that can be done.
The exercise mode needs to match the physical abilities of the client. For example, someone who is limited in the lower body may need less impact on their feet and hips or knees.
Other factors to consider when choosing the mode would be equipment availability, personal preference, the ability to perform, and the goals.
Exercise Intensity
The intensity for sessions is made of both the frequency and the duration. The level of intensity must be decided before the duration and frequency.
Heart rate reserve is the difference in max heart rate and resting heart rate. This is very important when we are gauging and prescribing exercise intensity.
The general recommended HRR is 50 – 85%. And depending on the person, some people may find 50% a lot, and some may find 85% not much.
You should always begin programs conservatively and slowly build It up instead of going all out at the beginning.
Target Heart Rate
Heart rate and oxygen consumption are very close in relation. Heart rate increases when you exercise and this workload increase calls for an increase in VO2.
When the heart rate gets close to max heart rate, or MHR, a higher percent of VO2 is being used.
The target heart rate is the goal that is to be reached by the client when they are working out.
We also use the percent of max heart rate.
Max heart rate can only be found with a graded exercise test-taking the client to a point to where the heart rate doesn't increase any more with an increasing workload. At this beats per minute, the MHR is found.
We also can use an age-predicted maximal heart rate, or APMHR, to find their estimated MHR. The equation is APMHR = 220 – Age.
The error range for the age-predicted formula is plus or minus 10 – 15 beats per minute.
Exclusive PTP Offers



Gold Standard Cert

Most Popular Cert

A Good Option

Best Study Materials

Best online PT course

The Top PT Software

So, a 20-year-old would have a predicted max of as low as 185 and as high as 215.
The target heart rate range is now determined in a couple of different ways.
Percent of age-predicted max heart rate
Target heart rate = APMHR X Exercise Intensity
Percent of heart rate reserve: also called the Karvonen method
HRR = APMHR – RHR
Low end of THR = (HRR X Lower exercise intensity) + RHR
Higher-end of THR = (HRR X High exercise intensity) + RHR
Percent of Functional Capacity
If someone has the graded exercised test and it was performed by a physician, then they can use the percents of functional capacity to determine the THRR most accurately.
Ratings of Perceived Exertion
This is the least accurate because it purely depends on the person's perception of work intensity, instead of what may actually be. It depends a lot on training status.
The ratings of perceived exertion are a scale of 1 – 10, with 1 being nothing at all, and 10 being a maximum effort, and also everything in between.
These scales are primarily looked at and used when a client has some form of medication or illness affecting their heart rate readings.
Metabolic Equivalents
A MET is a metabolic equivalent. One met is equal to 3.5mL/kg/min of oxygen consumption. This 1 MET value is what the body is considered to be at when resting. So, we grade activities as 4 MET or 5MET and this represents 4 or 5 times the body at rest essentially.
We consider 1 – 3 METS as light activity, 3 – 6 METs as moderate, and 6+ as intense.
Training Frequency
This is how long the workouts are done for. This depends on the goals of the client, their fitness level, duration of exercise, intensity when exercising, and the recovery time that is needed for the exercise.
Exercise sessions that are long in duration and high in intensity will need more recovery time, and therefore will be unable to be done as often. Shorter duration and lower intensity exercise will not need much recovery time and can also be done more frequently due to less workload.
Exercise Duration
This is a measure of how long a session of exercise lasts.
This depends on the goals of the client, their level of fitness, and the exercise intensity.
Exercise duration has an inverse relationship with exercise intensity. So, as duration increases, the intensity decreases, and vice-versa.
Progression
Like with resistance training, it is important to progress in our workouts over time. Aerobic endurance exercisers are divided into two different groups, the ones for improvement and the ones for maintenance.
Someone who is untrained will always need to start with the improvement side of working out. Maintenance programs will be used by someone who is fit and wants to stay at that level.
Improvements for aerobic endurance programs consist mostly of VO2 max increases or the ability to tolerate longer durations and intensities.
Improvement plans for progression involve progressive increases in frequency, duration, or the intensity.
The general rule says that increases of the intensity, frequency, and duration should be 10% or less.
Warmup and Cool Down
Warmups are used to increase blood flow to the working muscles for that workout, minimize the oxygen debt, and increase core temperature to unload oxygen from the blood to the muscles.
Cool downs are essentially the reverse of a warmup. Here the goal is to decrease all of the mentioned aspects of the warmup slowly. It can also be important to have some light stretching in the cool down.
Types of Aerobic Endurance Training Programs
Long Slow Distance
Exercise here is done at less intensity than normal, to ensure the duration can be longer. If an athlete is able to run a 6 minute mile, they may work at an 8 minute mile pace instead.
This training type focuses on increase the anaerobic threshold, develop endurance in the musculature, and to utilize fat while sparring glycogen.
Once the client reaches the target heart rate, they should maintain this for as long as they have energy.
This should not be done more than 2 times per week.
Pace/Tempo Training
This is for clients who are able to work at the highest percentage of their HRR. It is for those that want to improve their VO2 max.
Exclusive PTP Offers



Gold Standard Cert

Most Popular Cert

A Good Option

Best Study Materials

Best online PT course

The Top PT Software

The objective here is to train for a short time at their goal pace. They will work higher than their current pace in order to achieve a higher pace in the future. The training typically lasts 20 – 30 minutes and the clients reach their lactate threshold.
This can also be done intermittently. This means you would have 3 – 5 minutes of work and rest for 30 – 90 seconds, repeating until you cannot sustain the pace in the work period.
These are typically only done 1 – 2 times per week.
Interval Training
This is alternating between periods of high and low-intensity exercise. We have short periods where we exercise at intensities higher than the lactate threshold and then switch to lower intensities for longer times.
These involve the use of work to rest ratios to determine the intensity of exercise.
High-intensity intervals are typically 3 – 5 minutes with rest of 1:1 to 1:3 depending on how the client responds to high-intensity intervals.
Clients with a firm aerobic base should perform this interval style training, as its very taxing on the body.
Circuit Training
This is the combination of both resistance and aerobic endurance training.
The intervals o short aerobic training are alternated with some form of resistance training sets. The goal for this exercise type is to increase the HR to the training zone and keep it there for the entire session.
It has been shown to increase strength, but have no real impact on VO2 max.
It may prove most useful for maintaining, but not for improving the aerobic endurance.
Cross-Training
This is the combination of several different modes of aerobic endurance training.
For this to be effective, the duration and intensity of each exercise need to be sufficient for the person's fitness level.
Cross-training distributes the stress to the rest of the muscles of the body, and that is its main benefit.
Arm Exercise
Arm exercise is becoming more popular for cardiovascular training, especially for those rehabilitating injuries.
It is important to know that the VO2 max is lower for this form of aerobic training.
Upper body ergometers are the most common.
Combined Aerobic and Resistance Training
Having these two together is the preferred way to work out, but there is some negative to it, too.
We see lower gains in strength compared to that of the VO2 increases.
The other downside is that there is less gains in muscle girth and in specific speed and power-related performance.
If you want assistance wrapping your head around this material, make sure to check out Trainer Academy for some awesome NSCA study materials. They have Practice tests, flashcards, and a fantastic study guide. They even offer an exam pass guarantee.