This is an up-to-date review of the best prenatal fitness certifications for training pregnant women.
The comparison will be based on:
At the end of the review, you'll know which is a better option for you.
Relying on my 10+ years of using both certifications, I'll guide you in making the right choice.
I present to you, the two top prenatal fitness certifications.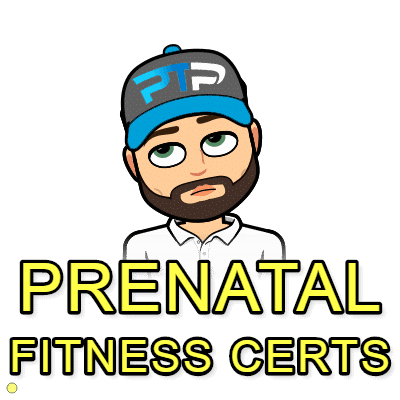 CPT
CPT
Features
Price

Skills for all aspects of training women
Best certification for prenatal fitness training

Check NASM Pricing

Affordable option for CEUs
Not comprehensive compared to NASM

Check ACE Pricing

Complete pregnancy fitness training course

Check AFAA Pricing
In my article I will talk about why obtaining a prenatal fitness certification can be beneficial to you.
Two certifications are great options.
Some other beneficial certifications you might be interested in are the top nutrition certifications as well as some excellent group exercise certifications.
The menu at the top of this page will answer any question related to personal training that you have.
If you have any questions, don't hesitate to leave me a comment here (I'll respond within 24 hours).
Exclusive PTP CPT Offers



Gold Standard Cert

Most Popular Cert

Best Study Materials

A Good Option

A Good Option

Best CPT for you?

Also, visit the home page for the most recent and popular articles.
Let's jump right in! 🙂
Introduction
As of the time of me writing this article, three different certifications focus on prenatal fitness.
One of the most important things you can do as a pregnant woman is to get out and exercise.
It helps reduce stress and anxiety, increase energy, increase the likelihood of a faster recovery post birth, helps with shorter labor times, fewer complications as well as improves the self-esteem of the mother.
The three certifications that are on the market today covering prenatal fitness are NASM's Women's Fitness Specialist, ACE's pre-and postnatal exercise course and AFPA's pre/ postpartum exercise specialist certification.
My opinion is that these certifications do a fantastic job with their course material.
Both of these advanced certifications will make you a better trainer as well as the potential for you to make more money.
Let's dive into the prenatal fitness certifications so you can figure if either would be an excellent addition to your knowledge Arsenal as a personal trainer!
NASM Women's Fitness Specialization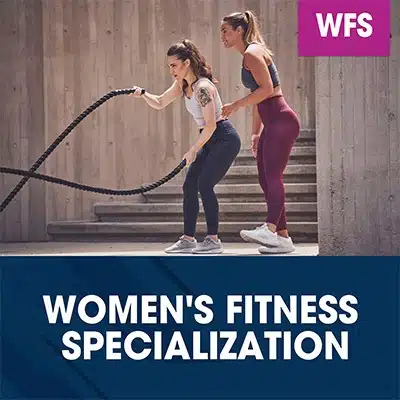 Women have specific needs that go beyond male general fitness requirements. Pregnancy in particular entails a number of exercise adjustments that you should be aware of if you plan to train women during this time.
The NASM Women's Fitness Specialist certification provides the most comprehensive curriculum for training women in both the pre- and post-partum stages.
In this course, you will learn some of the key modifications to consider when training women who are pregnant.
For example, women should avoid certain positions at each phase of pregnancy. If you train pregnant clients, you need to know which exercises require modification for training pregnant women.
Exclusive PTP CPT Offers



Gold Standard Cert

Most Popular Cert

Best Study Materials

A Good Option

A Good Option

Best CPT for you?

ACE Pre- and Post-natal exercise course
The information that is provided by ACE is meant more for individuals that only need continuing education credits.
That is why in this article I am calling it a course compared to certification.
Don't get me wrong; it still has fantastic information on pre-and postnatal fitness.
The most significant difference between the ACE course and the AFPA certification is that ACE does not discuss nutrition as much.
It primarily talks about fitness and exercise routines and how they apply to pregnant women.
As of the time of me writing this article, the ACE course costs $79.
This course is accepted as continuing education from the majority of the major certifying agencies.
For only $80 I think it is a great deal (regarding continuing education) because the curriculum goes pretty in-depth.
It is not the easiest to find this course on the ACE website.
To see it you must go to the search bar on the site and search for postnatal exercise.
Here is what you will get out of the ACE course
You will be taught about all of the benefits of working out before and after pregnancy.
You will be able to make effective and safe workout routines based on the goals of your pregnant clients.
You will be taught about the risks related to exercise in the development of the fetus.
You will learn why exercise helps speed recovery after birth.
Let's talk about AFPA's Pre- & Post-natal exercise specialist certification
Compared to ACE, AFPA offers a full-fledged accreditation in pre-and postnatal exercise.
The textbook is much larger than what ACE provides.
The information is laid out similarly but it goes more in-depth.
You will learn all about making effective yet safe routines for your clients.
One of the most significant differences is that it focuses on group exercise training for pregnant women as well as one-on-one training.
As of the time of me writing this article, the certification will cost you $395.
What you get with this package are three separate textbooks, a set of instructional DVDs and entrance to take the exam.
Every primary certifying agency that I checked (including NASM) will accept this certification as continuing education credits.
So if you are in need of any at the moment, this might be a good option for you!
Here is what you get out of the AFPA course
You will be taught how exercise affects the physiological systems of pregnant women.
You will be taught about adaptations that happen during pregnancy and the effective exercise of these adaptations.
You will understand all of the benefits exercises has on the fetus as well as the mother.
You will be taught how to relieve discomforts from pregnancy using different exercises
You will learn how to progress or regress your pregnant client through the term of their pregnancy.
You will have an excellent understanding of the nutritional needs of pregnant women through the different stages of their pregnancy.
Conclusion on prenatal fitness certifications
If you have clients that are pregnant or are planning on working with clients that are pregnant, either one of these would be a good option for you.
Exercises for pre- and postnatal fitness is entirely different than for regular individuals.
Not only that, but the exercises and diet should change as the woman goes through the different trimesters.
Another certification that I recommend getting alongside this one is the ACE health coach certification.
This certification focuses on habit formation and increasing the overall wellness of your clients.
I also have a fantastic article on how to become a health coach; you should check that out! I hope you liked my article about pre- and postnatal fitness.
If it was helpful to you, please share it on social media or tell your friends about it!
If you go through either one of the certifications, you will be able to help your friends and family out whenever they are pregnant.
They will be incredibly grateful for your help!