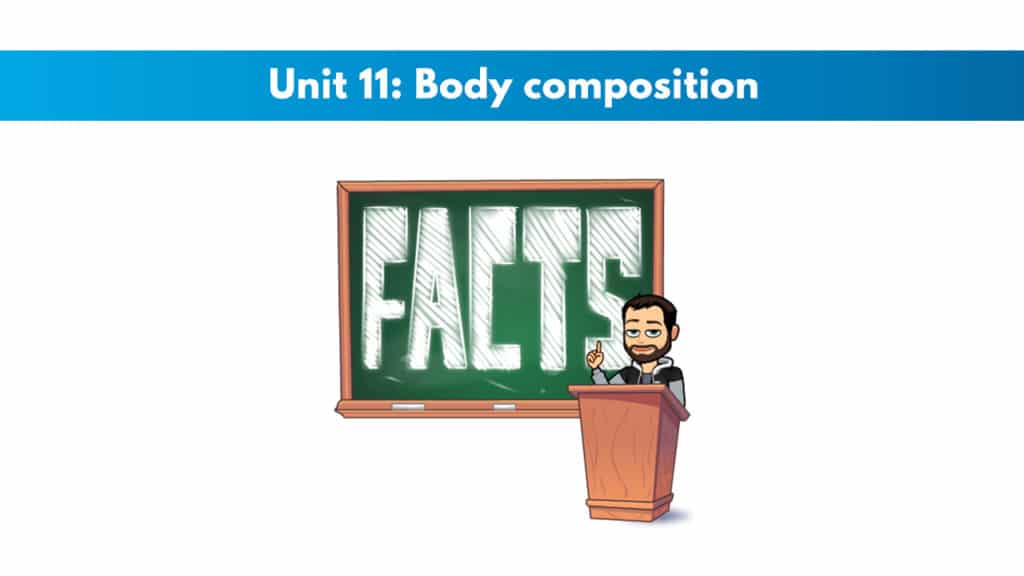 If you have not yet signed up for the ISSA CPT certification, check out their deals page here. They have fantastic combo packages where you can get a free nutrition certification.
Get your copy of the ISSA CPT exam cheat sheet. It helps immensely in studying for the exam.
Make sure to check out Trainer Academy for premium ISSA CPT study materials. They will reduce study time by 50% and have an exam pass guarantee. Read my full review on them here. You can save $100 on their MVP study system with the code: PTPSUB
1: Name and describe the three somatotype classifications
Mesomorphic, or muscular, Ectornorphic, slim and linear Endomorphic, or fat and round.
2: What is BMI" and explain its importance in estimating body composition
Body mass index (BMI) represents weight to height ratio to calculate healthy body composition and predict health risk factors.
3: Use the equation below to determine BMI for a male client who is 5'11" and 237 lbs. Include height

4: How would this client be classified according to BMI standards?
BMI = 33; this sits on the obesity spectrum and is, therefore, a major health concern
5: Describe the importance of waist circumference measurements for estimating body composition
Waist circumference provides a measure of abdominal fat which is a good indicator of the visceral fat prevalence
Exclusive PTP CPT Offers



Gold Standard Cert

Most Popular Cert

Best Study Materials

A Good Option

A Good Option

Best CPT for you?

6: Describe the "waist circumference" cut-offs for both men and women?
Men>40 inches
Women>35inches
7: Describe the way body fat is deposited in the body
As subdermal adipose tissue or as visceral deposits
8: Record and explain some ways to ascertain body composition
Dual-energy X-ray absorptiometry (DEXA): one X-ray source is utilized to discover estimates of soft tissue, bone, mineral, and fat
Underwater weighing: contrasts the mass of the individual in the atmosphere to the mass of the individual underwater. Because fat has a lower density than water, an individual with a high-fat content will have a lower underwater weight than one of similar mass with lower fat content.
Potassium ion: Used to determine the presence of potassium. Potassium is the main ion in the cells of active tissue and organs. From the total potassium amount, it is possible to determine the lean mass.

9: Concisely describe how to use calipers
Pinch the skin and underlying fat and apply calipers to the fold. Take the measurement as soon as subcutaneous water has drained away.
10: What are the 8 typical anatomical sites used for skinfold measurements?
Tricep
Subscapular
Abdominal
Mid-axillary
Pectoral
Quads
Calves
Suprailiac
11: Implementing Body Composition: Use the below client profile for each equation
Client Profile:
Imagine a female client who weighs 150 Ibs and has a body fat percentage of 34%. Her body fat percentage goal is 29%.
Calculate Current Body Fat in pounds:
Total Bodyweight x Body Fat Percentage = number of pounds the client carries as fat.
Calculate the number of pounds due to LBM:
Total Bodyweight-pounds of fat = Lean Body Mass 99lbs
Calculate GoalWeight:
LBM / (1.OO – the body fat percentage goal) = goal weight.
12: In what way can the above calculations help you with client goal setting?
These calculations allow a trainer to gauge what sort of diet and exercise program to implement and the realistic timeframe for the intended outcome.
13: Fill in the chart below to ascertain the body fat percentage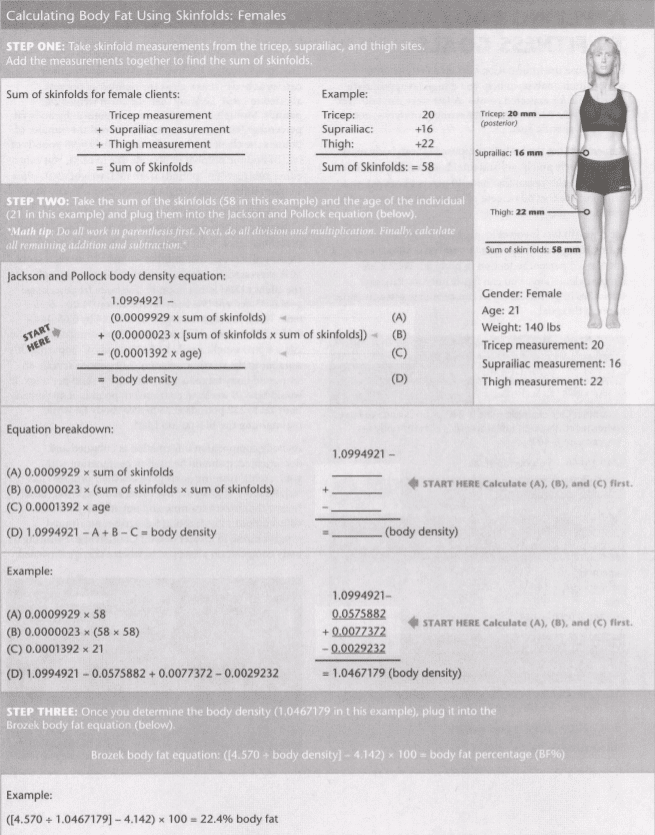 14: Fill in the chart below to ascertain the body fat percentage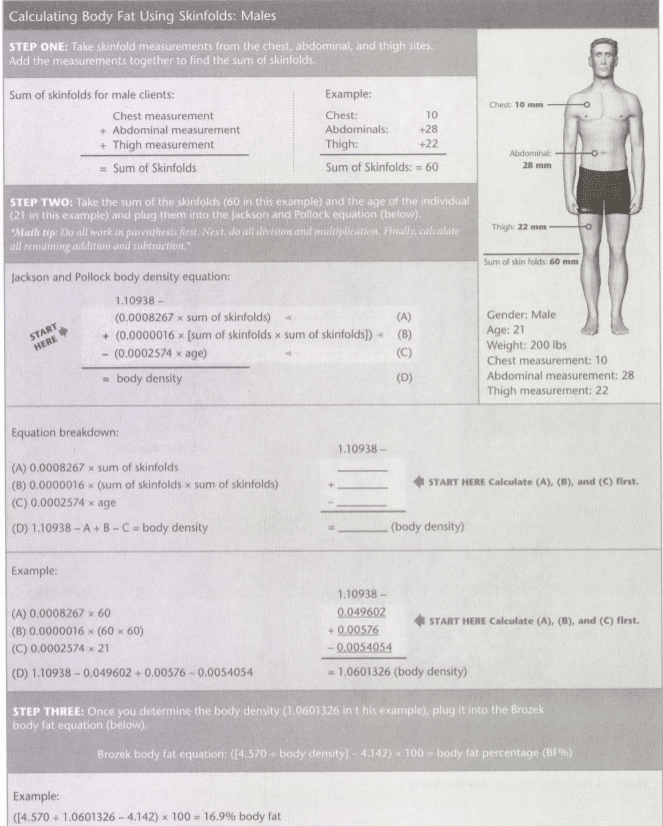 If you want assistance wrapping your head around this material, make sure to check out Trainer Academy for some awesome ISSA study materials. They have Practice tests, flashcards, audio study guides, and much more.