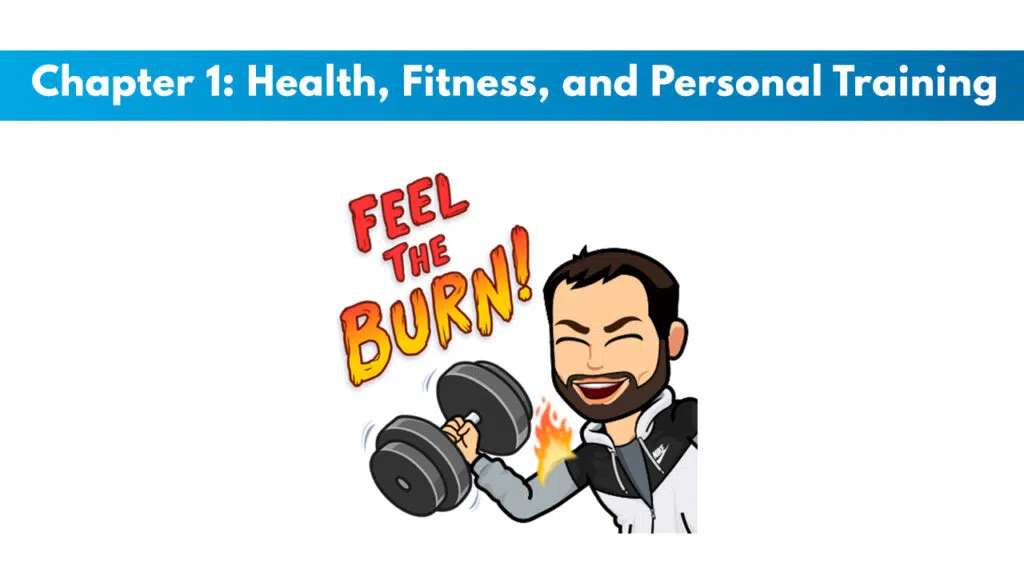 Chapter Goals:
Know what a personal trainer does and who they may assist.
Define the subject matter that a personal trainer needs to be educated in.
Discuss the general benefits of personal training in physical activity and exercise.
The History of Personal Training
It is tough to pinpoint the exact start of personal training, but the profession generally began in the 1950s.
This was around when the actual certification of trainers began to come into effect.
The concept of health, which is the goal of personal training, began much earlier in human history, as early as 400 BCE or more.
Personal Training Defined
The job of personal training is somewhat new and always changing and redefining the scope of the practice.
Nowadays, a personal trainer is defined as someone who educates and trains clients in performing safe and appropriate exercises to lead people to optimal health effectively.
Trainers may be self-employed or work in health clubs for physicians, physical therapy clinics, wellness centers, schools, hospitals, and more.
What a Personal Trainer Knows
As the industry grows and scientific knowledge on human adaptation and response to exercise grows, personal trainers will need to stay up-to-date in all of these primary topics:
Exercise Programming
Exercise Physiology
Functional Anatomy and Biomechanics
Fitness Assessments
Nutrition and Supplementation
Common Chronic Disease
Basic Emergency and Safety Procedures
Psychological and Physiological Challenges Throughout Stages of Life
Human Behavior and Motivation
The science of motivation and behavior change are some of the most important aspects of a successful health and wellness program.
Exclusive PTP CPT Offers



Gold Standard Cert

Most Popular Cert

Best Study Materials

A Good Option

A Good Option

Best CPT for you?

As it turns out, not enough fitness professionals emphasize this aspect, negatively affecting the ability to inflict change on clients.
A plan based on the above aspects will educate and draw clients into a fitness lifestyle and optimal health.
A training effect is the body's adaptation to the learned and expected stress imposed by physical activity.
When the body experiences these training effects, changes start at the cellular level, allowing more energy to be released with less oxygen.
Adaptations can be achieved with the help of educated trainers who can make the right fitness and health plan for most people.
For effectiveness, the designed plan needs to utilize the basic principles of fitness: overload, specificity, individual differences, reversibility, periodization, rest, overtraining, and stimulus variability.
Plans also require understanding the body's major muscles and how they work, as well as things like metabolism and how it plays in exercise.
Trainers must learn about the function and regulation of the body's systems at rest and during exercise.
Exclusive PTP CPT Offers



Gold Standard Cert

Most Popular Cert

Best Study Materials

A Good Option

A Good Option

Best CPT for you?

The Current State of Human Health
The benefits of physical activity and fitness are touted and reported, but the US is still undergoing an epidemic of obesity.
Around 25 – 35 percent of people are sedentary.
To worsen this, the federal resources and funding are far from other aspects of health in the US.
Both physical activity and health are lower priorities, and they are the first aspects to go when expenditures are cut.
Many reasons go into these issues with the united states and the state of health.
The idea behind personal training is to reduce the factors and increase the quality of life for clientele.
Personal Training Clientele
Health club memberships are constantly increasing, including the number of personal trainers.
Some basic stats regarding clientele are:
3 out of 5 personal training clients are women
Clients report an average of 18 sessions with a trainer
Average personal trainers charge 15 – 100 dollars per hour, with an average of 50 per hour
Benefits of Personal Training
Practically all studies have shown that a higher fitness level relates to a lower death rate.
Essentially, exercise is medicine.
Exercise needs to be used to reduce the risk of medical problems and decrease the rising healthcare costs for the general public.
Let's look at some of the common health concerns and how exercise plays a role in these problems.
Allergies: exercise is an efficient way to control nasal congestion.
Angina: regular aerobic exercise dilates the blood vessels, which causes an increase in blood flow, thus improving the body's ability to extract oxygen from the blood.
Anxiety: exercise triggers the release of chemicals that alter the brain.
Arthritis: the skeletal system is forced to move, and synovial fluid is introduced to help cartilage, which forces it to circulate throughout the joint space.
Back Pain: exercise helps the abdominal muscles, lower back, and hamstring to strengthen.
Bursitis and Tendinitis: exercise strengthens the tendons, enabling more resistance to be taken without injury.
Cancer: exercise helps keep the ideal body weight and helps keep fat levels low.
Carpal Tunnel Syndrome: exercise helps to build up the muscles in the forearms and wrists, thus lowering the stress on the hands, elbows, and arms.
Cholesterol: the exercise may help to raise the high-density lipoprotein levels in the blood and lower low-density lipoprotein levels.
Depression: exercise helps to speed up the metabolism and give oxygen to the brain, thus improving the brain's circulation and increasing one's mood.
Diabetes: exercise lowers blood sugar levels, strengthens cardiac muscles, improves circulation, and reduces stress levels.
Fatigue: exercise helps with alleviating fatigue-causing effects.
Glaucoma: exercise will partially alleviate intraocular hypertension.
Headaches: exercise helps to force the brain to secrete more pain-dampening chemicals.
Heart Disease: exercise promotes many changes throughout the body to lower the risk of heart disease occurring.
High Blood Pressure: exercise reduces stressful chemicals in the blood and other hormones that improve blood pressure.
Knee Problems: exercise helps strengthen the structures of the knee, facilitating the ability to withstand stresses.
Lung Disease: exercise strengthens the muscles which help breathe and boost oxygen flow for the brain.
Memory Problems: exercise helps to improve cognitive function by introducing better blood flow and oxygen to the brain.
Menstrual Problems: exercise helps control the hormonal imbalances that come with PMS.
Osteoporosis: exercise promotes bone density, and this lowers the risk of experiencing a fracture.
The Future of Personal Training and Fitness
The requirement for personal training is continuing to grow and should continue to do so steadily as time goes on.
The evolution of recommendations for health and physical fitness continues to change, and this requires professionals to help keep the public knowing and following the current science for optimal health.
Part of being a personal trainer long-term means continuing to expand your knowledge through additional courses on topics like corrective exercise, corporate wellness, youth fitness, senior fitness, nutrition, and pre/post-natal specializations so that trainers can serve their clients better.
Both collectively and on an individual basis, personal trainers should positively guide and influence the health and fitness attitudes of the people around them.
ISSA Certified Personal Trainer Code of Ethics
Requirements for Certification
Certification is not going to be issued to any student who does not complete all the qualifications or has not achieved a passing score on the ISSA exams.
Certification will not be given to any student unless they have successfully completed CPR and AED certification and it is valid presently.
Code of Ethics
ISSA-certified fitness professionals need to keep a professional client-trainer relationship at all times.
ISSA-certified fitness professionals cannot discriminate on the basis of sex, gender, race, religion, national origin, color, or any other basis which is found illegal.
ISSA-certified fitness professionals need to maintain any and all main and supplementary certifications needed to do their job.
ISSA-certified fitness professionals need to uphold their social responsibility to promote inclusion and educate and inform within the scope of practice.
ISSA-certified fitness professionals need to use their best judgment to keep a safe training environment for clients.