Hey everyone; Coach Tyler here to help you better understand the hottest software programs for personal training.
Personal training can require a lot of organizational skills that can be incredibly frustrating to put together especially if you have back-to-back clients.
There are tons to think about, and you need to be on top of your game if you want to be a successful personal trainer that makes good money.
In this article, you will know whether or not personal training software is something you should incorporate into your business. I will talk a lot about 10 popular (and easy-to-use) software programs, their main features, pros, cons, and much more.
If you are not yet certified as a trainer, take the quiz to see which certification is for you.


The menu at the top of this page will answer any question related to your personal training. If you have any questions, don't hesitate to leave me a comment here (I'll respond within 24 hours). Also, visit the home page for the most recent and popular articles.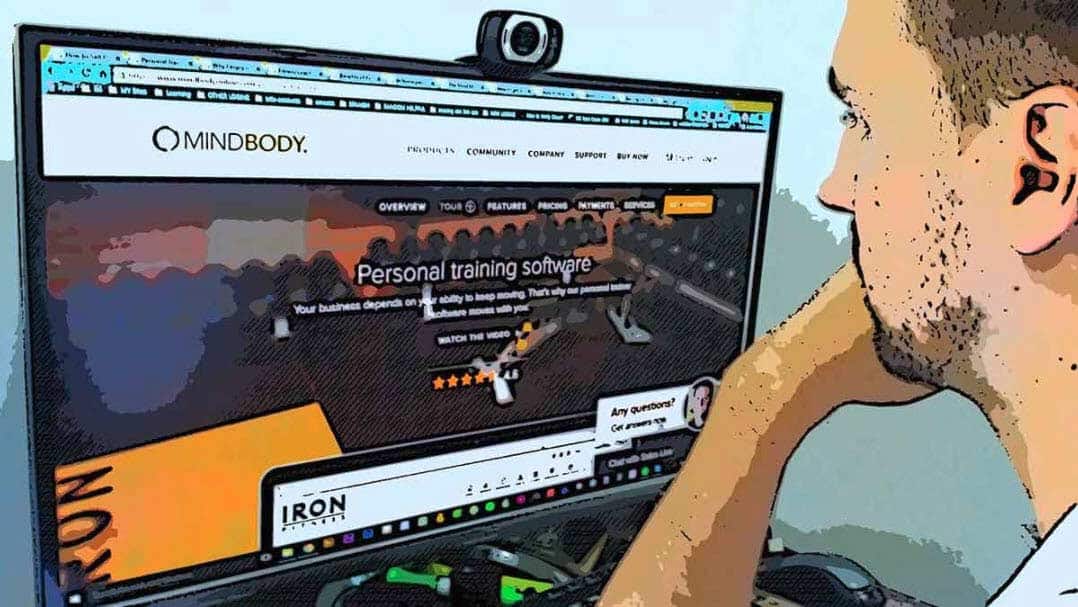 Introduction to training software
I am sure you agree that technology aims to enhance the human capacity to function. Tech devices are primarily built to help us avoid (or at worse, reduce) manual, repetitive tasks that will, naturally, take more of our time.
As you may know by now, the work of a personal trainer (especially when you have more than one client) is often repetitive. This is what prompted some smart dudes and ladies to create personal training management software programs.
What can Personal Trainer Software do for you?
Modern PT software helps health and fitness trainer to connect with their clients and deliver their services much better, seamlessly, and easier than it used to be in the time past.
It also helps you maximize the time you spend with your online clients and also your one-on-one daily clients.
A great PT software helps you market yourself better and greatly increases your earnings because you can now manage more clients and offer an increased personal touch that clients always crave.
Why would you need a PT Software for your business?
So, do you think your business is growing and you need to stay organized and in the loop 24/7? Personal Trainer software is what you need.
Trust me; I use PT Software and my life has never remained the same again!
You need to keep track of what times your sessions are scheduled for, and with whom. You need to remember to take measurements, keep track of your clients' goals, remember previous workout sessions (check out my workout template) and much more.
It can get overwhelming at times. Without these programs, I may never be able to handle all my clients properly.
That is why I recommend that most personal trainers use some form of personal training software to help them keep track of everything – just like I do.
In a perfect world, every personal trainer would walk around while holding either an Android or an iPhone or a tablet. When information is digitalized, everything becomes so much easier.
Writing down your clients' workout sessions on a piece of paper is an ancient way of doing things yet most personal trainers still do it this way. One of the biggest reasons digital copies of workouts are better is that you and your client can keep a copy at both ends.
After your workout it is done, you can email your client the workout routine and milestones reached for the day. If you are writing everything down on a piece of paper, you have to decide who gets to keep that one and only copy (which can go missing, anyway).
If you keep the copy and your client does not have the routines and milestones to look back on, they may feel demotivated and get complacent. In my experience, even if they get the copy, they still either lose it or forget it at home when coming for the next session.
I wrote this article (from my personal training experience) to introduce everyone to some great personal training software programs that can help make their lives a lot easier. Not only will this software help your personal training business, but it can also help you organize other areas of your life.
Let's now dive into my 10 recommended management software programs that are specially designed for personal training.
They are:
PT minder
Exercise.com
My PT Hub
TrainHeroic
Mindbody
Trainerize
PT Distinction
Fitsw
Total Coaching
True Coach
The most important thing is choosing the personal trainer software to soothe your business.
Let's jump in to learn about all these personal training software programs!
PT Minder
This management software is quite popular and also an excellent tool for personal trainers, fitness studios and gyms that are just starting out afresh or already have an existing business across the US or even the globe.
According to their website, as at the time of writing this, they have processed 11,693,741 bookings, raked in $275m in revenue and service 505,266 clients.
In my opinion, this is huge!
I have interviewed many personal trainers that use this software, and they all agree it is easy to use. This app is mobile-friendly and is compatible with Android and iOS.
The benefits of using PT Minder
Customers can use this software to book sessions. You can integrate it with your website and all your information about time for classes. It also serves as a payment channel for your clients.
The functionality ensures that your clients can visit your website, view the period you are free, choose a date suitable for sessions, and then pay to book the free sessions easily.
As the personal trainer, you can use the modify button to allow a client to join an existing class.
PT Minder allows you to collect real useful information from your clients for your business. You have the contact information, present and past activity exercise sessions, workout or nutrition plans, any purchased packages/memberships/products, loyalty package benefits.
All this information are used to send your clients personalized email or SMS messages.
This app has a feature where you can design the food list you need your client to have to get a good result from all the training exercise.
You wouldn't want them to starve their bodies of nutrient just because they want to lose weight and look slim. So this software helps to create and assign nutrition plans to clients using a built-in library that contains numerous healthy food options.
You can segment the food items to breakfast, lunch and dinner Nutrition plans are broken down to breakfast, lunch, and dinner, with the general information on the macro and micronutrient contained in the food and why you need them
This app has a feature where you can design the list of food you need your client to have in order to get a good result from all the training exercise.
You wouldn't want them to starve their bodies of nutrient just because they want to lose weight and look slim. So this software helps to create and assign nutrition plans to clients using a built-in library that contains numerous healthy food options.
You can segment the food items to breakfast, lunch, and dinner Nutrition plans are broken down to breakfast, lunch, and dinner, with the general information on the macro and micronutrient contained in the food and why you need them.
There other features of 24/7 live chats, reporting, and the rest.
Overall I give it 4/5 on usability and easy navigation.
Exclusive PTP CPT Offers



Gold Standard Cert

Most Popular Cert

Best Study Materials

A Good Option

A Good Option

Best CPT for you?

Pricing
There is a generic one-month free trial version; you cannot do much with this but it is to show you what the software program can do.
The price increases as the number of your clients increase.
From one to 50 clients, – $36 per month.
51to100 clients- $53
101 to 150 clients- $70
151 to 200 clients- $88
200+ clients, you pay $123
You will save 10% of your charges if you pay yearly.
Drawbacks
The clients cannot see or track their progress on nutrition. It is only when the trainer decides to share it with the clients.
No in-person training feature.
FitSW Personal training software
Both the paid and free version of the software are excellent. One of the coolest features is their graphical representation of your clients progress of their weight, measurements and other nutritional information.
Usability of FitSW
This software is the first dedicated training software that I ever tried. I feel like the user interface is quite intuitive. I also like that many options are included in the free version of the software. Honestly, I do not feel that the Pro version is worth the investment.
You get so many of the features for free, and the Pro version is really not that much better. In terms of dedicated training software that is free, this is probably your best bet. Check it out here!
What can FitSW do for you?
The software already has about a thousand exercises you can select from or create custom exercises to share with your clients.
This software allows your clients to view their workout progress from anywhere they are. Your workout progress is presented in a graphical format.
This helps to improve client engagement and motivation for them to get their desired fitness result. It is suitable for small entrepreneurs and also large gym owners.
This is what stands it out from PT Minder.
Drawbacks
It is poorly designed
Your clients will not be able to book sessions using the mobile version

Pricing
FitSW offers you a free version where you can manage just two clients. This is to help you have a taste of what you can do with the paid version.
There is one called the trainer package where you can manage 15 to 1000 clients and this cost $9.99 per month
Then there is the Studio package where you can manage from the minimum of 60 to 1000 clients. It cost $49.99 per month.
If you choose to pay annually you save up to 15%
MindBody software
I have to tell you truthfully, this training software is absolutely phenomenal! This is especially true if you run and operate your own training business or if you work in a personal training studio as a contractor.
One of the coolest features is they offer to sync from one device to another in the cloud! Some other services they offer are data protection, auto reminders for sessions, a detailed calendar, automatic billing and tons of relationship tools for you and your client.
What can MindBody do?
Your clients can use this app to schedule a training session and classes. This is a very common feature of management software. Your clients do not have come to see you, in particular, to make payments and schedule a class or cancel a class.
Events and workshop time is made available to the customers on the calendar. You can reschedule classes as you wish. You can manage the group classes and one-on-one classes just with the help of the PT software.
You can keep the information that your customers supply freely. All your customers have their unique profile information so that you can send customized messages or email to your customers.
You can upload videos to keep your online clients busy when you are unavailable due to sickness or for whatever reason. Your income shouldn't stop because you are not available for a while.
Their contact information, class history, due payment, membership status, etc.
The back and forth feature of the app helps the clients to drop comments about your services. This will help you stay on your fit and you will learn how to keep your customers.
The software helps you market better to your target and existing customers. It can serve as your online retail store where you can put up information about a product that you are selling or using presently and urge your clients to buy it and get discount using your codes.
After trying the software for over a month, I cannot imagine my life as a personal trainer without it. It is extremely convenient to be able to add information about my client and their workout directly on my tablet while we're in the middle of the workout.
Benefits of MindBody
Probably the coolest feature is that MindBody keeps track of and handles all of the transactions and billing from you and your client. Typically this service would cost a lot of money because it would be handled by a third-party vendor.
Your clients will be able to confirm payments from any one of your devices that you choose to use. MindBody will send all of your clients auto-reminders for each session which greatly reduces the chance that they will miss one.
Overall software is amazing and they highly suggest you try it!
Drawbacks
MindBody is difficult to learn. It takes a longer time to master it compare to other software.
There are some features added that are not needed. This makes usability more strenuous.
Not really advisable for small business owners that are just starting out to use it. It is more useful to a larger business because of the cost of additional functionalities you might need.
Pricing
Essential package is $149 per month
Accelerate package is $269 per month
Ultimate package is $389
PT Distinction Personal Trainer Software
On PT Distinction website, this software was described as the best personal training management software. It is a could platform management solution that allows for health and fitness professionals to enroll clients, design nutrition, follow up on clients fitness progress and conduct payment transaction without having any part of their job suffer for it.
Usability
It is quite easy to navigate through the interface.
It is rated 4/5.
What can PT Distinction do for you?
Personal trainers can use this software to create a theme that suite their brand or style.
You can design an exercise program for each of your client.
They also guide users on how to use the software to manage the business effortlessly.
You can use this software to create an exercise program of your own or you can use the demo video that is already in the software.
The software will update you on the exercise program and how far gone your clients are.
The group system function allows you to create a session for a group training exercise.
This software is awesome because it has a 100 preloaded nutrition plan for your client. This feature saves you time from creating a whole new nutrition plan for your clients.
Users can use this amazing software automated notification feature to send messages to their clients about a change in events and so on. Your clients are always updated about your plans 24/7.
Overall, the PT Distinction app integrates with other software. It is a go-to software for coaches, it allows users to track the progress of their clients easily.
Drawbacks
There are so many features on this app that can distract the users that are not conversant with IT.
Pricing
You can choose to cancel a one-month free trial after one month with no charges at all. There are three pricing packages, namely: Novice, Pro and Master.
The novice package is $19 per month for 3 online clients.
The pro package cost $60 per month for 25 online clients. You are required to pay $6 each for any additional client.
The master package cost $80 per month for 50 online clients. You are required to pay $1.60 for any additional clients.
Exercise.com personal trainer software
This software has been improving over time from serving the customers to serving the trainers, studios, Physical Therapists, Coaches, Sports Performance, Teams, and Corporate Wellness.
Good for group training and for selling of product.
It is a cloud based software that can be used on android and iOS mobile device. This software helps you to deliver your training to your online clients, documents their progress.
Usability
It is quite a simple management software to use; you can navigate easily with the features.
Users have 24/7 support from the team.
Benefits of Exercise.com
Your clients can view your appointment by location and schedule their own classes.
The user can reschedule event and availability.
There is a feature of inbuilt integration to your website. The fitness library is stack with several options you can choose from that fit your client needs.
Exclusive PTP CPT Offers



Gold Standard Cert

Most Popular Cert

Best Study Materials

A Good Option

A Good Option

Best CPT for you?

It has a fitness assessment and fitness plan features to help you view your clients' progress.
This software allows you to sell yourself as a personal trainer for one-on-one clients and also sell yourself as a group instructor for corporate wellness programs.
The payment platform is well integrated.
Your clients' data can be used to work out that is custom made to each of your clients. This management software other features help you retain customers and follow up on your potential customers
Drawbacks
It is not the best software for automating nutrition plan.
You cannot track the attendance of your clients.
Pricing
The price of this management program is not made public. You need to try its demo version and communicate with the company to find out the price.
Trainerize personal trainer software
According to their website, trainer is used by over 75,000 business owners. Trainerize like several other management software is designed to integrate with other applications and website of the user. It is mostly used by personal trainer businesses for one on one training, group training.
It is also used by large studios to manage the high number of clients. Other large fitness professional outfit makes use of this management software.
This software integrates with ease with other applications and services.
Benefits of using Trainerize
It can be used to create customized exercise programs for groups or individuals clients. You can send quality workout videos and send them straight to your clients' mobile phones.
You can track your clients' progress and see if they are meeting their fitness goals. You can get direct feedback from your clients from their wearable tech monitor in real-time.
The progress is well presented in a graph that is easy to understand.
You can set nutrition goals and your client can even log in and let you know if they are following the nutrition target set for them.
You can build a good customer relationship with this application. You can do video calls, send automated messages to your clients and have an online community where you can all share ideas and communicate live.
The integration with social media makes it more fun for clients to show off t their friends what they are working on.
It does as much like other management software. It is an awesome software for
You can grow your business with this app and make a lot of money. It allows you to have a brand image using logos and printing fliers. You can also follow up on your future customers as you retain your existing customers.
Usability
It is 10/10. for trainers.
It is easy to navigate through for someone that is not too tech-savvy
The clients still need to get the demo of what this software can do.
Pricing
There is a one month free trial with one client.
They have three price packages;
Grow package cost $5per month for two clients.
Pro package cost $20 per month for 5 to 15 clients
Studio package cost f $60 per month for 30 clients and more.
You will save 10% if you pay annually.
Drawback
It is meant for the big training studios and those with chains of businesses.
My PT Hub
On My PT Hub website, it is said that over 80,000 fitness professionals use this software, managing 2.2million clients, 12million workout created and 5million one-one-one workout sessions with trainers. You see this is a big claim, which means that you should check it out.
Benefits of using My PT Hub
This software exclusive to me is the offline mode feature where you can upgrade the software without going online. You actually save data using this software.
This program has all the features that other management software has.
Create a nutritional diet for your clients. There are thousands of food items listed that you can choose from.
Get feedback on their clients on exercise.
The payment transaction is seamless and well integrated to other application
You can schedule an exercise session, reschedule with this software, and share your calendar with your clients.
Usability
It is easy for people who do not know much about technology. I give it 10/10
Pricing
There is one month free version with just one client. There are two pricing packages
Standard package cost $20per month for 5 to 50 clients. For additional clients, you are to pay extra $5
Premium package cost $49 per month for an unlimited number of clients.
It is confusing when it is written that it is $49 for unlimited number of clients and still added that you pay $3 each for an additional client.
If you choose the annual payment, you will save 25%
Drawbacks
Trainers cannot book their own sessions online.
It is not as advanced as others in the area of marketing capabilities.
You might not make a lot of money using this platform for your personal training business.
TrainHeroic
This management software is basically for strength and conditioning coaches. They have libraries fool of exercises.
Benefits of using TrainHeroic
The software helps you create a target for clients. You can coach athletes in a large group and also individually.
You can design your own program besides then 1,200 in-built exercise program in the software. You can share videos to your clients, you can customize exercise for individual clients in a short period of time.
You can track the progress of your team members as they are called and set a target for them.
You can send messages to your clients and organize group chat.
You can market yourself on your website. You create an exercise program and sell to your clients.
Usability
I give it an 8/10
Pricing
The Starter pricing package cost $45 per month for 25 clients. You are required to pay $20 each for additional account added.
The Pro pricing package cost $75 per month for 26-50 clients.
The Elite pricing package cost $150 per month for an unlimited number of clients.
Downside
It is not advisable to use this software for the personal training business. You cannot make money through selling a product or getting new customers and retaining the existing customers.
It doesn't allow for third party payment option like the rest of the software
It doesn't have the nutrition plan feature.
TrueCoach
It is a cloud-based personal trainer management software used by over 10,000 coaches and gym studios and many more. This software saves time, create, upload and download videos. You can also print out clients' daily workout. The back and forth communication is very easy.
Benefits of using Truecoach
The features of truecoach management software are similar to the others and they have as many users.
You and your clients can both log in results and share information on the web. You even have compliance tracking where you monitor the assigned versus the completed exercise. You can them disseminate the information to your clients the way you deem fit.
You can assign specific nutrient in take to a client and track it from your end. It is presented in a graphical form that is easy for you to understand.
You have 900 premium exercise videos to share with your clients or you can create your own videos and share.
It has loads of in-built food types describing the micro and macro nutrient that an individual needs to look fit and be healthy.
The app allows you to assign coaches to teams. You will be able to delegate duties to other coaches while you scale your business. It app is suitable for personal trainers that run multiple organization.
The user can create a logo as the header on all emails and on every page to the client web app. You can make it your own.
You can receive instant messages from your clients and you can also send via the app. You can write email messages and forward to your clients and they all received it in a personalized form.
They get automated notification to remind them of upcoming sessions, or missed sessions.
You get feedback instantly.
Usability
I give it 8/10.
The support team is very efficient.
Pricing
There is a 14-day trial for users.
The Starter price packaging cost $19 per month for five clients
The Standard plan cost $49 per month for 20 clients
The Pro pricing plan cost $99 per month for up to 50 clients.
The perk of paying annually is that you get two months of Truecoach service free of charge.
Downside
No payment transaction can be made with this app.
There are other personal trainer apps with more nutritional content than this.
Clients cannot schedule sessions by themselves.
Total Coaching
This management software company has been in business since 2007, it allows fitness coaches to save time while building their businesses. This software has over 20,000 nutritious food items, 3D Inbuilt exercise libraries.
Benefits of using TotalCoaching
This software has 1000 3D animated exercise videos. This is very impressive and it saves you a lot of time creating new videos and uploading. If you are a thorough trainer and want to add more videos, this software allows you to do this.
You can upload your own exercise videos and upload to the app for your clients.
The communication tool is exquisite. All your communication is in a single place. You have instant messaging back and forth. Your clients receive personalized email messaging right in their inboxes. There is also automated messaging where you and your clients can be reminded about sessions and others.
The 25,000 food items loaded on the app is good for you and your clients. You have all your micro and macronutrients contained in the food clearly stipulated on the app.
It has a "fridge feature" where you can group food items.
The user can track and monitor what the clients consume for health and fitness.
It integrates well into your websites. You can create your own logo and have your own brand with every email notification, each button, all the icons, all the way down to the app on your client's phone will show off your logo.
Usability
The interface is seamless and it is easy to navigate through.
I give it a 10/10
Pricing
Starter price plan cost $19 per month for 5 clients.
Starter Plus plan cost $29 per month for 10 clients
Pro pricing plan cost $49 per month for 3 trainers and 50 clients.
Downsides
It doesn't integrate into social media. Your clients might want to share what they are up to or doing to their friends on social media
Customers cannot make payment electronically through the app. No online scheduling for clients.
Extras
There are a few different pieces of software that you can choose from. I will start with the cheapest and most basic options which are Microsoft Excel and Microsoft word. Most people have access to one of these two programs either at home, at school or on a friends computer.
Microsoft Excel or Google drive spreadsheets
Let's talk about one of the first basic option which is Microsoft Excel. I would bet money that you have at some point used Microsoft Excel, whether in school or for work at some point. This software is fantastic because they can very easily be used as a calendar to set up training sessions.
To do this, it is very easy just set the columns as days of the week and the rows at the top as different times of the day.  Microsoft Excel is also good for creating a basic exercise template to track your clients' exercises and repetitions.
If you currently don't own a copy of Microsoft Excel, I would suggest going to a local office store to buy it. If you can't find anywhere in town, you can always order it off Amazon.com. If you are wondering how to use the program, you can find literally thousands of video and written tutorials just by searching Google.
An alternate option for using Microsoft Excel is to use Google drive spreadsheets. They don't have all the functionality, but it is getting better and can be used to build a simple template or calendar for keeping track of information.
Microsoft word for Google drive documents
In my opinion, I do not think Microsoft Word is as good for building a calendar or a workout template compared to Microsoft Excel. But I have built successful templates, it was just much more difficult.
This workout template that I built in the past on my website, head over to my article here, and you can get a free copy by signing up to my e-mail list. If you still like writing everything by hand, this workout template will definitely help you keep everything organized.
You can also upload this template to your smartphone or tablet so that you can keep track of everything digitally.
Conclusion on Personal Training Software
As you can see, there are multiple different options when it comes to training software! If you already own Microsoft Office or Excel, I would try using these platforms to organize and keep track of your business.
Even these two options will make you a much more efficient personal trainer compared to writing everything down by hand. If you want to try a free dedicated personal training software, I would head over to FitSW's website to check out what they have to offer.
If you want the best of the best, I would definitely sign up for MindBody. In my experience, the amount of money it cost to purchase MindBody was completely worth it due to how much time it saves me overall.
I hope you gain some valuable information from my blog post on personal training software!
Leave a comment down below if you know of other software or have any other questions! Some other articles that might interest you are my articles on personal training marketing and how to sell personal training!