Let's go on a deep review of PT Distinction Personal Trainer Software.
Our analysis of this tool is centered around whether it is right for you, considering the following factors:
Let's make it happen now.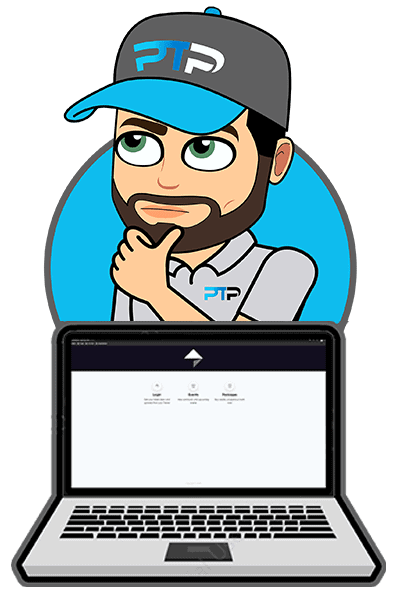 Hey Everybody.
Welcome to my review on PT Distinction, a client management application designed for trainers like you.
I took the liberty of signing up for PT Distinction so I could give you a first-hand take on how it works and how good it is.
The goal is to give you enough information and insight so you can decide if this is something you need and if it's worth it overall.
With that said, let's dive straight into it.
Make sure to take the quiz to get a good idea of which certification is right for you.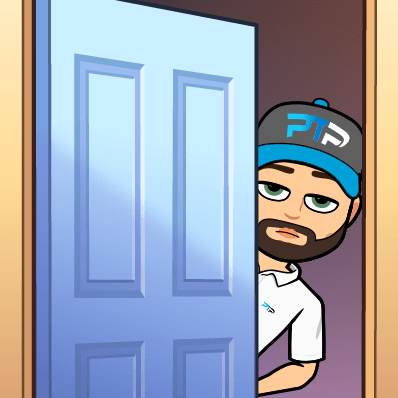 This section will introduce you to what the PT software is all about.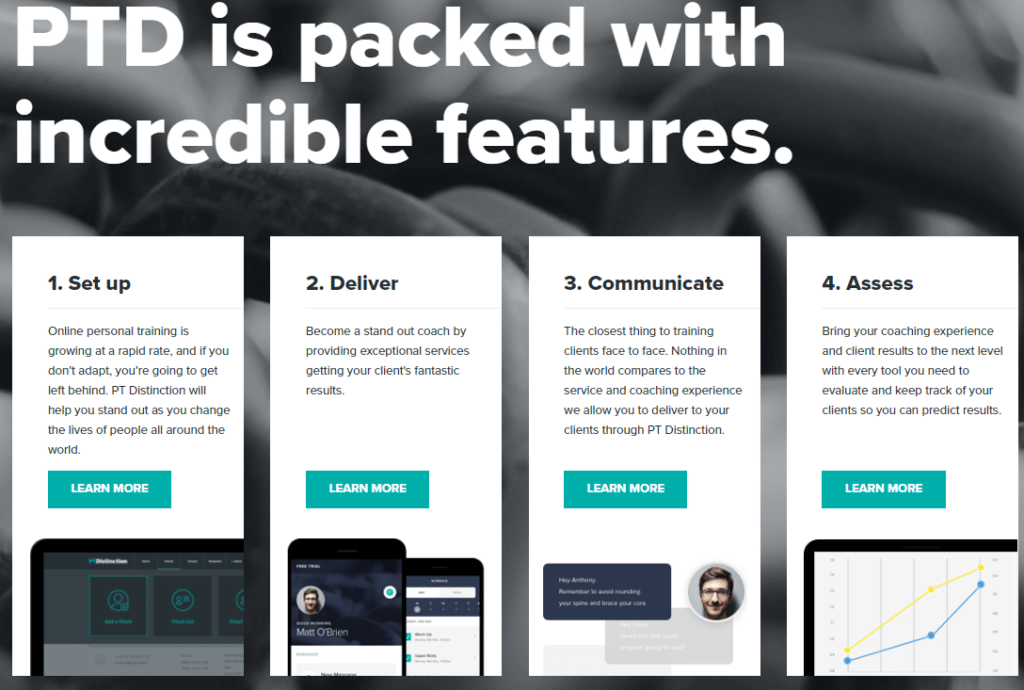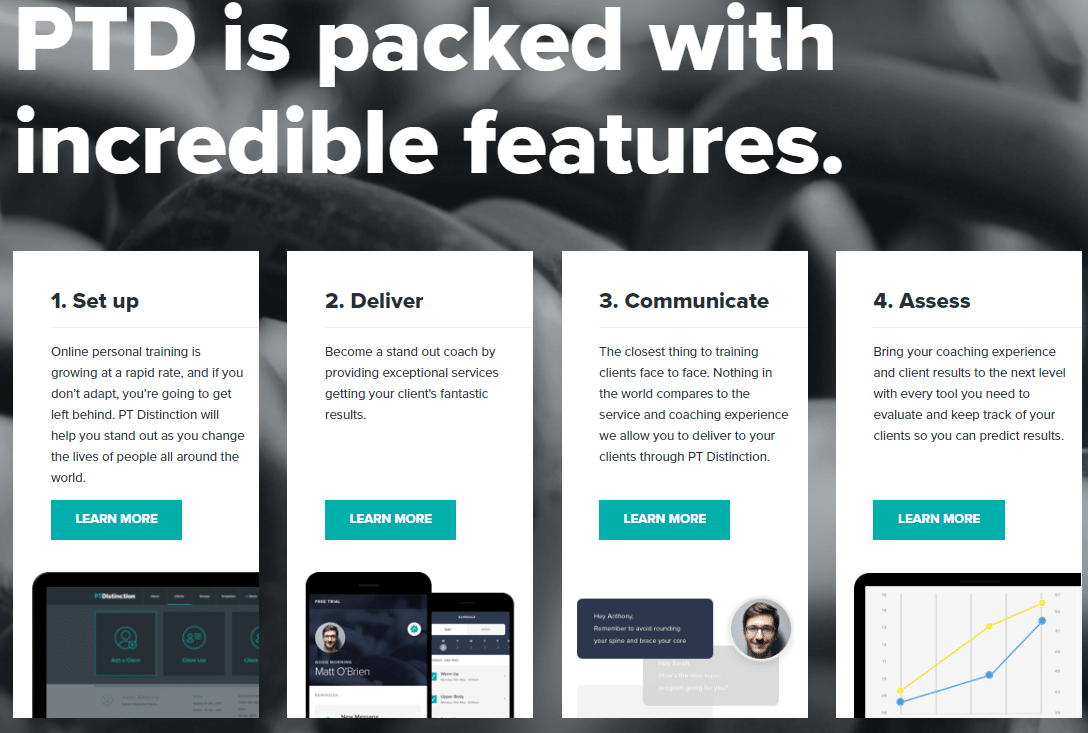 Our lives, whether it's work, school, family, or social, are now inextricably linked from the digital world.
The way we interact with society, the economy, and our most immediate wants and needs now have an electronic interface with the internet as it's the lifeblood.
With the progress in innovation that the fitness world has seen over the last 3 decades, you can bet your bottom dollar that health and fitness have a major digital component to how it functions.
From wearable tech such as smartwatches to apps that track your daily health habits, fitness is now digital.
For the consumer, this is quite evident.
But nowadays, trainers have more and more access to top-notch technology.
In this article, we will look at the PT software that deals with client management, and we're going to do this with PT Distinction.
But before we jump in, let's try and understand what client management looks like for a personal trainer.
That way we can evaluate PT Distinction based on a few key boxes that need to be ticked.
So what should a PT client management platform be able to do?
It should:
Provide a portal for clients to register and pay for your services
Provide user-friendly tools for the collet organization of client data, resources, and schedules
Should automate where possible
Should have a user interface and user experience that promotes the enjoyment of use for both you as a trainer and your clients
Needs to address both the fitness and nutrition aspect of coaching
Provide a way to communicate, interact, give and receive feedback in real-time
Should be mobile friendly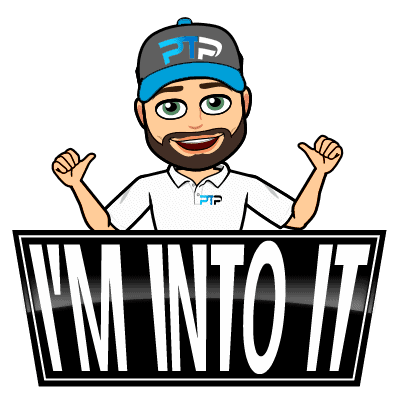 This section will show you how to maximize your time and productivity using PT Distinction PT Software.
PT Distinction is a client management platform whose aim is to buy you back your time while also maximizing your income and productivity.
With a robust suite of tools ranging from scheduling functions, progress trackers, and a host of programming and data gathering templates, it's aimed at helping seasoned trainers optimize the way they do things and how they do things.
It helps you organize all your clients into one, easy to access database which includes all vital stats and information.
PT Distinction allows you to basically become a one-man (or woman) fitness empire.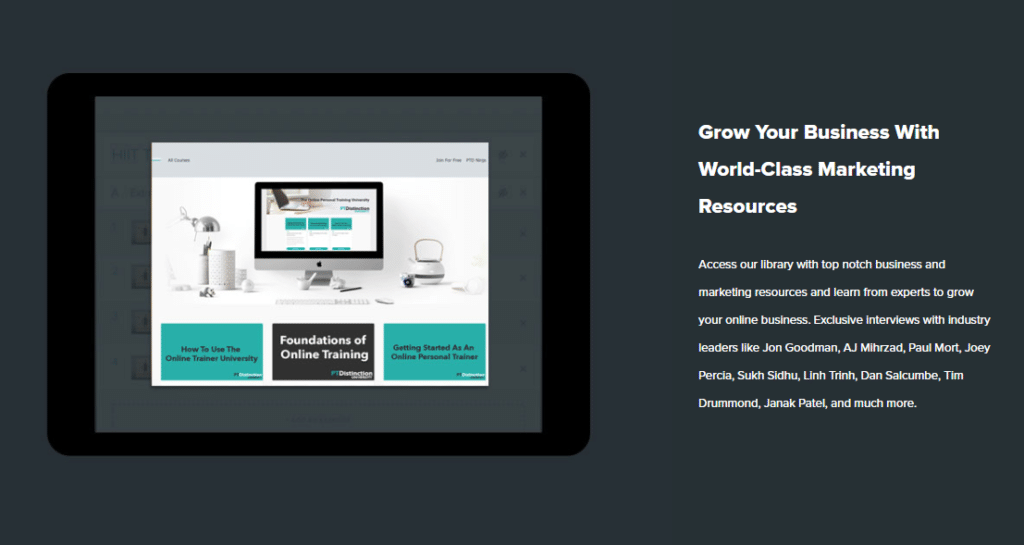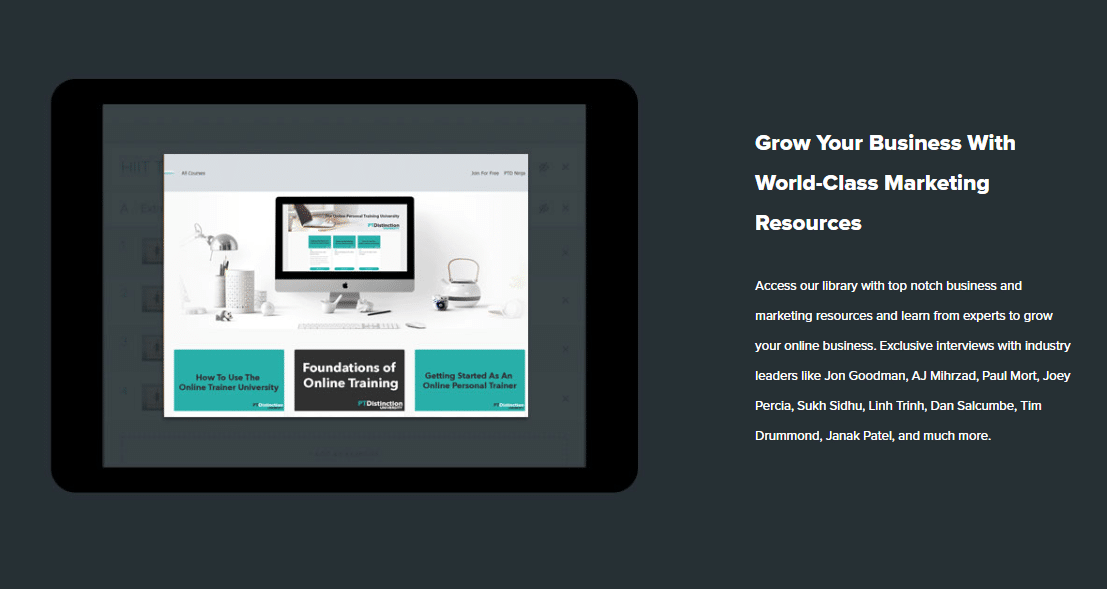 It has so many features and functions it's hard to get through all of them.
You can program your clients' workouts using a library of existing exercises complete with descriptions, all of which integrate easily with the program template presets available.
You can manage one on one clients as well as groups, a feature not too common with many of the PT client management platforms out there.
And when it comes to client management, you certainly want to be able to communicate with them. That's why this app sports an amazing live chat feature so you can keep up with clients in real-time.
What really makes it all work is the fact that you can either use the stock-standard resources, or you can create your own custom resources, whether that's coaching templates, exercises, or other useful coaching assets.
And as a bonus cherry on top, PT Distinction comes with a community and help functionality.
The community feature allows you to connect with friends and other PT Distinction collaborators by gaining insight and sharing knowledge and resources.
The help tab is more crucial than you would initially like to think.
Because PT Distinction is so feature dense, it can be a bit daunting trying to navigate all the ins and outs, so the help tab comes to the rescue.
They didn't skimp on this feature because the help menu includes a library of instructional tutorials that are aimed at helping you find your groove or troubleshoot any drama while using PT Distinction.
How Much Does PT Distinction Cost?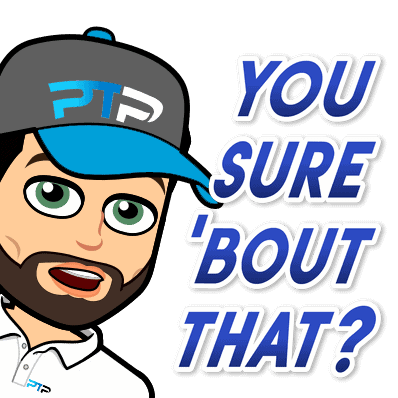 Join me to learn the different price classifications available based on the value you want from it.
The pricing for PT Distinction is pretty simple to work with.
It comes in 3 packages, each priced according to what features are included.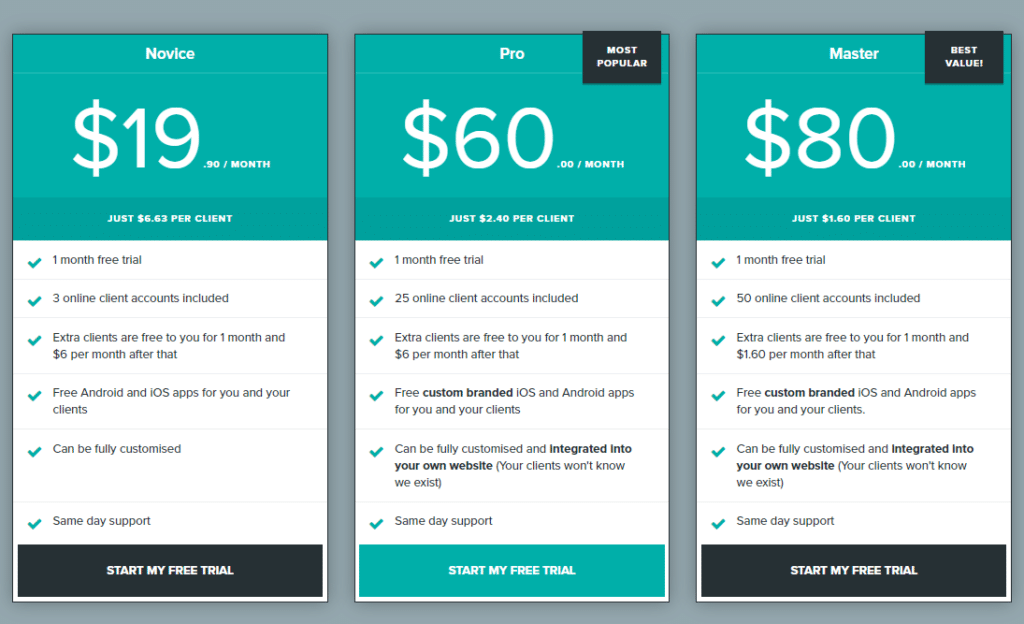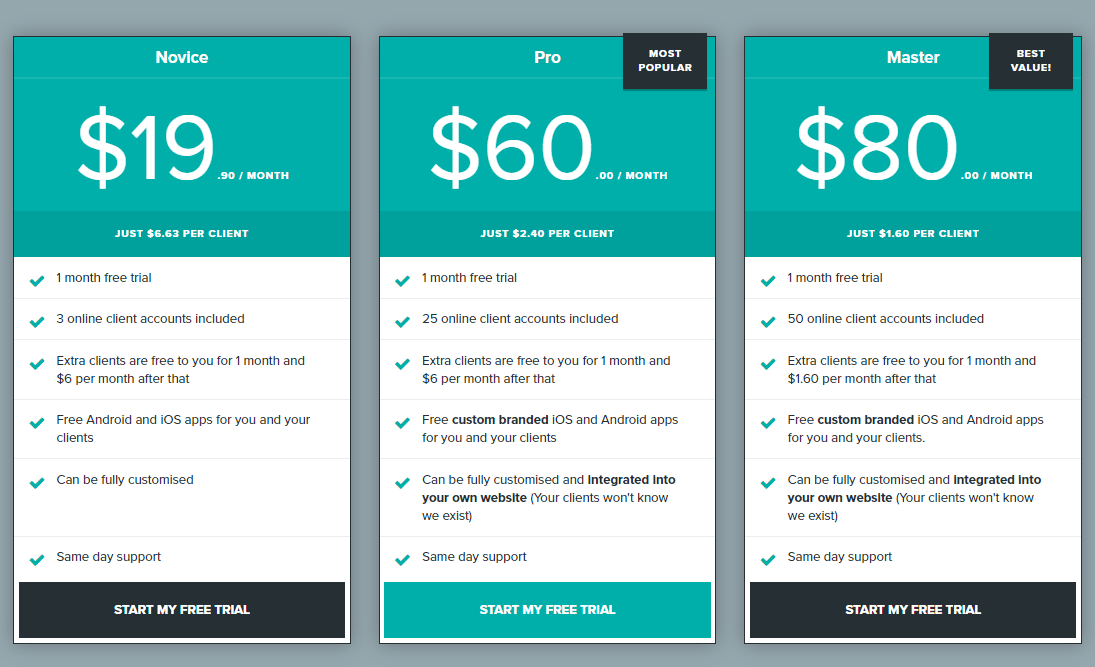 These packages are Novice, Pro, and Master.
Let's take a look at what each brings to the value table.
Exclusive PTP CPT Offers



Gold Standard Cert

Most Popular Cert

Best Study Materials

A Good Option

A Good Option

Best CPT for you?

Novice $19
1-month free trial
3 online client accounts included
Extra clients are free to you for 1 month and $6 per month after that
Free Android and iOS apps for you and your clients
Can be fully customized
Same-day support
Pro $60
1-month free trial
25 online client accounts included
Extra clients are free to you for 1 month and $6 per month after that
Free custom-branded iOS and Android apps for you and your clients
Can be fully customized and integrated into your own website
Same-day support
Master $80
1-month free trial
50 online client accounts included
Extra clients are free to you for 1 month and $1.60 per month after that
Free custom-branded iOS and Android apps for you and your clients.
Can be fully customized and integrated into your own website
Same-day support
The Pro option is the most popular, but the Master package is definitely a better deal if you do the math.
It allows you to add double the online clients as the Pro plan at a small bump in cost comparatively speaking.
Extra clients also cost far less at $1.60 per added client compared to the pro version which allows extra clients for $6.00 each!
What Else Should You Know About PT Distinction?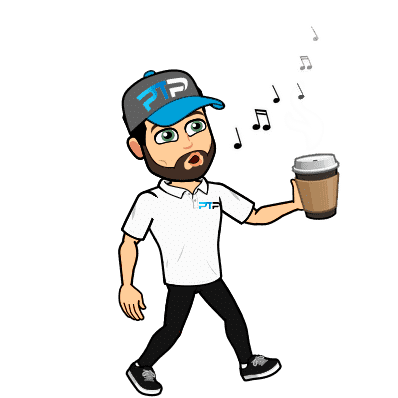 Below are more amazing features of PT Distinction to simplify things for you.
PT Distinction allows you to test drive either one of their packages for a free month.
I would suggest you take advantage of this and use it as a chance to fully learn the system before you actually purchase it.
One feature you'll want to give a go is the chat feature.
Since your whole reason for jumping on a client management app like PT Distinction should be to nurture client relationships, learning the ropes with the chat function is a must.
Aside from in-app chat, PT Distinction has a robust communications center enabling you to interact with clients via SMS text, email, and video call.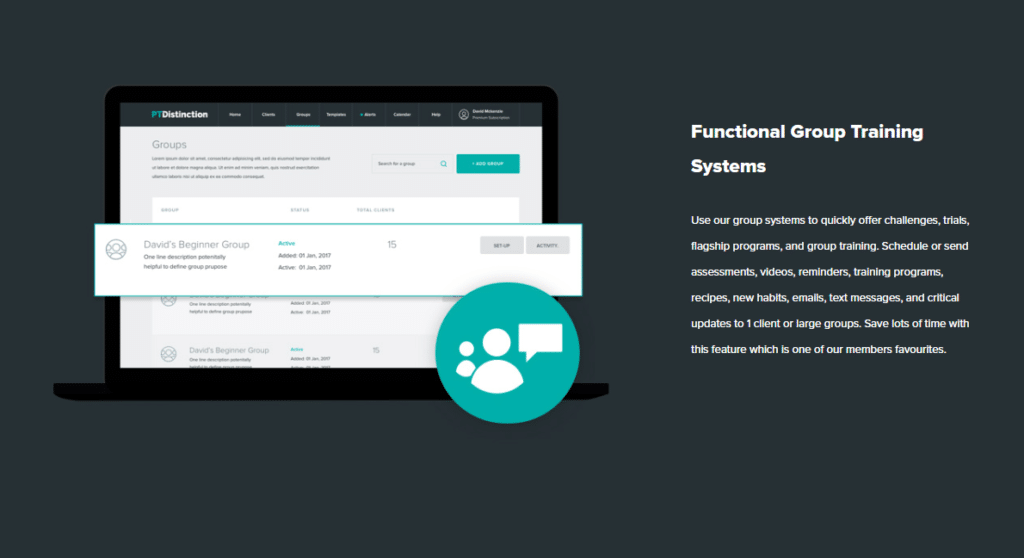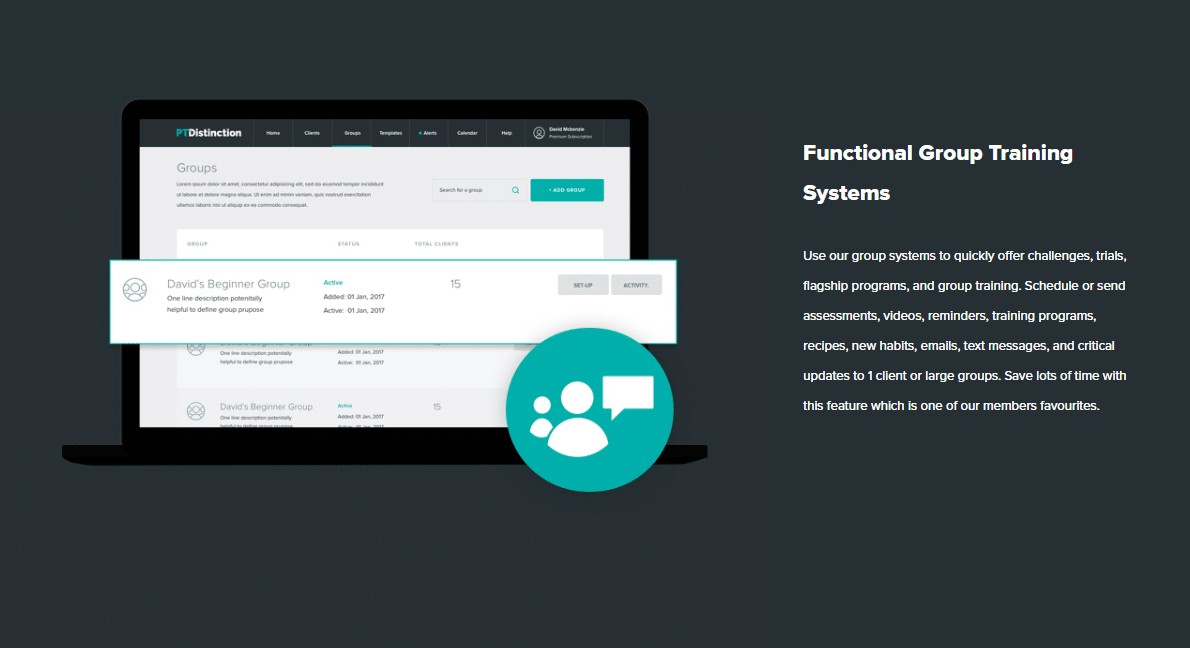 You'll be able to send feedback, do check-ins, and track progress on the fly.
Also, take some time to learn how the programming templates work.
The preset ones are a bit tricky to navigate at first, but more so when you have no option but to create a custom template.
Programming in PT Distinction gives you access to quite a variety of options.
As far as the exercises you can prescribe, PT Distinction has a huge library of exercises you can use to design basic to complex periodized workout programs.
But let's say you have a very specific training methodology, one that contains exercises that your typical pt client management platform wouldn't necessarily know about.
That's where you can upload custom exercises and build your own proprietary library.
The preset programming templates are great to start you off, but you can also take the customization route and generate templates from scratch.
The Photo Food Diary feature is also really cool, allowing you to track your client's dietary habits in order to offer corrective motivation and accountability.
You'll be able to coach your clients by simply reviewing their eating choices and providing the optimal approach.
This is great because nutrition tracking is something that many health and fitness client management platforms tend to miss big on.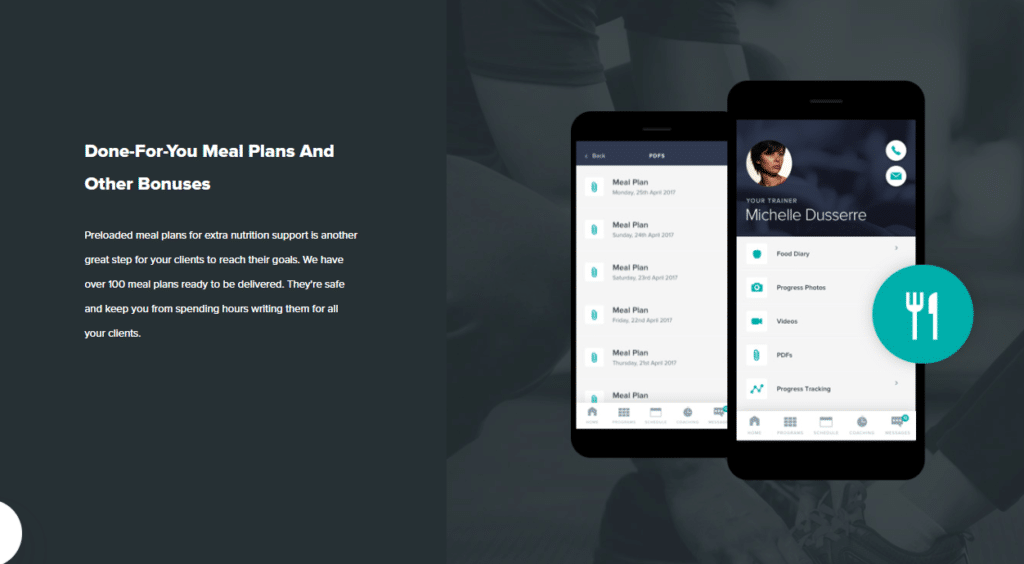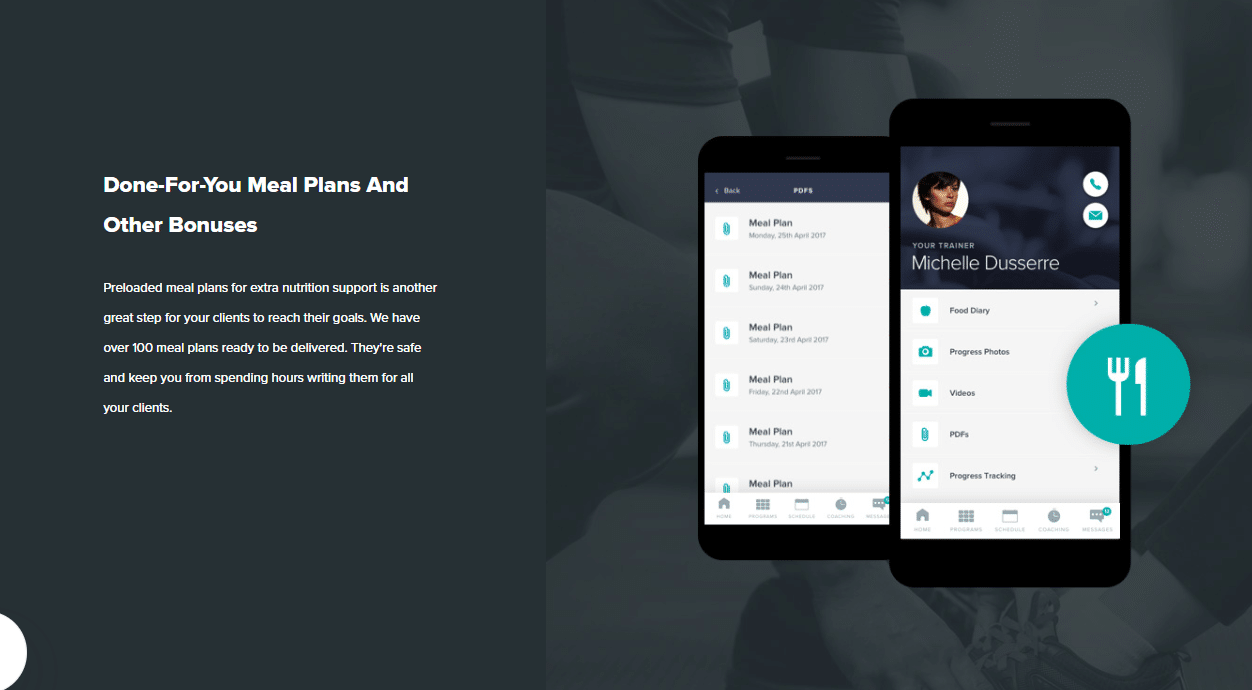 PT Distinction tackles nutrition in 4, well, Distinct ways:
Adherence Chart
Food Diary
Habit Tracking
Integration with MyFitnessPal
It is currently the only PT client management software with MyFitnessPal integration, which as you probably know, is one of the most popular health and fitness apps out there.
The adherence chart is available if you have clients that know how to eat correctly and have a firm grasp of good nutrition, only needing a gentle nudge and some accountability.
The habit tracking feature adds an extra degree of accountability by allowing you to access data over time in the form of analytics and infographics.
This allows you to monitor stats and make adjustments to keep clients on track.
Another exciting feature is the integration PT Distinction has with other apps.
I've already touched on the MyFitnessPal integration, but PT Distinction plays nice with other apps too.
It integrates with FitBit, PayPal, and Myzone.
This means you are receiving tons of data automatically from your client and have access to one of the most recognized and trusted payment systems around.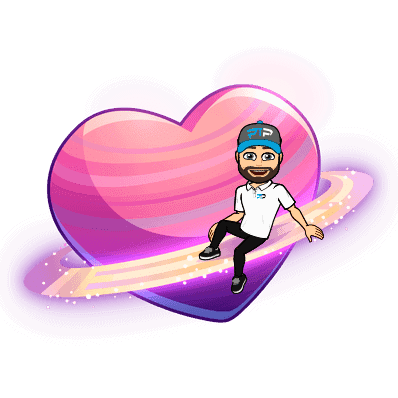 In this section, I'm going to let you know the features that really made a positive difference since I started using it.
Plenty of Useful Features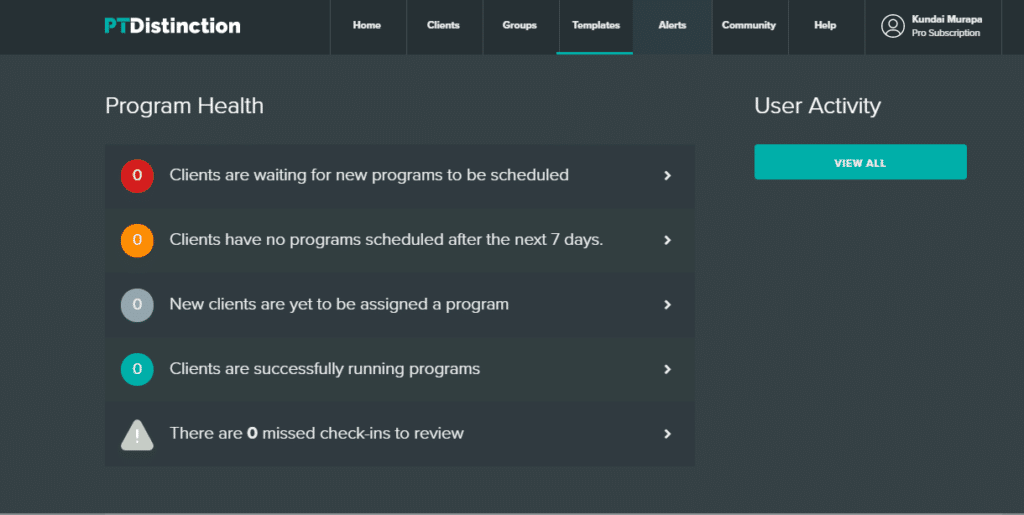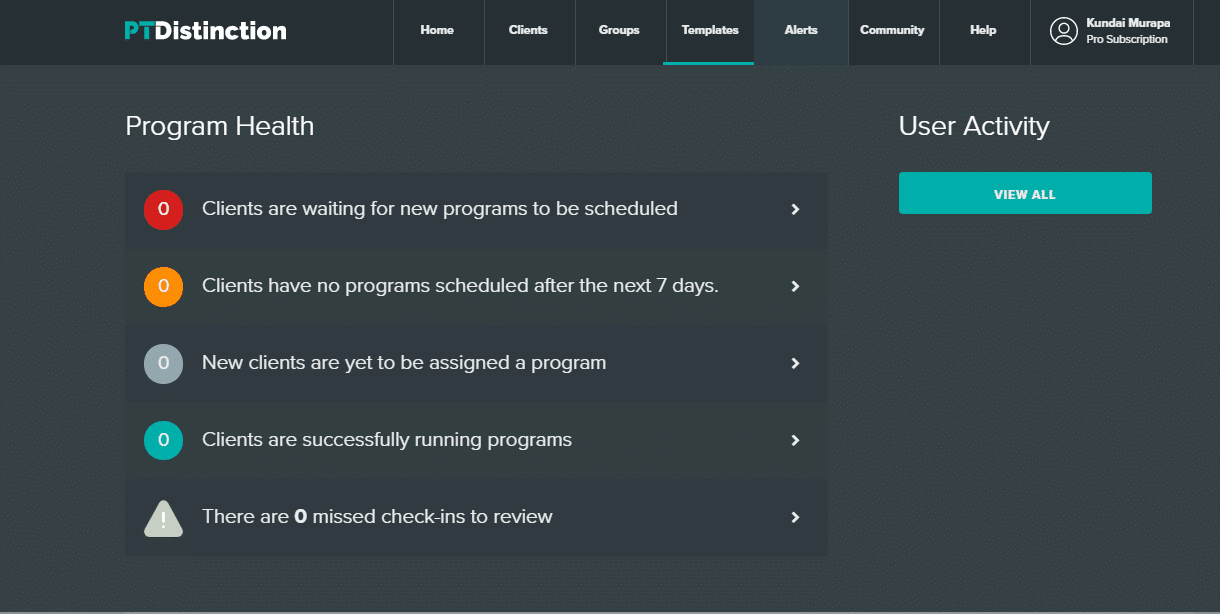 PT Distinction is feature dense.
They certainly tried to cover all bases when it comes to having an all-around client management platform.
Based on their website, features you'll enjoy are grouped into 4 different categories.
These are Set-up, Deliver, Communicate, and Asses.
Let's look at each and delve into the features.
The Setup category in PT Distinction's suite of features is where you'll initiate your Trainer-Client interactive interface.
You can brand your experience using your business logo, trademarks, and visual identity, you'll have access to marketing resources, and you can integrate with your existing website.
All of this is scalable based on the scope and vision of your PT business.
This category sports all the features that allow you to provide tangible service to your clients.
The programming functions of PT Distinction are second to none, not only allowing you to create immediate solutions but also long term habits.
Exclusive PTP CPT Offers



Gold Standard Cert

Most Popular Cert

Best Study Materials

A Good Option

A Good Option

Best CPT for you?

The group training feature is something you won't find too often, so it's great to see it implemented so well.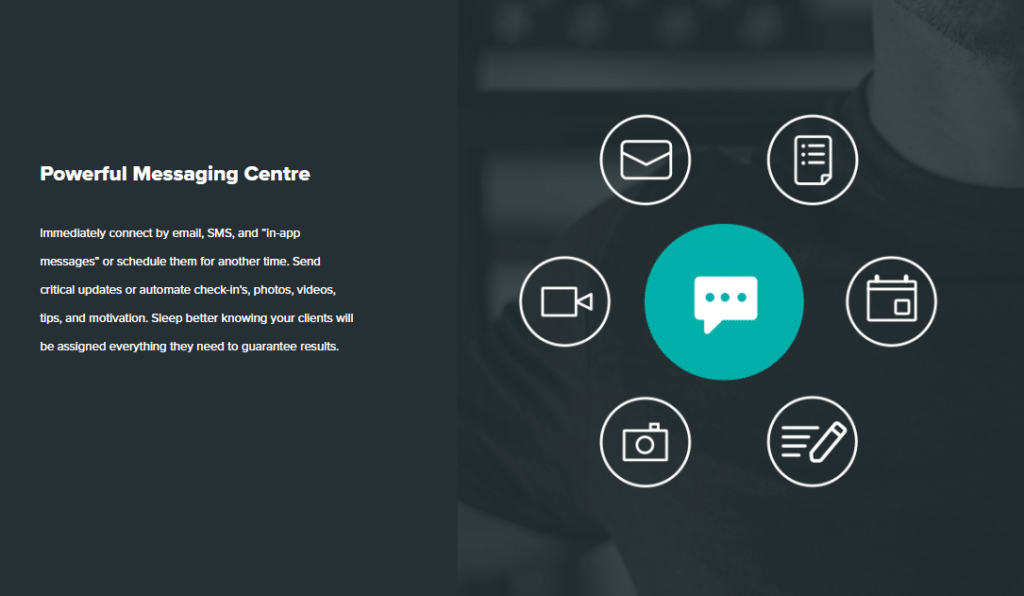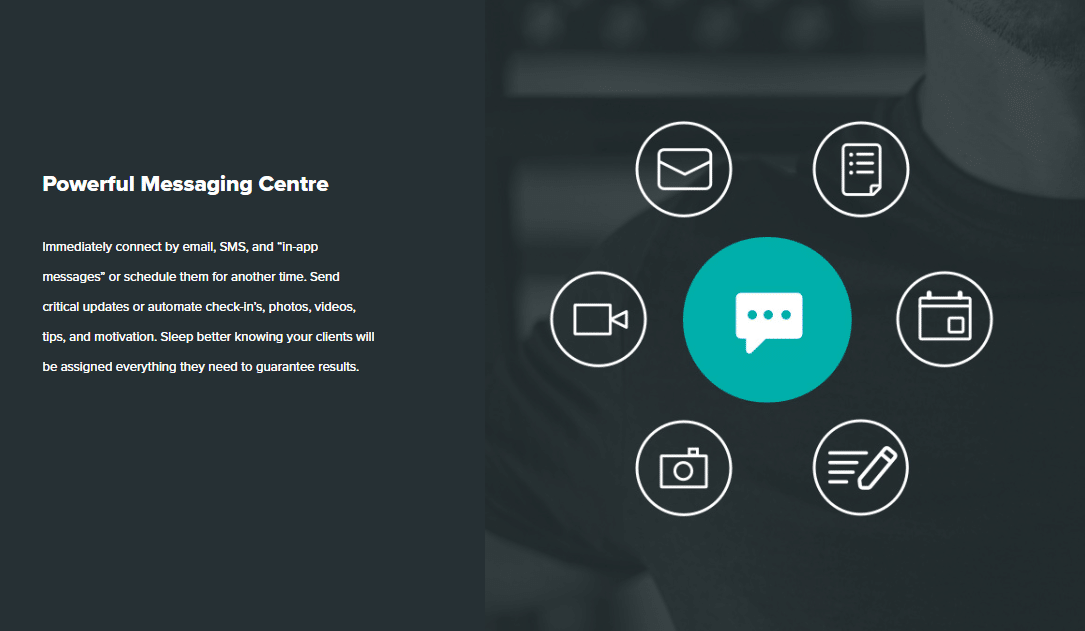 The communication options I've already gone over are so pivotal to the utility of PT Distinction.
Automated notifications, a powerful messaging center, and a multitude of feedback options come standard.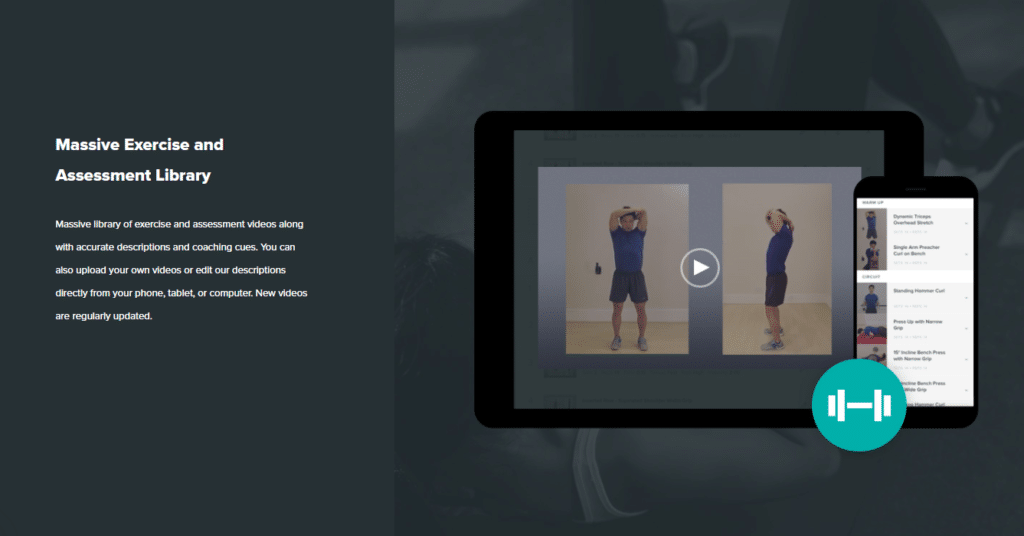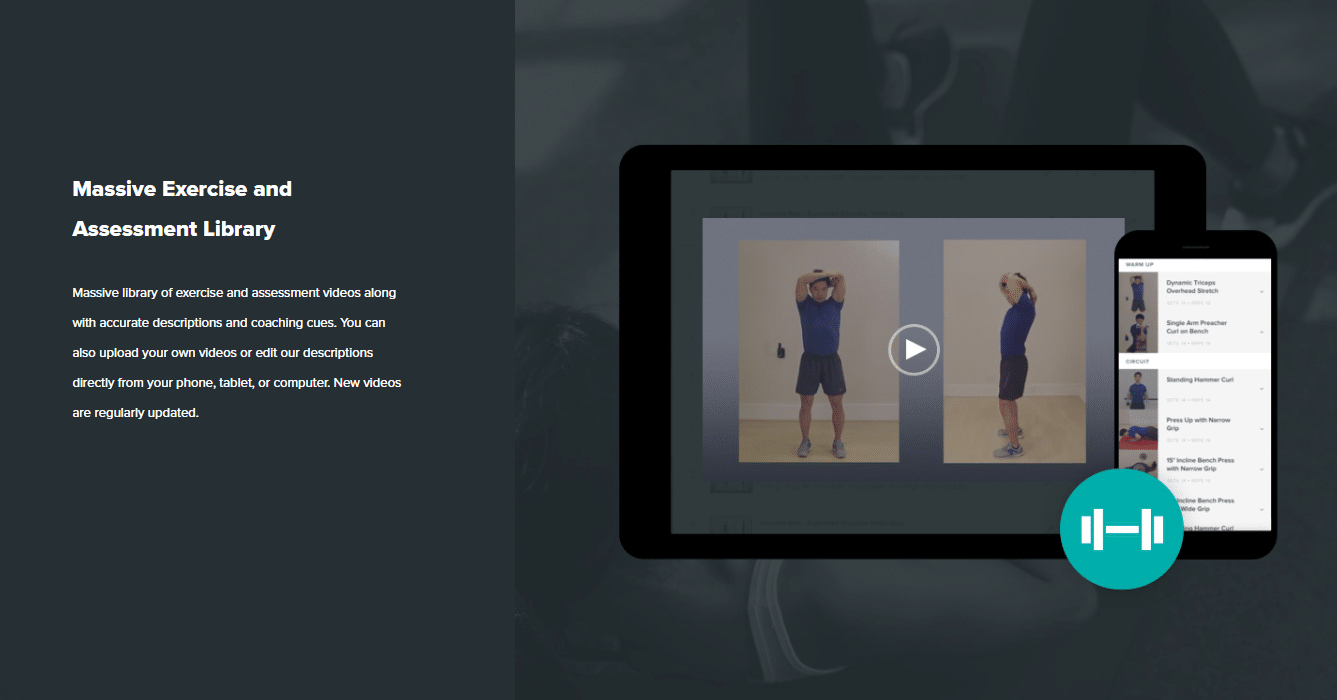 Lastly, we look at the assessment features of PT Distinction.
It comes standard with the following fundamental testing criteria:
Balance Tests
Body Composition analysis
Endurance Tests
flexibility Tests
Movement Tests
Strength Tests
These help you track and mark the progress of your clients.
Your assessment capabilities aren't limited to what the app provides.
You can create your own custom tests and assessments, proving once again how versatile PT Distinction is.
Aside from conducting fitness tests, PT distinction also has measurement and analysis features.
These help you keep tabs on:
Body Circumference Measurements
Daily Activity
Food Journal
Habit Adherence
Training Progress
Weight
The real-time alert system I mentioned also comes into play here with user-friendly client activity pages that notify you as soon as your clients log their results or queries.
Another great aspect of PT Distinction is mobile functionality.
It has apps for both Android and iOS. This is not just a cool feature.
In this day and age, having a mobile app is tantamount to success.
That's because a vast majority, over 70%, of online activity is carried out via a mobile device.
And when it comes to mobile, having an app is far better than using a browser.
The apps are easy to use and understand for both clients and trainers.
All the desktop features have been seamlessly integrated, offering an on the go experience.
The browser access portal is still ahead of the curve when compared to the app.
The user experience could still do with some tweaking here and there in order to get it fully up to speed with the full functionality of PT Distinction.
Another great thing about the app is the customizability of its visuals.
This allows you to fully brand the app and make it seem as though it's your own piece of nifty software.
It's free to download on both iStore and Google Play with regular updates.
Clean, Attractive Interface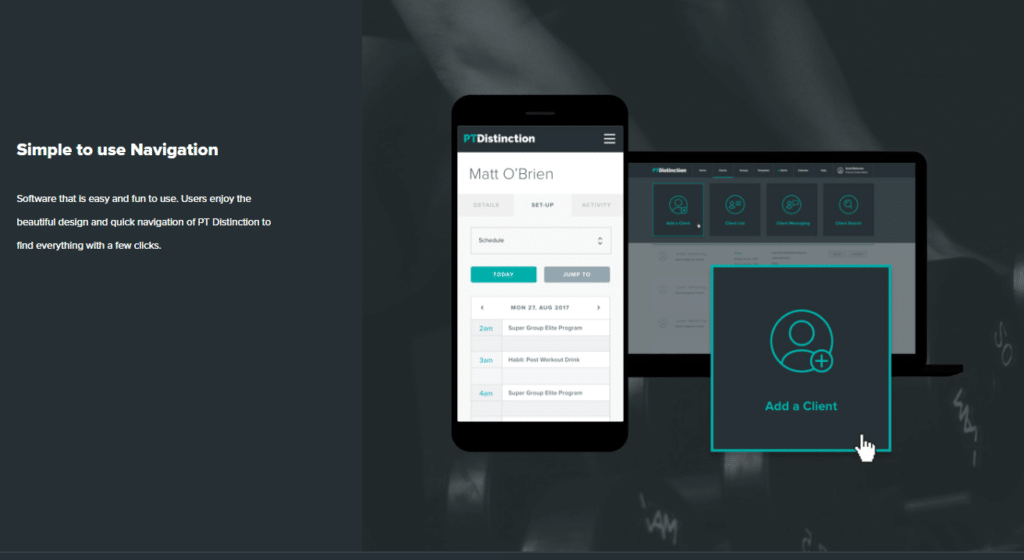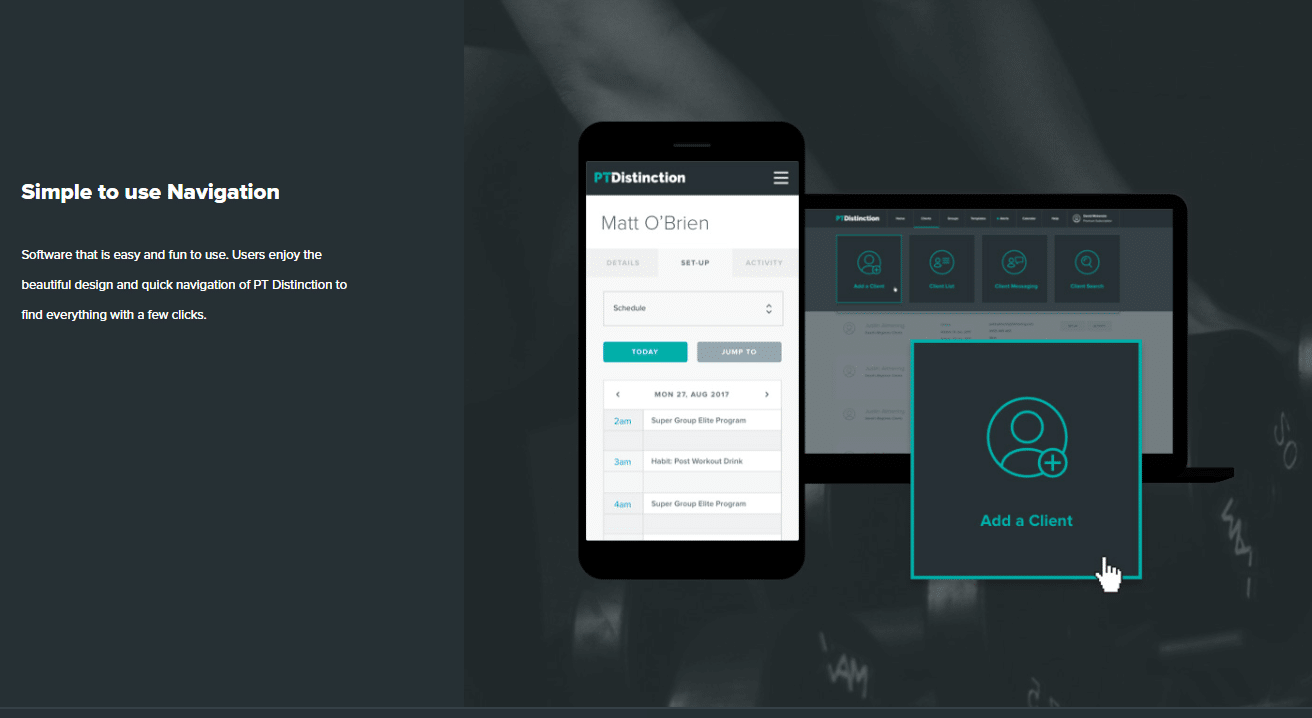 PT Distinction does many things right, but if there's one thing I can say is done really well, it's the fact that it is so good looking.
PT Distinction has a modern minimalistic approach to its user interface, using a layout that is clean and direct, while also bringing across a visually appealing layout.
But what is a good user interface without a good user experience?
Nothing!
That's why PT Distinction has a user experience that walks what it's design language talks about.
The simple, direct layout leads you towards the right button clicks and form fields making for a crisp, easy experience.
And with such a density of features, having the design and useability locked down is more than welcome.
Visual customization on the App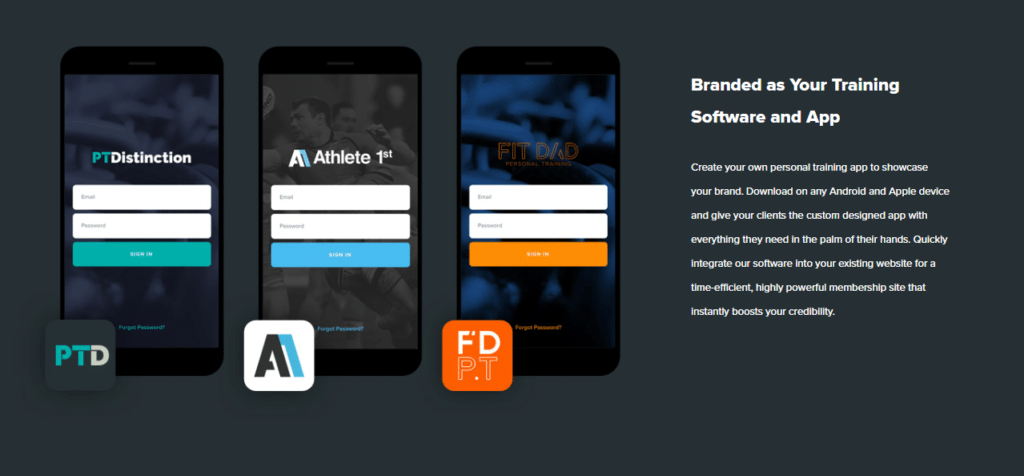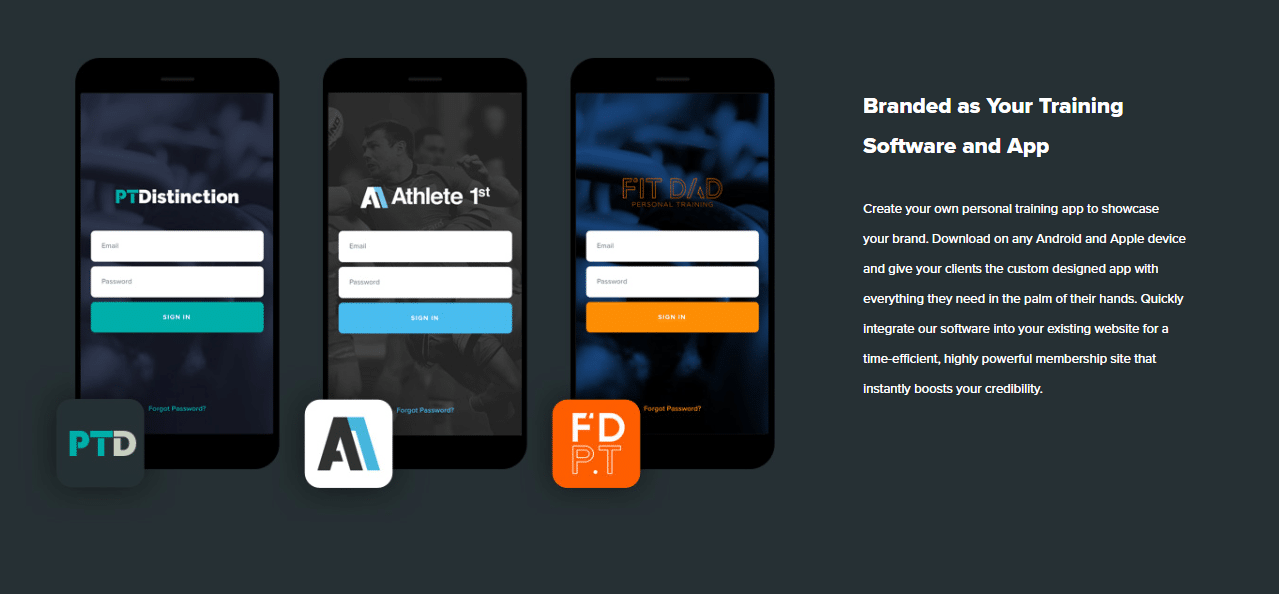 I briefly went over the visual customization feature in the Set-Up Features.
Let's look at it more in-depth shall we?
The personal branding option for the PT Distinction mobile apps is a win-win.
It allows you the added value of having what appears to be your own custom app, without the hassle of having to develop it yourself.
App development is easier than ever nowadays, but it's still a complex process and requires constant care and attention.
PT Distinction allows you to enjoy the value and prestige that comes with having a personalized app without the hassle of maintenance, update, and customer care commitments.
The crisp, clean design of PT Distinction integrates well with your visual identity, from logos to the color scheme.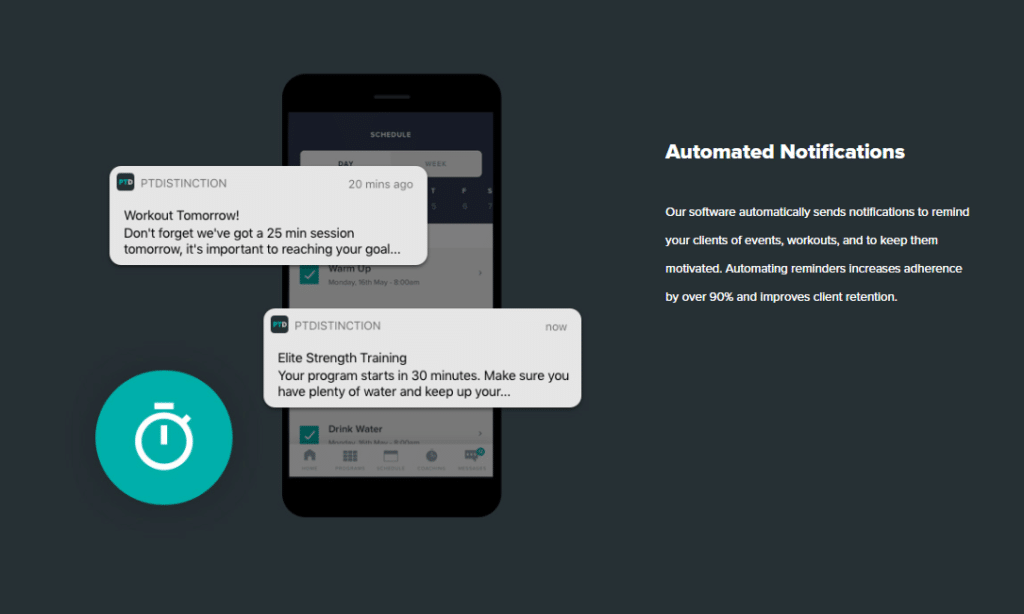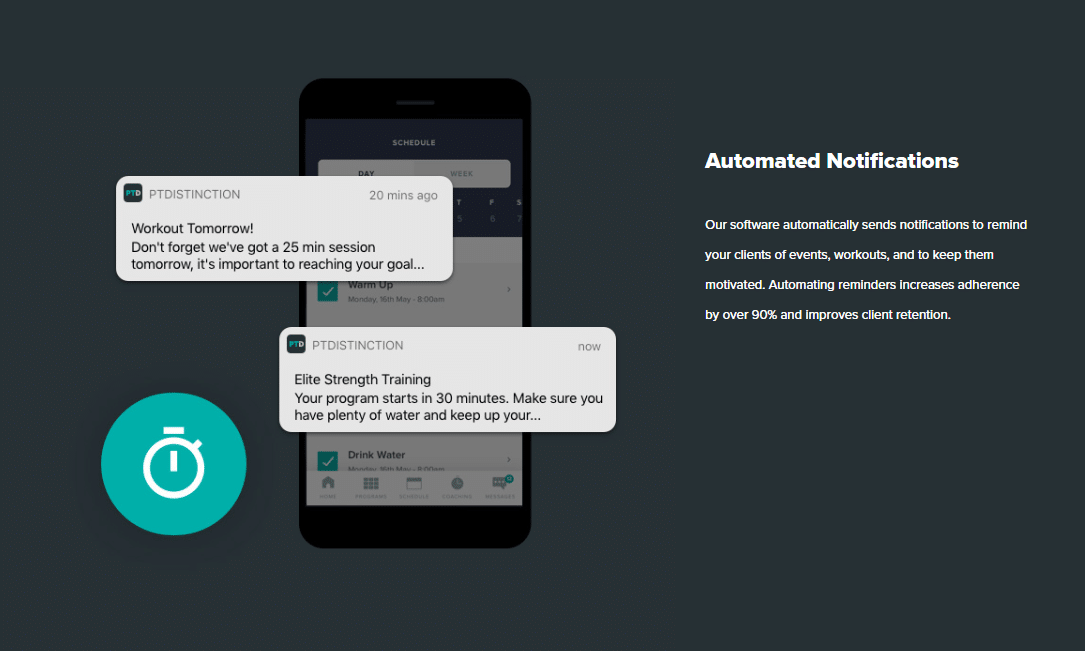 Automation is one of the key aspects of a good client management system.
And this necessity isn't lost when it comes to online personal training.
Being able to automate and pre-schedule tasks and notifications are one of the core strengths of PT Distinction.
The software automatically sends notifications and reminders to your clients or groups.
This allows you to focus on tasks that can only be done via your personal touch as a personal trainer such as custom workout programs or meal plans.
This helps improve and maintain adherence from your clients while also keeping them hooked due to your up to the minute service.
Automation in this way improves client retention and loyalty.
PT Distinction integrates with your existing website via a nifty embed code that you can place on your landing page.
This feature works well towards securing membership and long term commitment via your website.
The site integration allows you to maintain a degree of individuality in that your clients won't know they are accessing you via PT Distinction.
Your clients will be able to access all their resources directly through your website as opposed to needing to go through PT Distinction itself.
As if that's not enough, PT Distinction allows you the option to create your own minisite if you haven't got one already.
The mini-site setup allows you to offer all the features and functionality of PT Distinction in a way that is personalized to your own brand without needing your own website.
The only drawback is that your URL will still display distinction as a domain source.
You can work around this with a technique called masking, which requires some firm knowledge of coding and web design. Best to ask a pro to help you with this if you choose to customize your mini-site URL.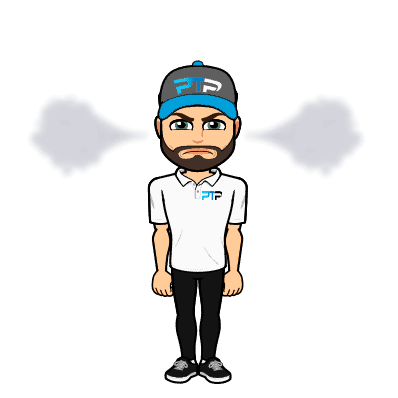 Although I would love to keep raving about this software, there are some features that still need to be tweaked for more efficiency.
Let's take a look at them below.
Could Do With More Template Presets
For all its triumphs when it comes to templates and presets, PT Distinction does fall short in some minor areas.
The results tracking templates, for example, don't come with any workable presets, you will need to design them from scratch.
This isn't the case with all forms, however.
The programming templates allow you to move with preset templates.
So all-in-all, this is a small nitpick, but certainly, something that could be improved.
Because PT Distinction is so packed to the brim with features, there is a lot to learn before you can fully harness the level of productivity it offers.
This is one of those cons that is also a pro.
A two-edged sword in that all the useful features mean that PT Distinction is hard to fully use.
Not an entry-level platform
PT Distinction is a robust, feature dense, complete package. It is aimed at the well-rounded, experienced fitness expert.
This makes it a bit of a challenge for fledgling coaches. Trainers who are only just getting their feet wet, especially from an online training perspective.
The concepts and tools available on PT Distinction are difficult to master just from a technical perspective as I've discussed.
However, even after mastering all the nuts and bolts, you still need a good level of experience in fitness to be able to articulate the function of the tools into a valuable service for your clients.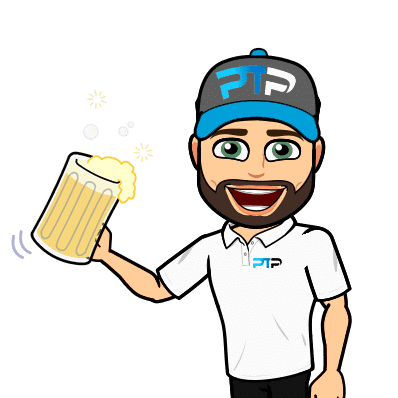 Here are some pros and cons of PT Distinction PT software.
So we've taken a look at PT Distinction and some of its highs and lows.
Here's a TLDR version of what I consider the platform's pros and cons.
Excellent mobile carry-over
App with branding and visual customization
Great UI and UX (user friendly)
Automation
Integrates with your existing website
Allows you to create your own branded website
Easy to organize client management system (client management dashboard)
Steep learning curve
Aimed more towards expert trainers
Is PT Distinction Right For You?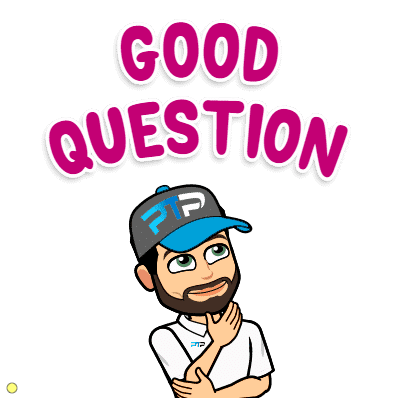 Is it right for you?
Find out in this section.
Despite having so many features to navigate, giving it somewhat of a steep learning curve, the individual features themselves are easy to learn, all helped along with the aesthetic and functionality helps users interact better with the app.
PT Distinction has awesome support and helps features.
You can reach out to the support team via live chat for direct, real-time assistance, or you can use the handy help tab, complete with comprehensive troubleshooting videos.
Compared to many of the other well known PT client management platforms out there, PT Distinction is quite reasonably priced.
The 1-month free trial also allows you to give the app a test drive at no expense so that by the time you've decided you're going to go all-in, you won't waste time learning the system.
Overall, PT Distinction is a great bit of software for the experienced, qualified trainer.
I highly recommend this, but mainly for established trainers with a good, working business model, who simply want to make the jump to an online pursuit.