The NSCA CPT and CSCS certifications both offer an exceptional curriculum with an emphasis on science-based strength and conditioning principles. The CSCS is more difficult than the NSCA CPT and is focused on professional strength and conditioning coaches rather than general personal training.
I highly recommend that you take the quiz and find out which NSCA certification is best for your career goals.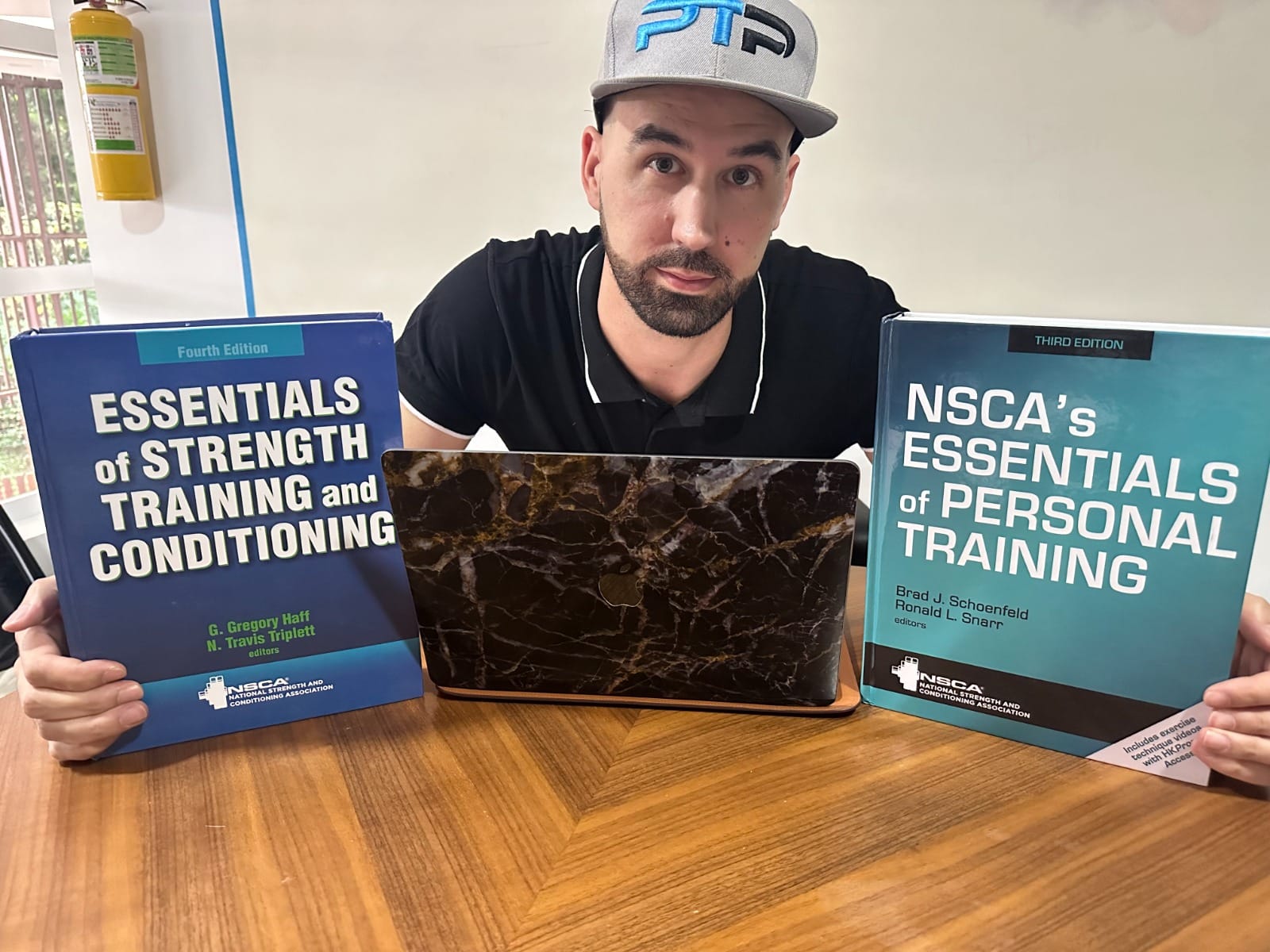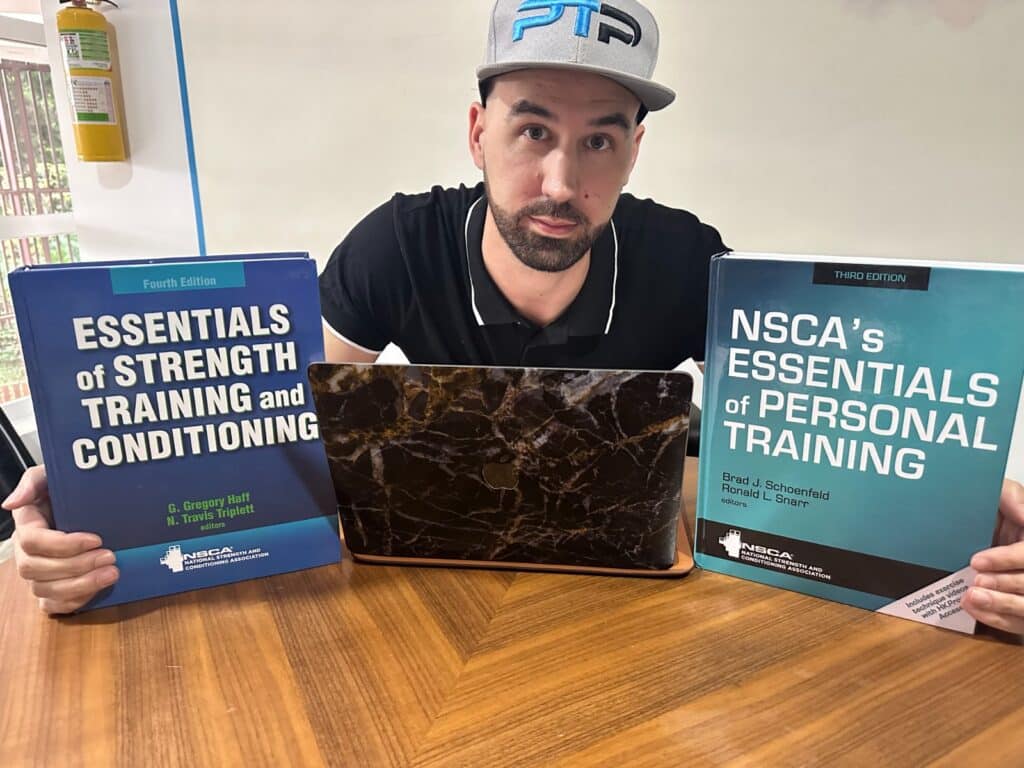 This is my exhaustive review of the NSCA CSCS vs CPT certifications, two of the best fitness options out there for aspiring trainers and coaches.
I write this breakdown after completing both programs and passing the NSCA CPT and CSCS exam, using my experience as a fitness professional for over 10 years.
The PTPioneer team includes trainers and coaches certified through NSCA, NASM, ACE, ISSA, and all the major organizations, and we've combed through the data to bring you the best possible review.
I compare the NSCA CPT and NSCA CSCS in the following key areas:
Course content
CSCS vs CPT pricing and packages
Pros and cons of NSCA CPT vs CSCS
CSCS exam difficulty vs CPT, salary, and recertification
The National Strength and Conditioning Association, or NSCA, is one of the most reputable and trusted certifying agencies.
They've been around since 1985, so you can bet they have built a strong database of well-researched knowledge.
That's why I will look at two of their main certifications, the CPT or certified personal trainer, and the CSCS or certified strength and conditioning specialist.
Both are at either end of the spectrum of complexity and depth, but let's see what each offers to decide which would be right for you.
And since we're on the topic of decisions, I strongly advise you to check out my quiz here. It will help you decide which certification would be best for you and your career objectives.
If, at the end of the article, you decide one of these certifications is for you, check out the greatest premium study guides at trainer academy.
Also, check out our free study guides here at PTpioneer!
So, let's take a deep dive into the NSCA certifications.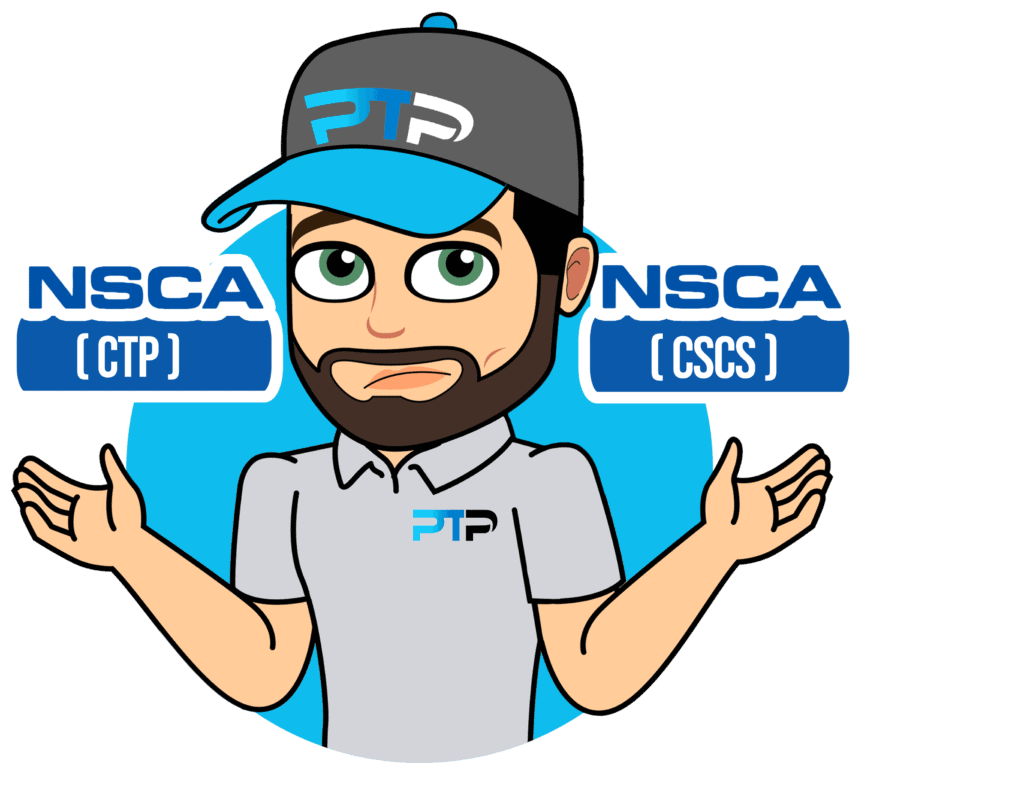 CPT
ACSM vs ACE Quick Breakdown
Features
Price

NCCA accredited program
Great for newcomers and seasoned professionals
Great CEU opportunities
Membership discounts and benefits
Lacks coverage on the personal training business, marketing, and sales

View on the NSCA website

NCCA accreditation
Difficult exam
Huge NSCA network
Fair NSCA membership costs
Access to the NSCA Journal of Strength and Conditioning Research
Some exam prep material is inadequate

View on the NSCA website
Product
Exam cost
Exam cost
$300-$435
$340-$475
Study Material Cost
Study Material Cost
$579-$781+ (not including exam)
$697-$900+ (not including exam)
Prerequisites
Prerequisites
CPR/AED, 18 years of age, high school diploma/GED
CPR/AED, 18 years of age, high school diploma/GED
Exam Passing Score
Exam Pass Rate
Exam Pass Rate
60-75% depending on year
56%
Average Completion Time
Average Completion Time
3-6 months
3-6 Months
What is the NSCA Certified Personal Trainer Certification?
The CPT (Certified Personal Trainer (if you were wondering "what does CPT stand for?") from NSCA is a popular choice for people with a more in-depth passion for exercise science.
This cert gives its trainers a generally well-rounded approach to fitness and exercise science.
It's a solid certification regarding what you will learn and the recognition it gives you.
What is the NSCA CPT exactly?
It's all about teaching the client rather than simply instructing them. NSCA CPT training protocols encourage clients to gain a practical understanding and comprehension of the training methods administered.
A key aspect of the CPT cert is safety. Knowing how to handle emergencies, sports injuries, and protocols necessary for optimal rehab.
The tenets of sports medicine are a large influence on this certification.
This is why trainers with the NSCA CPT have the best safety record when working with general population groups.
Check out my free study guide and practice test for the NSCA CPT here.
What is the NSCA CSCS?
The CSCS, or the Certified Strength and Conditioning Specialist, is where things get more in-depth, some say the most in-depth.
That's because this is considered the golden standard in certification and largely because it is elusive due to the difficulty of passing the exam.
Both CSCS and CPT are accredited by the NCCA and quite reputable.
The CSCS or certified strength and conditioning specialist (in case you were wondering what CSCS stands for) is a powerhouse regarding credentials.
Considered the best certification in the US for the fitness industry, the CSCS has a stellar reputation and a community of trainers that prove that.
The CSCS is designated for top-flight professionals, and to make sure only the best are awarded this certification, one of the entry barriers is that you complete a college degree in a field related to sports science or sports medicine.
As if that's not enough, gaining the certification is notoriously difficult.
With an annual pass rate of just 55%, you're almost as likely to fail as you are to pass.
Those aren't great odds, but in a way, it's a good thing.
Such a high entry barrier serves as good quality control.
So, when it comes to training methodology, the CSCS certification is, as it suggests, a strength and conditioning certification.
It is focused on special population groups such as elite athletes.
That's where the prestige comes from because this certification is a gateway to the world of professional sports, a multi-billion dollar industry that eclipses general fitness.
Exclusive PTP CPT Offers



Gold Standard Cert

Most Popular Cert

Best Study Materials

A Good Option

A Good Option

Best CPT for you?

Check out my free study guide and practice test for the CSCS here.
Pros and cons of the NSCA CPT vs CSCS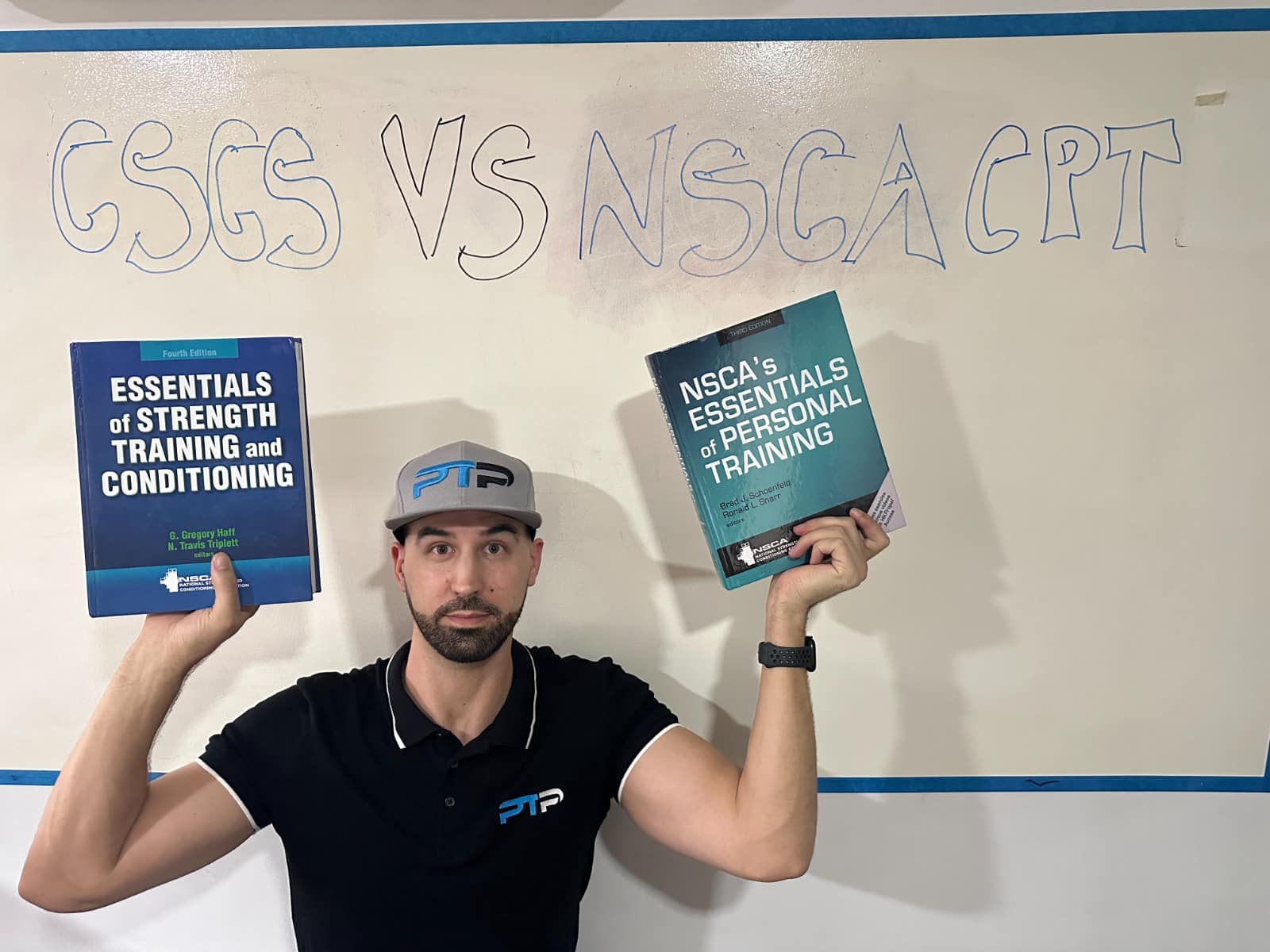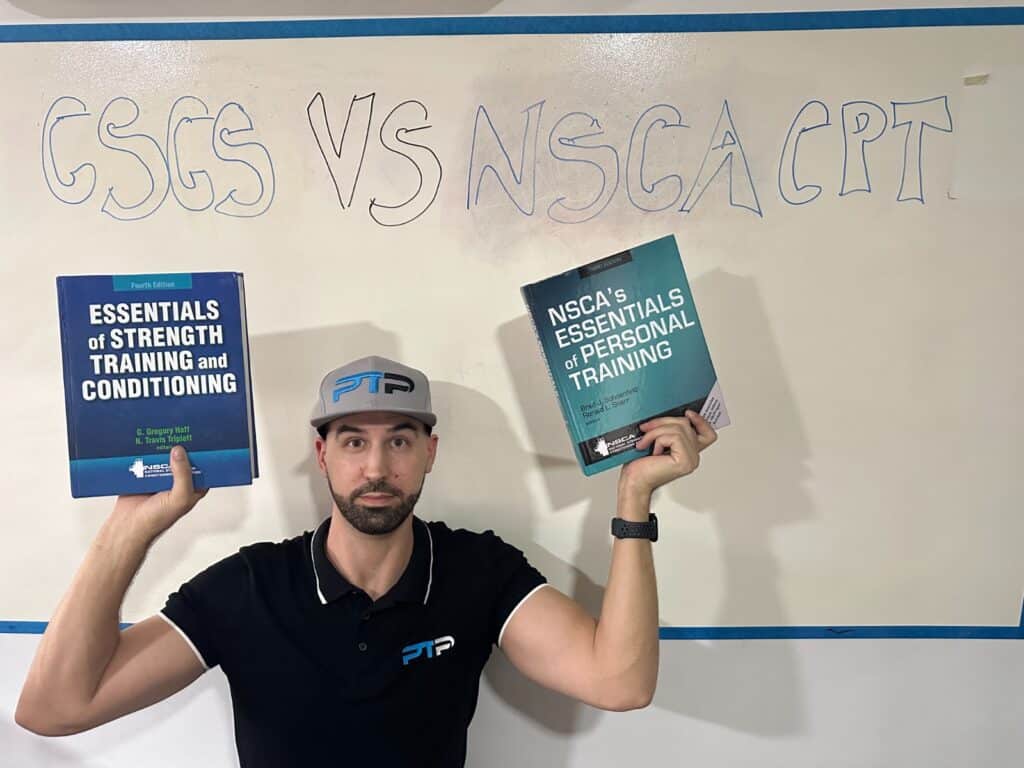 Both NSCA CPT and CSCS are incredible certifications. Obviously, if you want to become a personal trainer the CPT will suit you more and the CSCS aims to help someone looking to become a strength coach.
For those reasons, The NSCA Certified Personal Trainer has much better coverage of special populations than the CSCS, and more complete screening when it comes to assessing if exercise is appropriate to someone without a doctor's clearance.
The Certified Strength and Conditioning Specialist has slightly more in depth information on how the body works, and much more coverage on training methods, especially on how periodization for different athletic sports should be handled.
NSCA CSCS vs NSCA CPT pricing and packages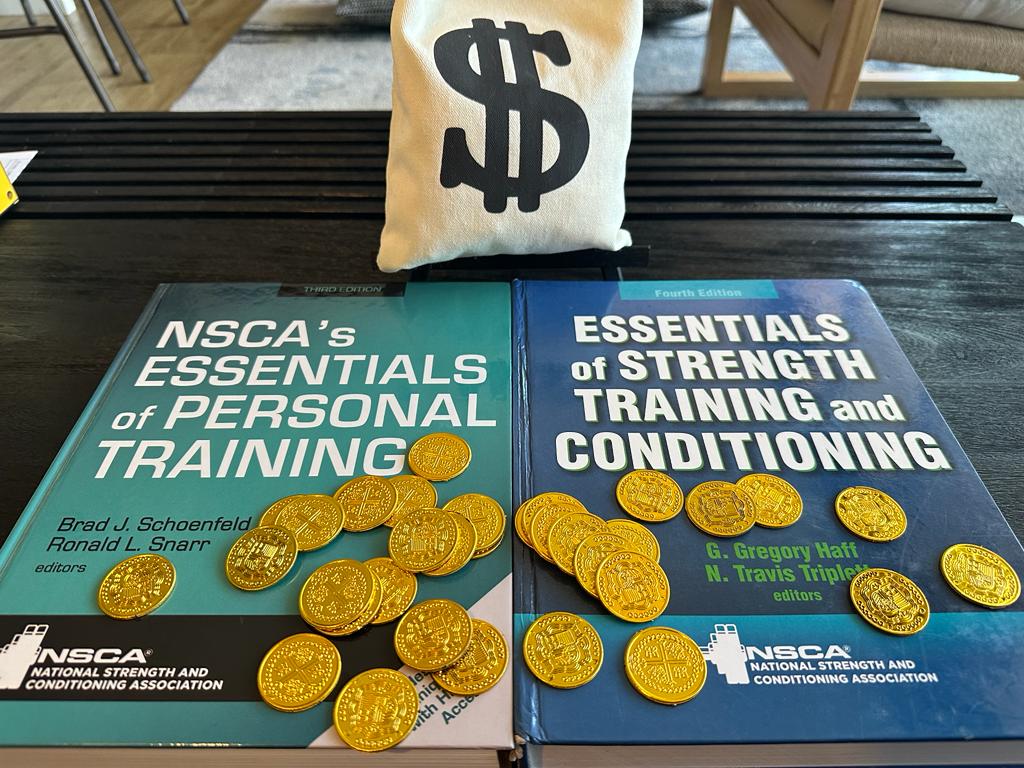 Which study material is best for each of the certifications?
Both of these certifications used to have packages with different tiers that gave you individual resources; however, now those packages are gone and you have to buy each study tool individually. Being a NSCA member also cuts down on your costs as well.
Aside from a reduced course price, membership also allows you special access privileges.
These include:
Discounts
Exclusive journal access
Inclusion to the NSCA community and events therein
Exclusive online content.
Membership also comes in 3 different tiers with pricing to match.
These are:
Student membership is $70.00
Professional membership $130.00
CPI membership $359.00
For more information on what membership entails, check it out here.
NSCA CPT Pricing
Registration for the CPT exam costs $300 for members and $435 for non-members.
You will also need to purchase the textbook, Essential's of Personal Training, which costs $119 for non-members and $109 for members.
These are the bare minimum tools you need: the exam and the book to help you study for the exam.
I'd also recommend getting the NSCA Quizzes and Practice Test, which is $200 for non-members, and $150 for members.
Also, you may want to add in the NSCA-CPT Study Guide, which costs $20 for members and $27 for non-members.
So, if you add all this together, the total cost is $781 without membership and $579 with one.
You also may want to get the Exercise Technique Manual for Resistance Training, which is $89 for non-members and $80 for members.
This brings the total up to $870 for non-members and $659 for members.
In addition to all this, NSCA has online clinics you can register for which cost between $285 and $325.
NSCA CSCS Pricing
Registration for the CPT exam costs $340 for members and $475 for non-members.
The textbook, Essential's of Strength Training and Conditioning, costs $109 for non-members and $107 for members.
If you get the Practice Questions those are also $200 for non-members and $150 for members, but they're divided up into different sections of the textbook so you can actually buy individual sections separately.
The study guide is the same cost as for the CPT as is the exercise technique manual.
All-in-all you're looking at a total of $900 for non-members and $697 for NSCA Members.
I would 100% recommend extra prep resources for the CSCS, as the ones that NSCA provides aren't the most complete. You can look at 3rd party options like Trainer Academy or elsewhere for extra help.
NSCA CPT and CSCS course layouts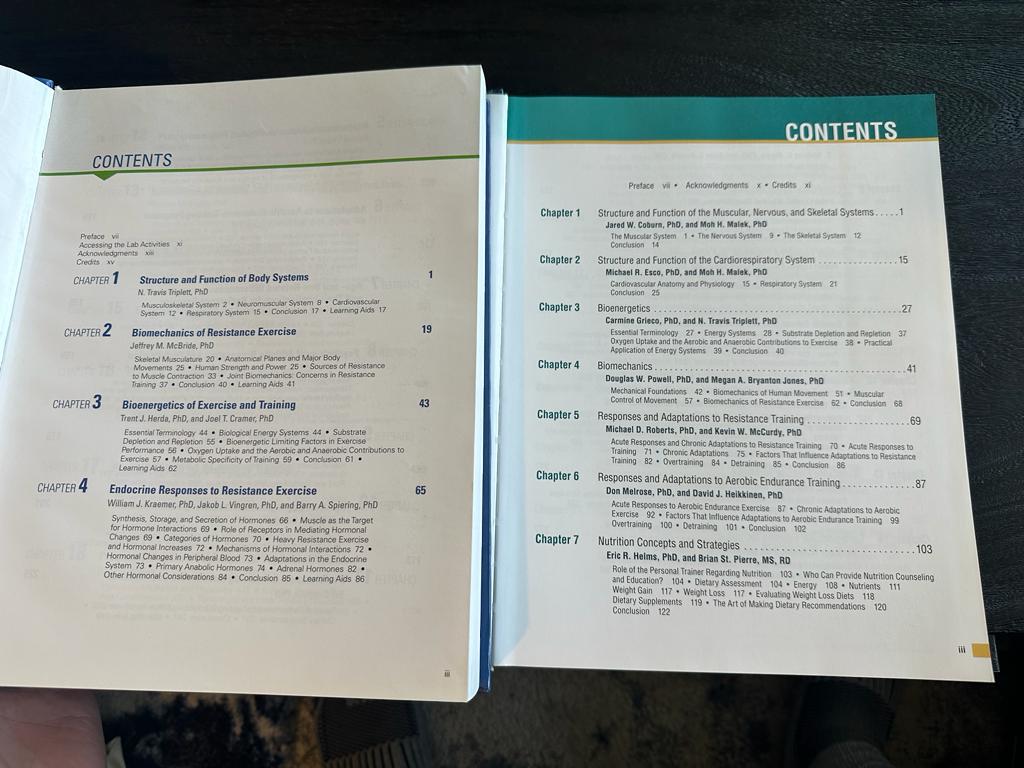 Let's explore the NSCA curriculum for both CPT and CSCS and talk about how they compare in a few key topics.
Exercise science
Both the CPT and the NSCA certification textbooks offer great content regarding the fundamentals of exercise science, topics like anatomy, physiology, bioenergetics, responses to and biomechanics of human movement.
The main difference between these certs is in the depth of the topics covered.
The CPT goes deep into the science, but the CSCS goes deeper. For example, when discussing muscle types, the CPT gives you an overview of fast and slow twitch muscle fibers; whereas the CSCS gives you a chart on each fiber type and its particular characteristics.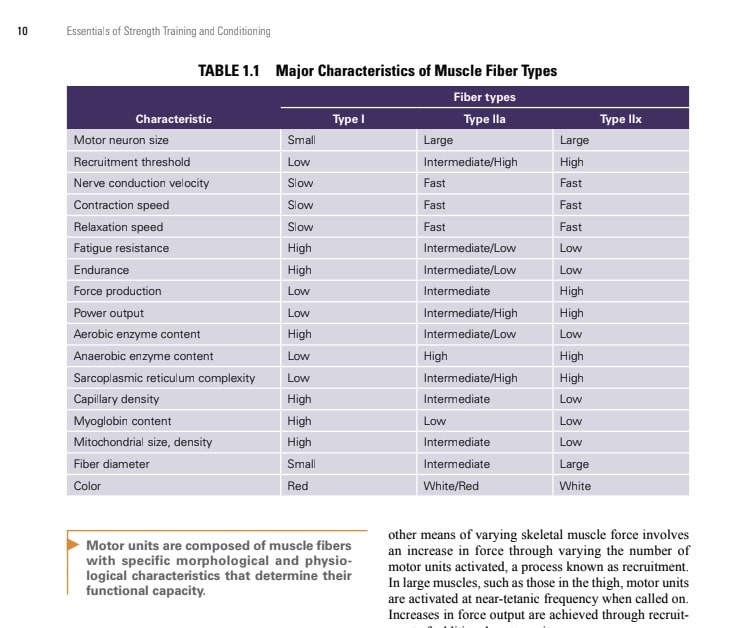 The other main difference between these two texts is in the focus on the certification. The NSCA CSCS is more athletically-focused where the CPT aims towards working with the general population.
For that reason, the CSCS has more information specifically about athletics. In the Biomechanics chapter there is a specific section on common athletic-injuries and what biomechanics issues cause them. The CPT Biomechanics chapter focuses more on the biomechanics of types of resistance machines you might encounter in a gym.
The CSCS textbook also gives you more coverage on specific adaptations to types of training. In the CPT book you learn a general overview of how resistance training and cardiovascular conditioning affects the human body. With the CSCS you learn more specifics with individual chapters on how anaerobic training affects the body versus aerobic.
Both of these courses score high marks in my book, but the CSCS probably gives you a bit more in terms of the actual exercise science section.
Behavioral coaching
Whereas the CPT book has a chapter on "Exercise Psychology for the Personal Trainer," the CSCS book's chapter on coaching covers "Psychology of Athletic Preparation and Performance."
The CSCS textbook covers the relationship between anxiety and performance really well and how task complexity influences this, known as the Inverted U-Theory. You learn about how to re-frame that extra anxiety with the Reversal Theory, which I use a lot with my athletes.
Motivation is covered briefly with descriptions of extrinsic, intrinsic, achievement motivations, but not nearly to the same extent as in the NSCA CPT.
"Exercise Psychology for the Personal Trainer" details practical methods to motivate a client along with tools like minimizing procrastination and identifying false beliefs.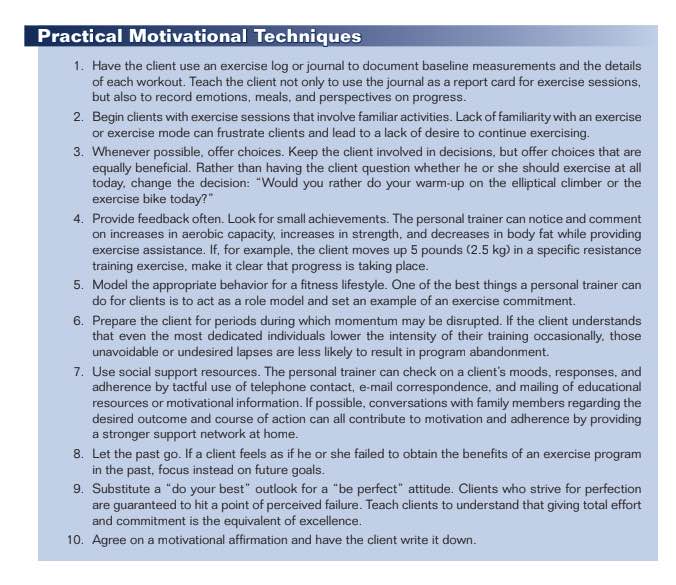 The CPT book also has more content on the health benefits of exercise, both mentally and physically. Knowing some of these is a great way to have some facts in your back pocket to help motivate clients towards a healthier lifestyle.
Both books cover goal setting in adequate depth and reinforcement techniques that a coach or trainer might use.
Exclusive PTP CPT Offers



Gold Standard Cert

Most Popular Cert

Best Study Materials

A Good Option

A Good Option

Best CPT for you?

In addition to this, the NSCA CSCS gives you some really cool psychological techniques to improve performance that are geared toward athletes, but I definitely think you could use them to great effect with personal training clients. These include things like diaphragmatic breathing (which I use with people all the time), autogenic training, and systematic desensitization.
Both textbooks cover imagery and self-talk.
So, when comparing these two certifications on behavioral coaching, it's a tie, and honestly I think either book will teach you a lot about how to mentally coach an individual. The main difference here is that again, the CSCS covers more performance-minded material, whereas the CPT gears more toward how to motivate someone to achieve self-efficacy and enjoy working out.
Client health and movement screening
The CPT textbook has 3 chapters addressing this topic: "Client Consultation and Health Appraisal," "Fitness Assessment Selection and Administration," and "Fitness Testing Protocols and Norms." Each of these sections is extremely detailed.
The first chapter covers the steps you need to take when first meeting a client like screening for cardiovascular disease and using the PAR-Q form. Something to note is that the newer version of this textbook goes about this a bit differently and it can be a bit confusing which method NSCA is telling you to use.
"Fitness Assessment Selection and Administration" details the criteria behind using assessment, how to evaluate them and other factors to consider when using them like weather or air conditions.
Finally, the third chapter "Fitness Testing Protocols and Norms," is basically a comprehensive list of all the assessments you will ever need. Of all the CPT programs out here, this is among the best list and gives you multiple options for assessing different aspects of a client's health and fitness.
As far as the CSCS, you get two chapters: "Principles of Test Selection and Administration" and " "Administration, Scoring, and Interpretation of Selected Tests."
The first chapter is very similar to what you find in the CPT, but actually is a little less detailed. There is very little mention of screening clients to establish if they need a referral to a physician, you learn purely how to conduct these tests.
The second chapter gives you the tests from the CPT book, plus a much more comprehensive list of power, strength and endurance focused tests, like the Margaria-Kalamen Test, which tests high-speed strength.
When I compare the CSCS to the CPT, I actually think the CPT comes out on top here, unless you want to learn very sports-specific testing protocols, like learning how to train high-speed versus low-speed strength.
Exercise technique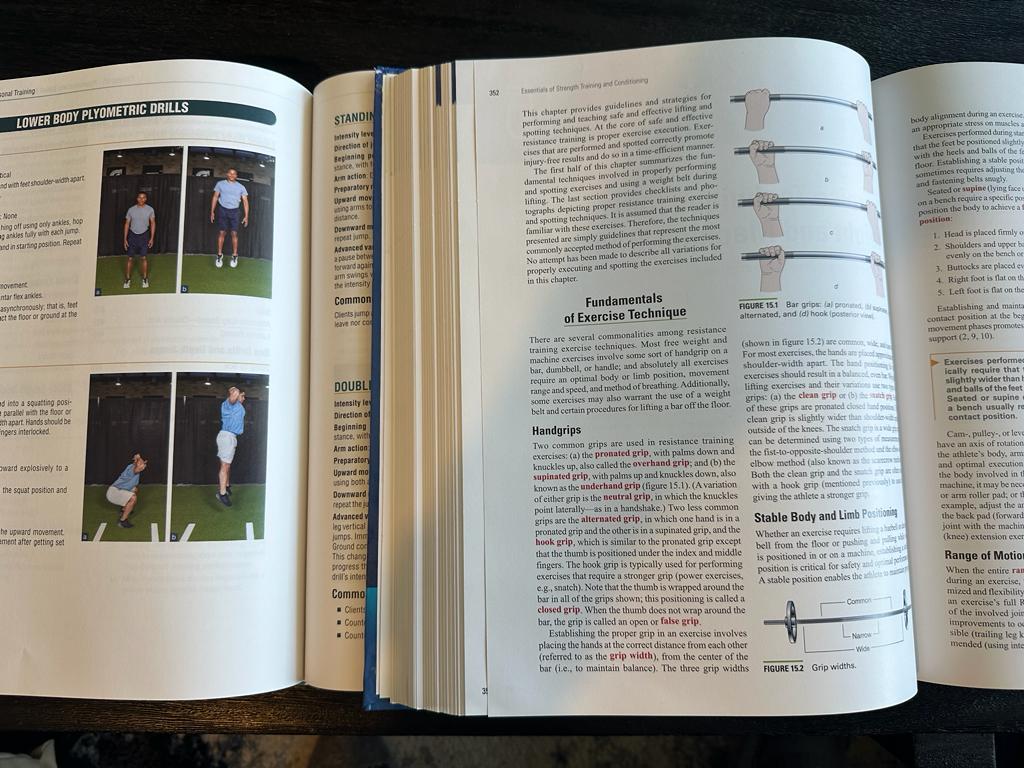 In terms of resistance training and technique, the two courses are extremely similar. The CSCS teaches you a few more athletically minded specific exercises you might use in certain circumstances, like good mornings or wrist curls, but the CPT covers almost all the main movements you might use with one glaring exception–there is no mention of deadlift technique in the CPT textbook, which is a big omission.
The CSCS also gives more attention to the weightlifting movements, like the snatch and the push-jerk and has a second chapter devoted to non-traditional techniques, like choosing the accommodating resistance of a band or chain to overload a certain range of motion in an exercise.
Program design for resistance and aerobic training
When it comes to program design, both of these certifications are top notch.
The main difference again is the focus. The CPT teaches how to plan programming around goals like hypertrophy, strength, power, and endurance. The CSCS includes that but also adds in how to create a needs analysis of a given sport so you can plan out what you're training for specifically.
The CSCS gives you some great case study examples with different athletes in pre-season, off-season, and in-season, with an idea of what their training might look like.
In terms of aerobic training, both these certs do an equally good job teaching you how to program endurance workouts. The only edge the CSCS has in regards to cardio is in the speed, agility, quickness (SAQ) workouts section.
I give both CSCS and CPT high scores here, but the CSCS comes out slightly ahead.
Special populations
This modality is an easy one to score because while the CPT goes to great lengths to cover this topic, the CSCS does not cover it at all. So, the CPT wins by default.
However, let's look at some of the content here so you have an idea of what you're missing out on if you take the CSCS instead of the CPT.
The CPT has 6 total chapters devoted to different populations: "Clients who are Preadolescent, Older or Pregnant," "Clients with Nutritional or Metabolic Concerns," "Clients with Cardiovascular and Respiratory Conditions," "Clients with Orthopedic Injury and Rehabilitation Concerns," "Clients with Spinal Injury, Multiple Sclerosis, Epilepsy, and Cerebral Palsy," and "Resistance Training for Clients who are Athletes."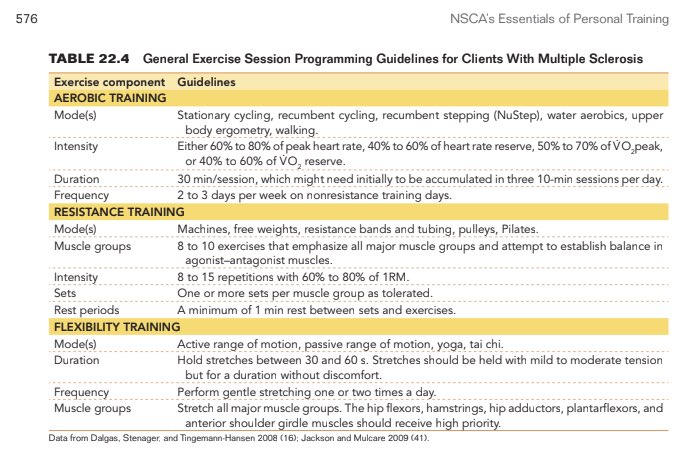 Each of these chapters gives a comprehensive overview of how these special conditions affect the client, along with indications and precautions to take. One of these topics is obesity, and the CPT gives you a whole overview on possible causes of obesity, ways to tackle lifestyle change tactics, ways to modify your programming to handle this concern.
Overall, this is the most detailed fitness course I've ever seen on special populations from any of the organizations.
Nutrition
The NSCA CPT approach to nutrition is very nuts-and-bolts. You learn proper scope of practice for a trainer, what the different macronutrients do, and recommendations in terms of intake for an average person versus someone who's training to lose weight or gain muscle.
The CSCS has two chapters. The first chapter, "Basic Nutrition Factors in Health," is very similar to the CPT–just a little more detail on what different vitamins and minerals do.
The second chapter, "Nutrition Strategies for Maximizing Performance" gives you a lot more actionable tips as far as prepping for a competition and how to eat on the day of. It even has charts with recommendations for each type of athlete.
Both certs cover how to prevent dehydration which is a key piece of knowledge needed to learn as a trainer or coach.
Neither of these certifications has as much behavioral strategies as far as nutrition as some of the other organizations, but both the NSCA CPT and CSCS do give you a lot of knowledge about what proper nutrition should look like.
Business skills
Neither of these certifications cover business skills. The CSCS has no content on this area. The closest thing it covers is defining the different roles on a Strength and Conditioning Performance Team. While this is good to know, it won't help you find a job on such a team.
The NSCA CPT covers the legal aspects of being a trainer, but not how to get a job as one, or find clients. This is a glaring hole in both of these courses.
CSCS and NSCA CPT prerequisites
The NSCA CPT requirements​ are simply that you have a high school diploma and current First Aid and CPR/AED certs.
This in-depth, practical approach has safety as it's the cornerstone and challenges candidates to instill a high degree of care and awareness in professional fitness.
It's for this reason that the exams tend to be so difficult.
However, NSCA has study clinics available to assist you in your endeavors.
These clinics are platforms that allow you to interact with industry pros, so you can get an expert edge when taking the exam.
I strongly suggest you sign up for these clinics; they seem like they would be a massive help.
The requirements to sit for the CSCS exam are much higher.
The CSCS requires a bachelor's degree from a University.
In 2030, the NSCA will require candidates to have a strength and conditioning degree in an exercise-related field, such as exercise science or kinesiology.
NSCA CPT vs CSCS salary
ZipRecruiter data states that the average income for trainers certified through the NSCA CPT is $49,739. For the CSCS, an official 2022 NSCA Salary Survey puts average salaries for CSCS certified coaches in a range from $60,527-$84,575.
Which exam is harder, NSCA CPT or CSCS?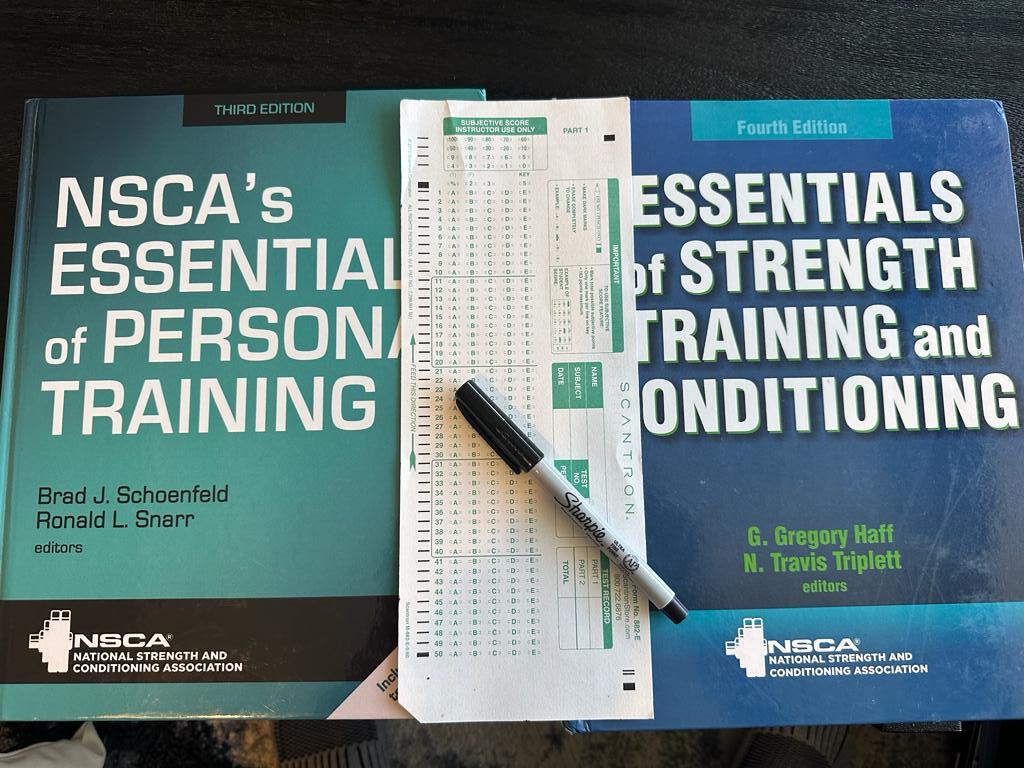 The CPT exam is designed around Knowledge, Skill, and Ability (KSA) principles.
You will need to register for the exam. Registration is $435 for standard candidates and $300 for members.
The exam needs to be taken within 120 days of registration.
The exam itself consists of 140 scored and 15 unscored questions.
These questions are spread across the following domains:
Client Consultation/Fitness Assessment 23%
Program Planning 32%
Techniques of Exercise 31%
Safety, Emergency Procedures, and Legal Issues 14%
The NSCA CPT exam also comes with some video and image-based competency assessments. There are between 25 to 35 of these.
The non-scored questions are there to pretest their viability in future iterations of the exam. You won't be able to tell which questions are scored or non-scored, so you should answer every question.
The entire exam is 3 hours.
Now let's get to what happens if you fail.
When this happens, you will have the chance to take the test again. The site has no details about a retake fee.
You will have to re-register after 90 days. You can retake the exam as many times as you need.
The CSCS exam is, of course, way more difficult. It focuses on scientific foundations and practical/applied areas.
If you want to know how to get the CSCS certification, the answer is lots of prep and studying, provided you've met all the CSCS requirements of the course.
These two concepts form the only two sections in the exam.
The CSCS contains a total of 220 questions. The scientific foundations section has 80 questions and 15 unscored questions, while the practical/applied areas section has 110 questions that are scored and 15 unscored questions.
As with the CPT, the CSCS unscored questions are hidden in the paper, so you're better off answering everything to the best of your ability.
The scientific foundations section contains two domains:
Exercise Science 74%
Nutrition 26%
The practical/applied areas section has 4 domains:
Exercise Technique 35%
Program Design 35%
Organization and Administration 12%
Testing and Evaluation 18%
The exam is four hours long in total.
If you happen to fail the exam, you can retake it based on the section you failed or based on both sections if you didn't pass either.
To retake, you must wait 90 days and re-register with the standard rate of $300 and $435 for members and non-members, respectively.
The retake fee for a single section is $250 and $385 for members and non-members, respectively.
The pass rate as of writing this article sits at 56%.
Those aren't the best odds, but they are good enough to prepare you adequately.
NSCA recertification
Both certifications require renewal every 3 years during which you must complete 6.0 CEUs.
NSCA CSCS vs NSCA CPT overall ratings
There you go, folks!
Now you've got all the information you need to understand both certs.
Which of the two caught your fancy? Let me know in the comment section.
Both the CPT and CSCS are great certs to have. The CSCS credential is superior regarding what you need to put in and what you can get from it regarding career potential.
The exams are hard. NSCA is one of the harder ones out there for a CPT exam, but most people manage to get by.
Conversely, the CSCS is a real battle; you will need to pull all the stops when prepping for this big one.
Make sure to check out the best premium study materials for these certifications; make sure you check out the greatest premium study guides over at Trainer Academy. They have a pass guarantee, which is extremely helpful for these challenging exams.
Also, check out our free study guides here at PTpioneer!
You need to decide what your career path is but rest assured; whether it's the CSCS or CPT, you're getting an amazing cert.
Personally, I would go with the CPT if you want to become a personal trainer specifically, but if already have a CPT from NSCA or another organization, then the CSCS is a great addition to your name.
NSCA CPT vs CSCS FAQs (frequently asked questions)
Which is better CSCS or CPT?
Neither of these certifications is "better" than the other, although the CSCS is slightly more well-respected because it's more difficult to pass and has higher qualifications. However, NSCA provides excellent quality certifications and their CPT is one of the better personal training certifications.
Is the NSCA CPT worth it?
The NSCA CPT is absolutely worth it if you want to become a personal trainer.
Is NSCA better than NASM?
Both NSCA and NASM are world-renowned fitness organizations. NASM is slightly better known for corrective exercise and NSCA is more well known for athletics, so if you're interested in one of those over the other I would choose accordingly.
Can you take a CPT exam without a course?
You can take the NSCA CPT exam without a course; however, I would certainly suggest reading the book and studying hard, otherwise you are likely to fail. The knowledge tested on the exam comes from the text, and it's not the easiest test in the world.