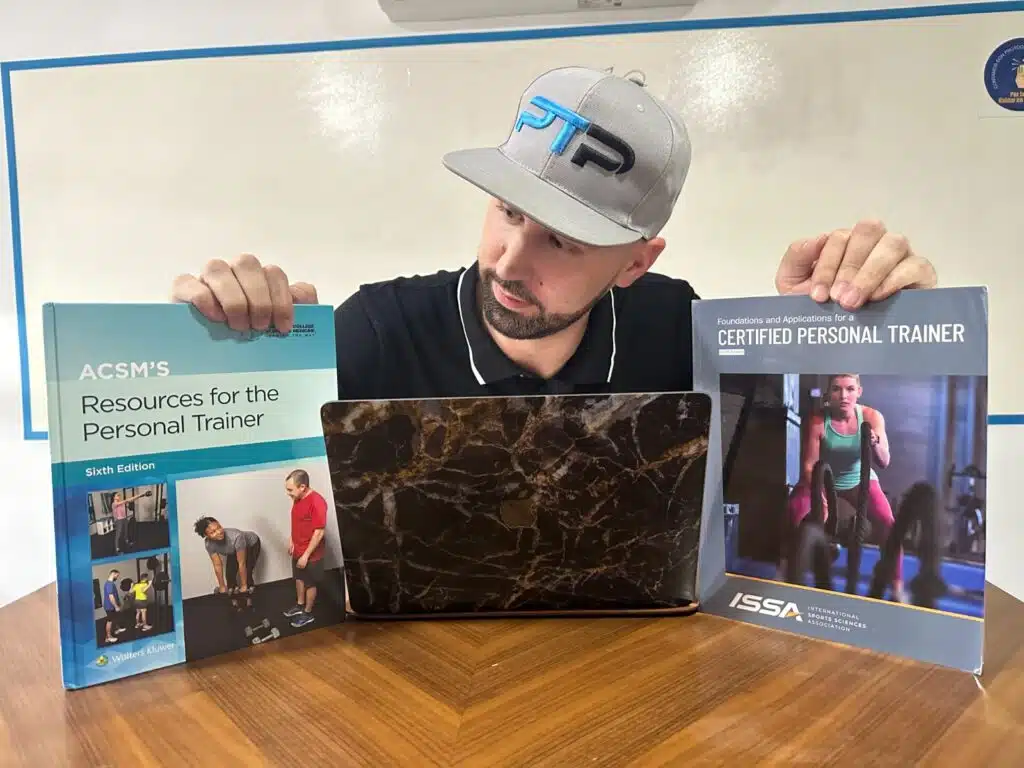 Welcome to my ISSA vs ACSM review.
I wrote this certification review based on taking and passing both ISSA and ACSM personal training certifications, using my experience as a personal trainer for over 10 years.
Here at PTPioneer, our team of fitness professionals includes trainers certified through both organizations and we have taken our combined experience to give you the best comparison between ACSM and ISSA CPTs.
In this article, I break down ISSA vs. ACSM based on:
Topical information: pricing, packages, and prerequisites
Content deep dive: knowledge and skills
Pros and cons of ISSA and ACSM
Exam difficulties, preparation timelines, and study material review
By the end, you'll have a clearer understanding of ISSA vs. ACSM and which of these personal training programs is best for you.If you are still unsure about which CPT you should choose, I recommend you take the quiz to find out which PT certification is right for you.


Alright, let's plunge right in!
Quick Breakdown: ISSA vs ACSM
CPT
ACSM vs ACE Quick Breakdown
Features
Price
ISSA

Great exercise technique
Good scientific coverage
International CPT recognition and use
Elite Trainer package offers the best value in the industry

View on the ISSA website
ACSM

Deep on exercise science
ACSM is source of fitness guidelines
No comprehensive program framework
Weak coverage of exercise technique

View on the ACSM website
Product
Exam cost
Exam cost
$699+
$279 (Members), $349 (Non-Members)
Study Material Cost
Study Material Cost
$600+
$400-$1000+
Prerequisites
Prerequisites
18 years of age, High School Diploma/GED, CPR/AED Certified
High School Diploma/GED, CPR/AED Certified
Exam Passing Score
Exam Passing Score
75%
Scaled 550/800
Exam Pass Rate
Exam Pass Rate
90%
69% (2020 data)
Average Completion Time
Average Completion Time
2-4 months
3 to 9 months
What is ISSA?
The International Sports Sciences Association (ISSA) is the quintessential global certifying agency for health and fitness.
The ISSA CPT ranks first among the best online personal trainer certifications in the industry.
ISSA aims to educate a robust fitness community to bring healthy living to the world.
The International Sports Science Association has a job guarantee with their personal trainer certification, a nice bonus over other main organizations out there. The only other program that offers this is the NASM CPT.
I like that ISSA puts business skills in their programs, which can be key to your success as a trainer. If you can't sell your services and manage your income, you will not be successful as a trainer in most cases.
Generally speaking, I advise all my CPT students to consider becoming certified as a nutrition coach alongside an additional specialization.
This will greatly boost your credentials for maximal long-term success.
After all, delivering impressive results to clients in training sessions without any nutritional coaching skills is very difficult.
The powerful combination of a CPT and nutrition certification is undeniably superior to the personal trainer certification alone.
For even greater potential, learners might consider a client-specific specialization such as corrective exercise or senior fitness.
This type of client-specific specialization allows you to laser-focus on your skill set and make you a sought-after fitness trainer with a much greater earning potential than a non-specialized trainer.
While you can pursue further specializations at any point in your fitness career, the cost for each certification tends to add up very quickly.
If you choose to go with ISSA CPT, consider saving money and advancing your career from the get-go by looking at the ISSA Elite Trainer Program.
The ISSA elite trainer bundle includes the ISSA CPT, ISSA Nutrition Coach, and a third ISSA certification of your choice, all at a steep discount compared to purchasing the certs individually.
Typically, you can get the Elite Trainer for just $1308 paid in full or $109 monthly for 12 months. In either case, it's a killer deal.
I highly recommend checking if the deal is still running. If it is, it's tough to pass up.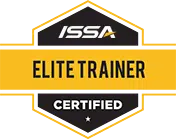 If doing three full certifications is more than you want to start with, you can still get a sweet discount on the combination of the ISSA CPT and ISSA Nutrition Coach, which often runs for $1188 or $99 per month for 12 months.
This essentially gets a free ISSA nutrition certification since the CPT normally retails for $999.
Even if you do not complete the nutrition program immediately, picking it up for the same price as a CPT program alone is an amazing opportunity.
Definitely take a look at the official ISSA website to take advantage of the latest discounts.
Typically, you can get the Elite Trainer for just $999 paid in full or $83 monthly for 12 months. In either case, it's a killer deal.
I highly recommend checking if the deal is still running. If it is, it's tough to pass up.
One other thing to note with ISSA is that they have two different versions of their certification exam: 1) an open-book one that is DEAC approved that you can take online, and 2) a NCCPT version you take at a testing center which is NCCA-approved. The National Commission for Certifying Agencies (NCCA) is the most reputable certifying commission in the US and many gyms like to see a NCCA-accredited certification on a personal trainer resume.
What is ACSM?
The American College of Sports Medicine (ACSM) certification was founded in 1954 and, like ISSA, is a non-profit organization with industry recognition.
ACSM came out with the very first personal training certification. They have strong roots in clinical exercise research, and their certifications are heavily weighted towards exercise science, similar to NSCA. 
Just as with ISSA, their CPT certification is NCCA-accredited, the gold standard for any program.
Pros and Cons of ACSM vs ISSA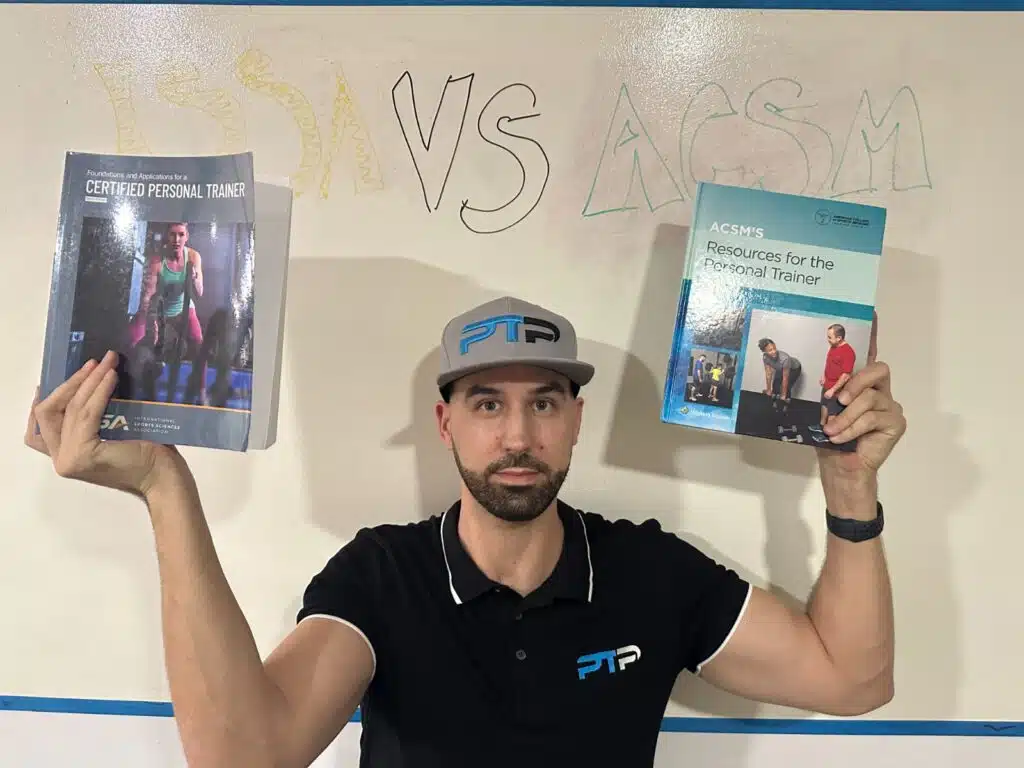 Both ACSM and ISSA offer their strong and weak areas.
In the case of the ACSM CPT, the exercise science portions and cardiovascular testing assessments give you the most comprehensive content of almost any personal training certification. Additionally, ACSM's special populations section stands out as particularly thorough.
Some of the negatives regarding the ACSM model come from their lack of strong exercise programming guidance and technique coverage. I'd also say that the ACSM textbook feels a bit dated compared to ISSA and some of the other certifications. 
With the ISSA CPT, you get really good practical personal training content. The sections on resistance training programming stand out and ISSA also has a good emphasis on nutrition.
Additionally, the ISSA cert provides a lot of good practical business advice, which will serve you well in the real-world, as you have to know how to get clients and manage your training career. 
The negatives surrounding ISSA mostly come from the fact that it's a bit more expensive than ACSM if you just get the one certification.
ISSA and ACSM certification packages and study materials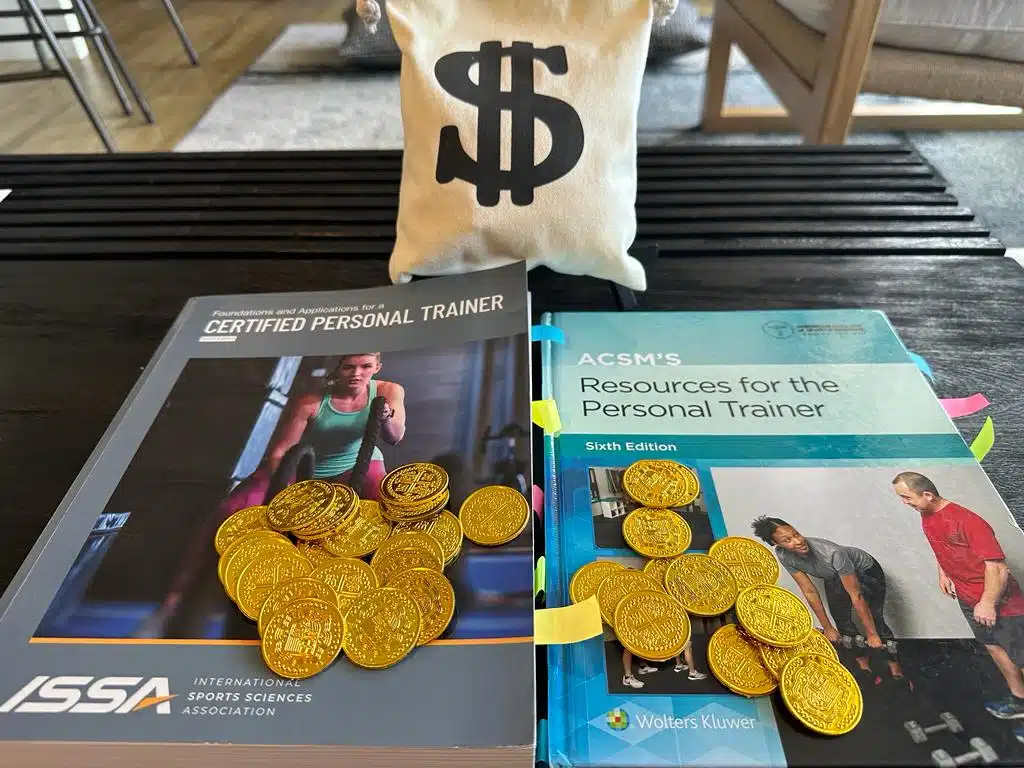 Trainer Academy Guides
Complete curriculum study preparation
Audio guide, flashcards, and mnemonics
800+ practice questions
Exam pass refund guarantee
$79.00 for Rookie package
$199.00 for MVP package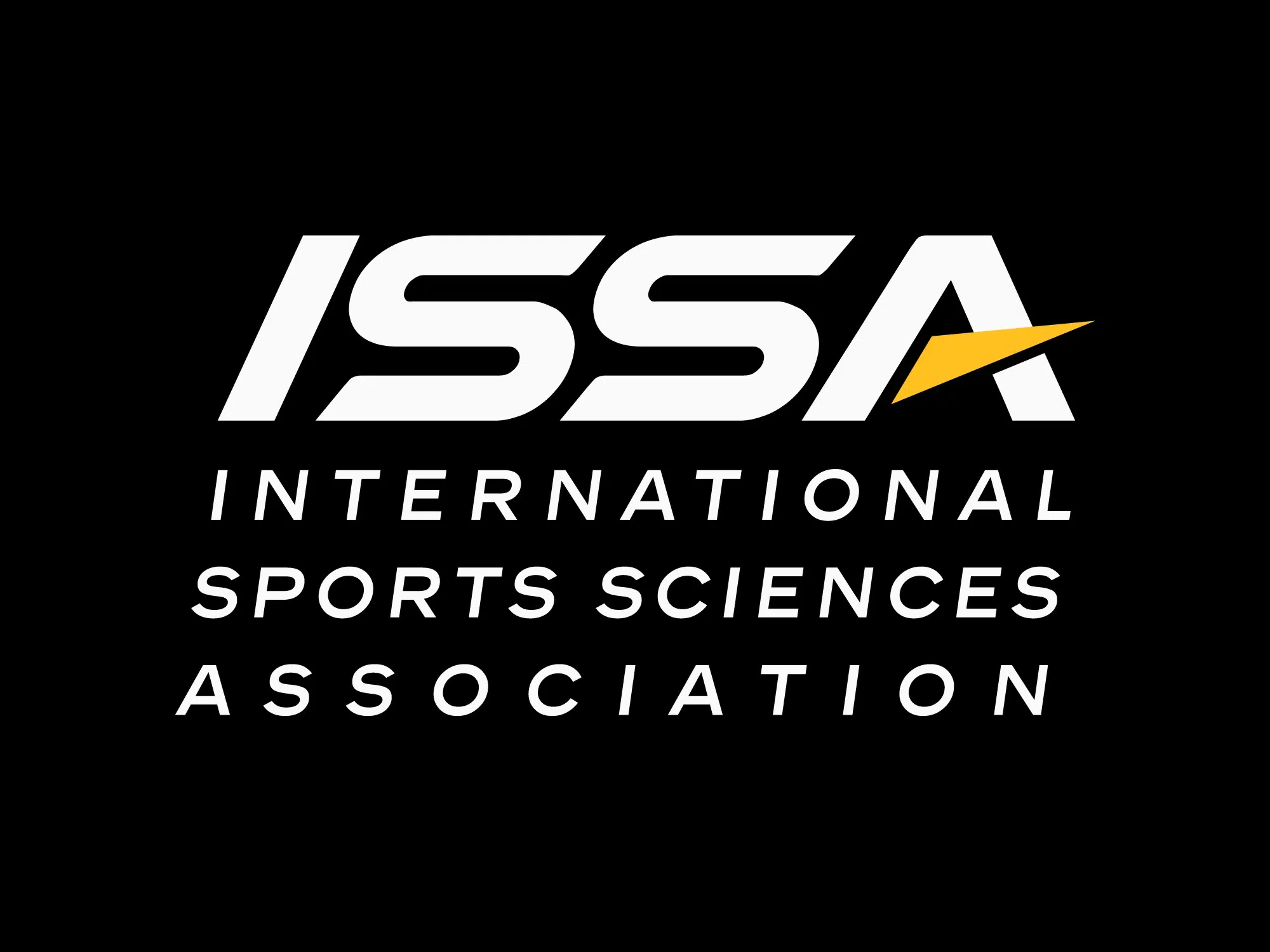 Provider Materials
Curriculum study preparation
Includes text, graphics, and videos
200+ practice questions
No exam pass refund guarantee
$950.00 for ISSA starter package
$800+ for ACSM materials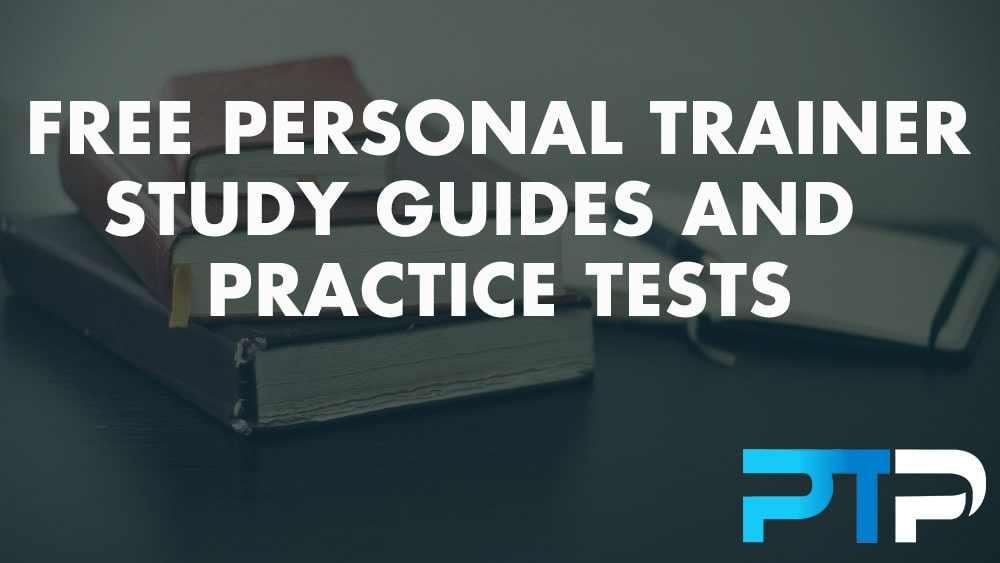 PTPioneer Study Guides
Curriculum material overview
Complete chapter breakdowns
60 practice questions
130 flashcards
Exam cheat sheet
Free from PTPioneer
Now I'll review ISSA vs ACSM on study packages and prices.
Most online personal trainer certifications provide you with an eBook and the option to purchase a hard copy.
Some people, such as myself, prefer a physical textbook.
It's easier to leave bookmarks and sticky notes, and have the satisfaction of a physical object to supplement your studies.
ISSA provides a free physical book, Fitness: The Complete Guide, with your purchase of its certified personal trainer certification.
The ISSA-CPT book has a conversational tone that makes it accessible while still expanding on technical aspects and terminology.
This makes reading and comprehending a whole lot easier and less boring.
The ISSA certification test is an open book, and the most common price for an ISSA personal trainer certification is $999.
This comes with their textbook, entrance to the ISSA certification test, and extra online study materials and practice quizzes to go with your online courses.
If you are ready to start studying right now but don't want to shell out a bunch of money just yet, you can check out my free ISSA study guide and practice test.
For premium materials such as flashcards, audio guides, multiple practice tests, and an exam pass guarantee, I highly recommend the Trainer Academy ISSA CPT MVP Study Package for extra support.
I also highly recommend considering tacking on the ISSA nutrition certification and specialization through the Elite Trainer Package.
The combination of nutrition and a fitness specialization on top of your personal trainer certification will put you leagues ahead of others who only have the CPT certification.
I always recommend checking for any current discounts directly through the ISSA website.
If they are running a promotion, it's worth seriously considering the deal.
Finally, you can always purchase the official ISSA CPT prep course on its own directly through ISSA.
Also, if you do want field experience while studying, you should definitely consider learning how to get a personal training internship at a gym.
Now, let's review ACSM-CPT study materials and personal trainer certification costs.
Exclusive PTP CPT Offers



Gold Standard Cert

Most Popular Cert

Best Study Materials

A Good Option

A Good Option

Best CPT for you?

There are multiple textbooks that you can purchase to get ready for the ACSM Certified Personal Trainer exam.
Two of the textbooks are primary textbooks.
The smaller review booklet that lets you take practice exams only costs $40. Having some practice questions is a real game-changer when preparing for any exam.
The main ACSM-CPT book will give you the basic principles and techniques for personal training and costs roughly $82.
Additional resources include a textbook designed to take you through exercise screening/testing and properly designing workout routines that goes for $52.99.
The ACSM certification cost is relatively cheap compared to other certifications, like NASM.
Also, the ACSM test cost depends on membership status.
While members shell out approximately $299, nonmembers must pay $399.
Though not required for certification, you may purchase ACSM-CPT workshops that provide you with one-on-one training with a certified ACSM instructor.
If you do not learn well from textbooks, I would recommend signing up for one of these workshops because you can learn everything hands-on.
You can start studying for the ACSM CPT today before purchasing anything by using my free ACSM study guide and practice test.
To get access to better premium materials at a lower cost than official study materials, my students prefer the Trainer Academy ACSM CPT MVP Study Package, which includes flashcards, audio guides, practice tests, and an exam pass guarantee.
Looking at ISSA vs ACSM on their official study materials and pricing, it's yet another tie, as both certifications provide decent options for the prices you pay.
Although the official study materials seem pricey, both ISSA and ACSM rank among the 10 cheapest personal trainer certifications.
ISSA vs ACSM course layouts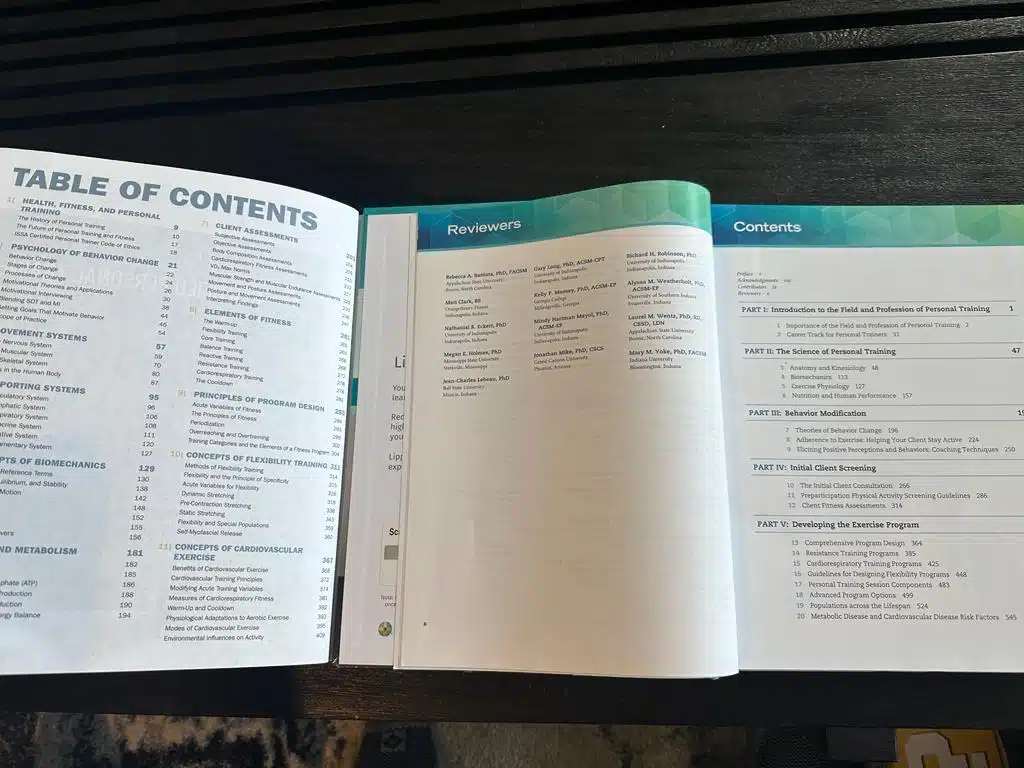 Here I breakdown features of the unique content both ISSA and ACSM covers. Both of these certification programs offer differences regarding the information in these categories.
Exercise Science
The ISSA Certified Personal Trainer (ISSA-CPT) exceeds expectations with its sharp focus on the average client's needs.
If you want to learn how to become a personal trainer, this program builds a solid base of knowledge for entry-level trainers.
Their heavy focus is on muscle building and weight loss, with a moderate explanation of corrective exercise.
This makes sense because average clients typically want to build muscle, lose weight, and avoid injury.
While the ISSA personal training certification provides both scientific and practical principles of health and fitness, the ACSM personal training certification focuses mainly on scientific research.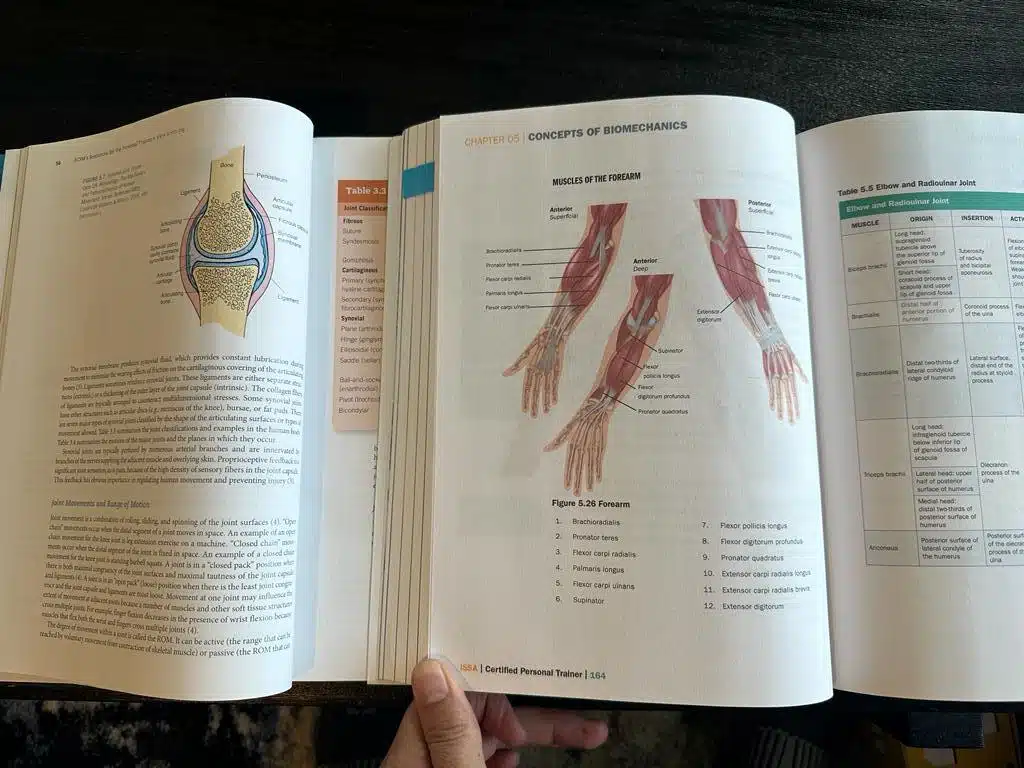 The ACSM certification is harder to obtain unless you have a background in biomechanics, physiology, or anatomy.
However, this does not mean that the ACSM is better for the actual practical aspects of being a personal trainer.
Aside from it being a certifying body for personal trainers, ACSM is a scientific body dedicated to research and progression in the field.
In fact, almost every other certifying agency, including ISSA, references ACSM's research in their study materials.
Generally speaking, ISSA vs ACSM compare decently with one another.
They both give you a solid foundation, although the ACSM text goes into a bit more detail.
Behavior Change Coaching Skills
Successful personal trainers are those who can elicit positive behavior change in their clients.
Moreover, important personality traits that are best for trainers include the ability to read clients; to know when to push them farther and when to pull back a little bit.
Let's compare ISSA vs ACSM on this.
ISSA's strong emphasis on behavior and how it impacts clients' overall health is crucial for trainers to know and apply.
The ACSM-CPT book exceeds expectations with its own chapter on behavior change and motivation.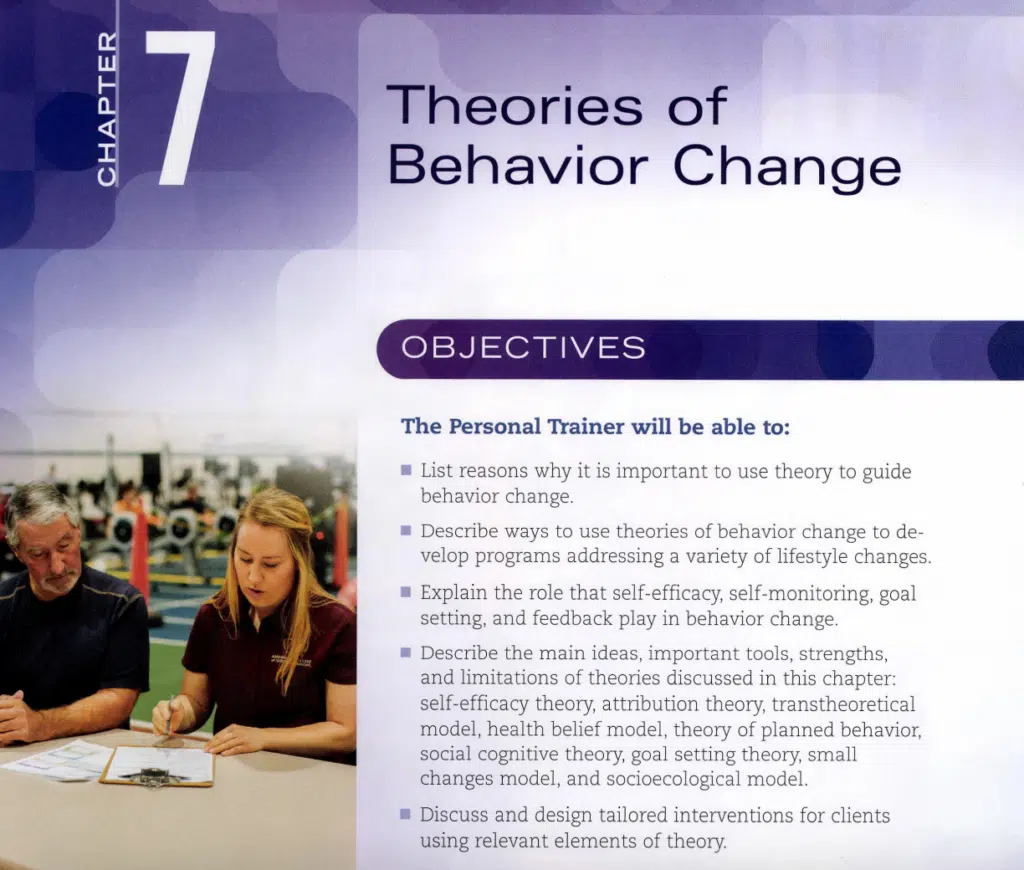 ACSM provides an excellent framework and real-world client case studies to demonstrate the different motivational interviewing and behavioral change topics.
Comparing ISSA vs ACSM, both certifications definitely prepare you to motivate a person inside and outside the gym so they can reach their life fitness goals. 
Consulting and screening clients to reduce risks of injury
Below is a comprehensive outline of ISSA's Basic Assessment of Fitness Participants section.
ISSA covers GXT, which stands for Graded Exercise Test.
GXT is a treadmill or cycle ergometer test that delivers heart rate, ECG, and other data and is used to identify clients' maximal oxygen uptake (VO2 Max).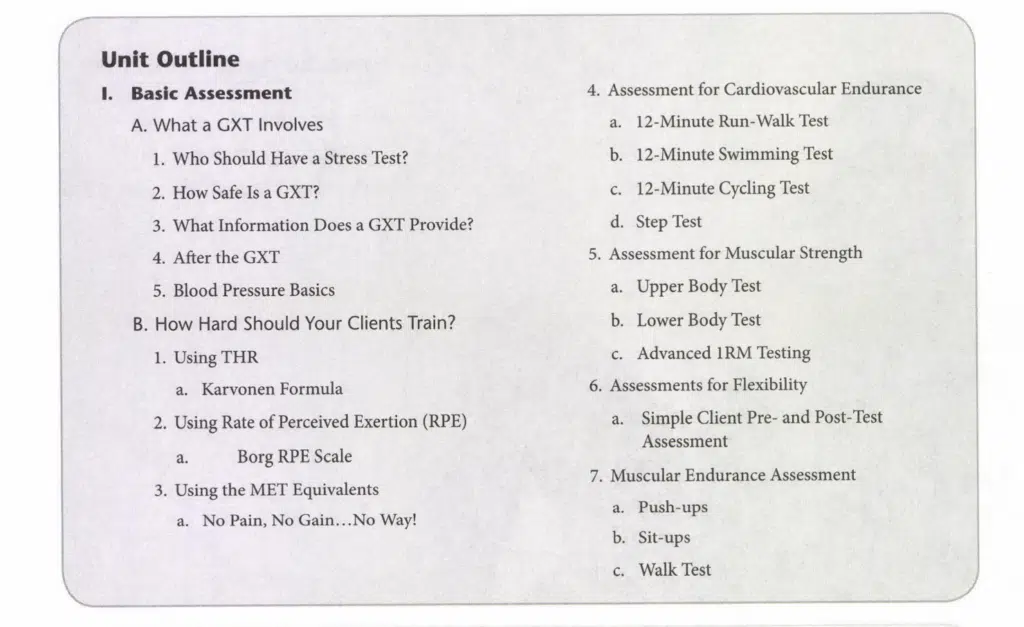 The GXT test is important for trainers to develop a more tailored, effective aerobic fitness routine while weeding out estimations and guessing.
You'll also learn the following cardiovascular endurance assessments:
12-Minute Run-Walk Test
l2-Minute Swimming Test
12-Minute Cycling Test
ISSA covers both the upper and lower body tests, as well as advanced 1RM testing techniques for muscular strength.
ISSA's flexibility tests are easy to follow.
ACSM and ISSA use the same criteria of two or more primary risk factors as the basis for recommending a GXT before clients begin an exercise program.
The following muscular endurance assessments are covered: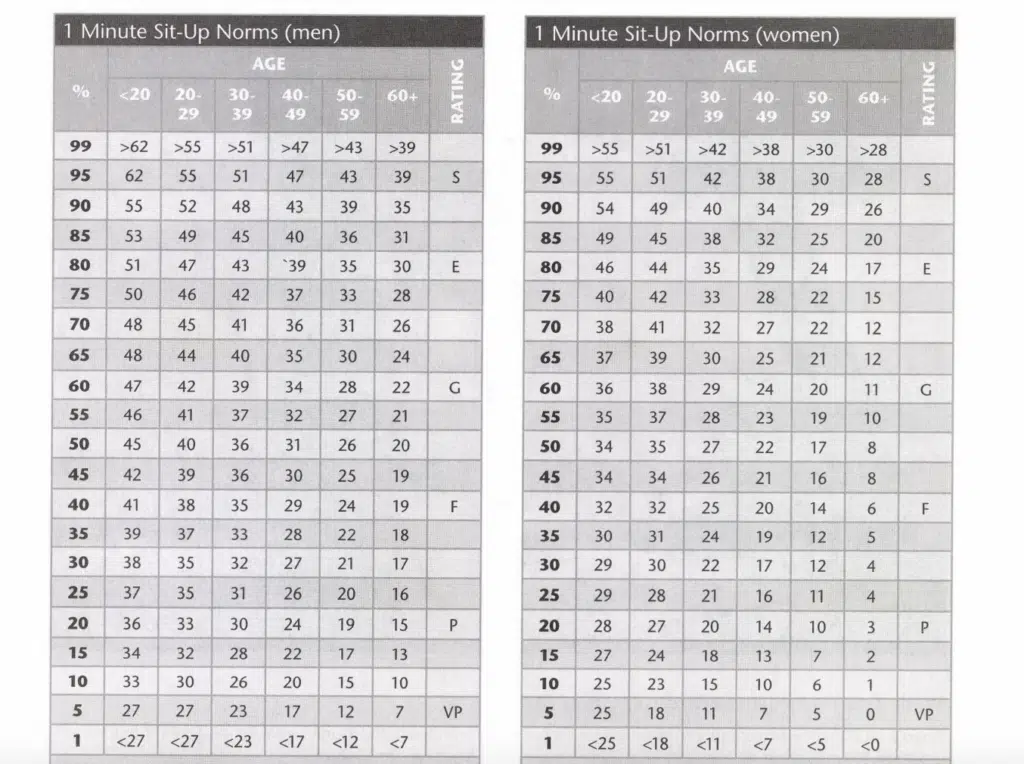 There are charts showing the standard number for each exercise completed in one minute based on age and gender.
On the other hand, ACSM holds its utmost value in the initial client consultation.
With ACSM's heavy focus on disease prevention, risk reduction, and exercise as a treatment protocol, their CPT curriculum highly prioritizes the initial screening process.
This training component involves subjective and objective reports from your clients, typically on a PAR-Q form.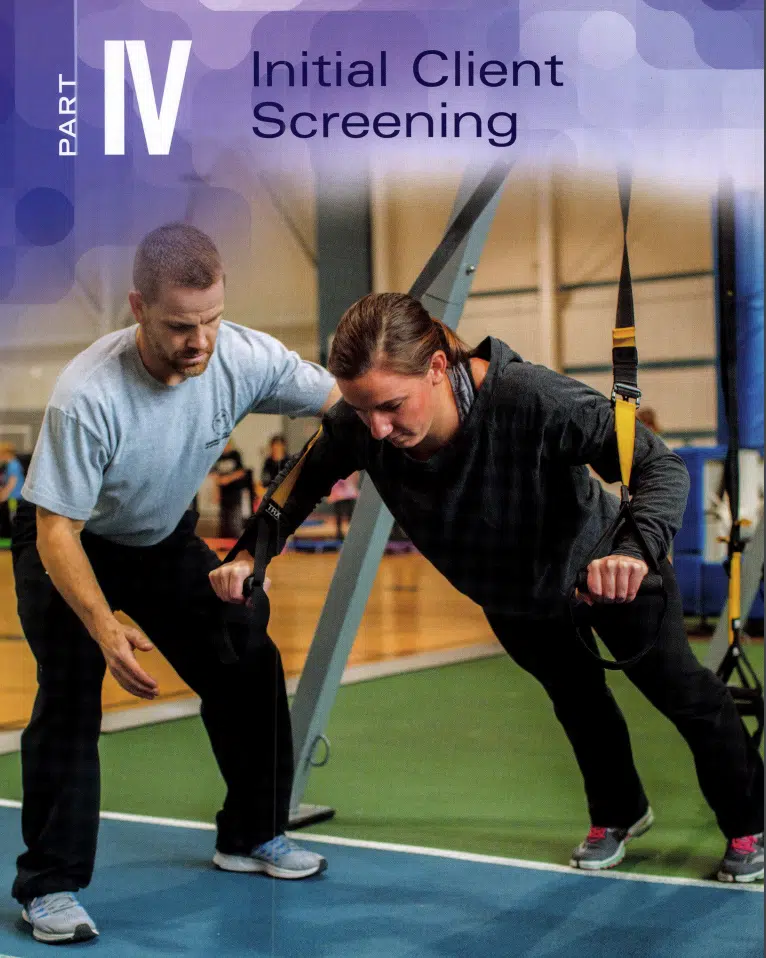 PAR-Q stands for Physical Activity Readiness Questionnaire and was designed to ensure a safe and effective fitness routine based on your someone's abilities and needs.
ACSM fitness assessments typically involve your client performing activities to get baseline levels of strength, endurance, flexibility, and similar measures.
ACSM's movement assessments focus on qualitative aspects of a client's fundamental movement patterns.
This may also reveal underlying muscle imbalances and similar issues, which must be addressed through corrective exercise.
Unfortunately, ACSM lacks sufficient corrective exercise content coverage on this matter, whereas ISSA does not.
So when comparing ISSA vs ACSM on this topic, ISSA wins by default.
ISSA is home to one of the best corrective exercise training programs in the fitness industry, which would be a great addition to your repertoire.
Program design and resistance exercise technique
Now I dissect ISSA vs ACSM on program design and resistance exercise technique coverage.
First, I appreciate ISSA's strong focus on applying essential personal training equipment to fitness assessments and designing client-appropriate routines.
This definitely makes ISSA stand out from other personal training certifications.
I should mention that ISSA also provides one of the best strength and conditioning coach certifications, great for training athletes or getting your clients in better shape. 
On the contrary, this topic is one of the major weaknesses of the ACSM-CPT curriculum.
Exclusive PTP CPT Offers



Gold Standard Cert

Most Popular Cert

Best Study Materials

A Good Option

A Good Option

Best CPT for you?

While most CPT curricula, like ISSA and NASM, have substantial exercise libraries both online and in their books, the ACSM-CPT barely provides enough exercise coverage to put basic fitness routines together.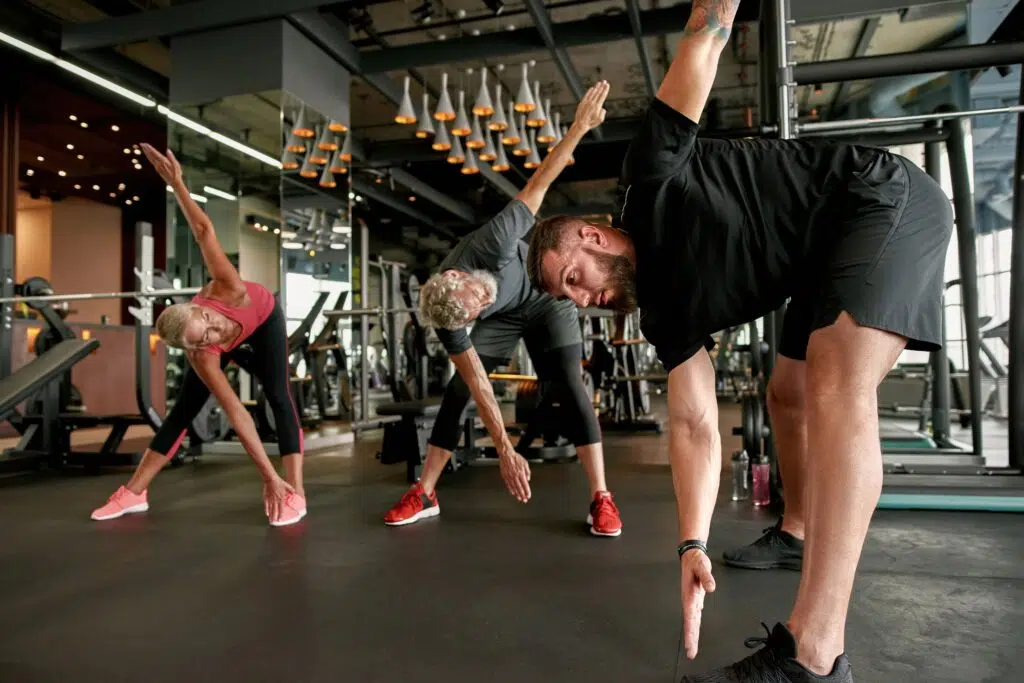 ACSM's program design section follows a similar pattern, lacking a true framework for daily, weekly, and monthly progressions regarding overall program progression.
I must say that ACSM covers resistance training guidelines in a decent fashion, but they can certainly confuse newer trainers.
Although ACSM provides an extensive stretching techniques section, this too, lacks fluidity and fails to teach a certified personal trainer appropriate ways to design programs or coach exercise techniques.
So clearly, when comparing ISSA vs ACSM on program design and exercise technique, ISSA wears the crown.
Aerobic training program design and technique
It's no surprise that ISSA does fairly well covering aerobic training program design and technique, too.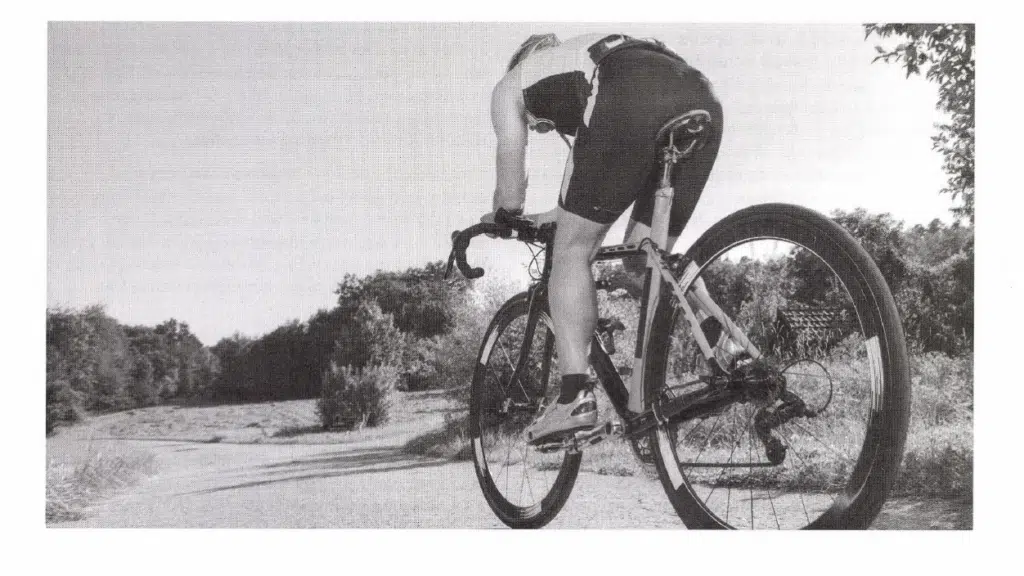 You learn the benefits of cardiovascular fitness, along with common myths, important terminology, and proper cardio machine techniques.
With ACSM's predominant focus on improving public health outcomes, its aerobic programming section is the juiciest yet.
In fact, the ACSM aerobic exercise guidelines are the basis for many other fitness certification aerobic training protocols.
You learn effective ways to customize your client's aerobic programming as needed.
But one downside is ACSM's lack of technique discussion for running or other aerobic training modes.
For instance, there is no mention of various kinetic checkpoints during running phases.
This is definitely important, given that there are various risks associated with improper running techniques.
For ISSA vs ACSM on aerobic training, it's tied because both certifications provide sufficient attention to this subject.
Helping Special Populations with Fitness
Like most fitness textbooks, ISSA has its own section on training clients in the following special categories:
Youth
Seniors
Pregnant women
Lifestyle-induced and genetic diseases
The ISSA-CPT curriculum descriptively covers special populations and provides examples of what a typical fitness routine would be based on the client's condition.
Working with special populations is a great way to start getting creative with your exercises and workouts, too.
ACSM provides more solid guidelines for training special populations, which are useful for keeping these clients safe as they work to improve their health.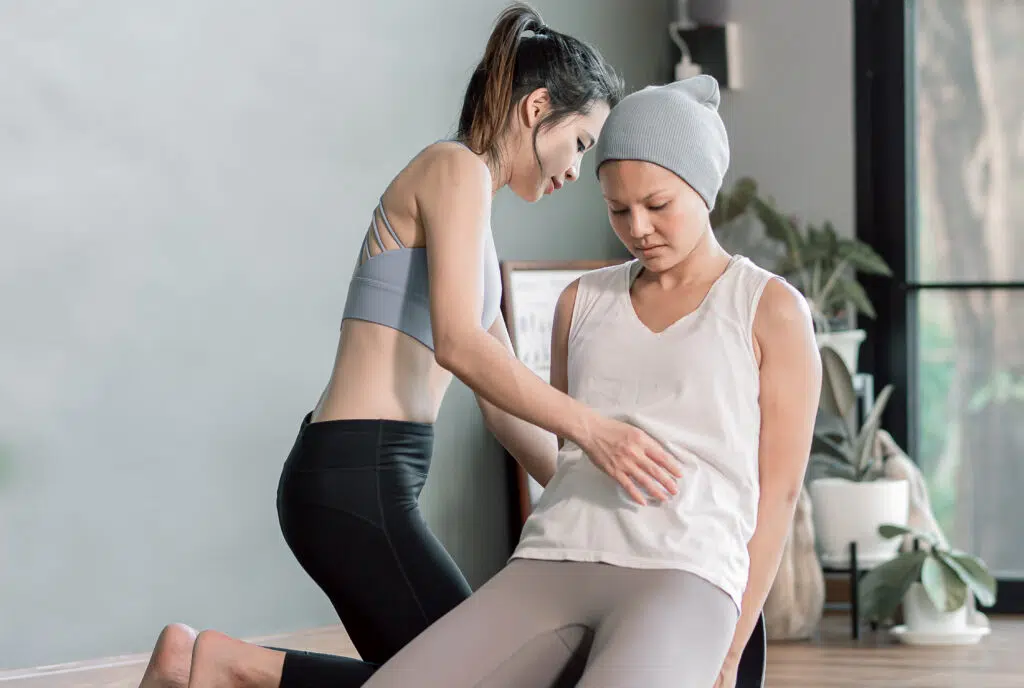 However, further education will be needed if your career goals involve working with special populations.
For instance, you can choose to specialize in personal training for seniors, youth, or even for pre-, peri-, and post-natal clients.
Although ISSA vs ACSM on special populations remains a tie on the side of content coverage, ACSM provides much broader details, so it may edge out ISSA here.
Thinking Long-Term: Business Skills for Personal Trainers
Of course, business and entrepreneurial strategies are essential for personal trainers to know in order to make a living. 
Unfortunately, many other fitness certification organizations fail to provide adequate personal training tips for beginners, but this is where ISSA shines.
ISSA's business guide, Fiscal Fitness, is the absolute best.
While it isn't quite as comprehensive as taking a business course, it's a major step up from what you'd normally expect from a fitness training certification.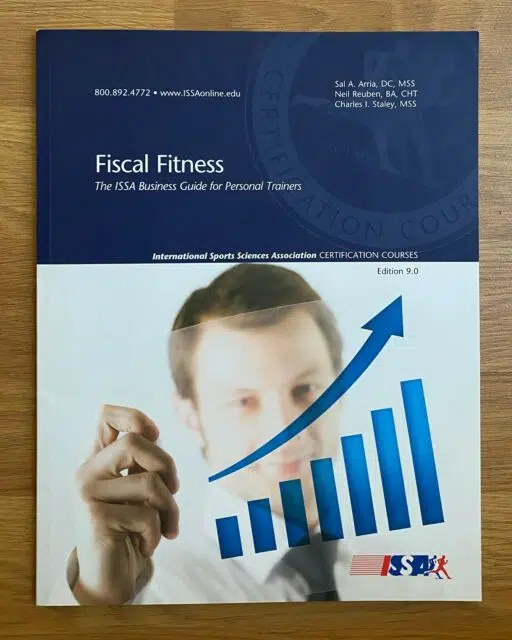 Though you'll learn decent personal training marketing ideas, one drawback is that these strategies are somewhat dated and exclude online fitness marketing protocols.
Regardless, Fiscal Fitness is still a great foundational tool for business basics and should be utilized.
ACSM includes sample compensation models for personal trainers right off the bat.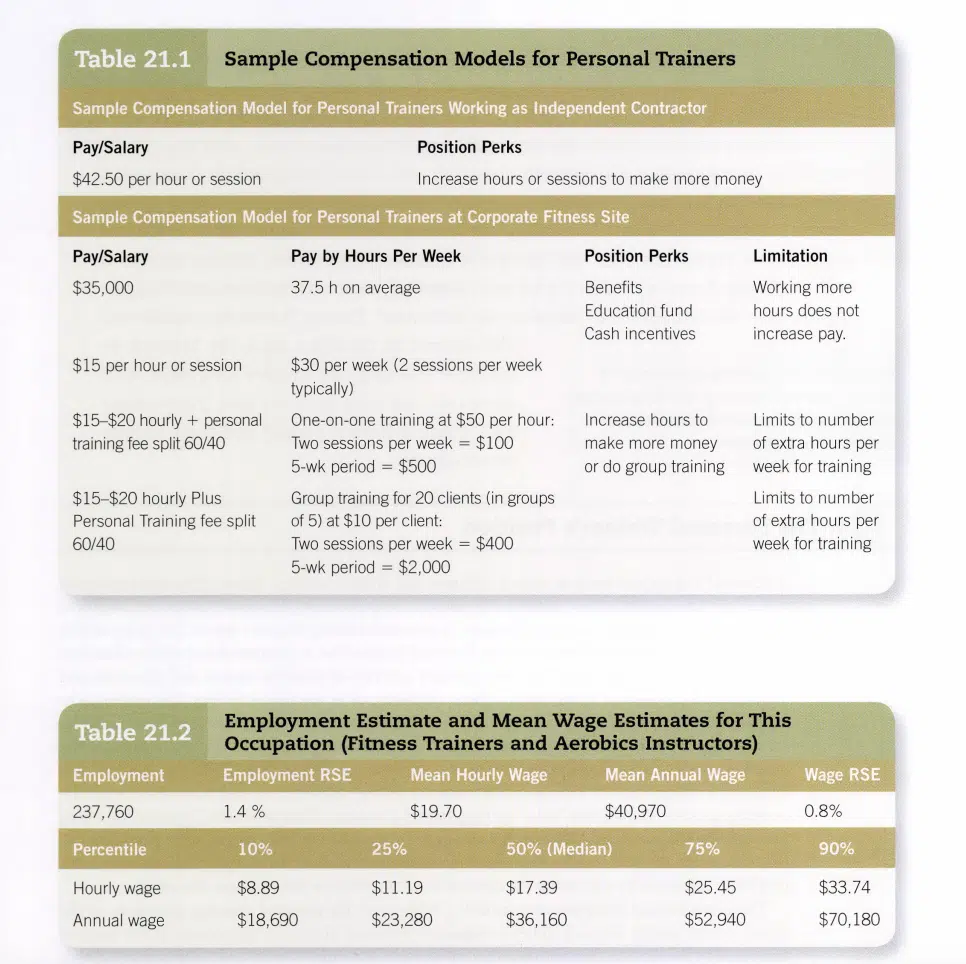 On a final note, when you compare personal trainer salaries among certifications, ISSA is among NASM and ACE on top-earning trainers.
Shockingly, ACSM also exceeds expectations at covering personal training business skills.
If you want to, you can browse through lists of which gyms accept which personal trainer certifications.
Spoiler alert: you will find that both ISSA and ACSM-CPT certifications are accepted by most gyms.
This would be a great way for especially for new trainers, to get a feel for how they want to go about their fitness careers.
Overall, the ACSM business skills section touches upon the following things:
Types of employment as a personal trainer
Personal trainer job hunting
Developing risk management programs
Basic marketing and analysis for gyms
Sales for personal trainers
Most trainers strive to help people live healthier, happier lives, which is why having business sense and knowing how to sell personal training is essential, especially to make a decent living as a trainer.
I'd suggest that if you do want to work independently only, you should certainly consider checking out the best personal trainer insurance to protect yourself against anything that may go wrong.
Finally, you could never go wrong with learning some small group personal training tips to enhance your practice and expand your income.
In my perspective, when comparing ISSA vs ACSM, both do fairly well, providing enough business information to help you create the successful fitness career you desire with a variety of topics covered (although some of the newer social media topics are left out, like Instagram marketing). 
To really increase your professionalism when applying for jobs, I'd recommend seeking out some specialized personal trainer resume advice.
Nutrition
ISSA emphasizes nutrition and nutrition coaching, which works well because clients need to be held accountable for the food choices they make for their health and fitness.
And where there is the consistency of positive, healthful behaviors over time, there are results.
In fact, ISSA provides one of the top nutrition certifications in the industry, great for coaching clients in a gym setting on all things diet-related. 
ACSM gives comprehensive food guidelines as far as nutrient intake and eating for performance, but the ACSM-CPT is light on actual content about eating habit changes.
I think, because of the more practical advice in the ISSA certification, I would give this program a higher score overall in this part.
Summary
When it comes to choosing between ISSA vs ACSM based on its content coverage, it's ultimately your call.
Both personal training certifications lead you toward a great certification and a lucrative fitness career.
But on the quality of education?
I'd definitely suggest ISSA as the better choice. You can refer to my ISSA-CPT review and ACSM-CPT review for a deeper exploration of both certifications.
ISSA stands out for its practical information and better resistance programming in first place when compared to ACSM.
ISSA vs ACSM certification prerequisites
Both ISSA and ACSM, as well as most other fitness professional certifying agencies, have the following personal trainer requirements:
At least 18 years of age
High school diploma, or the equivalent (GED)
Current and valid CPR/AED certification
Sitting for the exam does require a government-issued photo ID, so please remember to bring it with you on your exam day.
Which exam is harder ISSA or ACSM?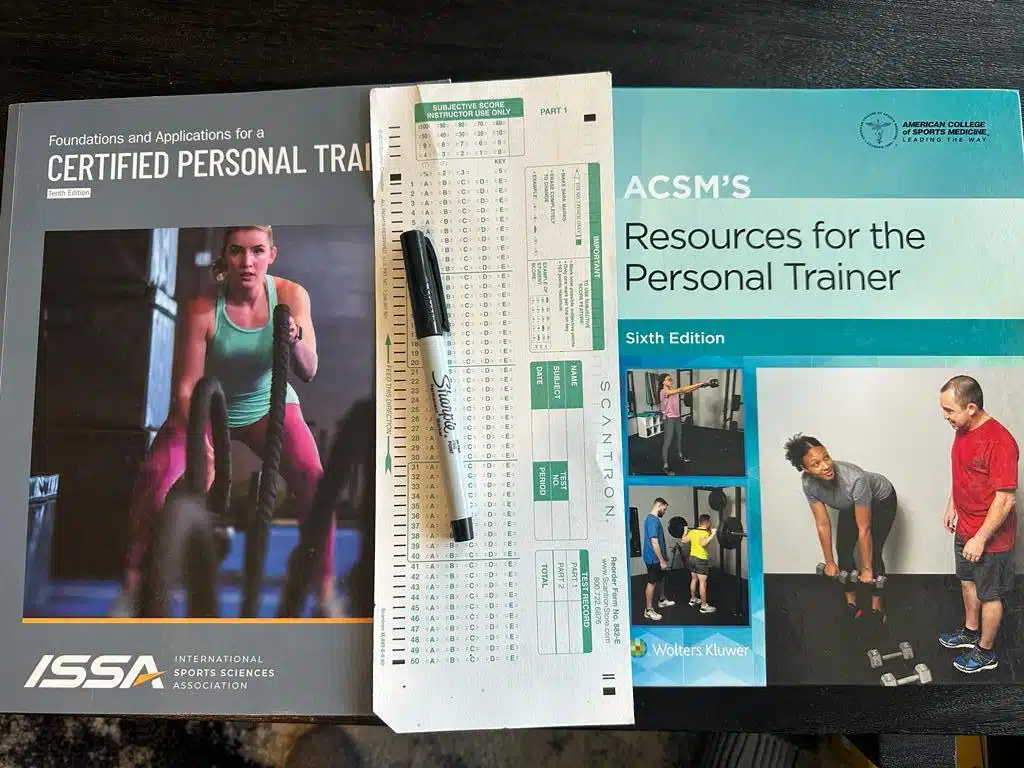 Based on pass rate statistics, the ACSM exam is somewhat harder than the NCCA accredited ISSA exam and substantially harder than the DEAC ISSA exam.
The NCCA accredited ISSA version of the ISSA exam has a pass rate of roughly 70 percent.
The non-accredited ISSA exam hovers around a 90 percent pass rate.
The non-accredited exam is fairly easy for the following reasons.
Firstly, it's a non-proctored test, so candidates are not monitored by anyone or anything.
Secondly, because it's an entirely open book exam, you can refer to all your study materials and exam prep as you test to help with the answers. 
Thirdly, your ISSA-CPT certification exam is self-paced, which means there isn't a time constraint, and you can test anywhere at any time.
Due to the importance of NCCA accreditation, I highly recommend choosing the accredited version of the ISSA exam (you will have to pay the proctor fee).
The passing score is at least 75% in each area and overall.
On a specific note, while most other CPT exams are exclusively multiple-choice, the ISSA exam also includes case studies.
Those who have taken this exam report the case studies as the hardest sections.
You will receive two random fictional clients with different challenges and goals.
You must develop an appropriate 12-week individualized program for both clients.
You need to know how to transition different clients through a routine to pass.
I definitely recommend extensive studies of both the special populations and program design sections.
I would recommend getting the full breakdown of the ISSA exam information and FAQ for a deeper look at the stats on this exam.
Thankfully, ISSA has a more lenient approach to retakes, where immediately following the failure, you are permitted to retake the exam for free.
Of course, it's a one-time deal, so if you fail your free retake, you then must pay a fee of $50 to be allowed another shot at it.
This fee is still pretty decent compared to other fitness certification exam retake fees, which can go as high as $200.
The ACSM test is a bit more challenging than the ISSA, although I prefer the ISSA curriculum.
Statistics indicate that the ACSM-CPT exam pass rate is 69% as of 2020.
Minimum passing scores are determined beforehand and applied to all candidate's results.
ACSM exams are scored on a 200-800 score scale, in which all candidates are required to meet the passing score of 550 to pass in the 150-hour time limit.
"Unscored" questions that are still being tested for use in future exams are inserted randomly throughout this exam. These are not something to worry about, just to know. 
They will not be included in the final exam results.Overall, for ISSA vs ACSM on exam difficulty, they are actually both among the top 10 easiest personal training certifications, but it is still important to study.
ISSA vs ACSM continuing education
Both ISSA and ACSM require continuing education courses to renew your certification every few years.
ISSA requires certificate renewal every two years.
In that period, you must obtain 20 hours of CECs.
CECs provided by ISSA make your recertification free. If you get courses from other sources, the recertification costs $99.
The ACSM CEU requirement is 45 contact hours every 3 years.
Both ISSA and ACSM have courses that will give you additional credits to your name and recertification hours, which is often the best route towards recertification.
ISSA continuing education courses include :
ACSM specializations and CEU courses include:
ACSM Certified Exercise Physiologist (ACSM Ep C)
ACSM Certified Clinical Exercise Physiologist (different from the above) (ACSM CEP)
ACSM Group Exercise Instructor
ISSA and ACSM overall ratings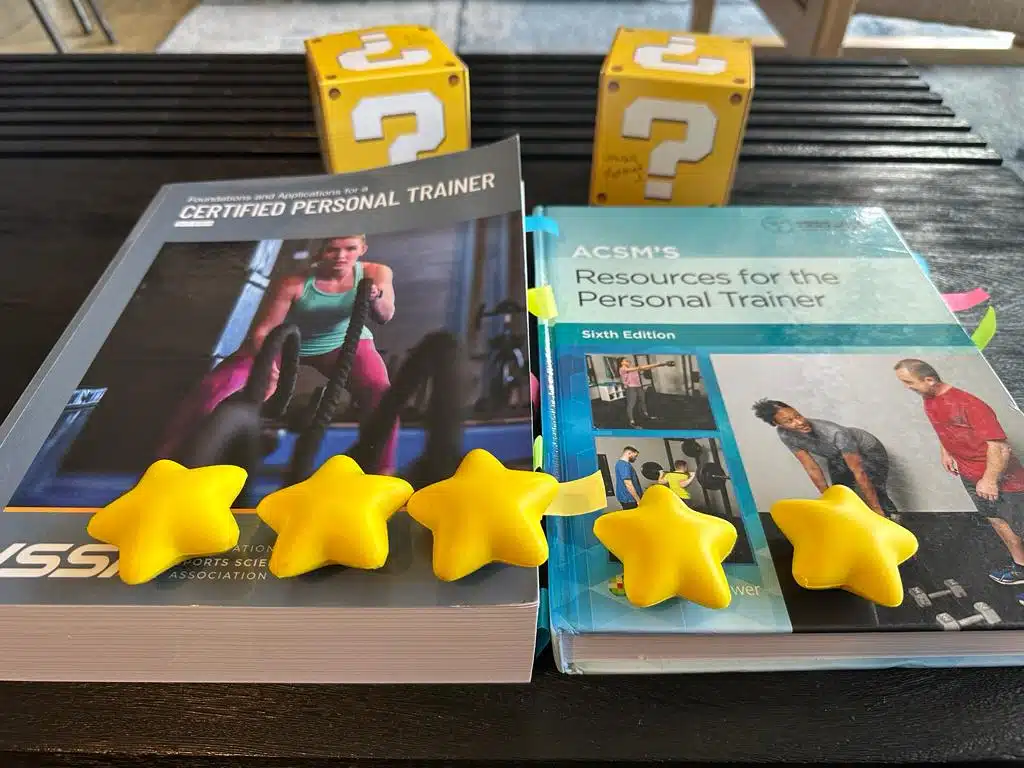 So which is better, ISSA vs ACSM?
I recommend ISSA, on account of it being especially good for entry-level trainers trying to build a good base of knowledge to work with the general population.
And please know that these basic certifications are not the end of the road.
There are multiple advanced certifications for you to increase your knowledge of personal training and expand your interest horizons.
Employers always like seeing individuals with multiple certifications.
Because then, they can throw any client at you, and you'll be able to design a kick-ass routine for them effortlessly.
Overall, both certifications are good in my eyes. The best personal training certification for you will depend on what you are looking for.
I hope that I was able to help you choose the correct certification for you in my ISSA vs ACSM article.
Thank you for joining me, and happy training!
If you want to learn more about these two amazing CPT certifications, I encourage you to check out the in-depth ISSA review and ACSM review, respectively.
Ready to start your certification program?
Then be sure to head to the official organization websites to view the latest deals.
ISSA vs ACSM Frequently Asked Questions (FAQs)
How does ISSA stack up to ACSM?
These two companies compare well. My top overall CPTs picks are ISSA and NASM. 
Which gyms accept ISSA certification?
Fortunately, there are many health clubs, fitness facilities, and gyms that accept ISSA certification. ISSA is recognized by employers as a genuine CPT certification program.
Which gyms accept ACSM certification?
Similarly, most gyms, health clubs, and fitness facilities also accept ACSM certifications. Since ACSM has a clinical exercise focal point, healthcare settings also accept ACSM certifications. Your decisions will always be based on which specific job you want to apply for and which certification they want. 
Is Personal Training with a credential from the ISSA vs ACSM organizations worth it?
Yes, personal training is an excellent field to get into, and it is highly recommended to choose a certification from a respected organization such as these. You may also choose to upgrade your CPT with a specialization, such as a Group Fitness Instructor certification, Fitness Nutrition Coach credential, and more.
Does Personal Training require a degree?
It does not, but it can never hurt to have more experience and education. If you want to learn how to become a strength and conditioning coach, then a Bachelor's degree in a related field, such as Kinesiology or Exercise Science, may be required.
What is the general job outlook for Personal Trainers?
According to the U.S. Bureau of Labor Statistics (BLS), the personal trainer job outlook throughout 2020 to 2030 is 39 percent, which is much faster than average.
Conclusion
So which is better for everyone, ISSA vs ACSM?
I recommend ISSA, especially for entry-level trainers trying to build a good base of knowledge to work with the general population.
And please know that these basic certifications are not the end of the road.
There are multiple advanced certifications for you to increase your knowledge of personal training and expand your horizons.
Employers always like seeing individuals with multiple certifications.
Because then, they can throw any client at you, and you'll be able to design a kick-ass routine for them effortlessly.
Overall, both certifications are good in my eyes, but they are not my favorite ones on the market right now.
I hope that I was able to help you choose the correct certification for you in my ISSA vs ACSM article.
Thank you for joining me, and happy training!
If you want to learn more about these two amazing CPT certifications, I encourage you to check out the in-depth ISSA review and ACSM review, respectively.
Ready to start your certification program?
Then be sure to head to the official organization websites to view the latest deals!