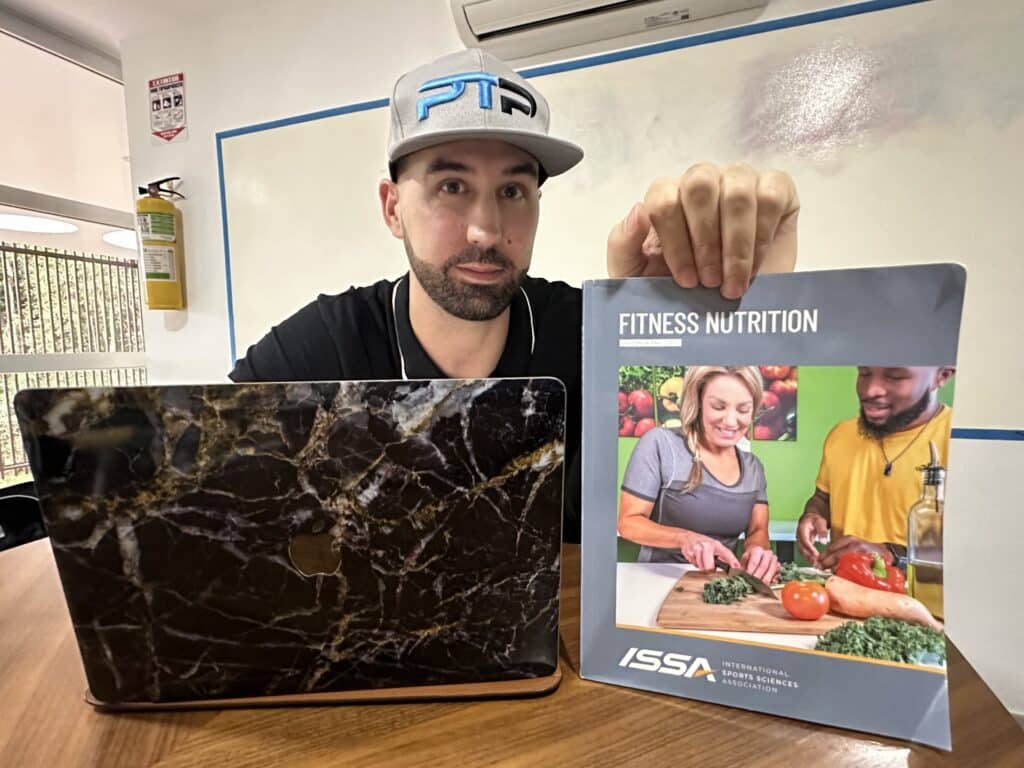 This is a collection of my experiences with signing up, studying for, and passing the ISSA nutritionist certification.
I will go over aspects that I liked about the certification, where it fell short, and how it compares to other nutrition certifications on the market.
By the end, you will have a clear idea of whether the certification is right for you.
Here is what you will learn:
Topical information: ISSA Nutritionist pricing, packages, prerequisites
The quality of the ISSA Nutritionist program and textbook
Pros and Cons, is this certification meant for you?
How the ISSA Nutritionist compares to other nutrition certifications
If you want to make sure it is the best option for you, then make sure to take the quiz and find out what may be your best option.
What is the ISSA Nutritionist Certification?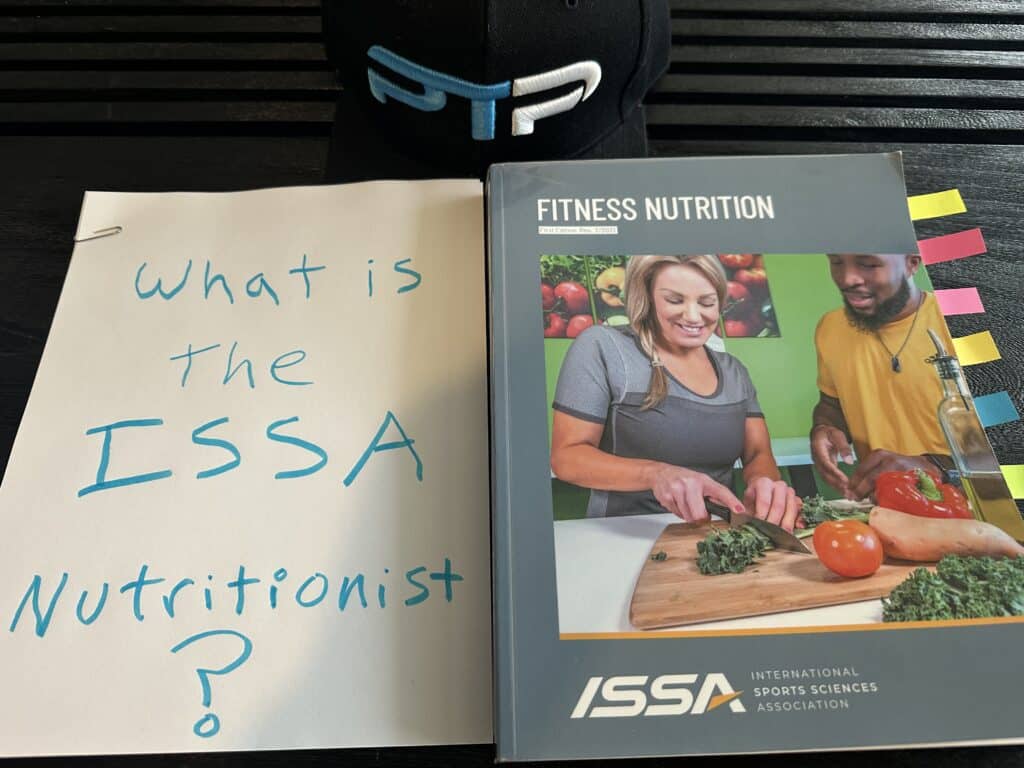 The ISSA, or International Sports Sciences Association, is one of the top certifying organizations, and they bring the greatest value for professionals looking to start with multiple certifications and specializations.
The ISSA was founded in 1988 by a team of fitness experts to help curb the increase in physical decline.
ISSA's mission is to "Bring healthy living to everybody in the world through education and community."
This mission is being sought after by increasing the amount of knowledgeable, certified fitness professionals.
This ISSA Nutritionist certification course covers the greatly varied topics of Macronutrients and Micronutrients, Lifestyle Changes and Strategies, Client Assessments and Goal Setting, Product Labels and Claims, Dietary Guidelines and Applications, Trending Diets and Myths, Supplementation, and Business of Nutrition Coaching.
Overall, these are the main topics I find useful when coaching nutrition, so ISSA certainly covers the bases.
ISSA Nutritionist General Information
Exam cost: $799
Study material cost: $66.58/month for 12 months
Prerequisites: High School Diploma, CPR/AED
Exam passing score: Scaled 550/800 – 90/125 Scored Questions
Exam pass rate: 70% (2020 data)
Average completion time: 2-6 months
ISSA Credibility and Reputation
ISSA is at the top of the industry because it garners respect from employers and offers a multitude of fitness certifications for nearly any career choice.
Any organization that offers accredited certifications is going to be a credible and reputable outfit to seek certification.
ISSA offers NCCA accreditation with their major programs, and this is the top level of accreditation that certifying organizations can achieve.
ISSA offers international certification and is present in 174 countries around the globe.
In my experience working at both commercial gyms and smaller studios, ISSA is definitely one of the certifications employers prefer. 
Is the ISSA Nutritionist Worth It?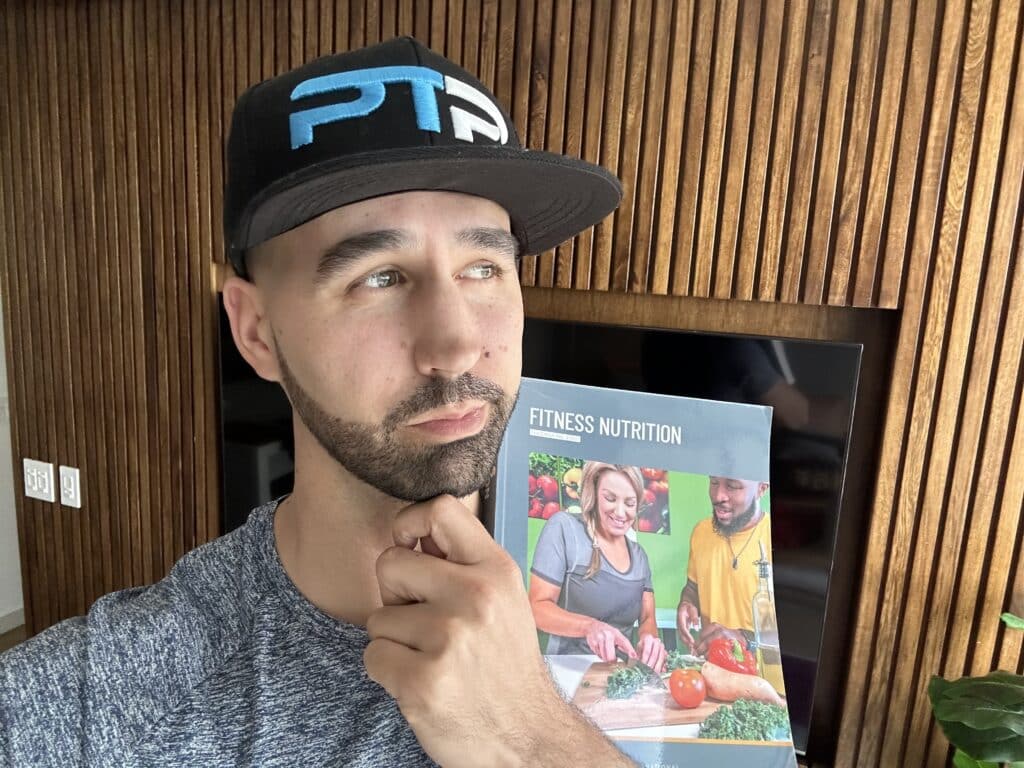 I can't definitely say that the ISSA nutritionist cert is worth it for your specific career. The ISSA Nutritionist's value is going to be based on factors like your personal goals, your budget for certifications, and the offerings you want to bring to your clients.
Truthfully, if your main passion is fitness coaching and you are just looking for another income stream, I don't know that I'd recommend any nutrition cert.
However, if you do want to combine nutrition and fitness, then the ISSA nutritionist could be a great choice.
Let's look at some pros and cons of the program:
Pros
Solid Research-backed Nutritional Science
Final Exam is forgiving and allows retakes
International NCCA-certified CPT recognition and use

The Elite Trainer package

offers the best value in fitness
Cons
Insufficient behavior coaching section
Online textbook format feels dated
The standalone certification is expensive
ISSA Nutritionist vs. Other Top Nutrition Certifications
The ISSA Nutritionist's main competitors are the NASM CNC and the Precision Nutrition Level 1.
These are some of the best options for fitness nutrition certification currently in the fitness industry and can be meant for different types of fitness professionals.
NASM is the most similar to ISSA, as they certify across many fitness modalities, while Precision Nutrition focuses solely on nutrition.
The ISSA matches these other top programs in pretty much all areas, but ISSA has a nice section on business aspects of coaching that is left out in others.
In my experience, the ability to apply practical nutrition skills in the context of a business model is one of the critical separators of successful trainers from less successful trainers, so the inclusion of business skills in the ISSA nutritionist is a major benefit.
Another standout feature of ISSA is the value they offer in the form of bundles for certifications.
The ISSA Nutritionist stacks up well when put head-to-head against these other nutrition certs!
Exclusive PTP Nutrition Offers



Gold Standard Cert

Most Popular Cert

Best Study Materials

A Good Option

A Great Option

Best Cert for you?

As far as base prices go for nutrition certifications, the three top choices are all priced around the same, and it will depend on what deals are currently running. Precision nutrition won't drop below $999, so it would be more expensive.
Who is the Certification Meant for?
The ISSA nutritionist is going to be ideal for people that want to add nutrition coaching services to their existing personal trainer business. It can also be a good option for fitness professionals needing credits to recertify, which can let you "double dip" on the recertification credits as well as the business growth.
 For me, this was the case, in addition to wanting to review an excellent product and help future professionals.
Now for people who should not do the ISSA nutritionist, there are a few cases to highlight.
If someone already has a nutrition certification, then it is not too beneficial to go for a second one from another organization.
The ISSA nutritionist is also not very helpful for people who are seeking a career as a registered dietician since that licensing process is its entire own career track.
Great for:
Anyone looking to expand their nutrition knowledge and experience
Certified fitness professionals that need CEU credits
Personal trainers and other specialized professionals who wish to expand their offerings
Not Recommended For:
A person who already has a competing nutrition certification
Someone seeking a career as a dietician
I believe the ISSA as an organization is beneficial for the vast majority of new and seasoned fitness professionals.
It is no mistake that over 475,000 people have chosen the ISSA certification as a route to becoming certified personal trainers and sports nutrition coaches.
The International Sports Science Association is as credible as it is highly respected among professionals, and on top of that, they are known to offer fantastic deals on its products.
The ISSA Elite Trainer Bundle is the feature purchase that, in my opinion, makes ISSA worth it for anyone without a CPT certification already.
As a fitness professional with multiple certs, I appreciate this offering and the other offerings from ISSA.
The Elite Trainer is my favorite of the deals ISSA offers, as you will get the Certified Personal Trainer, Nutritionist, and one more specialization. That's enough for any new fitness professional to kickstart their career in a great way.
ISSA also offers a popular ISSA Elite Buy One Get One offer that allows you to purchase this nutrition certification along with the ISSA CPT. I find this to be the best deal if you desire to become a personal trainer and know you will be going for a specialization.
It is also beneficial to know that achieving these specializations with ISSA helps to cover your recertification costs when that time comes after two years, as these extra fitness courses count as continuing education credits.
Overall, ISSA is a very credible source, and they provide all of their citations for information in the text, if readers wish to investigate further. On top of this point, they have a well-crafted textbook that costs less than many certifications you will find.
This makes the ISSA Nutritionist entirely worth it for the majority of fitness professionals, myself included.
ISSA Nutritionist Costs and Course Options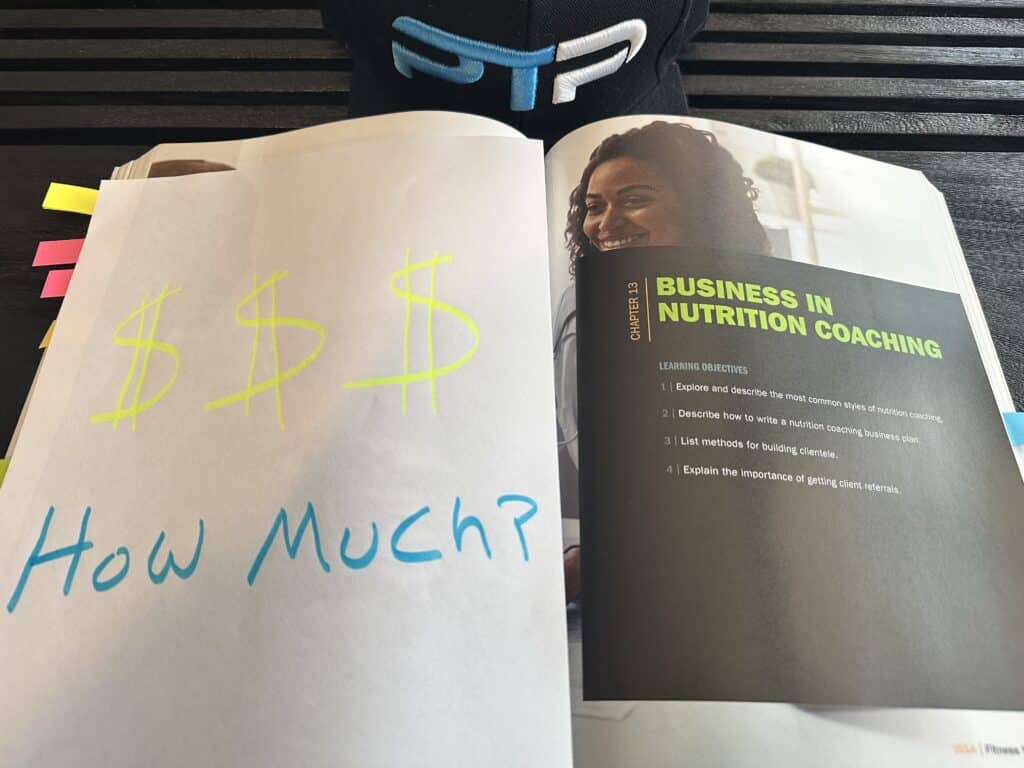 The first option for the ISSA nutritionist is to purchase the standalone program without any other certifications.
This has the least amount of value and comes in at a base price of $799, but there are often deals going on to get it for a good percentage off that price.
The ISSA Nutritionist course includes these items:
ISSA Nutritionist Textbook (Digital)
Practice Exam and Section Quizzes
Nutritionist Education Bootcamp
Library of Client Forms
Online and Home Study Exam
Online Student Forum
Free Professional Website
Unlimited Educational Support
ISSA has a solid course offering, in my opinion, and it rivals competing organizations and their nutrition certifications.
If you are like me and enjoy a physical textbook, then you will have to purchase that on the side. A physical textbook costs $60 to order from ISSA.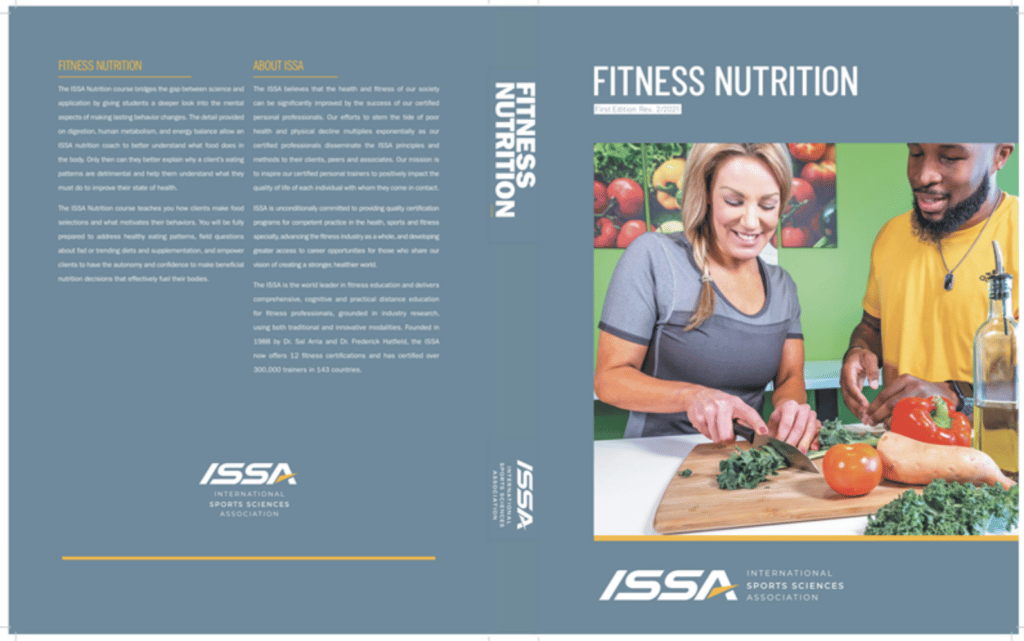 Where ISSA really shines is when we get into the bundles that they offer for multiple certifications. Since the ISSA Nutritionist only offers one program package, I'll highlight some ways you can get the ISSA Nutritionist and maximize the value of your money.
One option that I like a lot is the Buy One Get One, which gives you two certifications for just over the price of the standalone Nutrition cert. The price for this package is $948.

And then what I consider to be the optimal choice for anyone without a CPT yet, or for someone that is a CPT but wants to switch to ISSA while earning specializations, we have the Elite Trainer option, which gives you a total of three certifications for the price of the CPT.
The Elite Trainer bundle includes the CPT, Nutritionist, and Strength and Conditioning coach certifications. These are the three most popular certifications/specializations in the fitness industry.
The Elite Trainer Bundle costs $1,188, which is pretty close to what you will pay for a CPT cert alone from most of the other top organizations.

That is how the standalone certification and the popular bundles are priced and what you will find within the ISSA Nutritionist package.
Next, I'll dive into the specific offerings of the ISSA Nutritionist so you can see how it stacks up next to the other nutrition certs in the fitness industry.
ISSA Nutritionist Course Layout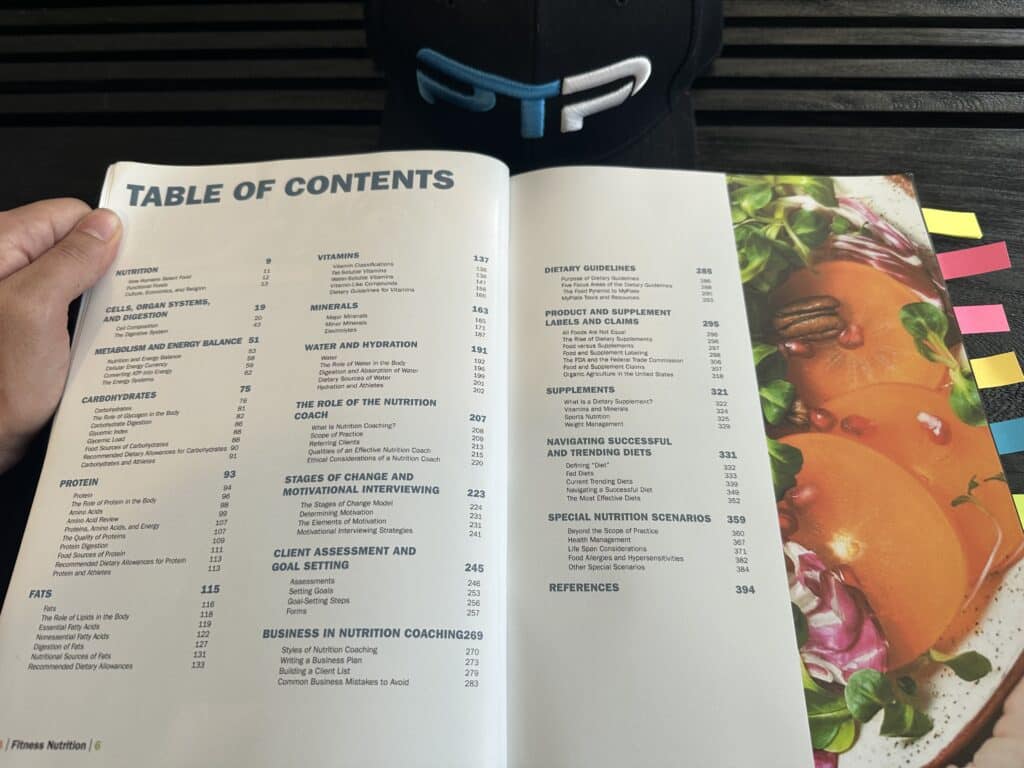 The ISSA Nutritionist course is laid out in an online course, like all of the ISSA programs, and one thing that some people may notice is that the online study format feels a bit dated.
Exclusive PTP Nutrition Offers



Gold Standard Cert

Most Popular Cert

Best Study Materials

A Good Option

A Great Option

Best Cert for you?

I have found that the online study format and textbook are more conveniently laid out and feel newer when I look at NASM and ACE, to name a few.
But, with that said, it does not detract from the overall knowledge you will gain from this program.
The study program has sections for the Dashboard, Guided Study, Textbooks, Quizzes, Downloads, and the Final Examination.
The overall course layout is less convenient and easy to navigate than the likes of NASM, which is what I would consider the other top nutrition specialization, but what matters most is still the content within.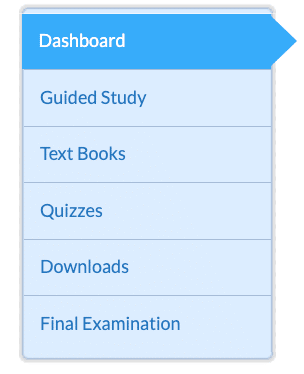 Guided Study
The Guided Study is ISSA's version of a study calendar to give you some goals to shoot for. They have a total of 10 weeks recommended to learn the materials.
For comparison, I finished the course in 8 weeks, but I have taken many fitness programs, which have included other nutrition certifications. I also made sure to compare and contrast between other programs in the fitness industry.
The Guided study breaks down the ten weeks into the recommended reading assignments, a few lecture videos, and a quiz.
I think the reading assignment feels unnecessary, and it would feel better to just follow along in the textbook in order. But it does have links to make it easy to navigate directly to the accompanying pages.
The lecture videos are extremely short, but they can help with some of the more intricate parts of big chapters.
And lastly, the quizzes are helpful as they help tie up the chapter and ensure you learned what was needed.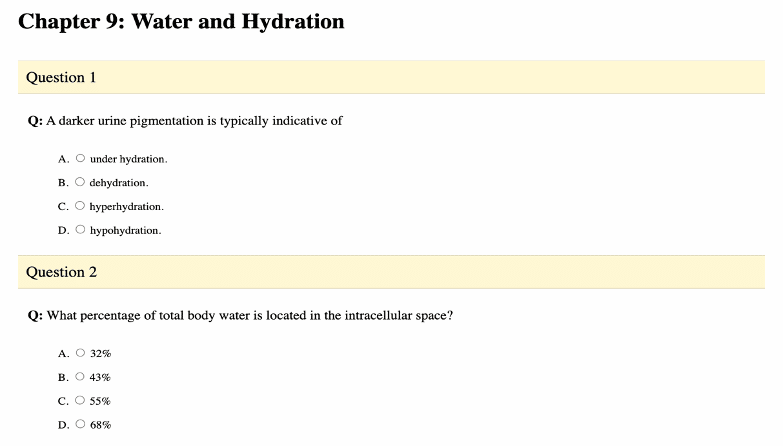 Textbook and Downloads
Even with the dated feel, one advantage ISSA has over the same two I just mentioned, ACE and NASM, is that they offer very easy-to-use PDF textbooks which can be downloaded directly to your computer.
The textbook is a good length of about 400 pages, split into 18 chapters.
Again, I prefer to study the physical version, but it is the exact same as what you will get in the digital version included within the base course package.
For each chapter, there will be a quiz, which can be accessed from the Quizzes tab or from the guided study.
The quizzes are all 10 questions each, and I find that to be on the shorter side, but it is still up to par with the quiz offerings from other nutrition certifications.
Textbook Breakdown
The ISSA Nutritionist textbook has 18 well-broken-down chapters that include a welcome business chapter not seen in many specializations.
The 18 chapters are:
Chapter 1: Nutrition
Chapter 2: Cells, Organ Systems, and Digestion
Chapter 3: Metabolism and Energy Balance
Chapter 4: Carbohydrates
Chapter 5: Protein
Chapter 6: Fats
Chapter 7: Vitamins
Chapter 8: Minerals
Chapter 9: Water and Hydration
Chapter 10: The Role of the Nutrition Coach
Chapter 11: Stages of Change and Motivational Interviewing
Chapter 12: Client Assessment and Goal Setting
Chapter 13: Business in Nutrition Coaching
Chapter 14: Dietary Guidelines
Chapter 15: Product and Supplement Labels and Claims
Chapter 16: Supplements
Chapter 17: Navigating Successful and Trending Diets
Chapter 18: Special Nutrition Scenarios
The layout of the book emphasizes that this is a tremendous additional certification for a certified personal trainer.
The beginning of the textbook starts with the science of the body in the form of the bodily systems and metabolism coverage.
A lot of this is similar to the initial teachings for a personal training certification, but there is a more specific spin on nutrition, especially in the case of the energy balance discussion.
From there, chapters 4, 5, and 6 all cover specific macronutrients, which one would be familiar with in any science class or other fitness certification, but there is a much greater amount of detail. As a certified nutritionist, I find it nice to have reference foods and diets that focus on macronutrients, which you will find in each of these chapters.
The next chapters cover the role and scope of practice for certified nutritionists, the stages of change, and motivational interviewing practices to help with coaching and client assessment.
Chapter 14 covers the Business in Nutrition Coaching, which actually sets ISSA apart from other nutrition certifications, as they typically leave out business concepts in these specializations.
I found the business aspects to be helpful for me, even if other certifications touch on some of the same aspects, as these are materials that everyone can improve on.
The textbook then goes over dietary guidelines and spends two chapters focusing on products and supplements, along with claims related to them.
Based on the other certifications I have reviewed, these supplement-focused chapters are equivalent to any certification you can find in Personal Training or Nutrition. It is a standard layout of supplement facts and recommendations, very similar to that of even a CPT. In the future, all nutrition certs could try to improve these sections.
The last two chapters of the Fitness Nutrition text cover trending diets and special nutrition scenarios, and I believe these will help tremendously when explaining diet ideas to clients.
One of the most popular questions I see in the field from clients revolves around their diets and diets they wish to try, so no nutrition program is truly complete until this is included.
Now let's look at how you can prepare for the ISSA nutritionist exam with the ISSA materials and outside resources.
ISSA Nutritionist Exam Prep and Study Materials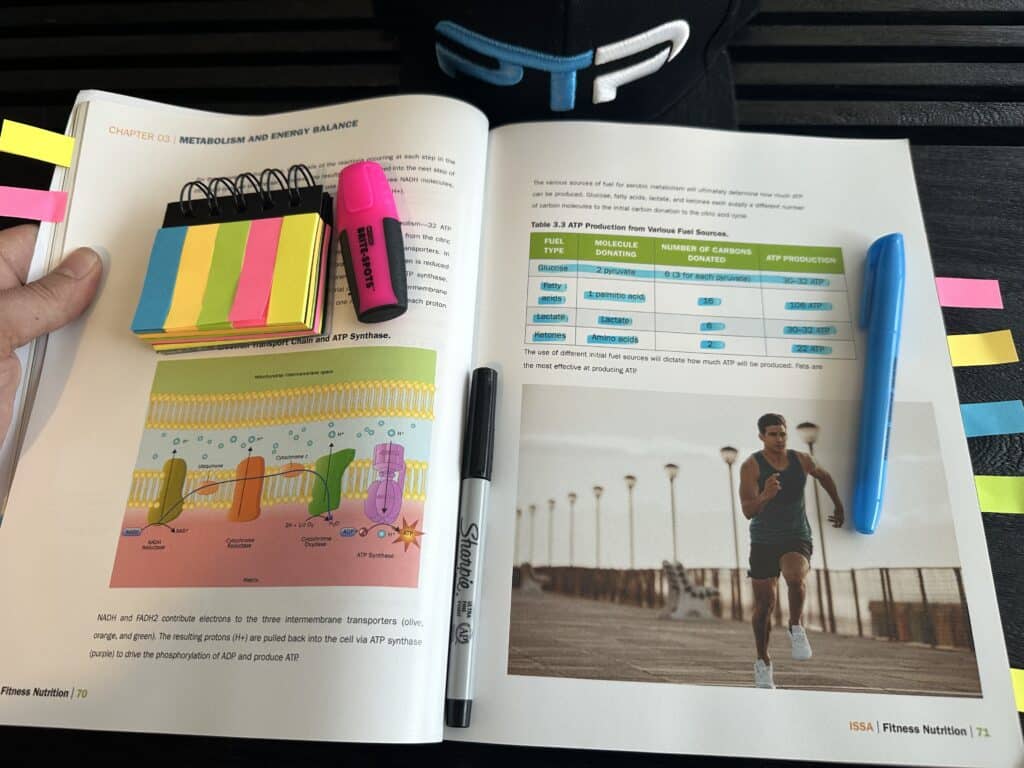 The ISSA nutritionist has a recommended study timeframe of about 10 weeks to learn all of the information and read through the textbook.
I took eight weeks to wrap up the ISSA Nutritionist. This time would have been quite a bit more due to my work schedule if I had not completed other nutrition programs in the past. Proper studying will likely take more than 10 weeks to complete for most learners, closer to the 3-month mark.
For me, the ISSA nutritionist is lacking in their offerings for study materials, but so are all nutrition certifications in the fitness industry.
Me and the team here and PTPioneer have crafted a Free ISSA Nutritionist Study Program to help condense and focus your studies. It will help cut your study time down.
The Free ISSA Nutritionist Study Guide here at PTPioneer includes a study guide, practice tests, and even more.
If you really want to cut your time in half, it is even more advantageous to seek a study system that offers Flashcards, a Study Guide, Audio Guide, and more.
Our close partners at Trainer Academy have an excellent study system for the ISSA Nutritionist program for anyone who wants to earn this specialization quickly.
Check out the Trainer Academy ISSA Nutritionist for a better chance to pass on your first try and do it in just half of the time.
Taking the ISSA Nutritionist Certification Exam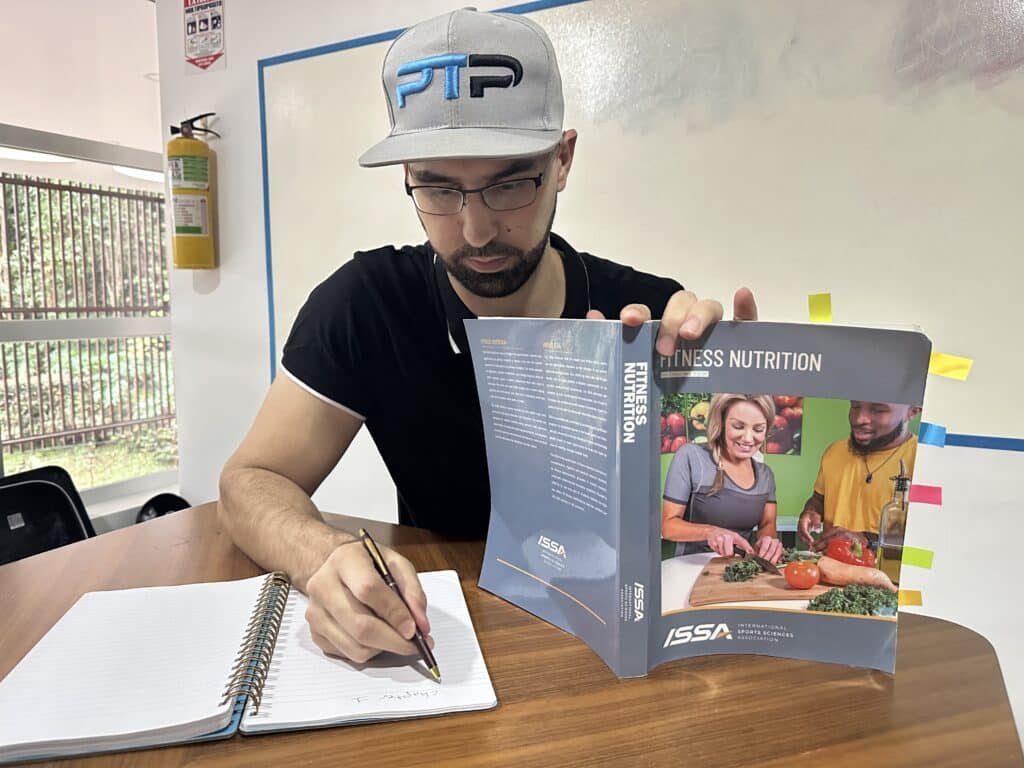 The ISSA Nutritionist exam follows suit with the rest of the nutrition specializations from top organizations such as NASM and ACE.
This exam can be taken online via the ISSA study portal.
I took the exam online and found it to be easier than programs like the Personal Training certifications or Strength and Conditioning Coach certifications, but it still required a good amount of prep work.
The ISSA Nutritionist exam has a total of 200 questions for the student to answer, and you are required to get 70% correct.
One significant benefit of nearly all nutrition certifications is that they do allow for an unlimited number of test attempts on the final exam, so it is a tad more relaxed than other certifications.
The final exam has a high pass rate compared to the CPT programs and other specializations, but it is still not 100%. It is a great idea to use all the study resources you can to shorten the pass time and make sure you finish the program in a timely manner.
I passed my exam on the first try, but I have more than enough practice in fitness certification testing.
Overall, the difficulty of the Nutritionist program, time to study, and pass rate are great for the ISSA and add to the value of the program.
ISSA Nutritionist Program Overall Rating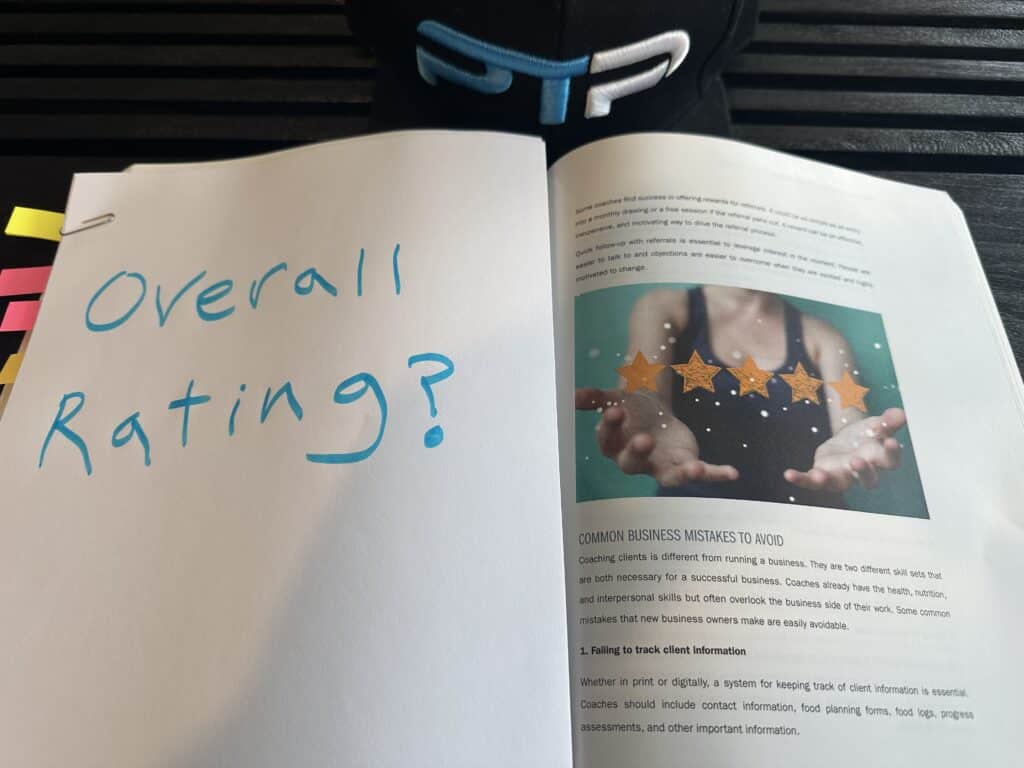 Assessment and Goal Setting
8.5
The ISSA Nutritionist receives a rating of 9.1 out of 10 based on the above categories.
This is at the top of nutrition certifications, and value-wise, ISSA is my favorite program and receives solid recommendations from me to future trainers and certified nutritionists.
If you want to help cut your study time down and increase your effectiveness when studying, make sure to check out the PTPioneer Free ISSA Nutritionist Study Guide or check out the premium Trainer Academy ISSA Nutritionist Study Program.
Make sure to check out the ISSA Nutritionist review in podcast form and video form from the sections at the end of the page.
ISSA Nutritionist FAQs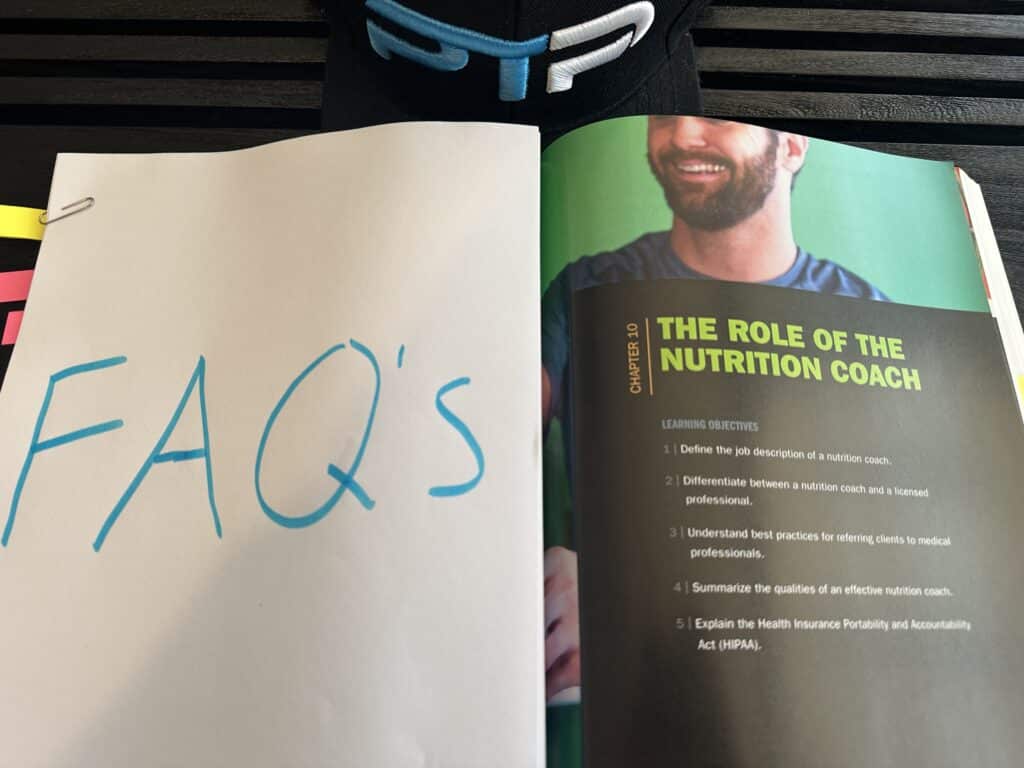 Is ISSA Nutritionist certification worth it?
The ISSA is an excellent organization with certifications accredited via the NCCA and thus garners a lot of respect. The ISSA nutritionist is well worth it for fitness professionals who wish to add to their client offerings and for those who need an excellent continuing education credit.
How long does it take to study for the ISSA Nutritionist exam?
This fitness specialization requires around 10 weeks but can be reduced significantly if given more than average time or using outside study resources from professionals.
Does the ISSA Nutritionist certification increase a personal trainer's salary?
On average, this is going to increase a personal trainer's salary by around $4,000 per year. Nutrition coaching and most fitness specializations are growing at an incredible rate and this could increase alot over the next years.
How many Questions are on the ISSA Nutritionist Final Exam?
This certification has a fully online final exam containing 200 questions and no time limit to take the test. The exam is not too challenging, but you do want to go in fully prepared.
ISSA Nutritionist Certification Review Video (YouTube)
ISSA Nutritionist Certification Review (Podcast)