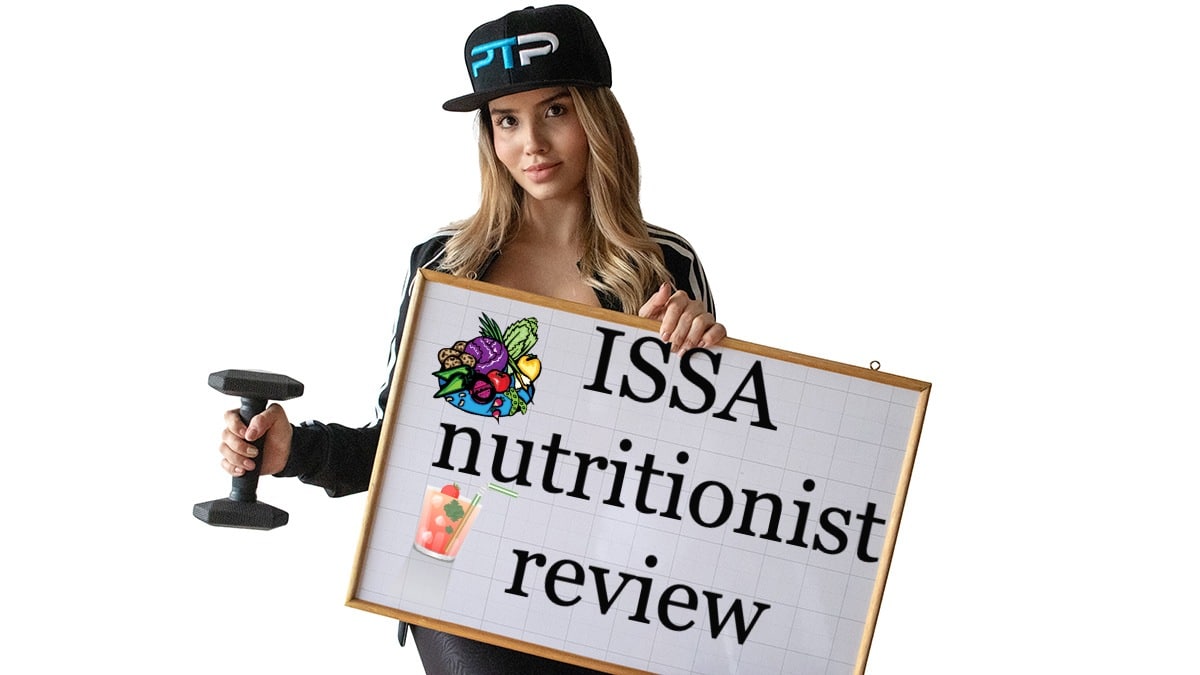 Hey guys, Coach Tyler here and welcome to my ISSA Nutritionist review for 2022. In this article will be an in-depth breakdown of the ISSA Nutritionist study and final test. What I want to give you is the insight to decide if this is the right nutritionist cert for you.
The ISSA Nutritionist cert comes together with the standard Personal Trainer course, a new deal that ISSA has bundled. I suggest you check out the ISSA CPT review I did here, or the official ISSA website to find out more details.
This will give you a good idea of where you'll be headed with the ISSA Nutritionist format, also because the ISSA CPT coursework contains a lot of material that leads into the full nutrition certification. Check out my free nutrition certification study guides that I have created here.
If you have not yet done so, make sure to take the quiz to see which nutrition certification is the best fit for you. Also, definitely check out my article on the top nutrition certifications in the industry today.
If at the end of this article, you decide that the ISSA Nutritionist is right for you, make sure to check them out.
Also, don't forget to check out the Trainer Academy premium ISSA Nutritionist study materials. They provide an exam pass guarantee and have helped hundreds of my students passed the exam. I also have a free ISSA Nutritionist study guide here on my site.
ISSA Nutritionist Certification Review (YouTube)
ISSA Nutritionist Certification Review (Podcast)

I also have a cool article comparing 6 top nutritionists certs. Check that out to get the best idea of what's really on offer in the world of nutrition coaching.
While you're doing that I recommend you do this quiz.
It will help you get a good idea of what you can achieve what you want to achieve, and which certification is best for that.
If you happen to still have questions that this and other articles haven't answered, please drop me a comment and I'll respond within 24 hours.
Once you've gone through all of this, and decide that ISSA Nutritionist is in fact for you, you can take a look at my free study guide for the nutritionist cert.
This study guide will help you tie the loose ends in your exam prep. I do advise that you use it as a complement to meticulous studying and not just use it to cram answers.
To really get a good grip on some quality exam prep, head on over to Trainer Academy. They have the best third party premium exam prep material money can buy for most major health and fitness certifications.
Take a look at them here for ISSA Nutritionist and other premium study material suites.
As far as ISSA reviews are concerned, you are guaranteed to find all you need to know here – and more!
So now that we've laid a bit of groundwork, let's take a quick swing at the pros and cons of the ISSA nutritionist, so you can have a better look at a glance.
ISSA Nutritionist: Pros vs. Cons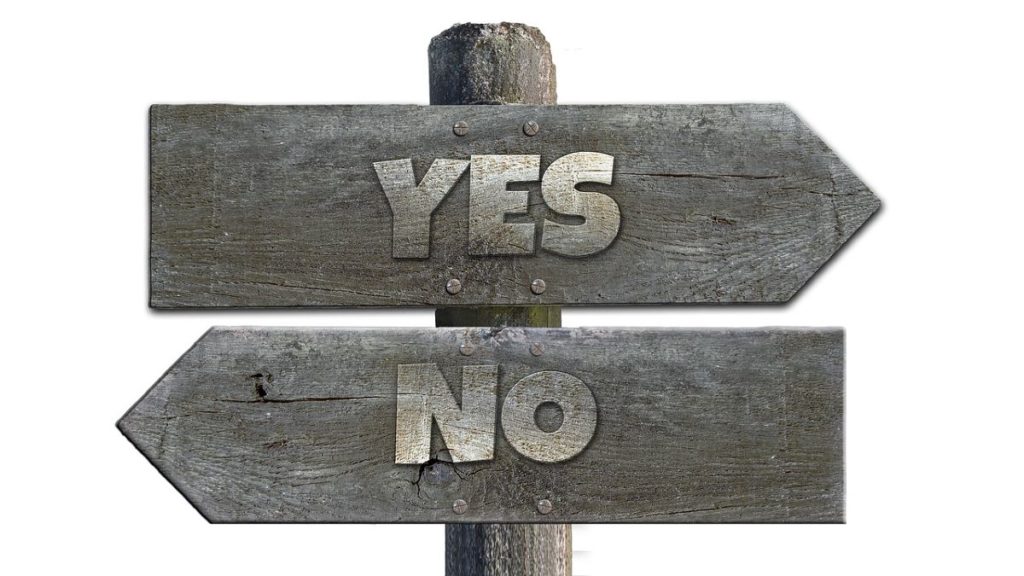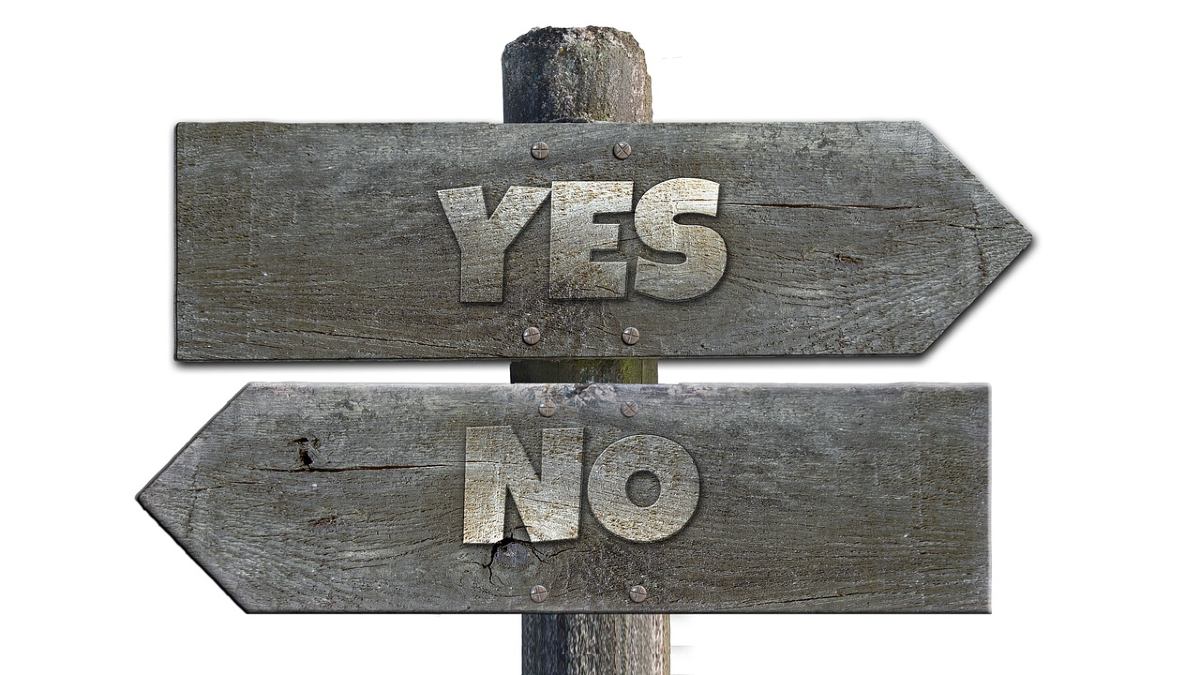 Pros:
It goes into the core fundamentals of nutrition
It makes you aware not just about nutrition from a technical standpoint, but also the bigger impact (social, environmental, ethical
You can learn and certify anywhere in the world
Equips you with the necessary skills required for sound nutritional coaching
Teaches you results-driven coaching
The exam has a short answer and case study based questions that test your grasp of concepts rather than the ability to memorize facts.
Cons:
The non-proctored, self-paced open book exam system makes it far less challenging than it should be
The ISSA Certified Personal Trainer course is not the most practical hands-on course
ISSA Review – General Information

Let's dive straight into this ISSA Nutritionist analysis.
Just as with the CPT and other specialist certs under ISSA, this one is completely online.
It is also non-proctored, which means you don't need to go to a testing facility or have an invigilator breathing down your neck.
This makes it one of the most internationally accessible nutrition certs and is a great option for you if you're from outside the US.
ISSA as an agency is rapidly gaining popularity and recognition. It actually comes in at second place after NSCA for certifying agencies with the top-earning trainers.
That's because ISSA adopts a lot of its resources and knowledge from ACSM, which is at the pinnacle of sports science research. This along with the convenience and global access makes ISSA an effective route to a lucrative career in fitness, and in this case, nutrition.
ISSA has an awesome retest policy. If you fail the first time, you get to correct your dud exam and resubmit it for FREE!
This only applies to your first failed attempt. After that, you will need to pay $50 upfront to do it again, which isn't so terrible if you consider what others charge for re-testing.
In my opinion, retesting across all certifying academies should be handled this way, but on the flip side, you can look at the retest fee as some form of incentive or deterrent against inadequate exam prep or unqualified candidates.
From the moment you sign up for the ISSA Nutritionist, you have a whole year to study for and take the final test.
As mentioned, ISSA Nutritionist gives a decent, broad outlook on the essentials of nutrition coaching and the concepts, facts, and methodologies behind good nutrition.
The course textbook does a great job of separating the science of nutrition and the practice of nutrition. Check out their textbook here.
It also helps you learn how to apply nutritional practice over a wide spectrum of clients from your everyday person to elite athletes.
Why ISSA?
It is no mistake that over 300,000 people have chosen the ISSA certification as a route to become certified personal trainers and sports nutrition coaches.
The International Sports Science Association is as credible as it is highly respected among Accrediting Commissions in the healthy living and continuing education units.
As far as fitness and health, as well as strength and conditioning certifications, are concerned, ISSA is well in the lead.
Exclusive PTP Nutrition Offers



Gold Standard Cert

Most Popular Cert

Best Study Materials

A Good Option

A Great Option

Best Cert for you?

Also, this is the right course for people seeking to get exercise therapy, youth fitness certification, as well as anatomy and physiology fitness certification accredited by a Distance Education Accrediting Commission.
ISSA Nutritionist vs Precision Nutrition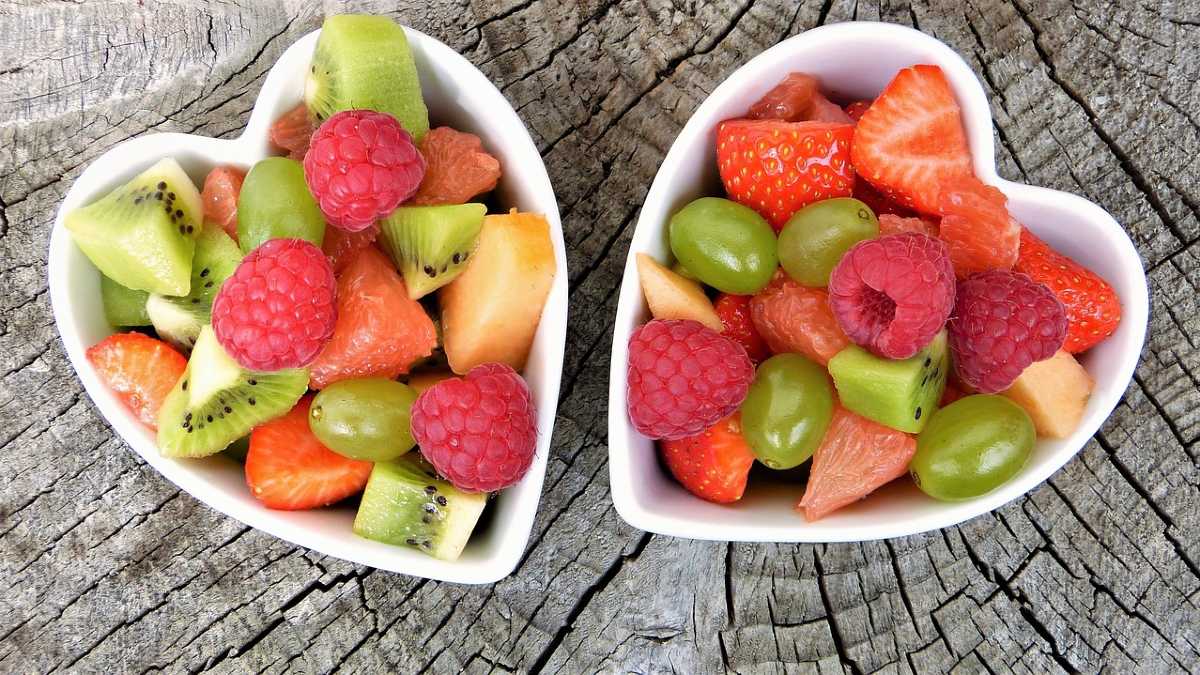 This article is all about the Nutritionist cert from ISSA, but I think it's pretty important to offer a little back-to-back comparison with one of the most talked-about nutrition certifications out there.
That is Precision Nutrition. You can check out my Precision Nutrition review here:
The reason precision nutrition is here, even though many of the more established certifying agencies offer nutrition, is because both ISSA Nutritionist and PN have a comparable focus on the aspect of nutritional coaching.
Most of the content from the other certs focuses mostly on just the science of nutrition, really only giving you an encyclopedic knowledge of nutrition that complements your fitness programming skills.
These two certs make nutrition coaching a central focus and treat it as its own separate skill.
I feel like this is very important, and it's a bit disappointing that the other more established agencies don't prioritize nutrition to this extent.
It's actually strange when you consider that the most effective way of getting good health and fitness results is by optimizing nutrition.
PN and ISSA are also completely online and are great at being this way, delivering quality knowledge with the convenience of being self-paced.
Anyways, that's where the similarities sort of end.
The glaring difference between these two is the accreditation. Not so much a glaring difference, but it's just worth mentioning that PN is not a nutrition certifying agency. They are a nutrition service, which means that you are essentially just buying a business tool and not necessarily learning a vocation or qualification.
That's because PN works by teaching you how to administer its nutrition system to clients. This means you're actually teaching your clients the art of nutritional practice rather than just doling out a set of rules and instructions.
There is also a heavy emphasis on change psychology, which while ISSA does a good job of going into, it doesn't go as in-depth.
ISSA is however more versatile in the population groups you can approach with its training, allowing you to apply nutritional practice across the board, all the way up to elite athletes.
Both favor the same practical principle of applying the fundamentals of coaching in nutrition as a focus of learning, but I feel like ISSA Nutritionist edges out Precision Nutrition.
This is because it offers the same quality of evidence-based nutritional practice, with the backing of an established, nationally accredited certification behind it.
ISSA Certification Cost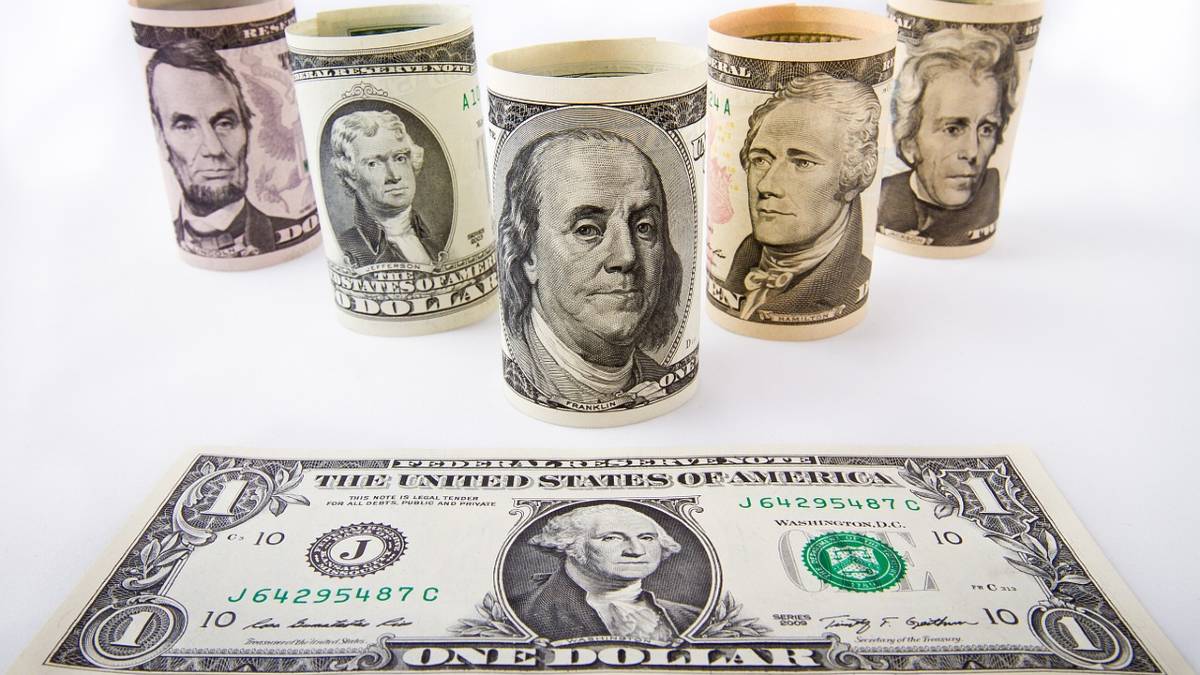 As of writing this, The price for the ISSA nutritionist certification is $799. You can check out the current price of it right here.
That being said, a lot of the time you can find the certification bundled for free with their general personal training certification. I would definitely keep an eye out for this buy one get one free deal.
You can also find the nutritionist certification bundled with the ISSA Master trainer and elite trainer programs which are also a fantastic deal. Check out my article on how to become a personal trainer and nutritionist at the same time.
ISSA Study Materials
ISSA Nutritionist comes standard with an eBook and the option to get a hard copy textbook for offline reading.
It is always ideal to be ready for this course before taking the exam of which preparation can take you months to complete.
The Textbook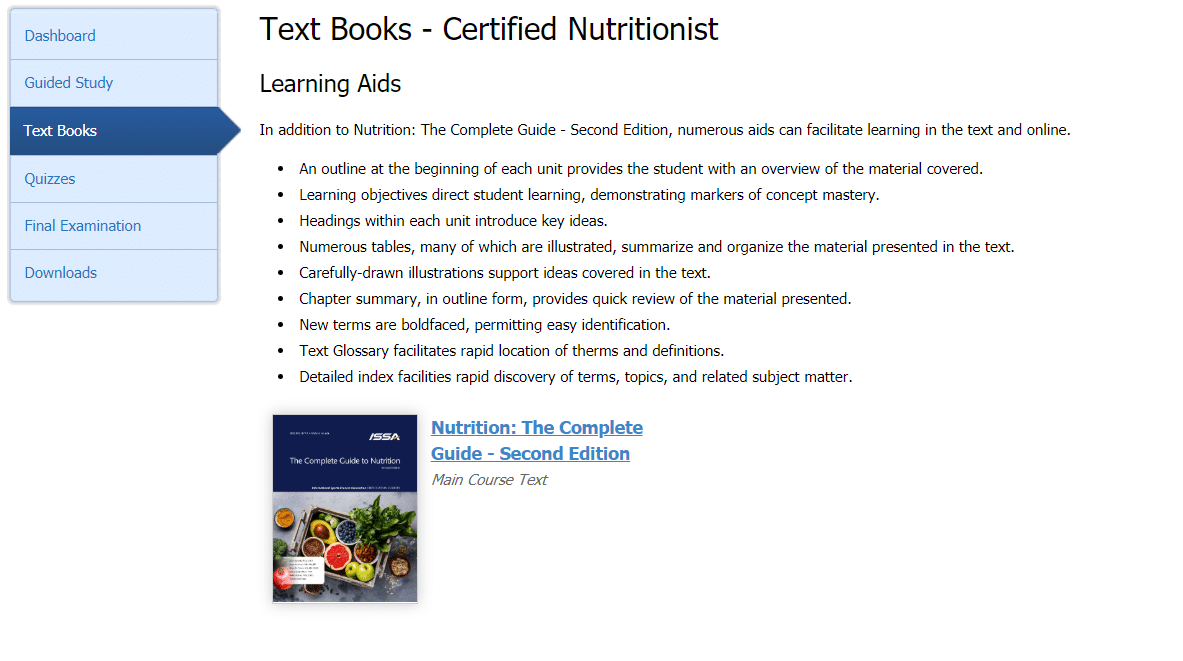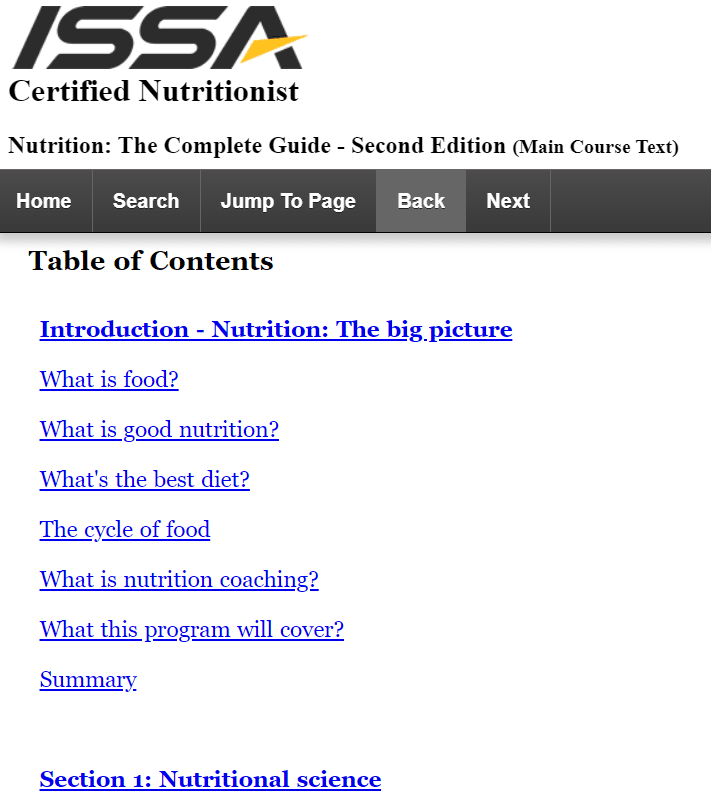 The textbook that comes with the ISSA Nutritionist is called Nutrition: The Complete Guide, and is currently in its second edition.
The textbook is pretty comprehensive and covers all essential parts of a sound nutritional coaching course.
It is quite robust and you may be surprised to find contents like how to administer automated external defibrillator (or AED), CPR, and First Aid in there.
As I mentioned, ISSA makes good by placing quite a large focus on the practical application of nutrition and not just the facts and figures.
That is why the text is divided into two main sections. The first section focuses on nutritional science. Basically, how food works.
The second section teaches you how to apply the principles of nutritional science into practical nutritional coaching.
It then goes on to show you how to take your coaching knowledge and apply it as a business, rounding off your training with a sound repertoire of skills.
Section 1 has 8 units while Section 2 has 9 units.
The book also opens up with an introduction aimed at easing you, the reader into the whole concept of nutrition.
This format basically sets up a 4 phase structure into nutritional learning.
Exclusive PTP Nutrition Offers



Gold Standard Cert

Most Popular Cert

Best Study Materials

A Good Option

A Great Option

Best Cert for you?

Phase 1: introduces nutrition
Phase 2: unpacks nutritional science
Phase 3: equips skill in coaching and application of nutritional planning
Phase 4: how to turn nutritional skills into an effective business
Guided Study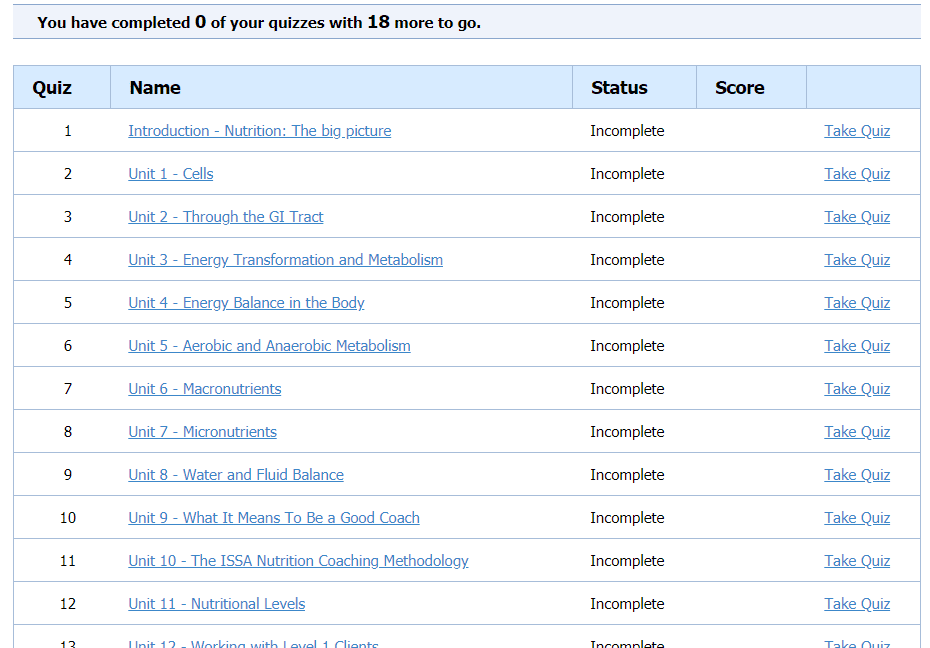 ISSA Nutritionist has a 10 week guided study program just like the CPT exam prep gives you. It breaks down learning and reading activities into periodized chunks meant to build a sustainable learning experience.
This guided process culminates in you actually doing the exam of course. With this method of guiding you through the whole process, your chances are boosted quite well.
Each week of guided study is broken down as follows:
A reading assignment for units of each corresponding week
A video lectures for each week's essential concepts
Final test prep assignments
Corresponding quizzes for each week
There is also an audio counterpart to the guided lectures. You can download these audio files for offline, on-the-move access to your study material for the week.
While this method of guided study is great, I strongly recommend you take a look at what's on offer with Trainer Academy.
They have a more versatile guided study format with their study blueprints which periodize your exam prep with different study cycles depending on how much time you have or need to study.
Study Assistance
The ISSA Study Support Team is also available to provide real-time assistance in normal hours. This way, if you're stuck, you can get advice and direction straight from the source.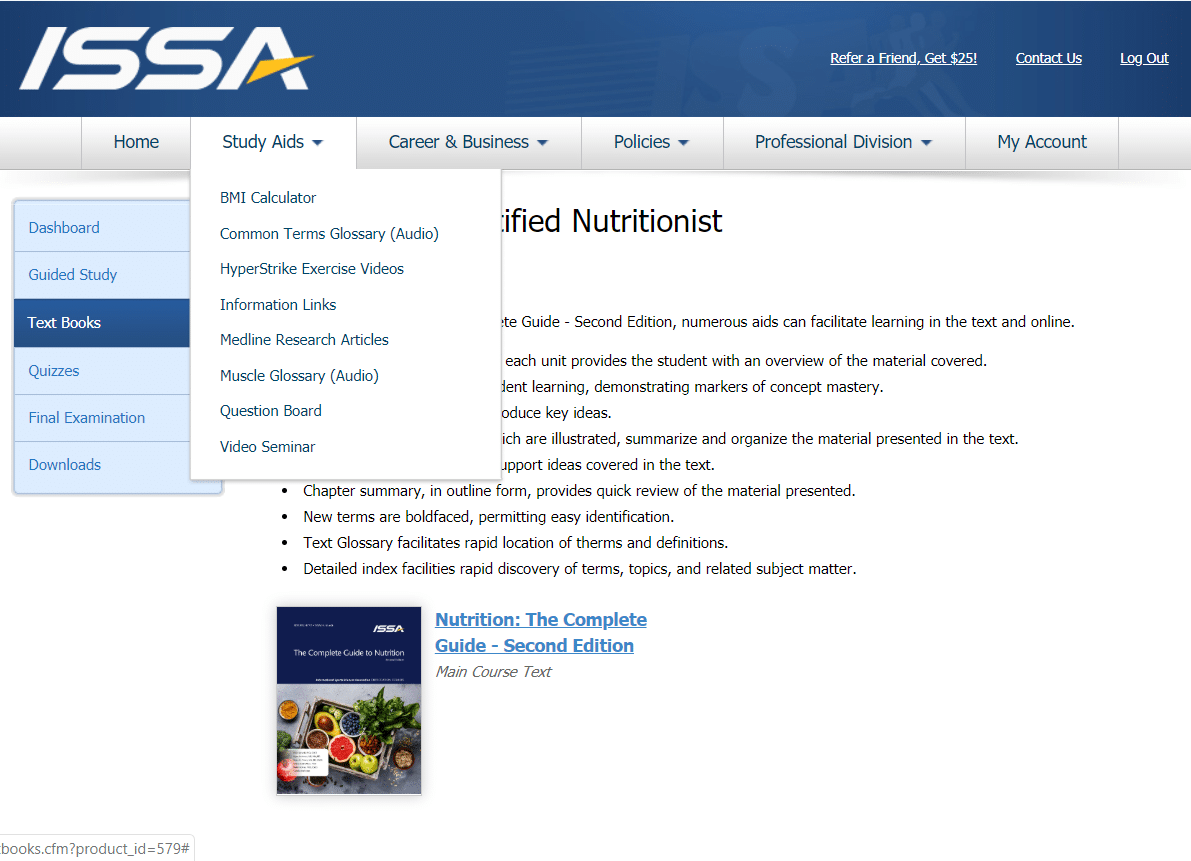 With the ISSA Nutritionist certification, you also get access to the same study aids as the CPT. These include:
Medline Research Articles
Information Links
HyperStrike Exercise Videos
Common Terms Glossary (Audio)
BMI Calculator
Video Seminar
Question Board
Muscle Glossary (Audio)
ISSA Business and Career Support
Another option available with the Nutritionist certification which is also available with the standard ISSA CPT cert is the Business and career support:
These resources allow you to take creatine your nutritionist business to the next level.
Under this tab, you get:
Personal Health Coverage
Medical Fitness Network
How to Interview
Business Guide Step by Step
Fitness Business Tips
Create Your Website
Professional Liability Insurance
After certification, the ISSA Professional Division opens up, allowing you access to some nifty benefits that will help you as you start your career.
ISSA Nutritionist Trainer Academy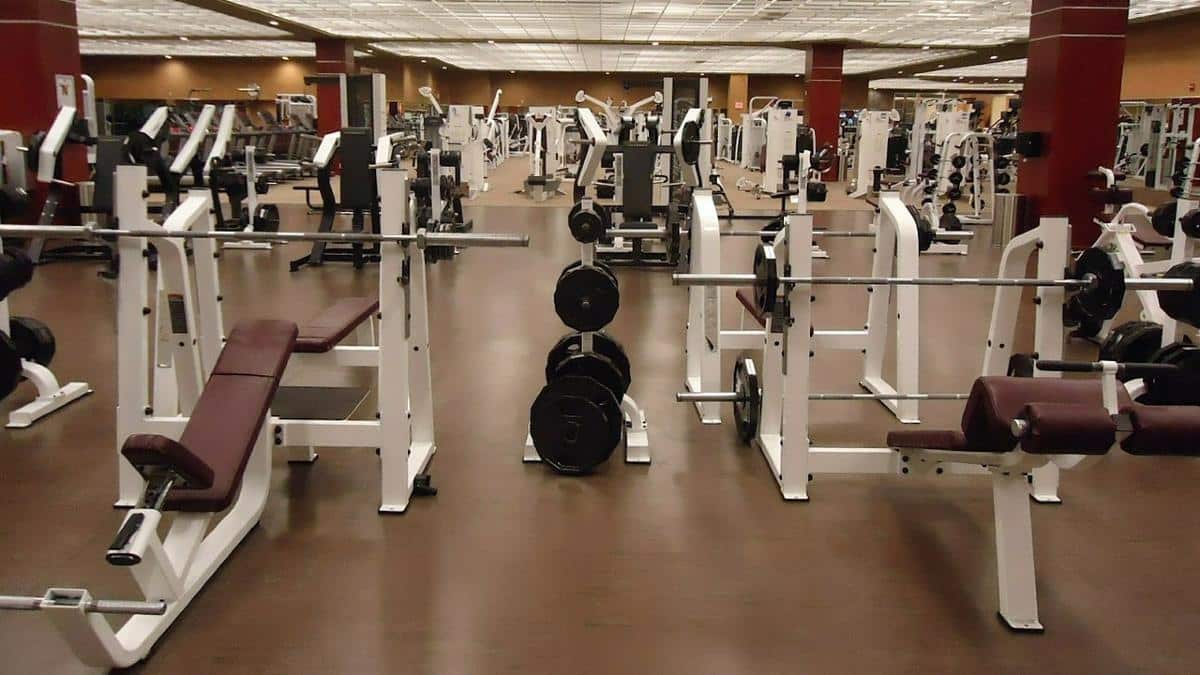 If you want the most out of any Fitness cert, and in this case, ISSA Nutritionist, You can take a look at my free fully answered study guide and flashcards right here.
But that's just a teaser to the real thing.
As I've already mentioned, the ISSA Nutritionist Trainer Academy suites are where you really want to go. I recommend these to all the students that come to me for advice and guidance.
The team at Trainer Academy all have a wealth of academic and on-the-field experience in health and fitness. Their expertise and qualifications have allowed them to craft and deliver the best third party study materials out there.
The ISSA Nutritionist MVP package, which is all-inclusive is guaranteed to cut your study time by at least 50% and boost your chances of passing to 99%.
The Trainer Academy ISSA Nutritionist MVP pack includes:
4 different study plans
Cheatsheet
Exam pass guarantee
Intelligent flashcards
Mnemonics
Practice tests
Randomized and section tests
Study guide
The audio study guide
So, you see; this ISSA book is key to passing the ISSA exam.
Check out the study materials from ISSA right here.
Accreditation
ISSA is accredited by DEAC (formerly known as DETC) this accrediting body is lesser-known than NCCA but just as legitimate.
DEAC is an accrediting body that places an emphasis on distance institutions.
This is why ISSA is able to format its testing to be self-paced and non-proctored as well as have such an international reach.
Some would argue that the NCAA is a superior accreditation. Perhaps in public consciousness, NCCA is more well known and therefore more reputable. But on paper, both are sound and legit, so ISSA Nutritionist having a DEAC backing should not deter you at all.
Both NCCA and DEAC are credible and legitimate expert bodies, those in the know will have no problem with neither, but NCCA is admittedly more recognized.
It's a really good thing to have an accrediting body like DEAC around. Because the world is turning towards more online, digital ways of doing things, it's great to have a legit agency backing a legit online course.
In effect, it means once qualified, you too would have become an accredited ISSA personal trainer who is trusted to deliver ISSA personal training.
Registration and Exam Criteria
The criteria for the ISSA Nutritionist is fairly straight forward. You need to be 18 and have completed a high school diploma or equivalent.
Just like the other certifications on offer by ISSA, the Nutritionist exam does require that you submit First Aid/AED.
ISSA Exam: The Final Frontier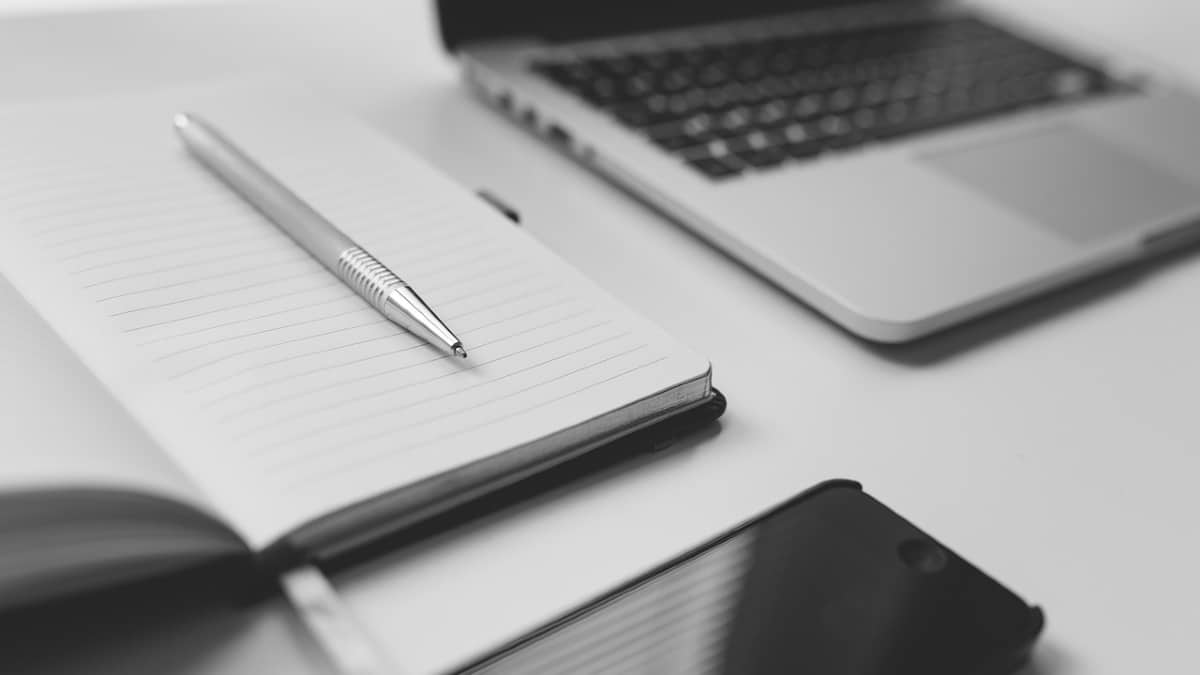 The Nutritionist exam has just 3 sections you need to answer. These are:
230 multiple-choice questions
120 multiple-choice questions
1 short essay question and 1 case study
The first two sections are pretty easy to get a grip on. These are a blend of multiple choice and true/false questions.
Don't let this trick you into thinking you're getting off easy. I will say this all the time, make sure you know your stuff.
Even if the test is open book, it's just decent to know what you're doing. It will count in the long run.
The final section of the ISSA Nutritionist cert gives you one essay type short question and one case study.
The short question is based on learning experience. Here, you'll have to give a detailed explanation of a specific concept using a scenario provided in the question.
The case study question will have you designing a fully comprehensive and effective nutrition plan using client data provided.
It is designed as a simulation for real-life nutrition coaching so try to treat it as though you were planning for real paying clients.
Focus on gathering all possible data and making sure results and client satisfaction are maximized.
Besides being open book, you have yourself a self-paced exam. But what this means in terms of ISSA is that you can save your exam progress at any stage, log off, go and live whatever life you live, come back, log on and continue.
Just make sure you finish and submit before the deadline.
ISSA Nutritionist Re-exam Policy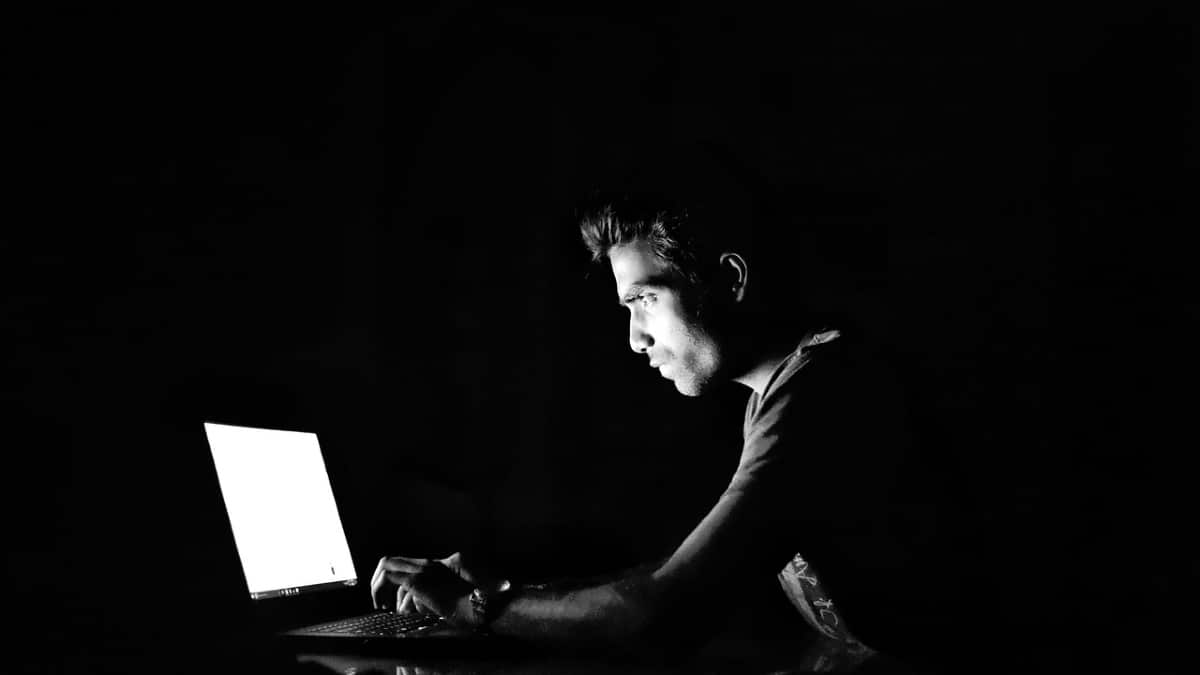 The re-exam policy for ISSA Nutritionist and any of the ISSA certs for that matter is that after your first fail, they allow you to go back into your exam and make corrections or fill in the blanks necessary for you to give it your best second shot.
This means you're not actually retaking the exam, you're just correcting your mistakes as best as you possibly can.
This way, you have a much more effective chance of passing than if you had to start afresh.
You can argue that this makes it a less valuable challenge, but I'm inclined to disagree.
That's because if you do fail on your resubmission, you then have to actually retake the exam, with a $50 fee attached to that.
This feature makes the Nutrition Trainer cert and online exam, just like other ISSA personal trainer certifications some of the very best accredited by the Distance Education bodies.
Recertification
You will be required to recertify every two years to keep your ISSA Nutritionist certification current.
Check here for more info on the recertification and CEU structure.
Conclusion

Before we get into the conclusion, make sure to take the quiz to see if this nutrition certification is the one for you, or if you are destined for a different one.
In total, I give the ISSA Nutritionist a solid: 5/5. Check out ISSA Nutritionist here.
I suggest either picking up the nutritionist certification, or even better, picking it up in one of their premier packages such as their master trainer or elites trainer packages. Make sure to check out my article on how to become a nutrition coach, or how to become a nutrition coast and personal trainer at the same time.
ISSA has climbed the ranks over the past several years to become one of the most recognized and trusted certifying agencies out there.
When it comes to their nutritionist cert, they are a cut above the rest in that they offer a way to take sound knowledge of nutritional science and concepts and apply them in meaningful, results-driven ways.
ISSA trainers are known to have an astute but grounded way of delivering information and guidance to their clients. The ISSA Nutritionist cert is the perfect way to amplify this.
The fact that the ISSA Nutritionist certification comes automatically bundled with the CPT or any other certification just goes to show how committed the people at ISSA are to bring awareness to the importance of nutrition with fitness.
It's also pretty cool how they make a big point of highlighting the importance of gaining and applying the right set of business skills.
ISSA knows that at the end of the day, it's all about the bottom line for you, so business is a major focus of the training, which I think is amazing.
While I find ISSA Nutritionist to come with some great study material, I honestly feel like you're doing yourself a HUGE favor by getting an extra nudge with the Trainer Academy material.
I know I've said this a lot, but it's honestly the best!
Go check out Trainer Academy here for study packages to this and other certifications such as NASM, ACE, and NSCA.
Please check out our free study guide here at PTpioneer also.
So that's it, guys. Don't forget to take my nifty little quiz to see which cert is best for you. And if you have any questions, please don't hesitate to drop a line in the comment section below, and I'll get back to you within 24 hours.
Discover All PTP Fitness & Wellness Career Articles
Tick a box from each section to narrow the results.
×
I want to know more about: