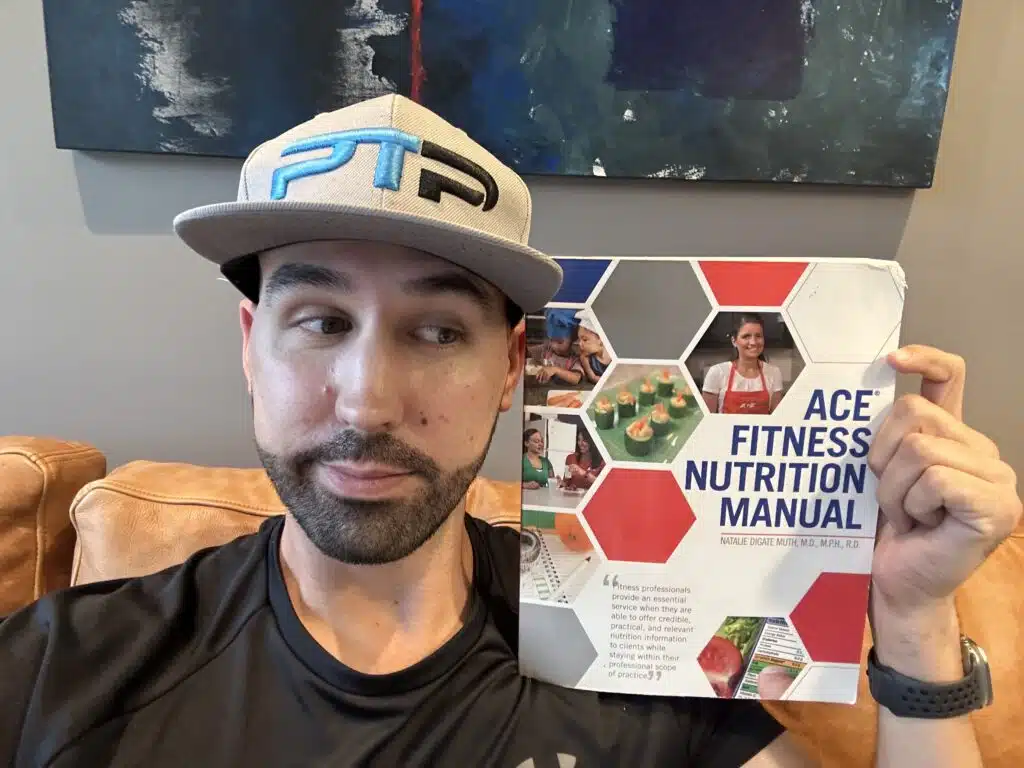 This is an in-depth overview of my thoughts on the ACE Nutrition Specialist course with an eye toward who the program is meant for and whether it makes sense for your career.
I will cover where this program excels and some of the key areas where it misses the mark compared to other nutrition certifications.
After reading this review, you can decide if this is the best nutritionist course for you.
I took the ACE FNS certification and consulted with the PT Pioneer training team about their experience.
Furthermore, I have worked with many certified personal trainers with various nutrition certifications, so I understand the different options and benefits of each.
I use this collective experience to give you a realistic look at the ACE Fitness Nutrition Specialist certification.
I look at the following topics in this ACE FNS review:
Basic information: curriculum, organizational overview, who is this is for
Price versus the value you might get out of the ACE FNS
How it stacks up against the other nutritional programs
I would also highly recommend you take my quiz to determine which certification is best for you.


Let's dive in and check out the ACE FNS!
What is the ACE Fitness Nutrition Specialization?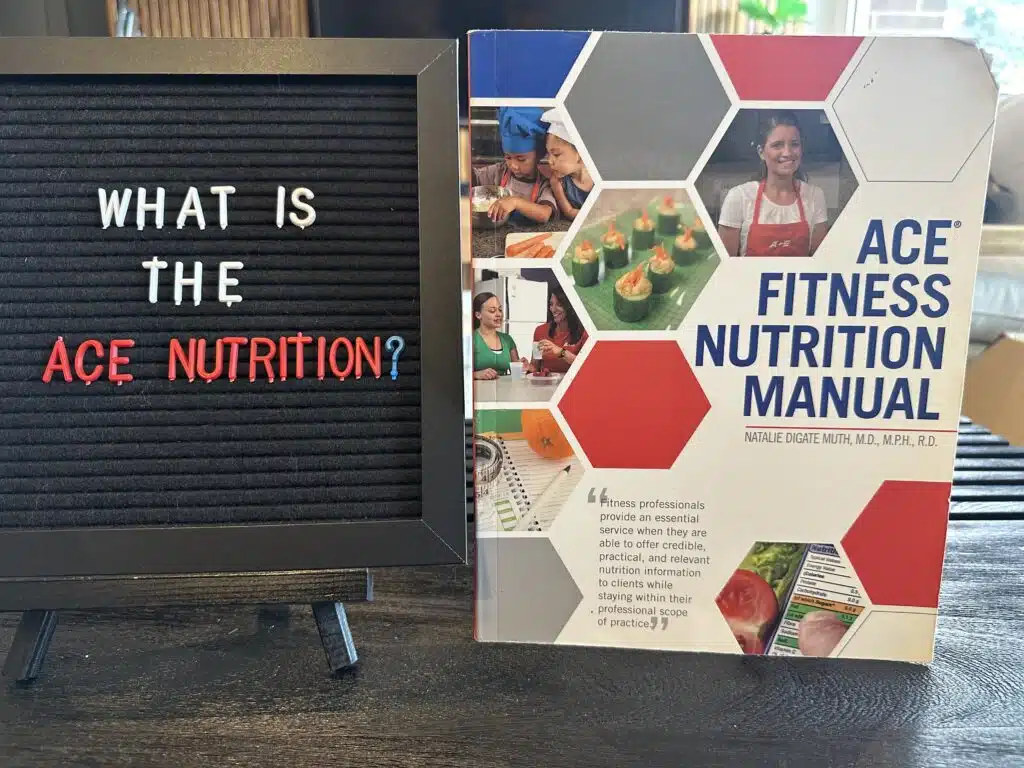 ACE (The American Council on Exercise) Fitness Nutrition Specialist is a nutrition coaching certification for coaches who work with general fitness clients. The certification has excellent coverage of the basic skills you need to successfully help clients implement better nutrition habits and create proper energy balance in the body.
ACE certifications are especially well known for teaching the best motivational and behavior change techniques among all fitness organizations, and the ACE Nutrition Specialist program is no exception. You do not need a personal training certification to take the ACE FNS. There are no specific requirements to take the course.
However, you can only claim the "Fitness Nutrition Specialist" title if you also hold an NCCA-accredited CPT certification.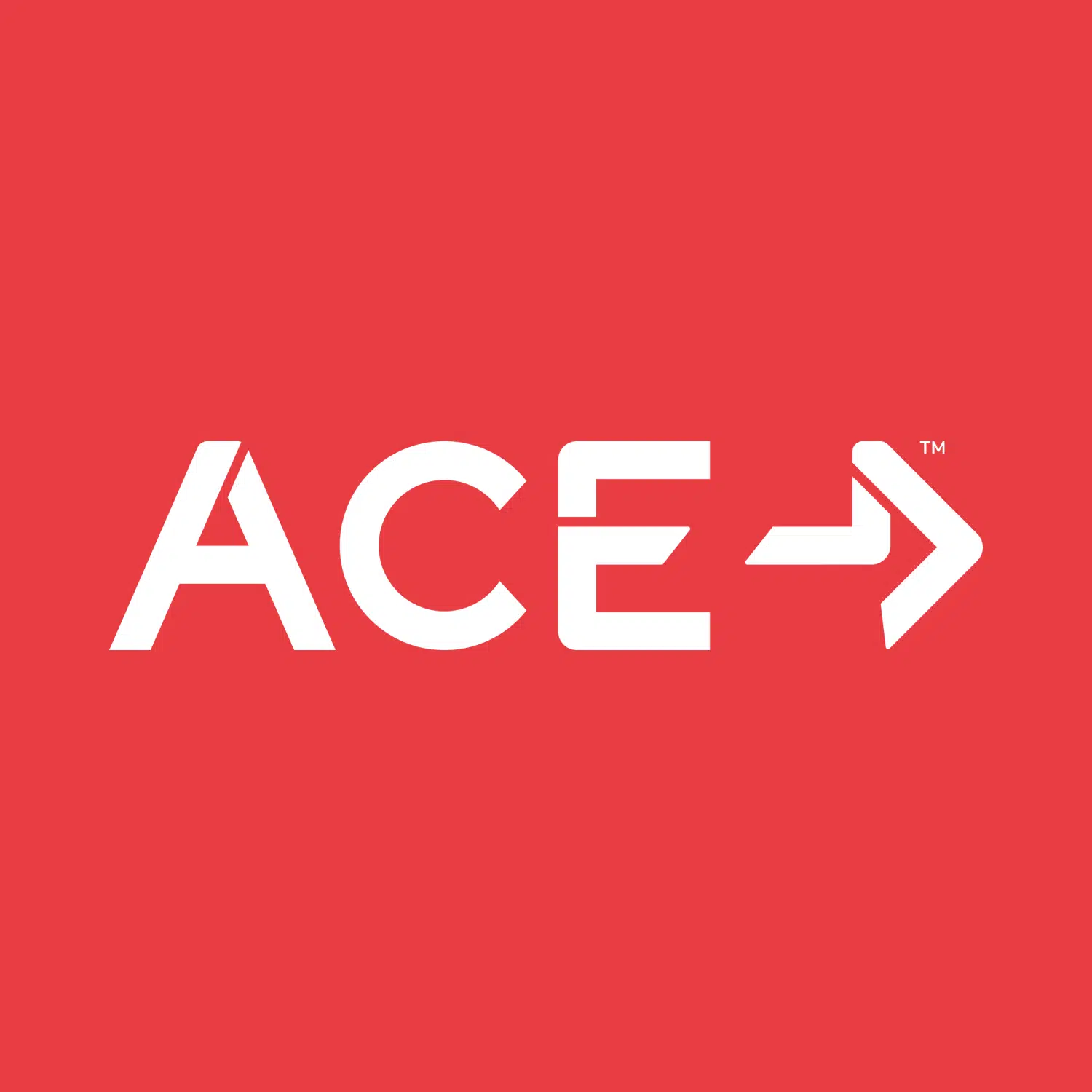 ACE Fitness Nutrition Specialist General Information
Exam cost: $419.40 (ebook), $479.40 (with textbook)
Study material cost: See above
Prerequisites: High School Diploma, CPT certification from NCCA-accredited organization (optional)
Exam passing score: Home study
Exam pass rate: No data
Average completion time: 1-2 months
ACE credibility and reputation
The American Council on Exercise is a highly-respected non-profit fitness certification provider. ACE was founded in 1985 with a simple mission: "Get people moving."
The name ACE is well respected in most fitness circles. ACE supports a wide range of research on exercise science in the context of public health and fitness training. The ACE CPT program is an excellent personal trainer certification as well. It can be a great compliment to the ACE Fitness Nutrition Specialist for those coaches wanting to earn more income.
In my experience, ACE is slightly less respected as an organization compared to NASM and ISSA. However, reputation primarily matters in getting a job at a gym. This shouldn't be an issue if you coach clients privately or work for a gym that accepts ACE.
Is the ACE FNS worth it?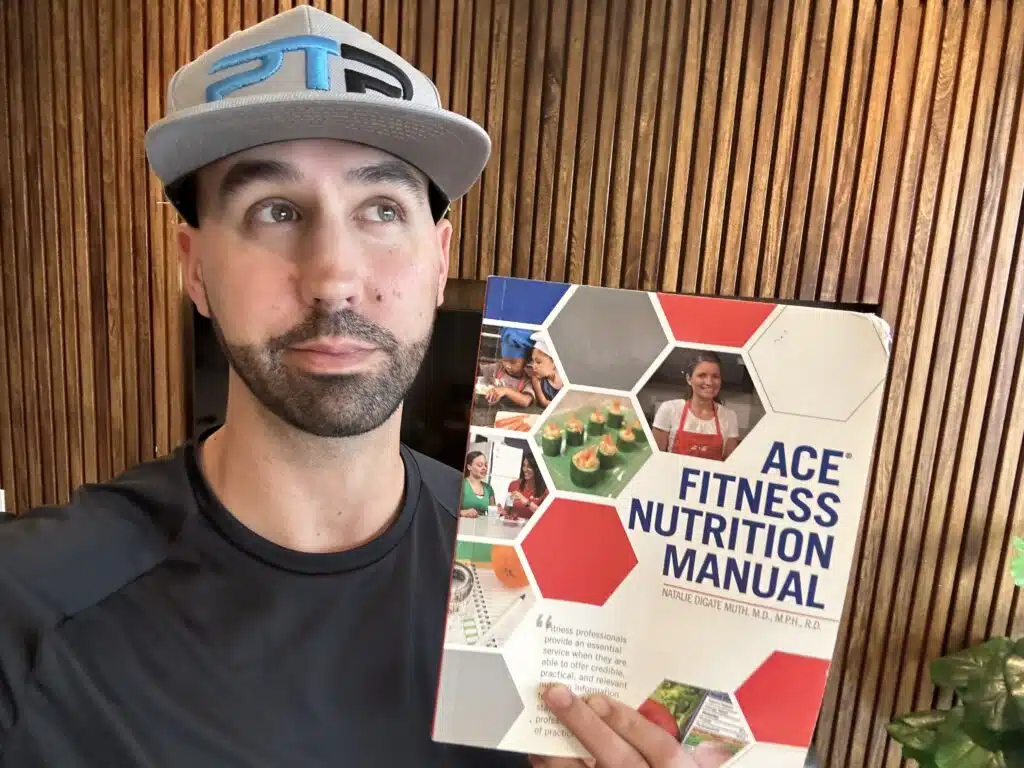 Exclusive PTP CPT Offers



Gold Standard Cert

Most Popular Cert

Best Study Materials

A Good Option

A Good Option

Best CPT for you?

The ACE Fitness Nutrition Specialist is worth it for personal trainers who currently coach nutrition without certification or want to add nutrition coaching. Additionally, you can apply the ACE FNS credits to your trainer continuing education for many of the major NCCA-accredited certifications.
Here's a list of CEUS you will get by completing the ACE FNS program:
ACSM – 25.0 CECs
AFAA – 15.0 CEUs
BRN – 25.0 CECs
NASM – 1.9 CEUs
NCSF – 7 CEUS
Pros:
Great price
Good behavioral coaching
Excellent CEU opportunity
Cons:
Lacking nutritional science depth
Not fully worth it without a separate CPT certification
ACE FNS costs and course options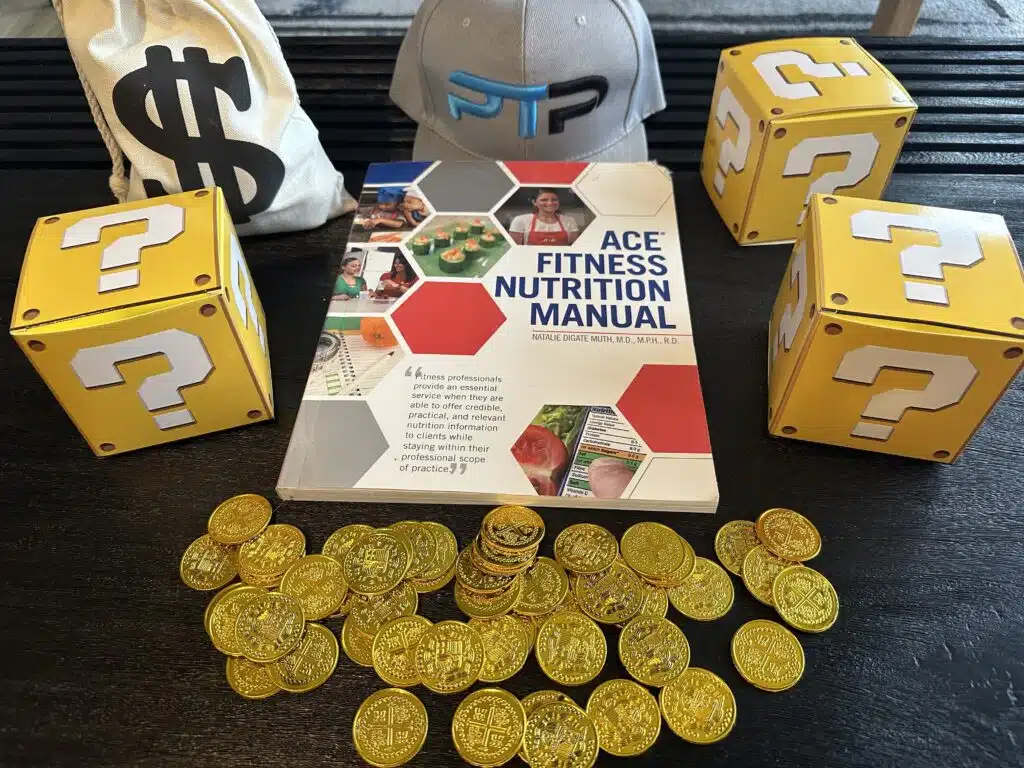 There are two current costs for the ACE nutrition coaching certification on the website. The first option includes a hard copy of the textbook for $479.40, and the other is $419.40 for the eBook only.
I would opt for just the eBook as it contains all the information you need, which is covered through audio and video resources.
This is on the lower end of the price range than other nutrition certifications. Some competitors charge upwards of more than $1000 for similar programs.
However, cheaper nutrition certification options on the market also give you CEUs toward your primary NCCA-accredited training certification.
You can check the exact current price of the ACE Fitness Nutrition Specialist directly on the ACE website.
ACE Fitness Nutrition Specialist curriculum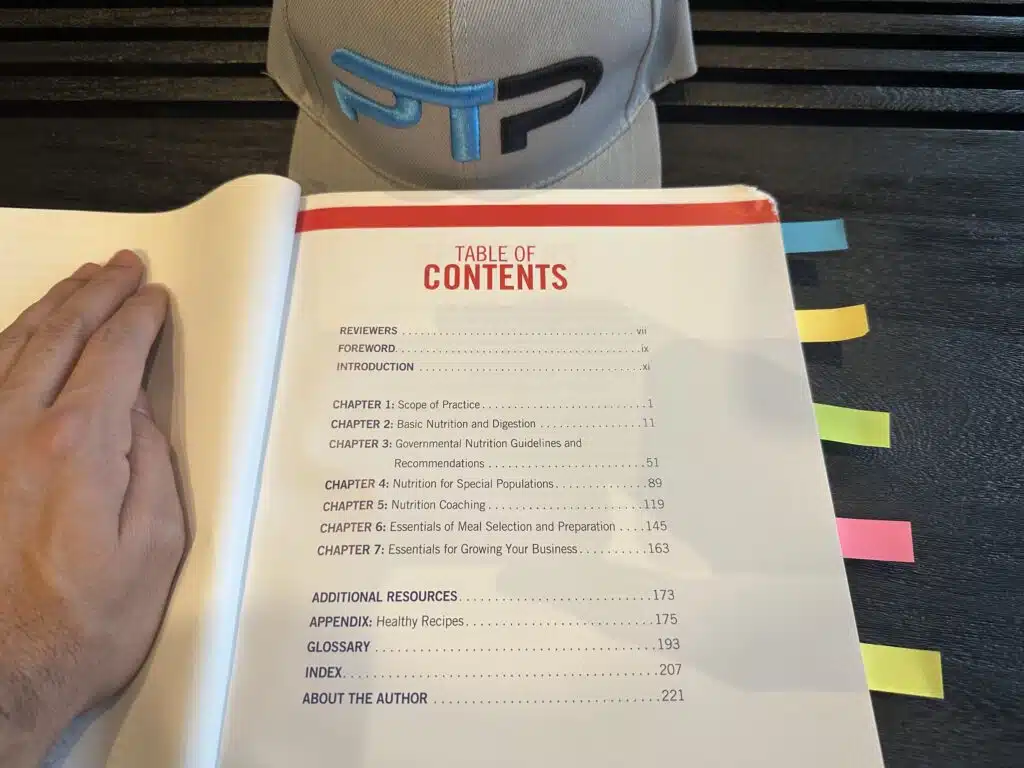 The ACE Fitness Nutrition Specialist is designed to help fitness professionals educate and motivate their clients toward healthier food choices.
To be clear, the FNS certification is not intended to serve as a "dietitian" credential. As an ACE FNS, you can only operate within the same scope of practice as a Certified Personal Trainer or health coach.
This means you cannot prescribe specific diets, meal plans, calories, macronutrients (protein, fat, carbohydrates), or micronutrients, diagnose, treat, or make claims about illnesses, among other limitations.
Instead, the ACE FNS gives you a deeper toolset to support clients in improving their diet choices within the role of a fitness professional with the proper scope of practice.
This differs from other fitness certifications that provide cursory information on nutrition but do not focus on the deeper skills needed to affect change in the lives of clients that do not cross into the realm of a licensed credential.
In my experience working with clients and other FNS-certified trainers, the curriculum is solid regarding the practical aspects of working within the scope of practice while providing useful skills to help clients get results.
You start with a lecture series on the proper scope of practice, a grocery store tour, how to develop good nutrition programs, and ways to grow your business.
The next stage of the FNS includes a 3-part video series that addresses stages of change theory, understanding nutrition labels, and cooking demonstrations based on the 'MyPlate' recommendations.
While the stage of change is taught in most training certifications, learning how to create recipes is not.
I've worked with many clients (and even trainers) who did not know how to create healthy meals in the kitchen using the correct nutrients and ingredients. This is a key skill for any trainer.
Exclusive PTP CPT Offers



Gold Standard Cert

Most Popular Cert

Best Study Materials

A Good Option

A Good Option

Best CPT for you?

In general, the behavior changes coaching aspects of the ACE FNS give you plenty to work with as a coach with anyone trying to gain muscle, lose fat, or learn to stay healthy and increase overall strength.
The ACE program is less heavy on some of the deeper scientific aspects you might get from a nutrition program. While these are less important topics for practical purposes, I still think it's worth trainers having a little more depth to their scientific knowledge, which can be supplemented from other sources.
Regarding prerequisites, if you want to hold the title of 'Nutritional Specialist,' you must hold a separate NCCA-accredited fitness certification or an equivalent professional credential. This will mean having a CPR/AED certification as well.
The FNS course aims at current certified personal trainers looking for more information to supplement their fitness certification rather than as a solo program, so it's intended as a continuing education course. You can take it without prior personal training certification, but you won't hold the coveted "Nutritional Specialist" title.
ACE nutrition certification study materials and exam prep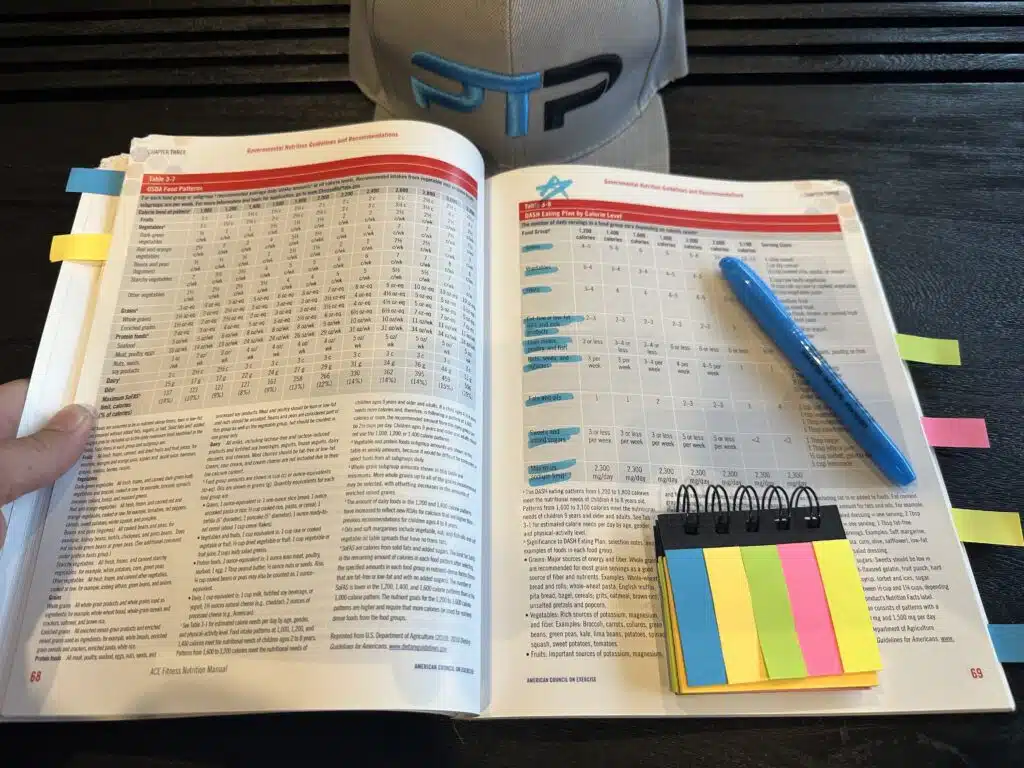 The overall course materials include:
ACE Fitness Nutrition Manual (eBook and/or hard copy, depending on study package)
ACE Fitness Nutrition Lecture Series (audio and podcasts)
ACE Presents Fitness Nutrition (3-part video series)
Coaching Behavior Change Part 1 and 2 (reading and podcast)
Sports Nutrition for Health Professionals Course (book)
You get online modules to help prepare for the quizzes and the manuals. The study program is pretty bare-bones by ACE standards.
However, this is a specialist program, not a stand-alone certification course, so it makes sense that the curriculum might be shorter. The low price certainly keeps the certification appealing despite this.
In my experience, I've found that ACE does a top job among certification organizations regarding their online study interfaces. They look modern and new and are very easy to use compared to the others out there.
Taking the ACE Fitness Nutrition Specialist exam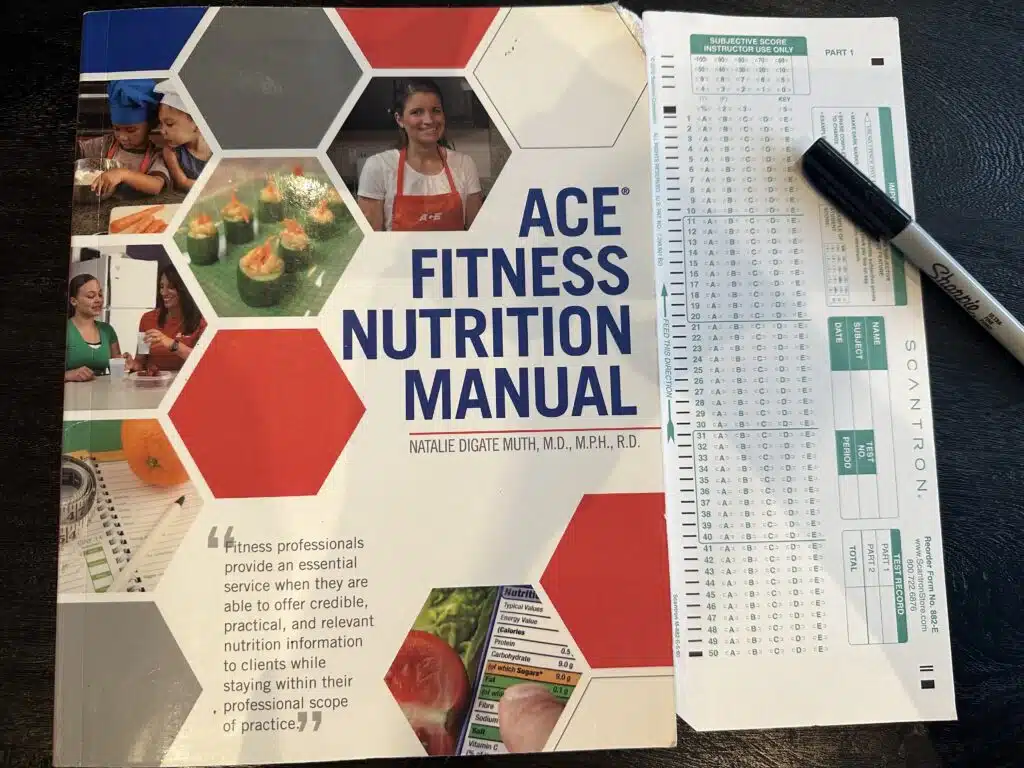 Each chapter in the online modules contains a multiple-choice quiz at the end, and after you pass each of the tests, you are good to go, so, overall, it's not too challenging.
In most cases, it didn't take me more than one try to get through each quiz, but everyone is different. The good thing is you can retake the quiz immediately as many times as you need to pass.
It's also an open book, so you can confirm your answers with the text before submitting your quiz entries, which means passing this boils down to sitting down and getting it done at your own pace.
When I took the quizzes, I read the book and confirmed my answers to avoid wasting time retaking the open-book test.
ACE FNS's top competitors
The other main nutrition specializations include the NASM Certified Nutrition Coach (CNC), the ISSA Nutritionist, and the Precision Nutrition Level 1 Certification.
Each nutrition course is a similar program that gives personal trainers extra tools to give good general nutrition advice and increase their value and salary. None of these nutritionist programs will make you a registered dietician.
Each company offers several strengths. The NASM nutrition certification program is probably the most well-known of the bunch, ISSA is the most well-known online institution, and Precision Nutrition is the new(er) kid on the block.
In terms of price, ACE is currently the cheapest option, and it has the best behavior change information of the bunch. I would advise checking the current prices on all of these.
Often these organizations run deals that change periodically. One fitness nutrition certification may be more expensive one month and then drop in price a month later due to some sale or discount they're running.
Who is the specialization mean for?
The ACE Fitness Nutrition Specialist is geared towards fitness professionals who want to be able to coach nutrition alongside training. This is not a dietitian's course so make sure to stay within proper scope of practice.
Great For:
Personal trainers that want to coach nutrition
People who want to understand and build proper nutrition habits
Not Recommended For:
Those who want to become a dietitian
ACE Fitness Nutrition Specialist's overall rating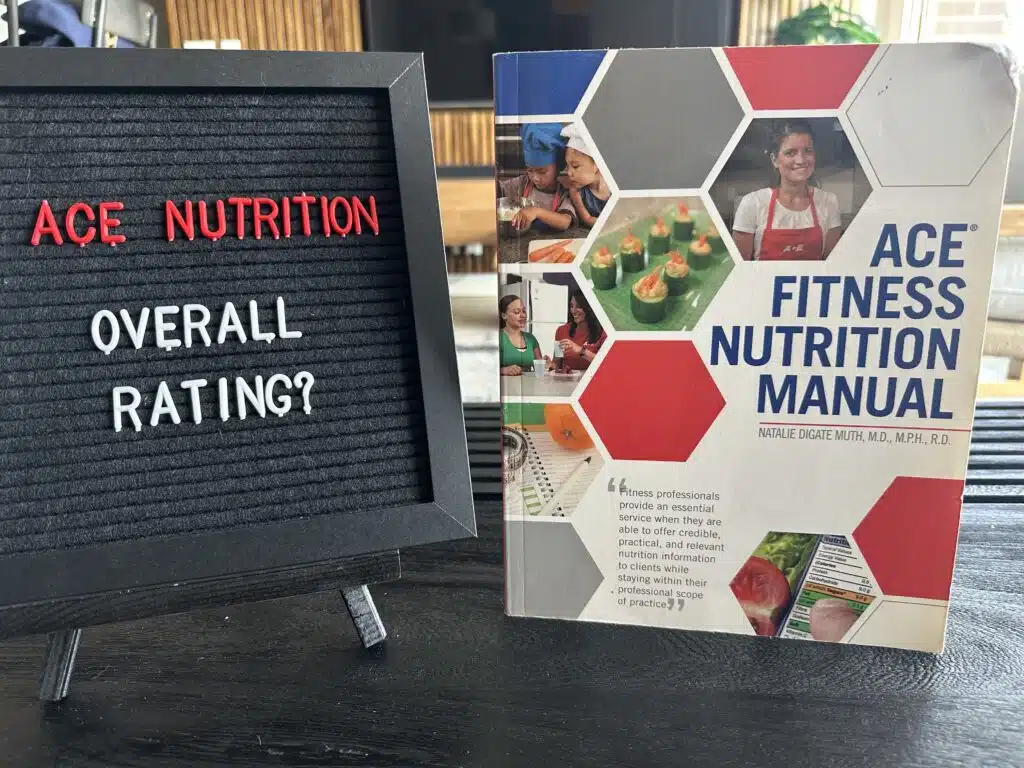 ACE Fitness Nutrition Specialist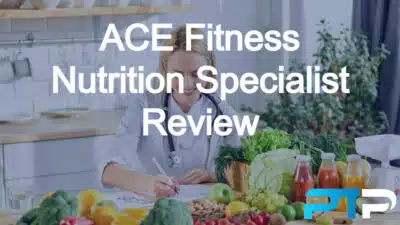 This is an in-depth overview of my thoughts on the ACE Nutrition Specialist course with an eye toward who the program is meant for and whether it makes sense for your career.
Product Currency: USD
Product Price: 419.40
Product In-Stock: InStock
Pros
Good behavioral coaching
Reasonable price
Excellent practical nutrition tools
Cons
Limited scientific nutritional depth
Overall, this program gets a 4 out of 5. It's a solid option out there. The ACE Fitness Nutrition Specialist covers the basics of what you need to know from nutrition certification, with good content regarding lifestyle changes, weight management, and simple but powerful ways to get clients towards better nutrition habits.
There are plenty of really good tips to help you give your clients the basic habits they'll need to reach their workout and fitness goals, including that whole section on choosing healthy choices at the grocery store. I've found the grocery store tips useful for any new client struggling with weight loss or weight gain.
I also like that the learning resources are available in video and audio formats, ideal for anyone with a busy schedule or a long commute.
Another highlight is that some business skills are addressed in the course, which is lacking in other certifications. More business acumen makes more money and helps more people reach their goals.
I wish the ACE FNS covered more details regarding nutrition science so that you could understand the fundamentals of bioenergetics related to nutrient intake, specific foods, and ways to steer people away from fad diets, which is helpful with a lot of clients who are misinformed.
It goes back to their wellness mission; ACE aims to "get people moving" through physical activity, health change, and nutrition education rather than other organizations which seek to achieve the highest levels of sports performance for athletes purely.
ACE does cover some sports nutrition, but it's not a focus of this program.
This course would pair well with something like the ISSA CPT, NASM CPT, ACE CPT, or ACSM personal trainer certifications as it serves as a good continuing education requirement for those and focuses on specific habit-based tools which those organizations don't cover as deeply.
This would give most fitness specialists the best of both worlds: a complete education and a good head start in the fitness industry.
If you're ready to get certified with ACE, check the ACE FNS pricing directly on the website.
ACE Fitness Nutrition Specialist FAQs (Frequently Asked Questions)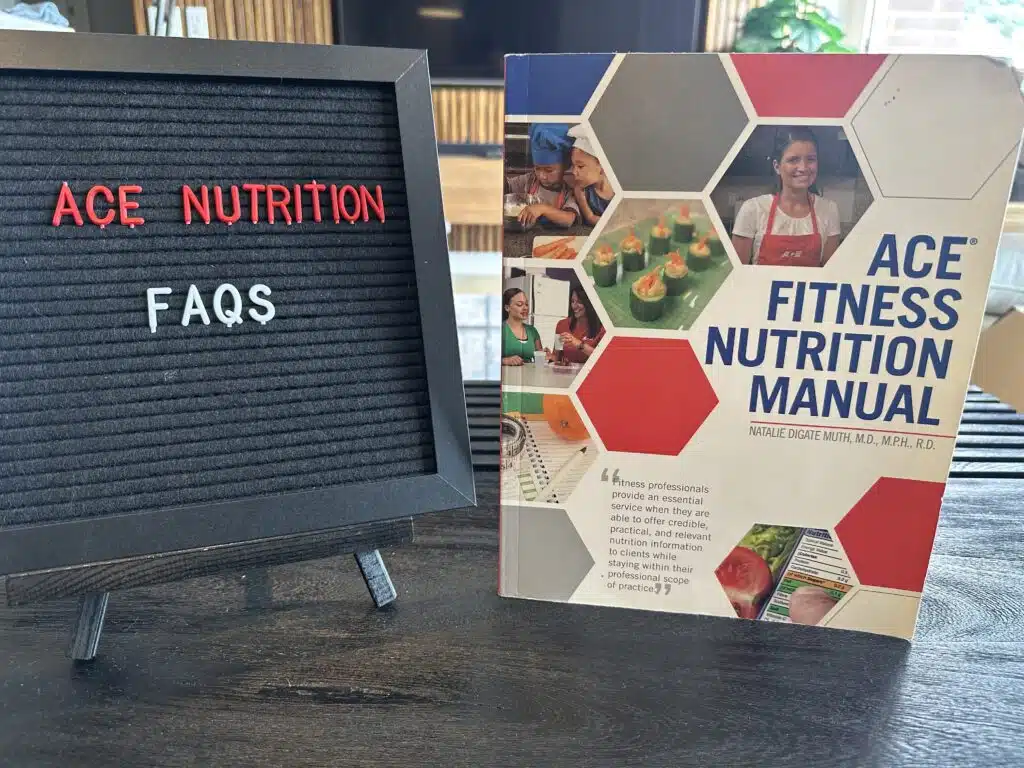 Can I be an ACE nutritionist without a degree?
You can be an ACE nutritionist without a college degree. Still, you will need a personal trainer certification from an NCCA-approved institution, which usually requires a high school diploma or GED equivalency.
How long does it take to become an ACE fitness nutritionist?
The course is 25 hours of education, which will take most people a little over a month to complete. I'd recommend taking the time to learn the information thoroughly because you won't have to retake quizzes, and there isn't a deadline to finish the course.
What does a fitness nutrition specialist do?
A fitness nutrition specialist's services include providing general nutrition information alongside the personal trainer's scope of practice. They also need to know when to refer to the appropriate healthcare worker.
What happens if you don't pass the ACE fitness nutrition specialist quiz?
Each course section has a quiz at the end, which you can retake as many times as you need to pass.