Hello and welcome to the PTPioneer comprehensive review of the ACE Health Coach Certification Study Program!
After reading this review, you will know whether or not this is the health coach certification to suit your future career.
This article is going to cover these topics:
If you still need to get your baseline CPT certification, I recommend you take my quiz to determine the right CPT for your career.
Let's take a look at this ACE certification program review!
Quick Breakdown: ACE Health Coach
Pros
Top Brand Name in the Fitness Industry
Excellent Study Program
ACE University (ACE U) Learning Center is Exceptional
The Health Coaching Textbook Sets The Certification Apart
Cons
Difficult Exam
Overwhelmingly Large Textbook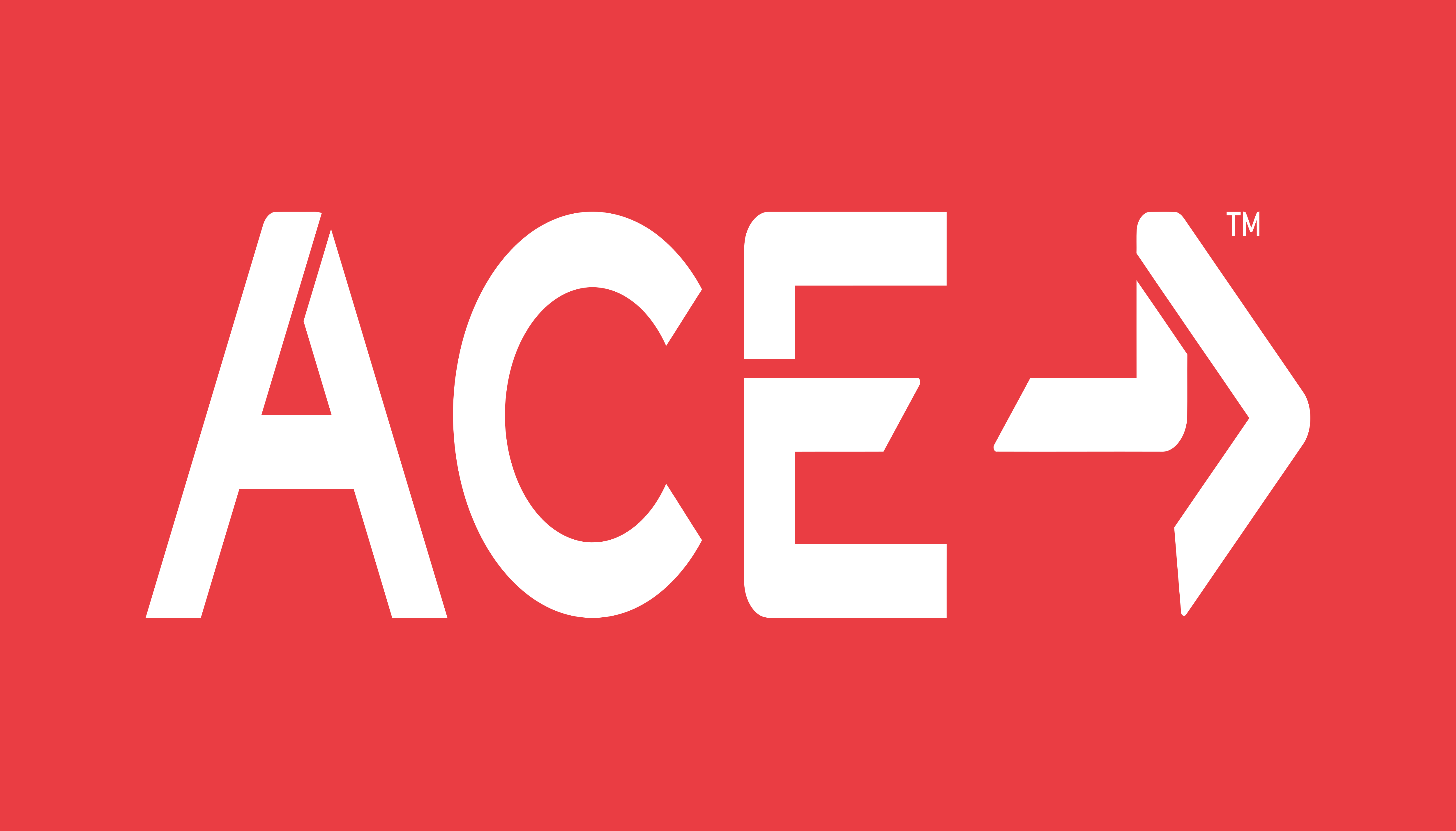 ACE Health Coach General Information
Study program cost: $999 – 1,799$
Prerequisites/Recommendations: One of these: Associate's or higher in Wellness Field, NCCA Accredited Cert, NBHWC Health Coach Training, or 2+ years in coaching/lifestyle change
Exam passing score: 500/800
Average completion time: 1 – 3 months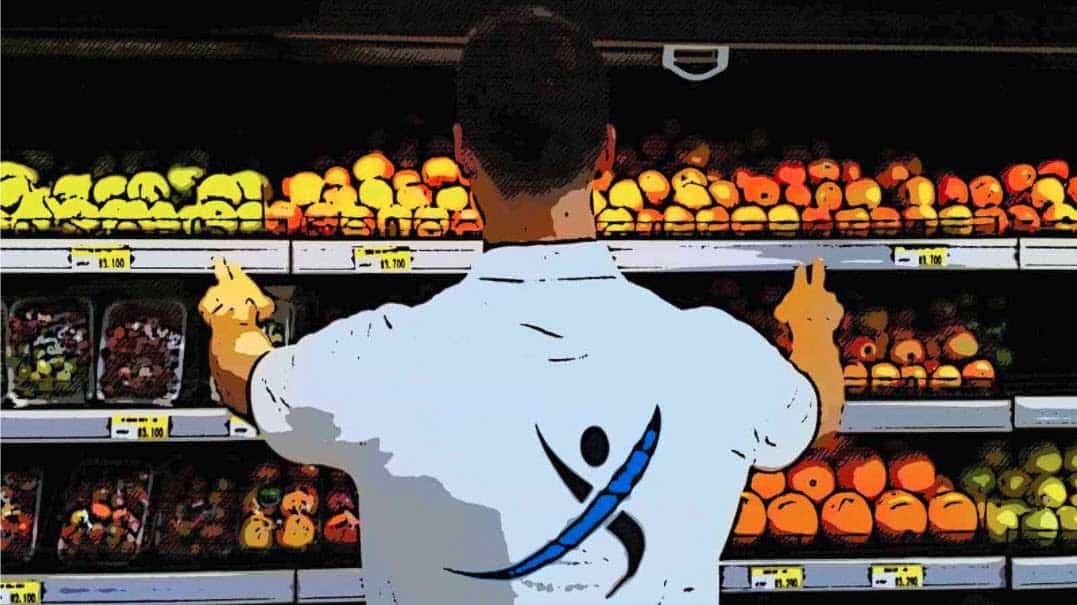 ACE is the leading nonprofit exercise professional and health coaching organization within the fitness industry. They have been around since being founded in 1985.
ACE is an acronym for The American Council on Exercise. They set out to change the public's health for the better, and they are doing a great job innovating and leading the industry.
ACE is easily one of the best options for fitness certification in any health and wellness category and stands at the top with ISSA and NASM.
For a deeper look at the top CPT programs in the fitness industry, check out my article breaking down the best personal training certifications.
The ACE organization offers NCCA accredited exams for their certifications, which is the gold standard in health certifications. So, you will know you are getting a valuable cert.
This company is also a big force in continuing education for ACE-certified individuals and through other certification organizations. They have many types of Continuing Education Courses to go through.
The main certifications offered through ACE are the Personal Trainer, Health Coach, Group Fitness Instructor, and Medical Exercise Specialist certifications. So, as you can see, they help with all types of fitness professionals.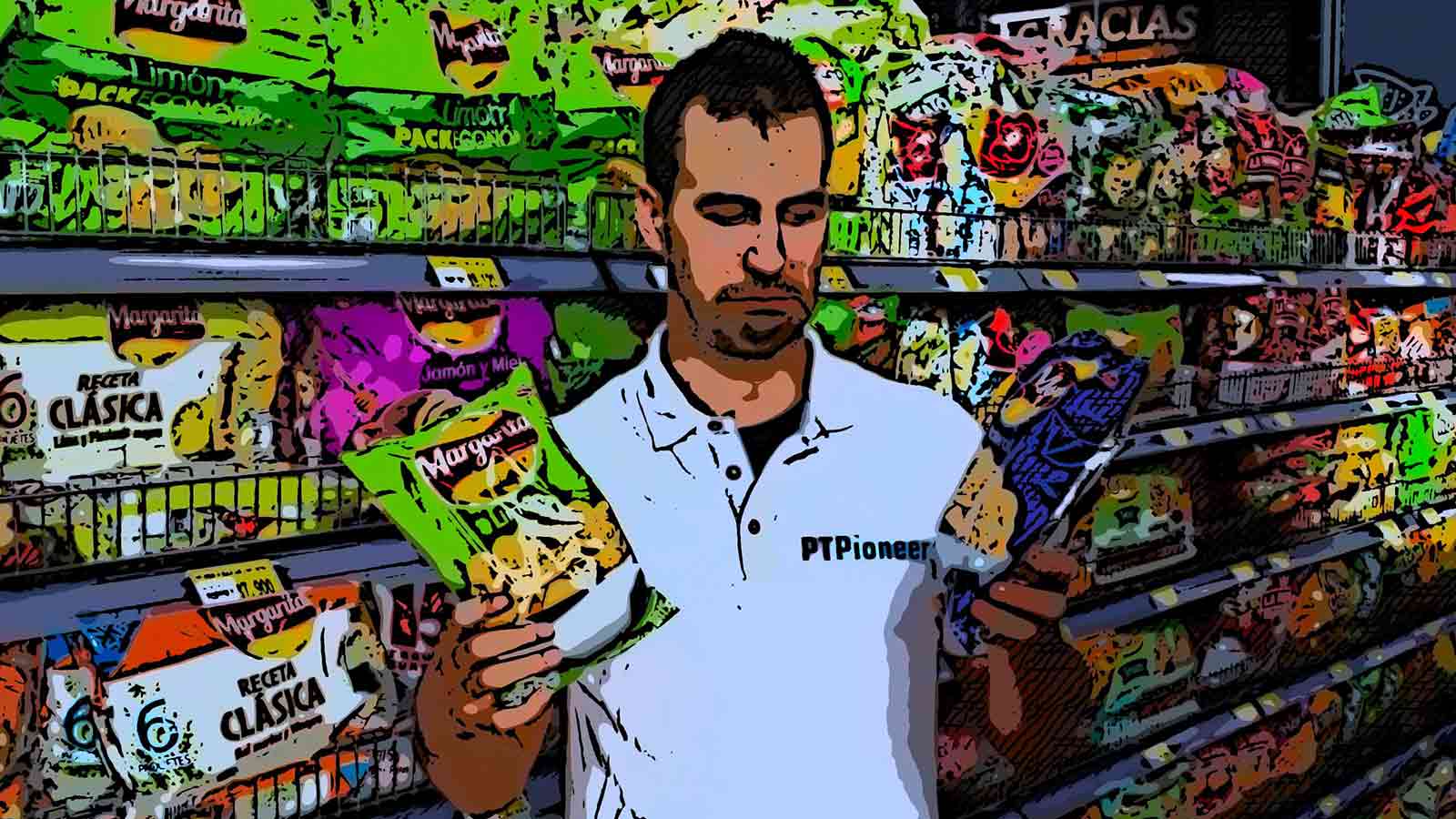 ACE Health Coach General Info
This health coaching certification will be best suited for a trainer/teacher who desires to help people thrive and use holistic wellness partnered with lasting behavior changes.
Essentially, a health coach will search for people's root problems and then encourage lifestyle changes instead of looking only at symptoms. A health coach will try to help people to live a healthy lifestyle.
There are three different packages available to purchase for the ACE health coach certification, and they come with an increasing amount of study materials.
To enroll in the health coaching certification, you must meet these qualifications/prerequisites:
You need to be 18 or older
You should have a CPR/AED certification that is current
You need to have one of four things:

1) an NCCA accredited cert from a health field.
2) an associate's degree in a wellness-related field from a university
3) completion of health coach training and education approved through the NBHWC
4) two or more years work experience in coaching or leading in lifestyle change, wellness, behavior, nutrition, or physical activity
You do not need a bachelor's degree, but attaining one would set you apart from the competition.
The textbook is a comprehensive 500+ page textbook broken down into 18 chapters about nutrition, behavior change, client relations, legal details, relationships, motivation, and much more.
On top of the text, here is a look at some of the offerings from ACE. They have live Q&A sessions, many practice tests, and a state-of-the-art audio guide.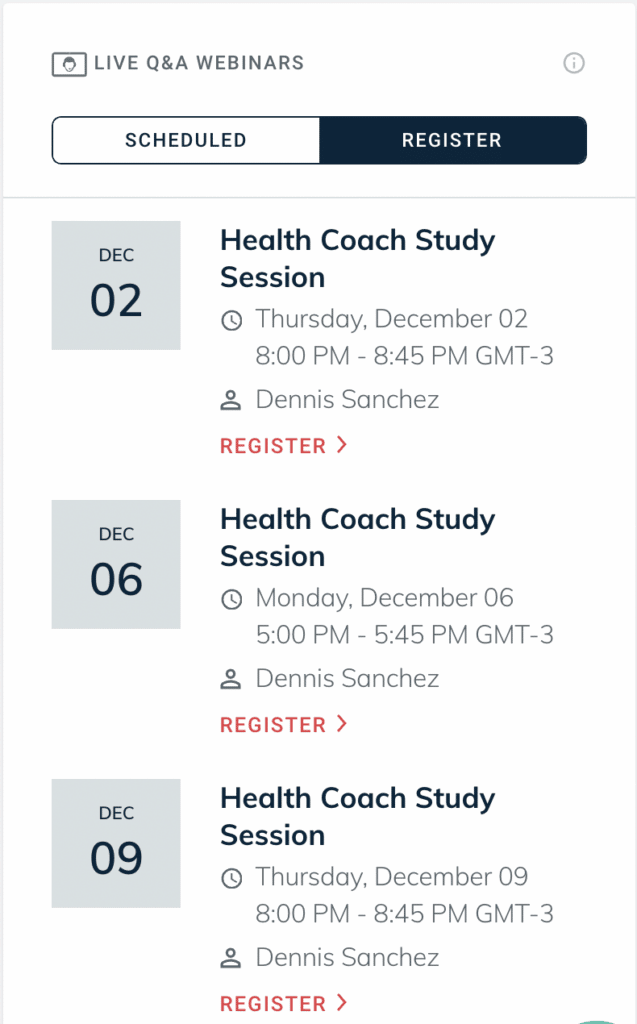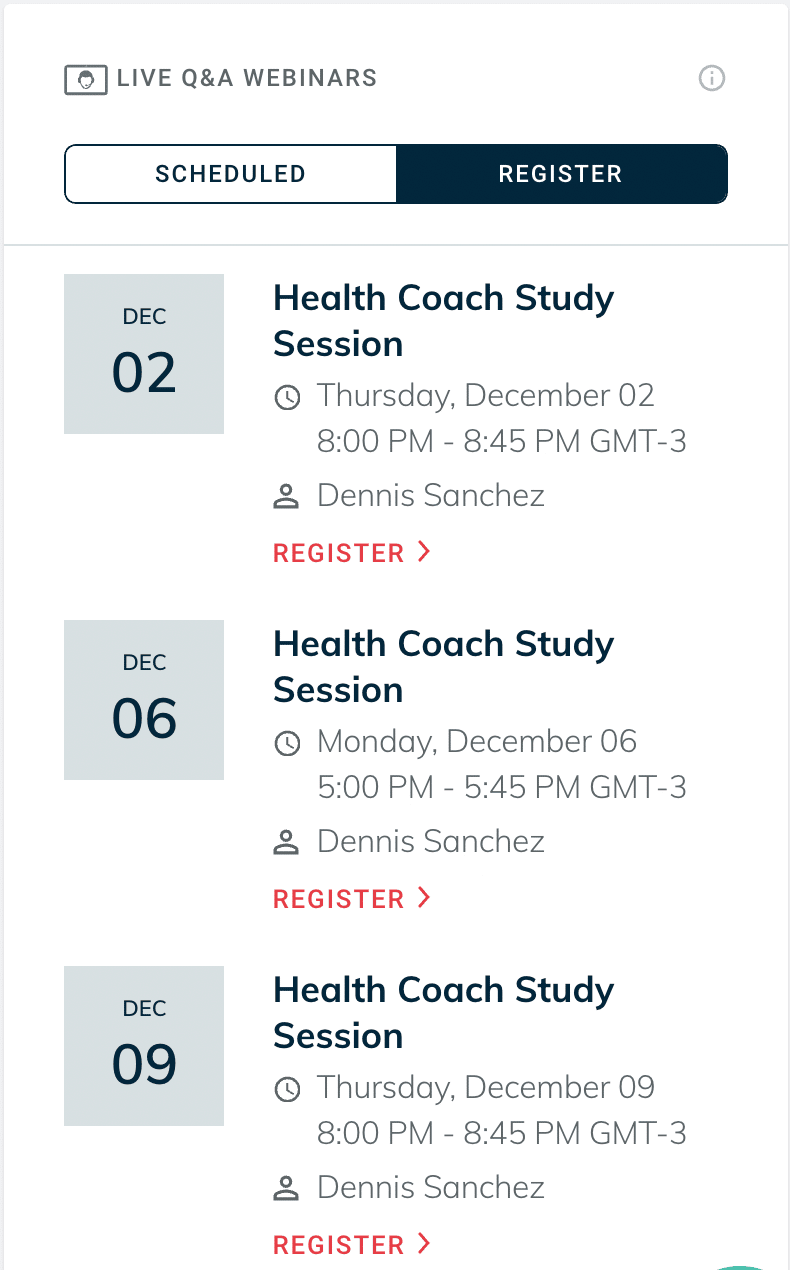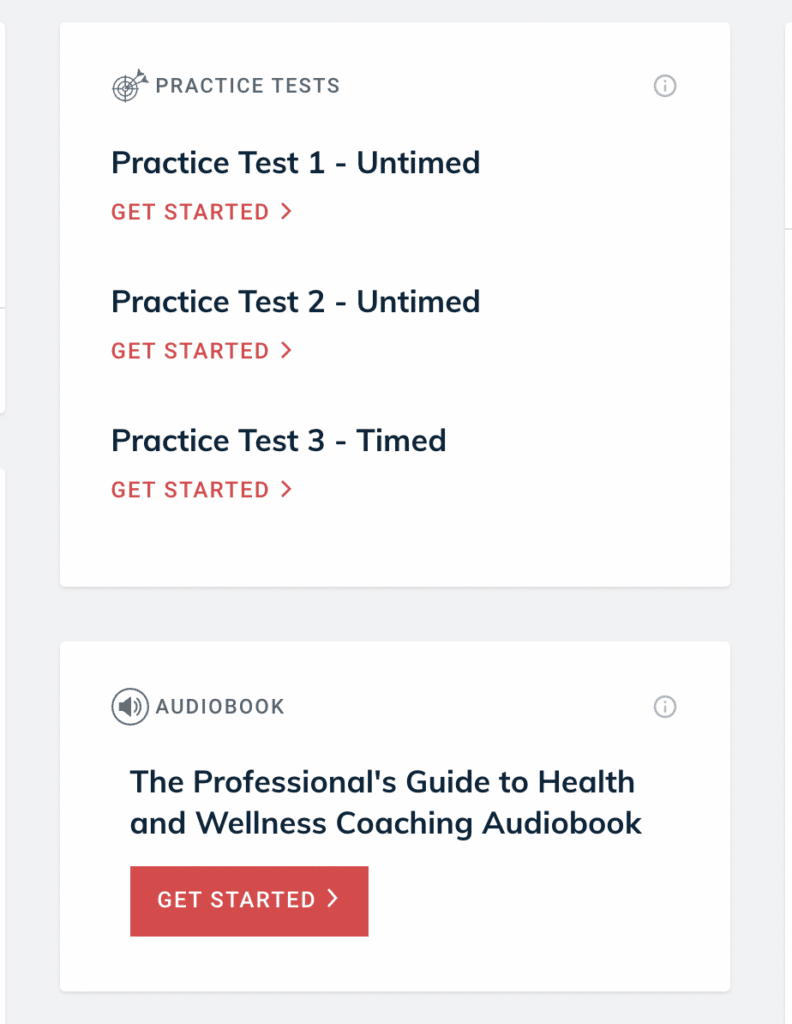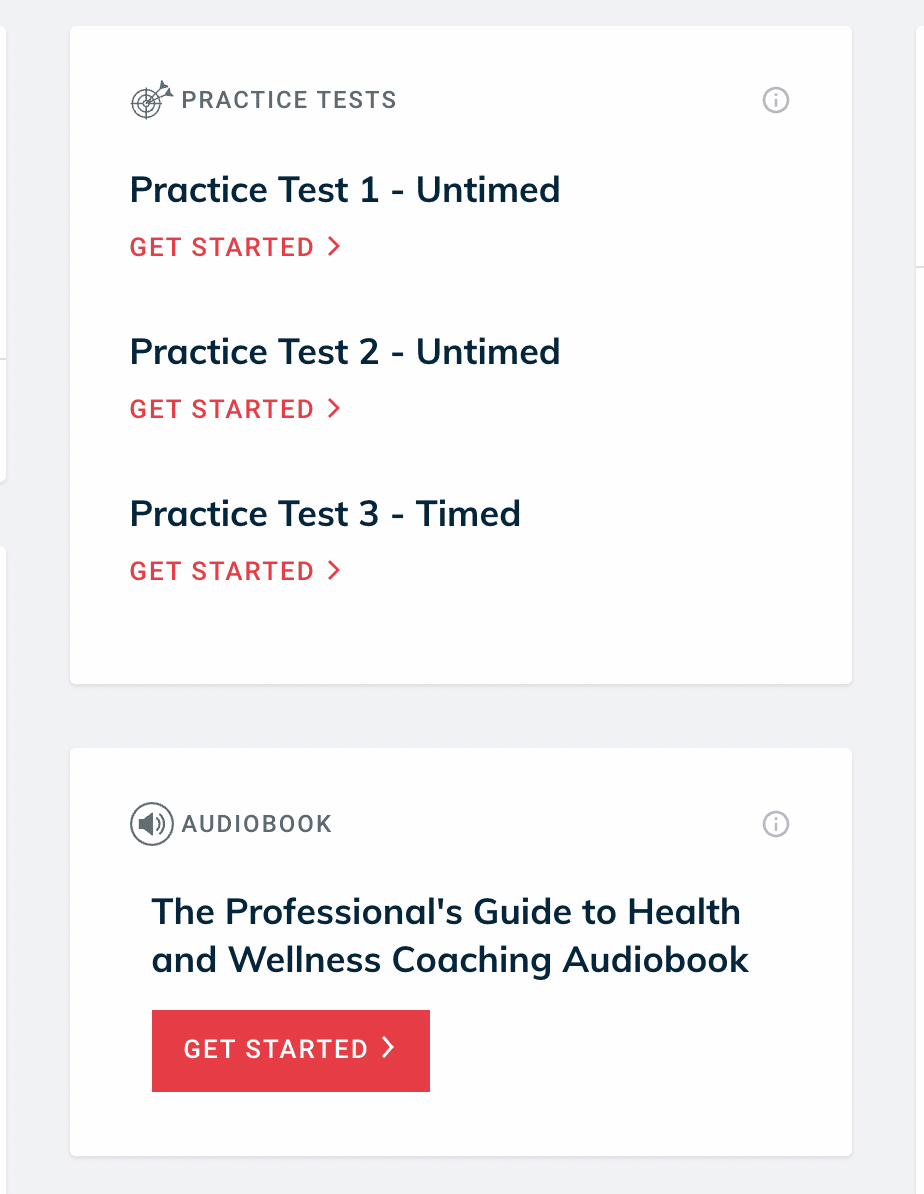 We will talk about the main text and study materials in great detail when we break down the content coverage of the ACE health coach certification program.
ACE is popular for its support and other study package offerings. For example, ACE University is offered in all packages and includes video lectures, video coaching sessions, quizzes, knowledge checks, and audio coaching sessions.
We will touch more on the ACE training program contents and costs in the next section.
One of the main differentiators of the ACE Health Coach certification is the NCCA accreditation, which ACE has for all of its industry-leading certifications.
This ACE health coach certification is quite popular as a specialization for existing personal trainers. Still, it can be a certification to exist on its own in a health coaching career.
Next, let's dive into the program packages in detail.
ACE Health Coach Packages: Details and Costs
To become a health coach through this organization, you will need to purchase one of their program packages.
ACE offers three different packages for its ACE-certified health coach program, and they all have great value for different reasons. Let's take a closer look at each one.
Basic Health Coach Package
This package has a base price of $999 and is often on sale for $599. It is the most basic of packages.
Included here will be access to ACE University, ACE answers, ACE certification exam, one practice test, a digital version of The Professional's Guide to Health and Wellness Coaching (the main text), and the study companion for the text.
ACE University, which is a learning center and is the main study hub for this certification.
ACE U includes video lectures, video coaching sessions, quizzes, knowledge checks, and audio coaching sessions. This is essentially also a study guide to accompany the text and is similar to a health coach manual.
The ACE answers portion of the study materials comes with live question-and-answer webinars so that you can have any questions answered immediately.
The practice test is a great piece of study help and exam prep, but only one is included with this package and up to three in the top package.
Then the last two pieces of study material will be the textbook and its study companion, which both prove to be quite solid and well-constructed pieces of text.
These two will be in digital format; the hard copy is included with bigger packages. The textbook is huge and very detailed. It will provide a significant amount of knowledge for the learner.
And the final package content is the ACE coaching certification exam, which is also available to be taken at home. It is a proctored exam and quite a challenging one. Make sure you are well-prepared.
Next, that wraps up the basic package; let's look at the first step after the basic package.
Plus Health Coach Package
This second study package is a great value also. It includes everything from the basic package plus a few additions.
There will be an audiobook for the textbook, which for some learners is going to be essential. Auditory learners will be able to digest all the book has to offer from anywhere.
And the other major difference here is the hard copy of the text, along with the digital version.
In terms of offering all possible ways to study, this program package ensures that you have a study system that works best for you.
The physical textbook is the same as the offered digital version. The same layout and everything, but it is much easier to mark up and take notes when you have the book in front of you.
The other difference in this book is the inclusion of an additional practice test; that way, you are even more prepared for the examination when the time comes.
This is a great value, and it is their most popular package with the health coach certification.
The base price is $1,299, and it is often on sale for $779.
Let's look at the third and final package option from ACE next.
Advantage Health Coach Package
This is the final option for packages in the health coach certification.
Here will be everything that has been discussed in the other two packages, plus some other standout features.
The audio coaching sessions are more prevalent, as there will now be eight instead of the 3 in the second package.
There is a third practice test to fully make sure that you are ready to sit for the final examination when the time comes.
Both versions of the text are still included.
The two items that set this premium package apart are access to live classes for health coaches and access to the dedicated advantage team.
The live class is a real virtual classroom that adds a new dimension to the learning experience. It is entirely led by an ACE health coach. It takes place across 16 weeks and will give more insight into a health coach career than the text can.
This can also be purchased apart from the basic and plus packages if the learner feels it would be beneficial.
The final part was the dedicated advantage team, which is direct access to a representative of the advantage team that helps you ensure you have the best possible experience with studying. They give you one-on-one help when it is needed.
This is the most premium package they offer, and it is priced as such. The base price comes in at $1,799, and it is often on sale for around $1,079.
So, is ACE Health Coaching Certification worth it?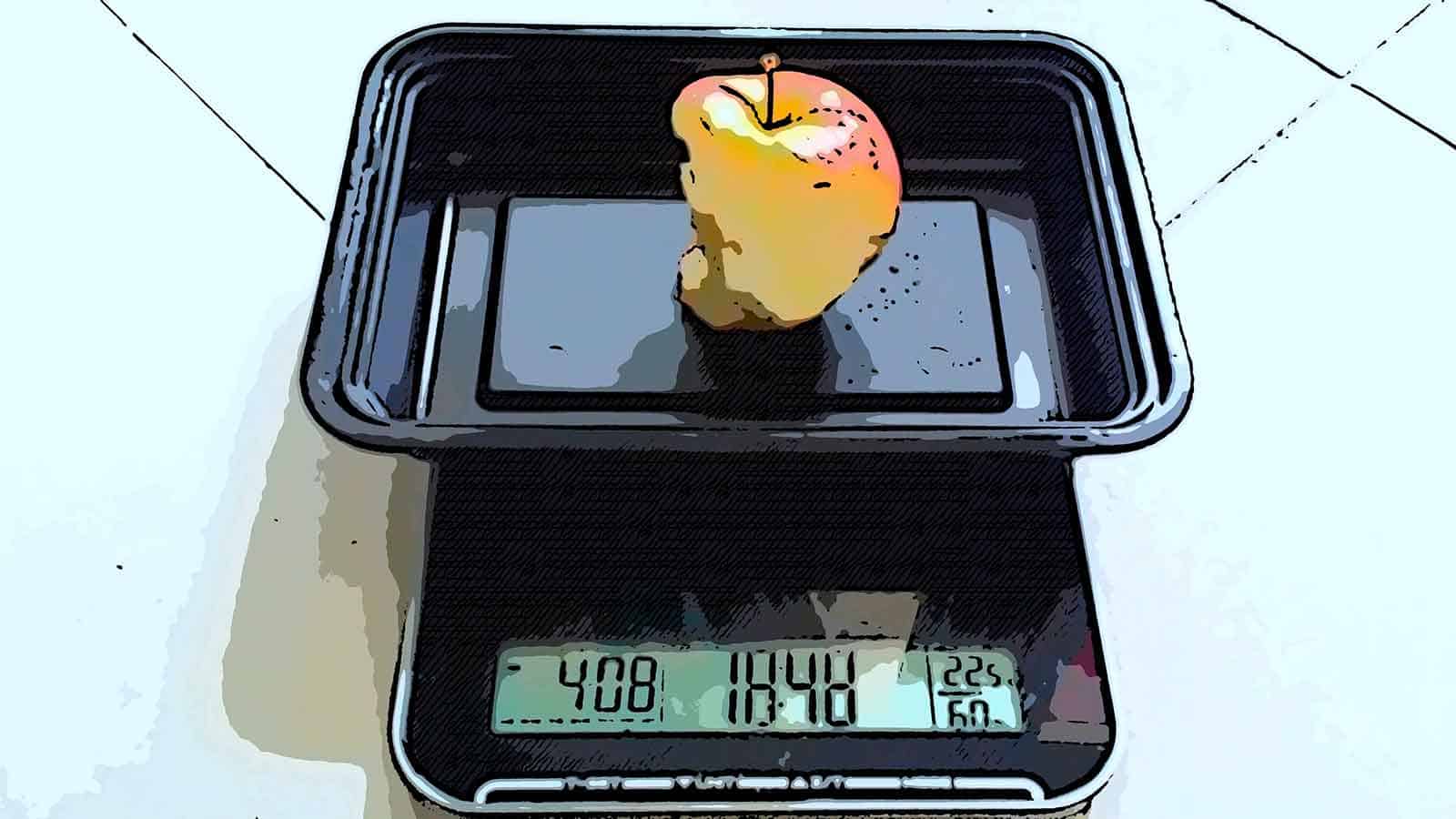 All in all, this is the best health and wellness coach certification that you can get in the industry.
With everything they offer in their study programs, you will succeed as a health coach when you are done.
Graduates of the program all believe the exam is challenging, but the material is covered well. As I stated, the most popular program is the Plus Package, and that is because it provides the optimal study materials for your success.
We will break down how well the content is covered in this health coach certification within the next section.
ACE Health Coach Content Coverage
The textbook is titled The Professional's Guide to Health and Wellness Coaching. It consists of 18 chapters in total spread across 18 detailed chapters.
Here are the chapters within the text:
Chapter 1: Role and Scope of the Health Coach
Chapter 2: Core Components of Coaching
Chapter 3: Behavior Change Models and Theories
Chapter 4: Skills and Methods for Supporting Lifestyle Change
Chapter 5: Considerations for the Initial Session
Chapter 6: The Art of Coaching
Chapter 7: A Mindful Approach to Stress Management
Chapter 8: Nutrition for Health and Well-being
Chapter 9: The Power of Physical Activity
Chapter 10: Understanding Other Lifestyle Factors: Sleep and Substance Use
Chapter 11: Obesity
Chapter 12: Cardiovascular Disease
Chapter 13: Hypertension
Chapter 14: Diabetes
Chapter 15: Depression and Anxiety
Chapter 16: Additional Diseases, Conditions, and Considerations
Chapter 17: Professional Commitments and Considerations
Chapter 18: The Business of Health Coaching
Let's look individually at the biggest aspects of health coach certifications: Health Coaching, Lifestyle Modification, and Chronic Disease.
Health Coaching
The health coaching basics come from the first two sections of the textbook.
The first section introduces the core components of health coaching like communicating with clients, barriers to change, and how to facilitate change. It also covers some applicable exercise science materials that can cross over to the CPT certs like the ACE trainers certification.
The third chapter is where this really gets serious and exits being an intro to ACE and their methodology.
In the third chapter, we have scientific theories of change like the TTM, health belief model, social cognitive theory, and self-determination theory.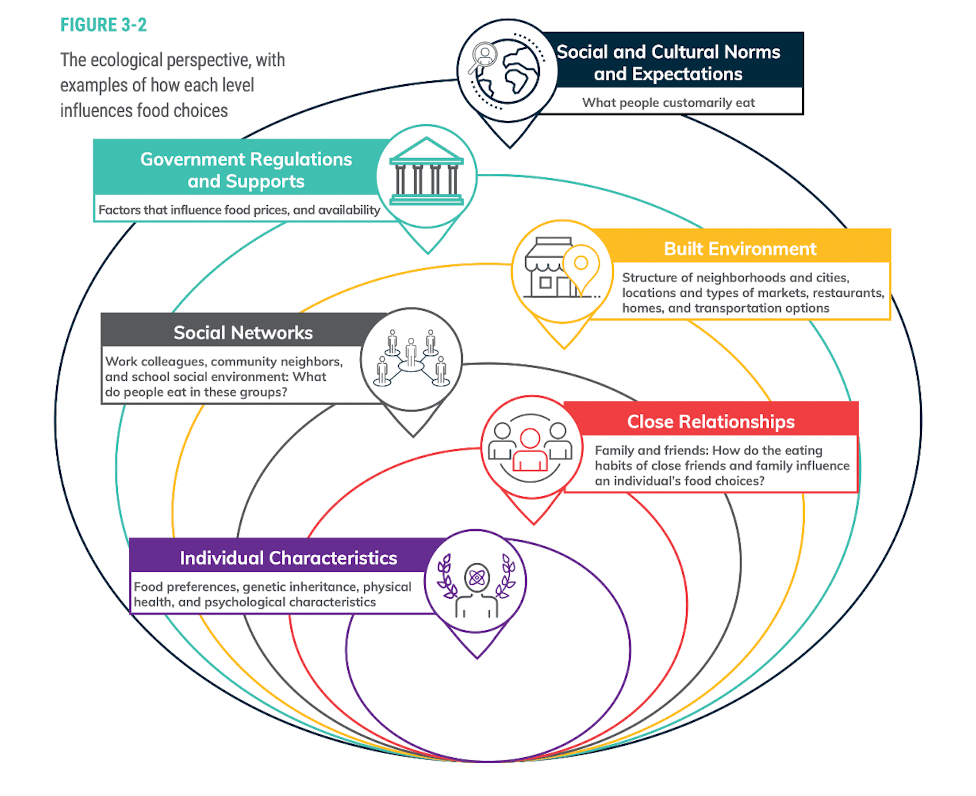 The three chapters in this section, and primarily the third chapter, will provide the foundations for which the rest of the book and health coaching will be practiced.
The second section is titled The Coaching Experience, and this translates the theories learned in the previous section into practical, real-world applications.
You will learn how to apply motivational interviewing, goal setting, cognitive-behavioral coaching, and strengths-based coaching throughout the beginning chapter.
This is something that is touched on well throughout the personal training certifications that most people will already have upon going for this health coach certification. But, regardless, this topic is covered very well, and it is something you can expand on any type of coaching that you do.
The health coaching concepts move to a chapter over the initial sessions with new clients and a chapter on the art of coaching.
Regarding the chapter on new sessions, I would say they cover this well, especially making it specific to health coaching. They go in-depth on the logistics to consider with new clients, how to collaborate with people, and exploring all possibilities with health coaching clients.
The final chapter for health coaching relies on looking at exploring the values of your clients, building rapport, and motivating them to change.
I would say this entire aspect of the certification is done perfectly well. The only gripe I have would be that the introduction to the textbook and health coaching feels like it is too long.
All in all, ACE handles Health Coaching well. By the end of this aspect of the cert, you will be able to design well-made and individualized behavior-change plans that are based on well-taught scientific models.
Let's look at the next main aspect of health coaching, Lifestyle Modification.
Lifestyle Modification
Lifestyle modification serves as a pretty big section of the book and consists of expanding on how you can help your clients, giving many scenarios and conditions with which you can give advice for optimal health.
The start of this section looks at teaching mindful approaches to manage stress, which is very important for the overall health of clients. You will be able to easily teach clients how to recognize stresses and then how to change those aspects of life to get better health.
From the chapter on stress, we move to some bigger chapters, which are on nutrition and physical activity.
These are probably the two best chapters in the book, outside of the coaching help. The meat of this section will teach the dietary guidelines to abide by for health, as well as the ACE position statement and scope of practice. These are necessary materials that help all ACE health coaches tremendously.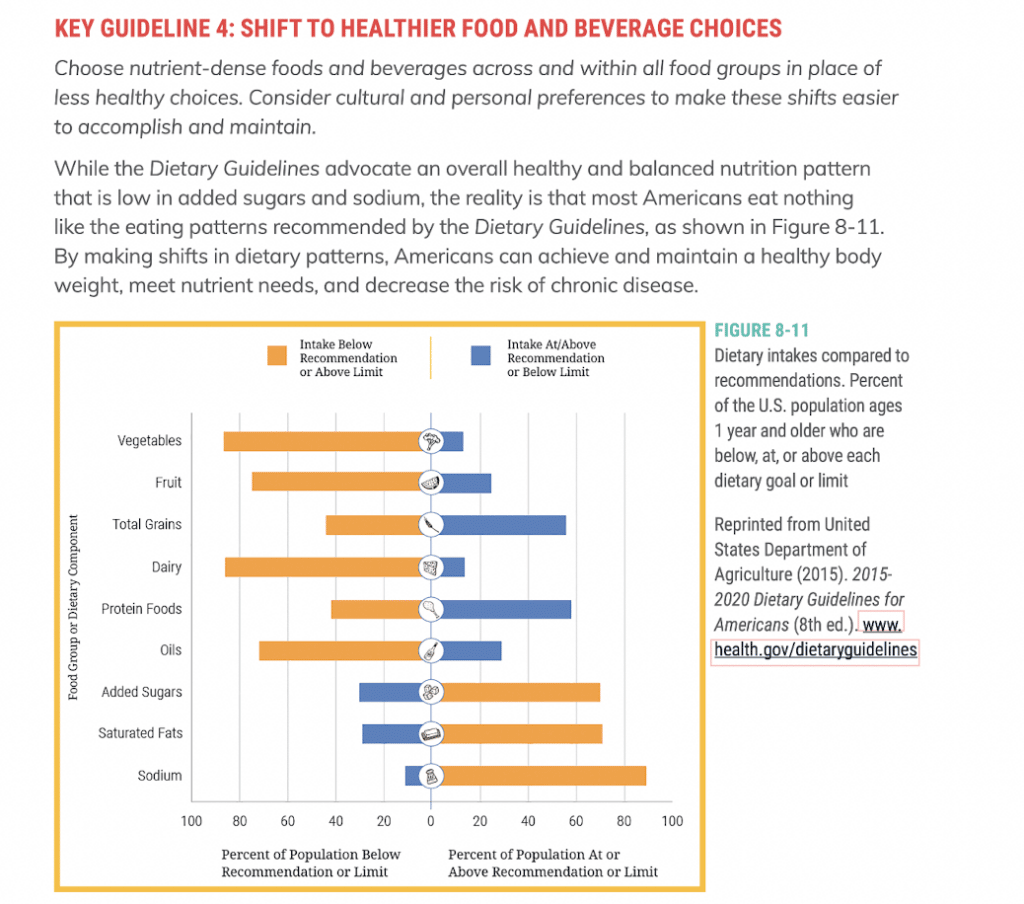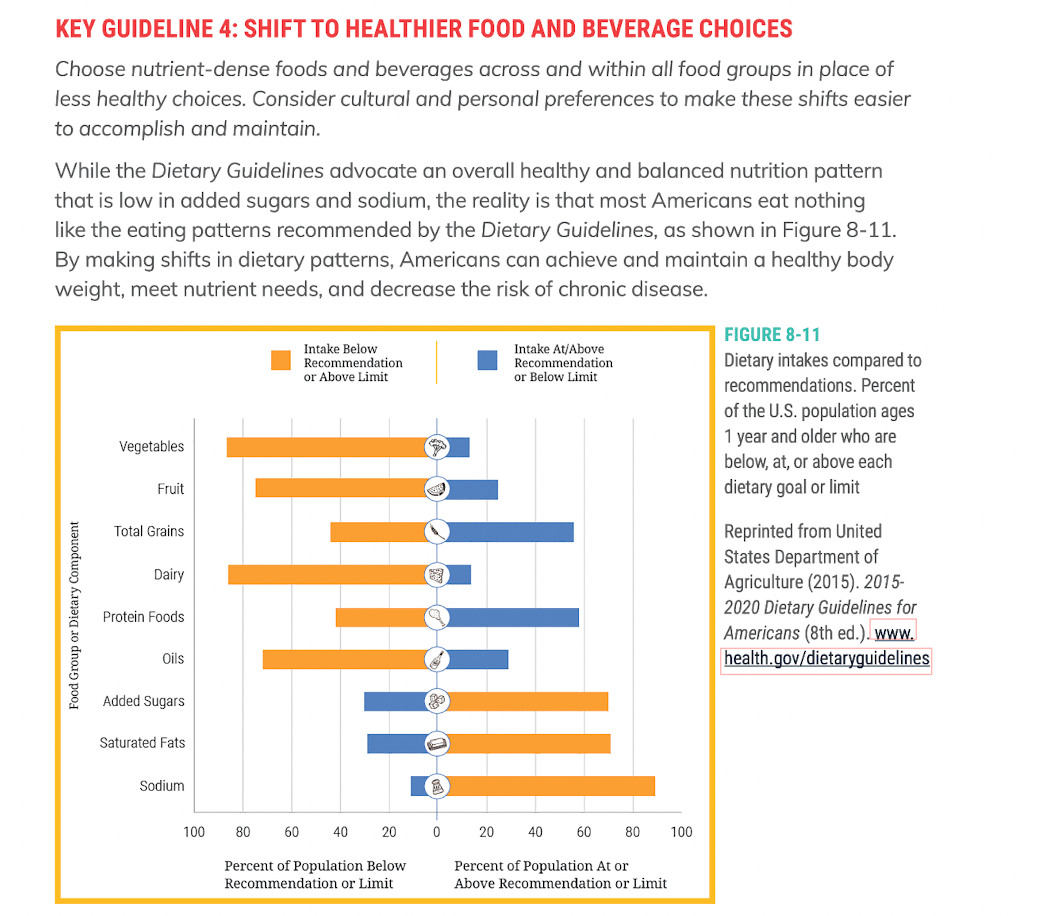 ACE really dives into these guidelines, and they are all excellent dietary modifications for people to implement. This screenshot from the study materials above is a small insight into how they handle the guidelines.
The final chapter of lifestyle modification looks into how a coach can help a client deal with substance use and sleep issues. These are two excellent subjects for all people to understand and work to improve on.
For me, this is the weakest of all three main sections we look at. It could be a bit lengthier and include some other common issues. It still holds the ACE health certification up as a top industry cert, but it is the weakest of the three.
Next, let's look at how ACE deals with Chronic Disease and Comorbid Conditions.
Chronic Disease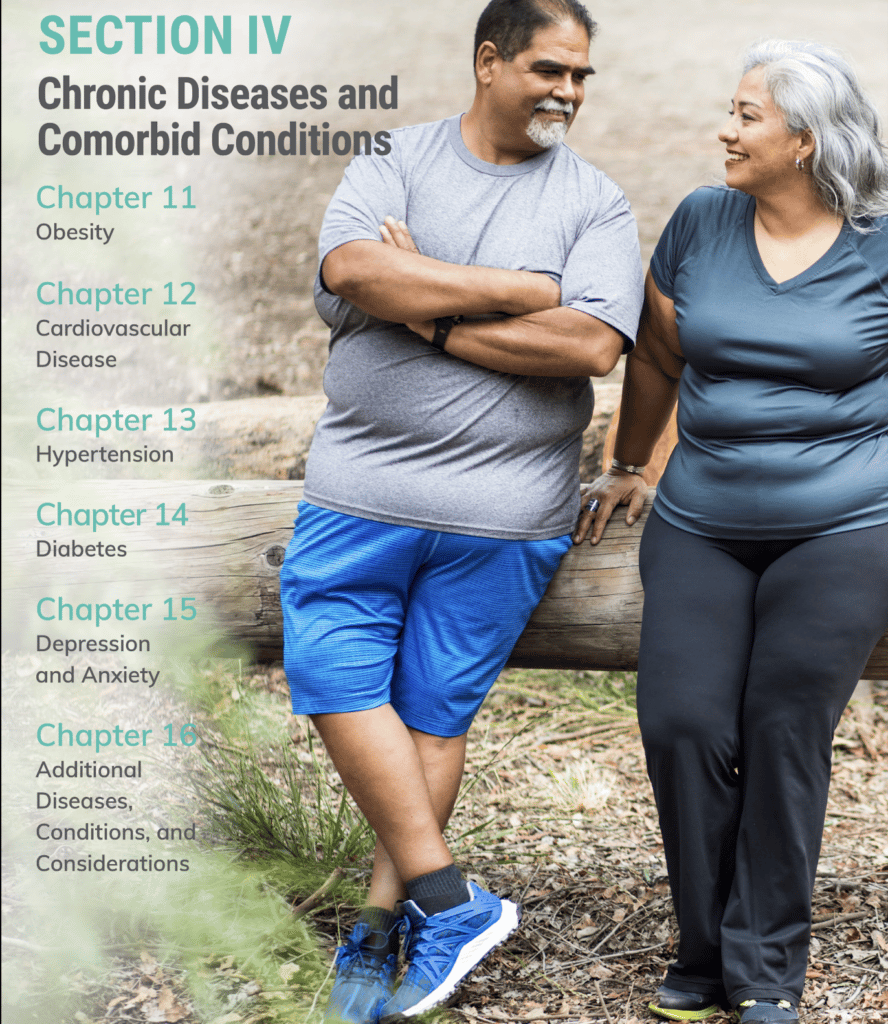 This is the largest of the sections, with six total chapters covering all of the main topics in chronic disease and more.
The chapters cover obesity, anxiety, depression, hypertension, cardiovascular disease, and diabetes with great depth.
Some other diseases and conditions such as cancer, dyslipidemia, arthritis, low-back pain, and osteoporosis are covered through these chapters, too.
You will know the pathology, progressions, risk factors, and prevalence of each disease and condition listed, as well as lifestyle changes that prevent or manage the condition.
Each chapter has a section that helps with collaborations with outside professionals. This gives many tips and strategies to work with anyone, from medical doctors to psychologists.
This section is done really well and goes into extreme detail with each and every condition. It could include even more conditions, but I would say ACE has done a good job hitting 98% of the things a health coach will run into.
The textbook also has a short section of two chapters to discuss your coaching practice and some professional conduct aspects.
Overall, I would give the certification and its content coverage a 9/10.
Health Coach Certification Exam
As we have mentioned, the exam can be a bit challenging for the industry in comparison to the other health coach certifications. It is important to prepare well.
The test is going to cover four different domains:
Coaching Behavior Change (33% of the test)
Conducting Assessments and Developing Plans (26% of the test)
Implementing and Adjusting Individualized Plans (25% of the test)
Professional Conduct and Legal Responsibility (16% of the test)
For the behavior change coaching aspect of the test, you will be required to know how to establish rapport with your clients, help clients take responsibility for their personal health, handle motivational interviewing, and facilitate actual change in client behavior.
This is the biggest and most important domain of the certification.
The second domain is the conduction of assessments and development of plans, and this part is going to require knowledge on how to establish health baselines, create plans, and ensure that plans are individualized.
The third domain is on implementing and then adjusting individualized plans. This will cover specific plans for clients, evaluate their effectiveness, and collaborate with clients to adjust their plans to have some involvement.
The final domain is professional conduct and legal responsibility. It will cover adhering to legal requirements and professional standards, maintaining accurate records, and creating an inclusive environment.
This Certification Exam consists of 150 multiple-choice questions, with only 125 being scored and the other 25 being purely experimental for future exams.
There will be a total of 3 hours to complete the exam, and you can score between 200 and 800, with 500 being a passing score. This is around 90 questions that need to be answered correctly.
You will know if you pass or fail immediately upon completion of the ACE certification test. Currently, the pass rate hovers around 68%. It is important to find and utilize practice exams whenever possible.
Let's now look at what you need to know in regard to keeping your certification after you have achieved it.
ACE certifications are all going to be valid for two years, and they expire at the end of the same month with which they were earned two years prior. This goes for all ACE certifications, even the personal trainer certification.
ACE professionals need to receive 20 hours of Continuing Education Credits, which comes out to 2.0 CECs.
Continuing the education of fitness and health professionals is required by the industry to ensure that the public is protected and provided the best service possible.
ACE certification renewal will cost $129 if you just have one certification, like this health coach certification. If you have more than one ACE cert, there will be discounts on each one that you have (they offer four total).
You will also need to keep your CPR/AED certification current as you go for recertification, just like when you got certified initially.
The hours required by ACE for recertification through Continuing Education Credits can be attained through ACE or through outside organizations that are supported by ACE. This also works the other way where you may use ACE for outside certifications.
This PTpioneer ACE Health Coach review is based on my expert opinion and these criteria:
Gathered opinions of successful personal trainers and health coaches within the fitness industry
Comparisons between other top health coaching certifications to verify quality and pricing
The usual information coming from new trainers that have passed the ACE health coach certification exam
Many other health and wellness certs and entry-level fitness programs
Frequently Asked Questions (FAQs)
In conclusion, the ACE health coach certification is easily the best health coach certification you can attain in the health and fitness industry.
It is a solid option as a stand-alone certification and also as a specialization to add on to an existing certification like we often see with personal trainers.
This health coach certification from ACE will guarantee success in the industry as a fitness and wellness professional. We would rate this certification as a 9 out of 10.
If you would like more ACE certification reviews, like our ACE CPT personal training certification review, ACE nutrition certification review, and more, make sure to check out the rest of PTPioneer.