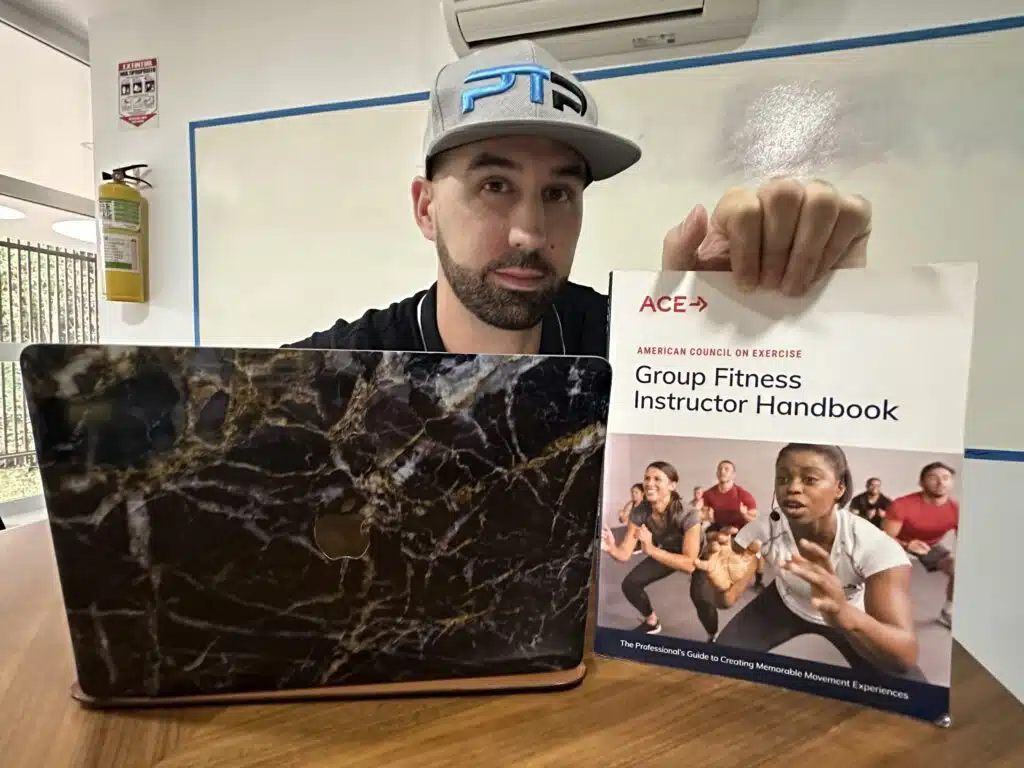 Here is my full breakdown of the ACE Group Fitness Instructor Certification. I base this on taking the course, passing the exam, factoring in over a decade as a group fitness instructor and trainer.
Our PTPioneer team has fitness professionals with many certifications including the ACE-GFI, and we have compiled our collective knowledge to give you the best review.
Additionally, I have worked in many gyms, and gym owners prefer their group fitness instructors to be certified to teach groups.
Let's look at the details of the ACE Group Exercise Certification so you can see if it is right for you!
I cover these topics:
Organization info: pricing, packages, prerequisites
Program and textbook quality
How does the ACE Group Fitness Certification compare to other group exercise programs?
If you are also considering a CPT, I highly recommend that you take my quiz to get an estimate on which personal training certification is the best fit for you overall.


What is the ACE Group Fitness Instructor Certification?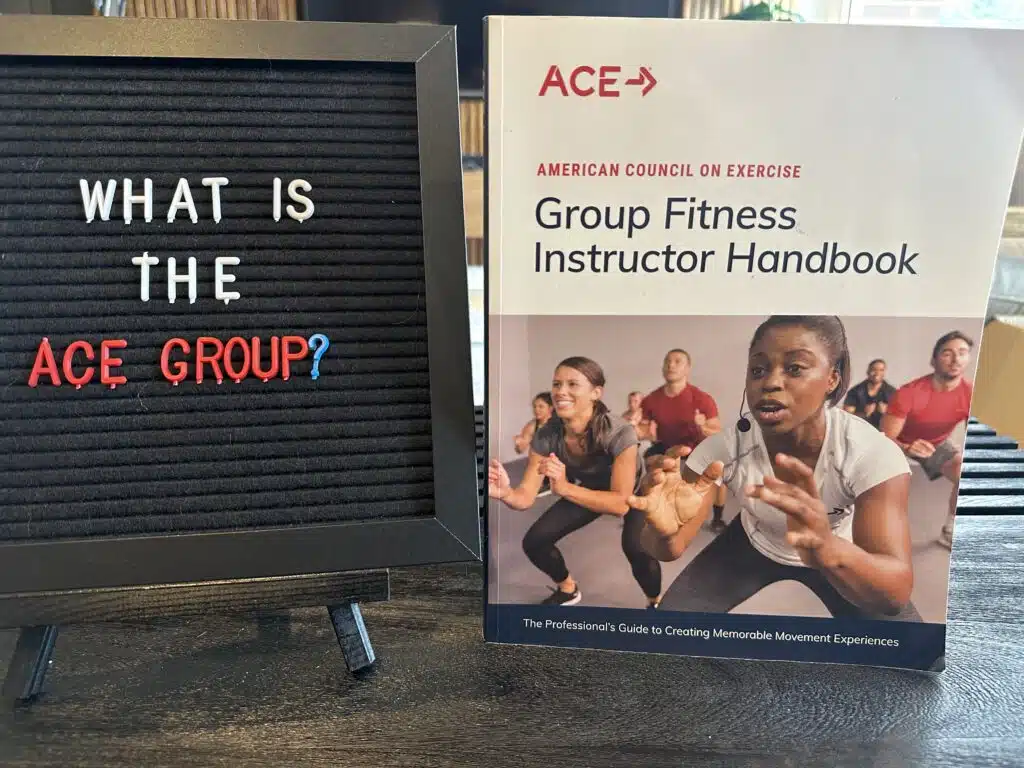 The ACE Group Fitness Instructor program aims to teach the skills to teach a wide variety of fitness classes.
With ACE's program you will learn:
Group class fundamentals
Considerations, design and preparation for classes
Elements of leading group classes
Safety, nutrition, and legal concerns as a Group Exercise Instructor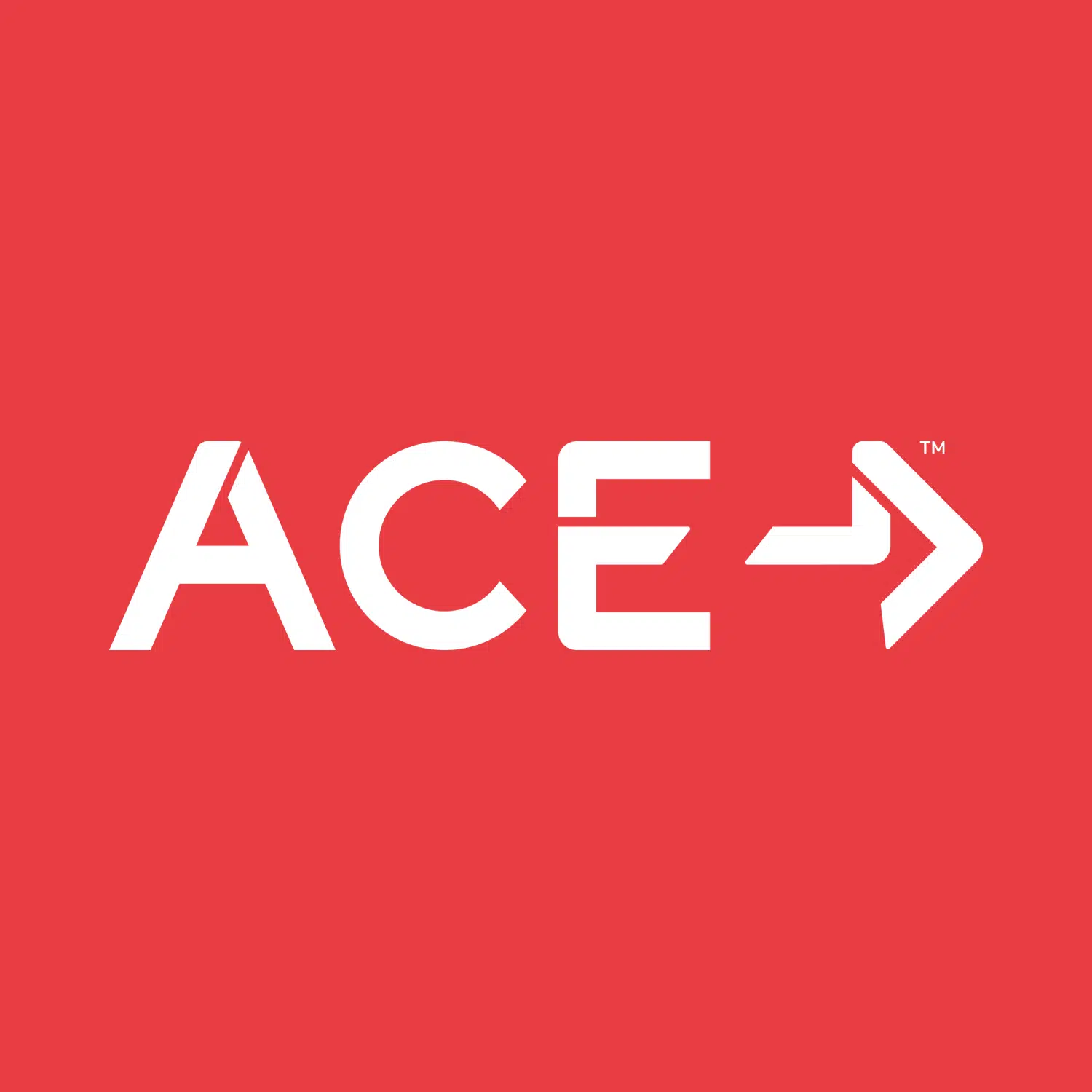 ACE Certified Group Fitness Instructor
Exam cost: $285
Study material cost: $285 – $500
Prerequisites: CPR/AED, High School Diploma
Exam passing score: Scaled 550/800 – 90/125 Scored Questions
Exam pass rate: ~70%
Average completion time: 3 to 5 months
ACE credibility and reputation
The American Council on Exercise (ACE) was born in the 1980s with the mission of inspiring people to get people. ACE has grown into one of the top fitness organizations.
ACE gives its students a fully realized practical approach to fitness.
ACE uses their Integrated Fitness Training (IFT) program to design exercise programming for both cardiovascular and strength training.
In my experience, most gyms like hiring ACE-certified trainers and ACE is especially well known for their group fitness certification. This is certainly something to consider.
Also, the ACE GFI is NCCA-accredited, meaning it's passed the bar in terms of recognition in the US. The National Commission for Certifying Agencies only recognizes the best programs, so you know you have quality in store for you.
Is the ACE Group Fitness Instructor Certification worth it?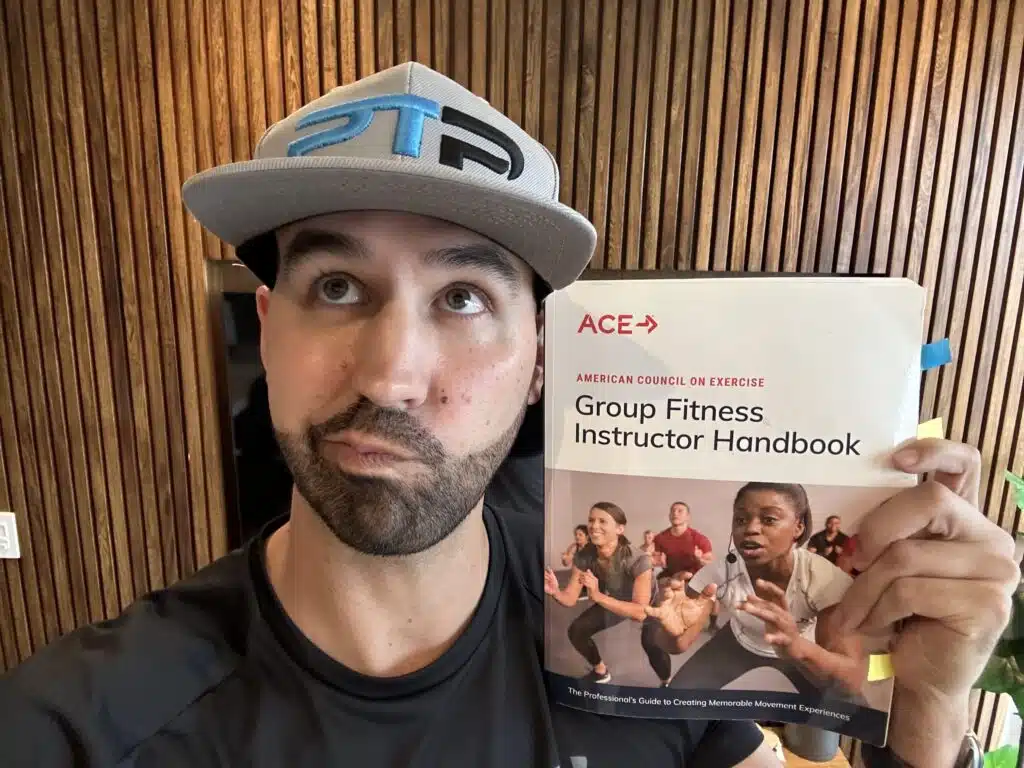 Yes, the ACE Group Fitness Instructor Certification is worth it for anyone looking to inspire people to get fitter in a group class setting. In fact, the ACE-GFI is the group class certification that all other group fitness programs are measured against. It's arguably the best and most well known.
Pros
ACE IFT® Model is an excellent framework for resistance and aerobic training
Mover Model® helpful for behavior change
Cons
Lack of comprehensive exercise science
ACE vs. other top group exercise certifications
The other main organizations with popular group exercise certifications are ISSA and NASM (AFAA).
The ISSA Group Exercise Instructor Certification covers the highest variety of different styles of exercise classes, but doesn't give you the most comprehensive teaching methods.
NASM has the AFAA Group Fitness Instructor Certification, another popular option. NASM's program has great info in the areas of instruction and preparation for teaching group fitness classes.
It doesn't cover each type of fitness class, but if you want to teach a strength, HIIT/interval, boot camp, yoga, and cycle workout, NASM is definitely a certification to consider.
ACSM also has a group exercise certification, and while this is the only cert to cover pilates, there isn't enough technique instruction for strength exercises in this program for me to recommend it to most people.
Who is the certification meant for?
The ACE Group Fitness Instructor Certification is meant to give fitness professionals the tools to be able to teach classes effectively.
This is not a personal training certification nor is it a course that specializes in any individual type of class, rather it will make you a generalist.
Great For:
Personal trainers that want to coach small-group fitness
Coaching large group fitness at commercial gyms
Not Recommended For:
Trainers wishing to specialize in one type of class
ACE GFI course costs and options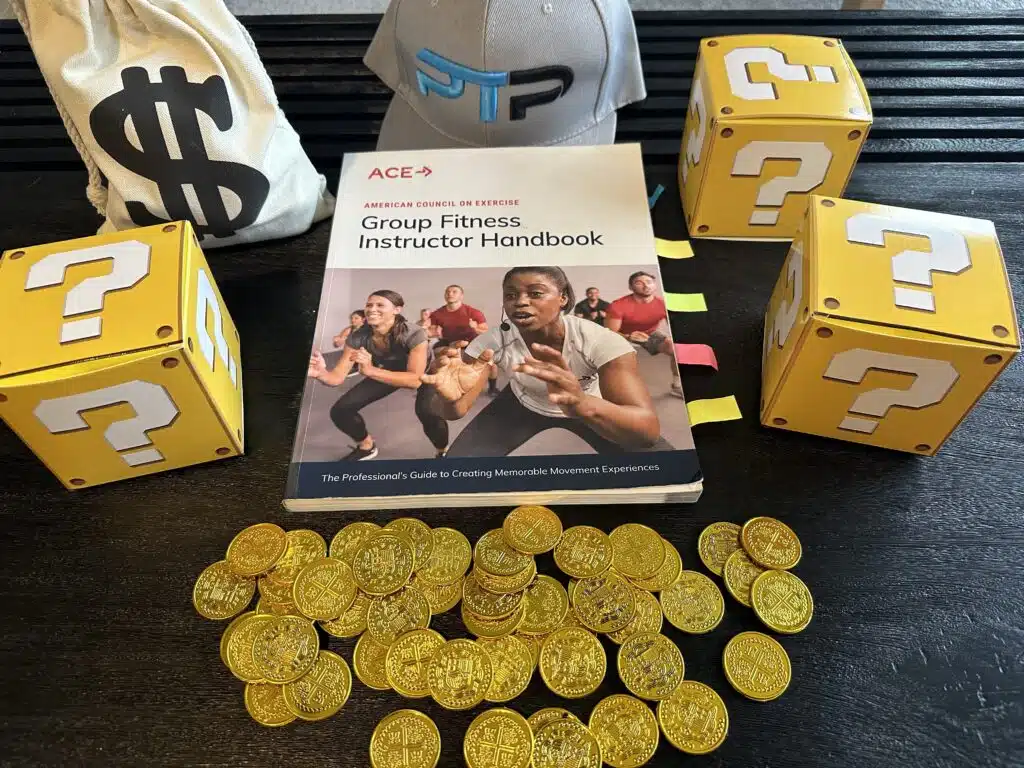 ACE offers three separate study bundles for this certification. The cheapest basic study bundle costs $224 (check current price). This includes the main textbook, one practice test, and access to ACE University, their online study system.
Then there's the ACE Plus package for $299, which also gives you a hardcopy of the text, an extra practice test, and a bonus class teaching group exercise in diverse settings.
Finally, the ACE Advantage program adds a third practice test and ACE's Exercise Science 101 course.
You can also call an ACE professional on the phone or email for one-on-one for help with the material at any time during those three months. I think that the ACE Academy is a fantastic addition to their program.
It makes passing and getting the group fitness instructor certification much easier.
If you feel confident passing tests, I'd stick with the Basic option, but it's nice to know you can upgrade and get more practice tests if you need more assistance for complete success.


ACE GFI course layout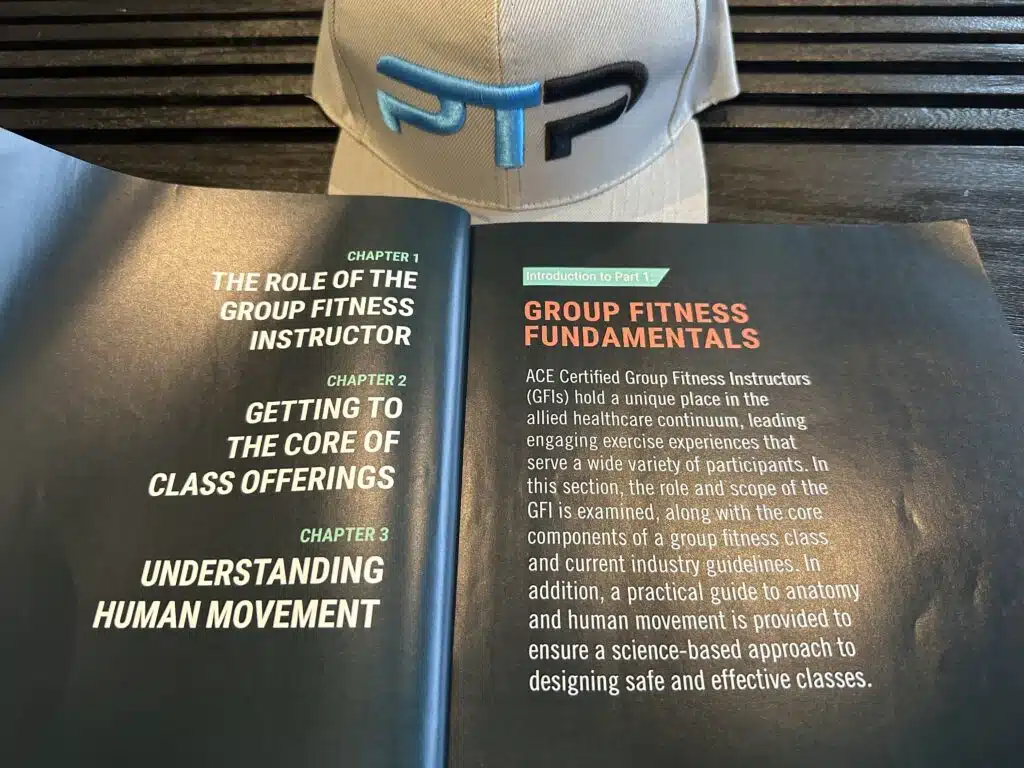 The ACE Group Fitness Instructor Certification textbook is grouped into 11 chapters with a few appendices:
Who is the ACE-certified Group Fitness Instructor
Principles of Pre-class Preparation and Participant Monitoring and Evaluation
Group Exercise Program Design
Teaching a Group Exercise Class
Principles of Adherence and Motivation
Exercise and Special Populations
Exercise and Pregnancy
The Prevention and Management of Common Injuries
Emergency Procedures
The Business of Group Fitness
Legal and Professional Responsibilities
Appendix A- ACE Code of Ethics
B – Group Fitness Instructor Certification Exam Content Outline
C – Effects of Medications on Heart-rate Response
D – Group Fitness Specialties
E – ACE Position Statement on Nutritional Supplements
Let's review a few categories covered in the text:
Group Fitness Fundamentals
This section of the textbook makes up the majority of the study material. In my opinion, this is where ACE separates itself from the other group fitness instructor certifications that are out there.
They focus strongly on how the class flows and is structured. Compared to one-on-one personal training, this is where your workouts differ significantly. With group classes, a lot of choreography and music selection is involved.
You need to learn all about the pace of the music, beats per minute, equipment selection, overall fitness objectives, and safety factors. This section makes up around 20 percent of the final test for the certification. Here is a cool blog poston some of these factors.
This certification doesn't have as much emphasis on exercise science, biomechanics, and anatomy/physiology concepts, but it definitely gives you enough of what you'll need as a group instructor.
Considerations, Design, and Preparation for Group Fitness Classes
You can lead your class through a workout in infinite ways. This section talks about all the different learning styles and techniques that you can use at your disposal.
It discusses teaching styles, learning components, different cultures, progressions and regressions, choreography, and how to get your class pumped for the workout. This section is all about how to be the leader of the group and how to manage a class versus individual clients.
This section discusses different personality traits necessary to be a successful group instructor. You must be extremely energetic, inspirational, and knowledgeable to succeed as a group instructor and motivate your participants. These parts make up approximately 35% of the final test!
Safety, Nutrition, and Legal Considerations
This is the smallest section of the textbook, but it is imperative. It talks about fitness ethics and morals, standard practices, how to deal with medical conditions in your class, and personal trainer insurance.
It also discusses everything you need to do to maintain your group fitness instructor certification (similar to continuing education for all other certifications). This professional conduct section comprises 15% of your final test.
ACE Group Fitness Instructor Certification exam prep and study materials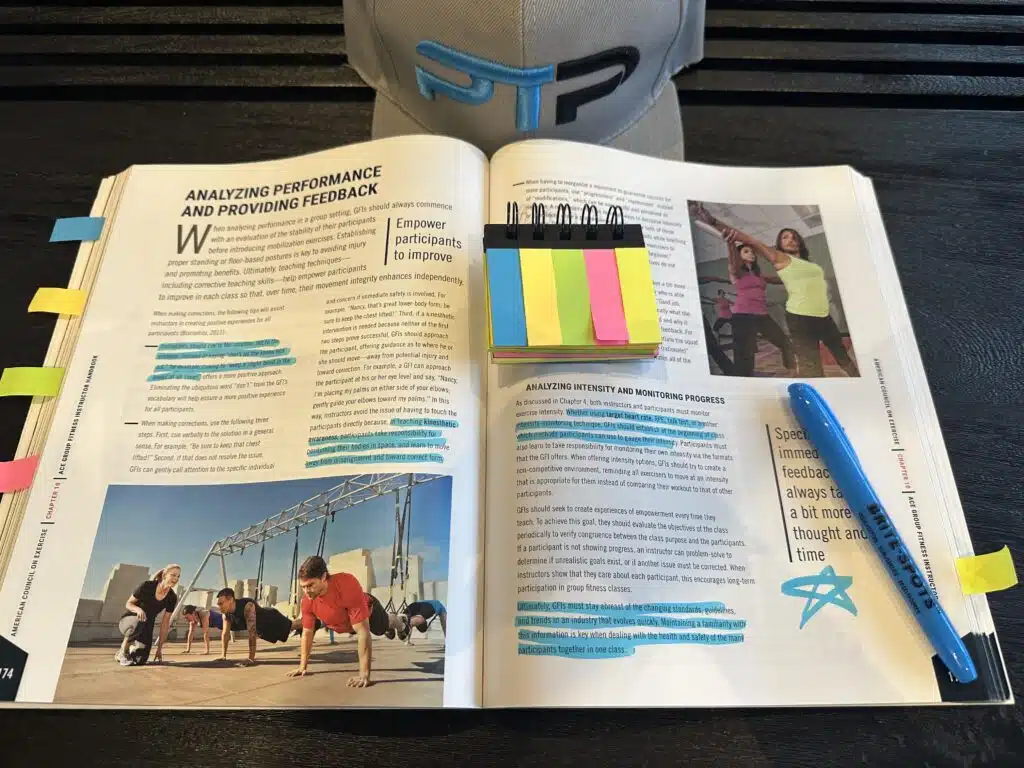 ACE offers some of the best study resources of any organization.
With each of the packages offered, you get access to the ACE online study portal, online webinars, quizes, podcasts, and ACE Answers, where you can ask an ACE expert any questions you have.
ACE also has an online library of exercise videos, which is second only to NASM in terms of overall numbers.
In my case, I read through the textbook and made my own study sheet, although most people like to use their online study system because it's so easy to use.
ACE Group Fitness Instructor requirements
To be eligible to take the ACE certification exam you will need to:
Be at least 18 years old.
Have completed high school (or equivalent).
Hold a current CPR/AED certification with a live skills check.
Present a current government-issued photo ID with signature (driver's license, passport, military ID).
These are the standard requirements for most accredited fitness certifications.
ACE GFI salary
The average salary for a group exercise instructor in the US is $47,431 yearly, according to Zippia.
This number will change based on many factors, including location. For example, Glassdoor states that the average salary for group fitness Instructors in Los Angeles is $64,933.
Again, this is just an estimate of what you will make with the ACE Group Fitness Instructor rather than a guarantee.
Taking the ACE Group Fitness Instructor Certification exam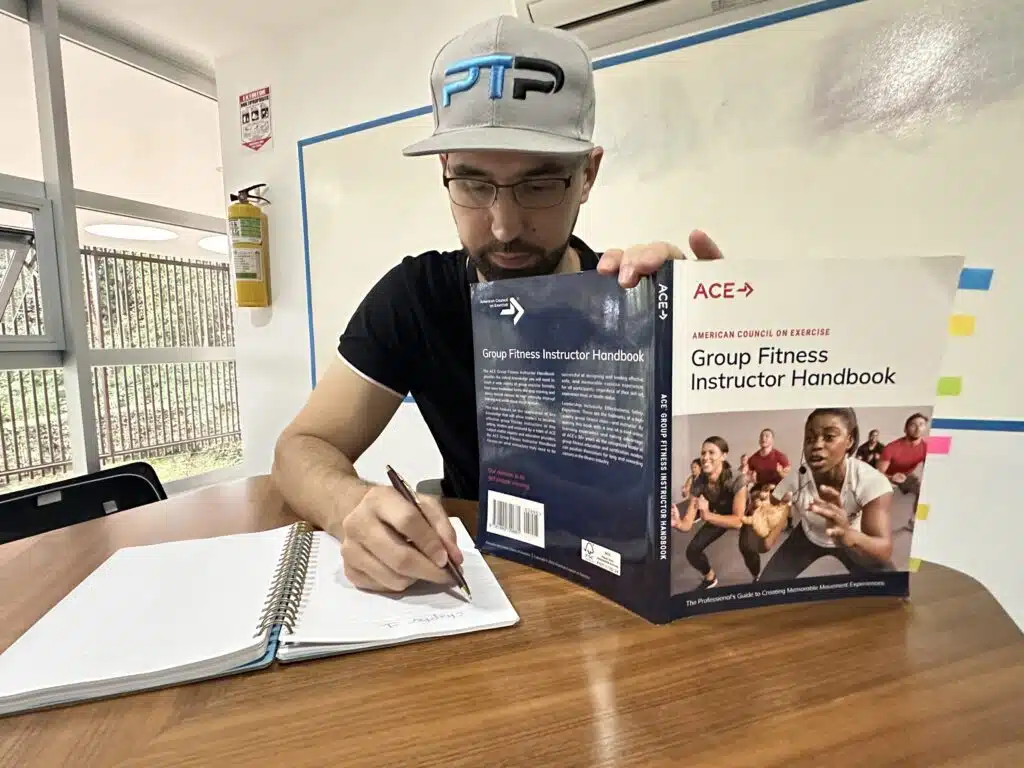 You can take the proctored ACE exam at a center or in the comfort of your own home.
It's 125-questions long and while there is a time limit, you will certainly not need the full amount of time offered. In my case, I had over an hour to go back and double check my answers before I submitted them.
ACE Group Fitness Instructor Certification continuing education and recertification
ACE has one of the most standard policies for recertification. They require 20 continuing education unit hours, equal to 2.0 continuing education units. These must be attained within two years.
The ACE organization also supports many outside organizations for trainers to attain their units for recertification.
Other ACE offerings
The courses below are a great way to recertify and add extra credentials to your name.
ACE courses:
ACE Medical Exercise Specialist
ACE Group Fitness Instructor Certification overall rating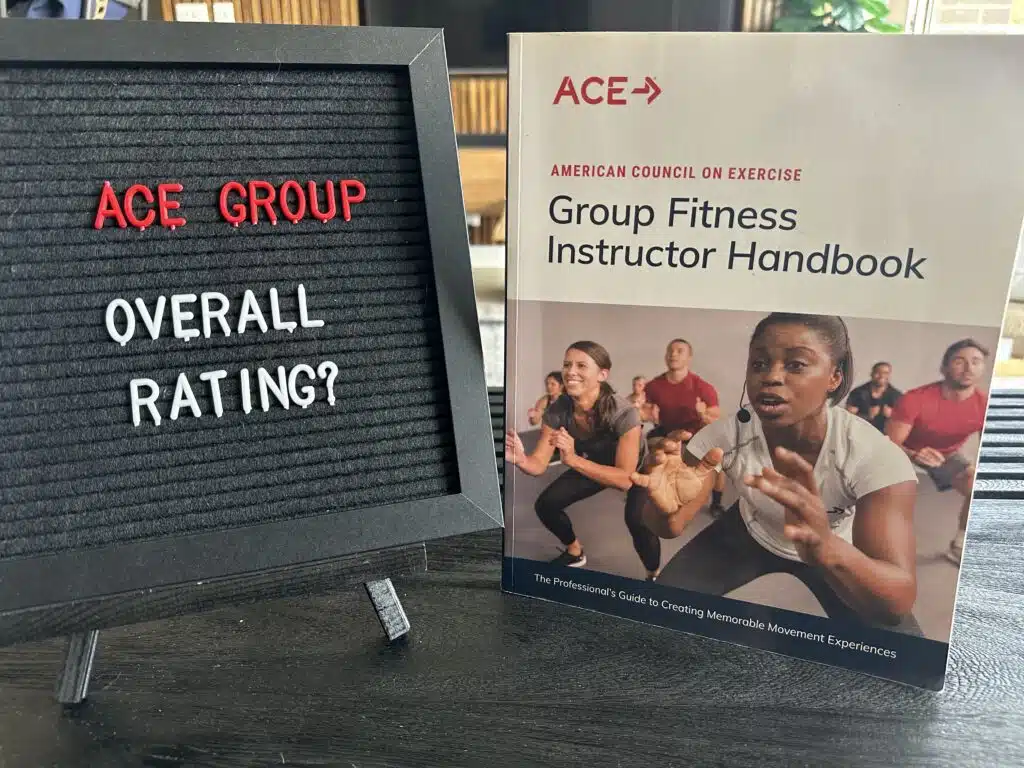 ACE Group Exercise Instructor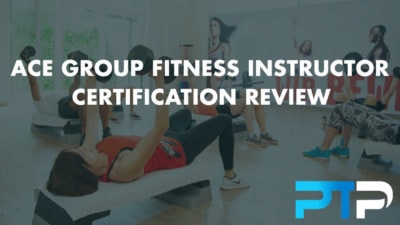 The ACE Group Fitness Instructor is an industry leading path for group fitness instruction. Learn the ins & outs of the ACE-GFI in our complete review.
Product Currency: USD
Product Price: 285
Product In-Stock: InStock
Pros
Good behavioral coaching
Excellent study portal
Inexpensive
Cons
Less exercise science than the competition
Doesn't cover every style of class
Whether you have been working as a personal trainer one-on-one or have been doing small-group personal training, I highly recommend this certification. Starting to work with large classes is one of the most satisfying things!
ACE Group Fitness FAQs (Frequently asked questions)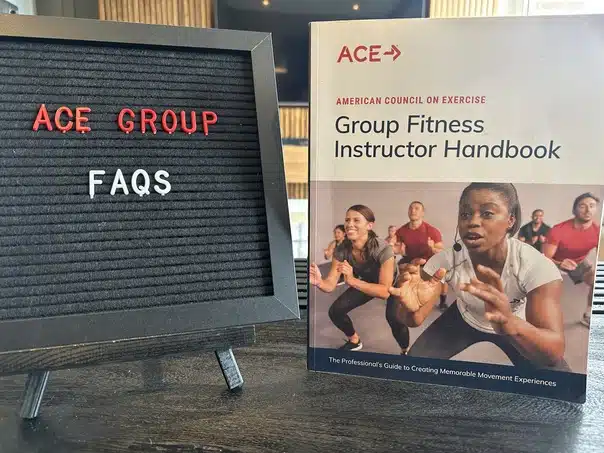 How hard is the ACE Group Fitness Instructor exam?
There is no data on the exact pass rates of the ACE Group Fitness Instructor exam, but from my experience taking this in comparison to other group fitness classes, it was mid-table in terms of difficulty. It's certainly easier than the ACE CPT exam. If you take it seriously, you should have no problem passing. 
How many questions are on the ACE Group Fitness Instructor exam?
There are 150 questions and a 3 hour time limit. 
Is ACE as good as NASM?
Both NASM and ACE are equally good, but focus on slightly different things. ACE has better motivational coaching. The NASM (AFAA) Group Certification has better exercise science information. 
What happens if you fail the ACE exam?
If you retake the exam you can retake the exam for $249 within a year of the first test. You must wait at least 10 days before retaking it. 
Is the ACE exam open book?
The ACE Group Fitness Instructor exam is not open book. You are not allowed to use your notes in the exam. 
How long does it take to study for the ACE exam?
In general, it should take you 2-4 months to study for and take the ACE exam, although this varies depending on your schedule and previous ability.