Welcome to my PT Pioneer ultimate ACSM vs NSCA review
If you're starting your career, you may be at a loss regarding which qualifications you need.
The good news is this super comprehensive comparison between two of the best certifications in the game, ACSM and NSCA, will give you great insight into which certification makes the most sense for your career.
My ACSM vs NSCA review article take will help you make the right choice for you and your fitness career.
My review contrasts both CPT certifications across the following key aspects:
Alright, let's dive in!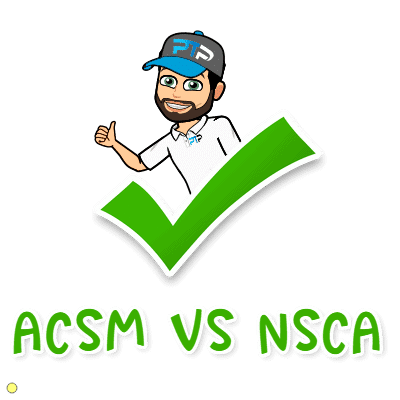 ACSM vs NSCA: Quick Information
CPT
ACSM vs ACE Quick Breakdown
Features
Price
ACE

The oldest certification provider with strong research and academic influence across the sports science community
A leader in sports medicine and corrective training principles
A good platform for immersive professional development

View on the ACSM website
NSCA

A well-established research and academic authority in health and fitness with a strong legacy
Considered the leader in strength and conditioning methodology
A good platform for seasoned professionals to expand their knowledge
One of the oldest certification providers

View on the NSCA website
Product
Exam cost
Exam cost
$349
$300 (Members) $435 (Non-members)
Study Material Cost
Study Material Cost
$400-$1000+
$455
Exam Passing Score
Exam Passing Score
Scaled 550/800
70%
Exam Pass Rate
Exam Pass Rate
66% (2018 data)
72% (2019 data)
Average Completion Time
Average Completion Time
3 to 9 months
3-6 months
ACSM Personal Trainer Certification
ACSM is the American College of Sports Medicine. It was founded in 1954, making it the oldest certification provider globally.
ACSM focuses primarily on research and development in exercise science and sports medicine.
They are, in fact, a non-profit scientific body. Most certifications reference ACSM's research in their textbooks.
This means ACSM is one of the most influential organizations in the industry, with many of the top-tier education providers citing their research or using it in their curriculum.
Their focus, which I'll get into more detail in a later section, is promoting population health through corrective exercise and medical principles.
NSCA Personal Trainer Certification
NSCA is the National Strength and Conditioning Association, founded in 1978, making them one of the most established exercise science organizations.
NSCA also functions in a non-profit capacity
And just like ACSM, they too are a research-based organization focusing on pushing the envelope in the field of understanding exercise science and athletic performance.
And athletic performance is the hallmark of NSCA's focus, which I'll talk more about shortly.
Both ACSM and NSCA fall into a similar category of academic research bodies that provide qualifications for dedicated professionals in the exercise science and sports medicine fields.
They are also accredited by the National Commission for Certifying Agencies or NCCA.
This is a seal of quality and authenticity that you should generally look for no matter which cert you're considering.
The General Focus of ACSM vs. NSCA
Each certifying agency has its own unique niche, even if it's a subtle signature.
This niche is an area of focus usually developed from the foundational principles that influenced the institute's formation.
For example, one cert provider might focus on aerobic training principles, while another might lean mostly towards nutritional concepts.
Understanding the focal areas can help you align the proper personal trainer certification with your career ambitions.
The popularity and recognition of a cert can also help ease the decision fatigue that arises from having too many unknown options.
It assists with the preselection bias most people rely on for making complex purchase decisions.
The recognition aspect also lets you know which employers and which job fields are asking for which qualifications, thus helping you maximize your opportunities once it's time to go on a job hunt.
ACSM-CPT
As I briefly touched on, ACSM is built and positioned around sports medicine principles.
They tend to focus on clients that have previous medical conditions or injuries.
There is a lot of functional training and muscular corrective exercise in their training methods.
I would put ACSM in the category of a corrective exercise certification.
An easy way to determine what sort of focus a certifying agency places on its curriculum is simply by the name.
ACSM has "Sports Medicine" in its name, which should lead you to believe that their mission points towards implementing medical principles through exercise methodologies.
This can be summed up as corrective exercise.
NSCA-CPT
As mentioned, NSCA has a performance-based focus.
Many training methods involve reactive training, speed, agility, and quickness training.
They have a more advanced certification called the CSCS, certified strength and conditioning coach, firmly centered around sports performance.
The NSCA CSCS requirements are also more stringent, but that's a discussion for a different article.
Their general certified trainers' certification is a precursor to their more advanced certifications.
And just as with ACSM, you can determine the direction the NSCA curriculum points towards by taking their name into account.
This is, of course, the "Strength and Conditioning" part of the name.
Skills and Knowledge Covered in NSCA vs ACSM
ACSM and NSCA have a lot of heritage between them, they are both highly regarded in the exercise and sports science communities.
Regardless, their coverage of important topics and concepts in fitness for personal trainers vary tremendously.
Lets look at how each covers crucial topics differently.
Exercise Science Coverage
Both certification providers give a fully comprehensive and detailed account of exercise science, adequate for any personal trainer.
So with little to separate the two in this department quality-wise, lets see how they differ in their approach.
ACSM's take on exercise science highlights key concepts such as biomechanics, bioenergetics and anatomy, thus paying credence to the sports medicine and corrective exercise angle they approach with.
NSCA's approach to exercise science shines a spotlight on topics such as training adaptations to aerobic and resistance training, all which fall in line with the organisation's focus on performance and conditioning.
Behavioral Coaching Principles
Helping your personal training clients remodel they behaviors and habits is tantamount to them achieving their goals.
Having the skills to assist clients in psychologically rewiring their approach to fitness, nutrition and lifestyle is the primary goal of a personal trainer.
When it comes to behavioral coaching, NSCA has an entire chapter, Chapter 8, dedicated to highlighting this topic.
The concepts NSCA uses to expand on this are: goal setting, motivation, and the influences and adaptations of mental health around exercise.
ACSM on the other hand goes a bit more in-depth in terms of quantity of coverage on this topic.
Exclusive PTP Offers



Gold Standard Cert

Most Popular Cert

A Good Option

Best Study Materials

Best online PT course

The Top PT Software

The ACSM curriculum has a whole section, Part III, solely focused on behavioral principles which are covered in three chapters.
These chapters discuss concepts such as: behavioral change theories, exercise adherence strategies, and motivation through positive feedback scenarios.
Consulting and Screening Clients to Reduce Risks of Injury
Before you even begin training new clients, you need to asses their capability and current state for any special considerations or contraindications.
Firstly, you want to asses their current fitness level so you have a good understanding of where to begin and how to achieve set outcomes.
Secondly, you'll want to clear your clients of any medical complications that may hinder normal training, allowing you to factor this into your program design.
ACSM goes through this principle in Part IV: Initial Client Screening.
Here you'll learn how to conduct fitness and health assessments at the initial stages and throughout your client/trainer relationships.
NSCA does the same in Part II: Initial Consultation and Evaluation.
This section covers health assessments, fitness assessments, and the norms and protocols of continuous fitness testing.
Resistance Training Program Implementation
Resistance training programing and instruction are at the crux of any fitness program.
NSCA, being a strength & conditioning-focused academy, has a more immersive take on this topic than many other certification providers.
Aerobic Training Program Implementation
Aerobic or cardio training principles are crucial to any fitness protocol. Without a strong cardiorespiratory foundation, other training methodologies such as resistance training will suffer.
NSCA does a good job of highlighting aerobic training concepts, both from a general perspective and a performance enhancement perspective.
Chapter 6: Physiological Responses and Adaptations to Aerobic Endurance Training, and Chapter 14: Cardiovascular Training Methods both do a good job of teaching these concepts and their implementation.
ACSM does the same, but to a lesser extent in just one chapter, Chapter 15: Cardiorespiratory Training Programs.
Albeit brief, it at least gives you a good idea of how to implement cardio protocols, which is the endgame with aerobic fitness principles.
Overall, NSCA has a superior take on aerobic and cardio concepts.
Helping Special Populations with Fitness
Special populations training is an important consideration when it comes to working as a personal trainer.
People naturally have individual needs and preferences, but sometimes those needs and preferences extend beyond what's considered the norm.
from a personal training standpoint, clients with such needs and preferences are termed special populations.
this can range from high performance athletes to people with disabilities.
examples of special population groups include:
Prenatal and postnatal
Seniors and elderly
Youth and children
People with chronic conditions (e.g: arthritis, hypertension, diabetes)
People with disabilities
Competitive athletes
NSCA has an entire section dedicated to special population groups.
You'll find it as Part V: Clients With Unique Needs, a six chapter section focusing on training principles for different special client scenarios.
this is very well done, and I can only compare it to ISSA's take on special populations, which is probably the most in-depth I've encountered.
As for ACSM, their take on special populations concepts can be found only in Chapter 20: Special Populations.
while it does provide some useful insight, it's not anywhere near as in-depth as the NSCA coverage of this topic.
Certification Popularity and Recognition of ACSM vs. NSCA
As for popularity, ACSM has a wider popularity margin than the NSCA.
They are much older and also have a further-reaching influence within the fitness industry.
Based on this google trends chart, NSCA doesn't even have enough search data to post in the graph for evaluation.
But popularity is one thing. The next important consideration is recognition.
While there are no measurable metrics to point out what the reputation and recognition of a cert are, I can say through my experience that both ACSM and NSCA sit on par with each other in that regard.
They are both research-driven academic pillars that exude a sense of prestige based on their respective legacies.
CPT certs from both are accepted almost universally.
The Study Materials and Pricing of ACSM vs. NSCA
Each certification presents options for learning the curriculum and preparing for the exam.
I want to help you take a peek at what both ACSM CPT and NSCA CPT bring to the table in terms of study materials, as well as what they will cost you.
ACSM Certification Cost and Materials
ACSM, unlike many other certs, including NSCA, as you'll soon find, doesn't come with prepackaged study kits.
You purchase the exam, and then you mix and match your prep materials separately and to your own discretion.
Overall you can purchase three different books to help you study for the ACSM test.
Two primary books help you get acquainted with the material.
The 3rd booklet helps you review their primary textbook.
This booklet for a personal trainer costs approximately $30 on their website.
The primary textbook will cost roughly $48.
Again you can probably find a cheaper used version on Amazon.
This textbook teaches you the basics of exercise science, exercises, and routine development.
The 2nd book focuses strongly on prescribing routines for specific individuals as well as exercise testing.
If you purchase it from their website, this will cost you approximately $40.
Unlike NSCA, they offer a prep course to get hands-on experience.
This workshop costs $270.
Although it is a pricey workshop, it helps you get prepared to work one-on-one with an actual client.
Compared to other certifications, ACSM is one of the more challenging exams to pass.
The best advice I can give is to study all three books as much as possible.
The textbook and the test are purchased separately, just like NSCA.
All the costs I've just mentioned are discounted upon subscribing to an ACSM membership.
The test will cost approximately $349 for non-members.
Expect to spend around $600 for the test and all textbooks.
NSCA Certification Cost and Materials
NSCA study materials come in three package offerings, with each option having different study material quantities and being priced accordingly.
The packages are:
NSCA-CPT Essential Package
NSCA-CPT Essential Plus Package
NSCA-CPT Digital Package
The Digital package is a bare-bones package with all the training wheels removed. This package is ideal for seasoned sports medicine academics who don't require much guidance. It includes:
Study Guide
Over 200 digital practice tests
The Essential package has some guidance but not too much hand-holding. It's best for people who have a good grasp of sports science principles but want to expedite the study process. It includes:
Essentials of Personal Training course textbook
Study Guide
Over 200 digital practice questions
Lastly, we have the Essential Plus package, which is all inclusive and ideal for newbie personal trainers:
Essentials of Personal Training course textbook
Exercise Technique Manual
Study Guide
Over 200 digital practice exams
And much more
Just remember that your study package is a separate purchase from your exam registration, which means your total cost is a combination of the two.
Along with this is the fact that pricing changes based on your membership status are all things to consider
Members pay less than non-members, so let's see what pricing looks like with or without it.
Non-member pricing:
NSCA CPT exam cost: $435
NSCA-CPT Essential Package: $290.70
NSCA-CPT Essential Plus Package: $511
NSCA-CPT Digital Package: $202
Member pricing::
Exam registration: $300
NSCA-CPT Essential Package: $240.30
NSCA-CPT Essential Plus Package: $455
NSCA-CPT Digital Package: $152
So Membership cuts your costs considerably, but what does Membership entail, and what does Membership itself cost?
Exclusive PTP Offers



Gold Standard Cert

Most Popular Cert

A Good Option

Best Study Materials

Best online PT course

The Top PT Software

Membership with NSCA comes in three possible plans. Those are:
Student Membership: $70.00
Professional Membership: $130.00
NSCA-CPT Digital Package: $418.83
In my opinion, the Membership is totally worth it.
The additional cost, especially with the student membership, is canceled out by the savings you'll make on your other purchases.
You'll also have access to several extra benefits which you wouldn't have otherwise had.
Prerequisites
As far as prerequisites go, the requirements for both NSCA and ACSM are pretty fundamental and standard.
You have to:
Be at least 18 years old
Hold a high school diploma or equivalent
Have current first responder certifications ( First Aid. CPR, AED)
Information On The Tests and Recertification: ACSM vs NSCA
It's an excellent strategy to understand the exam layout and structure before the final test.
It's also standard practice that once certified. Your certification will require renewal after a certain period.
Not all fitness certifications require this, and the time frame varies from provider to provider.
For this to happen, you will need to pay a nominal fee and submit CEUs or continuing education credits.
These time-measured units prove that you are continually engaging with the ever-evolving pool of knowledge springing from the health and fitness industry.
It means that your knowledge and skills are current, eliminating the need for you to continually re-enroll in the CPT certification program.
ACSM Certification
The ACSM final exam consists of 150 multiple-choice questions, with only 120 counting towards the final score.
The other 30 questions are un-scored, used to evaluate viability for future exams.
You might be thinking to yourself, "Hey, let me just skip those questions."
The thing is, you'll have no way of telling between the ones that are real and the ones that are "fake," for lack of a better term.
The exam runs for 165 minutes (2.75 hours).
The content of the ACSM test is centered on four main domains of study. Each domain covers various topics separated into cognitive levels; recall, application, and synthesis.
As with most accredited certifications, ACSM CPT requires renewal after a set period.
This renewal is necessary after every three years from initial certification.
In order to recertify your ACSM credentials, you will need to submit 4.5 CEUs, which are equivalent to 45 hours of continued education experience.
Along with this, a $45 on-time recertification fee is required.
If you recertify late, you'll incur a $75 late recertification fee.
NSCA Certification
The NSCA CPT exam consists of 155 questions in total. 140 scored and 15 non-scored questions.
The non-scored questions, just as with ACSM, are impossible to distinguish from those that carry weight, so I suggest you answer every question you can and leave no stone unturned.
The passing grade is 70% which you have 3 hours to achieve.
Based on the most recently available statistics from NSCA themselves, 72% of test-takers manage to pass the exam.
This is quite promising as it shows a test with a reasonable entry barrier and won't bludgeon you during the process.
This is an outlier situation if you consider how notoriously difficult other NSCA certs are, such as the NSCA CSCS certification exam.
Recertification demands submission of 6.0 CEUs after every three years from the initial certification.
The CEU requirement is drastically higher than what ACSM requires.
Most certifications ask for renewal after just two years, so I guess that year extra wiggle room is a great thing.
Review Methodology
My review process was pretty in-depth for the sake of authenticity.
I drew directly from the source material of both certifications, diving into the study packages and course textbooks.
I also collected data from resources on both certifications that I've accumulated throughout my career.
Lastly, anecdotal accounts from previous ACSM and NSCA candidates, including those with experience with both CPT certs.
Frequently Asked Questions (FAQs)
Conclusion: How does NSCA stack up to ACSM?
As certification providers, NSCA and ACSM are both excellent choices.
But which one is the best?
As I've already expressed, both NSCA and ACSM have their unique area of focus, and both have their merits.
It will boil down to what sort of personal training practice you wish to engage in.
With that being the case, there is no best personal training certification between these two.
However, ACSM would be more geared to a general population scenario from a broad market perspective.
That's because the ACSMpersonal trainer cert takes a corrective approach, which is in more demand than the NSCA fitness principles, which cater more towards the smaller athletic performance market.
Discover All PTP Fitness & Wellness Career Articles
Tick a box from each section to narrow the results.
×
I want to know more about: