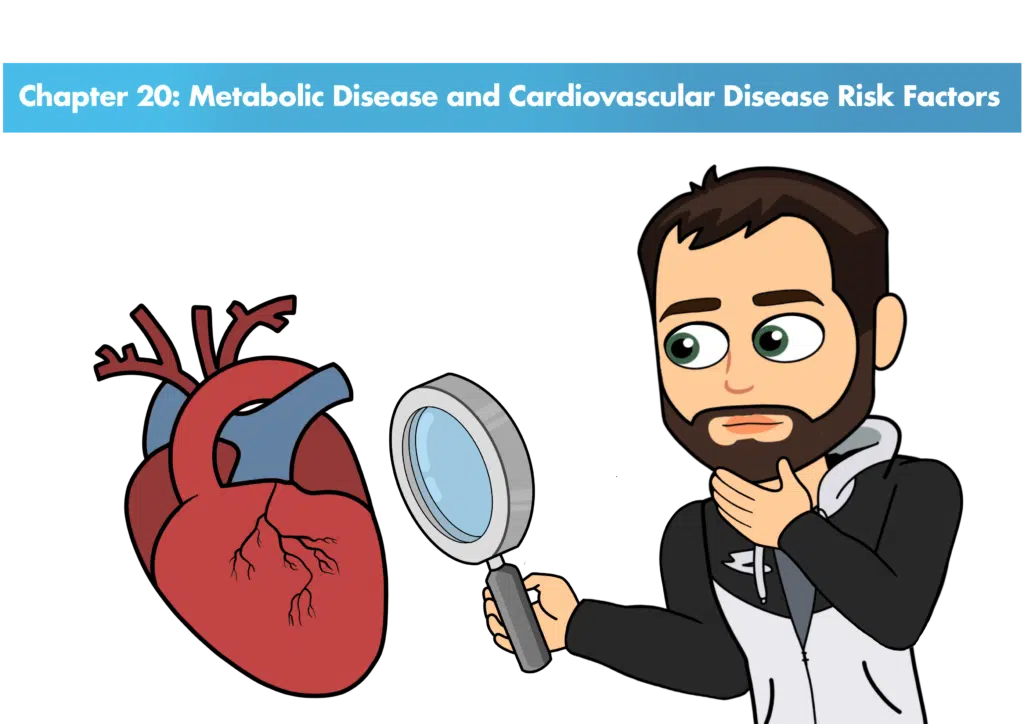 Get your copy of the ACSM CPT exam cheat sheet. It helps immensely in studying for the exam.
Make sure to check out Trainer Academy for premium ACSM CPT study materials. They will reduce study time by 50% and have an exam pass guarantee. Read my full review on them here. You can save $100 on their MVP study system with the code: PTPSUB
Chapter Objectives:
Discuss exercise programming for clients with cardiovascular Disease, Diabetes, Dyslipidemia, and Hypertension.
Discuss exercise programming for Clients with Obesity.
Know how to make exercise programs for people that have comorbidities.
Programming for Clients with Cardiovascular Disease
Around 21.5 million American Adults have at least one type of CVD.
The prevalence of death from CVD has decreased since the 1980s, but it still remains the leading cause of death in the US.
A primary goal for personal trainers should be to help clients prevent things like atherosclerotic risk factors.
Programming Goals for Cardiovascular Disease
Modifying positive risk factors will be the main goal of the aerobic exercise program for clients with CVD.
Maximal cardiorespiratory fitness, also known as the max ability to consume oxygen to make energy, is a significant marker for health outcomes and stratification of risks.
CVD risk is highest in people that have a low cardiovascular fitness level.
Design Considerations for Aerobic Exercise Training for Clients with CVD
Exercise training is safe for the most part for the majority of clients with CVD.
Using baseline assessments, preparticipation screening, education of patients, and client adherence can all help reduce any remaining risk for issues occurring during workouts.
Exercise Intensity Considerations for Clients with Cardiovascular Disease:
Exclusive PTP CPT Offers



Gold Standard Cert

Most Popular Cert

Best Study Materials

A Good Option

A Good Option

Best CPT for you?

Deconditioned and lower-capacity clients may need to start at lower intensities of less than 40% Heart Rate Reserve or VO2 Reserve.
Target exercise intensity must be 10 – 15 beats per minute lower than a heart rate previously recorded as having abnormal clinical symptoms.
Beta-blockers and other heart rate-lowering meds decrease the accuracy of exercise intensity prescription methods based on an age-predicted max heart rate.
RPEs of 11 – 14 will usually correspond to the target heart rate for clients with CVD. RPE may progress to the range of 14 – 16.
Designing Resistance Training Programs for Clients with CVD
The two main goals will be:
To keep and improve muscular fitness levels for performing activities of daily living.
To reduce the cardiovascular demands that come with performing these tasks.
Resistance training is safe for most patients with CVD controlled, provided that they emphasize proper form in the movements and avoid using the Valsalva maneuver and gripping too tight on the weights or bars.
Resistance Training Guidelines for Clients with Cardiac Disease:
Exercise mode: isometric exercise is not ideal for CVD clients; dynamic muscle-strengthening exercises are good and should include machine, free weight, calisthenics, resistance bands, and similar exercises that use major muscle groups.
Exercise frequency: resistance training should be done 2 – 3 days a week and never in back-to-back days.
Exercise intensity: do 10 – 15 reps per exercise to moderate fatigue levels, so around an RPE of 11 – 13.
Exercise session duration: do one set of each exercise initially and build up to three sets; perform 8 – 10 different exercises focusing on the major muscle groups; allow for adequate rest between exercises.
Progression: increase slowly as patients adapt, in the realm of 1 – 5 pounds per week for the upper body and 5 – 10 pounds per week for the lower body.
Programming for Clients with Diabetes
Diabetes mellitus is a metabolic disorder stemming from abnormal pancreatic insulin production and diminished peripheral action of insulin.
Diabetes is known to compromise the heart and vascular system seriously and is the 7th leading cause of death in the US.
Preventing diabetes is appropriate for all people, not just those that are obese, but also for older adults and at-risk children.
Type 1 diabetes results from an autoimmune response in which the body's own immune system mistakes the insulin-producing cells in the pancreas and destroys these cells.
Type 1 diabetes accounts for only around 5 – 10% of all cases of diabetes.
The remaining 90 – 95% of cases come from type 2 diabetes.
Type 2 diabetes is associated with a sedentary lifestyle. In contrast, the main risk factors include things like age, family history, ethnicity, obesity, high alcohol intake, a high-fat diet, high blood pressure, and gestational diabetes.
There is a high demand for competent trainers due to the growth of diabetes in the US.
Pathophysiology of Diabetes
The main goal of diabetes management is to control blood glucose levels adequately.
Diabetes is diagnosed with fasting blood glucose of 126 mg/dL or higher on 2 or more occasions or 2-hour plasma glucose of at least 200 mg/dL.
Programming Goals for Those with Diabetes
The main programming goals for people with diabetes are:
Improve insulin sensitivity and blood glucose control while decreasing the requirements for insulin
Improve cardiorespiratory fitness level
Improve blood lipid profile
Reduce blood pressure
Improve muscular strength and endurance through the enhancement of skeletal muscle mass.
Improve joint range of motion and flexibility
Reduce overall body weight
Help with decreasing the risk of diabetic complications
One of the most important aspects of diabetes care is consistency in a daily routine.
Exclusive PTP CPT Offers



Gold Standard Cert

Most Popular Cert

Best Study Materials

A Good Option

A Good Option

Best CPT for you?

Aerobic Training for Clients with Diabetes
Frequency: 3 – 7 days per week with no more than 2 consecutive days between sessions due to the benefits of exercise-induced improvements.
Intensity: a range of 40 – 59% VO2R or HRR is ideal for clients with diabetes.
Time: there should be an accumulation of at least 150 minutes of moderate to vigorous activity per week, gradually going up to 300 minutes per week.
Type: the activity needs to be something that the person enjoys doing so that they adhere to exercising regularly.
Progression: personal trainers should progressively increase the continuous and accumulated exercise duration while also combatting any boredom that may arise.
Resistance Training for Clients with Diabetes
Resistance training is essential for clients with diabetes and is useful for managing diabetes and associated complications.
Beginning training intensity needs to be moderate, in the realm of 10 – 15 reps per set.
Special Considerations for Clients with Diabetes
Know the warning signs of hypoglycemia and hyperglycemia
Avoid exercise when hypoglycemic medication is working at its peak
Clients need to eat 1 – 2 hours before exercise
Check blood glucose before exercise to see if a snack is needed
Clients need to exercise with a partner for safety
Have fruit juices or candies available if blood glucose is too low
Check blood glucose after exercise to see if a snack is warranted
Programming for Obese Clients
Obesity is defined as a BMI of 30 or higher, and there has been a considerable rise in the number of people meeting this classification in the US, around 39.8%.
Programming Goals
maximize caloric expense
keep or increase lean body mass to help the resting metabolic rate
improve metabolic profile
lower the risk of comorbidities
lower mortality risk
promote appetite control
improve mood state
Aerobic Training for Obese Clients
Frequency: build up to 5 or more days per week to maximize energy expenditure.
Intensity: moderate to vigorous aerobic activity; initial intensities must be based on the individual and their fitness level, typically around 40 – 60% VO2R or HRR.
Time: around 30 minutes per day for 150 minutes per week, increasing to 60 or more daily.
Type: Regular exercise is important, and any mode of exercise that involves large muscle groups and can be enjoyed by the exerciser is ideal.
Resistance Training for Obese Clients
These programs of resistance training should not be used as a replacement for aerobic exercise but should accompany one.
The benefits for obese clients are nearly identical to those for all apparently healthy adults.
The guidelines set in chapter 14 should be followed.
Weight loss expectations may be too high for obese clients, and thus it should be reinforced that exercise is not the only thing that should be focused on for effective weight reduction.
Some other considerations for obese clients would be modifications based on the presence of other conditions, like CAD, hypertension, and other issues discussed in this chapter.
Programming for Clients with Hypertension
Hypertension is known as the silent killer, as it lacks noticeable signs and symptoms until serious problems occur.
Nearly half of the adult population has hypertension, which remains one of the most prevalent risk factors for CVD in the US.
Programming Goals
Lower the systolic and diastolic BP at rest and during exercise
Lower the mortality risk from CVD
Lower risks for other comorbidities
Incorporate opportunities for clients to pursue other lifestyle changes
Aerobic Training for Clients with Hypertension
Frequency: exercise should be done on most, if not all, days of the week. At least 150 minutes of activity per week.
Intensity: Moderate intensity is ideal in the realm of 40 – 59% VO2R or HRR.
Time: 30 – 60 minutes of continuous or accumulated exercise per session is ideal.
Type: Clients should engage in aerobics involving large muscle groups and is rhythmic.
Progression: Gradual progression and avoid big increases in any FITT-VP variables.
Resistance Training for Clients with Hypertension
Resistance activity should be prescribed to supplement aerobics and not as a main form of activity for clients with hypertension.
Intensity should be 60 – 70% of one rep max. and progress to around 80%.