Welcome to the best PTPioneer review featuring ISSA vs NSCA.
My ISSA vs NSCA review compares both personal training certifications to across the following domains:
When you finish reading, you'll be able to compare ISSA vs NSCA across essential knowledge and skills for personal trainers.
If you're still unsure about which CPT you should choose, I recommend that you take the quiz to discover which PT certification resonates most with you.
Let's dive in!
Quick Breakdown: ISSA vs NSCA
CPT
ACSM vs ACE Quick Breakdown
Features
Price
ISSA-CPT

Great customer experience and support
It goes in-depth into the business aspect of personal training
It tests you on a wide variety of skills
You can take the test anywhere in the world
Possibly the most international certification
Relaxed testing and retesting criteria
In-depth, robust main text and personal trainer study guide
No live instruction
Black and white textbook

View on ISSA Website
NSCA-CPT

NSCA accreditation
Huge NSCA network
NSCA clinics
NSCA accredited schools
Great CEU opportunities
Fair NSCA membership costs
Membership discounts and benefits
Access to the NSCA Journal of Strength and Conditioning Research
Lacks coverage on the personal training business, marketing, and sales
Some CPT exam prep material is inadequate

View on NSCA website
Product
Exam cost
Exam cost
$828
$300 (members), $435 (nonmembers)
Study Material Cost
Study Material Cost
Included in exam cost
$200-$500+
Prerequisites
Prerequisites
18 years of age, CPR/AED, high school diploma
18 years of age, CPR/AED, high school diploma
Exam Passing Score
Exam Pass Rate
Average Completion Time
Average Completion Time
3-6 months
6 months

Trainer Academy Guides
Complete curriculum study preparation
Audio guide, flashcards, and mnemonics
800+ practice questions
Exam pass refund guarantee
$199.00 for MVP package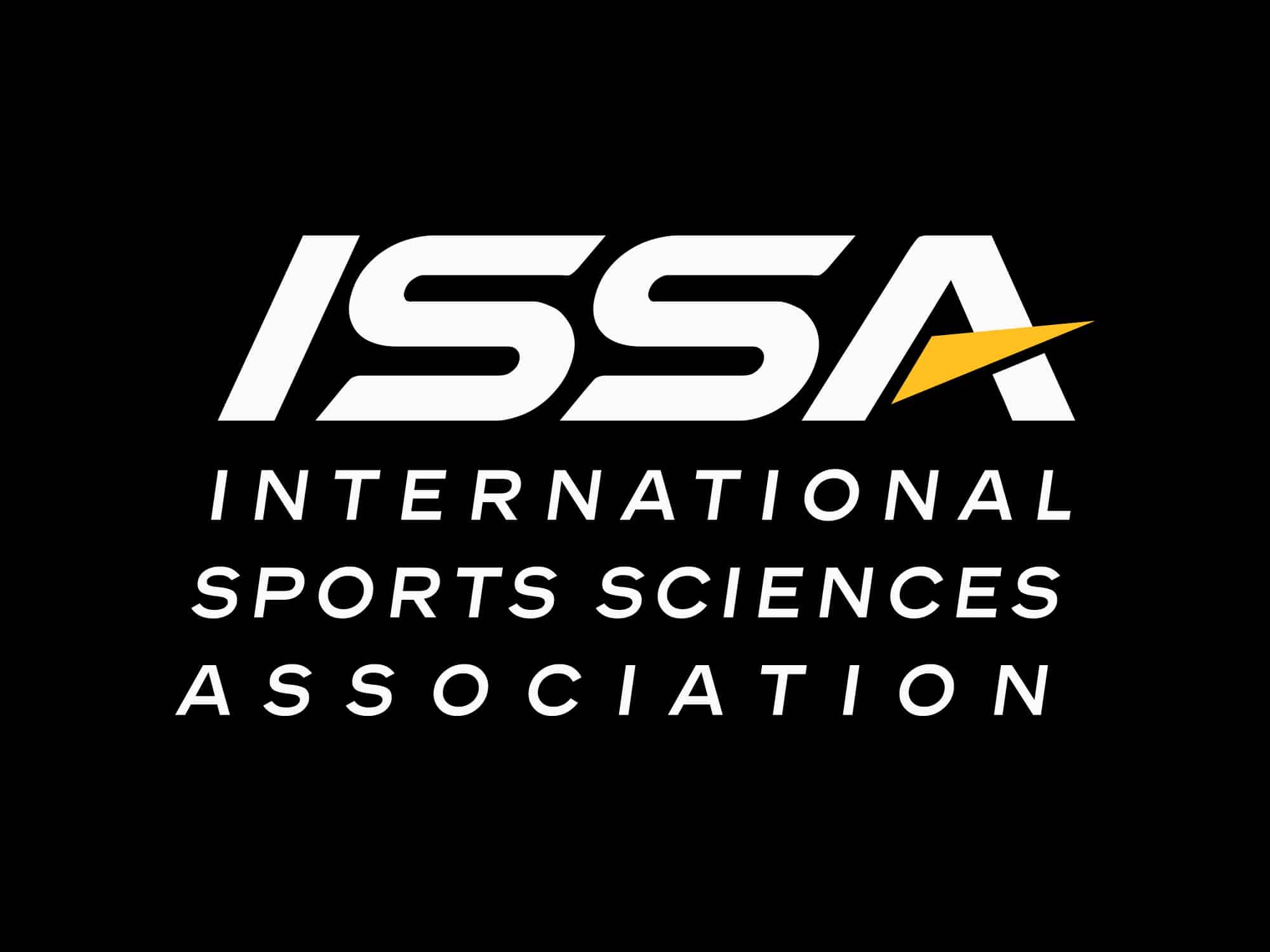 Official Materials
Curriculum study preparation
Includes text, graphics, and videos
200+ practice questions
No exam pass refund guarantee
$899.00 for starter package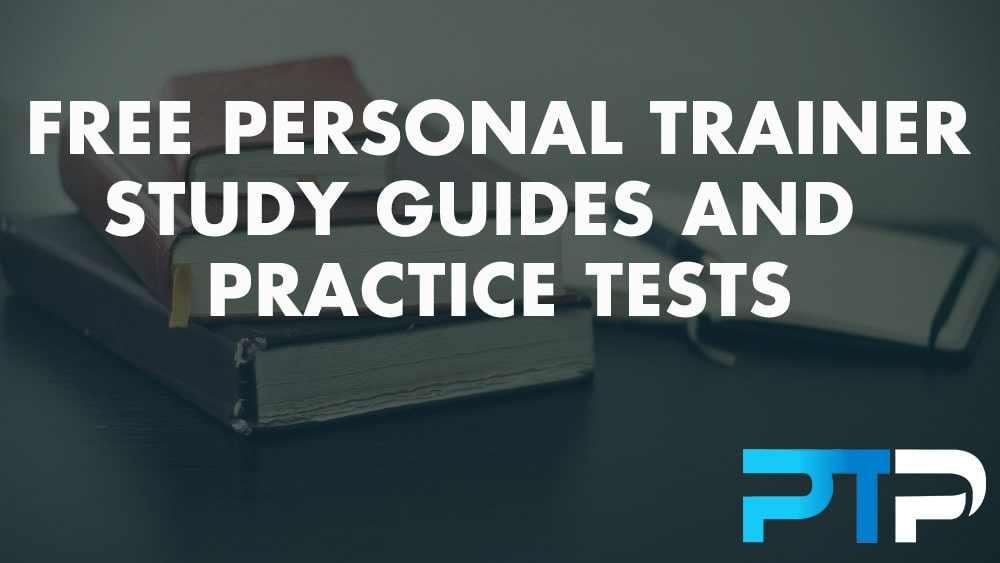 PTPioneer Study Guides
Curriculum material overview
Complete chapter breakdowns
60 practice questions
130 flashcards and cheat sheet
Free from PTPioneer
ISSA vs NSCA: comparing the organizations
Join me for a brief introduction on the comparison of two of the best personal trainer certifications, ISSA vs NSCA.
Founded in 1988, the International Sports Sciences Association (ISSA) is dubbed as a general fitness trainer certification with a slight emphasis on nutrition coaching, power lifting, and athletic performance.
ISSA is a non-profit organization that has been successfully certifying fitness professionals over many decades and remains one of the best online personal trainer certifications.
Secondly, the National Strength and Conditioning Association (NSCA) is a worldwide authority on strength and conditioning founded in 1978.
NSCA focuses more on athletic performance than ISSA does.
Interestingly, if you want to know how long it takes to become a personal trainer, ISSA vs NSCA compare well.
ISSA-CPT students take approximately 2 to 3 months, while NSCA-CPT students ballpark around 3.5 months.
According to personal trainer salary statistics, ISSA CPTs and NSCA CPTs earn similar amounts.
However, your overall income as a fitness professional depends on many more factors than which organization you got your CPT from.
In my experience, trainers who have the most success typically offer nutrition coaching as part of their services.
Without addressing nutrition and physical training, you simply cannot expect to deliver 5-star results to your clients, so it's worthwhile to consider a nutrition coaching certification in conjunction with your CPT program.
Additionally, completing a fitness specialist certification such as group exercise or strength and conditioning is another solid move to carve out a lucrative expertise in the fitness industry.
When you compare a specialist certified trainer with nutritional coaching knowledge on top of their personal training certification to a trainer who only holds the CPT credential, its clear which trainer will come out ahead in the long run.
The cool news is that both the ISSA and NSCA offer a number of additional certifications you can add to your CPT program – however, the ISSA overall has better options for continuing education.
Of course, the price for doing 3 different certifications adds up quickly.
If you do end up choosing the ISSA CPT, I highly recommend taking advantage of the ISSA Elite Trainer bundle.
The Elite Trainer includes the personal trainer certification, the ISSA nutrition certification, and a third ISSA specialization of your choice.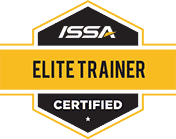 With our exclusive PTPioneer ISSA deal, you can pick up the Elite Trainer package for just $999 or $83 a month paid in full.
You can also get the CPT and another ISSA certification for the same standard price as the ISSA CPT through the same deal.
I wouldn't sleep on this deal though, as its hard to say exactly how long it will last. If you can grab the deal today, its tough to pass up.
ISSA is accredited by the Distance Education Accrediting Commission (DEAC), and NSCA is accredited by the National Commission for Certifying Agencies (NCCA).
However, there is now a choice to take an NCCA-accredited exam with ISSA, which I highly recommend as NCCA accreditation is better than DEAC accreditation.
Though both accrediting bodies are well recognized in the USA as a gold standard for quality education and professional certification programs, NCCA accreditation is better.
You can dive dive deeper into these certifications with my ISSA review and NSCA-CPT review.
If you feel overwhelmed by all of your choices, I recommend taking the quiz to determine which personal trainer certification best fits your career goals.
To kick off your studying today, I recommend checking out my free ISSA CPT study guide or free NSCA CPT study guide, respectively.
For official study materials, you should check the latest pricing directly from the providers.
Skills and Knowledge Covered in ISSA vs NSCA
Exercise Science
Although the ISSA Certified Personal Trainer (ISSA-CPT) certification is mostly a basic certification, it's not easily obtainable.
ISSA exceeds expectations with its sharp focus on the "average" client's needs regarding program design.
And, it builds a solid base of knowledge for those learning how to become a personal trainer.
The moderate emphasis on corrective exercise makes sense because average clients typically want to lose weight and avoid injury.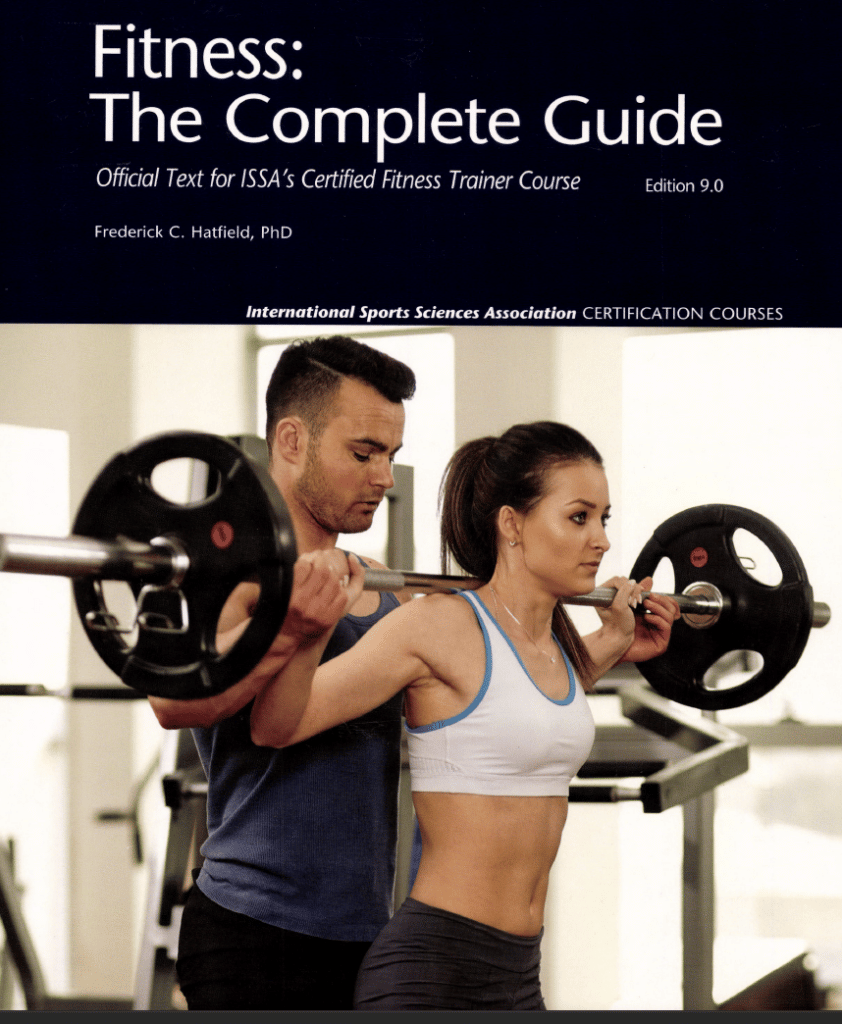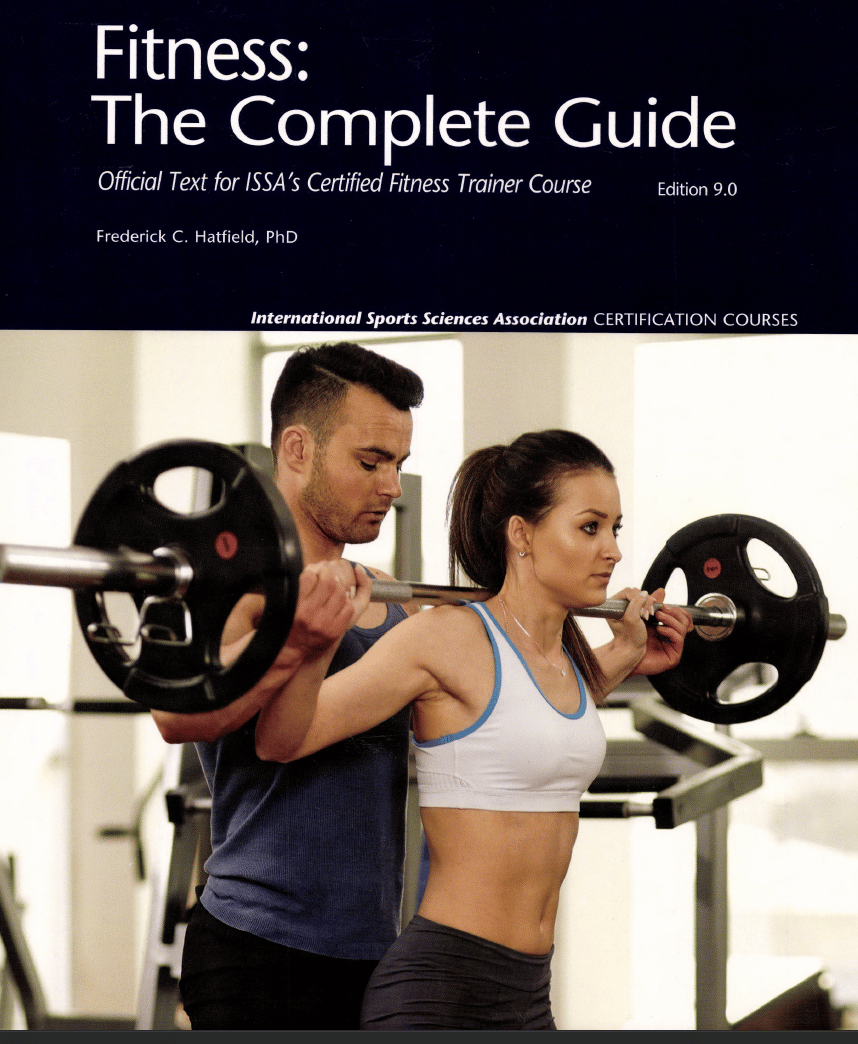 ISSA provides a rich depth of both scientific and practical principles of health and fitness.
But undeniably, the application of practicality is much more appreciated, especially if you decide to advance your career with an ISSA Corrective Exercise Specialist (CES) certification.
In fact, ISSA offers one of the best corrective exercise training programs.
Moving forward, NSCA's approach to exercise science mostly highlights training adaptations to aerobic and resistance training, which aligns well with its overall focus on athletes and athletic performance.
Given its heavy emphasis on strength and conditioning, their exercise science coverage is definitely stronger.
If this topic is of high interest to you, the NSCA Certified Strength and Conditioning Specialist (CSCS) certification review and free CSCS practice exam provide additional information.
ISSA vs NSCA on exercise science puts NSCA on top, but only by a hair.
While ISSA has great exercise science content, NSCA goes a bit more in-depth.
Behavior Change Coaching Skills
Successful personal trainers are often cognizant of and apply effective behavior change coaching skills.
ISSA provides cutting-edge knowledge on nutrition, fitness, and lifestyle, with a strong emphasis on behaviors surrounding those aspects and their impact on overall health.
Their approach on behavior change compares well with the American Council on Exercise (ACE) CPT program.
If you look at this free ACE practice test as an example, you'll find that ACE emphasizes effective communication, the mind-body connection, and more rich content on psychology and behavior change.
When clients learn to prioritize exercise and avoid processed junk foods, it makes their life outside the gym much more in their control.
Overall, ISSA goes more in-depth on nutritional aspects than most other fitness certifications, and in fact, ranks on top amongst comparisons of the best nutrition certification programs.
Moving forward, the NSCA personal training certification curriculum covers the following concepts on this topic:
Goal setting
Motivation
Influences and adaptations of mental health around exercise
Fitness is one hundred percent mental.
Your body follows what your mind tells you, and once you control your mind, you master your body.
Exclusive PTP CPT Offers



Gold Standard Cert

Most Popular Cert

Best Study Materials

A Good Option

A Good Option

Best CPT for you?

Though NSCA highlights some great ways to motivate your clients inside and outside the gym, ISSA is heavier on behavior change and psychology than the NSCA personal trainer curriculum is.
Consulting and screening clients to reduce risks of injury
Below is a comprehensive outline of ISSA's Basic Assessment of Fitness Participants section.
First, ISSA covers GXT, which stands for Graded Exercise Test.
GXT is a treadmill or cycle ergometer test that delivers heart rate, ECG, and other data, and often requires medical supervision.
The workload is gradually increased until an increase in workload is not followed by an increase in oxygen consumption.
This phenomenon identifies the individual's maximal oxygen uptake (VO2 Max).
The GXT test enhances accuracy and allows trainers to design more client-tailored aerobic fitness routines.
While weeding out estimations and guessing, this makes the routine much more effective.
ISSA covers stress tests, blood pressure basics, using Target Heart Rate (THR), the Borg RPE Scale, using MET equivalents all in sufficient depth.
You'll also cover the following assessments in sufficient depth:
Cardiovascular endurance
Muscular strength
Flexibility
Muscular endurance
NSCA covers health assessments, fitness assessments, and the norms and protocols of continuous fitness testing in great depth and includes charts and diagrams.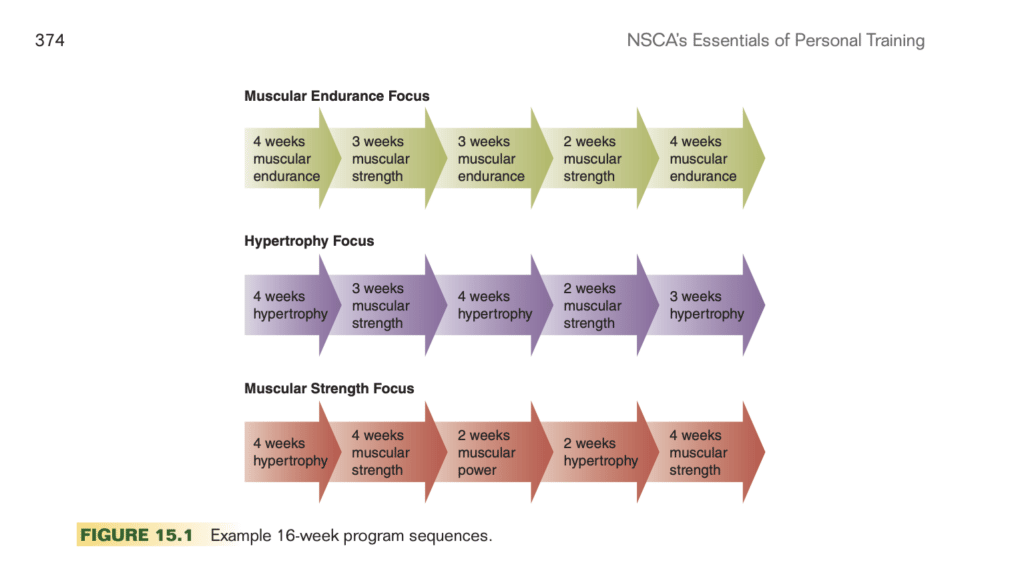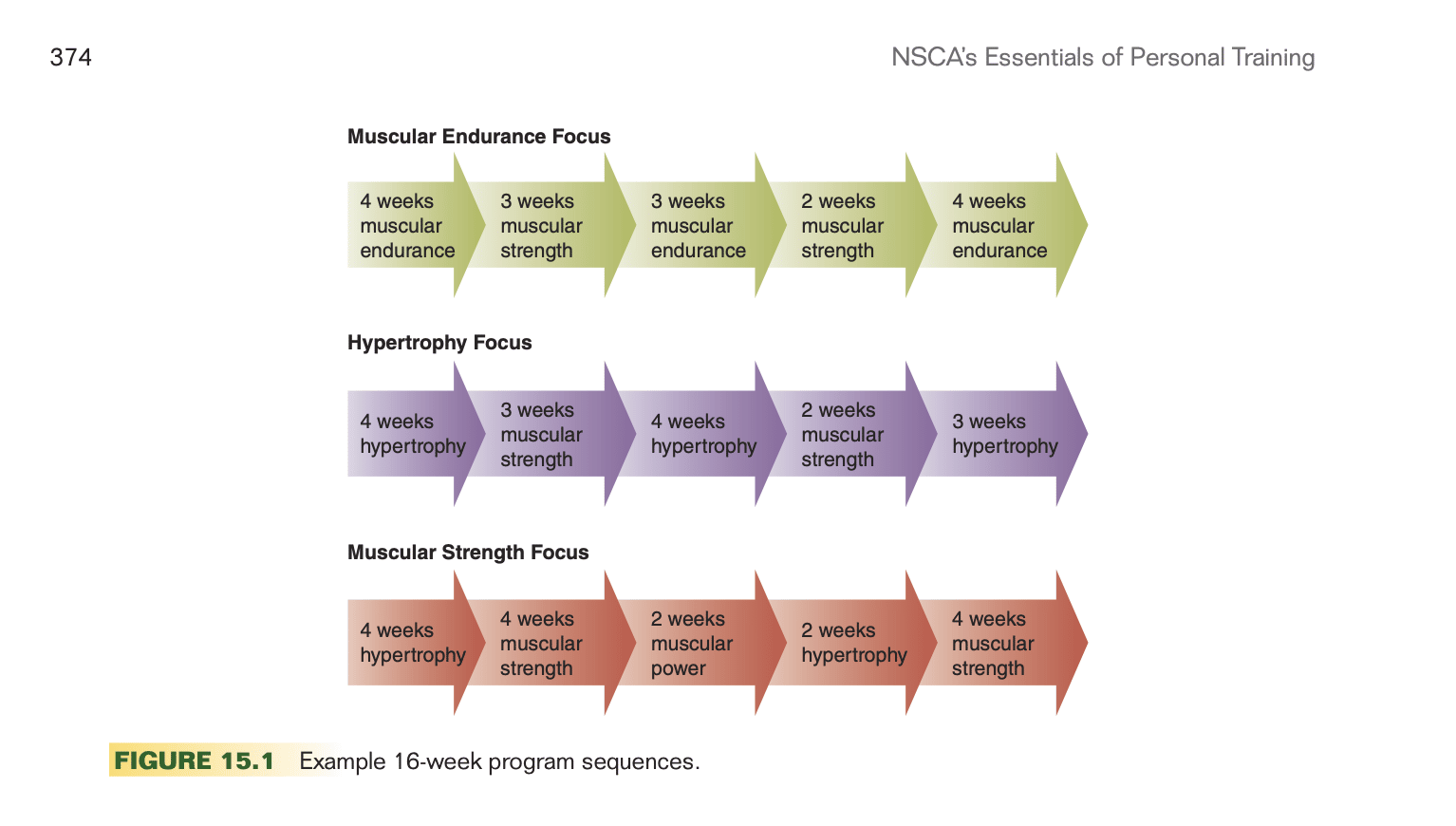 As you can see above, NSCA prioritizes sequencing and week-by-week training, something ISSA only faintly touches upon.
ISSA vs NSCA on fitness assessments remains a tie, as they both cover this topic in a similar fashion.
Program design and resistance exercise technique
ISSA's main priority is teaching trainers how to develop great programs, which is actually a similar approach to that of the National Academy of Sports Medicine (NASM) CPT program.
Furthermore, this free NASM-CPT study guide can show you just how well ISSA compares to it.
The strong focus on programming and the practicality of personal training make both ISSA and NASM stand out from other fitness certifications, but overall, ISSA stands out more than NASM.
In my perspective, getting creative with your exercises and workouts keep clients engaged and wanting more.
On the other hand, NSCA teaches you the application of specificity, overload, variation, progression, and sequencing principles in a detailed, but easy-to-understand way.
I've found that both the NSCA-CPT and the NSCA-CSCS programs take on similar approaches.
Most trainers from this program consider it second nature to select exercises, determine training frequency, and arrange exercises in a specific sequence.
You learn loading through the appropriate use of 1-repetition maximum, body weight, or repetition maximum testing.
This is great information for you to use to assign training loads, volumes, and rest periods based on clients' needs.
I think it's really important to have variation between training sessions, training days, and training weeks.
Lastly, ISSA and NSCA offer great beginner core workouts and helpful tips to apply when training clients.
So what's the best personal training certification for program design and resistance exercise technique?
In the case of ISSA vs NSCA, ISSA takes the crown.
Going hand-in-hand with NASM, one of the best fitness professional certifying agencies, ISSA can't be beaten.
Aerobic training program design and technique
When it comes to aerobic training program design and technique, the ISSA-CPT curriculum addressed the following: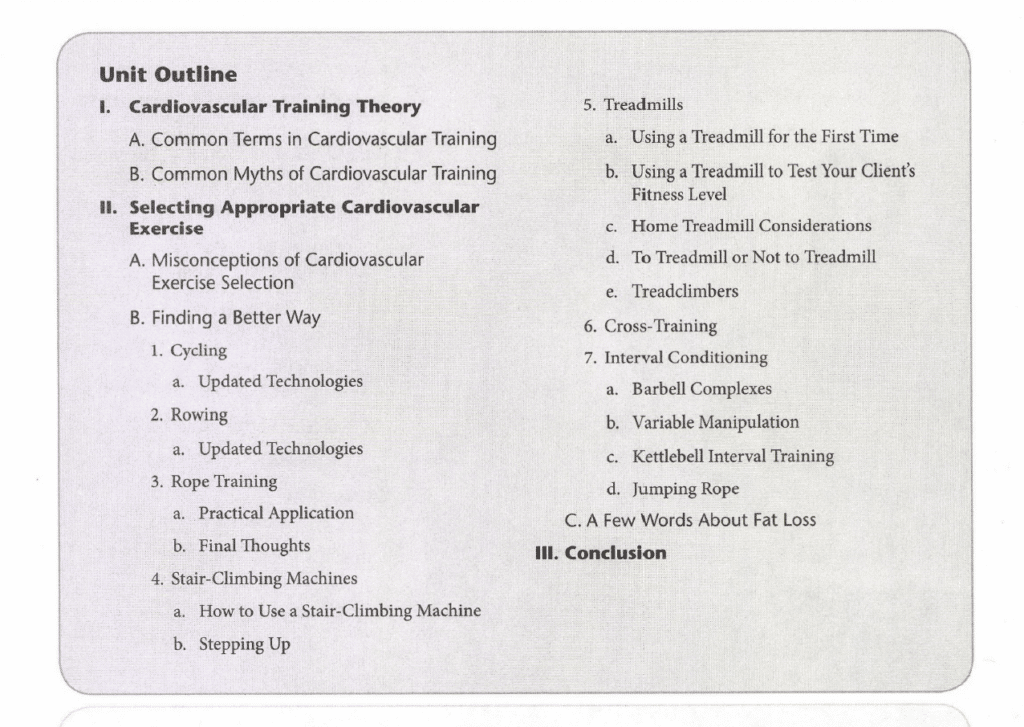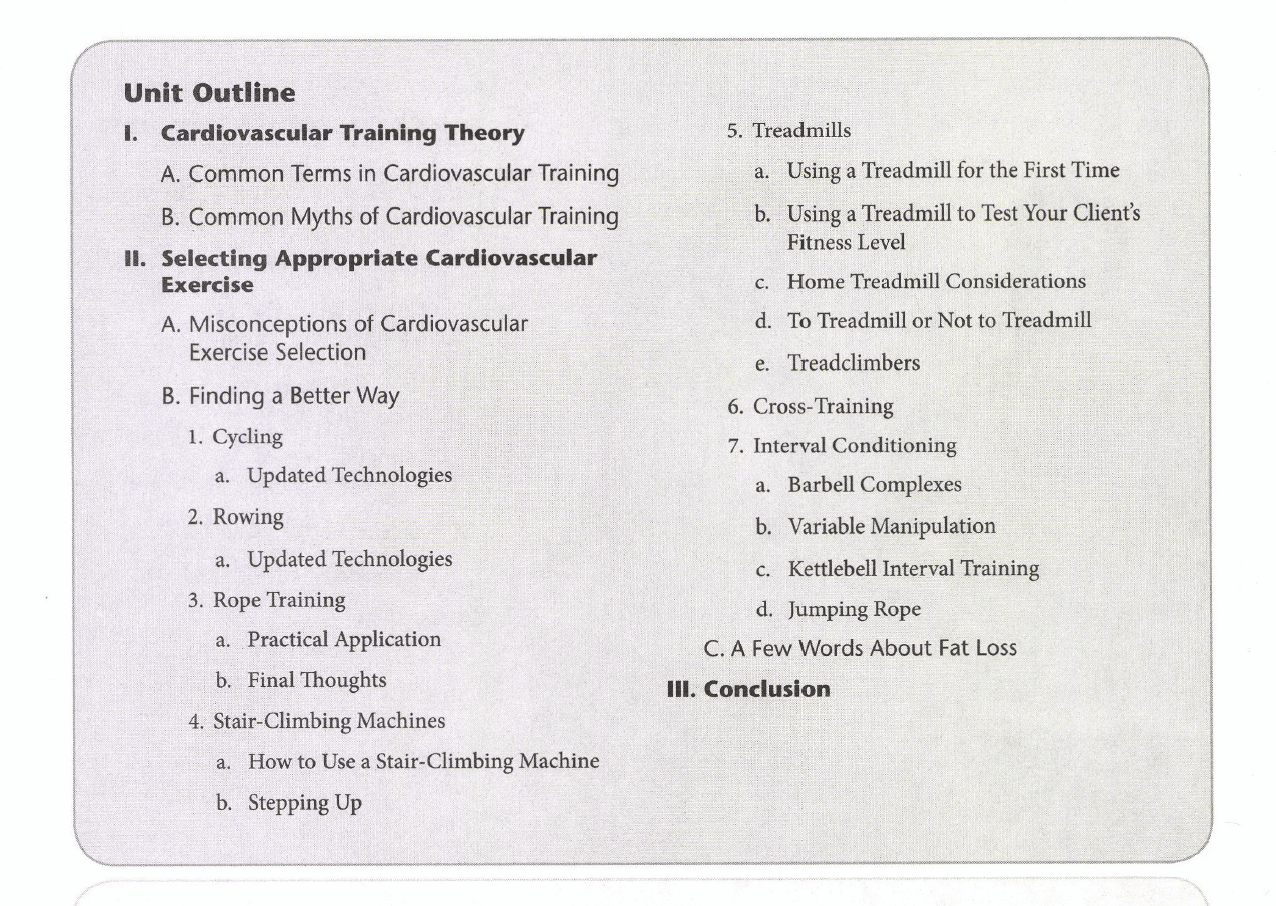 Though complex and thought-provoking, ISSA provides commonly used terms and definitions that are made easy to understand.
One thing I like best about ISSA's aerobic training section is its broad focus on the techniques of movements such as cycling, rowing, rope training, and more.
Moreover, NSCA highlights aerobic training concepts in a high-quality fashion, both from a general perspective and a performance enhancement perspective.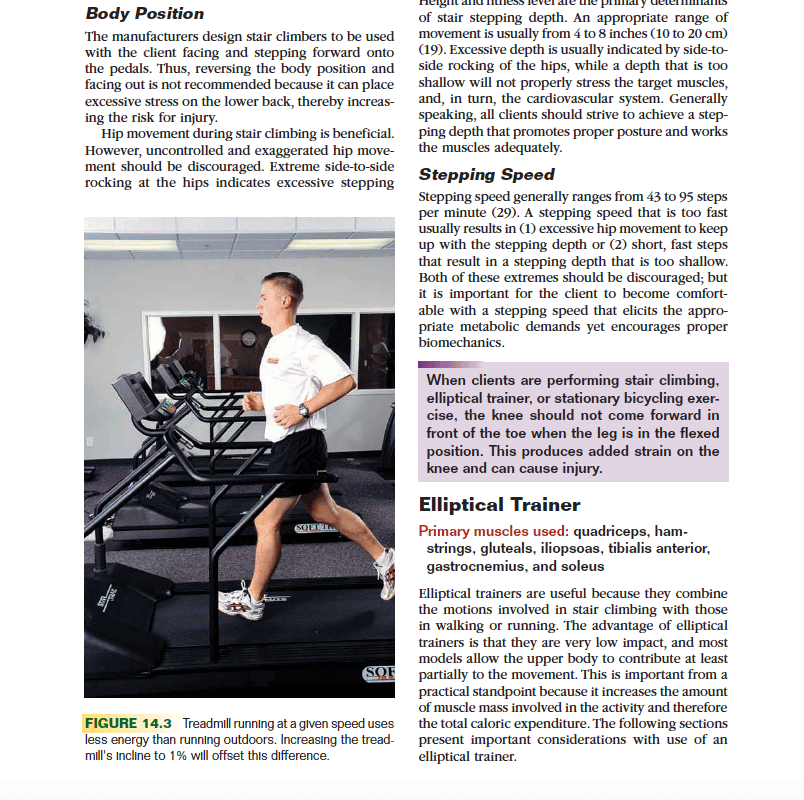 NSCA covers the proper design of aerobic training programs based on the principle of specificity and individual goals.
You also learn how to determine aerobic training intensity, frequency, and duration and understand their interactions and effects.
Another thing I'm fond of is the emphasis on proper warm-ups, cool-downs, and stretches.
If anything, these are the most important parts of an exercise routine.
Overall, it's fair to say that ISSA vs NSCA covers aerobic training well, but this time, NSCA wins.
For NSCA vs ISSA on the depth of aerobic training coverage, NSCA just goes deeper than ISSA.
Helping Special Populations with Fitness
The ISSA-CPT curriculum covers special populations very descriptively and provides examples of what a typical fitness routine would be based on the client's condition.
For instance, you'll cover personal training for seniors, youth, considerations during pregnancy, and guidelines for those with other complications, such as diabetes.
Similarly, NSCA has an entire section dedicated to special populations, including senior fitness, pregnant clients, and especially, rehab clients.
ISSA vs NSCA on special populations remains a tie.
Thinking Long-Term: Business Skills for Personal Trainers
Another feature ISSA definitely got right is its emphasis on business and entrepreneurial strategies.
Trainers must be knowledgeable on how to sell personal training.
According to most, ISSA's business guide, Fiscal Fitness, is a complete game-changer and provides some great personal training tips for beginners in the field.
It helps you develop some fundamental personal training marketing ideas and essential strategies to set you up for success in the fitness industry.
A business guide is certainly an uncommon fixture with most of the other big-name certifications, like NSCA or ACE.
While it isn't quite as comprehensive as taking a business course, it's a major step up from what you'd normally expect from a fitness training certification.
One drawback is that the marketing strategies are somewhat dated and exclude online fitness trainers and social media protocols.
Regardless, Fiscal Fitness can help tremendously with building a profitable personal training business.
On the other hand, NSCA totally lacks a business section in its textbook.
Something I find detrimental, especially for those learning how to be a successful personal trainer and building their brand.
It's very difficult to manage, in any career, without business smarts.
So ISSA vs NSCA on business coverage – ISSA no-brainer!
Summary
Choosing the best personal trainer certification may keep you between a rock and a hard place for quite a while.
Exclusive PTP CPT Offers



Gold Standard Cert

Most Popular Cert

Best Study Materials

A Good Option

A Good Option

Best CPT for you?

But that's why after comparing ISSA vs NSCA on a multitude of aspects, it should only become easier for you to decide.
I can tell you right now that ISSA has its strengths and weaknesses, but so does NSCA.
And although you'll wind up choosing one, you probably could learn how to be a good personal trainer from either one.
ISSA vs NSCA Certification Requirements
Both ISSA and NSCA, as well as most other fitness professional certifying agencies, have the following personal trainer requirements:
At least 18 years of age
High school diploma, or the equivalent (GED)
Current and valid CPR/AED certification
The NSCA has the best Strength and Conditioning certification.
To be eligible, you must have a bachelor's degree in a related field or a higher degree in Chiropractic Medicine or similar fields to qualify for the NSCA-CSCS exam.
Study Materials: Quality and Price
​​Most online personal trainer certifications provide you with an ebook and the option to purchase a hard copy.
Some people, such as myself, prefer a physical textbook.
It's easier to leave bookmarks and sticky notes, and just have the satisfaction of a physical object to supplement your studies.
ISSA's main textbook, Fitness: The Complete Guide, comes free with your purchase of its certified personal trainer certification.
The ISSA-CPT book has a conversational tone that makes it accessible while still expanding on technical aspects and terminology.
The cohesion between a lighter read, hard facts and science-backed knowledge makes absorbing information much easier.
While the sidebar footnotes give ISSA's textbook an almost skimmable appeal, I'd strongly advise you to read it thoroughly for a proper understanding.
The most common price for ISSA personal trainer certifications is $828, and with this comes a textbook, entrance to the ISSA certification test, and extra online study materials and practice tests to go with your online courses.
Prices are subject to change, so always check the website for updates.
And if you want the textbook, that's another $40.
If you want to start studying immediately without paying a dime, I've put together a free ISSA Study Guide and Practice Test.
For premium third-party study guides that include flashcards, audio, multiple ISSA practice tests, and an exam-pass guarantee, my students report great results with the Trainer Academy ISSA CPT MVP Study Guide package.
As I mentioned earlier, bundling a nutrition certification and additional fitness specialization on top of your base CPT certification will put you ahead of the curve compared to only having a CPT.
With that in mind, if you do go for the ISSA CPT, I highly encourage you to take advantage of the ISSA Elite Trainer Bundle.
This will save you a ton of money across these certifications while also knocking out a full four years of CEUs with a single purchase.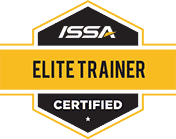 The ISSA Elite Trainer promotion lets you get the three certifications for $999 or $83 per month for 12 months.
That pans out to $333 per certification, which is hands down the best price you will find in the fitness industry.
You can also get a 2-for-1 on the CPT and ISSA nutrition certification if you aren't fully ready to do the Elite Trainer.
At $828 for both certifications or $69 a month for 12 months, that comes out to $414 per certification. While this is a bit more than the Elite Trainer bundle, it is still an incredible deal.
Please note that the ISSA can switch up their promotions at any time, so I wouldn't delay too long. If they are offering the deal, its a hard one to pass up.
Now let's explore the NSCA certification cost and NSCA study materials, which includes three distinct package offerings:
NSCA-CPT Essential Package
NSCA-CPT Essential Plus Package
NSCA-CPT Digital Package
Although there is some guidance offered in the Essential Package, there is not too much hand-holding.
It includes the following:
Essentials of Personal Training course textbook
NSCA Study Guide
Over 200 digital practice questions
In my perspective, this best suits those who have a good grasp of sports medicine principles and want to expedite the study process.
Secondly, there's the Essential Plus Package, which is all-inclusive and ideal for newbie personal trainers and includes:
Essentials of Personal Training course textbook
Exercise Technique Manual
NSCA Study Guide
Over 200 digital practice exams
This is best for those who want extra engagement while studying.
Lastly, NSCA's Digital Package is a very simplistic, basic package with all the training wheels removed.
If you are experienced and/or don't require much guidance, then this is totally for you.
This package comes with the NSCA study guide and access to over 200 digital practice tests.
The total NSCA-CPT cost is a combination of the study package and your exam registration, and prices differ based on your membership status.
Let's take a look below:
Members:
Exam cost: $300
NSCA-CPT Essential Package: $240.30
NSCA-CPT Essential Plus Package: $455
NSCA-CPT Digital Package: $152
Non-members:
Exam cost: $435
NSCA-CPT Essential Package: $290.70
NSCA-CPT Essential Plus Package: $511
NSCA-CPT Digital Package: $202
Clearly, having an NSCA membership cuts your costs considerably while offering other perks.
Furthermore, NSCA membership comes in three possible options, which include the following, along with their respective annual fees.


Depending on where you stand in your career, you can make your choice of membership option.
Student memberships are for full-time undergraduate and graduate students.
Professional memberships are great for those in the field, and they include:
Full access to five strength and conditioning journals
NSCA online content
Discounts
And lastly, the CPI membership is the juiciest yet, including full member benefits plus personal trainer liability insurance and much more.
You can start studying today before spending a dime on anything by checking out my free NSCA CPT study guide and practice test.
For paid NSCA study guides, you can get a better deal overall plus an exam-pass guarantee when you go with third-party study guides such as the Trainer Academy NSCA CPT MVP Study Guide.
As far as study materials and prices go, ISSA vs NSCA remains a tie, as they both provide great packages.
But for the most part, ISSA is usually less expensive.
Be sure to check the websites for the most up-to-date pricing, as they are frequently subject to change.
Which Exam is Harder, ISSA or NSCA?
The ISSA certification test is open book, with a pass rate of 90%.
This makes ISSA personal trainer certifications the easiest fitness certifications to obtain in terms of pass rate statistics.
The majority of test-takers pass their first attempt largely due to its loose restrictions placed on how you take the test.
Firstly, it's a non-proctored test, which means no one or nothing monitors the integrity or activity of a candidate during an exam.
Secondly, because it's an entirely open book exam, you can refer to all your study materials as you do the exam.
Heck, you can even use the almost infinite knowledge dump that is on the internet during the test!
Thirdly, your ISSA-CPT certification exam is self-paced, which means there isn't a time constraint outside of the enrollment period.
But there's just one caveat.
Although it is easier to pass than, say, ACSM or NASM, there are sections of this exam that are relatively difficult.
The passing score is at least 75% in each area and overall.
And while most other CPT exams are exclusively multiple-choice, the ISSA exam also includes case studies.
By far, according to those who have taken this exam, the hardest section is the case studies.
You will receive two random fictional clients with different challenges and goals.
You're then required to come up with an appropriate 12-week individualized program for both clients.
You need to know how to transition different clients through a routine in order to pass.
My biggest tip would be to study the special populations and program-design section of the textbook extensively.
Thankfully, ISSA has a very lenient approach to retakes, where immediately following the failure, you are permitted to retake the exam for free.
Of course, it's a one-time deal, so if you fail your free retake, then you must pay a fee of $50 to be allowed another try.
This fee is still pretty decent compared to what other certifications may charge, which is sometimes as high as $200.
This makes things super convenient, although some might suggest that it makes them a little too convenient.
Having a retake fee and stringent policy is a means of quality control.
The NSCA-CPT exam consists of 155 questions in total and includes 140 scored and 15 non-scored questions.
The passing grade is 70% which you have 3 hours to achieve.
According to a recent survey from NSCA themselves, 72% of test-takers pass their first time.
Certainly not as harsh as NSCA-CSCS certification, which the pass rate is 63% for first-time candidates attempting both sections of the exam.
Comparing ISSA vs NSCA on exam difficulty leads to my conclusion that the NSCA-CPT exam is far more complex.
ISSA vs NSCA Continuing Education
ISSA requires that all their health and fitness professionals renew their certifications every two years.
In that two-year period, you must obtain 20 hours of continuing education credits (CECs).
CECs may come from other certifications, such as Group Fitness Instructor, Master Trainer, or nutrition certifications.
While all CECs from ISSA remain free, any CECs outside of ISSA continuing education courses cost $99.
On the contrary, NSCA's recertification process demands submission of 6.0 CECs after every three-year period from initial certification.
As you can see, this CEC requirement is drastically higher than ISSA's.
Most certifications require renewal after two years, so I guess that extra wiggle room could be a good thing for some.
Though others may argue that three years is too long.
You may earn CECs through NSCA by doing the following:
Attending NSCA events
NSCA online course
NSCA live workshops
Presentations
Volunteering
Taking college courses
Prices vary.
ISSA vs NSCA for CECs compares pretty well, and overall, this would be a tie for quality.
And for ISSA vs NSCA on pricing, ISSA is far less expensive.
However, NSCA offers much more of a variety of options to earn CECs, as well as more hands-on experiences.
So in the end, you get what you pay for.
For my ISSA vs NSCA review, I critically looked at the key areas covered in each fitness certification.
I focused on the overall skill set needs for personal trainers and how ISSA vs NSCA stacks up in each skill.
I used my knowledge of the fitness industry, personal training, and individual certifications to analyze each certification for strengths and weaknesses.
ISSA vs NSCA Frequently Asked Questions (FAQ)
Still, caught up in an ISSA vs NSCA conundrum?
I recommend ISSA, especially for entry-level trainers trying to build a good base of knowledge to work with the general population.
NSCA is a great certification if you're more focused on strength and conditioning and possibly furthering your education to work in a more specialized setting or primarily with athletes.
Overall, both personal trainer certifications have the potential to set you up for success, and I hope that I was able to help you choose the best certification for you in my ISSA vs NSCA article.
For a much deeper look at each CPT program, check out my in-depth articles that review the ISSA CPT and ACE CPT individually, respectively.
Ready to start your CPT journey?
Then check the organization websites directly for the most up-to-date pricing.
Thank you for joining me, and may you have a kick-ass fitness career!