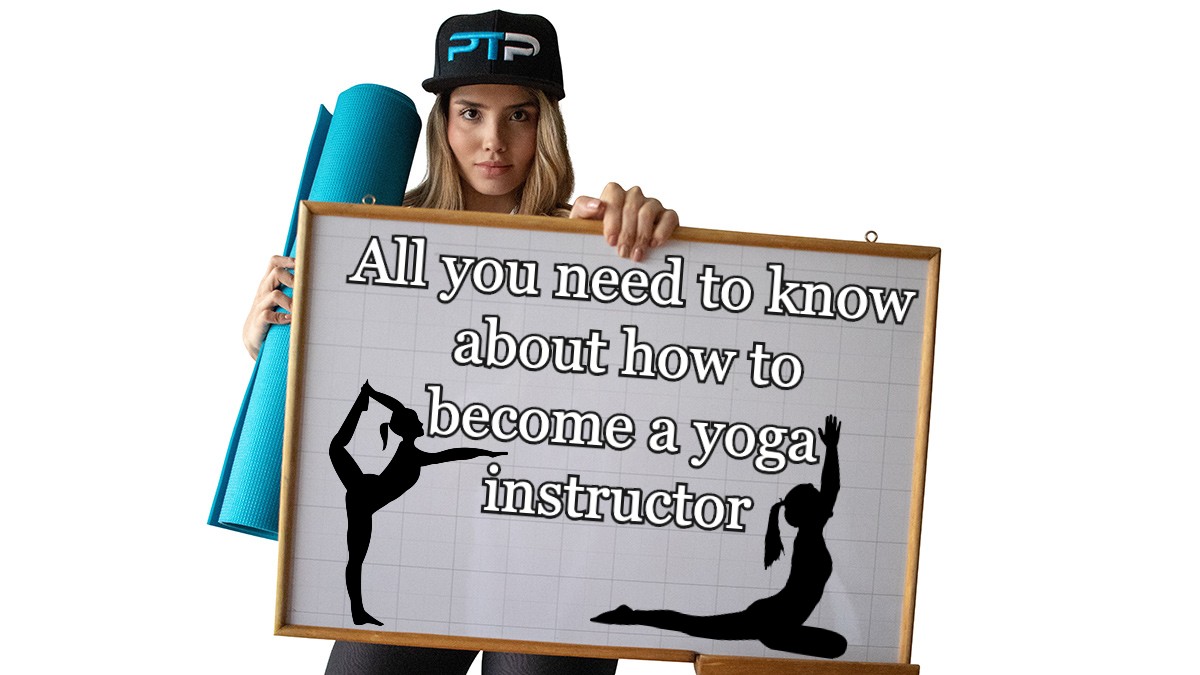 As a personal trainer, I firmly believe that constant learning can only be a huge benefit. And that's not only for me as I improve my overall knowledge but it filters down to my clients as well, of course.
It's my growth of knowledge related to fitness and the human body that becomes a win-win situation, that's for sure.
And if you have read any of my previous blog posts here on PT Pioneer, you will know that I always stress that learning more and branching out as a personal trainer is certainly something you should consider, especially as you have established yourself in the industry.
The awesome thing is that there are so many ways to do this and to improve yourself. For example, if you are accredited with one organization, what's stopping you from taking a certification from another, and increasing your knowledge in that way?
Or you can expand your skills, even more, adding even more strings to your bow. But what do I mean by that?
Well, for example, as a personal trainer, you might also choose to become accredited as a health coach. Or, perhaps you want to move into group fitness and for that reason, you choose to study a group fitness certification.
But today, I really want to talk about a somewhat newer position in the fitness world, one that continues to grow and certainly is one that many personal trainers are taking their time to add to their certifications and knowledge base.
And that's a yoga instructor.
Becoming a yoga instructor is something you may have already considered. And a yoga instructor certification is something you pursue by attending yoga instructor training in person or by even doing a course online.
So let's see how to get yoga certified.
Where To Begin… How To Get Yoga Certified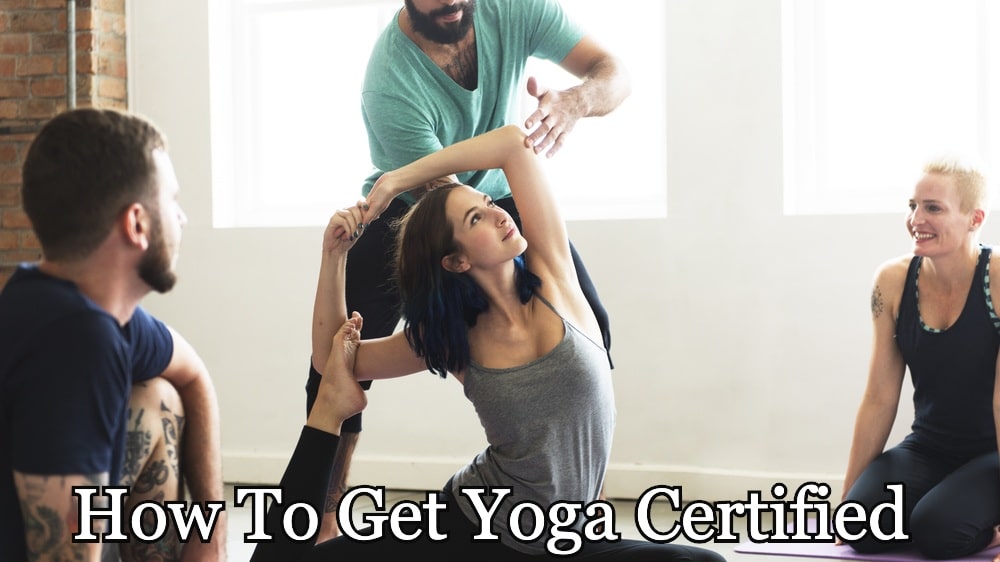 If you have worked in the fitness industry before, you know that whatever type of profession that you choose in it, it's best to get certified. Certification means that you have gone through a course of some kind, offered by a respected fitness training organization.
And that means any potential client knows that you aren't just some personal trainer or group fitness instructor that has read a few books and now is ready to take on clients. No, it means that you have studied hard and learned all the relevant fitness concepts in your chosen profession that make you an expert.
That's what clients want someone who can do the job properly. And yoga certainly isn't any different. So that's the most important thing to start with when you want to become a yoga instructor.
But how do you go about getting certified as a yoga instructor? Well, my first suggestion would be to start by choosing a course that is approved by the Yoga Alliance.
Yoga Alliance

So just who are the Yoga Alliance?
Well, while they are not a sanctioned governing body for yoga in the United States, they are recognized as the authority on the practice of yoga in the country. They also set the guidelines to which yoga teacher training programs must meet so that they can be registered with the organization.
So they are a pretty big deal, I think you will agree.
And most of the courses approved by the Yoga Alliance are either 200-hour or 500-hour courses. In fact, to become an entry-level yoga teacher, the Yoga Alliance suggests that you should complete one of the many 200-hour yoga instructor courses that are offered throughout the United States.
These courses range in prices but generally take around 20 days to complete and are presented on yoga retreats where you stay for the duration of the course.
Once the course is completed, you can start practicing as an RYT or Registered Yoga Teacher under the auspices of the Yoga Alliance. And the organization has mapped out a way forward for you to continue your education, especially if you want to become a lead yoga teacher at one point in the future.
The following steps can form part of your yoga journey.
After 1,000 hours of teaching (after two or more years) you are now an E-RYT 200 yoga teacher or experienced registered yoga teacher
Take a 500-hour yoga course and following 2,000 hours of teaching (after four or more years) you are now an E-RYT 500 yoga teacher
And that allows you to become a lead yoga teacher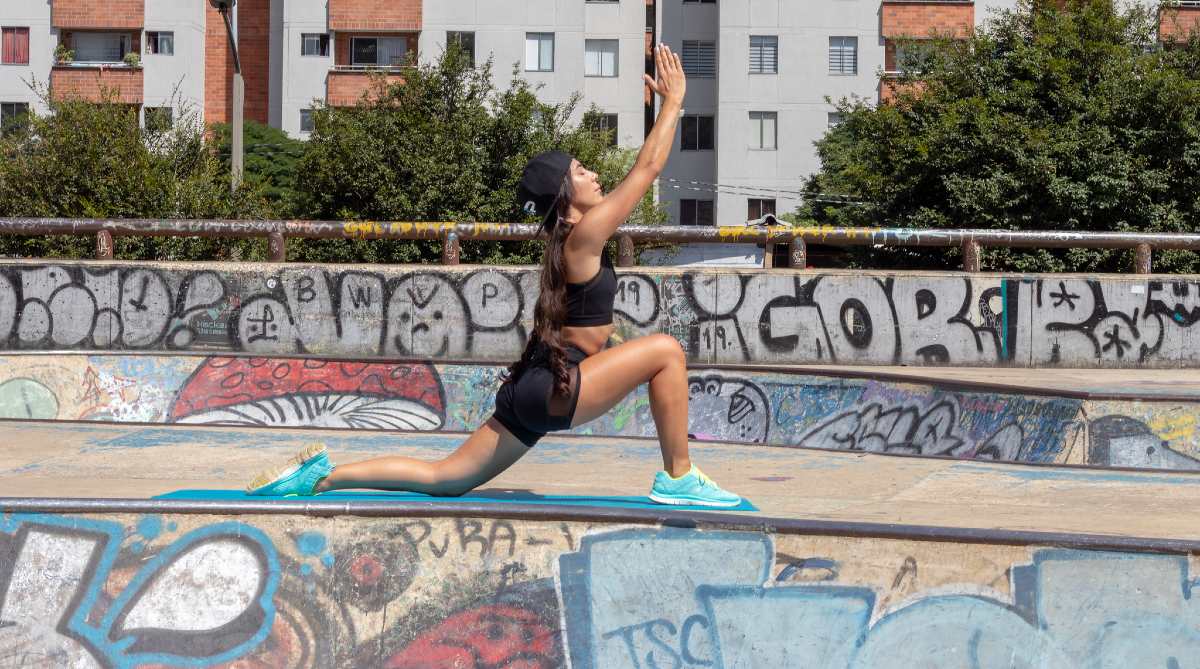 Click here for a flow chart/infographic explaining this in more detail.
One thing I have found in my research is that for specialized forms of yoga, for instance, Bikram, Anusara and others, you will need to do a further specialized training program to practice as a yoga teacher trained in those particular methods.
The Yoga Alliance also has other yoga courses that fall under their auspices. These include:
Exclusive PTP Offers



Gold Standard Cert

Most Popular Cert

A Good Option

Best Study Materials

Best online PT course

The Top PT Software

Registered Children's Yoga Teachers (RCYT)
Registered Prenatal Yoga Teachers (RPYT)
Of course, as a practicing yoga teacher, you need to be a member of the Yoga Alliance as well. Here is a cost breakdown:
Application fee $50
Annual renewal fee $65
Making a total registration cost of $115 for new members. That will drop to just $65 per annum in the years that follow
Becoming certified: What it will teach you…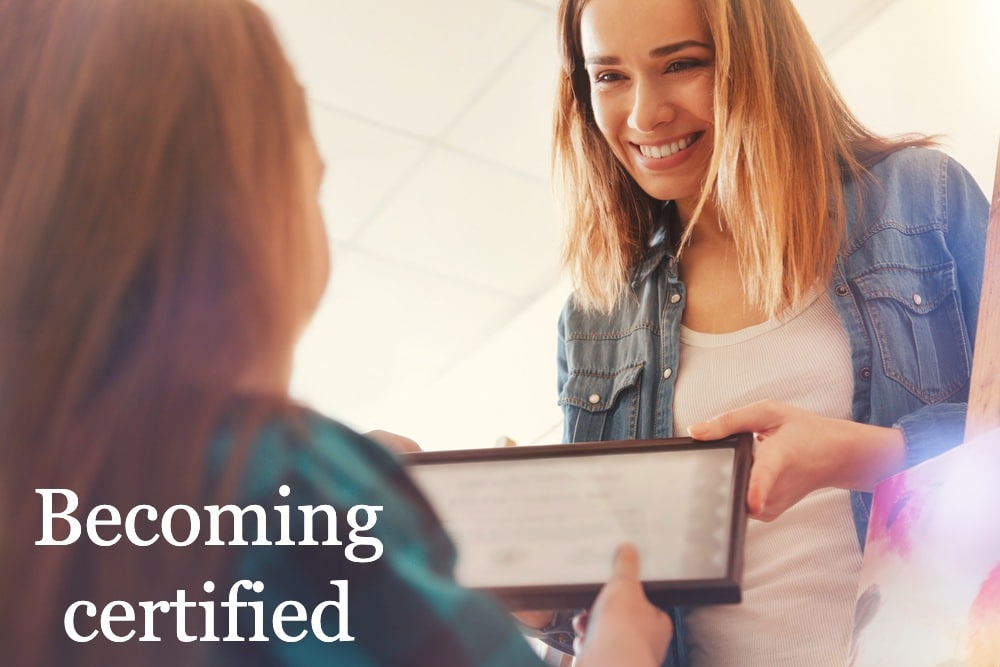 Now that we understand why the Yoga Alliance is so important and why membership is a must, let's look at the benefits of becoming certified? Well, obviously, it allows you first and foremost to teach yoga but there are many more advantages.
These include:
Becoming certified means you have knowledge of the various types of yoga with certain certifications specializing in certain types
Certification will help teach you different yoga teaching styles, various yoga techniques as well as how to build your own yoga sequences for clients
As a certified yoga teacher, you will have knowledge of many different types of yoga poses as well as postures
You will understand the various aspects of yoga philosophy, mindfulness and meditation and how these concepts work in conjunction with anatomy and physiology
You will also understand how to work with special groups within the population, for example, the aged, or people with disabilities.
Your Yoga certification options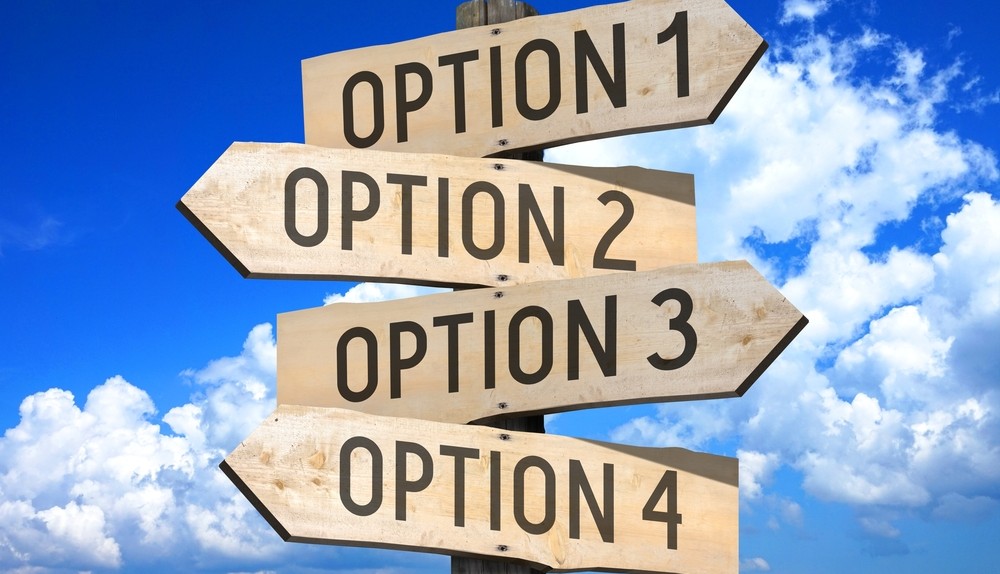 For those of us living in the United States, the number of certification options to study as a yoga teacher has grown massively over the past decade. In fact, you can find yoga training courses all over the country.
These include 200-hour, 300-hour and 500-hour courses. But there are also a number of online courses that you could consider. Just make sure that any course that you do opt for falls under the auspices of the Yoga Alliance.
I have already written an extensive blog post on a range of yoga certifications found in the United States and other parts of the world, both practical training courses as well as online training courses. You can read about those here.
I do want to look at a few things regarding these certifications, however.
If you are a personal trainer looking to add some yoga to your knowledge base, perhaps begin with an online yoga course. There are a number of excellent ones that can provide you with some excellent knowledge to help supplement what it is you offer as a personal trainer.
If you looking to perhaps branch out into yoga full time, I would strongly suggest starting with one of the 200-hour courses first, however. The fact that they take place over a 20-day period (on average) and in a workshop environment means they are much more "hands-on" so to say. It's the basis you need to start your yoga career and move forward from that point onwards.
Note that although these courses are different, they essentially are copies of each other although there will be minor tweaks here and there of course. You need to find one that will suit what it is you want to do down the line. Of course, using the Yoga Alliance website is a good way of finding the best courses that are legit and will give you the kind of training you need.
My advice in choosing a course is to research them in great detail. Find out who the teachers are, what their yoga experience is like and what exactly the course will cover.
All courses that will be worth your while will have all this information readily available and it should be very easy to find. When choosing a course, go for one that is the best that you can afford, even if it is at the top end of your budget.
And while it might seem like a great idea to train overseas, for example in India, will that certification be accepted back in the United States? In all probability, no. Rather stick with Yoga Alliance certified courses to ensure a long career as a yoga teacher safe in the knowledge that your training is under the auspices of the top yoga body in the United States.
What should yoga training offer?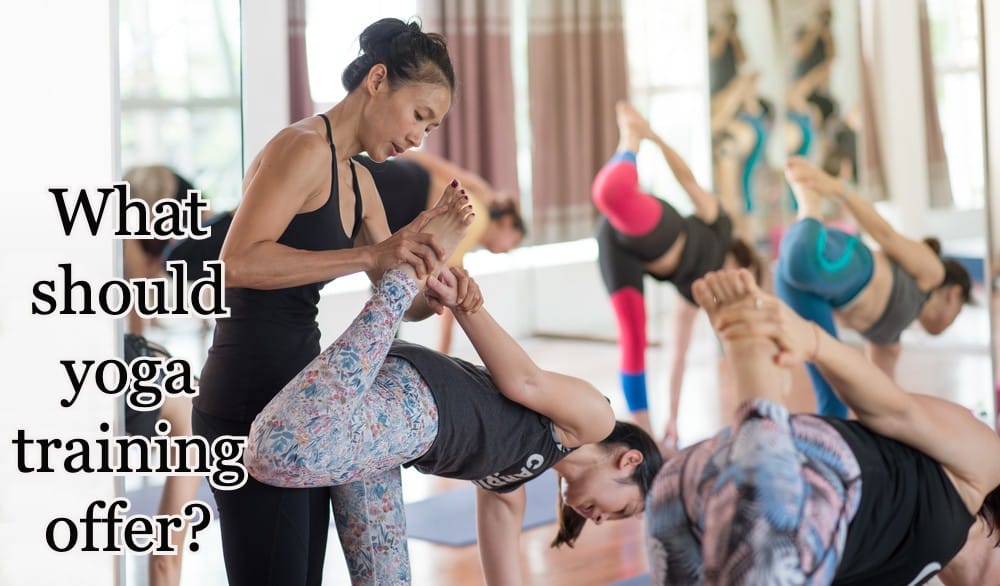 Once you have found a course that you think would work for you, you need to consider the following as to whether it is the best option for you in your quest of how to become a yoga teacher.
Does it cover the basics of yoga?
If you are starting from a blank sheet and don't know much about yoga, or even if you know a little, the first thing any course that you do should cover is the basics. To become a certified yoga instructor, the basics of the art of yoga are essential, that's for sure.
An example of that is the various yoga postures. If you have never done them yourself or been taught how to form them correctly, how can you imply that knowledge to a student down the line one day?
Knowing the basics also allows you to create your own sequences by using your understanding of various postures and how they can be linked in a sequence. Any 200-hour yoga teaching course should cover the following areas of yoga:
Anatomy
Alignment/Asana
Sequencing
Yoga philosophy
Prop use and modifications
How to make hands-on adjustments
Teaching practice
Meditation
Does it teach sound yoga philosophy?
Sometimes the philosophy of why people do yoga is forgotten. It's an important part of the overall yoga package, so make sure it forms a large chunk of any course that you opt to take.
Ultimately, yoga philosophy is about giving us more of an understanding of our inner being, and that's such an important part of yoga overall. Many courses will use one form of yoga philosophy while others will stick to just one concept.
So take the time to find a course that will tie in with your overall mindset.
Popular Types of Yoga
Last but not least, the course you decide on should cover a popular form of yoga that many people practice. Sometimes, these courses not only cover one type of yoga but a few. If you plan on becoming a yoga teacher, it might be worthwhile just sticking with one style starting out and becoming an expert in that.
You can always learn more yoga styles down the line. Examples of yoga styles include:
Power yoga
Hot yoga
Vinyasa yoga (by far the most popular)
I'm Certified… Now What?
Getting your certification is one thing but what happens from there? Well, there are a number of critical things for you to consider as you look to build your yoga practice.
Yoga Insurance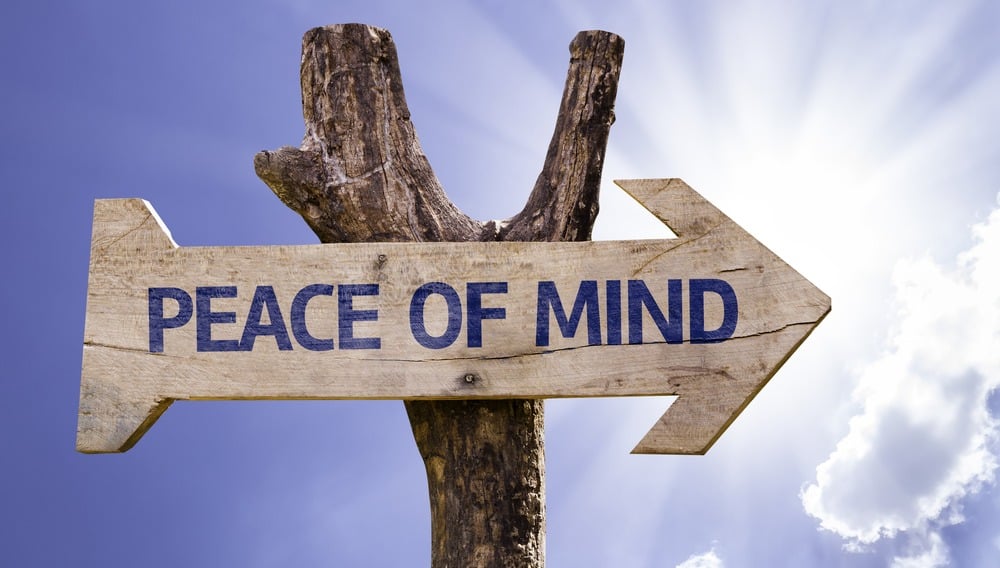 If you are a personal trainer, you know that liability insurance is extremely important. It provides you with the necessary cover should something go wrong and a client gets injured while working out with you.
If you study a yoga course and want to build that knowledge into your personal training, the first thing you need to check is that your current liability insurance will cover the yoga aspect as well.
And if it doesn't or if you are just planning on practicing as a yoga teacher, you going to have to find yoga insurance to cover yourself. But what types of insurance should you consider?
General liability insurance and professional liability insurance
To be honest, you should have both forms of insurance for the best possible protection from liability. But what do they cover?
Well, general liability will give you all the cover you need from any claims that come from a third party and includes both injury as well as property damage (in most cases). You certainly do want general liability cover for injury, that's the most important. But it's injuries of a general nature, for example, a client slips on a newly waxed floor at your studio and injures their leg.
Professional liability also covers injury but in a different way. This covers you when it comes to specific yoga training injuries, for example, a student performed an instruction incorrectly and injured themselves.
Here are five other good reasons why you should get insured.
Exclusive PTP Offers



Gold Standard Cert

Most Popular Cert

A Good Option

Best Study Materials

Best online PT course

The Top PT Software

Most gyms or yoga studios will demand you have it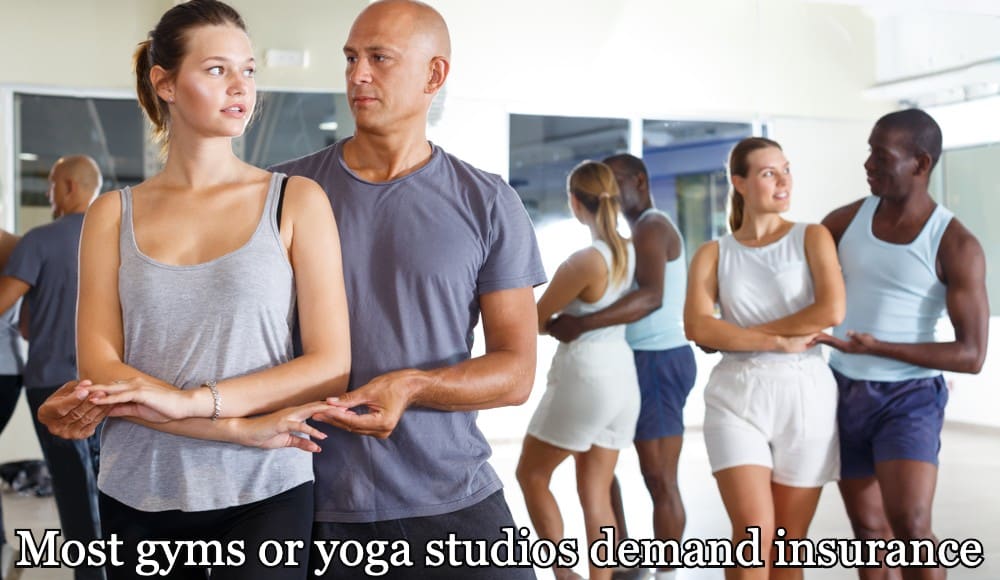 If you operate from a gym or a yoga studio, no doubt they will ask you if you have yoga insurance.
While a studio or gym might have general liability insurance of some kind, that won't be good enough to cover you and they will make sure that before you operate in their premises you are protected in some way.
And it's worth making sure that your policy also covers you wherever you teach because you might even offer personal yoga classes in the comfort of your client's homes. The good news is that most kinds of insurance for personal trainers as well as yoga teachers will insure them no matter where they chose to practice.
No matter how careful you are, injuries do happen
If you have worked as a personal trainer, you know that because you work with a wide variety of clients, injuries are a part of the deal. And it's no different if you offer yoga as part of your set of skills.
No matter how careful you are when dealing with clients, an injury can happen at any time. And while most clients do understand this to be the case, some could place the blame on you. That could lead to covering their medical bills if found to be true. That's why insurance, which will cover you in these situations, is so important.
Of course, it also gives you peace of mind to ensure that you are pushing clients and that they are maximizing their workouts. It's to their benefit after all and you are secure in the knowledge that your insurance covers you should an injury occur.
Misconduct and Privacy
Another area where insurance can protect you is in the case of an invasion of privacy or misconduct is brought against you by a student.
In an invasion of privacy situation, a student might take offense with the fact that you used a photo in which they appear on social media for example. Misconduct is far more serious, however. Again, having insurance will help protect you if a lawsuit takes place if a situation like this arises.
Start teaching!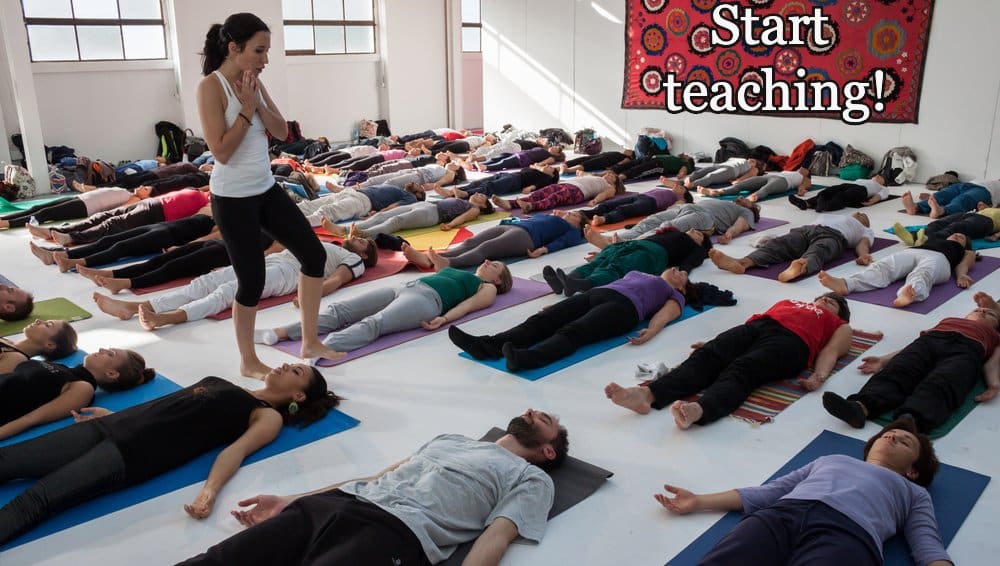 The final piece of your yoga puzzle is to put into practice what you have learned during your training and to start teaching.
If you are a personal trainer, you may just want to incorporate yoga into what it is you already do. I am sure you will already have in certain clients who you think that aspects of yoga could be a real benefit. So take the time to draw up a new training program for them, discuss it with them and with their blessing start to implement it.
While a yoga course will certainly give you the theoretical knowledge as well as some practical experience, you are only going to improve as a yoga teacher by practicing your craft.
Of course, teaching can take place at the local gym where you operate, at your home or even at the home of your clients. In fact, that's the great thing about yoga, it can be practiced practically anywhere.
Don't sit on your qualification either thinking you can use it sometime down the line. As with many things in life, the more yoga you teach, the better you understand how to utilize the knowledge you have gained and ultimately, help people.
Who knows, you may love it so much that at some point, full-time yoga become your calling!
Last Words…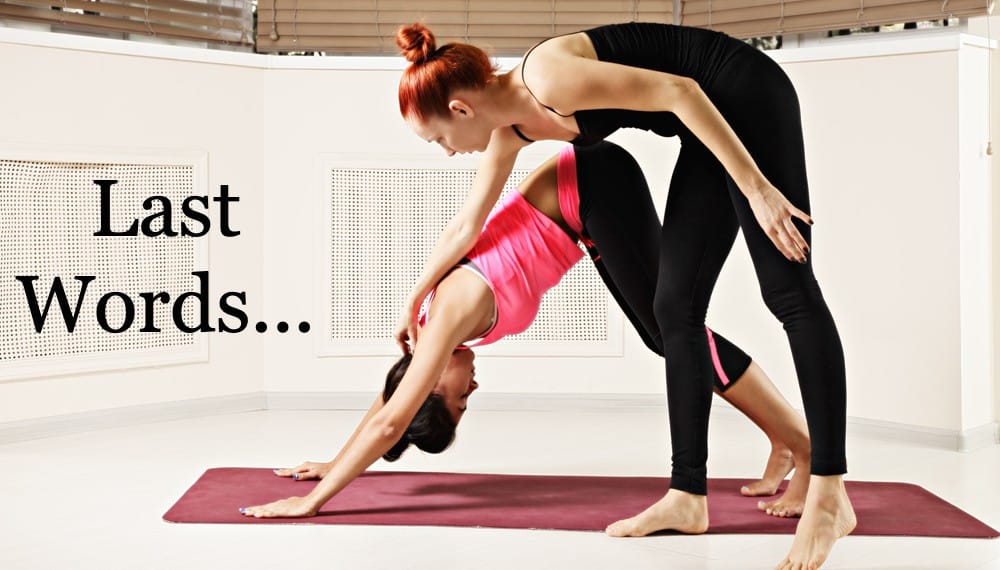 Thanks for taking the time to read through my blog on how to become a yoga instructor. I think you would agree that if you learn to teach yoga, your knowledge about not only the human body but the mind as well grows massively.
If it's something that you see yourself doing in the future, then take the time to choose the right yoga teacher certification that fits your needs. As I have outlined in this blog post, research the best course for you and your particular needs. If you see yourself going into yoga full-time at some point, rather opt for a longer 200-hour program that is affiliated with the Yoga Alliance.
But remember, you can also become a yoga teacher by opting to take an online course. There certainly is plenty of yoga instructor training options on the web that are worth checking into, it just depends on what you are looking for specifically.
If you found this how to become a certified yoga instructor blog post of interest to you, please take the time to read my other pieces on yoga including a look into the different types of yoga certifications and what a yoga instructor can expect to get paid.
And hopefully the I've answered the question of "How to be a yoga instructor?"
Until next time!
References
Discover All PTP Fitness & Wellness Career Articles
Tick a box from each section to narrow the results.
×
I want to know more about: