Welcome to PTPioneer's grand review of the NCSF Certified Strength Coach (CSC) certification!
I'll touch upon some important topics, including the following:
With many years of experience in the fitness industry, I can guarantee that after reading this article, you'll know whether the NCSF-CSC certification is a smart move for your fitness career!
Let's move on!
Quick Breakdown: NCSF-CSC
Pros
NCCA accredited
Quality career prep
Affordable
Multiple certification packages to choose from
Cutting-edge training techniques
Outstanding online portal and study materials
Practice exams are relevant to the actual certification exam
PDF textbooks available through the online portal
Cons
Less popular
Valuable workshop instruction not included in all packages
College degree requirements
Exercise Science Foundations
9
Special Population Training
5
Aerobic Fitness Training
8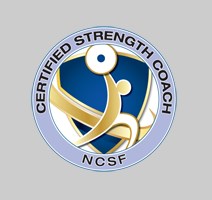 NCSF-CSC General Information
Exam cost: $299+

Study Material Cost: $479+
Prerequisites: Associate's degree, Bachelor's degree, Another NCCA accredited fitness certification (i.e. NCSF-CPT)
Exam Passing Score: 70%
Exam Pass Rate: 62%
Average Completion Time: 2-4 months
Introduction: What is the NCSF-CSC?
Now I'll go ahead and give the general information regarding this NCSF-CSC certification.
For over 25 years, the National Council on Strength and Fitness (NCSF) has been certifying fitness professionals worldwide!
NCSF is an international, member-driven organization headquartered in Coral Gables, Florida.
Aside from its other certifications offered, the NCSF Certified Strength Coach (NSCF-CSC) certification is a solid tool for fitness professionals interested in taking their careers to a higher level.
The NCSF-CSC certification program provides you with the basic knowledge surrounding any age group or fitness level, from youth sports to D1 athletes!
Listed below are the main focal points of the NCSF-CSC certification program:
Cutting-edge Training Techniques
Advanced Programming
Comprehensive Assessment Protocols
Top-End SAQ Programs
Fortunately, the NCSF Board for Certification oversees the National Commission for Certifying Agencies (NCCA) accredited credentialing programs.
NCCA is the national accreditation board that enforces high standards in the industry.
So simply having NCCA accreditation makes the NCSF-CSC certification very attractive from the get-go!
This certification is also accredited by the US Registry of Exercise Professionals (USREPS) and the National Athletic Trainers Association Board of Certification (NATA-BOC).
Alright, I think it's time to explore its content coverage, both the good and the bad aspects, and more.
NCSF-CSC Content Coverage: the Good and the Bad
The field of strength and conditioning is a rapidly growing topic for educational and professional settings.
The top priority of coaches with the CSC credential is the improvement in an athlete's overall sports performance.
The NCSF-CSC textbook uses evidence-based, modern information that applies to anyone in the personal training industry, all the way to college strength coaches.
The textbook comprises 18 chapters and over 650 pages covering all of the topics within the realm of strength and conditioning.
This course is all online, with the option for a physical textbook and other options for on-site instruction to be purchased.
The e-learning portal that NCSF uses for the strength coach is easy to use and offers many prep quizzes and questions so that the exam is well prepared for.
There is a significant focus on the videos in this online portal, as these help with the showing of the learned materials and, specifically, the advanced lifts in amazing detail.
There is an entire focused chapter for the Exercise Video Library.
The actual online text and portal are broken down into 9 different sections:
Performance Assessment and Evaluation
Biometrics
Sport Metabolism
Nutrition and Ergogenic Aids
Training Techniques for Athletic Performance
Advanced Programming for Sport
Injury Prevention and Return to Competition
Exercise Video Library
Final Practice Exam
That makes a total of 7 units that are textbook specific, with PDFs that accompany them, and then one unit for all of the exercise videos, and a last one for the final practice exam.
The Units are broken up into their own chapters, with each chapter also being broken down.
The chapters include the learning goals, lesson notes, questions and answers, a quiz, and a recommended textbook review (the PDF available to download).
Exercise Science
Being a certification for those wanting to be elite strength coaches, it makes sense that the exercise science section is solid!
While there lacks an anatomy and physiology section, their sports biomechanics section is very in-depth.
I feel that most information in this realm goes straight to how biomechanics and movement apply to sports as opposed to introducing human anatomy and basic kinesiology.
This could be because most people in this program are already certified personal trainers and/or have some educational background in a related field.
Chapter 5 of the NCSF-CSC textbook covers a wealth of information on corrective exercise.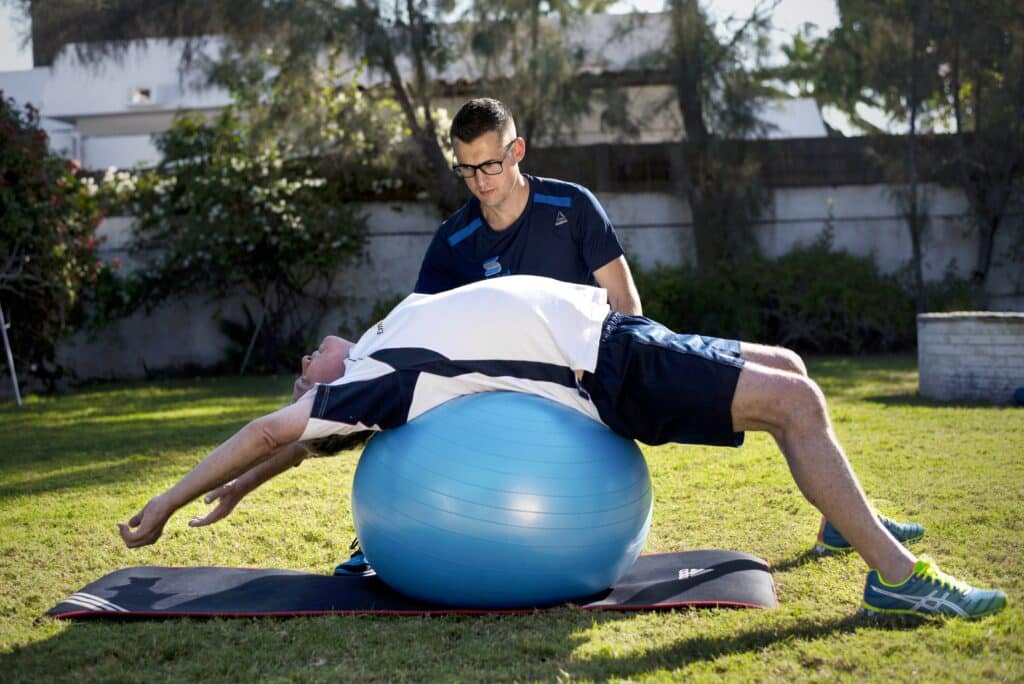 Behavior Change Coaching Skills
Since this is not a general personal trainer certification, there is not really much of an emphasis on behavior coaching skills.
Most people in this program aren't aiming to encourage physical activity to unmotivated or undisciplined clients, but are aiming to prepare athletes to be their best.
In other words, in the NCSF-CSC program, the only behavior coaching would refer to strength coaches' ability to mentally and physically prepare athletes to compete.
Consulting and Screening Clients to Reduce Risks of Injury
Chapter 2 of the NCSF-CSC textbook teaches you how to conduct a sport analysis, which helps you develop the best program for your client.
The next chapter describes top-of-the-line performance assessments to conduct and interpret when conditioning elite athletes.
Exclusive PTP CPT Offers



Gold Standard Cert

Most Popular Cert

Best Study Materials

A Good Option

A Good Option

Best CPT for you?

And finally, there is a whole chapter on injury prevention and return to competition, which is essential knowledge to apply in the strength and conditioning field.
Without a doubt, strength coaches for all types of athletes benefit from this knowledge and application.
Overall, the NCSF-CSC program does very well covering client screeing.
Program Design and Exercise Technique
I'd say that program design and exercise technique is probably the NCSF-CSC program's strongest section.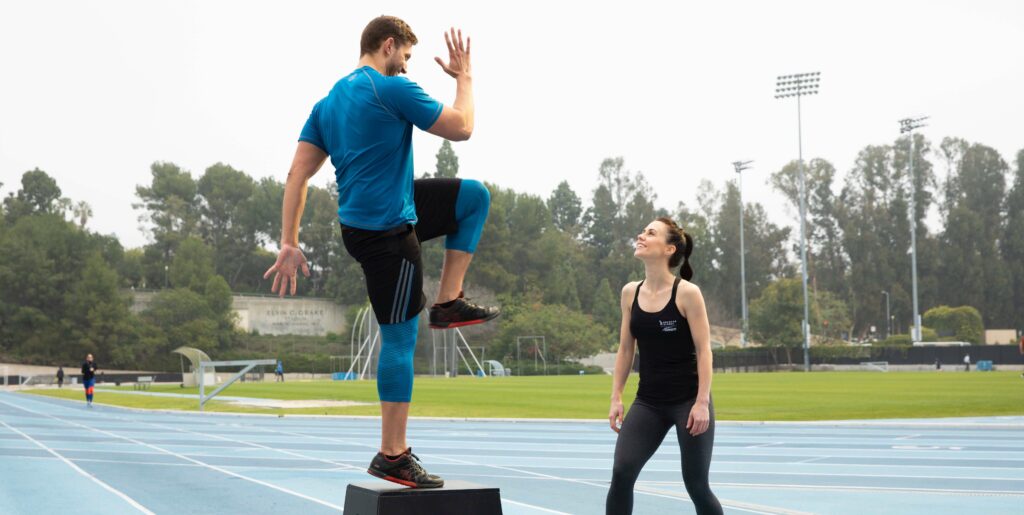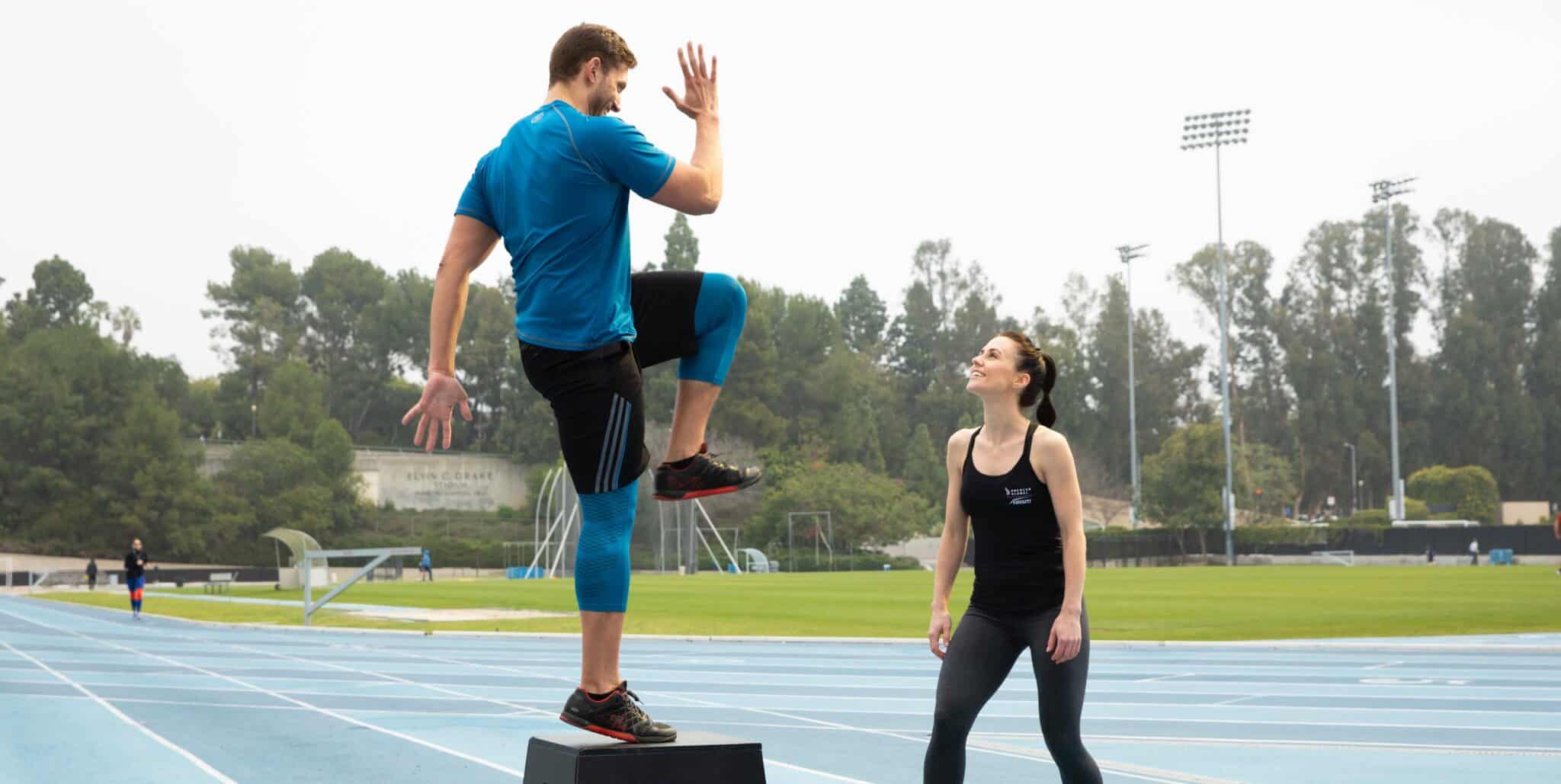 For instance, the book exceeds expectations of most strength coach programs by covering the following:
Olympic lifting techniques
Change of direction drills
Theories and techniques for speed, agility, and quickness (SAQ)
Considerations for programming
Programming for sports performance
Periodization methods
Intermittent sports conditioning
Designing endurance sports training programs
Nutrition
Chapters 6 through 8 covers basic sport metabolism, sport nutrition, and ergogenic aids.
This information is helpful for strength coaches to use to guide athletes to make the nutritional choices that would benefit their performance and health most.
Helping Special Populations with Fitness
While this textbook does not emphasize special populations, the NCSF personal trainer textbook does.
Since the CSC program is designed for learning about how to coach athletes, there's no focus on, say, senior fitness, or pre, peri, and postnatal fitness.
Thinking Long-Term: Business Skills
Unfortunately, this textbook fails to cover any business aspects of strength and conditioning.
Sure, having this quality knowledge is great, but if you ever want to have your own strength and conditioning business, you'd have to dig deeper in other resources to learn the ropes of staying afloat in this career.
Summary
The NCSF Advanced Concepts of Strength & Conditioning textbook is the foremost text for up-to-date, evidence-based information in the field of strength & fitness.
Its 18 chapters cover relevant topics in the process of developing high-level competency in human performance.
The book includes key elements of strength and conditioning including athlete-needs analysis, corrective exercise methods, speed, and power development, all of which constitute advanced program design.
The only downside is its failure to include strength and conditioning business tips.
Also, keep in mind that there isn't much emphasis on special populations.
The NCSF-CSC certification program does require that you have one of these three things:
Associate's degree
Bachelor's degree
Another NCCA accredited fitness certification (i.e. NCSF-CPT)
Enrollment in the CPT/CSC dual credentialing program or the Master Trainer program
The NCSF-CSC course itself is available to all candidates interested in learning more about the field of strength and conditioning.
To be eligible to write the NCSF-CSC exam, you must have obtained the NCSF-CPT certification or any other NCCA accredited personal trainer certification.
In the absence of an NCCA accredited personal trainer certification, candidates with a college degree would be qualified.
NCSF-CSC Certification Packages
The NCSF-CSC certification exam costs $299 when it is bought alone, and this is rather standard pricing for all certification organizations out there.
It is also included in all of the packages above the simple exam-only plan.
This is the same if you are taking this for CEUs or certification to become a Strength Coach with NCSF.
The price is pretty standard for the industry and matches the rest of the certification exams offered through NCSF.
NCSF Home Study
This program is the intro study package offered through the NCSF website and the cheapest study program.
The package includes the textbook's digital edition, instructional video access, lesson notes, questions, and answers, review quizzes, 8 NCSF CEUS, payment plan option, a one-year membership, and access to set up the NCSF certified strength coach exam.
The base price for this is $799, with many deals on it taking off around $300 or so.
The highlight of this study plan is that it has everything you need to become a strength and conditioning coach, especially with the very useful digital textbook and an online portal.
NCSF Home Study Plus
This study plan is the second-tier option that the NCSF offers.
This plan has everything in the previous one, with the difference being that it includes a physical textbook.
The digital textbook, which is found in PDF versions supplied through the online portal, is superior to the typical flipping through a physical book.
For that reason alone, we do not find the added base price of $899, or $100 more, to be worth it.
NCSF Workshop
This is the introductory version of the study plan when considering the ones that include the 2-day workshop.
This is the equivalent of 16 hours spread across the two days.
NCSF live workshops are taken by people going for either their certification for a strength coach or for 7 CEU credits from the course for recertification.
The workshop is a great idea for hands-on experience from a qualified strength and conditioning coach.
There is a lot of great insight into the future of your strength and conditioning coach career to be had in this added program.
The base price is $899, just like the previous package's price, but it does not have the physical textbook.
For the second-tier packages, which are $100 more than the Home Study package, we find it a much better value to purchase this over the Home Study +.
Exclusive PTP CPT Offers



Gold Standard Cert

Most Popular Cert

Best Study Materials

A Good Option

A Good Option

Best CPT for you?

The benefits to be found in the Workshop far outweigh the benefits of the physical textbook for most people.
The last thing to mention that is thrown into this plan is the Certified Strength Coach Reference Guide.
NCSF Workshop Plus
This is the final package for the Certified Strength Coach.
This package includes everything mentioned in the previous package, and it also includes the physical textbook.
The base price for this is $999.principles
An important thing to mention for those getting into the fitness industry is the bundles for multiple certifications bought together.
NCSF has three great options when it comes to these bundles.
NCSF Certified Personal Trainer and Certified Strength Coach
This is a popular Certification bundle for those that want to be a personal trainer and strength coach, which work perfectly together.
It is also important to consider the certification requirements, which the last one is an NCCA accredited fitness certification like the CPT from NCSF.
This is one major reason for this package being so popular.
Often, we see personal trainers wanting to expand their knowledge by adding specific strength and conditioning knowledge that is seen to focus more on athletic populations.
Both of these certifications are NCCA accredited, and that means you have two very valuable certifications done in one bundle.
This bundle does leave out the focused nutrition aspect that you can get with their third certification, the NCSF Sport Nutrition Specialist (NCSF-SNS).
The base price for this bundle is put at $1,299, and it regularly has sales for around half of that price.
This is a solid option for anyone looking to enter the realm of fitness with all the knowledge they can while skimping a tad on the nutrition side of things.
NCSF Certified Personal Trainer and Sports Nutrition Specialist
This bundle is also a popular choice offered on the NCSF site.
Here we have a bundle of the certified personal training certification, which is NCCA accredited, and the sports nutrition specialist.
If you are on this page, the chances are that you are not interested in a program that excludes the certified strength coach.
The CPT certification will always match well with a nutrition certification, so it is always a solid choice for those looking for that combination.
The base price of this bundle is $1,199, and it is often going to be found on sale for around half of that price.
NCSF Master Trainer Program
This is the ultimate bundle of programs available through NCSF, and it can't be more highly recommended.
This option combines the Certified Personal Trainer, Sports Nutrition Specialist, and Certified Strength Coach certifications.
This is hands down the best option for anyone looking to learn all they can in the realm of fitness and training.
The first bundle had the two NCCA accredited, and most popular certifications offered, along with their very solid nutrition certification.
These three certifications together show the commitment that a trainer has and shows future clients a complete grasp of all things fitness.
The clients and employers know that anyone who has these three certifications will be a valuable asset and great value for them to use.
Enrollment into this program will maximize knowledge in the categories of human performance, athletic performance, and nutrition.
Everything is done through the same online portal through the NCSF portal, making it easy to get used to that style of system.
On a final note, all prices are subject to change, so do make it a habit to check the NCSF website!
NCSF-CSC Exam Difficulty: How hard is the NCSF-CSC exam?
So you may ask yourself, how difficult is the NCSF-CSC certification exam?
It depends.
Like for any exam, preparation and consistency of studying are key!
Which reminds me.
The CSC practice exam has over 200 multiple choice questions that go into the content areas covered within the actual exam.
Below is a comprehensive outline of the NCSF-CSC certification exam:
| | |
| --- | --- |
| Functional Anatomy and Biomechanics | 15% |
| Sport Metabolism | 10% |
| Performance Assessment and Evaluation | 13% |
| Nutrition and Ergogenic Aids | 8% |
| Training Techniques for Athletic Performance | 20% |
| Advanced Programming for Sport | 20% |
| Injury Prevention and Return to Competition | 9% |
| Professionalism and Risk Management | 5% |
This exam is administered through appointments in over 1,000 testing centers available in 83 countries and is available online.
There are 150 multiple choice questions, and to pass, you must score 70 or higher.
You will be given three hours to complete your exam.
According to the most recent statistics, the pass rate for the NCSF-CSC certification exam is roughly 62%.
Really, this is only slightly harder than most other strength and conditioning certification exams, ranging between 63% and 70%.
Finally, upon completing the exam, you can earn 8 NCSF continued education credits (CECs) or 1 unit of the Ethics requirement that all NCSF certified professionals need to fulfill.
If you fail, it costs $99 to retake – if you live in the US.
If you live outside of the US, it'll cost you $299 to retake, which is pretty drastic.
NCSF-CSC Continuing Education and Recertification
Similar to other fitness certifying agencies, all NCSF professionals are required to submit the NCSF Recertification Application detailing completed continuing education units (CEUs) every two years.
This two-year period of certification begins on the day you pass your NCSF certification exam and ends on the last day of the month in which the certification began, 2 years later.
The NCSF Board for Certification (NCSFBC) requires 10 CEUs to be completed during your two-year certification period.
But what if you hold more than one credential?
The number of required CEUs still remains 10.
Although NCSF provides numerous top-notch CEU opportunities, you can earn your CEUs through a variety of educational outlets.
I read in the latest version of the NCSF Recertification Handbook a full list of the approved categories in which you may earn CEUs and the maximum attainable value for each category.
Below is the NCSF CEU categorical requirement breakdown:
There, you'll find which education and training courses are pre-approved by the NCSF for CEUs toward recertification.
Your NCSF-CSC Recertification Application must be complete in order for it to be processed, and you'll need to pay a $75 recertification fee and provide all supporting CEU documentation.
For two or more credentials, the recertification fee is $100.
Not bad, when comparing the recertification prices to NASM or ISSA.
NCSF-CSC Review Methodology
I based my expert review of the NCSF Certified Strength Coach certification based on the following criteria:
The opinions of experienced NCSF-CSCs
A critical review of quality and pricing of NCSF-CSC study materials
Typically reported information from trainers who passed the NCSF-CSC exam
Other comparable certifications, specifically other strength and conditioning coach certifications
NCSF-CSC Frequently Asked Questions (FAQs)
Overall, the NCSF Certified Strength Coach program deserves a solid 5 out of 5!
This is one of the four best strength and conditioning certifications out there, and when it comes to comparing those four, it's really more about your preference.
The NCSF is a great organization, and that is shown well through their incredibly useful online study portal for this system and their well-thought-out NCSF review quizzes.
There are very few cons with this program, and even then, they do not outweigh the pros that come with this well-thought-out NCCA accredited certification.
Additionally, the NCSF-CSC program offers similar pricing options as other strength and conditioning organizations, and each provides equal levels of depth into strength and conditioning.
Having the textbook in PDF form and the ease of searching that comes with that makes studying immeasurably quicker.
If you're just looking for a strength coach certification, you cannot go wrong with purchasing the intro level package, Home Study.
The workshop packages are also excellent and not always offered in some other strength and conditioning programs.
In addition to your studying, this is a great opportunity to obtain hands-on experience from a real strength and conditioning professional.
With the educational requirements for a college degree or an NCCA accredited certification, I find that the packages and certification bundles best suit anyone looking to begin their career in sports medicine.
The Master Trainer Program is the optimal way for you to get the best value for your money and maximize your knowledge with NCSF.
I hope you've gained some helpful insight from my NCSF strength coach review.
However, if you have any more questions regarding the NCSF Certified Strength Coach certification and are still undecided if this is right for you, please take the quiz to find out more!
Cheers to a successful professional practice as an NCSF Strength Coach!