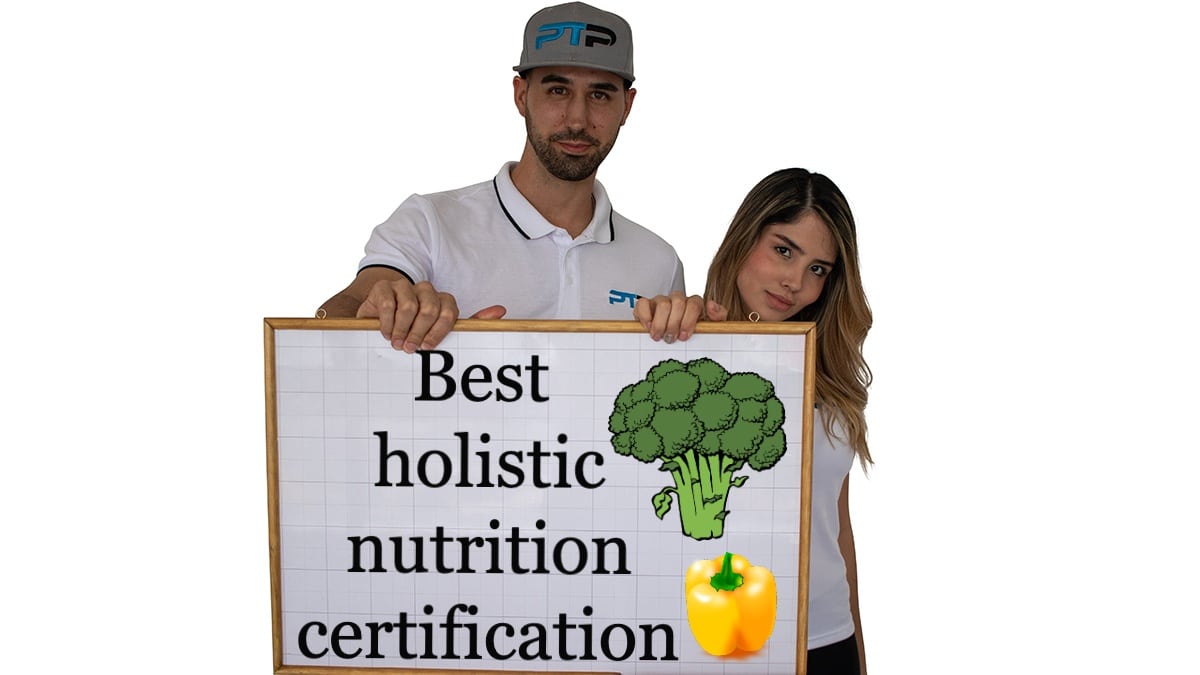 Welcome to another one of my in-depth looks into some of the best certifications available to you, especially those interested in the world of holistic nutrition.
If you are a fitness professional wanting to add some extra knowledge, especially from a nutritional point of view, or even if you are starting out in the world of fitness and nutrition, we are going to break down the Top 5 holistic nutrition certifications that you should consider.
And believe me when I say it can be a minefield online when trying to research this information on your own. There are so many options to choose from, so finding the best one for you is going to take some time.
That's why I have done the hard work for you, finding five holistic health certifications that I certainly would recommend.
Should you have any questions, don't hesitate to leave me a comment here.
I have free nutrition certification study guides that can be found here. And for more awesome articles like this, visit the home page.
1: Institute for I­­ntegrative Nutrition (IIN)
When it comes to health coaching and other nutritional concepts, the Institute for Integrative Nutrition (IIN) has been at the forefront for many years. In fact, they were the first organization to offer a health coaching accreditation and that was back in the early 1990s.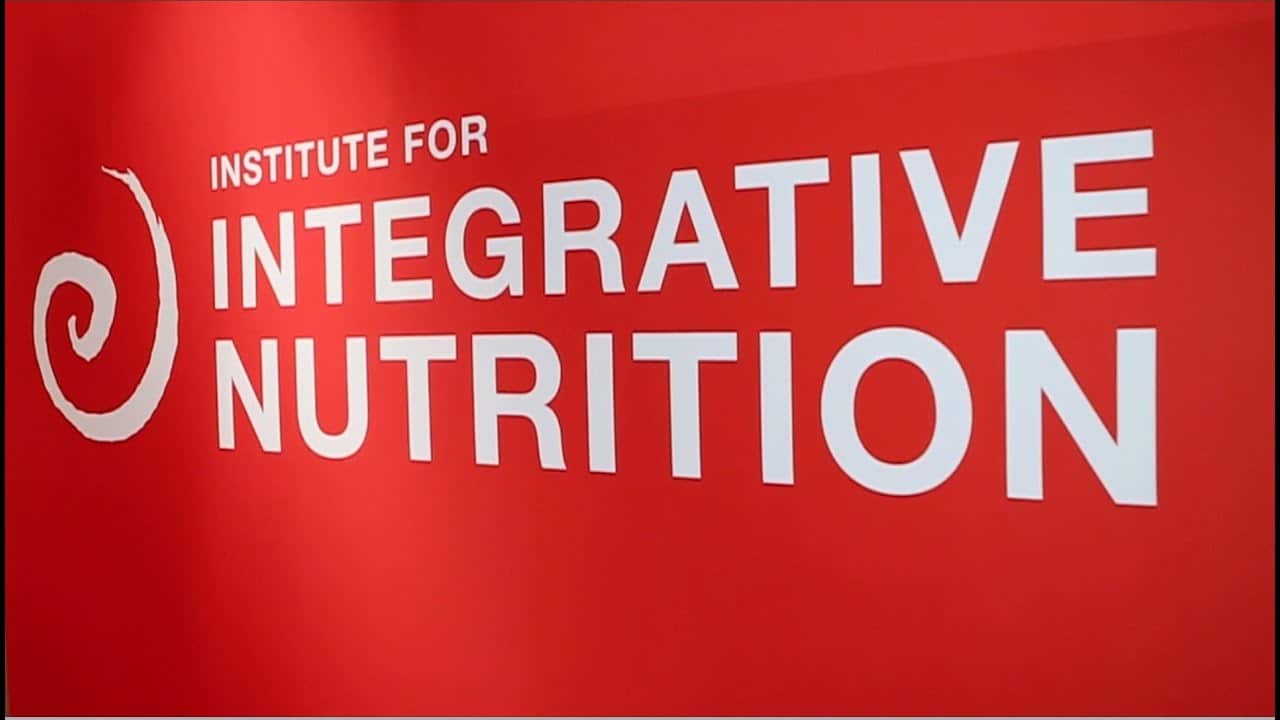 What I will say about the course offered by the IIN is that it covers not only health coaching and nutrition but the business side as well. And that's a good thing in my book.
Why? Well, it provides you with all the information you need to go out and make a success of your own business.
What You Will Learn…
IIN uses a number of core concepts that form the basis of their learning. Let's take a look at them in a little more detail.
Core Principal No. 1 – Food Changes Everything
It's all about food that nourishes but also helps people make the right lifestyle choices that will have a positive effect on their health. The emphasis here is on organic produce and it's better if sourced locally. Examples include whole grains, animal protein, plant-based fats. This is a guideline only and will be adapted to each individual.
Core Principal No. 2: Bio-individuality
One of the most important themes of IIN's nutrition concepts is that each individual is different. Not one solution works for everyone. That's why there are over 100 dietary plans and theories that form the basis of this certification. That means it is easier to help each individual find a way that works for them. It's about preparing you for a multi-pronged attack when it comes to helping people with lifestyle and nutrition issues.
Core Principal No. 3: Primary food
Nourishment isn't only about feeding our bodies. In fact, at IIN that which we feed ourselves is seen as secondary nourishment. Here, they go beyond that, into a concept called primary food, an important part of overall well-being. And that's broken down into the following:
Relationships
Physical activity
Career
Spirituality
I am sure you will agree with me, this is some pretty in-depth concepts and not just nutrition-based. And that's a good thing because all of these can certainly have an effect on a client's quality of life and their overall health.
The Curriculum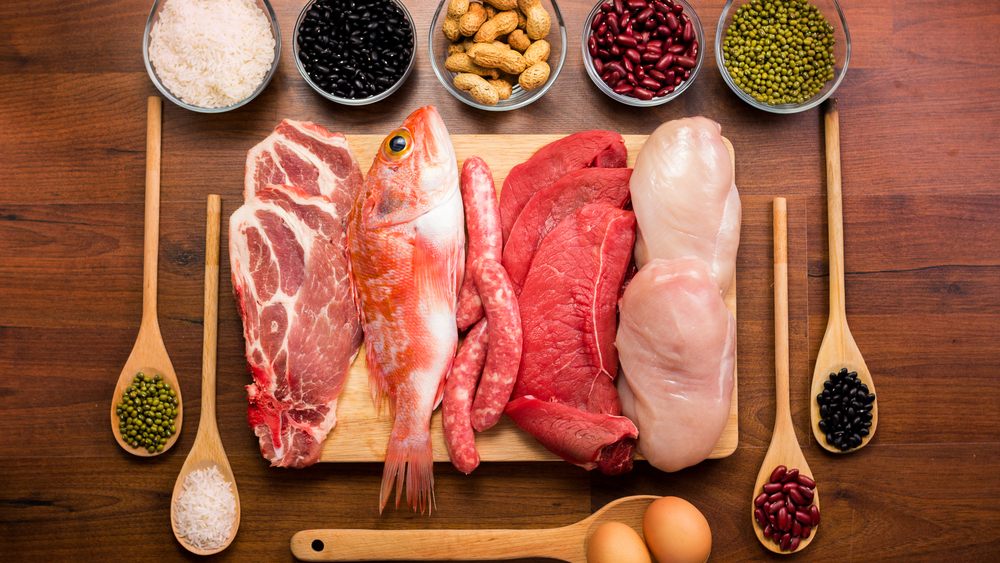 The course curriculum for this certification consists of five sections. These are:
Nutrition and health which consists of 48 separate sections. Some examples of these sections include whole foods A-Z, food labels and clean eating
Coaching skills consist of 22 separate sections. Some examples of these sections include group coaching and setting up clients for success.
Primary food which consists of 22 separate sections
Bonus business which consists of 23 separate sections
Foundation and guidance which consists of 15 separate sections
Study Materials
Everything you need is provided by IIN when you sign up for their course. Note, however, this is not a six-week or two-month certification. In fact, it's going to take a year of commitment from your side putting in at least 10 hours per week.
The great thing is that this certification can be completed anywhere in the world. Once you sign up, you will log into the IIN Learning Center. This app allows you to study from a laptop, smartphone or tablet and better still can be synced across multiple devices.
Lessons come in a range of options, including video lessons, discussions in groups as well as some written lessons.
Exam information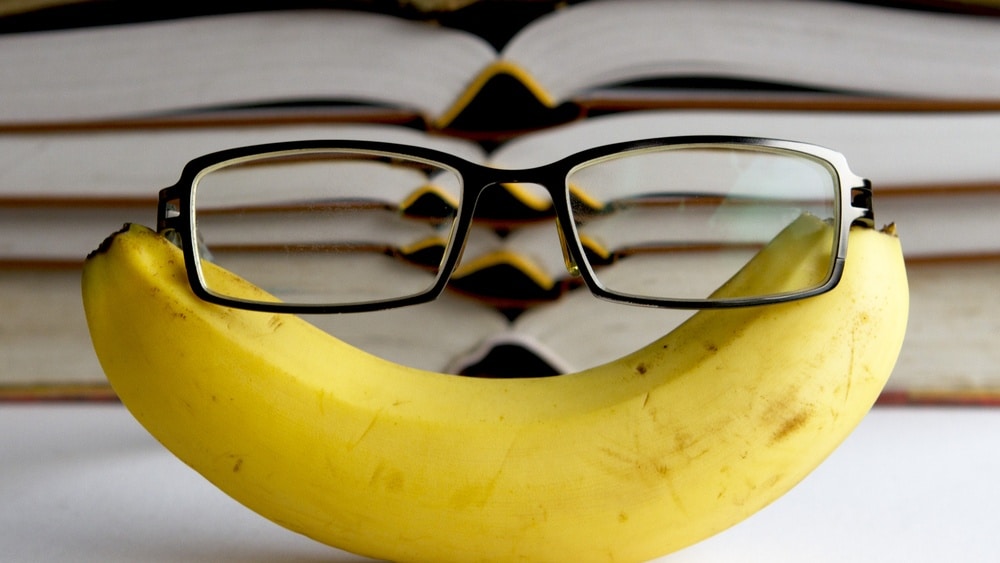 The price of the exam is included in your overall course fee (see below).
In all, there are four exams that are part of this certification. To graduate, you will need to pass two out of the four.
There are 4 exams throughout the course, every 10 modules, in fact. You'll need to pass 2 out of the 4 for graduation. A mark of 70% is required to pass. On passing, you will automatically receive 40 college credits that can be used towards either a Batchelor's or Master's degree.
Cost
Tuition fees for this certification certainly aren't cheap at $5,995. Bear in mind, however, that this is a year-long course and covers many principles not only covering nutrition but the business aspect of it as well. Factored in with that is the fact that you get access to around 100 dietary plans as well as guest lecturers and all-in-all, I believe this is a top certification.
Exclusive PTP Nutrition Offers



Gold Standard Cert

Most Popular Cert

Best Study Materials

A Good Option

A Great Option

Best Cert for you?

IIN also offers pay-in-full discounts as well as monthly repayment options from $199/month.
2: Nutritional Therapy Association (NTA)

The Nutritional Therapy Association (NTA) is a nutrition school that was established just over 20 years ago in 1997. Their main aim is to provide nutritional therapy training for health practitioners and others with an interest in the subject.
Currently, they offer two nutrition-based courses:
Nutritional Therapy 101
Nutritional Therapy Practitioner Online
Today, we are going to look at the latter a little more in-depth. This is a 10-month course that is taken online although it is instructor driven. It incorporates the foundational and bio-individual approach to holistic nutrition that is the cornerstone of the NTA philosophy.
Once accredited as a nutritional therapy practitioner, you are able to help clients improve their health and wellness as well as fight diseases using techniques including making changes to their lifestyle, eating food that is nutrient-dense, helping them with both personal aspects that affect their lives, culinary wellness and more.
What You Will Learn…
There are numerous important aspects of this program that will help to form the cornerstone of your knowledge base.
These include:
An in-depth look at each system within the body from a functional and dysfunctional viewpoint
Sourcing quality food
Improving culinary skills
How to plan meals
Barriers to health and wellness as well as outside influences that affect our eating
Improving overall well-being from an emotional standpoint
The importance of movement/exercise/sleep
How stress can negatively affect the body
Once certified, you will have the skills to be able to interview prospective clients, motivate them to change using learned clinical and practical skills as well as nutritional knowledge, and devise effective programs that will bring success.
The Curriculum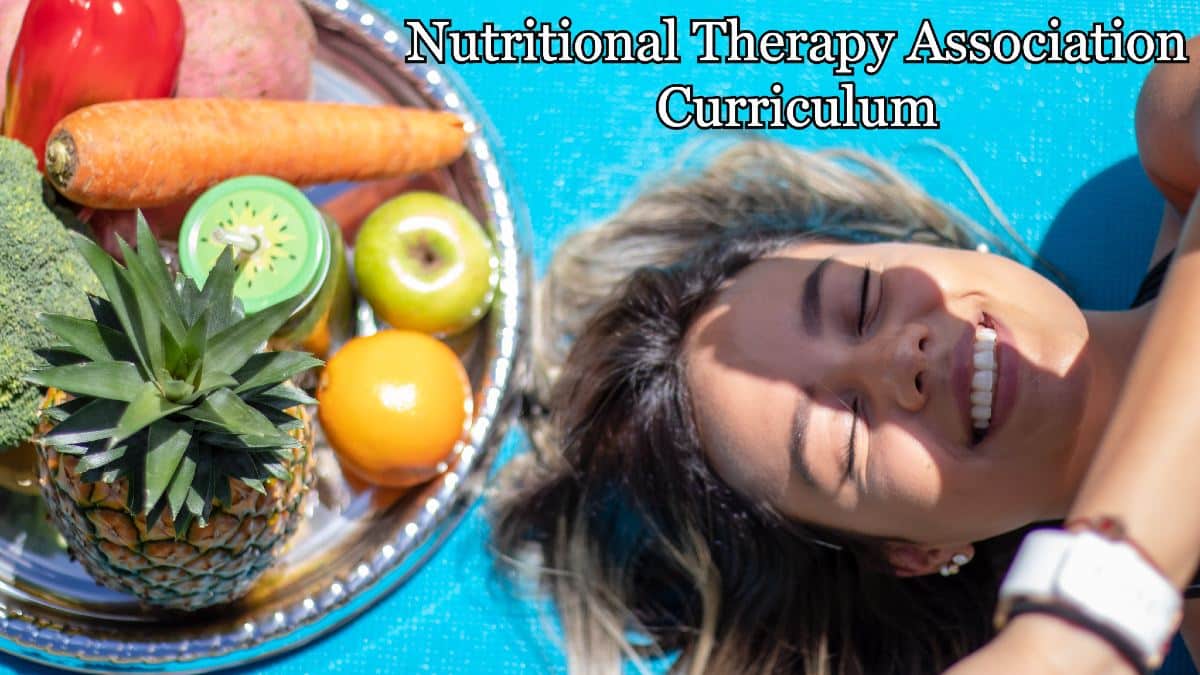 The curriculum for the NTP course is split into 20 modules and include the following:
Introduction and welcome
Evolution of the modern diet
Basics of nutrition
Client consultation process
Culinary wellness (part one)
Introduction to anatomy and physiology
Digestion and elimination
Blood sugar regulation
Fatty acid balance
Mineral balance
Hydration
Endocrine
Allergies and immune
Cardiovascular health
Sleep, stress and movement
Environmental factors
Barriers, influences and emotional well-being
Nutritional detoxification
Culinary wellness (part two)
Practice resources
I think you would agree with me that the above is a pretty comprehensive look at nutrition and all the factors involved with it. Remember, all of these are going to go pretty in-depth because this is a 10-month course.
Study Materials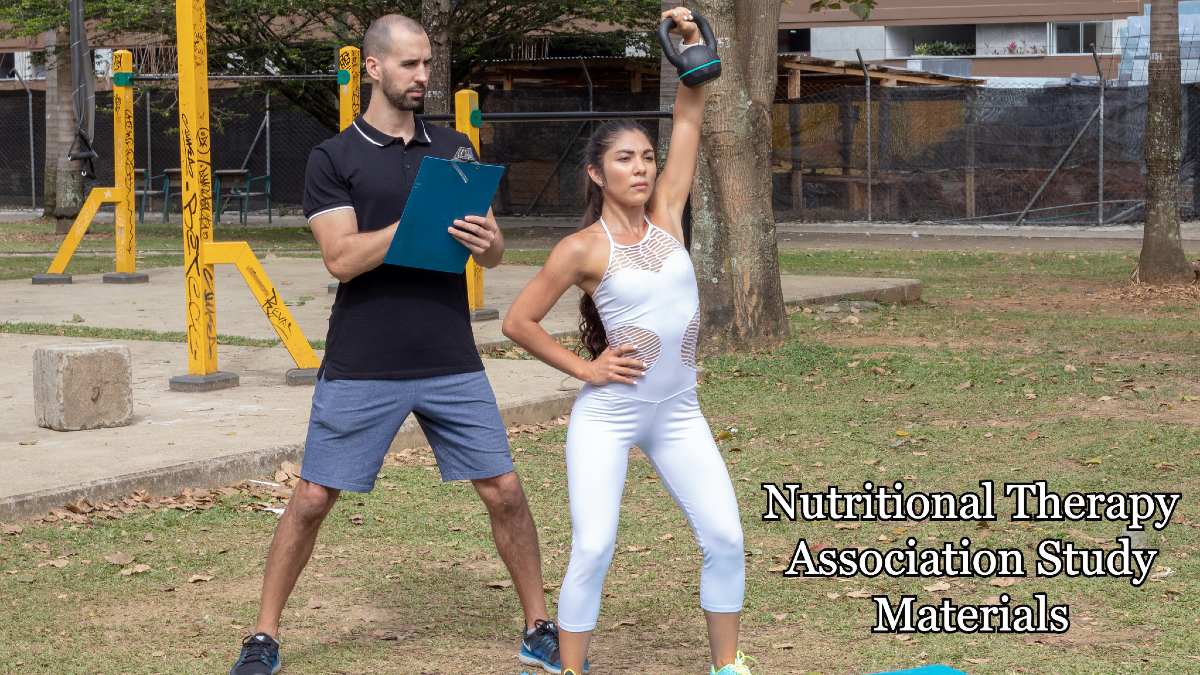 Everything you need to complete this course is available in the NTA's online portal. That includes all study materials, course notes, video lectures group discussions, access to lecturers and student forums. Webinars related to the coursework will also give students a great understanding of the concepts that are found throughout the curriculum.
Note, some coursework that is essential for this certification will need to be bought separately.
Exam information
NTP certification has two exams. The first is a mid-term exam while the final exam, at the end of the course, is a written exam for which you must achieve an 80% score to pass.
Cost
As you might expect from a 10-month course, this certification from the NTA isn't cheap. In fact, it will cost $5,900.
The good news is that if you cannot afford a lump-sum payment, you can pay off the course over a five-month period.
3:American Fitness Professionals Association (AFPA) Holistic Nutritionist Certification

The American Fitness Professionals Association (AFPA) offers a range of certification options in the field of health, nutrition and fitness. One of their most popular when it comes to holistic nutrition, however, is their holistic nutritionist certification.
What I like about it is that it is thorough, can be completed in six months or less and is relatively cheap when put against its competitors. Not only that, but it gives you a range of options when it comes to the material supplied.
For example, while the course is all online, you can choose to have a textbook as part of your package for a more hands-on approach to studying. And that's useful for those of us who like to page through reference material instead of using an E-book. But of course, that option is available to you as well.
What You Will Learn…
There is no doubt about it, this course is comprehensive. And the AFPA really covers everything that you need to become a successful holistic health coach. But let's look a little deeper at exactly what it is that you will gain from taking this certification.
On completion of the AFPA holistic nutritionist certification, you will have the knowledge base to be able to:
Guide clients to identify and remedy the nutritional mistakes that lead to health complaints that they may suffer from
Draw up both individual eating and lifestyle plans that help a client towards a healthy way of living
Help improve overall quality of life by promoting healthy eating and monitoring each individual's nutritional intake.
Provide expert advice in a range of important holistic nutrition areas including how to select the right foods, how to prepare them in a healthy manner, helping with diet modifications and more.
Assess clients with dietary restrictions and draw up special holistic nutrition plans
Constantly develop new eating plans, trail them and incorporate them into existing programs
Promote strong immune systems, physical and mental health by encouraging food habits that include foods that support the latter as well as helping to prevent illness and diseases.
Guide individuals through various nutritional concepts including taking in macro and micronutrients, which supplements they should be using, alternative dietary concepts and more.
The Curriculum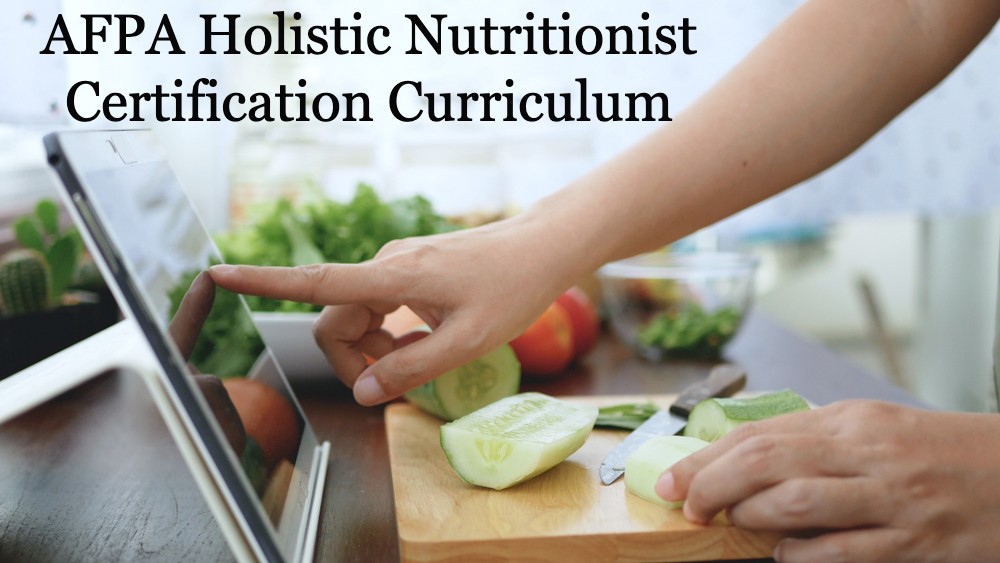 This certification is split into three main modules.
So what will you receive in terms of study materials when you sign up for the AFPA holistic nutrition course. Well, let's break it down.
Exclusive PTP Nutrition Offers



Gold Standard Cert

Most Popular Cert

Best Study Materials

A Good Option

A Great Option

Best Cert for you?

Module 1: Holistic nutrition and the science behind it
The first module gets straight into the human body with a basic look at both physiology and anatomy. Here, you will learn about the various systems in the human body and just how they relate to each other.
Furthermore, this module delves into both health and disease models from both a traditional as well as a holistic standpoint. You will also be taught the proven spices, herbs and whole foods that can not only help prevent certain diseases but reverse them as well.
Finally, more important theory is taught in the form of which foods should form part of a holistic daily diet and which should be avoided.
Module 2: Skill development for Nutrition Consultants
This module provides students with a hands-on approach to developing the skills needed to provide counseling strategies and the protocols behind them for individual clients.
This is done through practical case studies as well in the form of action-based worksheets that highlight nutritional assessments, strategies for counseling and more.
This module also provides you with a range of questionnaires, worksheets, forms and checklists which will be very useful to those starting out in the holistic nutrition field.
Module 3: Presentations – Holistic Health Research
The final module presents a wealth of information about holistic nutrition, the most up-to-date research, practical guidance and relevant information regarding nutrition that helps hinder chronic disease and even reverses it.
Concepts covered here include various eating programs (Paleo, veganism, vegetarianism), whole foods, the importance of supplements, the value of herbs and more.
These concepts come in the form of fact-based presentations geared at making everyday changes that lead to overall wellness.
Study Materials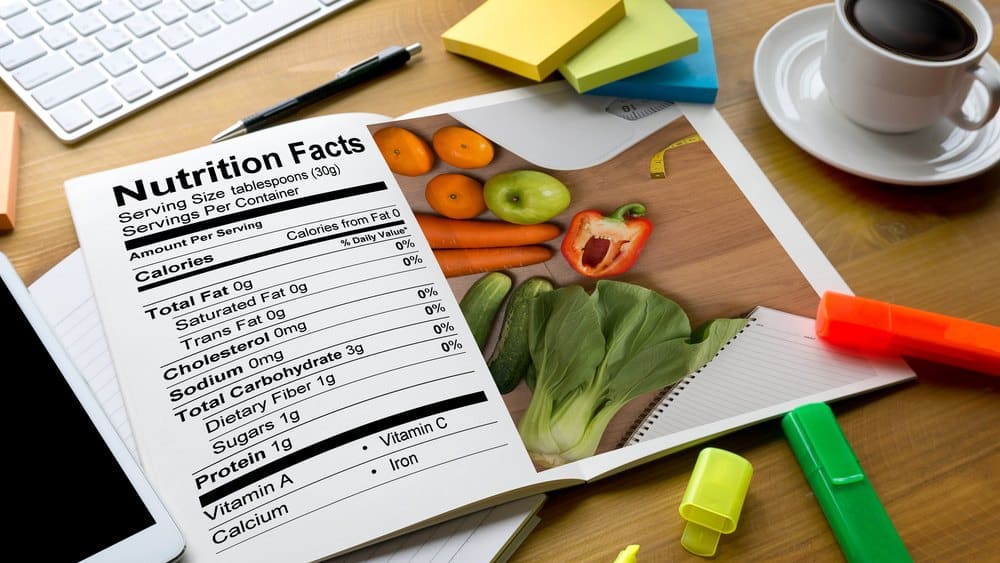 So what can you expect in the form of study materials for this certification? Well, I believe that the AFPA provides you with a thorough range of materials that will provide you with everything you need to become accredited.
This includes:
Digital coursebook or textbook depending on your package chosen
A range of self-assessment options including quizzes
Around 16 hours of online learning resources including both video and audio lectures
Transcripts for the video and audio lectures
A meal plan covering 28 days including the necessary shopping lists as well as recipes
Various forms, questionnaires and worksheets to help you assess clients when starting out
Various aids to help you start your own business (counseling and life management forms)
Exam information
To pass this certification, you will need a test score of 85% and above. Should you fail, you can take a retest at a cost of $75.
Cost
Finally, let's take a look at the cost breakdown for this certification. There are three options:
Online with E-book only – $899
Online with textbook only (no E-book) – $869
Online with textbook and E-book – $969
AFPA often hold specials, so it's well worth checking out their website to see if you can land any should you be interested in this course.
4: Nutrition Therapy Institute (NTI)

Since 1999, the Nutrition Therapy Institute (NTI) has provided holistic health and wellness certification options to students in the United States. Today, their top certification option is that of the nutrition therapist master.
Offered both online or in a class environment, this course consists of three separate parts. The first is made up of eleven 10-week academic courses followed by two separate 20-week skill development courses.
This is a long course but if you do it full-time, it can be completed in 18 months. For part-time students, the course will take three years.
What You Will Learn…
With such an in-depth course you can imagine the amount of information that you will get through. For that reason, let's just break down the academic course and the two separate skill development courses a little more to give you an idea as to what you can expect.
The academic course contains the building blocks you need to handle the holistic nutrition side of everything. It is split into 11 modules which we will briefly look at a little later.
The two separate skill development courses cover the following:
Business reading and coaching skills
An independent study in an area of interest of each individual student
The Curriculum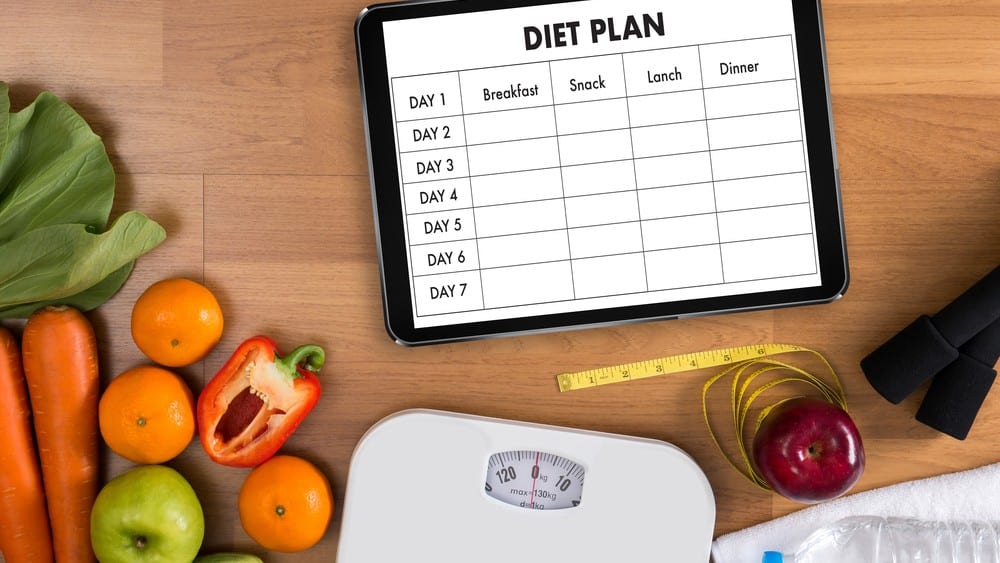 Now let's look at the curriculum a little more closely
Academic Course
The academic portion of the course, which runs for 10-weeks includes the following modules:
Anatomy & Physiology for the Nutritionist
Biochemical Foundations of Nutrition
Nutrients: The Building Blocks
Nutrition Therapy in Practice
Digestion and Detoxification
Life Cycles and Healthy Aging
Pathophysiology and Clinical Applications
Weight Management and Sports Nutrition
Nutritional Endocrinology and Reproductive Health
Introduction to Herbology, Supplements and Nutritional Lab Reports
Research and Communications
Business Readiness and Coaching Skills Course
Once you have the theoretical building blocks to become a nutrition therapist master, the next part of the certification covers concepts such as working with clients, building your business and more.
Independent Study
The final part of this certification is an independent study focuses on a particular area a student wants to specialize in once they have completed the course.
Study Materials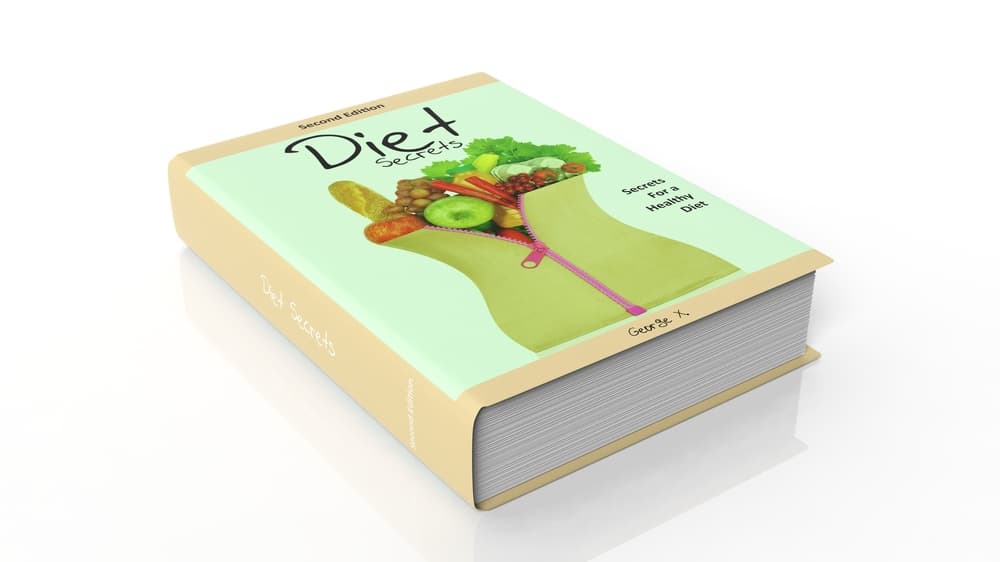 A number of study materials that you need are provided by the NTI for both online and classroom study, depending on your preference. Note, however, that this does not include a number of coursework books. These will cost an additional $1,000.
Cost
Ok, let's just say right out that this is not a cheap course. In fact, it's going to set you back just under $10,000. That said is extremely comprehensive and provides you with all the information you need to make a start in the world of holistic nutrition.
Each separate model that forms part of the academic course costs $790 and there are 11 in total. The business readiness and coaching skill course also cost $790 while the independent study is $475.
Payment plans are available.

Bauman College started out offering nutritional studies way back in 1989. Today, they offer three certifications: natural chef, health coach and the one that I want to look a little more into, the nutritional consultant.
What You Will Learn…
The nutritional consultant certification is a very detailed study that will take around 14 months to complete and students will need to invest 15 hours per work to do so.
At the end of it, students have gained the information they need to help promote good health and help prevent illness in their clients through the use of whole-food nutrition and counseling them about nutrition.
A business element is also built into the certification.
The Curriculum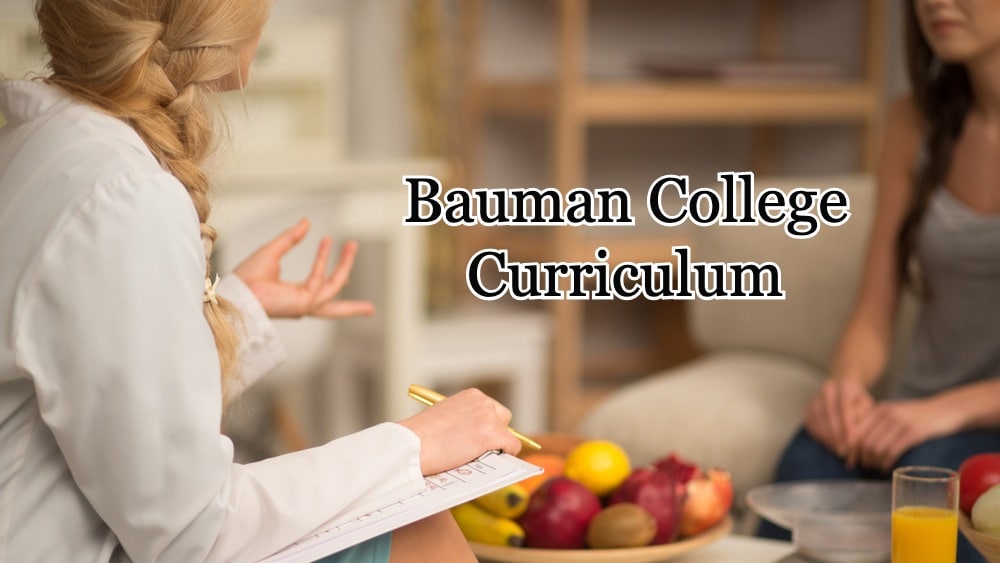 The curriculum for this certification is split in two: foundations of nutrition and therapeutic nutrition.
Foundations of Nutrition
Foundations of Nutrition is split into the following modules:
Eating for health
Digestive physiology
Biochemistry
Nutritional analysis
Macronutrients
Micronutrient
Nutritional counseling
Case presentations
Therapeutic Nutrition
Therapeutic Nutrition has these modules:
Nutritional consulting, analysis and meal planning
Biochemistry and metabolism
Immune health
Endocrine health
Digestive physiology and gastrointestinal health
Liver health and detoxification
Cardiovascular health
Client case presentations
Cancer
Neurological health
Musculoskeletal health
Pain management
Life cycle health and support
The final step is advanced business training. Once theory aspects are completed, students will submit a research project.
Study Materials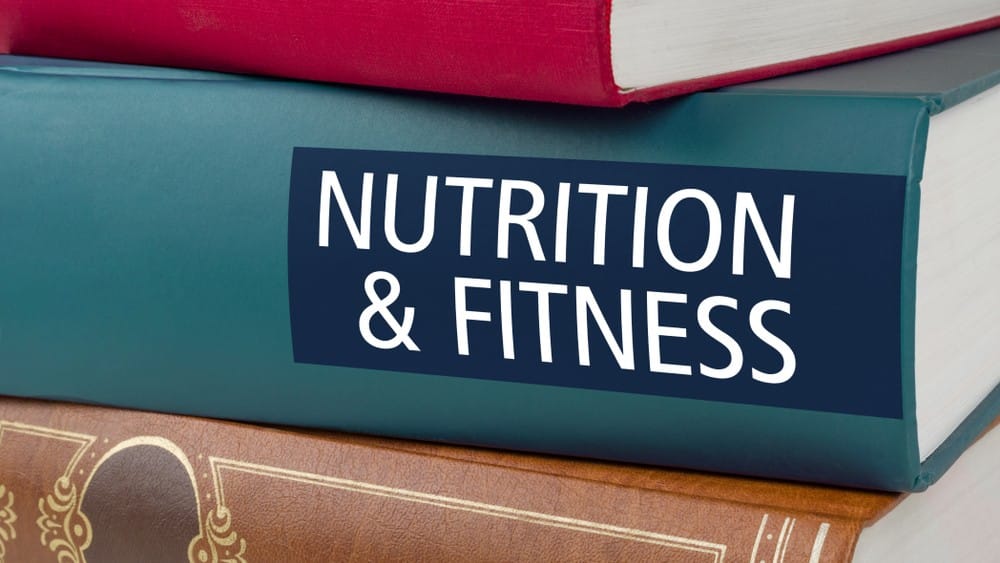 This course can be completed at one of the Bauman campuses or online. All you need will be provided although if you chose to pay the course off, you will pay additional fees for some books.
Exam information
To progress from the first phase (foundations of nutrition) to the second phase (therapeutic nutrition), a pass mark of 80% is necessary. The final research project must be submitted four weeks after the course has been completed.
Cost
Again, as this is a very comprehensive course, the cost is pretty high. All-in-all, it comes in at just under $8,000 although Bauman does allow students to pay it off.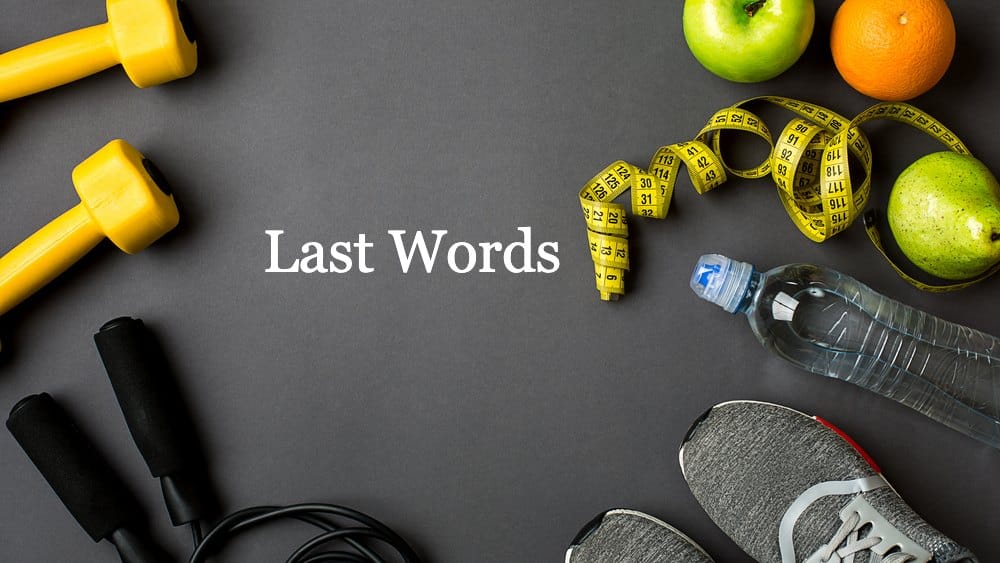 Phew! I am sure you will agree that we have covered five excellent courses when it comes to holistic nutrition. As with all things in life, each has its strengths and weaknesses.
At the end of the day, if this is the path you think you want to move into, take the time out to conduct delve into these options a little more. I suggest cutting your choices down to two and going from there.
Good luck!
References