In this article, I will rely on my 10+ years of experience to walk you through all the available TRX Certification courses and training options.
Currently, these courses are offered in two formats:
In-person classes
Online classes
By the end of this article, you should have all the information required to choose the TRX Certification that is right for you.
Let's dive right in!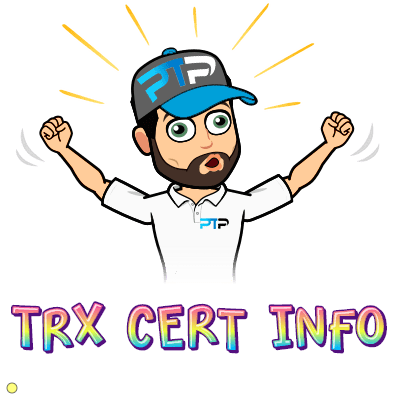 Introduction to TRX certifications
If you have been working in the personal training industry for the last ten years or so, I'm sure you have seen the massive growth of a suspension training system called TRX.
Some certifications that go hand-in-hand with TRX are corrective exercise, strength and conditioning certifications, and nutrition certifications.
I suggest checking out all three of those articles!
And although the TRX certification that I will be talking about in this article is not your typical "personal training certification," I still think it is appropriate for the site because I, and many other personal trainers, use this equipment regularly.
Also, if you want to become a trainer, take the quiz to see which certification is the best option for you.


The menu at the top of this page will answer any question related to your personal training.
If you have any questions, don't hesitate to leave me a comment here (I'll respond within 24 hours).
Also, visit the home page for the most recent and popular articles.
If you have not heard of TRX suspension training, let me do a brief overview of what it is.
TRX suspension comprises two flat straps with handles on the end.
You hang the straps from the ceiling or a strong beam approximately 8 to 10 feet tall.
TRX not only stands for the name of the equipment but the style of training that you use with the equipment.
It encompasses everything from the exercises, training style, and routines that can be created by only using these straps.
In recent years, TRX has expanded to use different types of equipment.
The more recent TRX RIP trainer equipment is two elastic bands attached to a bar.
Hundreds of thousands of exercises and routines can be performed with TRX equipment.
It is just a TRX instructor training certification so that you can coach your clients safely and effectively using their equipment.
I will be talking about the differences between the two.
Let's jump right into my TRX certification article to see the difference between all the certification exam options that they offer!
Exclusive PTP CPT Offers



Gold Standard Cert

Most Popular Cert

Best Study Materials

A Good Option

A Good Option

Best CPT for you?

If you're interested in how to get certified through a regular training certification, check out my article on how to become a personal trainer!
Differences Between a General Personal Training Certification and a TRX Certification
Right off the bat, I'll show you how a general personal training Certification differs from a TRX Certification.
It is more appropriate to call the "TRX certifications" actual courses.
On the TRX website, they offer multiple packages, including student membership. There is a significant difference between these packages and the general personal trainer certifications I discuss on my site.
Certifications such as NASM, ACE, and NSCA go into great depth about exercise science, biomechanics, nutrition, anatomy, and physiology.
I recommend getting one of these certifications and going through the TRX certification review before studying for any one of these TRX courses.
You will not learn all the essential information to become a certified personal trainer by taking a TRX training course.
These gold-standard certification courses teach you how to use their equipment and progress people through a workout using the equipment.
I believe the TRX system is fantastic for training your clients in a very functional way.
If you are already working as a certified personal trainer, adding a TRX functional training course will benefit you and your clients.
As a TRX instructor, taking a trainer certification is a great way to ensure the safety of your clients while guiding them on how to use the equipment.
This can be achieved by taking a TRX certification online or by registering for a TRX workshop.
TRX education and exam preparation classes for fitness certifications comprise lessons on finding the right strap and properly using the anchoring gear.
It can be even more beneficial if you work out of your house or work for yourself in a small studio with limited space.
How many cool exercises you can do with the TRX equipment is amazing.
One of the most rugged TRX suspension trainers available today is the TRX tactical gym and it has a 5-star rating on its website, with over 300 evidence-based reviews.
Here is a List of all the TRX Certification Courses
Based on their website at the time of my writing this article, there are two separate categories.
The courses that are level 1 are
The basic suspension course
The group suspension course
The RIP training course
The group RIP course
And of the cardio tennis course
The classes that are level 2 are
The suspension training course for sports medicine
And the force training course
The basic and group suspension courses L1
This suspension training course is fantastic for individuals that are just starting out with the TRX system.
It teaches you basic skills such as taking down and putting back up the bands and ensuring they are sturdy.
Exclusive PTP CPT Offers



Gold Standard Cert

Most Popular Cert

Best Study Materials

A Good Option

A Good Option

Best CPT for you?

In this course, you will learn 70 different exercises and how to regress and progress your clients for every one of the exercises.
The group course teaches you how to manage multiple people.
This is the TRX trainer certification that most people get.
The basic RIP and group RIP courses L1
Just like the basic TRX bands courses, you will learn all the RIP equipment basics.
You will also learn how to regress in progress with your clients for the exercises that they teach you about this equipment.
The group courses are very similar and just teach you how to manage multiple people simultaneously.
The tennis suspension course L1
This is probably the unique course that they offer.
You will learn how to set up and use TRX bands on a tennis court.
Tennis courts are a perfect place to do that workout because there's a lot of space, and you can set the bands on the high chain-link fence walls that they contain.
The exercises that you'll learn in this course are sport specific for tennis players.
You will be taught 30 different exercises and how to regress in progress tennis players through these 30 exercises.
The PES certification from NASM pairs well with this TRX training course!
The suspension training course for sports medicine L2
This course is probably my favorite.
It teaches you about muscular imbalances and how to treat them using the TRX training system.
These courses are fantastic for working with individuals that post-rehab and need functional training.
This course pairs very well with the NASM personal training certification, especially the corrective exercise specialist certification.
You are required to have level 1 before you can take this level 2 course.
The force trainer course L2
The force trainer is the opposite of the sports medicine course.
This course is meant so that you can be able to run military-style boot camp courses using the TRX equipment.
The exercises taught in this course were put together by hundreds of individuals serving in different branches of the military.
If you love running boot camps, this would be an excellent addition to your knowledge of Arsenal.
TRX Online Training Courses
TRX suspension training can now be accessed online either via live professional TRX training classes or digital courses.
The live classes offered are:
TRX Suspension Training Course
TRX Group Training Course
TRX Functional Training Course
TRX Rip Training Course
TRX Sports Medicine Suspension Training Course
Advanced Group Training Course
The digital TRX training courses that can be downloaded to your devices (PC, laptop, Macbook, smartphone, or tablet) are:
TRX Core Membership
TRX for Yoga
TRX Suspension Training Basics
My Opinion on TRX and Conclusion
I have had nothing but good experiences with the TRX training equipment, system, and the TRX certification courses that I have taken.
As I'm sure you have noticed, TRX bands continue to get popular even after being around for a while.
The reason for this is because they work and they work well.
They are not a fad training system that will go away anytime soon.
So many exercises can be done with this equipment and it does not require that much space.
This equipment is essential if you work for yourself or at home with clients.
It is fantastic for functional training and pure strength training for athletes.
This equipment challenges your flexibility, strength, and balance in one exercise.
To earn a TRX suspension training certification, you must take the relevant classes to master the available training tools.
These instructor training courses, whether strength and conditioning or corrective, are ideal for functional personal trainers wanting to get TRX certified.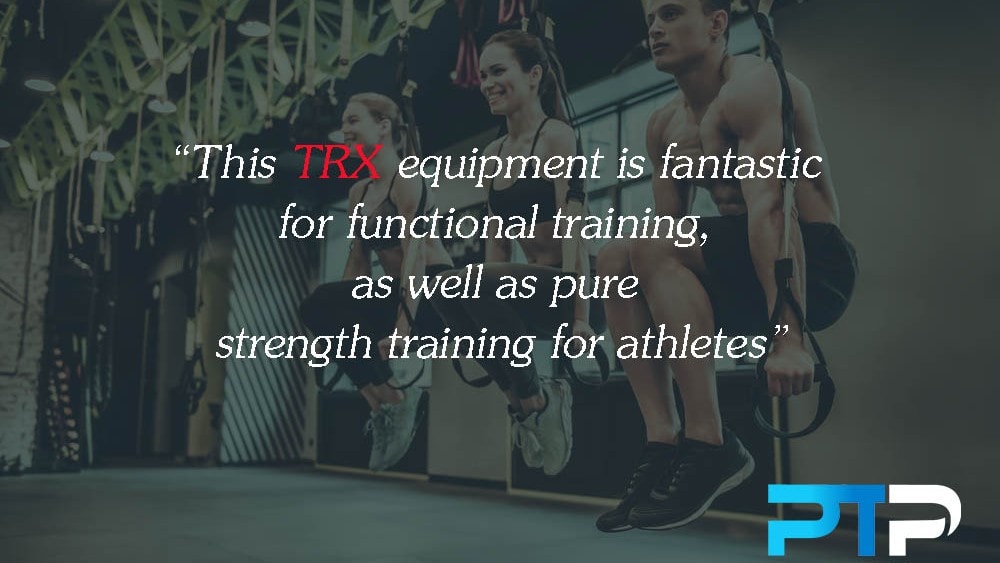 Sometimes I use this equipment for a whole training session with specific clients because of its variety.
I hope you liked my article on the TRX trainer certification! You can check out the TRX website here.
The job market for personal trainers is ever-expanding, and the average salary for a certified personal trainer is about $50 per hour.
It is much easier for personal trainers with relevant certifications and knowledge of many functional training tools to find a job in a very competitive market.
Also, some certifications that go perfectly with these training classes are a group exercise certification, as well as a health coach certification.
Lastly, but very crucially too, considering that most people search locally for TRX suspension training classes nearby using phrases like "trx classes near me," "trx workout near me," or "trx training near me," focusing on clients in your neighborhood is the right way to start.
Please use one of the social media buttons to share my content or tell your friends about it if you feel it is helpful.
Happy personal training!