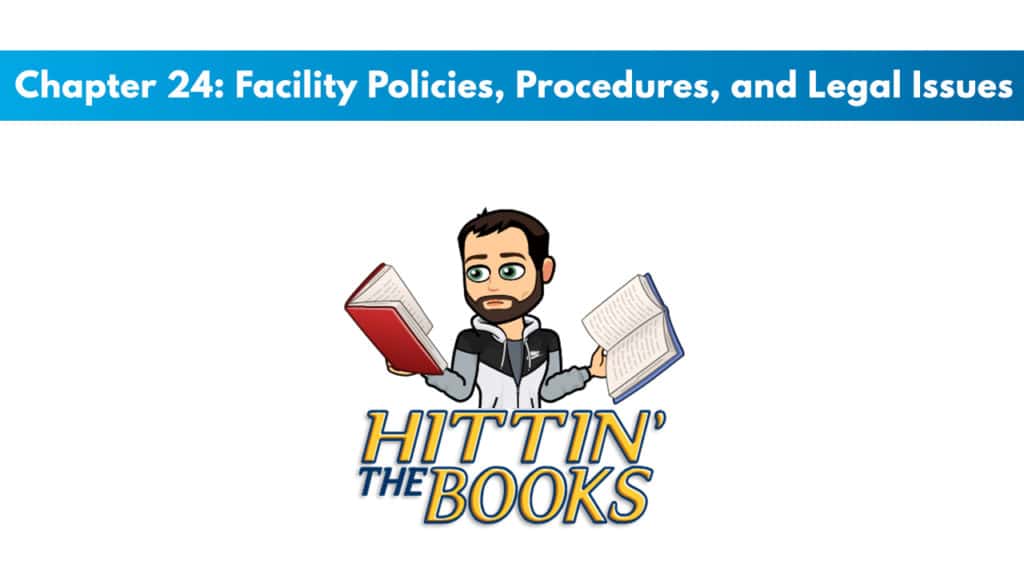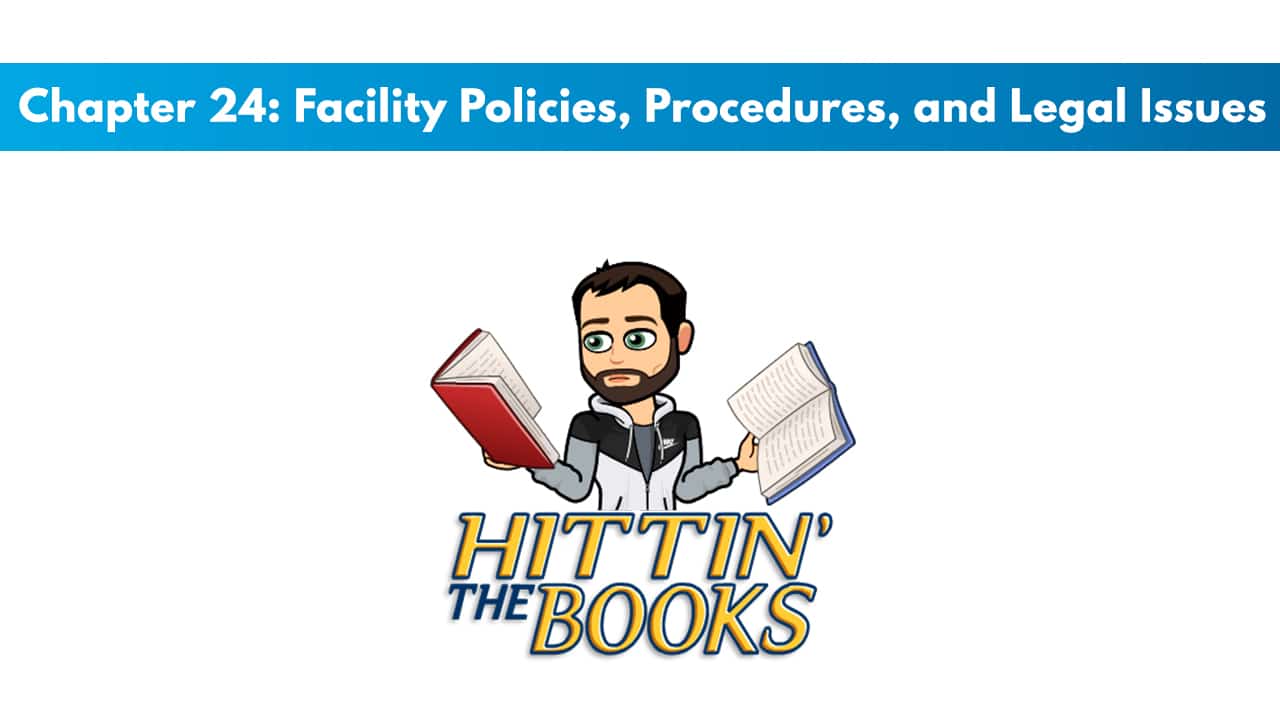 Get your copy of the NSCA CSCS exam cheat sheet. It helps immensely for studying for the exam.
Make sure to check out Trainer Academy for premium NSCA CSCS study materials. They will reduce study time by 50% and have an exam pass guarantee. Read my full review on them here. You can save $100 on their MVP study system with the code: PTPSUB
Chapter Goals:
Make and/or clarify the goals of a program.
Know the daily operational practices of programs and facilities that assist in achieving goals and objectives.
Make a standard practice leading to safe and effective strength and conditioning.
Find common areas of liability exposure and make strategies to manage risk.
Make policies and procedures manuals for the program and facility.
Correctly schedule the facility and make guidelines for seasonal planning and staff to athlete ratios.
Mission Statement and Program Needs
Mission statements are statements of purpose for organizations.
Three components are addressed: Target clientele, what is being provided, and what makes your service unique.
Program goals are desired end products of strength and conditioning programs, stated broadly.
Effective strength and conditioning programs need to be based on scientific principles to enhance performance and increase resistance to injury.
Suggested criteria for effective mission statements:
Short and sharp focus
Clear and easy to understand
Defines the organization's existence
Very broad in scope
Gives direction for upholding a code of ethics
Matches and addresses the scope of practice
Inspires commitment
Program Objectives
Specific means of attaining program goals
Sample List
Make training programs for creating the wanted results in body comp, power, balance, coordination, agility, speed, endurance, strength, and hypertrophy.
Make programs that take into account biomechanical and physiological differences between athletes.
See acute and chronic physiological responses and adaptations to training.
Teach athletes about good nutrition.
Teach athletes about the effects and abuse of PEDs.
Strength and Conditioning Performance Team
The director is responsible for delineating jobs and duties to the staff for program design, testing and evaluation, organization and administration, and exercise technique.
Staff productivity must be influenced by aligning a performance team of qualified practitioners with expertise and leadership roles.
Director of Strength and Conditioning
Both the administrator and the practitioner.
Exclusive PTP CPT Offers



Gold Standard Cert

Most Popular Cert

Best Study Materials

A Good Option

A Good Option

Best CPT for you?

They are responsible for the overall program, working with administration and media, proposal preparation, equipment purchasing, budgeting, equipment, and facility.
They develop, present, and enforce policies and procedures of the staff and program participants.
Make sure the staff are prepared and trained properly.
Strength and conditioning Staff
Certification possession from independently accredited organizations like the CSCS cert.
The NCAA Division I legislation states, "To Specify that a strength and conditioning coach shall be certified and maintain current certification through a nationally accredited strength and conditioning certification program."
Assistants must achieve and maintain certifications like first aid, CPR, and AED.
Staff Preparedness
Maintenance of professional certification.
Maintenance of certification in standard first aid, CPR, and AED.
Review of emergency procedures.
Knowledge and understanding of program policies and procedures.
Knowledge and understanding of governing body rules and regulations.
Knowledge and understanding of cleaning and maintenance issues and needs.
Knowledge and understanding of program philosophy and instruction methods.
Legal and Ethical Issues
Risk management is the strategy employed to decrease and control injury risk from athletic participation and the risk of liability exposure.
Common Legal terminology
Informed Consent is the process of a procedure/activity being explained to a participant, and details on the risk and benefits involved with participation are stressed.
The standard of care is what reasonable people do in similar circumstances.
Negligence is the failure to uphold the standard of care. For strength and conditioning, there must be four things: negligence, duty, breach of duty, proximate cause, and damages.
The assumption of risk is the knowledge that an activity can be dangerous, and you accept the risks.
Preparticipation Screening and Medical Clearance
Participants are required to go through health care screening and clearance before participating.
There should be procedures to ensure documentation confirms athletes are screened and cleared for participation by the sports medicine staff and put on record in the main office.
The staff is responsible for allowing the athlete to start formal involvement in strength and conditioning.
The scope of practice for strength and conditioning professionals says they can't diagnose health conditions.
Eligibility Criteria
Full or part time students in a sport sponsored by the athletic department.
New and incoming student athletes registered for school with a team confirmation of status designated by the head sport coach.
Students who are in PE classes.
Exclusive PTP CPT Offers



Gold Standard Cert

Most Popular Cert

Best Study Materials

A Good Option

A Good Option

Best CPT for you?

All the coaching and administrative staff in the athletic department.
All the sports medicine department staff.
Alumni athletes that participated in a sponsored sport and completed eligibility.
People and groups approved by the director of S&C.
The common criteria for determining outside organization's use of the facilities:
Preapproved by the athletic director.
Preapproved by the strength and conditioning director.
The session or program needs to be supervised by the strength and conditioning department staff.
The session or program must be scheduled during the off hours when athletes aren't there.
The organization or individual needs to give written proof of additional insurance.
Every participant needs to sign a release form.
Everyone needs to follow the rules and regulations of the facility.
The directors have the right to limit a group or person's access.
Record Keeping
Secure record keeping of maintenance and cleaning, safety procedures, injury report forms, professional guidelines and recommendations, credentials, waivers, clearance forms, informed consent, risk assumption, and equipment warranties.
Injury forms must be kept for as long as possible in case of a case against you.
Liability Insurance
Essential for staff members to have liability insurance.
Product Liability
Reference to the legal responsibility of manufacturers that a peso may get if they sustain an injury while using the product.
To avoid injury, these things should happen:
Equipment should be used as intended by the maker.
Make sure that equipment meets standards and guidelines.
Buy from reputable companies.
Don't modify equipment unless designated in the product info.
Put all the warning labels out for new equipment.
Inspect equipment regularly.
Make sure to supervise equipment users.
Discipline
First offense = verbal warning
Second offense = dismissal from the facility
Third offense = dismissal for an entire week
Fourth offense = dismissal for the year
Fifth offense = dismissal permanently
Supplements, Ergogenic Aids, Banned Substances
Strength and conditioning professionals shouldn't prescribe, recommend, or give drugs, controlled substances, or supplements that are illegal, prohibited, or harmful to athletes.
Staff Policies and Activities
The usual policies in a facility:
Orientation Meeting: This happens near the beginning of the school year or season. The director explains staff services, training schedules, progress cards, rules in the facility, actions of discipline, award systems, and emergency procedures.
Reporting and Documentation:
Personnel credentials
Standards and guidelines
Policies and procedures
Manuals for equipment
Equipment/facility maintenance
Medical clearances
Return to participation clearances
Legal documents
Training logs
Instruction notes
Evaluation entries
Code of Ethics and Professionalism:
A code of ethics makes up the principles that professionals are accountable for.
Staff should be familiar with the code of ethics and code of conduct.
Instruction and Supervision:
Instruction is teaching the athletes skills in safe ways.
Supervision is needed for max performance, instruction, and safety.
Staff needs to communicate clearly and have a view of the specified zones when working.
The staff to athlete ratios are:
Junior high 1 to 10 staff to athlete ratio.
High school 1 to 15 staff to athlete ratio.
College 1 to 20 ratio.
Supervision issues were used in 80% of court cases of athlete injuries.
Program Design:
The director needs to be over performance training programs and reconditioning programs.
Workout Sheet:
Activities must be arranged prior, and athletes need approved workouts when training.
More workouts than approved need to be approved by coaches.
Facility Administration
In season athletes have priority over off season ones.
Emergency Planning and Response
All strength and conditioning facility personnel need to know the emergency plans.
Emergency action plan components
EMS procedures
Names and telephone numbers of contacts
Address of the facility
Telephone location
Exit locations
Designated personnel for injuries
Ambulance accesses
Locations of emergency supplies and first aid kits
Plans of action for different scenarios.
Emergency Personnel
Personnel that has to do with practices, skill instruction, and strength and conditioning need to keep up certifications in first aid, CPR, and AED.
Emergency Communication
Instant communication is important for the delivery of quick care in emergencies.
Emergency Equipment
Emergency equipment needs to be available in situations of emergencies.
Roles Within the Emergency Team
Four main roles exist
First person giving immediate care for athletes.
The second person retrieves emergency equipment.
The third person for the EMS activation.
The fourth person should call the appropriate parties designated in the orientation meetings.
Non Life-Threatening Situations
Step 1: Give First Aid.
Step 2: Call 911 if required.
Step 3: Activate the emergency communication plan and notify the right parties.
Step 4: Take down note of the incident on the injury report.
Environmental Situations
Step 1: Give an alarm and get people to a safe location.
Step 2: Call 911 if required.
Step 3: Take note of all people and inform the rescue personnel.
Step 4: Start emergency communications and notify the right parties.
Step 5: Take note of the incident on the injury report.
Life-Threatening Situations
Step 1: Call 911
Step 2: Don't move the affected person.
Step 3: If conscious, Ask the victim if you can give first aid.
Step 4: Give CRP or AED if needed.
Step 5: Be with the victim until help is there.
Step 6: Start an emergency communication plan and tell the appropriate parties.
Step 7: Take note of the incident on the report.
Check out Trainer Academy for the best CSCS study materials. They even offer an exam pass guarantee. They have incredible study materials for the CSCS and I have a special limited-time discount for my readers. I also suggest you check out my review on Trainer Academy here.