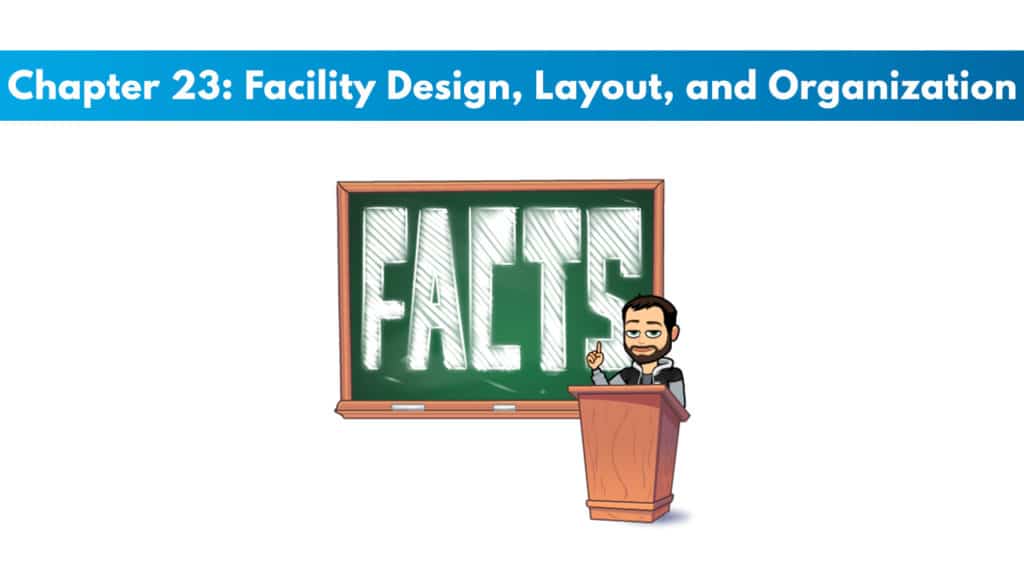 Get your copy of the NSCA CSCS exam cheat sheet. It helps immensely for studying for the exam.
Make sure to check out Trainer Academy for premium NSCA CSCS study materials. They will reduce study time by 50% and have an exam pass guarantee. Read my full review on them here. You can save $100 on their MVP study system with the code: PTPSUB
Chapter Goals:
Find the aspects of facility design. Also, know the four phases of design.
Find the aspects of facility modification and the differences between designing and modifying.
Describe the assessment of the athletic program's needs for facilities.
Describe designing facility features like supervision location, access, mirrors, electrical service, environmental factors, flooring, and ceiling height.
Describe how we should arrange equipment in organized groups for better traffic flow.
Describe maintenance and cleaning needs for the facility.
General Aspects of New Facility Design
Making a professional committee is the first thing that should be done for a new strength and conditioning facility.
The predesign phase typically needs 25% of the project's time (usually 6 months). The main priority is to make a needs analysis. Feasibility studies are conducted to find the costs, location, and interests.
The design phase is next, and it involves 10 -12% of the project's whole time (usually about 3 months). In this stage, you work with the architects to finish blueprints, include the specs for equipment, make the space user friendly, and design the facility to give access to all athletes.
The construction phase is the third phase, typically 50% of the total project. This is usually 12 months of construction. Deadlines need to be set and followed closely.
The Preoperation phase is the last phase of facility design. It is usually 15% and takes 3 – 4 months. The focus here is on making staffing considerations.
Existing Strength and Conditioning Facilities
Professionals in strength and conditioning need to take responsibility for existing facilities. The focus is to improve and reorganize to meet the new needs.
The professionals need to assess the equipment that is there and base it on the needs of the athletes and teams in the facility.
Exclusive PTP CPT Offers



Gold Standard Cert

Most Popular Cert

Best Study Materials

A Good Option

A Good Option

Best CPT for you?

Assessing Athletic Program Needs
How many people will use the facility?
What training goals do athletes, coaches, and administration have?
What are the demographics of the people using the facility?
What will the athlete's training experience be?
What will the schedules look like?
What equipment needs repairs or modifications?
Designing the Strength and Conditioning Facility
The location is preferably on the ground floor.
Supervision location needs to be located centrally.
The facility needs to be accessible to people with disabilities in some way.
The ceiling height should have between 12 and 14 feet of clearance from low items.
The flooring should be carpet or rubberized flooring; for plyometrics and agility, it should be indoor turf.
Lights need to be 50 – 100 lumens.
Typically, between 68 and 78 Fahrenheit is best for the temperature.
Humidity levels should not exceed 60%.
Air needs to be exchanged 8 – 12 times an hour. This is usually 2 – 4 fans every 1,200 feet.
Sound should be lower than 90 decibels so athletes can hear.
Electrical service should be grounded properly to keep from lightning strikes and surges.
Mirrors must be at least 6 inches from the equipment and 20 inches off the floor.
Other things to consider are drinking fountains, storage rooms, bumper rails, padding, telephones, and locker rooms.
Arranging Equipment in the Strength and Conditioning Facility
Safety and efficiency recommendations exist for each equipment type and exercise mode.
Function and safety are the biggest priorities when deciding equipment placement in facilities.
Equipment Placement
Need to be grouped into sections like stretching and warm ups, agility and plyometrics, resistance machines, aerobic area, and free weights.
Free weights and racks must be put along walls, and walkways must be between machines and free weights.
Exclusive PTP CPT Offers



Gold Standard Cert

Most Popular Cert

Best Study Materials

A Good Option

A Good Option

Best CPT for you?

Machines might be lined up in the middle of the weight room so there is a walkway on all sides.
Tall machines must be bolted to a door, column, or wall.
Cardio machines must be in their own place, lined up, and organized.
Dumbbells and barbells need to have a minimum 36 inches between other dumbbells and barbells.
Weight trees are put close to the plate loaded equipment and still 36 inches apart.
36 inches for walking should be present around the rack.
Equipment needs to be 6 inches minimum from any mirrors.
Traffic Flow
Make 2 or 3 main walkways 36 inches wide.
Stretching and Warm Up Area
There must be 49 square feet of space for dynamic warm ups and enough room for many people to be there simultaneously.
Circuit Training Area
These machines must be 24 inches or more, hopefully 36 inches, from each other. Walkways in circuit training areas need to be 4 to 7 feet wide.
Free Weights
These should be placed on a wall with a walking room between the wall and the weights.
Weightlifting Area
Platforms and racks must be 3 or 4 feet apart and bolted down.
Aerobic Area
This area needs 24 square feet for stair machines and bikes, 45 square feet for treadmills, 40 for rowers. These estimates include space between machines.
Maintaining and Cleaning Surfaces
Scheduling maintenance and cleaning ensures training is safe, protects investments, and keeps the facility's appearance.
The flooring must be inspected daily, swept, vacuumed, and mopped daily.
Vertical surfaces should be cleaned, and cracked mirrors replaced.
The ceiling fixtures and attachments need to be dusted.
You should prevent mildew, mold, and rust.
Check out Trainer Academy for the best CSCS study materials. They even offer an exam pass guarantee. They have incredible study materials for the CSCS and I have a special limited-time discount for my readers. I also suggest you check out my review on Trainer Academy here.