Welcome to the most authoritative review of the planet's two most prestigious water aerobics certifications.
I'll apply all my 10+ years of experience in the fitness industry to do a thorough analysis on:
ACE's Aquatic Exercise course
AFAA's Aqua Fitness course
In the end, you'll know exactly which is best for you.
Let's get splashing without any delay!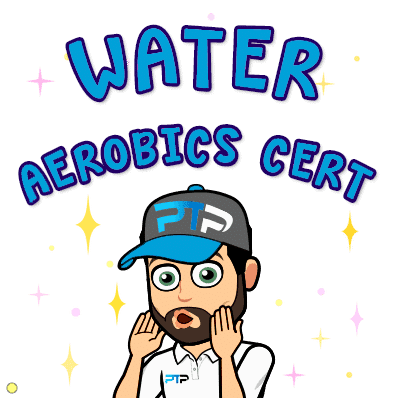 Introduction to water aerobics certifications
Do you love the water? Are you looking for a great way to have a lot of fun in the water, get exercise, and get well paid as a trainer simultaneously?
Are you looking to earn a Water Aerobics Certification? Are you thinking, "What is water aerobics?" or "How to become a water aerobics instructor?"
Well, then, you have come to the right place!
Also, make sure to check out my group exercise certifications article as well as the best general personal training organizations.
If you are not a certified trainer, take the quiz to determine which certification is the best for you.


The menu at the top of this page will answer any question related to your personal training.
If you have any questions, don't hesitate to leave me a comment here (I'll respond within 24 hours). Also, visit the home page for the most recent and popular articles.
Suppose working as a personal trainer in a gym that has a swimming pool; you might want to consider getting an aquatic fitness certification or water fitness certification to help people lose obesity – and more.
Different names, such as Aquatic Exercise Certification, Aerobics instructor certification, Aquatic aerobics certification, Aquatic fitness instructor certification, or Water Exercise Certification, know these aerobic water certifications for instructors.
I will tell you how to become a duly certified water aerobics instructor in this article.
If you are not a personal trainer, however, you can also benefit hugely from knowing the right aqua aerobic exercise for you, employing the services of a professional water aerobics trainer/instructor, and also for personal diet weight management.
Weight training, strength training, and participating in fitness exercises regularly are some of the best exercises that increase the calories you burn.
Group exercise and water aerobic exercises are extremely challenging but, at the same time, refreshing.
Exclusive PTP CPT Offers



Gold Standard Cert

Most Popular Cert

Best Study Materials

A Good Option

A Good Option

Best CPT for you?

It switches things up when compared to regular one-on-one training sessions – or even regular group exercise workouts.
Water aerobics Instructions must be prioritized when getting one of the water aerobics certifications that will be discussed in this article.
Having the right water aerobics training or certification is a great plus to any aqua aerobics instructor's career and potential client base.
I will be talking about the two primary water aerobics certifications that are on the market today.
They are ACE's Aquatic Exercise course and AFAA's Aqua Fitness course.
As an aerobic instructor, you want to plan a good water aerobics exercise routine for your clients.
This can be achieved if you consider taking either of these two water aerobic instructor certifications.
Check out all of the benefits of aquatic exercise! Let's dive right in!
The Aquatic Exercise Course from ACE
ACE's certification will cost you $79 (as of my writing time).
The course materials they offer are an instructional DVD and the course's primary textbook.
I believe that the DVD is an excellent tool if you are a visual learner.
The textbook will teach you about aquatic exercise and its history, as well as some basic exercise science of exercises that are performed in water.
Compared to some other ACE textbooks, I think the material is not as dense.
I found that it consists of many images, especially in the exercise section.
Water exercise is exceptionally different than out of water.
In any case, I learned cool things such as buoyancy, drag, and hydrostatic pressure and how they relate to exercise and water.
Like other group exercise certifications, you'll learn how to create great programs and lead a large water aerobics class.
Exclusive PTP CPT Offers



Gold Standard Cert

Most Popular Cert

Best Study Materials

A Good Option

A Good Option

Best CPT for you?

Regarding the DVD, you will learn a lot of aqua exercises and how to regress or progress individuals in your class.
This will also help you as an exercise specialist to monitor not only the weight loss of your clients but also their behavior change.
By the end of this course, you should understand how to use standard equipment for water aerobics exercises.
Here's the link to the general ACE certification.
The Aqua Fitness Course from AFAA
Compared to ACE, AFAA takes a slightly different approach to water aerobic fitness.
To get certified, you are required to attend a one-day workshop that is taught by an AFAA certified instructor.
During the workshop, you will learn how to conduct regular land exercises but underwater.
You learn about many of the same concepts, such as resistance in buoyancy.
Some of the cool things that they teach you are how to instruct your class both inside the pool as well as outside the pool.

They also do an excellent job of going over the routine design as well as how to progress your clients depending on skill level.
It is slightly more expensive than the ACE certification and will cost you $129 (as of my writing time).
If you are a member of AFAA, you can receive a 10% discount.
The $129 that you pay goes towards the one-day workshop, their primary textbook for the course, an exercise library, an outline of the manual, and membership with AFAA that will last a year.
Benefits of Water Aerobic Exercises
Water aerobics exercises have different names for different people; the following are some of the most common synonyms you may find:
Water aerobic exercise
Aqua aerobic exercise
Aqua Fitness
Aquaerobics exercises
Water aerobic workout
Aqua jogging workout
Water exercise
Water aerobic exercises, whether for instructor or clients, comes with numerous health benefits; these include:
Weight loss
Improved heart rate
Lower chances of obesity
Low-impact exercise
Other benefits of exercise include leading a healthy lifestyle and migraine relief.
Water aerobic classes and Eating a healthy diet are the ultimate choice for older persons suffering from heart conditions, psoriatic arthritis, obesity, high blood pressure, and constant migraines.
There are several water aerobics exercises for seniors.
Why Become Water Aerobics Certified?
Becoming a water aerobics instructor can be achieved by:
Water aerobic certification classes
Water aerobic certification online courses
Water aerobics instructor training
If you live in a large city, you can also check for seminars or workshops by searching Google for "water aerobics classes near me" or "aqua aerobics near me."
Planning out a good water aerobics exercise routine will be a great plus for any personal trainer.
This can be easily achieved by taking any of the above water aerobics certifications.
A water aerobic exercise routine is an exercise program that involves physical activity that can help lose weight, lose obesity, and in turn, save lives.
Suppose I was looking to hire a water aerobics instructor for my mum. In that case, I will only consider those professionals with a recognized aqua aerobics certification, and a higher percentage of people will definitely do the same.
Conclusion on Water Aerobics Certifications
I think both water aerobics certifications are excellent choices if you want a specialized personal trainer certification.
These group exercise certifications can greatly add to your general personal training certification.
The earning potential of personal trainers has continually increased the competitiveness in the market, so getting a recognized certification will do more good.
If you are looking for continuing education and have a pool in your gym, you might want to consider either one of these certifications.
Most certifying agencies, such as ACE or NASM, will accept either one of these as continuing education credits.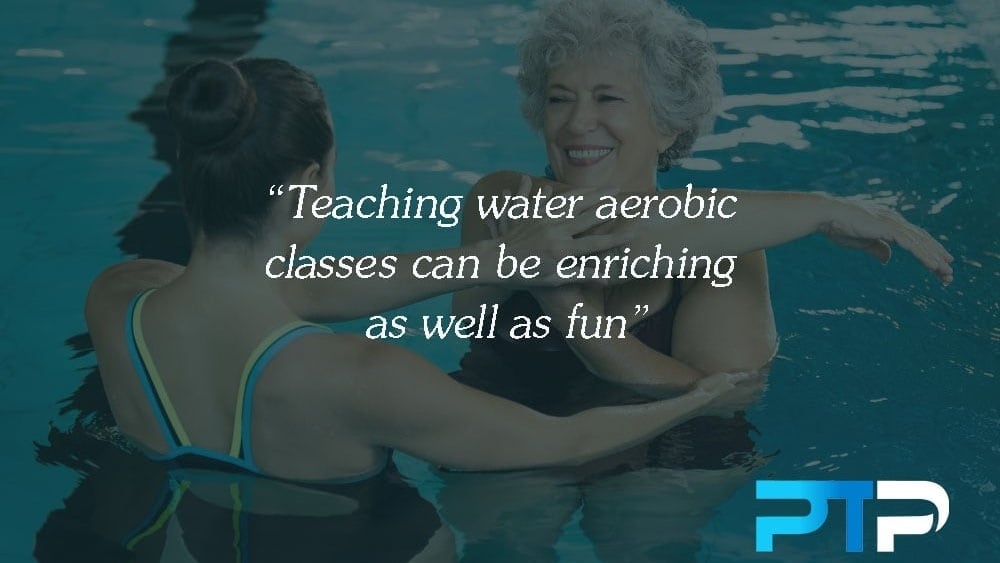 No matter the water aerobics certification or class you choose to take, virtual or in-person, always ensure that your clients provide medical advice diagnosis; this will help reduce accidents, especially in the case of live classes.
Before you proceed to take any of the two certifications above, ensure you already have a personal trainer certification or sufficient experience as a personal trainer.
Overall, I would have to give a slight edge to the ACE certification because it is slightly cheaper, and I like the support and structure of the course materials they offer.
Ultimately, the choice of the water aerobics certification you choose is yours to make.
Let me know what you think by commenting down below.
If my article were helpful, I would appreciate it if you would like to use one of the social media buttons or tell your friends and family about it! Happy personal training!