Hey Everyone, Tyler here, and welcome to the ultimate AFAA vs NASM review.
To help you decide between NASM or AFAA, I'll be using data and research gathered to look at the following key areas:
I'll also give each cert a final rating based on those areas.
But before we get stuck in, please make sure to take the quiz . It will allow you to gain a better understanding of which certification suits you.
With that said, let's jump right into it.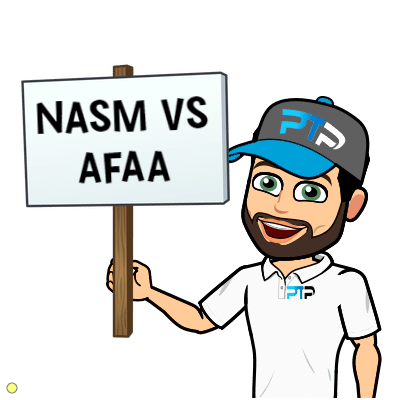 NASM vs AFAA Quick Information
In this section, you'll get to know a little about the history of both certifications.
NASM is the National Academy of Sports Medicine and was founded in 1987.
AFAA was formerly known as the Aerobics and Fitness Association of America but has since changed to the Athletics and Fitness Association of America, founded in 1983.
Both AFAA and NASM are NCCA accredited, making them on board with what's considered the "gold standard" in fitness certification.
NASM is described as focusing on corrective and restorative exercise instruction, while AFAA, as its original name suggests, emphasizes aerobic methodologies.
NASM acquired AFAA in 2015, making the latter a subsidiary of the former.
AFAA still retains its own curriculum and independent certification programs while under the NASM umbrella
If at the end of this article, you decide that the NASM certification is right for you, make sure to check it out at Trainer Academy. They offer Study Materials for the big NASM study guides like the CPT, CES, PES, and more.
General Certification Focus
Join me as I give you more insight into the focus and approach of both certifications.
I have already touched on the focus of each cert, albeit very briefly.
when looking between AFAA or NASM, it's important to consider their different approaches.
So now, let's dig a little deeper and determine the true trajectory of each certifying agency's curriculum.
NASM
NASM, as I suggested, has a focus on corrective exercise. To understand what this means and how it relates to NASM, let's figure out what corrective exercise is in the first place.
For the current pricing for the NASM certification, check out this link here.
What is Corrective Exercise?
Based on my years as a qualified fitness professional and my focus in this fitness area, corrective exercise can be summed up as a training methodology to improve current function or activate latent functions in the human body.
In simple terms, that means improving mobility through restoring or activating joint and muscle function.
A system like this has a strong focus on strength and conditioning, something you will become familiar with once you dig into the NASM course content.
NASM's proprietary OPT model exemplifies this principle of corrective exercise
The OPT or Optimum Performance Training model is what NASM believes to be the ideal way to administer evidence-based exercise protocols as a fitness professional.
It is broken down into three levels, each subdivided into five distinct phases.
The OTP model looks like this:
Level 1: Stabilization

Phase 1: Stabilization Endurance

Level 2: Strength

Phase 2: Strength endurance
Phase 3: Muscular development
Phase 4: Maximal strength

Level 3: Power
From my perspective, with a general understanding of how biomechanical functionality is developed effectively, the OPT model hits the nail on the head in terms of the sequence of events.
First, you want to establish body control and stability; you need to make the body stronger.
Once a degree of strength endurance is reached, you have a foundation to start building muscle.
More muscle means more potential strength, and with strength, you can begin fine-tuning performance towards a more power-centric adaptation.
It makes sense.
I would compare NASM to NSCA based on its approach.
AFAA
From my findings, AFAA is geared towards aerobic and cardiovascular training.
This is largely based on their founding principles and name, which stipulated aerobic training.
In case you didn't know, aerobic training is a training system that focuses significantly on cardiovascular exercise.
This was the most popular form of fitness training in the early days when mainstream fitness found its stride.
Exclusive PTP CPT Offers



Gold Standard Cert

Most Popular Cert

Best Study Materials

A Good Option

A Good Option

Best CPT for you?

However, AFAA is an all-around fitness certifying agency, emphasizing all the necessary aspects of fitness instruction.
For example, while going through the group fitness material and practice exam, I realized that the central focus was on:
Analysis of different exercise systems.
Basic anatomy
Biochemistry and the metabolic energy cycle
Biomechanics and kinesiology
Measuring vitals (heart rate, blood pressure, etc.…)
The musculoskeletal system
I also learned that AFAA addresses its method of administering fitness through its "Five Questions."
According to the website, these questions are:
What is the purpose of the exercise?
Are you doing that effectively?
Does the exercise create any safety concerns?
Can you maintain proper alignment and form for the duration of the exercise?
For whom is the exercise appropriate or inappropriate?
On analysis, these questions seem to address very basic checks for conducting god-quality exercise instruction.
For instance, understanding the purpose of an exercise is overlooked surprisingly often in exercise science.
When we take this on board, we can see that AFAA is geared towards the group training approach.
This is evidenced by the prominent showcasing of their group training options, aimed at equipping trainers to work with large and small groups.
Certification Recognition and Popularity
Below, I'll show you how popular and highly recognized NASM and AFAA are in comparison to other certifications.
NASM is by far the most popular of the two certification agencies with exercise specialists and health clubs, and this has little to do with the fact that AFAA is now currently absorbed by NASM.
Well before the acquisition, NASM certifications ruled the roost, according to data I've managed to gather.
Let's take a look at the figures real quick.
So, according to AFAA, they've certified over 350,000 trainers in their time as a certifying agency.
That's a bit shy of half a million individuals in the space of almost four decades.
Now NASM state that they've certified over 190,000 trainers in the last decade.
That means in just ten years, NASM has achieved more than half of AFAA's lifetime enrollment stats.
If we do the maths, NASM would have achieved an enrollment figure of approximately 760,00 candidates in the same time that AFAA reached its 350,000 candidate milestone.
Of course, this is purely hypothetical, and one has to remember that enrolment figures over time won't be directly proportional.
That's because, at their foundation, each certifying body will have a slow adoption phase.
Once early adopters have been through the works and reviews, and testimonials become available, the next intake would be considerably higher.
Regardless, it still provides a good idea of how much more popular NASM is than AFAA.
When looking at search trends from Google, NASM is by far the most searched of all the major certifying agencies.
It comes in with 1600 daily search results compared to the second most popular, ACE, with only 390.
Both AFAA and NASM are accredited by the NCCA, the National Commission on Certifying Agencies.
This is a mark of authenticity that indicates quality and relevance in what you're studying.
Any certification with the NCCA stamp is guaranteed to have the industry recognition required for access to job opportunities in fitness.
If I'm to choose between two trainers, the first thing I'll look at is the accreditation of their certification.
As long as it is an NCCA approved qualification, there's little doubt that the trainer in question has what it takes to operate in my facility.
Come along and discover how relevant the study materials of both certifications are to your personal training career.
The study material profile is really what makes or breaks the efficacy of a certification's educational experience.
When it comes to studying materials, I focus on a few key aspects.
These are:
The course textbook
Availability of a workbook/study guide
Availability of mock or practice tests/exams
Availability of multimedia support resources
Student support directly from the course administrators
Options between digital and hard-copy materials
From my experience having done the NASM Certified Personal Trainer course, they have one of the deepest study material suites out of all the major certs out there.
Their range of materials is available in 4 different tiered packages, with each tier offering a different depth and variety of materials.
Let's look at what NASM currently offers based on their website listing:
NASM
| Self-study | Self-study Premium | Guided Study | All-Inclusive |
| --- | --- | --- | --- |
| 100% Online Course | 100% Online Course | 100% Online Course | 100% Online Course |
| NCCA Accredited Exam | NCCA Accredited Exam | NCCA Accredited Exam | NCCA Accredited Exam |
| NASM-CPT Digital Textbook | NASM-CPT Digital Textbook | NASM-CPT Digital Textbook | NASM-CPT Digital Textbook |
| Content Learning Videos | Content Learning Videos | Content Learning Videos | Content Learning Videos |
| Exercise Video Library | Exercise Video Library | Exercise Video Library | Exercise Video Library |
| Practice Exams & Quizzes | Practice Exams & Quizzes | Practice Exams & Quizzes | Practice Exams & Quizzes |
| | Exercise Coaching Demonstrations | Exercise Coaching Demonstrations | Exercise Coaching Demonstrations |
| | Job Guarantee | Job Guarantee | Job Guarantee |
| | One-year NASM EDGE Trainer Plus | One-year NASM EDGE Trainer Plus | One-year NASM EDGE Trainer Plus |
| | | 10-Week, Instructor-Led Course (Optional/Flexible) | Virtual Coaching Course: Train Clients in the Gym and Online! |
| | | Certification Exam Retest | Certification Exam Retest |
| | | NASM-CPT Hardcopy Textbook | NASM-CPT Hardcopy Textbook |
| | | Access to Fitness Experts | Access to Fitness Experts |
| | | Business Accelerator | Business Accelerator |
| | | | NASM EDGE CPT Exam Prep |
| | | | Recertify for Life |
Pretty deep and comprehensive if you ask me, but don't ask me; you can see for yourself.
I personally believe the Guided Study package is the best option.
Exclusive PTP CPT Offers



Gold Standard Cert

Most Popular Cert

Best Study Materials

A Good Option

A Good Option

Best CPT for you?

It gets to the point and provides you with exactly what you need to pass and beyond.
The all-inclusive package is great, but it can be considered a bit bloated for most trainers.
I've also discovered that because AFAA is now a subsidiary of NASM, their study material packages are pretty much the same across most specializations.
The only difference comes in the form of the actual curriculum and content found in the course text, study guide, quizzes, and practice exams.
The structure and format are the same with access to the same standardized resources when looking at AFAA's different certs such as group exercise.
Another big difference is the fact that AFAA's Personal Fitness Trainer program, the equivalent to NASM's CPT, only offers a basic package with no tier options.
The package includes:
AFAA
14 online video lectures
Study guide
Practice exam questions
Free subscription to American Fitness Magazine digital edition
This package excludes the course textbook, which you will need to purchase separately.
This is perhaps in an attempt by NASM to push their own personal trainer course over and above the AFAA offering.
What this means is that AFAA's study suite is right on par with NASM's where most other programs are concerned aside from the personal trainer course, which is often viewed as the tentpole of any certifying agency.
Here, you'll learn about the cost of each certification and the value you will get from them.
Pricing is an important consideration and one which can easily sway your decision on which certification to go for.
NASM has been known to be on the pricier end of the spectrum when compared to other major certifying agencies.
With that said, they are one of the best and do often post up incredible discounts if you ask me.
The current costs of NASM CPT and AFAA PFT packages, excluding any discounts or promotional offers, are:
| Cost (NASM) | Cost (AFAA) |
| --- | --- |
| Self Study ($799) | AFAA PFT |
| Self Study Premium ($1099) | $499 |
| Guided Study ($1499) | |
| All-Inclusive ($2698) | |
When we look at AFAA, we see that their personal trainer package is incredibly cheap in contrast with what NASM offers.
However, this does come at the compromise of much of the study materials the NASM version offers and the exclusion of a textbook.
The AFAA Personal Fitness Trainer textbook will only set you back $79, which means the total cost of $578 is still considerably lower than NASM's cheapest option.
For the current pricing of the NASM, check out this link here.
Also, make sure to check out the free study guide that we offer here at Ptpioneer.
Exam Information, Recertification, and CECs
Below, I'll be giving you information on the exams, recertification, and CECs.
Both NASM and AFAA offer a final multiple-choice certification exam.
Both exams consist of 120 multiple choice questions to be completed in 2 hours.
If you've prepped correctly, this is more than enough time.
The exams are a bit different when looking at pass rate statistics.
NASM pass rates currently sit at 65%, while AFAA has a 62% pass rate.
Both require at least 70% in order to pass, which means you'll need to get at least 84 questions correct.
After successfully passing, you will now be granted your certification from whichever agency you're enrolled with.
As you might already know, once certified, time begins to tick on the validity of your personal training certification.
Most certifications are valid for a period of two years, although this may vary depending on the institution or the specialization.
For AFAA, your cert will be valid for 2 years, after which you will need to recertify by submitting 1.5CEUs, equivalent to 15 hours of continuing education units.
NASM has the same validity period but is different in that the required number of CEUs in order to recertify is 2.0, equivalent to 20 hours of education credits.
Evolution of Certifications
Are you interested in knowing how each certification has evolved with time?
Check below for answers.
As with any academic program, many iterations exist as the testing standards, knowledge resources, and technological trends evolve.
One of the biggest changes or progressions with both AFAA and NASM is the inclusion of an online course.
As of 2020, both agencies allow the administration of online exams through a live remote proctor.
This means candidates are monitored via webcam broadcast as they take the exam from their own computer.
NASM itself has made many strides in recent times to expand its horizons.
Previously seen as a titan in the North American fitness scene, NASM has now broadened its approach to an international audience.
This is primarily due to its online exam accessibility but also based on what I observed to be a concerted effort to appeal to an international, non-American market.
The same can be said for AFAA by mere virtue of being under the NASM umbrella.
Outside of this, AFAA has evolved in its own right.
They dropped the "Aerobics" in their name and replaced it with Athletics.
As I mentioned, aerobics, both in name and practice, was the fitness trend at the time of AFAA's inception back in the early 80s.
Today, fitness is regarded in many forms, with many essential aspects contributing to an effective approach.
This can also be seen in how AFAA prides itself on staying ahead of trends.
The AFAA Group Fitness Instructor Certification displays this approach with its inclusion of the biggest fitness industry trends of the day.
These include:
Barre
Pilates
Indoor cycling
Yoga
Zumba
Virtual training
In contrast to what was on offer in the 80s:
Karate
Step
Jazzercise
Aerobics
Home workouts
Racquetball
Then just to show how committed AFAA is to the current trends, their approach in the 2000s included gaming consoles.
We've all known about the Nintendo Wii and WiiFit; well, AFAA was on hand to help trainers capitalize on this huge fitness phenomenon.
with all that in mind, the biggest milestone for both would be the 2015 AFAA and NASM merger.
Conclusion and Final Score
That is all you need to decide between NASM and AFAA certification.
Take a deep breath and decide which one aligns with your career goals in the long run.
So, after all, is said and done, it's time to crown our NASM vs AFAA winner.
I've selected 3 categories in which each cert will receive a score out of 5.
| Category | NASM | AFAA |
| --- | --- | --- |
| Category | NASM | AFAA |
| Cost | 3/5 | 5/5 |
| Study Materials | 5/5 | 3/5 |
| Exam Difficulty | 4/5 | 3/5 |
| Popularity | 5/5 | 3/5 |
So the winner is NASM, scoring ahead of AFAA in all but one category.
NASM scores 4.25/5, while AFAA gets 3.5/5.
NASM has a more specialized approach that can be applied to special populations, while AFAA has a more generalist approach.
I suggest you bundle your desired program with a nutrition coach cert.
I hope this review gave you some good perspective and allows you to decide which cert is the best for you.
If you have any questions or suggestions, please drop a comment below, and I'll get right to it.
Make sure that you check out Trainer Academy for the best study materials and a guarantee to pass the NASM exam. Check it out here!
Find the current pricing for the NASM program here.
Citations
https://www.exercise.com/learn/how-hard-is-the-afaa-personal-training-exam/
https://www.starting-a-personal-training-business.com/afaa-certification.html
https://www.reddit.com/r/xxfitness/comments/1y91h5/so_how_difficult_is_the_afaa_personal_trainer_test/
https://www.reddit.com/r/personaltraining/comments/gcz175/passion_for_fitness_is_getting_nasm_worth_it/
https://www.afaa.com/courses/personal-fitness-trainer