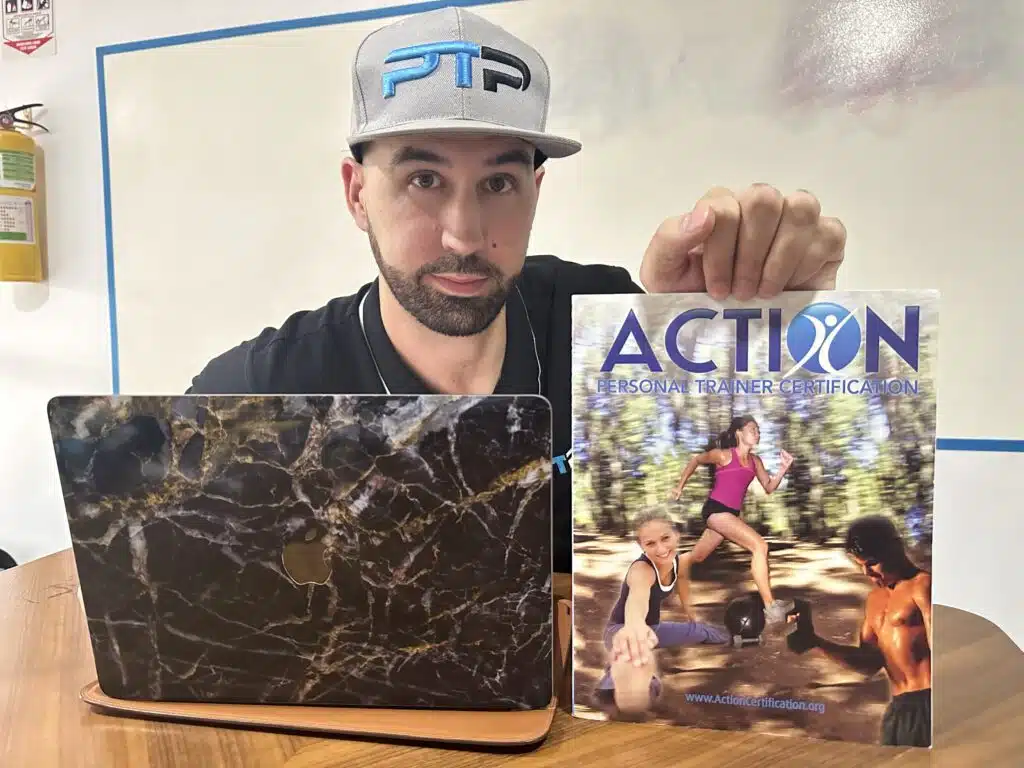 This article is a comprehensive ACTION personal trainer certification review. In this article, I look in-depth at the ACTION CPT program based on my experience studying the ACTION curriculum, passing the ACTION CPT exam, and working in the field for over 10 years as a certified personal trainer.
I have multiple fitness certifications, so I can definitely attest to the pros and cons of every certification, including the ACTION CPT. Additionally, my team of trainers at PT Pioner has over 2 dozen different certifications, so we really do understand all the ins-and-outs of this program.
This review looks at the following aspects of the ACTION personal training certification:
General information on the ACTION CPT
ACTION CPT cost and study materials
Certification requirements
ACTION CPT salary
ACTION exam difficulty
If you are really stumped as to which certification you can choose, you can take my quiz to determine which CPT is best for your career.
Without further ado, let's dive in to the ACTION CPT certification.


What is the ACTION CPT Certification?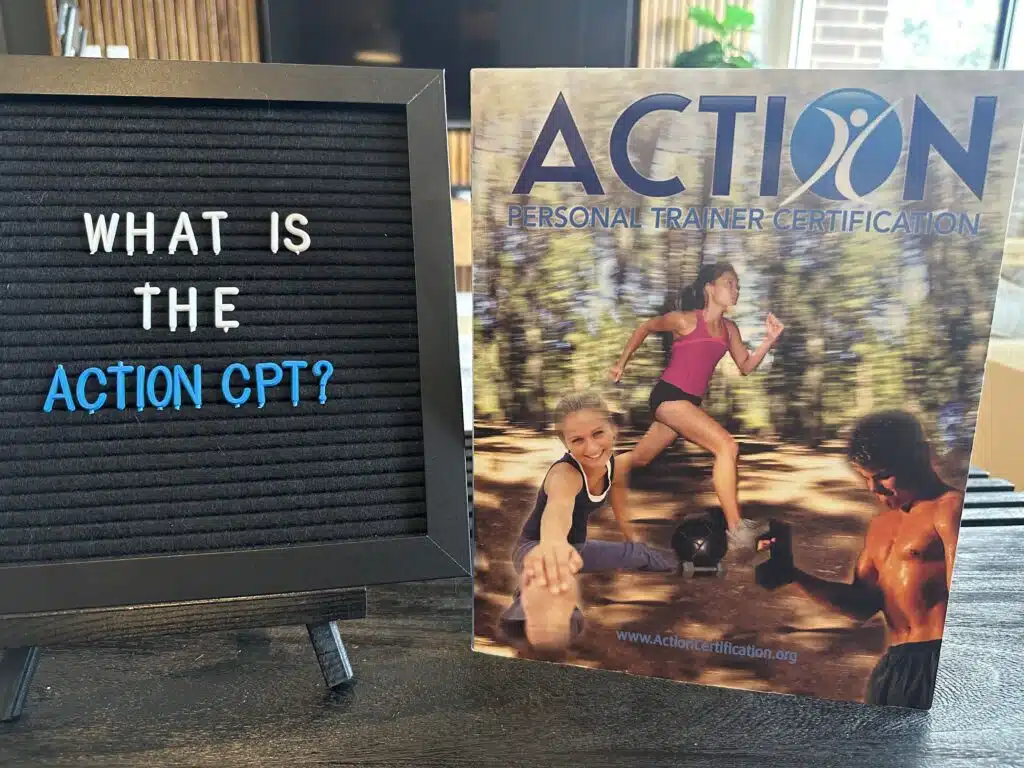 The ACTION certification is a generalized, low-cost certification aimed at personal trainers who want to get certified on a tight budget.
ACTION covers a range of information and knowledge needed for personal trainers to get a handle on the various areas you need to succeed in the fitness industry.
ACTION CPT General Information
Study material cost: $99 – $249
Prerequisites: None
Exam passing score: 70%
Average completion time: 8 – 16 weeks.
ACTION Credibility and Reputation
ACTION was known under the name of ACT personal training, the Athletic Certification Training organization.
The final exam is administered through the ACTION Governing Board, with which there is little to know online regarding them.
The Organization offers three fitness certifications, which cover a basic introduction to the three main training areas. These are Personal Training, Nutrition, and Group Exercise.
This is a great combination of certifications and should be more than enough to cover most of what clients are looking for with fitness and wellness training.
This is the cheapest certification organization in the entire fitness industry, and they pride themselves on reaching many people to reduce this cost.
With that said, the ACTION Certification content is pretty thin compared to other certifications, so in many ways, you get what you pay for.
Is ACTION Worth It?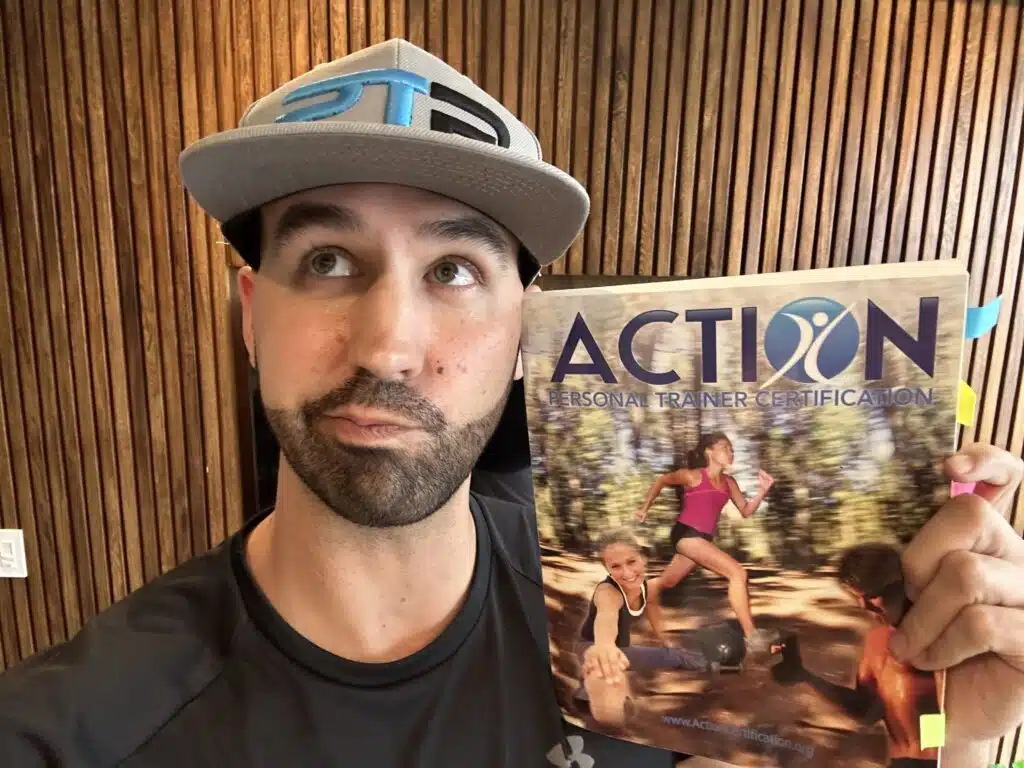 ACTION is realistically only worth it if you absolutely cannot afford the best personal trainer certifications like the ISSA personal trainer certification, NASM CPT, or ACE personal training certification. The ACTION CPT is extremely cheap for an NCCA-accredited certification, making it a straightforward way to become a personal trainer, but that's roughly the only thing it has going for it.
I would only recommend ACTION if getting a personal training certification is just a formality, and you already have a solid career. Most gyms are not going to know about ACTION, so be aware of that before you get certified with intention to get hired at a gym. That being said, it is a great certification among cheapest CPT reviewed by us.
It's always a good idea to read the coaching job description specific gym you want to work at regardless, so this note is not necessarily specific only to ACTION.
Pros
Cheapest Personal Training Certification
Multiple formats for the study materials
1 year to take CPT exam
Cons
Based on research that is not as thorough as other certs
Not a reputable organization
Virtually no continuing education credit options
Who is the ACTION Certification meant for?
The ACTION CPT is geared for trainers who do not want to spend the money on any of the big name certifications like ISSA, NASM, or ACE.
It's useful since it is accredited by NCCA, so the curriculum has been vetted by the same institution that gave NASM it's credibility.
Great for
Individuals on a tight budget
Self-employed trainers
Not Great for
Individuals who want to work at a gym
Individuals who need a widely recognized certification
ACTION Certification Cost and Packages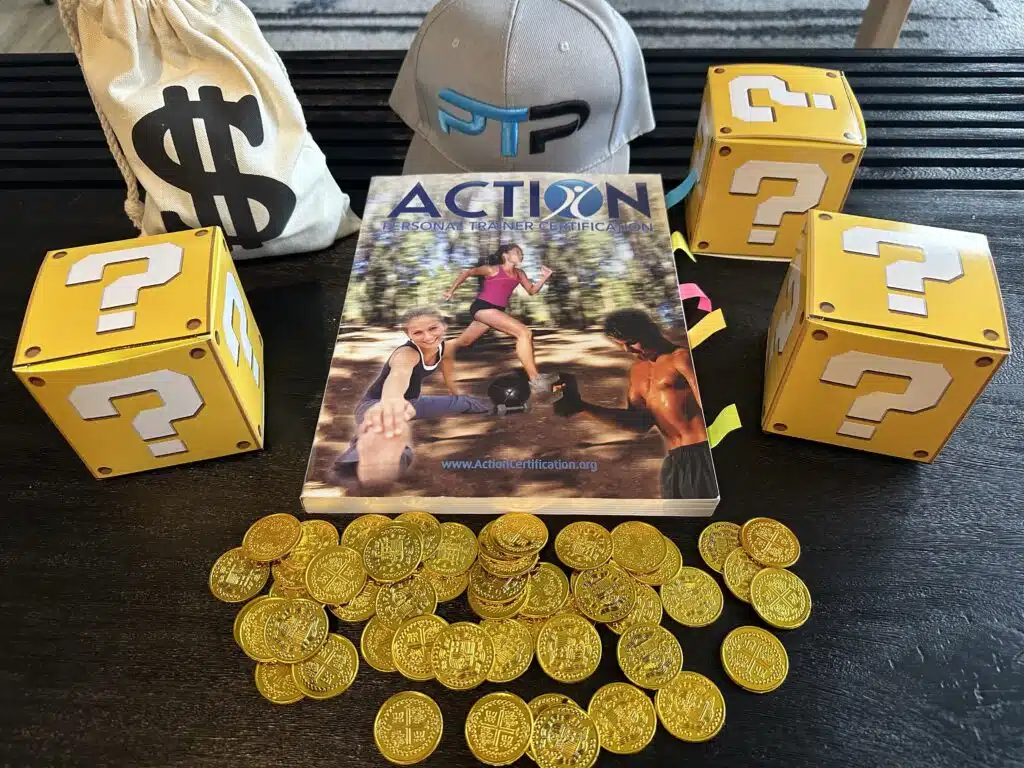 ACTION offers three certification packages with varying levels of materials included.
Exclusive PTP CPT Offers



Gold Standard Cert

Most Popular Cert

Best Study Materials

A Good Option

A Good Option

Best CPT for you?

Basic CPT Plan
This plan starts at $99, which is an incredibly low price for a personal training study program. You cannot find another certification program anywhere near this number. 
This plan will include the smallest offering of study items, as it is a low price. There will be the physical textbook, a pdf form of the textbook, a short practice exam, 5 real-world simulations, and 2 online classes.
This is the bare minimum for a fitness certification, but still amazing that they could sell for such a price.
The only thing not included in this $99 purchase for the exam will be the proctoring fee, which you will have to pay. This can be around the same price as the study package, more or less.
Professional CPT Plan
This plan comes in at $149, or $9.95 per month. Still a cheap and great solution to getting a personal training certification. It includes quite a bit more for just $50.
This plan will include the textbook, PDF form of a textbook Kindle ebook, flashcard study, online CPR training, 18 online classes, 12 real-world simulations, 200 practice questions, a job reference letter, a personal trainer form library, a business plan, and insurance rate benefits.
For just $50, there is quite a bit of value added to this professional plan.
The Practice Test questions are a notable addition here, as the basic package has very little exam-specific prep.
Remember that the program covers the online exam but not the proctoring fee, which will cost around $99.
Platinum CPT Plan
This package comes in at $249, or $19.95 per month.
This plan will have a much longer list of additional materials. Included here we have the textbook in physical and PDF form, kindle eBook, flashcard system, over 400 practice questions, 21 real-world simulations, 28 online classes, online CPR training, job reference letter, business plan, insurance rate benefits, free recertification for life, advanced nutrition cert included, and the priority support system.
The package includes a lot, but the main kicker here is the nutrition certification.
Now, let's look at how the textbook and content of the study materials cover the main CPT aspects in the industry.
ACTION Certification Review – Personal Trainer Content Coverage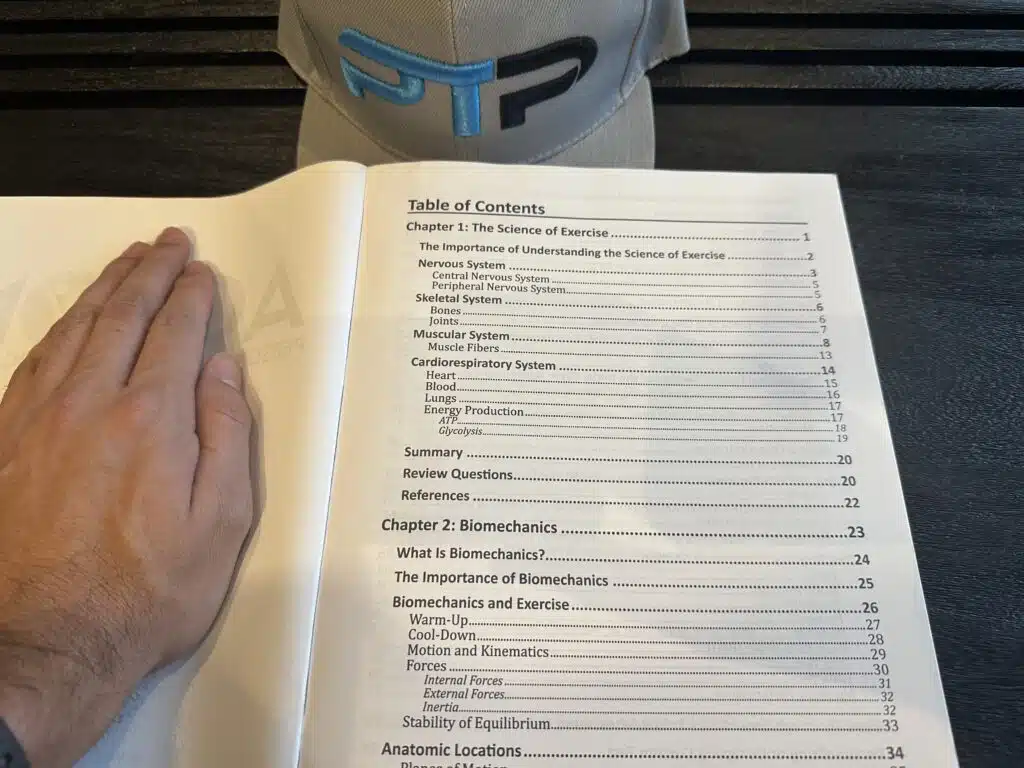 The textbook is just over 300 pages and is packed full of the basics of personal training. 
The main textbook includes all of the basic topics on exercise science, biomechanics, client assessment, program design, special populations, nutrition, starting a business, and legal issues.
The textbook works very well with the ACTION personal training system, which is their online platform that goes along with your studies. 
You will learn a variety of exercises for all areas of the body to hit the various muscles across your body to gain muscle and lose weight. You will learn how to build muscle and sets goals for implementing workout programs with weights aimed at getting results while preventing injury.
Weight loss is common among fitness goals, and you will learn how to increase movement in your clients in order to promote weight loss. Development of flexibility in your arms, shoulders, and other areas of the body is also covered in the details in the textbook.
After you have gone through the content in the study system and textbook, you will be able to do these things:
Exclusive PTP CPT Offers



Gold Standard Cert

Most Popular Cert

Best Study Materials

A Good Option

A Good Option

Best CPT for you?

Give your client a complete nutrition and workout tracking system
Guide new clients through the assessment process and make sure their medical, health, and lifestyle info are considered
Create custom training programs based on templates for safe and effective workouts
Make more money through provisions of extra services like planning meals, tracking calories, and tracking performance
Be in charge of group fitness and boot camp style classes
Manage billing and packages for training
If you have another Personal Training certification, likely, you will not benefit much from this more basic approach to the profession.
Most of the essentials are still here, but nothing really shines.
ACTION Exam Prep and Study Materials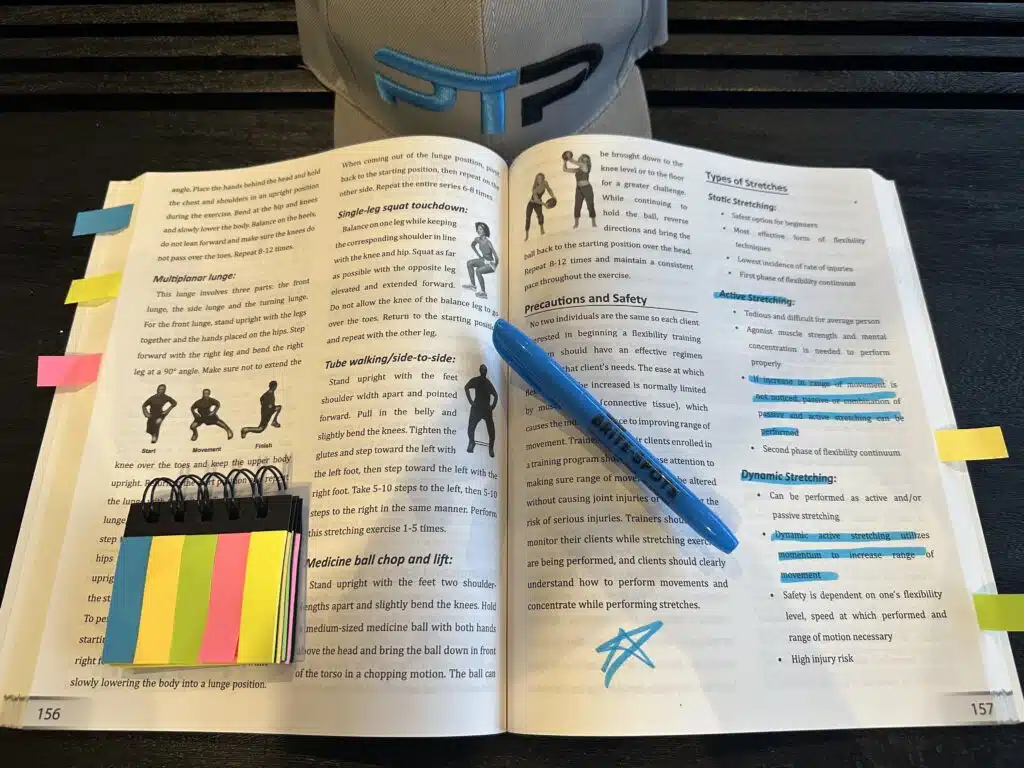 Depending on which package you purchase, you can get a solid set of study materials for the ACTION CPT.
All packages include the physical textbook, which is printed and shipped to your house. Interestingly, you only get flashcards and a kindle book if you purchase the professional and platinum tier programs.
The ACTION textbook covers all of the materials you'll need to learn and pass the ACTION CPT test.
The higher tier packages include the additional materials but also come with career transition materials aimed at helping you get the job after getting certified.
The plan benefits kick in at the highest tiers and give you recertification for life and an advanced nutrition couse, but do not‌ apply more materials to the CPT program.
Generally speaking, the basic package with the textbook is sufficient. If you do want the digital kindle version and flashcards, you will have to opt for the professional tier plan.
I recommend planning 8 to 12 weeks to prepare for the exam if you do not have any prior experience in exercise science.
ACTION Certification Requirements
The ACTION personal trainer certification requires a valid CPR/AED certification and high school education.
ACTION CPT Salary
There isn't a ton of data on the specific salary of ACTION-certified personal trainers. That being said, the average personal training salary varies between around $30,000 per year to upwards of $75,000 per year.
This can be higher depending on experience, location, and employment arrangement.
Taking the ACTION Final Exam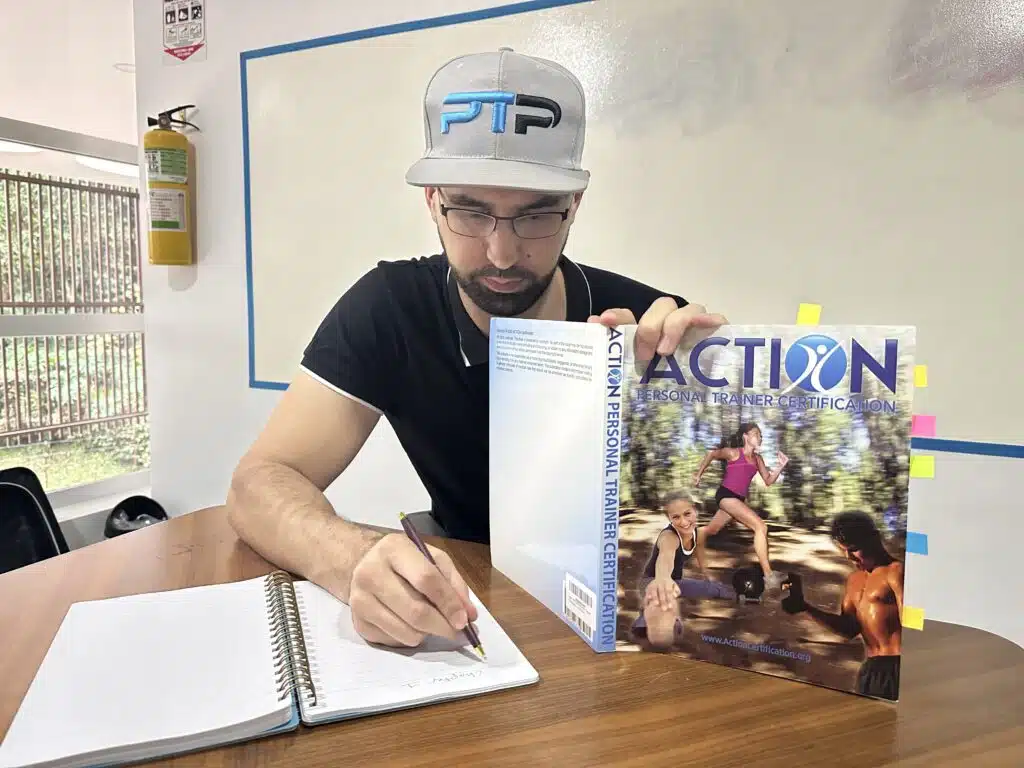 There are two options for exams when it comes to the CPT certification.
For the basic certificate without NCCA accreditation, the exam is included in the program.
The exam has a total of 150 questions and you have 2.5 hours to complete the test. You must receive a 70% or more on the exam to pass.
The non-NCCA accredited exam costs $35 to retake if you fail. The retake can be done anytime after the first exam.
The NCCA accredited exam is taken only at Prometric Testing Centers and will cost the test-taker $99 for the proctoring fee. The actual exam is still included in the program for free.
The exam follows the format above with 150 questions, 2.5 hours, and 70% required to pass.
The NCCA Accredited exam is superior to the basic online certification exam.
I would recommend going for the NCCA exam strictly for the value in the fitness industry that this gold standard accreditation comes with.
ACTION Continuing Education and Recertification
Recertification with ACTION needs to be done every two years; a $65 cost comes with this recertification. Note that the most expensive of the study plans gives students and candidates a recertification for life, meaning they do not have to keep paying the recertification fee.
To recertify, you will need to attain continuing education credits. 2.0 CECs will get you to the recertification level. CECs are also known as CEUs through some other organizations.
This is equivalent to around 20 hours of time spent expanding your training knowledge and going through classes for specializations and such.
Regarding other organizations, this is a much lower cost to recertify. Some of the top organizations charge $100 – $150 to recertify every two years.
In addition, ACTION offers recertification for life, which is pretty popular now in the fitness industry. Not all organizations offer this, but some bigger names are starting to, like ACE.
Recertify-for-life still requires people to get their continuing education credits, but it makes it so you do not have to pay so much in the long term. 
ACTION CPT Overall Rating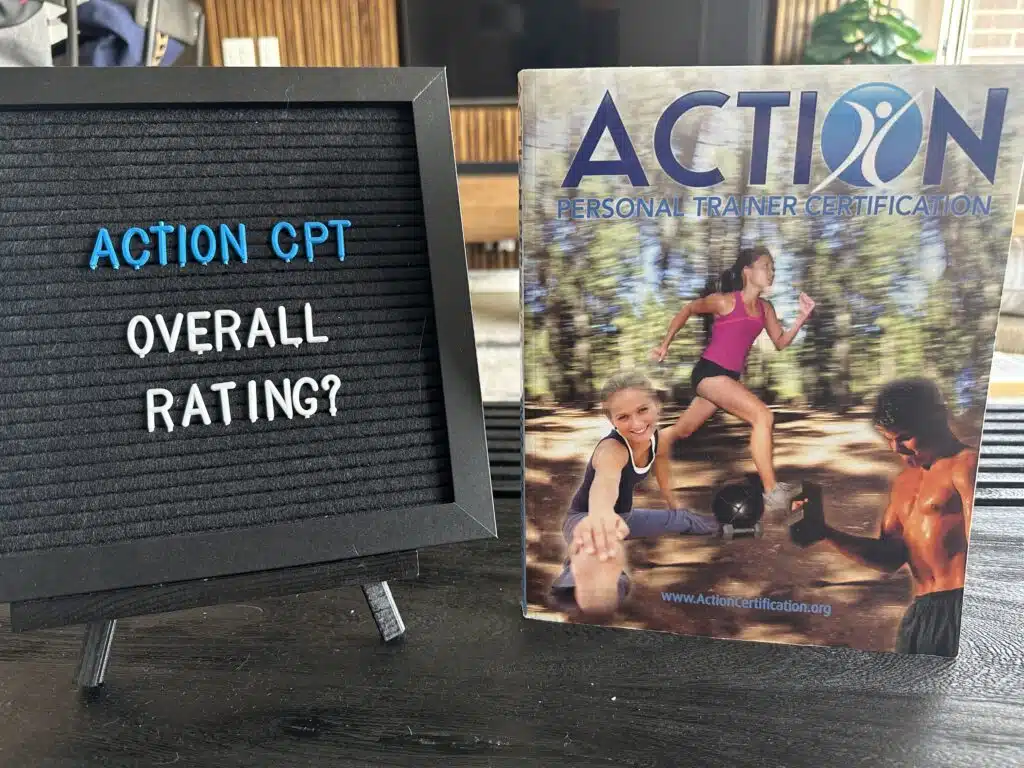 ACTION CPT Certification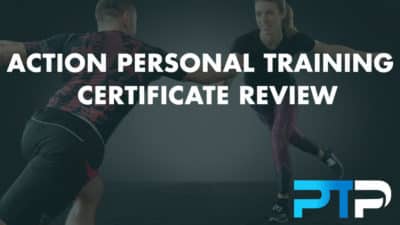 Hey everyone and welcome to my Action certification review. After reading this article you will know if the Action trainer certification is right for you.
Product Currency: USD
Product Price: 99
Product In-Stock: InStock
Pros
Cheapest Personal Training Certification
Multiple formats for the study materials
1 year to take CPT exam
Cons
Based on research that is not as thorough as other certs
Not a reputable organization
Virtually no continuing education credit options
Frequently Asked Questions (FAQs)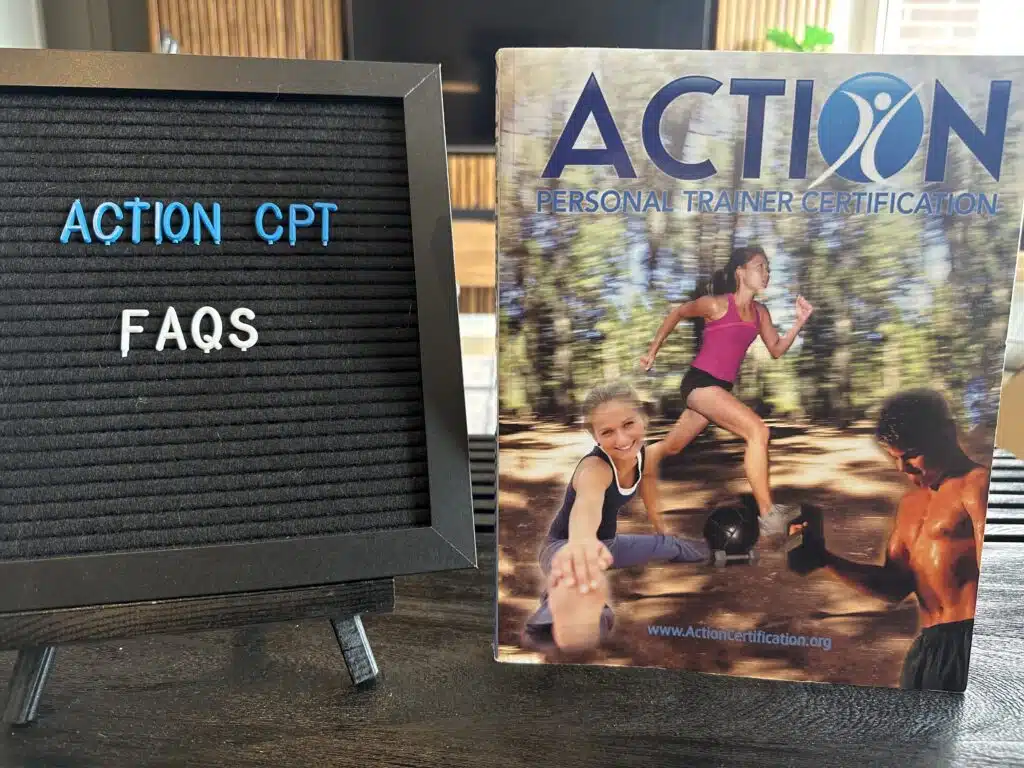 Is ACTION CPT a Quality Cert?
ACTION is a good cert for people not looking to invest much into the certification process. You can definitely spend a bit more and get a higher quality and greater brand name in fitness.
How does the work schedule look for someone in personal training?
It will entirely depend on what type of job you get in the fitness industry, but in general, schedules can be fixable to your life. You can oftentimes set your own hours to match your day well.
How tough is the Action CPT Certification Exam?
Action is far from the toughest certification exam in fitness; that title belongs to NSCA, but it is still not a 100 percent guarantee and you should make sure to study well going in.
Is Action CPT a fake certification?
Action is not a fake company; they offer real products and study packages once you have paid for their material. They are the cheapest, so it makes sense that people become skeptical.
Conclusion
The main takeaway from this personal training certification is that it is the cheapest option available for someone looking for quick entry into the industry.
It offers fitness professionals enough substance in the study materials to get by, not much more.
This is an option, but it is by far the best option out there for a personal trainer. If you are looking for entry into the market and do not need much when it comes to studying materials, this would be the way to go.
I would rate this certification as an overall 5 out of 10. It still has its place in the industry.
For more reviews and study materials, bookmark PTPioneer!