Hello and welcome to PTPioneer's review of the ACTION CPT certification!
Once you have read this page, you will know whether or not this is the right personal training certification for yourself.
This article is going to cover these topics:
Let's take a look at this ACTION Certification Review!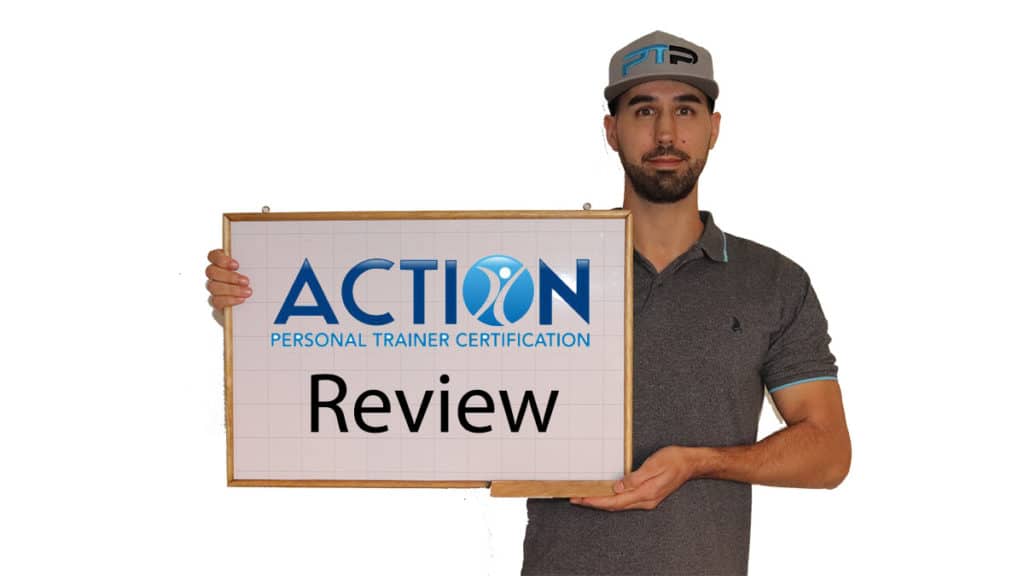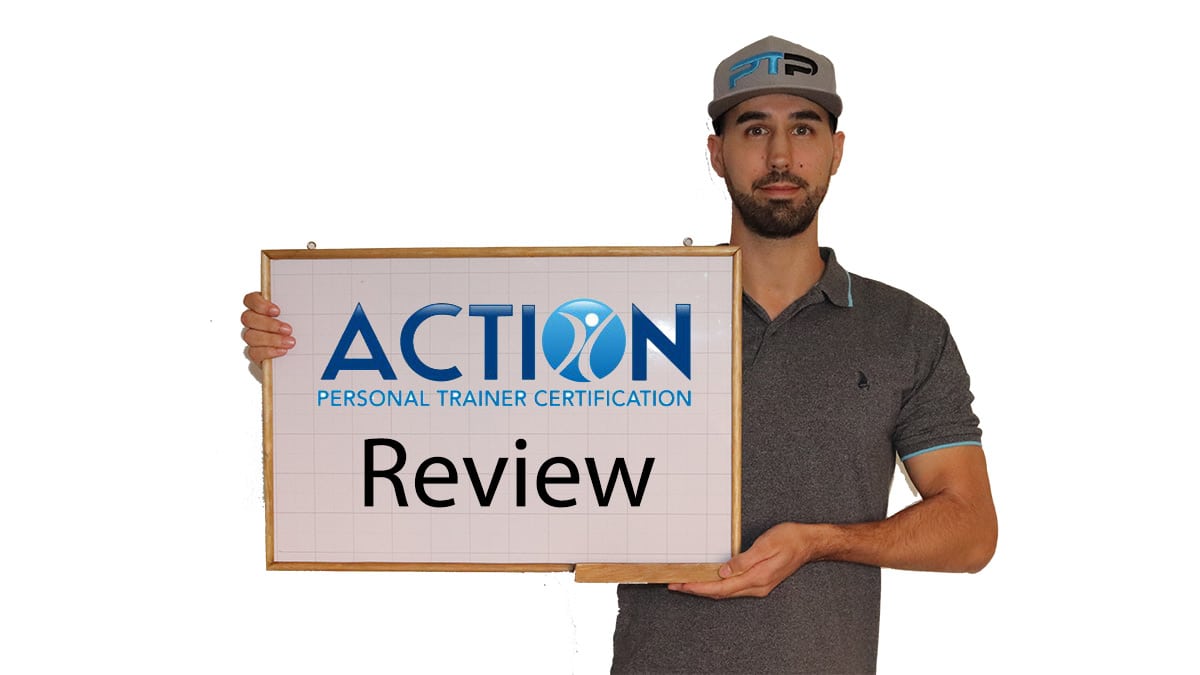 Quick Breakdown: ACTION CPT Certification
Exercise Science Foundations
6
Special Population Training
5
Aerobic Fitness Training
4
Pros
Cheapest Personal Training Certification
Multiple formats for the study materials
1 year to take CPT exam
Cons
Based on research that is not as thorough as other certs
Not a reputable organization
Virtually no continuing education credit options
ACTION CPT General Information
Study material cost: $99 – $249
Prerequisites: None
Exam passing score: 70%
Average completion time: 8 – 16 weeks.
ACTION General Information
ACTION used to be known under the name of ACT personal training, which was the Athletic Certification Training organization.
The final exam is administered through the ACTION Governing Board, with which there is little to know online regarding them.
The Organization offers three different fitness certifications, which cover a basic intro into the three main areas of training. These are Personal Training, Nutrition, and Group Exercise.
This is a great combo of certifications and should be more than enough to cover the vast majority of what clients are looking for with fitness and wellness training.
This is the cheapest certification organization in the entire fitness industry, and they pride themselves on reaching many people in order to reduce this cost.
It does feel like the personal training certification skips out on what other certifications put in their programs as basic items, but for the price, it would be hard to complain.
Let's dive in with more depth and see the general info specifically for this ACTION Personal Training certification.
ACTION CPT General Info and Packages


The CPT personal trainer online course from ACTION comes in 3 packages. It is a newer certification in the fitness industry, especially when compared against the likes of NASM and ACE.
The Action personal trainer certification is advertised as only taking a few weeks, we would place this around 10 weeks minimum to be a good ACTION certified personal trainer.
Exclusive PTP CPT Offers



Gold Standard Cert

Most Popular Cert

Best Study Materials

A Good Option

A Good Option

Best CPT for you?

Action has made this course to be done online only if you choose the right package.
NCCA accreditation does mean that this certification has attained the gold standard for the fitness industry. That does set them above competing organizations like ISSA, which do not have NCCA accreditation.
Let's look at the three plans they have to purchase for their CPT.
Basic CPT Plan
This plan starts off the plans at $99, which for a personal training study program, is an incredibly low price. You cannot find another certification program for anywhere near this number.
Included in this plan will be the smallest offering of study items, as it is a low price. There will be the physical textbook, pdf form of the textbook, a tiny practice exam, 5 real-world simulations, and 2 online classes.
This is the bare minimum for a fitness certification, but still amazing that they could sell for such a price.
For the exam, the only thing not included in this $99 purchase is going to be the proctoring fee, which you will have to pay. This can be around the same price as the study package, more or less.
Professional CPT Plan
This plan comes in at $149, or $9.95 per month. Still a cheap and great solution to getting a personal training certification. It includes quite a bit more for just $50.
Included in this plan will be the textbook, pdf form of textbook, kindle ebook, flashcard study, online CPR training, 18 online classes, 12 real-world simulations, 200 practice questions, a job reference letter, personal trainer form library, business plan, and insurance rate benefits.
For just $50, there is quite a bit of value added to this professional plan.
The Practice Test questions are a notable addition here, as the basic package has very little exam-specific prep.
Remember that the online exam is covered in the program, but not the proctoring fee, so that will cost around $99.
Platinum CPT Plan
This package comes in at $249, or $19.95 per month.
This plan will have a much longer list of additional materials. Included here we have the textbook in physical and pdf form, kindle ebook, flashcard system, over 400 practice questions, 21 real-world simulations, 28 online classes, online CPR training, job reference letter, business plan, insurance rate benefits, free recertification for life, advanced nutrition cert included, and the priority support system.
This is a lot included in the package, but the main kicker here is the nutrition certification.
Now, let's look at how the textbook and content of the study materials cover the main CPT aspects in the industry.
Exclusive PTP CPT Offers



Gold Standard Cert

Most Popular Cert

Best Study Materials

A Good Option

A Good Option

Best CPT for you?

ACTION CPT Content Coverage

The textbook is just over 300 pages and packed full of the basics of personal training.
The main textbook includes all of the basic topics on exercise science, biomechanics, client assessment, program design, special populations, nutrition, starting a business, and legal issues.
The textbook works very well with the ACTION personal training system, which is their online platform that goes along with your studies.
After you have gone through the content in the study system and textbook, you will be able to do these things:
Give your client a complete nutrition and workout tracking system
Guide new clients through the assessment process and make sure their medical, health, and lifestyle info are considered
Create custom training programs based on templates for safe and effective workouts
Make more money through provisions of extra services like planning meals, tracking calories, and tracking performance
Be in charge of group fitness and boot camp style classes
Manage billing and packages for training
If you have another Personal Training certification, it is likely that you will not benefit much from this more basic approach to the profession.
Most of the essentials are still here, but nothing really shines.
ACTION Certification Exam

There are two options for exams when it comes to the CPT certification.
For the basic certificate without NCCA accreditation, the exam is included in the program.
The exam has a total of 150 questions and you have 2.5 hours to complete the test. You must receive a 70% or more on the exam to pass.
For the non-NCCA accredited exam, it is $35 to retake if you fail. The retake can be anytime after the first exam.
The NCCA accredited exam is taken only at Prometric Testing Centers and will cost the test-taker $99 for the proctoring fee. The actual exam is still included in the program for free.
The exam follows the format above with 150 questions, 2.5 hours, and a 70% required to pass.
The NCCA Accredited exam is superior to the basic online certification exam.
I would recommend going for the NCCA exam strictly for the value in the fitness industry that this gold standard accreditation comes with.
ACTION CPT Recertification
Recertification with ACTION needs to be done every two years and a $65 cost comes along with this recertification.
To recertify, you will need to attain continuing education credits. 2.0 CEC's will get you to recertification level. CECs are also known as CEUs through some other organizations.
This is equivalent to around 20 hours of time put into expanding your personal training knowledge and going through classes for specializations and such.
In terms of other organizations, this is a much lower cost to recertify. Some of the top organizations charge $100 – $150 to recertify every two years.
In addition, ACTION offers recertification for life, which is pretty popular now in the fitness industry. Not all organizations offer this, but some bigger names are starting to, like ACE.
Recertify-for-life still requires people to get their continuing education credits, but it makes it so you do not have to pay so much in the long term.
PTPioneer Review Methodology
This PTpioneer ACTION CPT review is based on our expert opinion and these criteria:
Gathered opinions of successful personal trainers within the fitness industry
Comparisons between other top personal training certifications to verify quality and pricing
The usual information coming from new fitness trainers that have passed the ACTION certification exam
Many other CPT certs and entry-level fitness programs
Frequently Asked Questions (FAQs)
The main takeaway from this personal training certification is that it is the cheapest option available for someone looking for quick entry into the industry.
It offers fitness professionals enough substance in the study materials to get by, and not much more than that.
This is an option, but it is by far the best option out there for a personal trainer. If you are looking for entry into the market, and do not need much when it comes to studying materials, this would be the way to go.
I would rate this certification as an overall 5 out of 10. It still has its place in the industry.
For more reviews and study materials, bookmark PTPioneer!