***Cooper Institute has partnered up with ACE, and all previous CPTs through CI will now be ACE Certified. All future certs will go through ACE***
Welcome, everybody to my official Cooper Institute review!
We will be covering these topics:
General certification Information
General focus and recognition
Study material, cost, and much more
I have e over 10 years of experience in the industry so you can trust the reviews on PTPioneer.
Let's dive into the introduction and get this review started!
All help you break down the certification. After weighing all of the pros and cons, you can decide whether this certification is something you want to go for. Afterward, check out my big breakdown of the top five certifications and the step-by-step guide toward becoming a trainer. So, is Cooper Institute legit? Let's find out!
The menu at the top of this page will answer any question related to your personal training. If you have any questions, don't hesitate to leave me a comment here (I'll respond within 24 hours). Also, visit the home page for the most recent and popular articles.
Another tool to help you decide which personal training certification is right for you is to take the quiz to point you in the right direction.


Cooper Institute pros and cons
Pros:
NCCA accredited
Great workshop
Cons:
Not the best study materials
Not the cheapest certification for what you get
The workshop is only in Texas
Exclusive PTP CPT Offers



Gold Standard Cert

Most Popular Cert

Best Study Materials

A Good Option

A Good Option

Best CPT for you?

For you individuals who like to digest their material in video format, here is the YouTube video I made on the Cooper Institute CPT about three years ago. In general, the article is more information in this more up-to-date.
The Cooper Institute CPT is significantly different from most of the personal training certifications I discuss on my website. It is a more hands-on and intensive program than some of the others.
It is almost like going through a college laboratory course. I only know one friend who has come through this course, so I sat him down and asked him some questions about it to write my review.
My friend is not only certified through Cooper Institute. He has four certifications in total. His opinion means a lot to me because he can compare this certification to all the others he has gone through.
Let's get right into this review and see how it stacks up against the other top certifications in the industry. If you want a handy comparison of all the different certifications, check out my article here.
If you wonder how much money you can make in this industry, check out my article here.
Let's get right into the Cooper Institute review!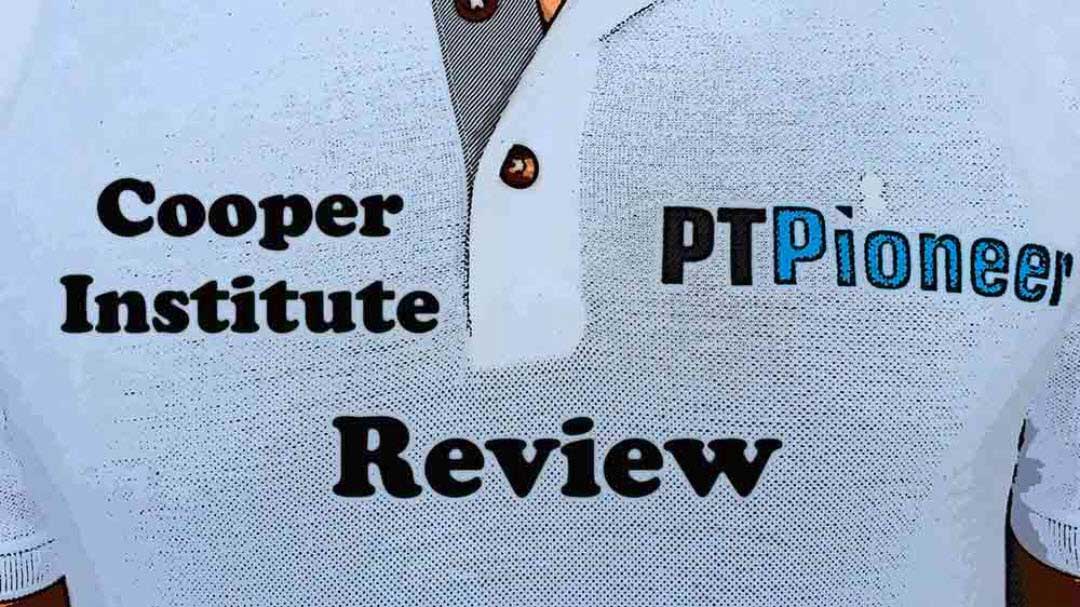 Cooper Institute Review – General Information
The Cooper Institute certifying agency was established in 1970. It has a strong focus on preventative medicine. It is also a nonprofit research and educational organization.
Like most other personal training certifications, The Cooper Institute is NCAA accredited. Most of the courses that they provide are located in Dallas, Texas.
The only way to get hands-on experience is to move to Dallas for a period. Recently they implemented an online study course that allows you to study and take the test at a designated location close to your hometown.
Overall, I think they offer an exceptional curriculum, professional advice, and excellent hands-on training if you can take their full course in Dallas.
Exclusive PTP CPT Offers



Gold Standard Cert

Most Popular Cert

Best Study Materials

A Good Option

A Good Option

Best CPT for you?

Cooper Institute Certification Cost
There are a variety of options to prepare for the examination. One of the most popular choices is their CPT education course. The hands-on training course located in Dallas, Texas, that I mentioned above will cost you $595.
The online version of this course will cost you $695. The price of the exam is separate from the study course. The combination of the examination and online study course will cost you approximately $900.
The online option is by far the most popular since. Obviously, most people do not live in Dallas, but if you are lucky enough to live in Texas, you will find that their hands-on training will give you beneficial practical experience.
The instructors are top-notch. Besides the CPT education course, the Cooper Institute provides various manuals and textbooks that cover their curriculum excellently.
Of course, as with most other certifications, you must be CPR certified and 18 years of age when you take the test.
The Cooper Institute Test
The Cooper Institute recommends that you study for at least 75 hours with an additional 10 hours of one-on-one practice with family and friends to simulate real-world clients. The tests alone will cost you $289.
You do not need to go through the online course or even buy textbooks if you feel confident enough to pass the test. But their curriculum is challenging, and I would not recommend going this route even if you have a degree in exercise science.
This is because they have a steep retest fee of $195, so you want to do all you can to ensure you pass the first time. Similar to NASM's use of PSI/Lasergrade facilities, the Cooper Institute lets you take their test at your nearest Pearson VUE test taking facility.
These facilities are found in most major United States cities, Canada, Brazil, Mexico, and the Virgin Islands. Check out this link for Pearson VUE location centers.
The exam is broken up into four main sections. The four sections are basic exercise science knowledge (30%), fitness assessments and medical review (20%), program design and evaluation (40%), and professional responsibilities and development (10%).
Your Cooper Institute certification is good for two years after you pass the test. Like every other certification, you must complete continuing education credits to get recertified.
Conclusion
My overall Rating:

I am very excited that the Cooper Institute expanded its curriculum and test-taking to an online format. If you can attend their hands-on course in Dallas, Texas, I would highly recommend doing so.
I highly suggest you take the quiz to see which personal training is right for you, especially if you are having difficulty choosing.


As I said above, their curriculum is pretty intense, so you must bring your A-game to get certified (as with any other legitimate certification).
I feel that the course is a little too expensive compared to some of the other certifications you get for the price, and they still have work to do on their online curriculum and study materials.
The Cooper Institute focuses on a wide range of topics and doesn't go too deeply into anyone in particular. This is why I would put them in the "general" category for certifications.
This Cooper Institute review concludes that I think it is an excellent place to start for a beginning trainer. You may want to check with your local gym to determine what certifications they prefer and whether they accept the Cooper Institute certification.
A lot of people I've talked to have never heard of it. From my research, I have found that ACE and NASM are the two most prominent names in the industry.
Everyone knows who they are, and most gymnasiums, as well as local employers, prefer them.
I am personally certified by both of them and can attest to the quality of both certifications. If you have any questions regarding the Cooper Institute certification or any other certifications, drop me a comment in the box below.
For more information, I suggest that you check out the Cooper Institute website. I also recommend that you check out my comparison section for direct one-on-one comparisons of certifications such as ACE vs ACSM, NASM vs ACE, NASM vs ACSM, and ISSA vs NASM.
Health coaching is another area of the fitness industry that is growing in popularity, and I have a great article on that here!