Welcome to the PTPioneer NESTA Certification Review!
Once you are done reading this review, you will be 100% certain knowing if NESTA is the right certification for your career goals!
We are going to be covering the basics of the personal training certification license, like:
The Focus and Popularity of this Certification and the NESTA Organization
The Pricing and Value of the Study Materials
All of the Certification Exam and Recertification Information
When you're done reading, you will have a detailed insider look at the NESTA PFT.
If you're totally in the dark about which CPT certification is right for your goals, be sure to take the quiz to determine the best personal trainer certification for your career.


Let's dive into this NESTA personal trainer certification review!
Quick Breakdown: NESTA PFT Certification
Exercise Science Foundations
8
Special Population Training
6
Aerobic Fitness Training
7
Pros
Unique focus on technology and training that sets NESTA apart
Concise 14-chapter digital manual all available online
Lifetime access to the Study Materials
Unlimited Practice Exams to ensure you are fully ready
NCCA accreditation allows users to know the certification stands up to the same standards in the industry
Cons
Not a top dog in the fitness realm
The NCCA accreditation is new and doesn't have the same amount of time other top CPT certs have
Lack of a solid training model along the line of NASM and the OPT model
30, 60, and 90-day study plan checklists offered by the company may not fit into everyone's schedule
NESTA General Information
Exam cost: $349
Study material cost: $399 – $477
Prerequisites: CPR/AED or Basic Life Support Card, High School Diploma
Exam passing score: 71%
Average completion time: 30 – 90 Days
Certified Personal Trainer Course and NCCA Accredited Exam
So, what does the name NESTA mean?
Well, NESTA stands for The National Exercise and Sports Trainers Association.
This organization has existed since the early 90s and holds the gold standard NCCA accreditation.
NESTA personal trainers can be found in over 50 countries worldwide and to around 60,000 people.
NESTA has different certification specializations (like MMA or Triathlon), which can add to the abilities of personal trainers, make sure you check out everything they have to offer.
They offer a nutrition specialization, the NESTA Fitness Nutrition Coach Certification, which is similar to other nutrition programs in competing industries. 
Now, let's focus on the specifics of their Certified Personal Training course from here on out!
For a more in-depth review of the top CPT programs, check out my article breaking down the best personal training certifications.
NESTA PFT General Information
NESTA has a major focus on using technology and an emphasis on tracking results to help train clients. 
This is a bit out of the norm, where typical certification agencies would look to mention the use of technology but not feature it as a primary focus of their information.
NESTA is a newer face in the industry compared to other certifying organizations, but they are growing quickly and achieved accreditation with the NCCA.
NCCA accreditation is considered the gold standard for the entire fitness industry, so attaining that will set a company apart from those without it who settle for accreditation from other organizations.
One of the toughest obstacles to getting into the top certification organizations is achieving NCCA accreditation, allowing the organization to grow to new heights in the future.
Let's take a quick look at the prerequisites that exist for people to be certified by the NESTA organization:
You need to be at least 18 years old
Have attained a high school diploma, the equivalent, or more
A valid document showing your identification
You must have a CPR and AED certification or a basic life support card. Either one of these will suffice, which is different when it comes to certifications (usually, the requirement is just CPR and AED)
The general pricing of the certification seems perfect since it is not priced high like the top organizations and instead sits at a medium level in the industry.
The certification should be classified as they advertise, which is an affordable certification. I will expand on pricing later when in the cost section.
NESTA has a firm partnership with Polar, a popular technology brand, and is obviously involved in its educational program for personal trainers. 
NESTA utilizes this partnership in other ways, like with the specializations, such as the Heart Rate Performance Specialist.
If you desire to become a personal trainer and also achieve specializations like heart rate specialist, then NESTA easily stands above the other organizations. 
The technology focus is highly desired when working in certain clinical settings, which can appeal to a niche market of personal trainers.
Another important detail regarding this certification is that the entire course is available 100% online. You get access to this course forever once it has been purchased.
Exclusive PTP CPT Offers



Gold Standard Cert

Most Popular Cert

Best Study Materials

A Good Option

A Good Option

Best CPT for you?

The textbook offered by the company is slightly shorter than most other companies, but it is also more concise in its teachings. This can be seen as both a positive and a negative.
This is the chapter-by-chapter breakdown of the digital manual you get through the PFT Plus and PFT Complete packages:
Chapter 1 – Introduction to Personal Training
Chapter 2 – Exercise Physiology
Chapter 3 – Kinesiology and Functional Anatomy
Chapter 4 – Applied Biomechanics
Chapter 5 – Flexibility
Chapter 6 – Nutrition
Chapter 7 – Special Populations
Chapter 8 – Assessments
Chapter 9 – Program Design
Chapter 10 – Exercise Application
Chapter 11 – Safety, Injury Prevention, and Treatment
Chapter 12 – Exercise Psychology
Chapters 13 and 14 – Business Strategies and Applications for the Certified Personal Fitness Trainer
Let's dive into more specifics with these next sections, starting with the cost of the programs!
NESTA PFT Certification Cost
NESTA Certification Packages:
PFT Basic at $349
PFT Plus at $399
PFT Complete at $477
The lowest cost option to become a certified personal trainer and fitness professional with NESTA certification is to buy the PFT Basic exam-only package. This comes in at $349.
This comes with one NCCA accredited PFT Exam and any certificates (both digital and paper) that come from passing the certification exam. 
The second option from NESTA and certified personal training comes in the PFT Plus, which comes in at $399.
In the PFT Plus package, the included materials are the NCCA accredited PFT Exam, the Digital NESTA Study Guide or Manual (textbook), and any certificates (both digital and paper) that come from passing the certification exam. 
Then NESTA has one final option for personal training: the PFT Complete. 
The PFT Complete package contains much value for just $78 more. 
The included materials are the NCCA Accredited PFT Exam, Digital Study Manual, 10+ hours of video and audio training, Chapter Review Quizzes, Unlimited NESTA Practice Exams, Lifetime access to all materials, and any completion certificates (both digital and paper) that come from the passing of the certification exam.
So, as you can see, the materials included in the final package are far and above any of the other packages.
I think the greatest value comes from including NESTA practice tests, as this is a major part of doing well during the testing for personal trainer licenses. NESTA exam questions are not the hardest compared to other top certifications, but they can still be tough for people.
All in all, the personal training certification cost is less than the top certs in the industry, and that brings the value pretty equal since it is a moderate price and the study materials are a bit smaller than the likes of ACE or NASM.
Let's look at the next section breaking down the thoroughness and value of the study materials and the difficulty of the exam.
NESTA Personal Training Content Coverage
Regarding the study materials, we only examine the second and third options for the NESTA personal training certification. These are the PFT Plus and PFT Complete packages. 
The main source of personal trainer course information is the Digital Study Manual. This is a 14 Chapter Digital Textbook.
The Study Materials and courses are all online!
All of the NESTA digital manual information is usual for personal training certification, and it is sufficient to become a good trainer. Still, if you were to look at NESTA vs. NASM, you would see how the manual is lacking compared to the top companies. 
One of the main differences, and it's not a huge one, is that the digital manual appears a bit dated compared to modern textbooks. The art/pictures and text do appear more along the lines of a cheaper certification.
But, not taking the generally dated look into account, let's dive into the main sections of the textbook that are deemed the most important.
Exercise Science Foundations Coverage
When exercising science fundamentals and business strategies, NESTA stands up with the rest of the industry and maybe even more.
These basics of personal training are essential to get right for all certifications, and you can expect to get the essential information here. 
As I touched on slightly, the other major difference made in this certification and exercise programming is the emphasis on technology use during clients' training.
This is valuable when considering where a personal trainer wishes to go in their career. 
For example, if someone wishes to pursue some of the more medically-focused specializations, this would be a solid personal training certification.
Exercise Programming is a well-done aspect of this Digital Manual. They emphasize all the parts that go into effective programs, like the various cycles and the specifics that go into resistance and aerobic training. 
It stands up to the rest of the industry and slightly focuses on implementing heart rate, VO2 max, and other important calculations.
Behavioral Coaching Coverage
Behavioral Coaching is a little more lacking in this certification when compared to other top organizations.
Exclusive PTP CPT Offers



Gold Standard Cert

Most Popular Cert

Best Study Materials

A Good Option

A Good Option

Best CPT for you?

They have all of the essentials in their program to allow for the proper creation of goals and changing long-term client behaviors.
NESTA also provides many real-world case studies and situations to help personal trainers know how to respond to the common situations they may find themselves in.
SMART goals and motivational interviewing are key points that keep it somewhat in line with current offerings from other organizations. Still, it would be nice to see more schools of thought on behavior change included in the future.
Client Health Screening Coverage
This section looks at screening a client's health and finding their current fitness and general health level.
This certification achieves this, just like with all other certifying organizations. This is done by using paperwork and possible doctor approval in cases where that is needed.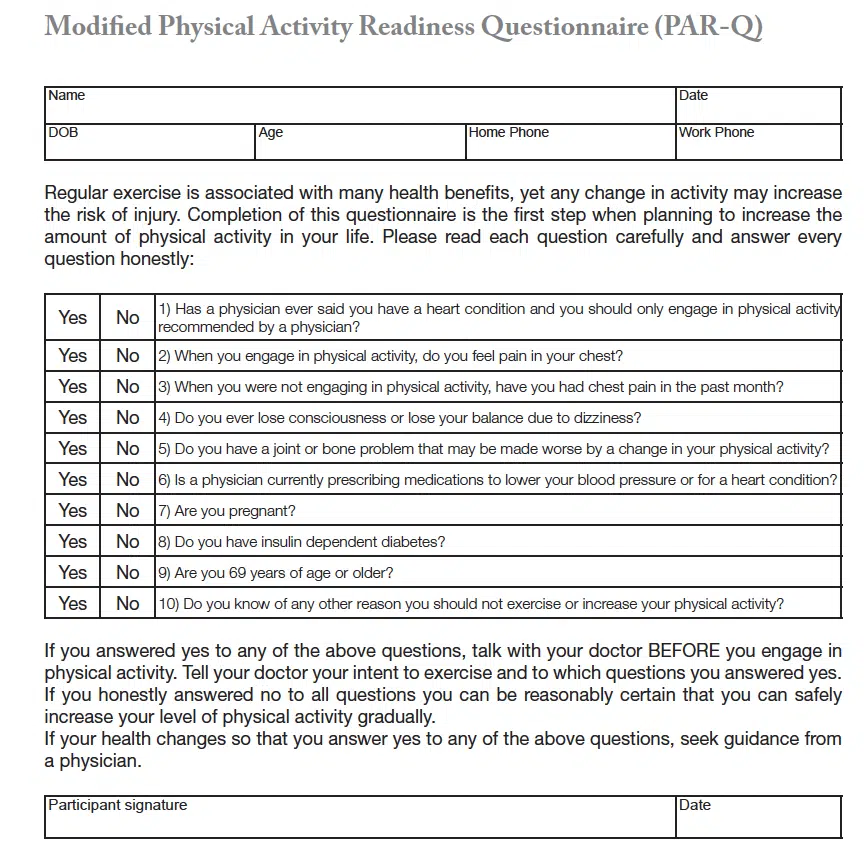 The general medical clearance forms include standard options like the above PAR-Q, which is sometimes modified slightly in other organizations.
All of these documents are included in the online program with purchase, which adds great value to personal trainers, especially in cases where a trainer aims to become an independent contractor.
PTPioneer believes this is up to par with the already solid screening in the fitness industry.
Movement Screening Coverage
The movement screening is taught in a somewhat forgettable way.
This is the lowest score of all of the textbook sections I reviewed, as the above picture shows how the movements are taught.
The textbook goes into the same level of detail for just about every movement, but it can be not very interesting to read.
When paired with the online video and audio lessons online in the PFT Complete package, the effectiveness of the movement screening is increased.
It would be better if there were dedicated chapters to each type of movement, and these were split into more easily separated groups instead of an all-in-one list that they have.
Thankfully, the screening of movements can be effectively taught with outside resources, but it should be done better in future editions of the study materials.
Business Strategy Coverage
This certification may stand above others in terms of business through the importance placed on sales, referrals, and marketing.
This is often discussed less than with other programs, which is a major plus for future personal trainers to get a leg up in.
The final two chapters of the text for NESTA are over Business Fundamentals and Sales and the NESTA System. These are valuable for personal trainers who want to focus on selling their services and need help with specific common examples seen in their careers.
They have in-depth coverings regarding marketing, sales, contact, fees, and even mid-session advice to give.
Regarding sales, the digital manual improves the fundamentals of selling personal training services, communicating with people in the industry, and working as a health team with other professionals.
Resistance Training Coverage
Resistance Training is well covered in the textbook but has a different layout than other organizations.
This text is organized to have resistance training information spread throughout separate chapters instead of having a dedicated chapter.
This doesn't take away from the overall information provided, as the certification holds up well to the rest of the industry.
A good amount of focus is put into periodization and the importance of the acute variables of programs. You can make an excellent periodized training program with everything in this cert.
This allows the exercise programming for resistance training to remain perfectly in line with what it takes to be effective as a personal trainer. The same is not entirely true for the Aerobic fitness section, as it lacks a little more than resistance training.
Aerobic Fitness Training Coverage
Aerobic fitness is not quite as up-to-par as the resistance training sections within the digital manual. However, it still gives all the required information to become a successful personal trainer in today's market.
There are fewer sections, and like with resistance training, there is no dedicated chapter to find all things related to cardiorespiratory training.
There is a good amount of focus to be found on the many possible measurements we could take for our clients, like VO2 max, heart rate, and much more. These are emphasized and utilized in exercise programming similar to other organizations.
As I touched on slightly, the other major difference made in this certification and exercise programming is the emphasis on technology use during clients' training. This is valuable when considering where a personal trainer wishes to go in their career. 
For example, if someone wishes to pursue some of the more medically-focused specializations, this would be a solid personal training certification.
When we look at study materials like the online training video and audio lessons, they are helpful. Still, they may be a little bare-bones compared to other NCCA certification programs for personal trainers.
NESTA Certification Exam
The NESTA Certified Personal Fitness Trainer Exam is broken down into the following four domains:
Business Application (15%)
Program Design (25%)
Exercise Science (25%)
Program Implementation (35%)
The Exam is given 100% online and must be taken at a PSI testing facility, many of which are throughout the US. It is also possible to request a proctor for online testing at home for an additional $45. 
The Exam comes with 125 questions, multiple-choice, and the required score is 71% or more to pass.
The NESTA personal fitness trainer certification exam allows for 120 minutes to complete the 125 question exam.
It is not a difficult exam compared to the likes of NASM or NSCA, which are the more difficult personal training exams in the industry, but there is no guarantee of a pass.
It is important to utilize practice testing as much as possible to ensure that you do the best that you can on the exam and do not have to pay for a retest. 
Retesting comes at the cost of $199 for the PFT Exam, which is somewhat standard for the industry, maybe a little on the low side. This should be a plus in case you need to retest.
The unlimited NESTA Personal Training Practice Tests for a lifetime is also a major value point for the third package option. You may not use it much once you complete your certification, but it could come in handy if you ever need to get recertified by taking the entire exam again. 
NESTA also offers some additional workshops for personal training certification online, which comes in the form of Training Made Fun NESTA. It can be a major help for people without experience in personal training and for additional exam help. 
NESTA Personal Fitness Training Recertification
NESTA PFT recertification costs $149 every four years, which is a better deal than nearly every single personal training certification in the industry. 
This is one of the biggest values of the PFT certification from NESTA.
In total, 40 Continuing Education Units are required, commonly called CEUs. They mark this down as having 4.0 CEUs. 
The total amount of hours required for recertification is standard for the industry. Still, allowing this to occur every four years seems far more lenient than other organizations, which require an average of every two years. 
These Continuing Education Units can come from the many courses offered through any supported company, and NESTA also offers its own.
For example, one of the most popular specializations from NESTA is the Triathlon Coach certification, costing $297 and offering the full amount of CEUs required for PFT recertification.
Many courses like this offer anywhere from 1.5 – 8.5 Continuing Education Units. Some other example courses offered are:
Pursuit Coach
Muay Thai Fitness Coach
Mixed Martial Arts Conditioning Coach
Kettlebell Coach
Core Conditioning Specialist
Master Personal Trainer
And many more.
PTPioneer Review Methodology
I based this expert review of the NESTA PFT based on the following criteria:
The opinions of experienced personal trainers
A Critical review of quality and pricing
Typically reported information from trainers who passed the exam.
Other comparable entry-level fitness certifications, specifically other CPT certs
Frequently Asked Questions
Is NESTA CPT a Quality Cert?
It is a good cert, and you will be able to get a decent career going with it, but not the best fitness certification company you can go with.
What do Personal Training Schedules look like?
Scheduling and work time is quite different in this profession than in other professions. In most scenarios, you can make your schedule and work as you would like. This is a major reason many people seek work in the fitness and wellness arena.
How tough is the Certification Exam?
NESTA is far from the toughest certification exam in fitness; that title belongs to NSCA, but it is still not a 100 percent guarantee and you should make sure to study well going in.
What type of people do certified personal trainers work with?
Personal trainers can work with all types of people, but you may need special certifications to be accepted to work for some. The general population can be broken down into niche groups and worked within specific ways for trainers. They can specialize in things like cancer patient fitness training and other specific forms.
Conclusion
NESTA, as an organization, is newer and doesn't garner the same levels of respect that come with the top CPT organizations. Still, it does have a lot of the necessary materials to succeed in personal training.
It would not be my top option for CPT certification, but it is cheaper with a concise textbook and a shorter average completion time than most.
I would rate this NESTA certification at a 7 out of 10.
It still has the NCCA accreditation, which is highly valued within the personal training industry but it lacks a solid training model for personal trainers.
The biggest benefit would be your lifetime access to the study materials and the implementation of technology's importance in training.
I hope this NESTA review has assisted you in deciding where to take your education and career in the fitness business.