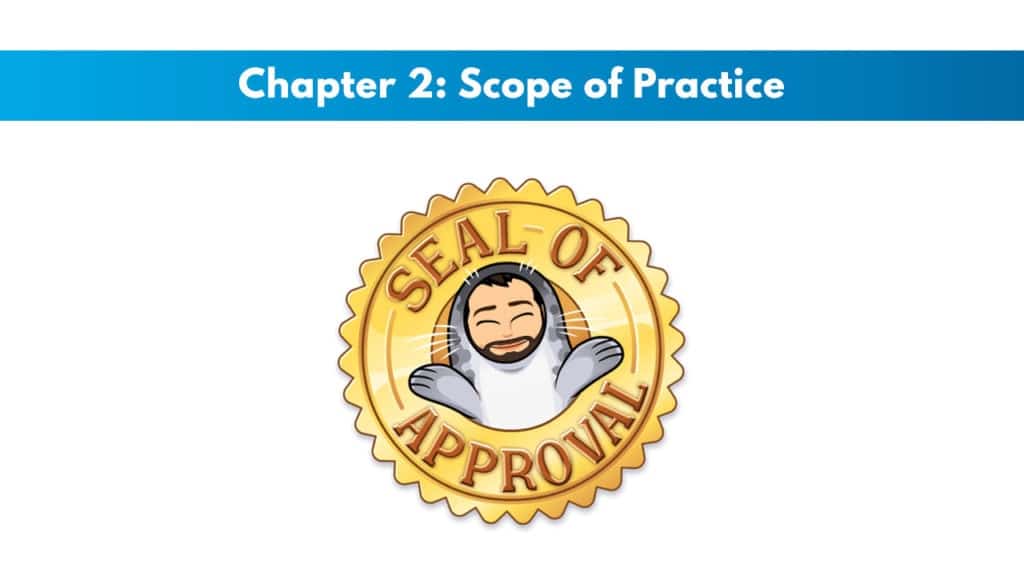 If you have not yet signed up for the NASM CNC certification, receive a big discount here.
Get your copy of the NASM CNC exam cheat sheet. It helps immensely for studying for the exam.
Make sure to check out Trainer Academy for premium NASM CNC study materials. They will reduce study time by 50% and have an exam pass guarantee. Read my full review on them here. You can save $100 on their MVP study system with the code: PTPSUB
Chapter Goals:
Describe the Nutrition Coach's role.
Define the nutritional professional's scope of practice.
Determine when you should refer someone to another nutrition or other type of professional.
Identify the expectations that people have for nutrition coaches.
Differentiate among the different professions in nutrition.
Scope of Practice for Allied Health Professionals
The scope of practice is defined as the limitations and the boundaries of some of the medical interventions someone is allowed to perform. This scope of practice applies to clinical and licensed professionals in addition to those that are not. All governing bodies have a range of responsibilities and requirements for licensing that are established. Typically, the scope of practice includes the caseloads, the guidelines of the practice, and the recommendations for when to refer someone.
The profession of RDN, registered dietitian nutritionist, is similar to a nutrition coach with NASM, but there are major differences. RDNs will have earned a minimum of a bachelor's degree from a university or a college.
Some other licensed healthcare professionals providing nutritional advice are: Physician assistants, Doctors of Pharmacy, Advanced registered nurse practitioners, and certified diabetes educators.
Licensed people can be legal on a state or a federal level. The prerequisites of the licensing will include formal education and training, pre-determined contact hours, and the completion of successful standardized testing. Most of the healthcare providers out there will require a form of licensure.
Certified professionals are people that have participated in some educational course and then successfully done a test that is written, practical, or both of them.
The Healthcare Continuum
Healthcare costs increase, and the emphasis on care for prevention becomes a priority.
Exclusive PTP CPT Offers



Gold Standard Cert

Most Popular Cert

Best Study Materials

A Good Option

A Good Option

Best CPT for you?

Since the emphasis shifts more onto the prevention of disease, the nutrition coaches can provide some valuable service in keeping people healthy and avoiding any kind of disability or chronic disease. Large hospitals have begun to put their emphasis on wellness and giving affordable services for care and guidance.
Client Confidentiality
This is a very important part of the job in the health industry. This confidentiality means that coaches should not discuss the personal issues that their clients have with any other person unless you have been given their consent.
If you are using their information is some way, then any distinguishing features and their name should be omitted.
Expectations of the Nutrition Coach
Nutrition coaches will need to have a working knowledge of basic nutrition and coaching services.
Some things a nutrition coach can do these:
Look at the current plans and give general advice.
Recommend that clients talk supplements and their use with RDNs, physicians, or pharmacists.
Promote the guidelines for calories that are given by the USDA.
Recommend dietary modifications.
Guide the general healthy population.
Give exercise and physical activity guidelines.
Some things a nutrition coach can't do:
Give specific meal plans.
Suggest very large calorie restrictions.
Tell the clients to use supplements or vitamin dosages.
Provide nutritional therapy for the treatment and prevention of diseases.
Promote fasts, detoxes, and other extreme practices.
Providing Healthy Eating Guidelines
Nutrition coaches are not there to give specific meal plans, but instead incorporate balanced eating for their clients. The resources used are for the most part free for the public to use.
The Scope of the Process: Assess, Educate, Implement
Nutrition coaches can also help to facilitate an action plan for their clients. It is important for the client and coach to spend time going over the why's for what they will be doing in the action plan.
Assess
This may have questionnaires, verbal interviews, and body comp assessments.
Some of the questions to be asked:
Client nutritional goals
Personal stumbling blocks
Food aversions
Triggers
Exercising habits
Daily activity patterns
Physical Assessments
Height
Weight
Body comp
Girth measurements
Food Journals
Exclusive PTP CPT Offers



Gold Standard Cert

Most Popular Cert

Best Study Materials

A Good Option

A Good Option

Best CPT for you?

These are done in 3 – 5 day journals, and of the most value when the client has a goal of losing weight.
This is used for seeing what kind of daily habits, food intake, and associated behaviors someone has.
Nutrient trackers
Online trackers give a more detailed assessment into the overall nutritional intake. These trackers give information regarding the macro and the micronutrients we are taking into our bodies.
Educate
The role of the nutrition coach is to give clients general diet advice that is found in the current scientific evidence.
Information needs to be:
Highly relevant
Perceived to have importance
Practical
Based on some previous experience
The coaches serve to stop the confusion that people get from the media channels and the assortment of places that advertise and influence people.
Implement
It is beyond the nutrition coach to give any specific exercise programs unless they are currently a personal trainer or some other health professional that has the right education and training.
Beyond the Scope of the Nutrition Coach
The role of the coach is providing the best possible course of action and recognizing the needs of the client outside of the scope of practice. This means that a referral may be needed at times.
Disordered Eating
The nutrition coach is not within the scope of practice if they assist with disordered eating diagnosis or anything else. The coach can look for warning signs of the disorder. But instead of trying to solve it, they should simply refer the client to another professional that works with these cases.
Chronic Disease and Dysfunction
The nutrition coach should make use of the public information from reputable organizations in order to guide clients to making better food choices. It is however, not within the scope of practice to provide guidelines and treatments for any disease or dysfunction. This includes these chronic diseases and dysfunctions.
Psychological Disorders
One benefit that comes with working with nutrition coaches is the interactions with clients and the ability to witness changes over time. once you gain personal trust, the client may feel a comfort level with their coach and give out personal information. The coach needs to take caution when this happen and pay attention to these details and especially if they relate to some psychological problems. This would be cause to refer them to a specialist or suggest finding one at least.
Change in Health Status
Many opportunities for health coaches revolves around working with healthy populations. If any client has a significant change in health status or shows some drop or increase in weight, the coach must recommend that the client consult their physician or other healthcare provider.
The Business Scope for the Nutrition Coach
It is essential for nutrition coaches to check with the local and state laws that would govern them before they open their business. Each state has different regulations.
Consulting with an attorney is also prudent and more so with one that specializes in labor law and is aware of business practices and regulations with their own country or region.
The administrative side of coaching is another important aspect for the nutrition coaches to understand. The items that they need to consider include written policies and procedures like these:
Client information forms
Marketing assets such as flyers, business cards, digital advertisements, websites, and social media pages
Lists for the community resources.
Lists of the places for human resources referrals.
Online newsletters
Lists of the right books, online content, and magazines
Evaluation forms
And some others