This review will pull no stops to explain the intricacies behind the software.
I'll also shed more light on the following:
Functionalities & Features
Cost
Pros & Cons
… and much more!
Let me get you acquainted with it right away.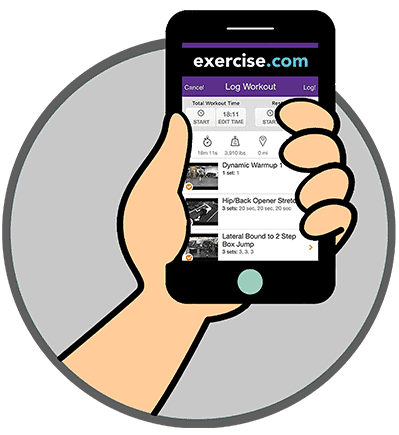 Hey Everybody, and welcome to my review of Exercise.com, a client management software application that boosts productivity for trainers like you!
I took this bad boy for a spin so you could get a handle on how it works and if it works for you before diving in yourself.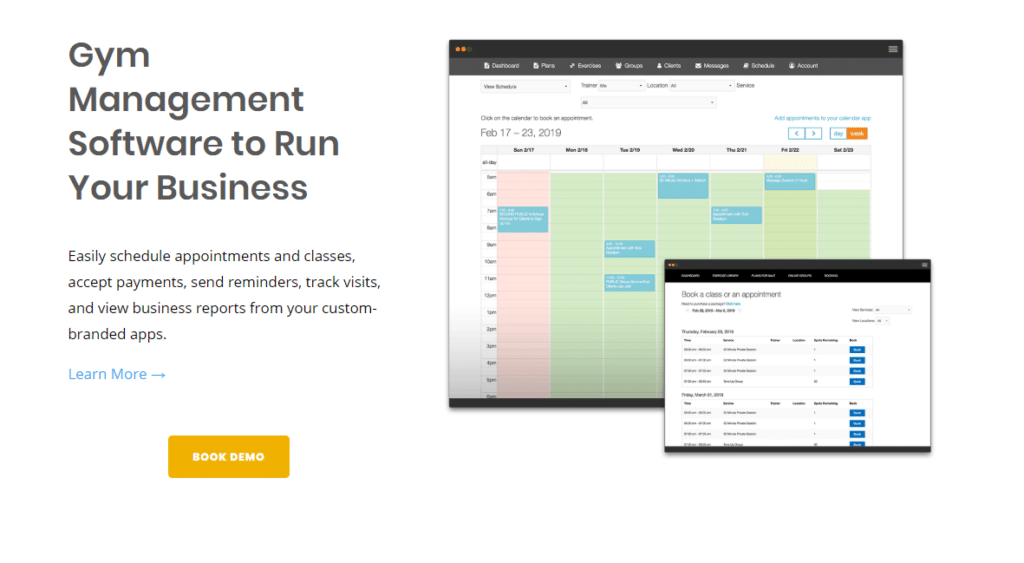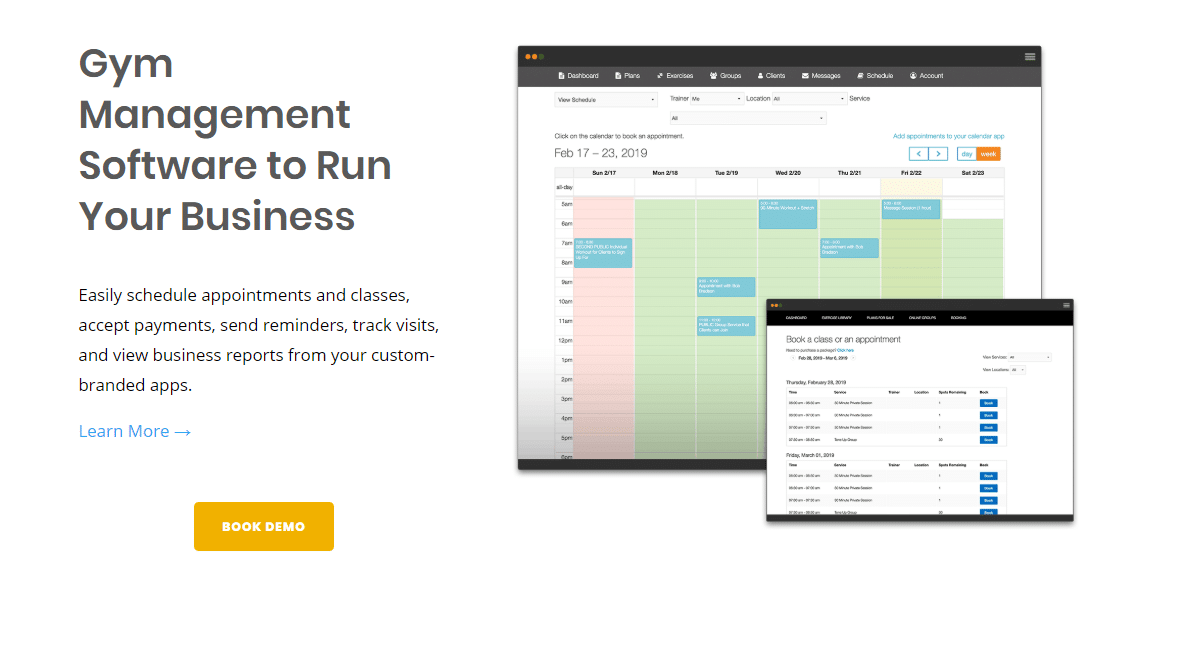 I'll be looking at its features, usability, and value for money as the main focus areas through all the topics I discuss, so always keep those three things in mind.
And with that said, let's jump right into it.
Make sure to take the quiz to get a good idea of which certification is right for you.


Intro to PT software
Since the dawn of fitness as a commercial industry, we've seen tremendous leaps in innovation, technology, and methodology.
Our understanding of the core principles that govern health and fitness has continuously evolved exponentially as the technology used to test the science advances.
How we apply our knowledge and the type of knowledge of fitness principles isn't the only thing that's changed.
How fitness, as an industry, is run has also evolved with technology.
One of these advancements comes in the form of client management software.
One of the biggest gripes fitness professionals faces is how to effectively manage their clients to keep organized and on the ball with the service they've been promised.
This is equivalent to delivering satisfying results that increase client retention and create a favorable reputation for your brand and business.
Client management by traditional means (logbooks and spreadsheets) is easy enough if you only deal with a handful of people. Still, if your business is scaling up and you have over 10 people whose lifestyles you're tasked with improving, you'll need extra help.
Enter client management software.
A digital platform that encapsulates all the essential tasks and data management you typically require to deliver good coaching to your average client.
PT software combines smart data collection, automation, and communication tools to enhance your productivity as an online and in-person trainer.
Typical features you can expect to find in a PT client management app are:
Client database
Automation of tasks
Program templates
Accountability and adherence systems
Analytics data and infographic for progress and results tracking
Real-time communication tools (chat, call, video call, email integration)
Mobile optimization usually by way of a dedicated mobile app
Now it's important to remember that not all PT software platforms are the same, and even with these bread-and-butter features, you will find a lot of wiggle room in how these features function and if they're even present.
So what about Exercise.com?
What features does it boast, and how will they work for you?
What is Exercise.com?
Exercise.com was founded in 2010 to be "the most advanced workout software in the world," according to their About page.
The initial objective is to help trainers log their client's workouts effectively and efficiently by creating a platform that makes it easier to keep track of your work with clients.
But as the business of personal training advanced along with the types of technology available, the team at Exercise.com decided to up the ante.
Instead of just offering a digitized workout log, they went full steam ahead in developing a full spectrum fitness business platform that caters to various fitness professionals.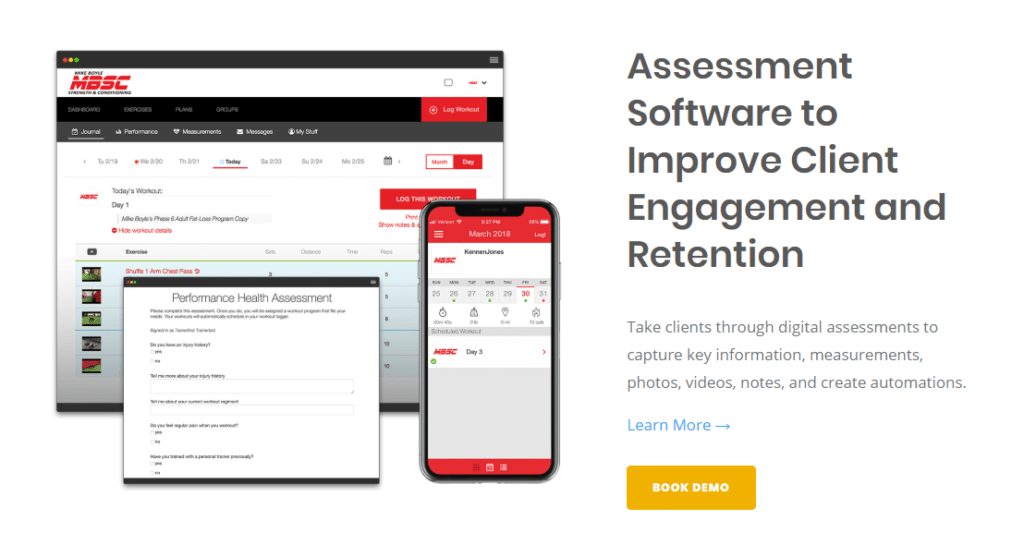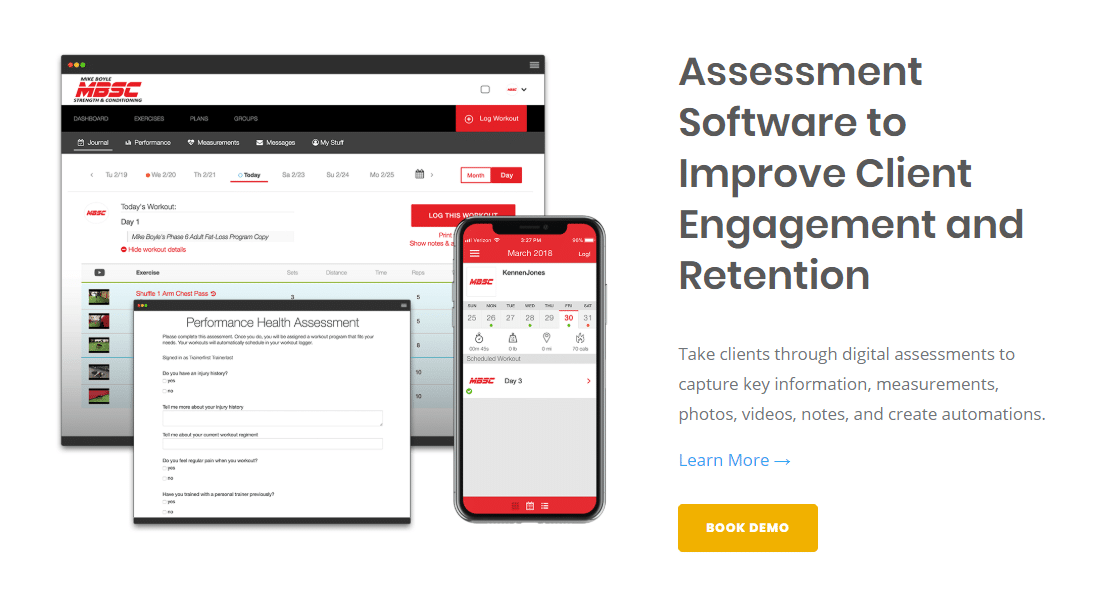 This is where Exercise.com stands out above the rest, their ability to offer a dynamic solution for different types of health and fitness pros such as physiotherapists, wellness providers, and even gyms and health clubs.
That said, I will focus only on what Exercise.com can do for you, a personal trainer.
We will look at how it integrates with your current business, all the bells and whistles it sports, and what those features could potentially mean for setting up and growing your fitness business.
How Much Does Exercise.com Cost?
Exercise.com's website is tricky to navigate and doesn't present pricing information too clearly.
On the one hand, you have a declaration on the landing page that you can start at only $125/month for access to the platform.
This fee allows you to manage a maximum of 50 clients.
This would be useful information, except once you click on the relevant "subscribe" link, you're greeted with a "page does not exist" notification.
This confused me until I found the "Pro" tab.
Pro membership costs $100 a year ($99.99).
What this means is unlike many other options out there, Exercise.com only offers 1 plan to work with.
You can make a once-off payment of $100 for the year, or you can pay a monthly fee of $9.99.
Of course, the once-off payment is a better deal as it gives you two free months from a cost perspective.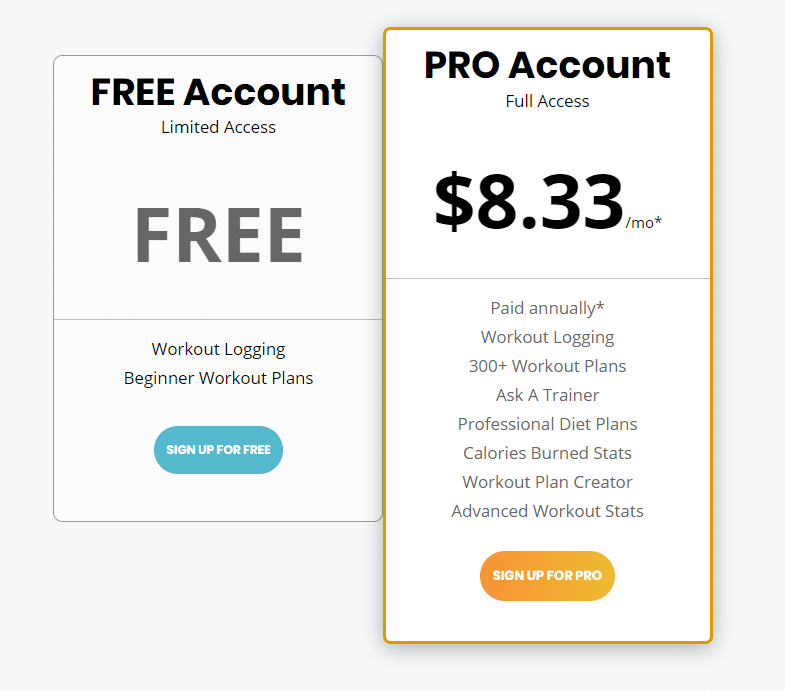 But with all this, the information regarding pricing and packages is still a bit confusing.
Exclusive PTP CPT Offers



Gold Standard Cert

Most Popular Cert

Best Study Materials

A Good Option

A Good Option

Best CPT for you?

One reason I'm pointing this out is how like many PT software platforms out there, it seems Exercise.com has the option for a free trial.
However, following the links to get a free trial, you're directed to the purchase page for the full Pro plan.
The site also sports a "Demo," which I would assume allows you access to a trial of the software.
By clicking one of the numerous "Demo" buttons, you'll be redirected to a questionnaire and prompted to fill it out.
This seems cool; however, upon completing and submitting the form, you are again redirected to a landing page displaying the $125/year package that seems nonexistent.
For this reason, the pricing information was very tricky to identify, but we'll go for the $99.99/year fee.
What Else Should You Know About Exercise.com?
Exercise.com is a trainer-driven platform.
The managerial and advisory body of Exercise.com has some real fitness industry heavyweights managing, directing, and endorsing the platforms.
Names such as:
Jonathan Goodman
Bill Day
Dr. Michael Roussell
Damon Goddard
Jeff Halevy
Exercise.com also partners with several big-name fitness organizations, gyms, and institutions.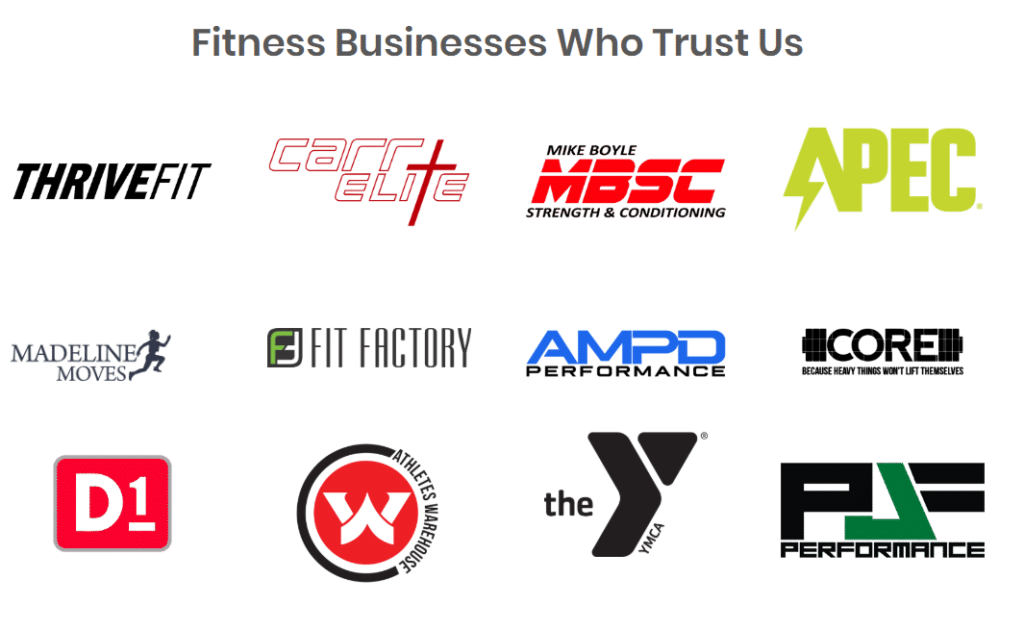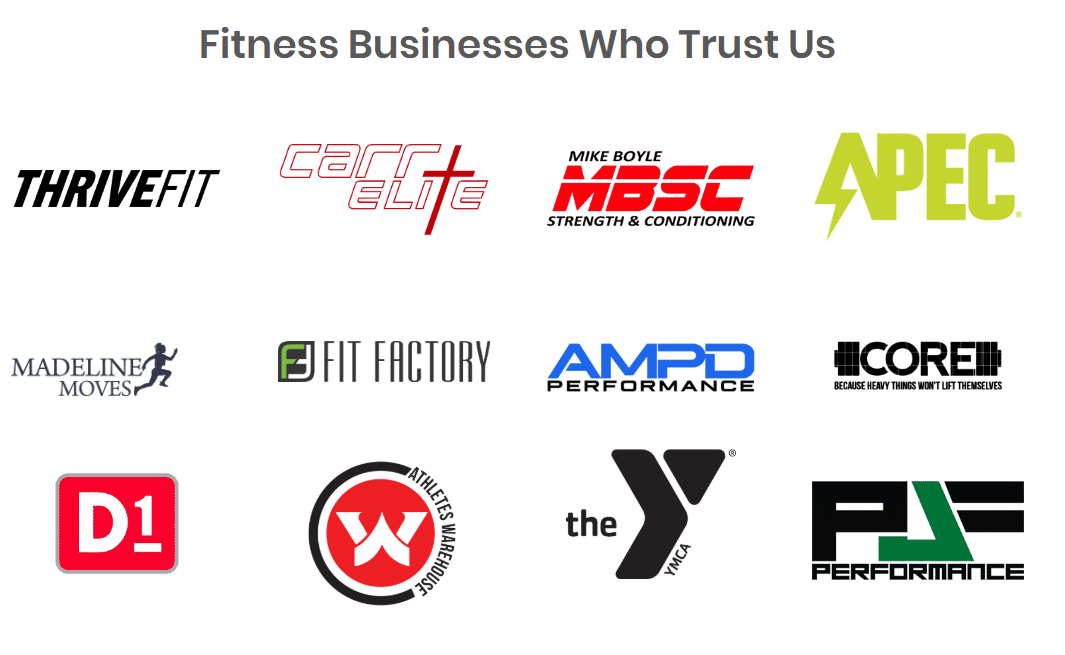 These include:
Thrivefit
Carr Elite
Mike Boyle Strength and Conditioning
APEC
Madeline Moves
Fit Factory
AMPD Performance
D1
Athletes Warehouse
The YMCA
This speaks to Exercise.com's dynamic approach as an all-around software solution for all aspects of the fitness business.
Functionality and Features
As for its functionality, Exercise.com is very feature dense. It boasts a lot of necessary functionality if you consider the scope in which it works.
Workouts and Programming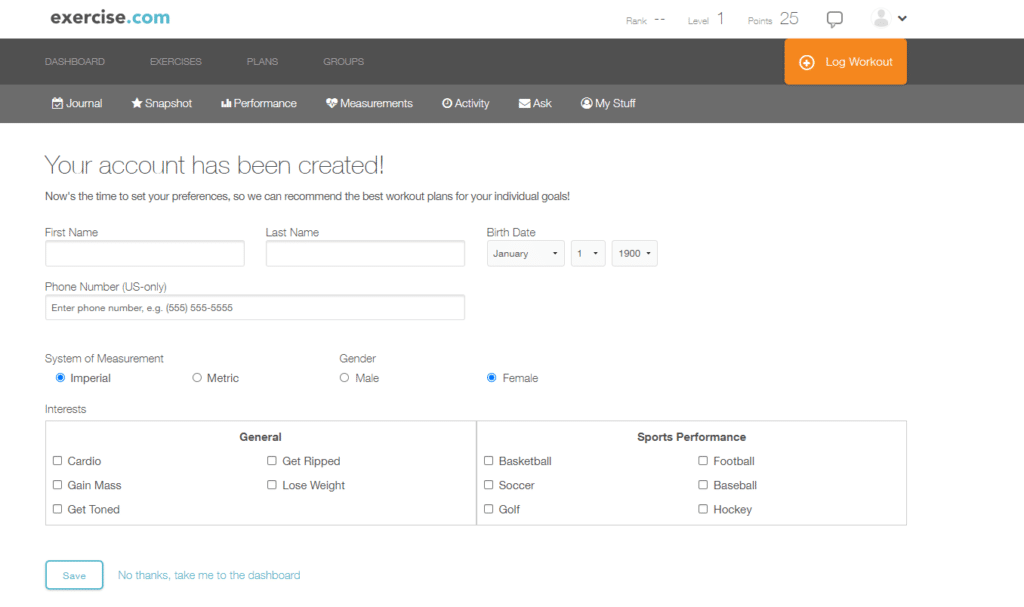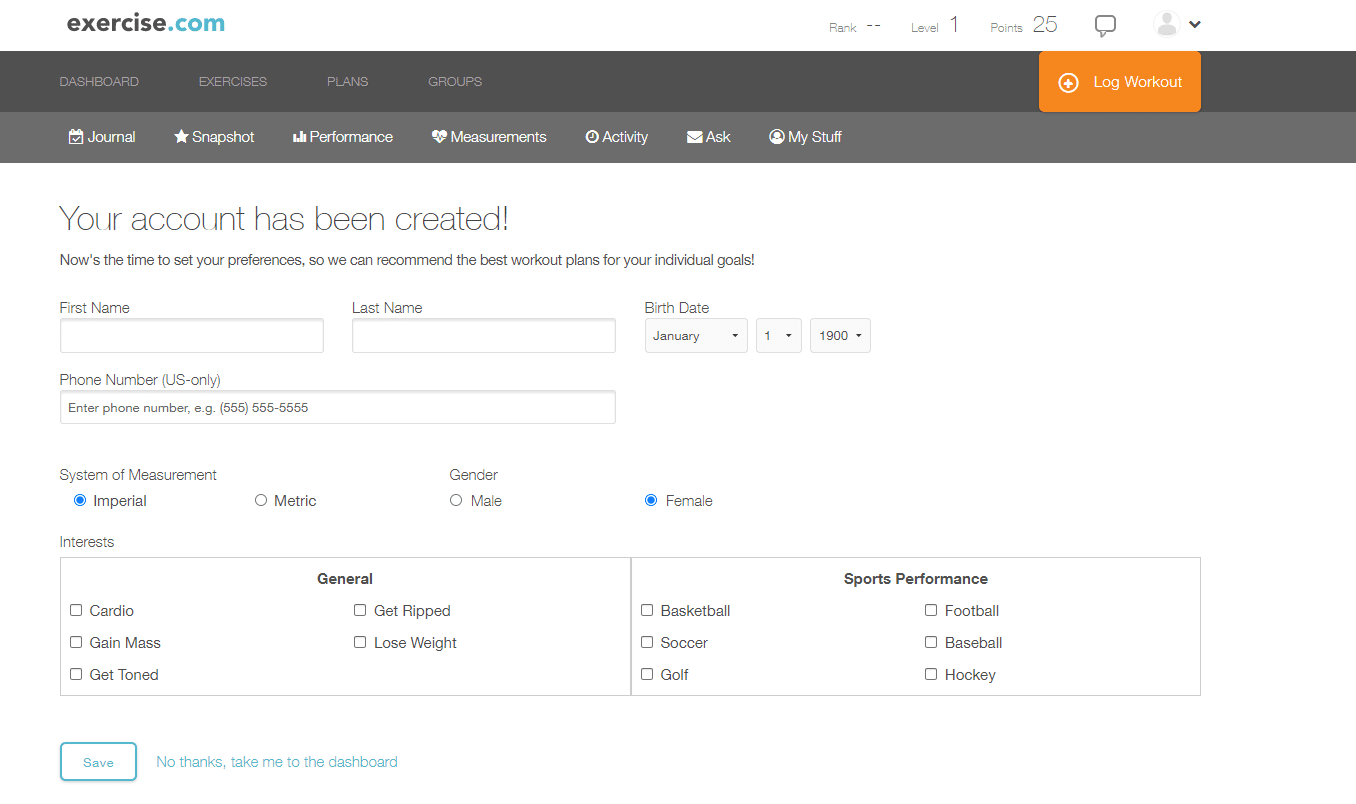 Right off the bat, we have a workout planner, a relic of the original manifestation of Exercise.com, now upgraded and updated to suit the times.
The workout planner is versatile because it allows you to design anything from a single workout to a long-term periodized program.
And with access to 2943 exercises, your clients will have no shortage of useful things to do to bring the results they are paying you for.
Calendar and Scheduling
The scheduling feature is also quite nifty. It's the crux of any good client management platform and seems not to disappoint when it comes to Exercise.com.
The calendar allows you to keep track of all your clients' upcoming activities and locations with notifications, of course.
Data Collection
When dealing with clients, especially new ones, getting that data in and correcting it is important.
To receive the necessary information as well as to begin building a working relationship with your client, you need an easy, standardized data collection system.
That's why Exercise.com sports a handy questionnaire feature that allows you to design data collection forms and quizzes for on-the-fly capturing via mobile apps.
Branding
As for those apps, there is, as you would expect, an Android version and an iOS version.
The apps are fully customizable from a visual and branding perspective.
That means when your clients download the Exercise.com app, it will seem your business has its in-house fitness app, which boosts your brand image, reputation, and level of loyalty from clients.
Communication Tools
Real-time communication and messaging tools are essential for a platform like Exercise.com.
The messaging feature Exercise.com brings allows you to live chat, set reminders, schedule messages, and send detailed instructions.
It's necessary to keep motivation, accountability, and adherence going with your clients.
Client Tracking
One way a client management system needs to shine aside from just organizing your clients and their programs is to track the progress of each client and the changes that affect their journey.
Exercise.com has a flexible client tracking system that works by providing up-to-date data.
Data that you will have access to includes:
Biometrics
Health status

Heart rate
Blood pressure
Speed
Strength
Power

Workout habits and history.
The tracking feature also allows you to evaluate progress based on images that allow you to check for body composition and postural alignment.
Payment Management
One feature that Exercise.com likes to tout as one of its great tools is the financial management system it comes with.
The eCommerce integration of Exercise.com allows you to handle many different payment types and offer different service packages, from once-off plans and programs, all the way to recurring membership structures.
Automation
One thing I look out for when dealing with software platforms aimed at boosting PT productivity is automation.
Exclusive PTP CPT Offers



Gold Standard Cert

Most Popular Cert

Best Study Materials

A Good Option

A Good Option

Best CPT for you?

Besides clean organization, the main point of it all is to minimize manual tasks.
Exercise.com has automated features which is essential.
Aside from the automation of membership renewals for recurring payments, Exercise.com's automated functions also extend to delivering programs, sending reminders and instructions, and alerts and updates.
What I Liked
Robust eCommerce
As I already mentioned, the eCommerce feature of Exercise.com is one to be praised.
It is more versatile than many, allowing you to escape the monotony of setting up your webstore from scratch.
It's integrated with Stripe and PayPal, two of the leading payment gateways for any online payment.
My main benefit is that you can establish recurring payments through monthly membership structures.
This is big because recurring payments are where you want your main source of revenue to be coming in from, especially when running an online business model.
The eCommerce feature is secured through SSL and Privacy Shield Framework.
Features Galore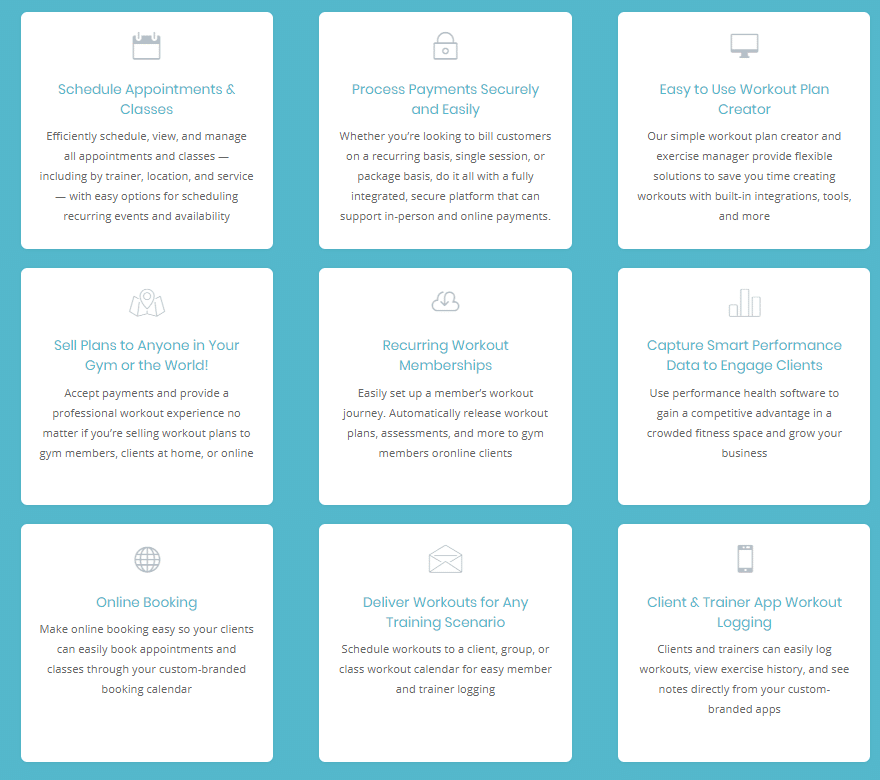 Including the eCommerce functionality, Exercise.com is generally a features haven.
It's bursting at the seams with different yet highly integrated productivity tools.
Here's a rundown of what you're getting with Exercise.com:
1-1 Training
Assessments
Client / Class Scheduling
Client Automation
Custom Branded
Custom Exercises
Dedicated Account Manager
Dedicated Zapier Support
Exercise Library
Group Training
Gym / Facility Management
iOS & Android Apps
Marketing Integrations
Nutrition
Offer Online Workout Memberships
Online Training
Payment Processing
Performance & Measurement Reports
Run Workout Challenges
Sell Products
Sell Workout Plans
TV Workouts
Websites
Workout Creator / Logger
With all these rich features, you can run a tight operation, especially owing to the automation and integration options you'll have.
Exercise.com features aim to minimize your workload while maximizing the work done.
Top Industry Recommendations
Exercise.com is backed and endorsed by some of the fitness world's biggest brands and influential figures.
From gyms to high-performance centers to sporting goods distributors and some of the leading trainers and entrepreneurs in the game, Exercise.com has strong backing.
This can only show that the system is tried and trusted and works as promoted.
In the fitness industry, reputation and recommendation mean everything, so the fact that Exercise.com comes with a seal of approval from the industry itself means something.
Additionally, the team behind the day-to-day operations of Exercise.com are also fitness professionals themselves, further indicating how trainers made the personal trainer software for trainers.
This industry endorsement acts as a quality guarantee you can trust.
Multi-faceted Approach
Exercise.com is different from many other personal trainer client management applications in many ways. Still, one of the key elements of its differentiation is the versatile types of business models it caters to.
It allows gyms to manage memberships and client intake, it allows physiotherapists to administer corrective and rehabilitative exercise prescriptions, and it allows you, as a personal trainer, to grow your business.
Although this article only focuses on the potential benefits fitness.com has for a PT, it's fair to mention its versatility as a business tool.
The options you gain access to by having this level of dynamism allow you to work flexibly and under widely varying client-trainer scenarios.
That also means if you ever choose to scale your business up into running your gym or branching into other fields as a fitness pro, you can do it all from the comfort of Exercise.com.
Customizable Apps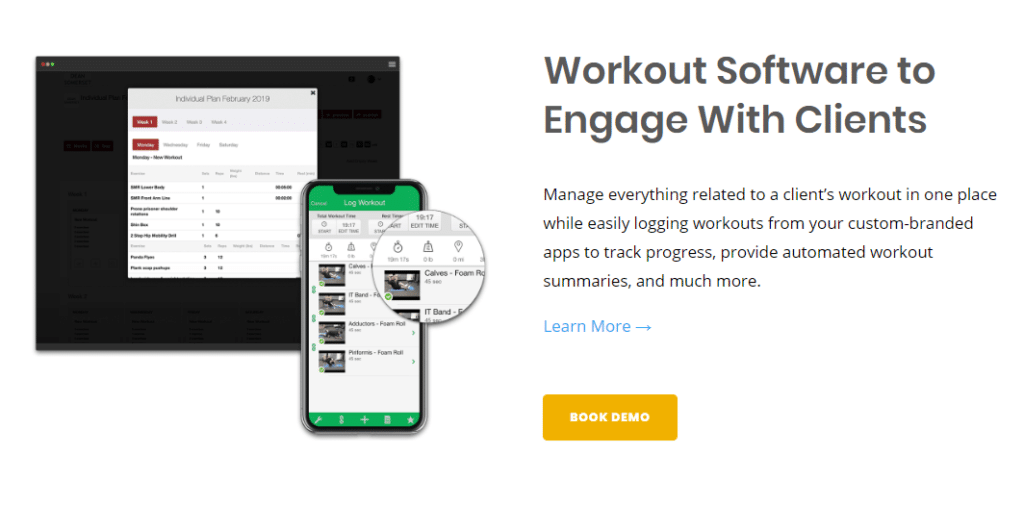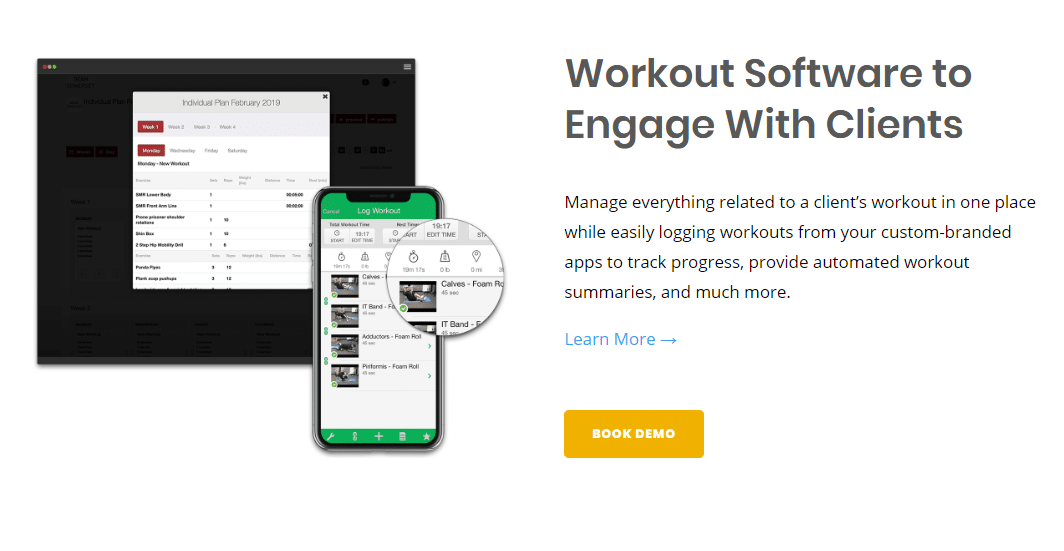 Exercise.com comes complete with customizable mobile apps.
These apps preserve all the crucial functions your clients will need to access the services you provide them.
Chat, alerts, schedules, and notification functions all integrate with the plans and programs you have designed and delivered.
The customization aspect of mobile apps comes with the fact that you can brand the app according to the visual identity of your business.
Logos, trademarks, and color palettes can all be added to give your app the same look and feel your clients and followers have grown accustomed to.
Exercise.com wants you to curate an approach to the fitness business that represents you as much as possible, and it looks like they nailed it!
The white-label app still retains its stock standard features and functions, so you can bet it will run just as smoothly, no matter how you make it look.
Customizable Apps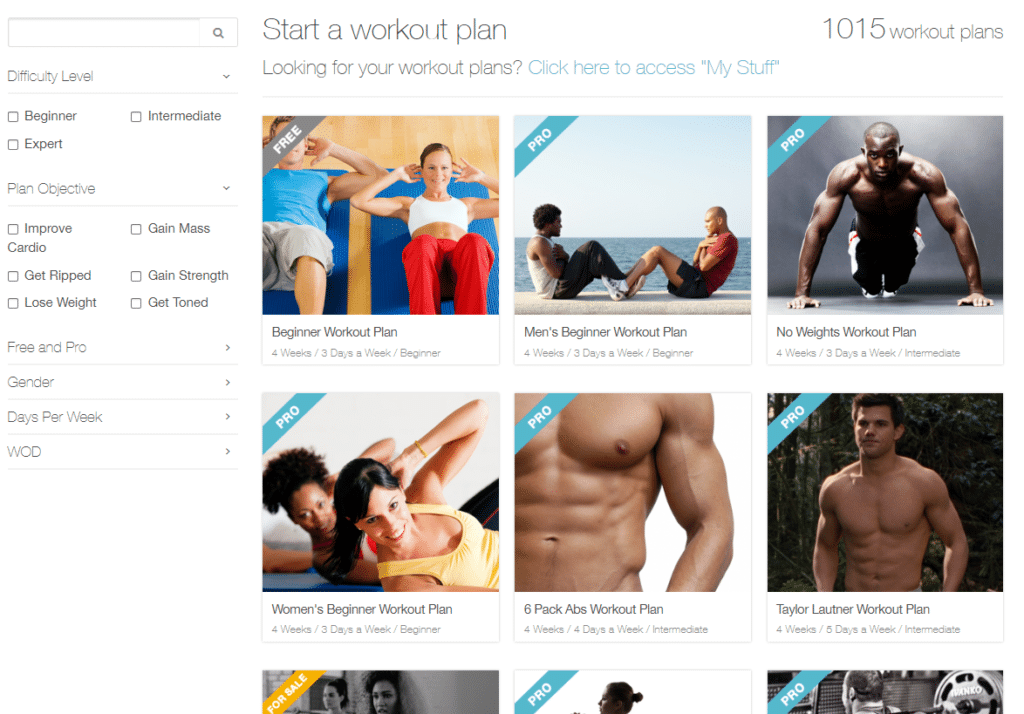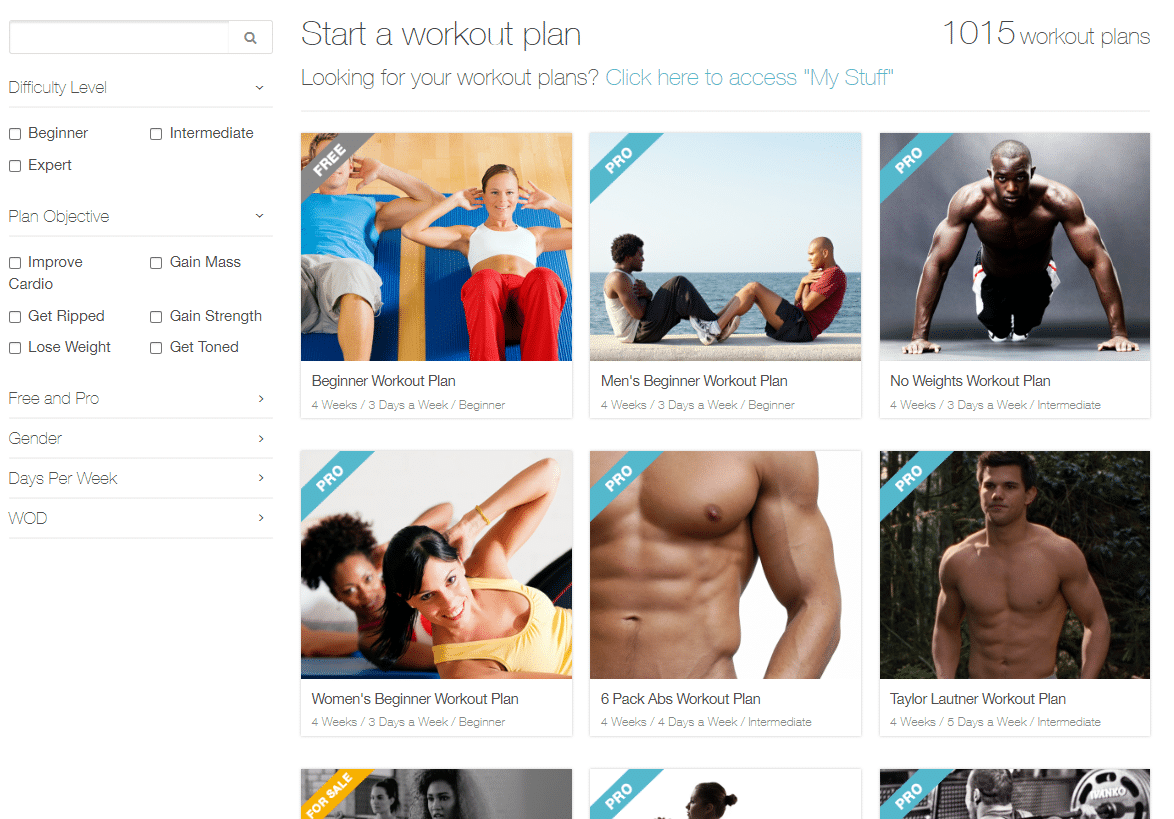 I've gone in on how Exercise.com is a great platform from a trainer interface perspective, but the same can be said about the clients' experience.
The UI and UX functions that your clients will have access to provide a hassle-free, no-nonsense experience.
They can keep track of their progress through the same alert analytics tools you use to do the same.
They can ask questions, send queries, and report on progress events via the two-way live chat.
Clients can also set reminders, log workouts, and process payments through the client interface.
With this level of engagement riding on an easy-to-use framework, you will easily retain clients.
Relatively Cheap
Exercise.com is one of the cheapest client management platforms out there.
Although I have to reiterate how difficult it was to figure out the pricing options because of how poorly designed the information layout on the website is, we'll get into that later.
Anyways, with enough prodding around, I learned that the full package (there only is one) would cost you $99.99 a month.
There are other similar client management platforms out there that will cost you that as a monthly premium!
Speaking about monthly premiums, you can either pay the full once-off fee of $99.99 or $9.99/month, which is more expensive.
If the price is one of your main guiding factors, then Exercise.com is definitely for you.
Great Support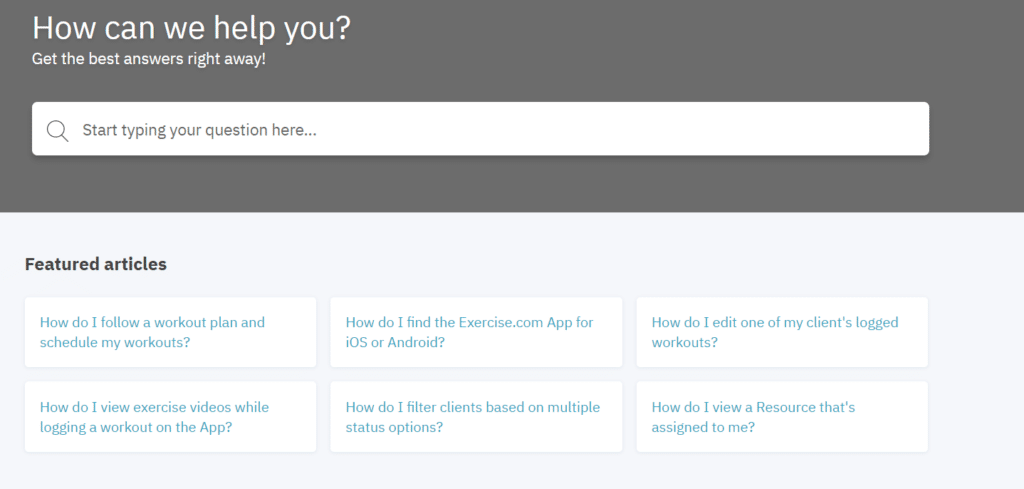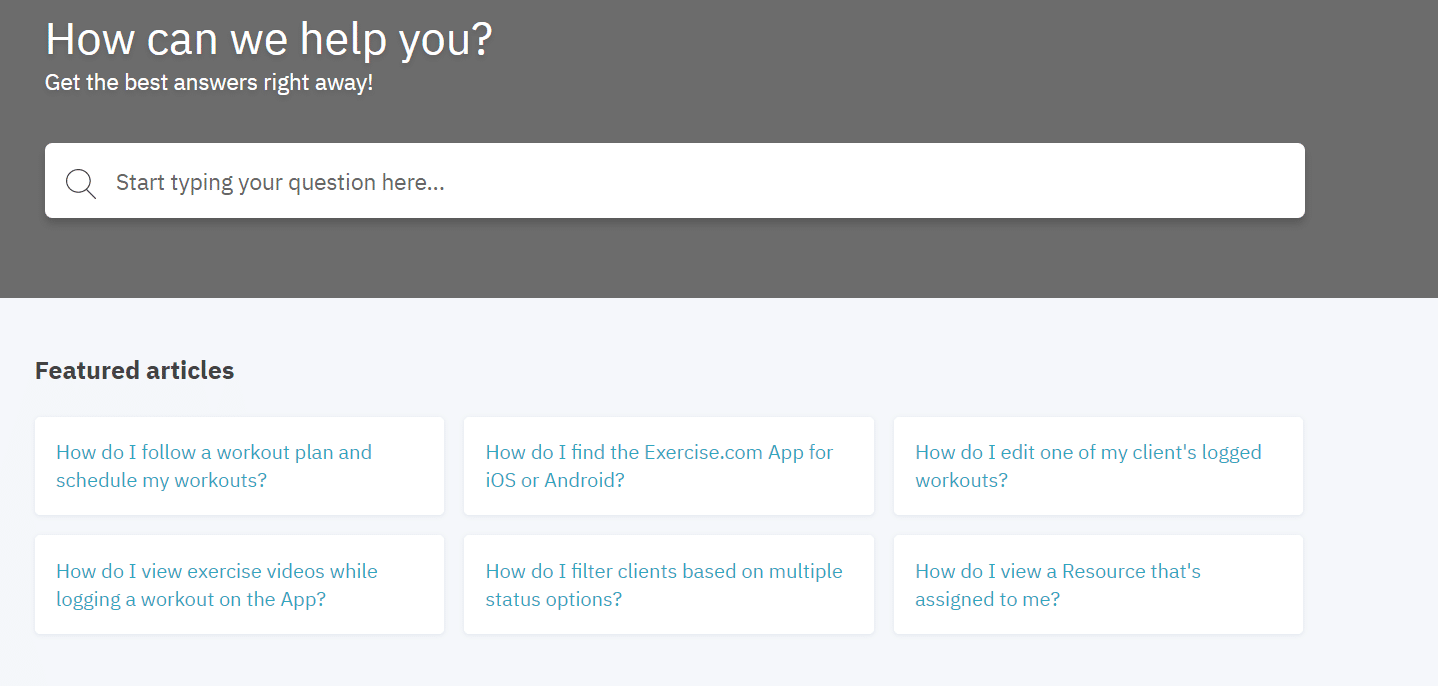 Exercise.com's help features come in 3 forms.
The first is by finding your issue through search-generated queries. A handy search box in the Support tab will give you access to the most pertinent technical concerns.
The second help feature is a list of help forum discussions you can browse through and gather relevant information based on the experiences of other users.
Last but not least, Exercise.com has a live chat feature. Once you're signed in, you can speak to one of the support team members in real time, who will help you find a solution to any technical problems or areas in which you are stuck.
What I Disliked
The website is Confusing and Misinformative.
So one glaring problem I had with Exercise.com wasn't even the actual functionality of the software itself.
That was pretty decent, but when I first made my way onto their site, it was a bit of a nightmare.
Missing pages, confusing and often misleading information, and a design language that made it all a drag to deal with.
For some reason, a pricing option of $125/year is advertised on the site. 
Upon trying to follow the "Subscribe" link to see where it goes, the page does not exist.
Aside from this, the website for Exercise.com is just hard to navigate the jumbled mess.
A lot of room for improvement.
Feature Density Means Steep Learning Curve
Yes, I've gone on record to praise the plethora of features Exercise.com boasts.
But this is a two-edged sword.
That's because a great volume of features comes with a great learning curve.
The more there is to use, the more time you will need to learn how to use it, a very simple reality, unfortunately.
Pros/Cons Short List
Pros
Great eCommerce and payment processing
Jam-packed with productivity features
Endorsed by the industry
Great customization options for mobile apps
Great value for money
Easy-to-use interface and user experience
Cons
Poorly designed website
Steep learning curve due to feature density
Not the best-looking exercise library
Is Exercise.com Right For You?
I'm sure you have gotten value from the in-depth analysis of Exercise.com PT software.
If you are still undecided about using it, kindly drop a note in the comment box below for more clarification.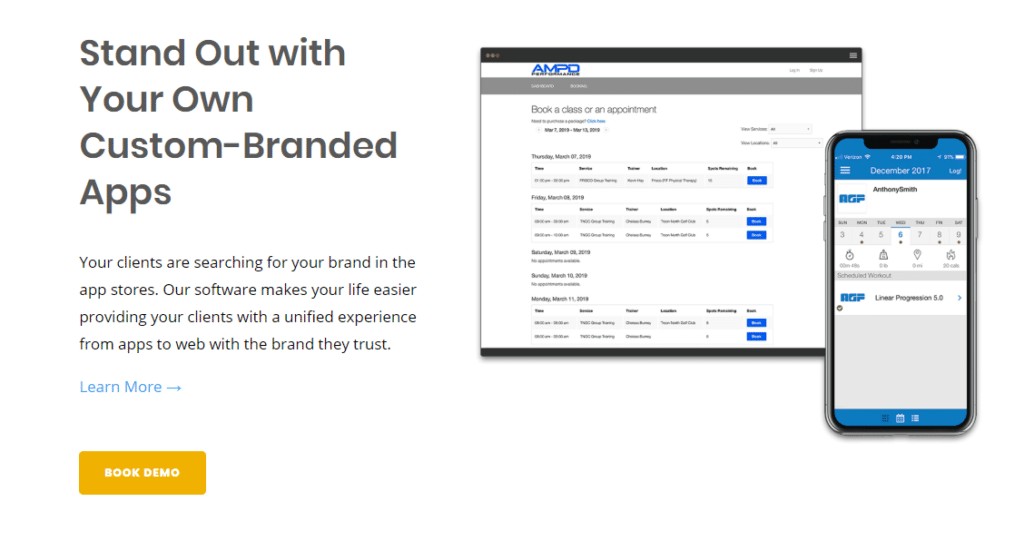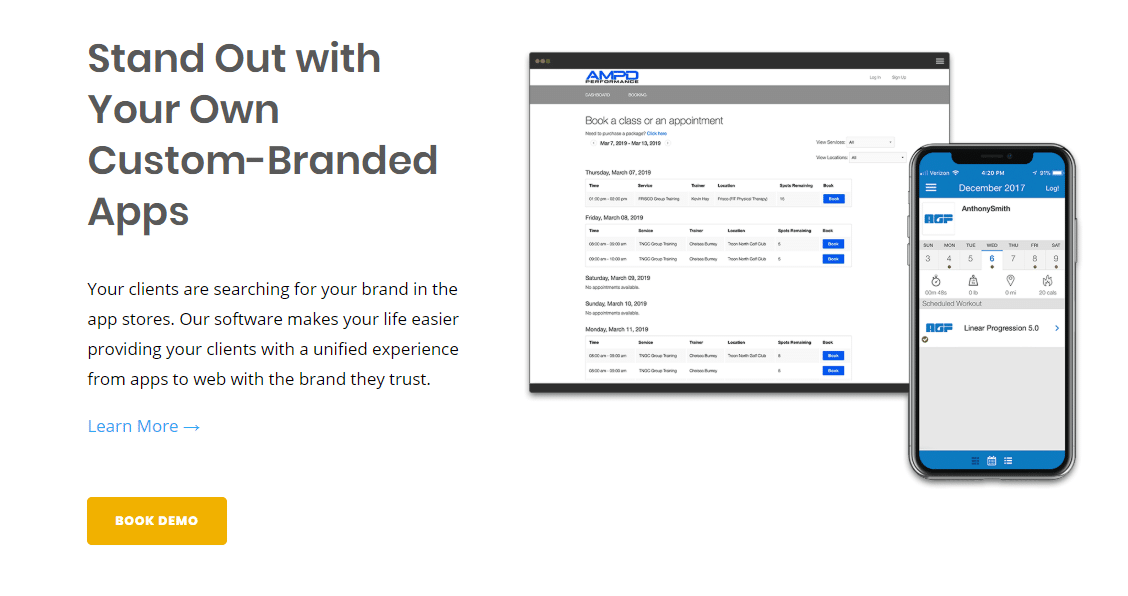 Exercise.com is a robust, fully functional tool mainly for the seasoned and discerning trainer. If you're starting, it might not be your best first choice, but at that price point, it's not too much of a loss.
Ease of Use – 3/5 Stars
Easy enough to use once you've mastered the millions of features it comes with, but this learning curve can be an entry barrier.
The website is also notoriously hard to navigate and has some notable flaws, bringing the score down.
Support – 5/5 Stars
Help and support are available at the flick of a wrist and the click of a button.
Price – 5/5 Stars
The price is right with Exercise.com. Paying for a year's worth of service is what you normally pay monthly.
Overall – 5/5 Stars
Overall Exercise.com gets the job done at a fraction of the cost of its competitors. 
However, be prepared to buckle up while you learn how to use it properly.