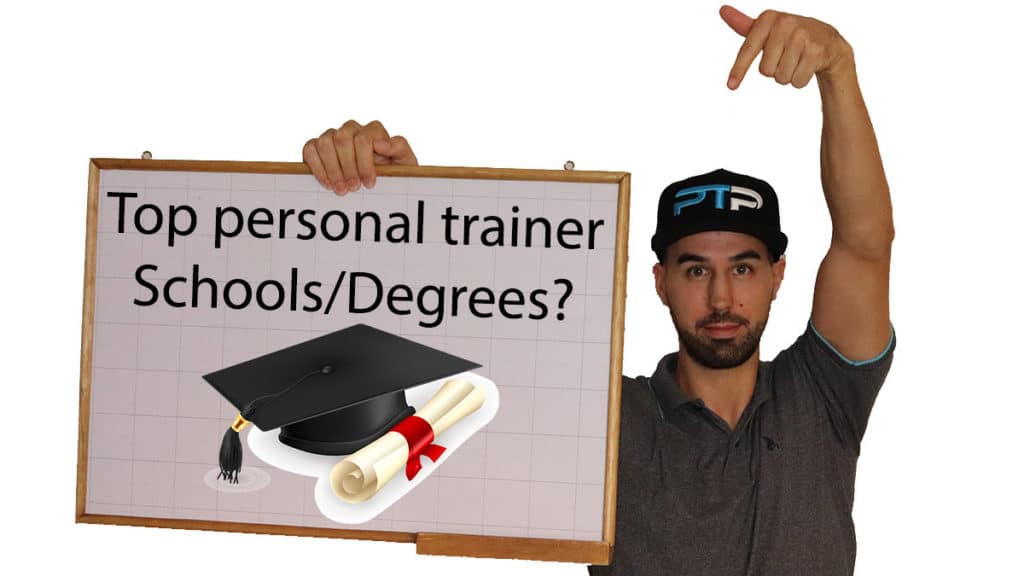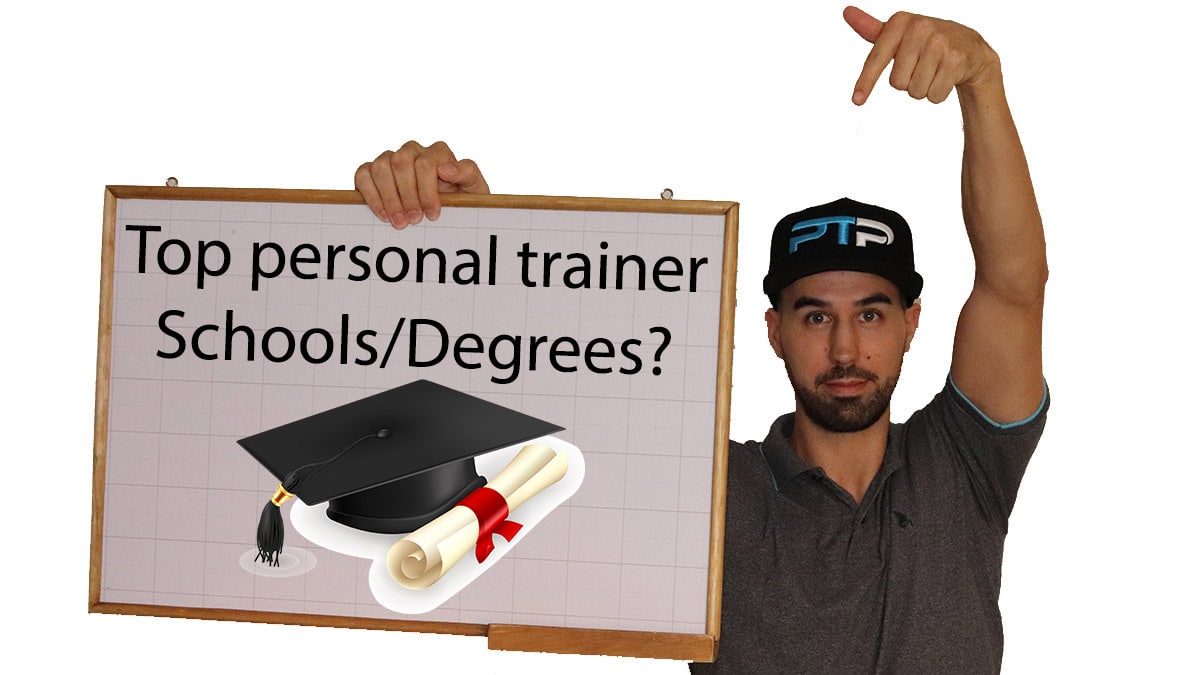 So you're considering the life of a fitness guru? The life of a personal trainer is full of promise, reward, and fulfillment.
If that's the case, you're in the right place. This is right up my alley and I'm more than happy to guide you as you begin such an illustrious journey.
By the end of your read-through, you will become acquainted with the ins, outs, dos, and don'ts of the personal training world and what it takes to navigate it successfully. I have some excellent study materials for the majority of these certifications. Also, check out my article on personal trainer salary and how to become a personal trainer.
The menu at the top of this page will answer any question related to personal trainer schools that you have. If you have any questions, don't hesitate to leave me a comment here (I'll respond within 24 hours). Also, visit the home page for the most recent and popular articles.
While you're at it, take the quiz to see which school is a good option for your training style. It will give you a quick handle on with route you should probably take when considering a career in fitness training.


Let's jump right in and take a look at the best schools, shall we?
What are personal training degrees?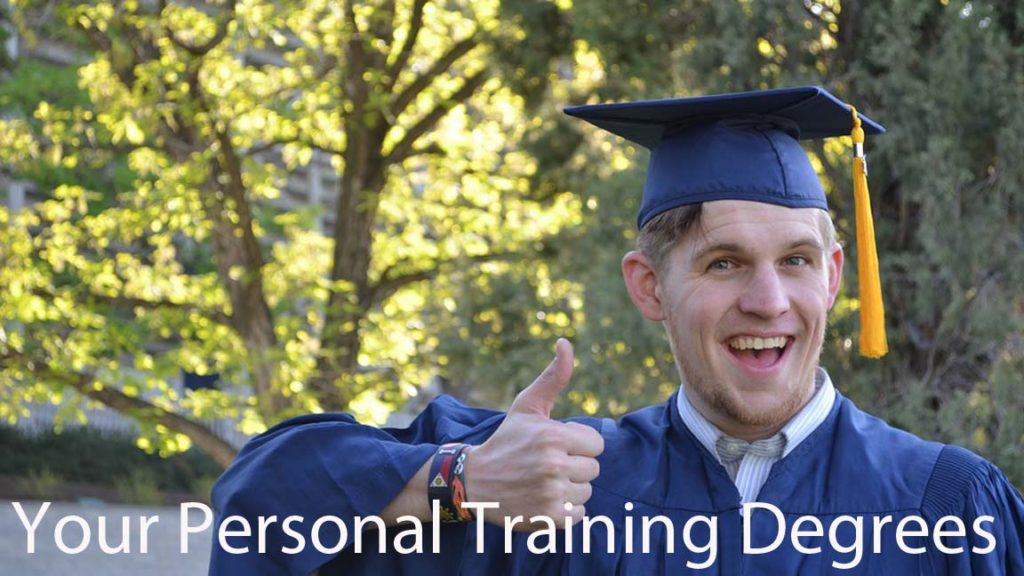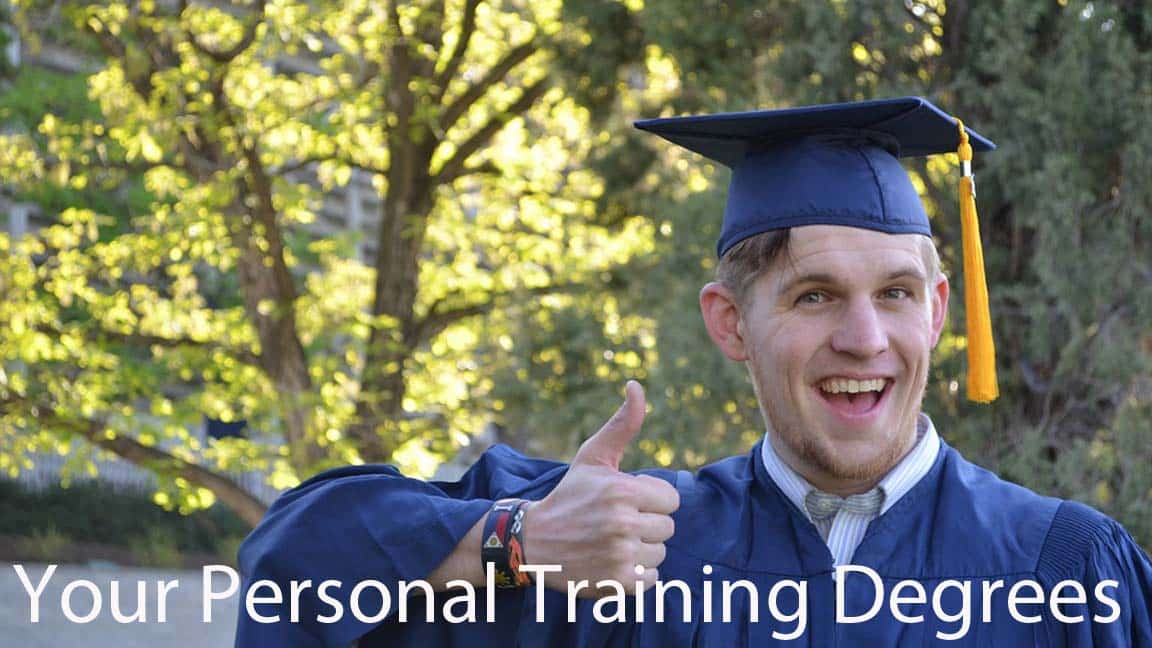 We've all heard the old adage that you need a college or university degree to make it in the career market. While this may have been true not so long ago, the tide has shifted dramatically over the past few decades.
Regarding personal trainer school, only a few qualifications today still require a full undergrad college degree or higher. Medicine, law, and engineering spring to mind.
Nowadays, most professions require a display of competence through experience or applied knowledge and perhaps a personal trainer certification from some certifying agency. A certifying agency is basically a school for personal training. There are tons of personal training schools (certifying agencies) out there, but only a handful are worth looking into.
Becoming a certified personal trainer is one example of this. But unlike most other careers with the option of a traditional tertiary degree, becoming a PT never required it.
Why Are There No PT Degrees?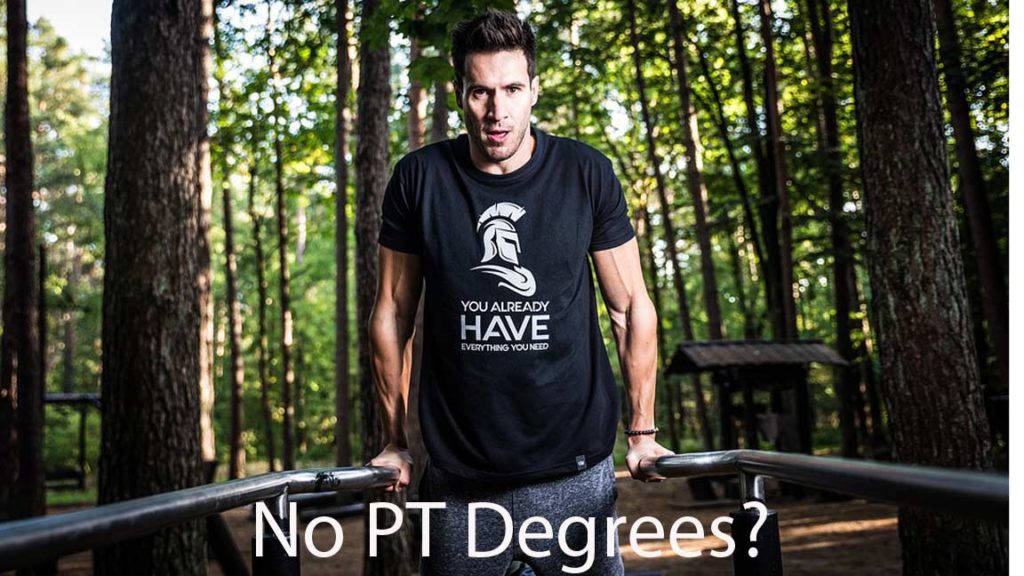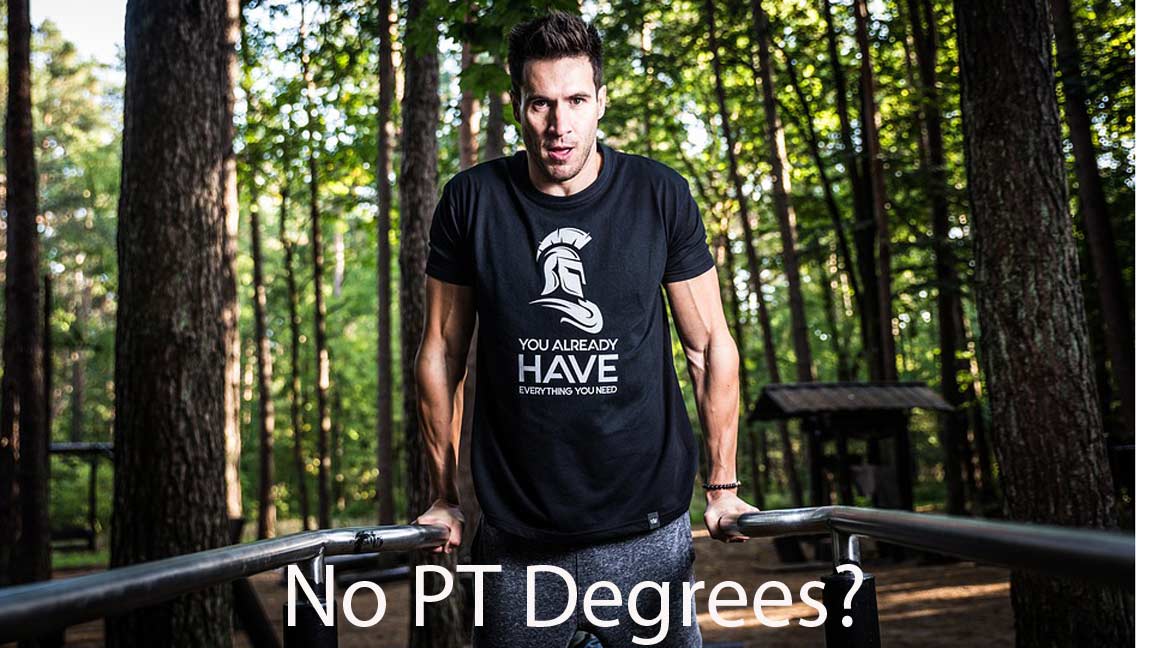 Becoming a certified personal trainer has never been attainable through a degree program because it is a relatively new career path. A career path that emerged at a time when going to college no longer held the same urgency as it did before.
If you think about it, personal training as a career has only been around since the 90s. The idea of fitness as a lifestyle improvement protocol can be traced back to Dr. Ken H. Cooper, who coined "Aerobics" in 1968.
Aerobics was the first official workout program and with added influence from strict military training, professional sports, and bodybuilding, the entire toolkit of modern fitness was born.
Because of the time and way personal training developed, it was never officially codified by any higher learning institutions like universities or colleges. Instead, entire institutions were developed by personal training.
In fact, the first accredited personal training certifications came about in 1996, giving PTs worldwide a real opportunity for real recognition and a chance to attend an actual school for personal trainers.
This was done by the National Council on Strength and Fitness (NCSF), an offshoot of a community project from the Florida International University and considered one of the first physical trainer schools. Today NCSF provides accreditation for PTs worldwide.
So the closest thing to a PT degree is a sport/exercise science or kinesiology degree. This means that to gain the necessary credentials, you are looking at getting a certification from an accredited certified personal trainer school.
So if you're still wondering do you need a degree to be a personal trainer? The answer is no! All you need is one of the best personal trainer certifications. I'll get to those in a second.
Certifying Agencies you can trust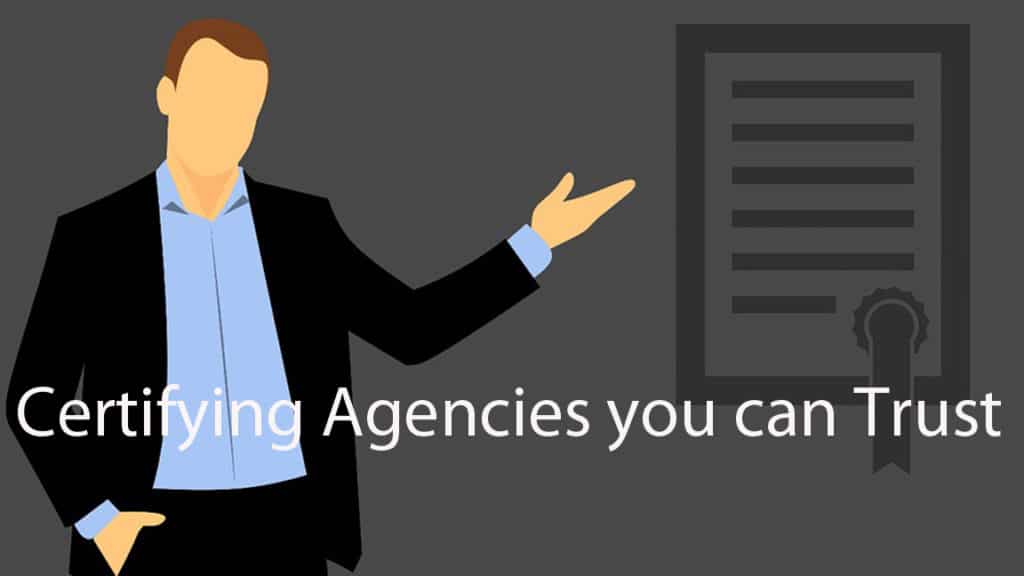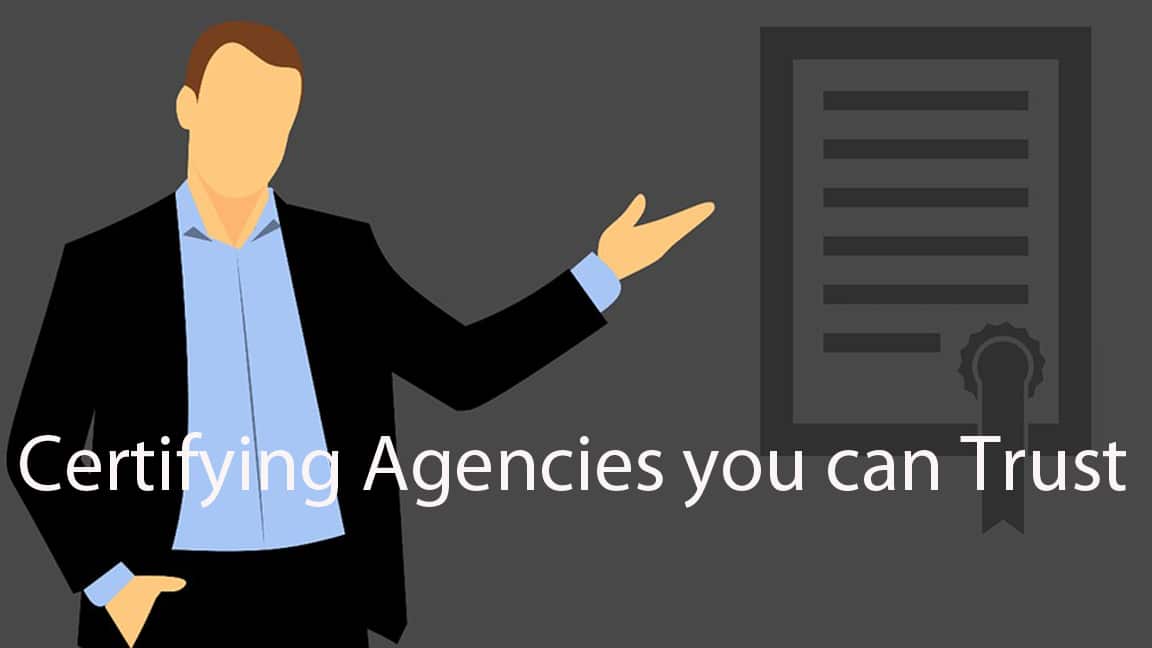 As mentioned, the only surefire way to get your PT credentials and become official is to get certified through an exercise science institution or CPT school.
There are many different certifying agencies out there, all with different systems and protocols for knowledge delivery.
Some agencies offer specialized training in specific, complex career fields such as sports medicine and pro-athlete management. Others offer a general approach for the everyday fitness consumer.
With a fairly recent uptick in the fitness culture trend, many new certifying agencies have been popping up. The current trend has also seen many different specialist fields pop up to cater to an evolving market and apply new scientific findings.
Specializations in nutrition are slowly catching up to the exercise science certs in popularity.
Because of this uptick and the resultant influx of "new schools," you can be sure to find a lot of certifying agencies that are not exactly up to code regarding industry standards and policy adherence.
If you're new to the fitness world, these may be hard to spot and single out. But I'm here to help you weed out the bad ones and pick from the best.
There are lots of personal trainers certificate programs out there. You have to opt for the best out of the rest.
So how do you spot a bogus cert? Well, it's not that easy unless they have many bad online reviews. That's because online reviews can easily be manipulated with the right sort of gaming.
The best thing to do is to seek the best rather than try to single out the worst. The best and most reliable way to test the credibility of a PT certification is to check for accreditation.
What is Accreditation, and Why?


Accreditation is an official seal of approval granted by a unifying authority. In a basic sense, it's a green light to authenticity.
You might be asking, who says the people that give accreditation are allowed to accredit? Well, simply put, most accrediting bodies in any field of expertise comprise a collective of the founding or leading entities in that field.
For example, a governing body in a sports category happens when the top teams or players all come together and agree on a set of rules. These rules must be followed by anyone wanting to call themselves part of the sport.
The same thing happens with personal trainer certifications. Around the time everything was becoming more formal, a panel of qualified experts who were pioneers in the field of sports and exercise science got together and created a list of standards. The institution can be accredited for its certification programs if these standards are met.
In the case of personal training, there are two major accrediting agencies. The National Commission for Certifying Agencies (NCCA) and the Distance Education Accrediting Commission (DEAC, formerly the DETC) specialize in personal trainer school online and remote learning.
Both of these are extremely important for you to ensure the quality and authenticity of your learning and to be taken seriously when you step into the PT game.
NCAA was the first truly recognized accrediting body. DEAC is a body born out of a necessity of our time. It's the agency responsible for the more remote learning and testing-based certifying agencies and programs.
I'll go into which accrediting body applies to each of the different certs we will look into.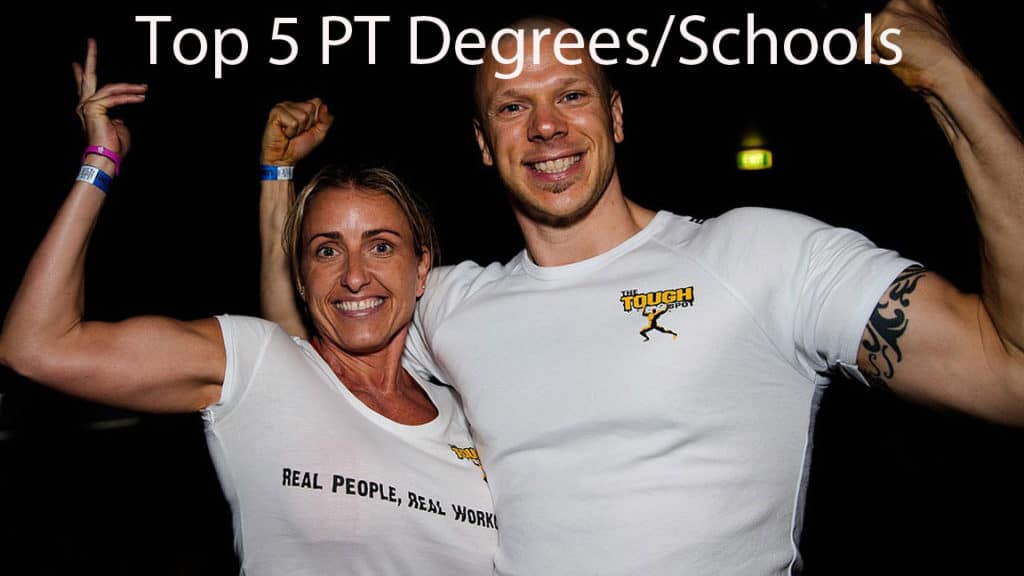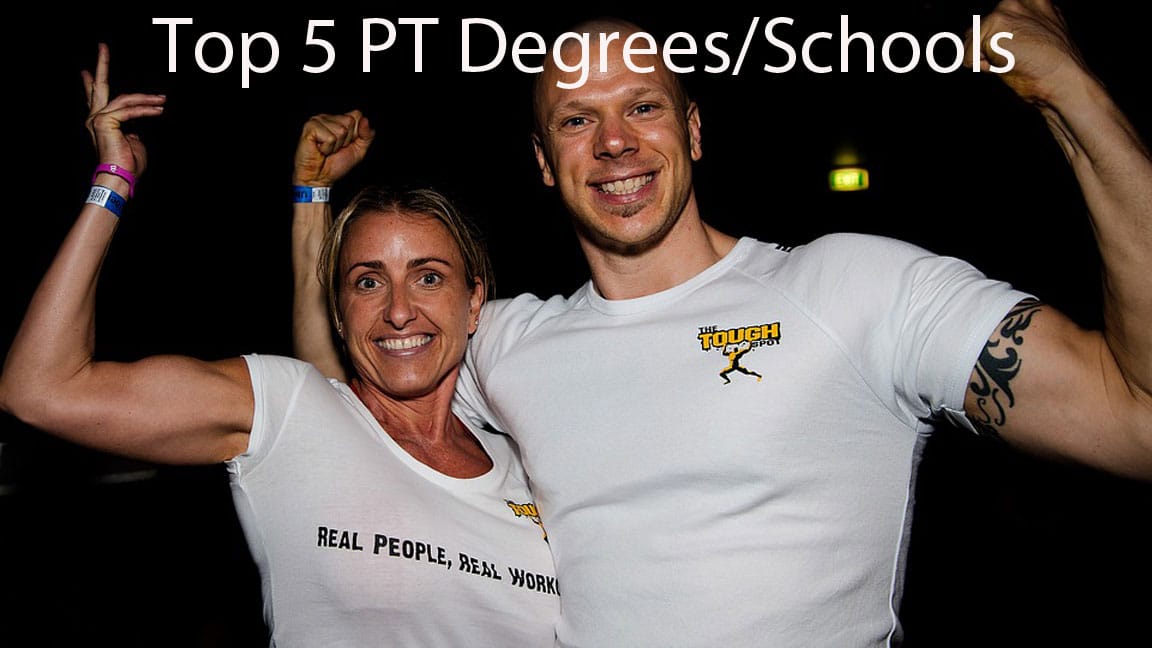 Top 5 personal trainer schools/degrees
Here is the list of my top five personal training schools. I will compare these based on factors such as price, reputation, study materials, exam difficulty, accreditation, etc. Let's see which one is the best personal trainer degree for you.


NASM, or the National Academy of Sports Medicine, is one of the top global certifying institutions. This is it if you seek an in-depth, cutting-edge approach to exercise science and personal training.
NASM has been around longer than most other exercise science institutions. Over the past 30 years, they have been a leader in specialized PT certifications.
This makes NASM one of the pioneers and authorities on personal training and exercise science.
4 packages are currently available under the NASM badge, allowing you to take a full spectrum approach to all things health and fitness. With their proprietary Optimum Performance Training™ (OPT™ methodology), NASM courses are developed and updated using an evidence-based, scientific model.
Pros
One of if not the most reputable and credible cert in the PT industry.
A diverse assortment of study packages.
Second to none study material.
The proprietary OTP model can be applied to a diverse spectrum of clients.
Big emphasis on career and business growth beyond certification.
Focused scope on corrective and functional training.
Cons
Packages, especially in the top tier, tend to be relatively costly.
One of the most challenging certs to pass.
Certification Recognition.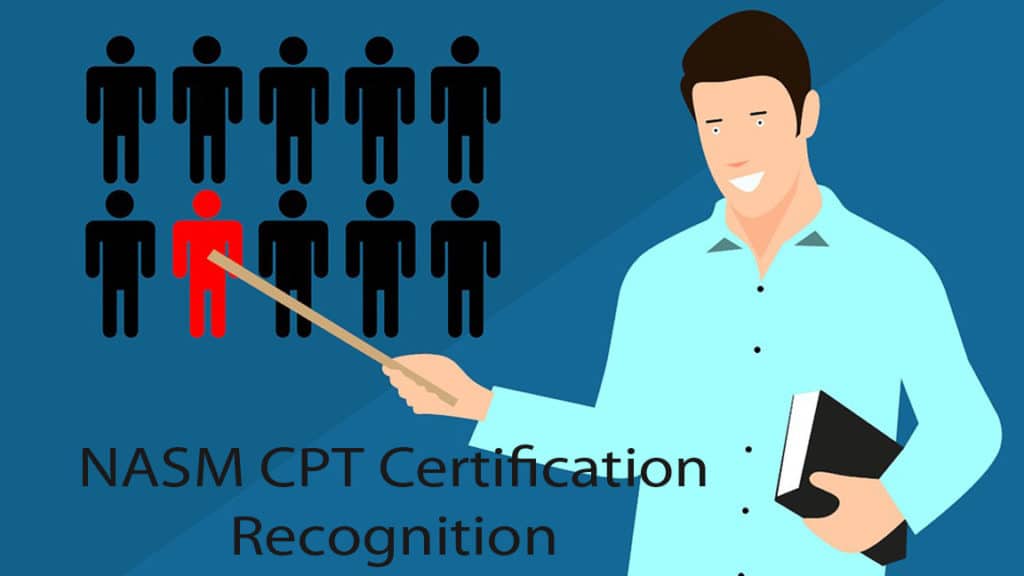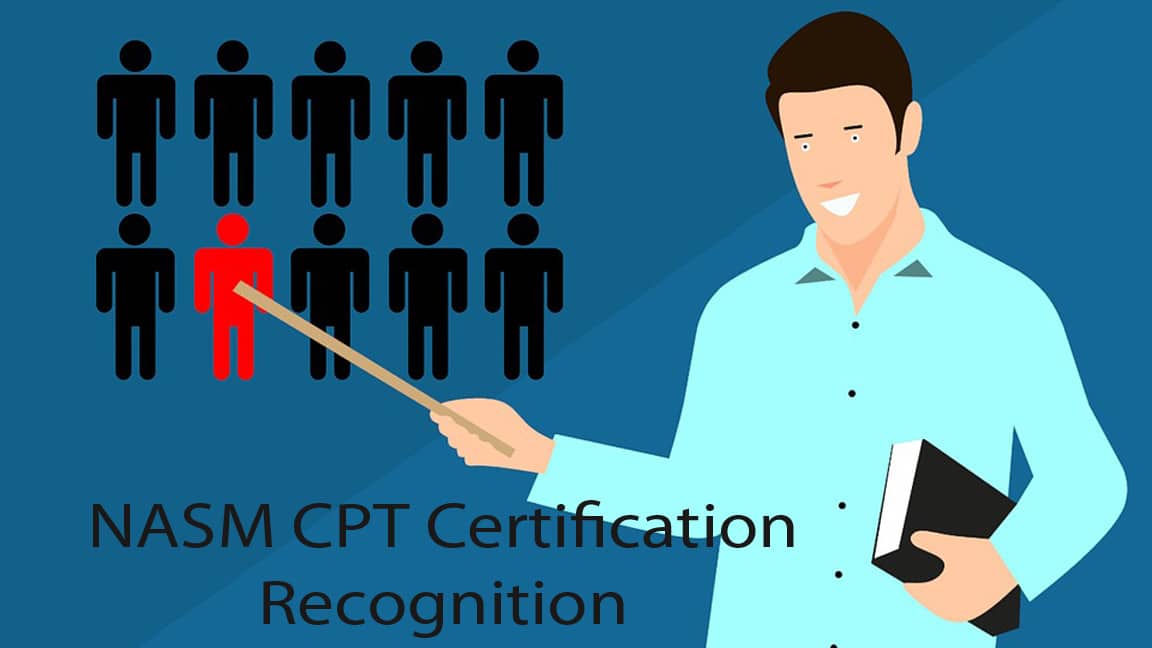 NASM CPT is accredited by the National Commission for Certifying Agency or NCCA for short. The NCCA is a nationally recognized agency at the front line of science and research in strength, condition, and fitness.
NASM certification structure is governed by a 7 member panel that oversees all decisions concerning the inputs and outcomes of the policies and knowledge resources used to create and administer certification.
This means the NASM CPT is constantly evolving and finding ways to improve.
Just so you can get an idea of how NASM's accreditation works, they have the following accreditation documents available:
NASM CPT Standard-Setting Summary
NASM Code of Conduct
NASM Report of Code Violation
NASM CPT Exec Summary
Certification study materials….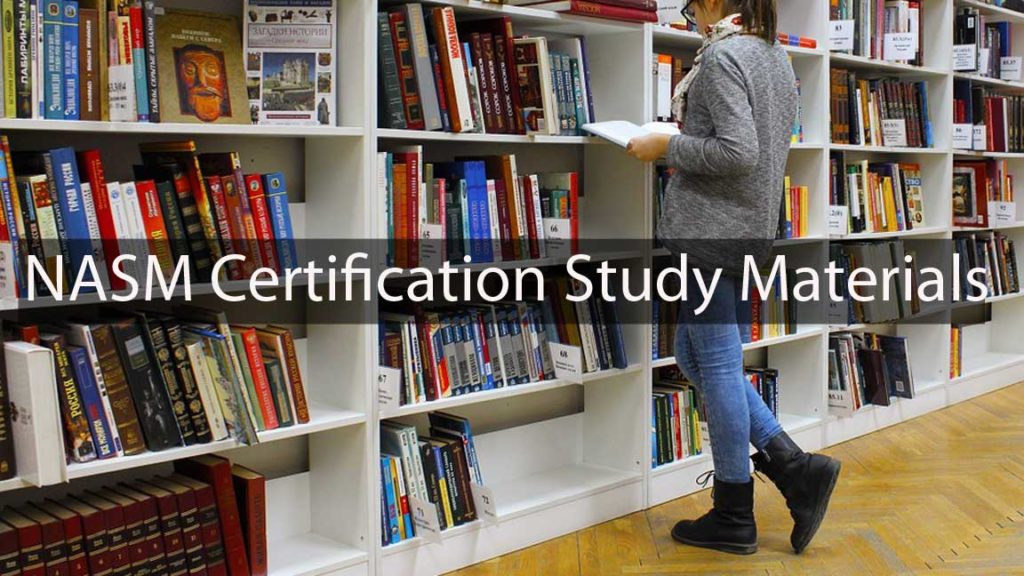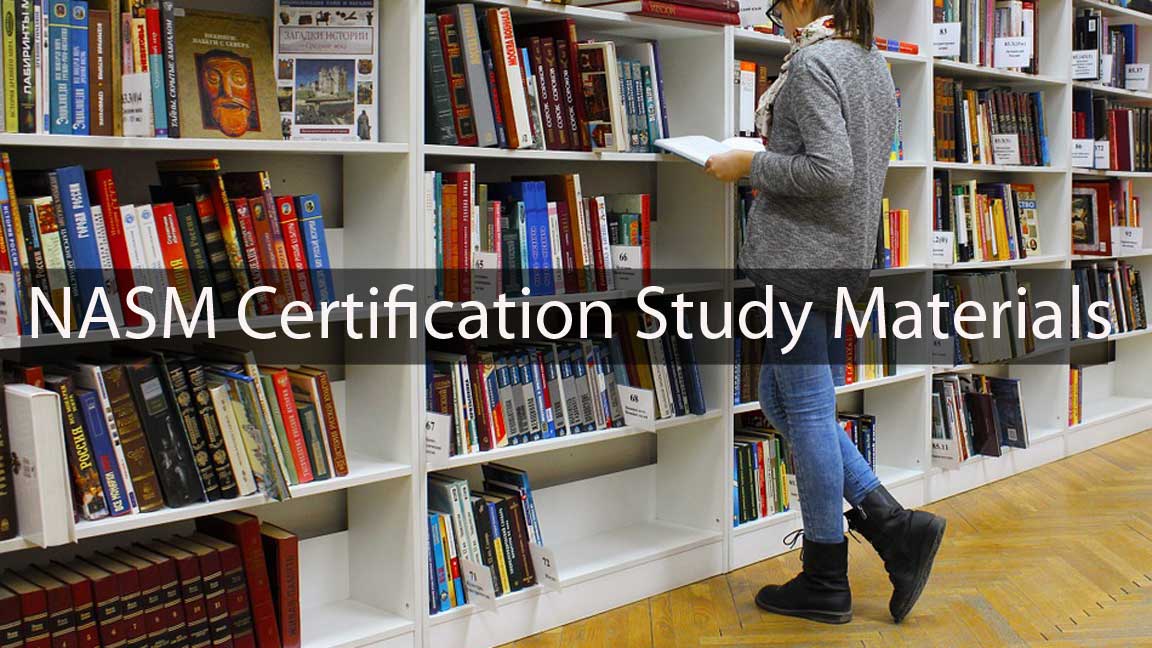 NASM has a robust stack of study material. From textbooks to ebooks, they have you covered whether you are a self-study pro or need all the extra help available.
All bases are pretty much covered, and you can digest information in an easy to trackway for the best learning outcome.
NASM's study material packages are not the greatest. For an optimized NASM study experience, check out Trainer Academy. This material can knock down study time by up to 50% and ensure a guaranteed pass.
NASM study material includes:
Official NASM CPT hard copy textbook
NASM CPT digital textbook
Video lectures
Exercise Library
Cueing archive
Practice tests
Quizzes
Official study guide.
Anatomy memorization activity
Learning activities
Digital flashcards
Exam preparation webinars
Mentor and coach access
Discussion Q&A
Live practical workshops
It would help if you remembered that the NASM CPT study material is available on a tiered basis. That means what you get depends on which program tier you go for.
The available tiers for the NASM CPT are Self-Study, Premium Self-Study, Guided-Study, and All-inclusive, going up in study material and cost in that order.
Which certified personal trainer program you choose depends on your needs and cost.
For an absolute newbie to the concept of applied training, I would suggest the All-Inclusive program package. You can comfortably get away with the self-study package for a stalwart in the fitness game.
Aside from this, NASM also offers some great career advancement resources for your post-cert career launch. These are only available through the all-inclusive package, though.
Post-certification career advancement by NASM:
Work Guarantee.
Gymternship attachment program.
The official NASM Business Accelerator Program.
NASM understands that the real struggle in the fitness industry is getting noticed and standing out above the crowd. So these resources are aimed at someone stepping in for the very first time.
You can find out more about NASM's study materials here.
Check out my awesome free NASM study guide in practice test here.
Certification Test.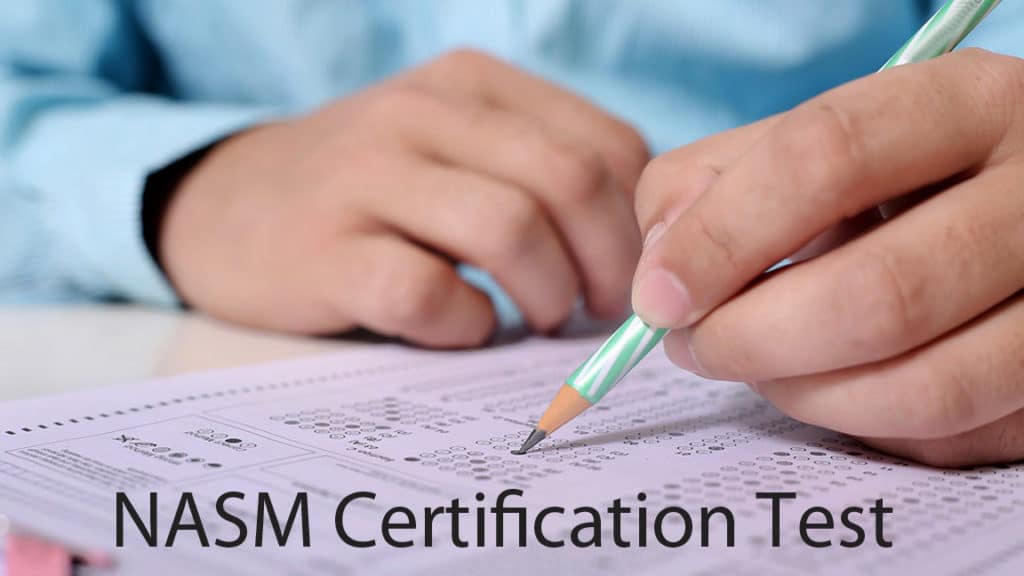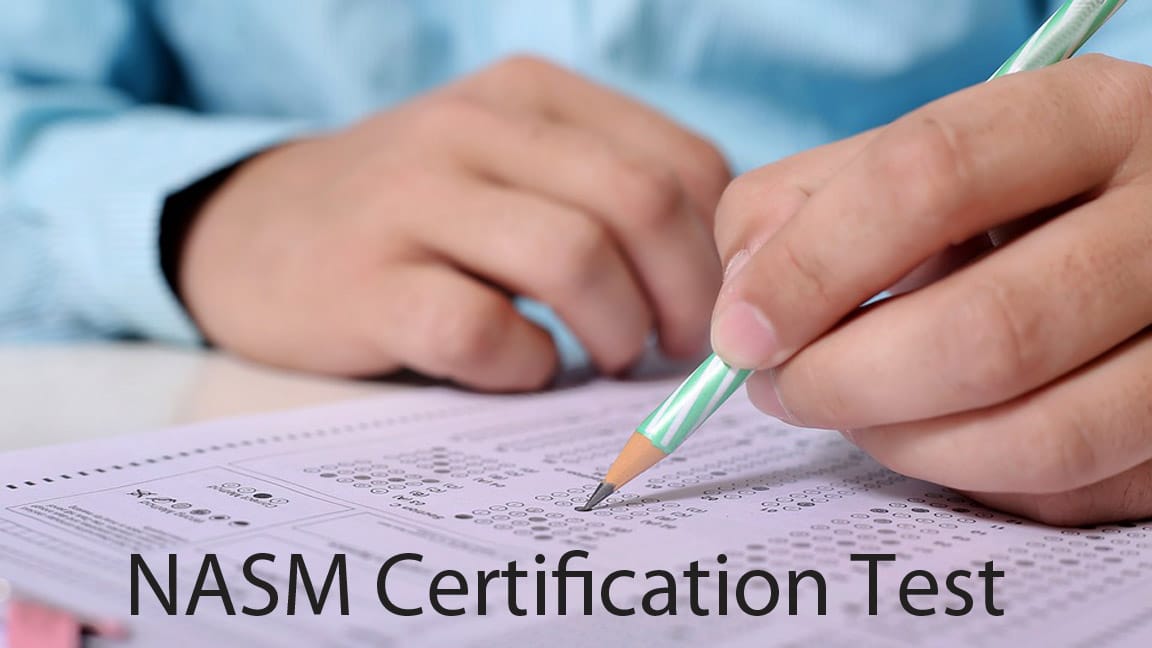 In case you missed my sarcasm, the NASM CPT final exam, it's time for the fun or not-so-fun part. This one is quite a challenge, but with enough prep and my expert guidance, that sweet, sweet passing grade won't seem out of reach.
NASM-CPT has a 60% pass rate as of 2016 stats. It doesn't shift much from this; the only thing that changes is the questions themselves, for obvious reasons. The exam has a total of 120 graded questions and 20 which are not graded.
These ungraded questions don't count toward your final score; they are there instead to act as an evaluation for future testing standards.
The test is 2 hours long, which is more than enough for most people.
As I said, the exam covers all bases. It is divided into 6 separate domains that go into essential fitness training and science aspects. These are:
Basic and applied sciences and nutritional concepts. These are the absolute basics. Anatomy, fundamental physiology, and how diet and nutrition work for performance and weight management. It's biomechanics and biochemistry 101.
Assessment. This domain tests your aptitude for accurately assessing unique clients for where they are and what they need to achieve their health and fitness goals.

Program design. From the assessment phase, you go into taking that data and designing a fitness program that works for your client's specific needs. This domain test how well you can pull that off.

Exercise technique and training instruction. In this domain, you will be tested on your actual ability to train people. Understanding how to spot good form and technique as well as your ability to assist and guide the exercise process.

Client relations and behavioral coaching. This domain tests your people skills. Can you connect with clients and provide quality coaching and training advice?

Professional development and responsibility. This domain looks at how well you can administer a successful fitness business by adhering to policy and standards and organizational skills.
You'll need to get a score of 70% to pass, then boom! You're a NASM certified personal trainer.
If you, unfortunately, don't cut, you can resit the exam. For your first failed attempt, you wait one week before you can sit for it again. If you fail after that, you must wait 30 working days before being allowed to retake it.
This is done so that you can adequately re-prep and fill the gaps in your knowledge. Failing a second time means there is some obvious work to do, hence the extended cool-down period.
The cost of the retest is $199. Pretty gnarly considering what you will have already paid for registration.
Certification Price.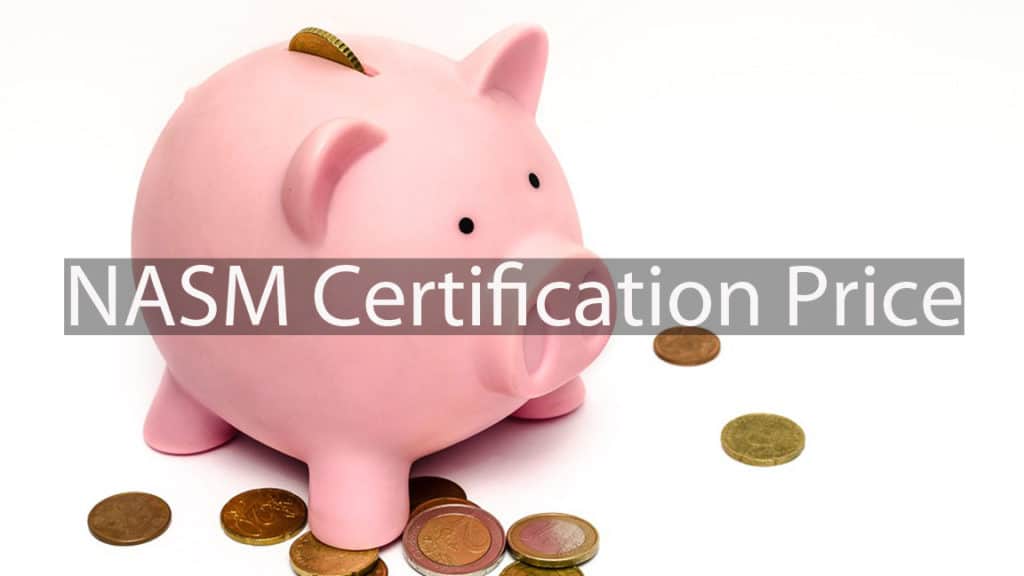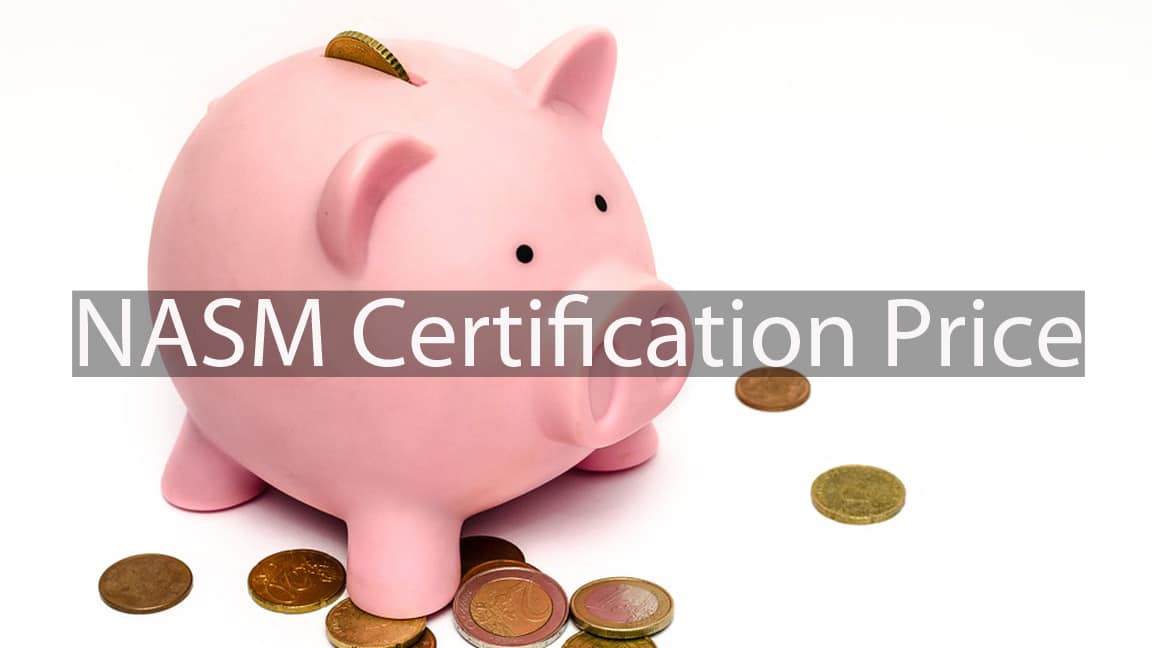 As mentioned, the NASM CPT program exists under 4 tiered packages. Self-Study. Premium Self-Study, Guided-Study, and All-Inclusive.
Here are the current prices and my discounted price. Readers of my site can use my personal discount code PTP25 to save 25% on all NASM CPT certifications. You can also split these prices into four separate payments.
$699 $524 (25% off) – Self-study package
$999 $749 (25% off) – Premium self-study package
$1299 $974 (25% off) – Guided self-study package
$1999 $1499 (25% off) – All-inclusive package
As you can see, the top tier package is $1,000.00 more than the basic tier. The differences are based on additional study materials with the All-Inclusive package, including post-cert career support.
NASM often offers discounts and promos, so you can snag a package at a decent knockdown if your timing is right.
In my opinion, the best option is the Guided-Study option; it offers enough of what you need to guarantee a pass under normal circumstances (i.e., you're not lazy with your prep).
Exclusive PTP CPT Offers



Gold Standard Cert

Most Popular Cert

Best Study Materials

A Good Option

A Good Option

Best CPT for you?

Also, consider the $199 retest fee if the need arises.
NASM CPT might seem pricey, but a NASM badge's payoff and added benefits are priceless.

For several reasons, ISSA, short for International Sports Sciences Association, is quite a unique personal training certification compared to the rest on this list.
Firstly, it's done almost completely online, which means you can take the test from the comfort of your home.
Therefore, ISSA is also one of the few certifications that can be taken outside the US. It is, after all, an international institution, as the name suggests.
Another awesome feature is the free first retake option. That means if you fail, you get to retake the exam for free on the first attempt.
Most top certifying agencies require a hefty fee and a strict time window to get the job done or, rather redone. With ISSA, you get your first re-try free.
One last unique advantage is the test completion window of 2 years. Other top-ranking certifying agencies only offer 90 days from the time of purchase. If you're new to the world of applied fitness, 3 months might be an overwhelming constraint, so the 2-year window offered by ISSA definitely gets my thumbs up.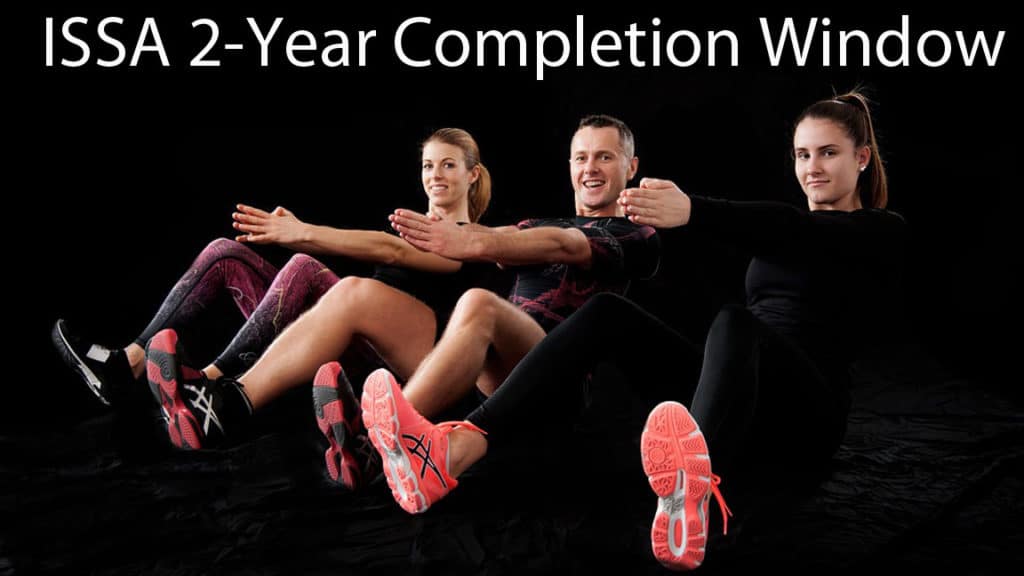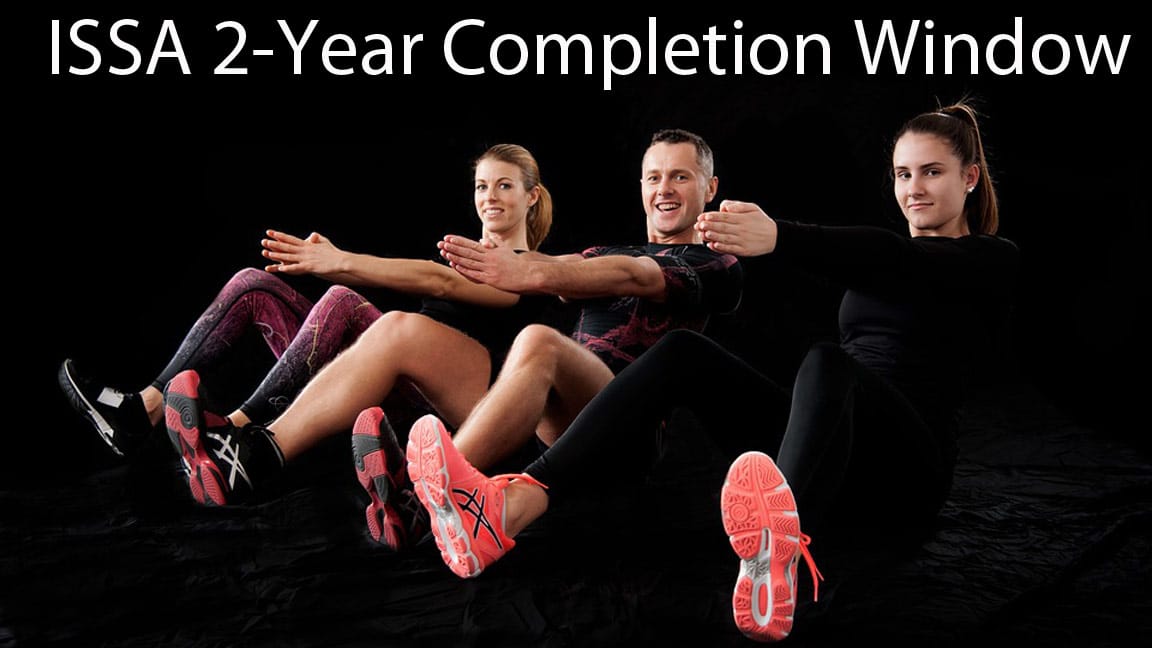 ISSA gives you an all-rounded albeit very fundamental approach to applied training and fitness. It isn't as in-depth as others like NASM or ACE.
This makes it far from adequate for specialization, but for a general, entry-level approach to personal training, it does offer enough of the basics to get you started.
One last great aspect of ISSA is its focus on the business angel. While most certifications focus on cramming you with exercise and nutrition science, ISSA equips you with business skills.
Let's quickly weigh in on the pros and cons of ISSA.
Pros:
A truly international cert you can take anywhere in the world
Has a unique focus on training you for the business aspect of being a PT
Provides a general, diverse scope on all fundamentals of fitness science
Free exam retakes
2-year completion window
Cons:
The final exam is an open book. This might sound like a pro, but the diminished challenge reduces the quality and credibility of the cert.
Certification Recognition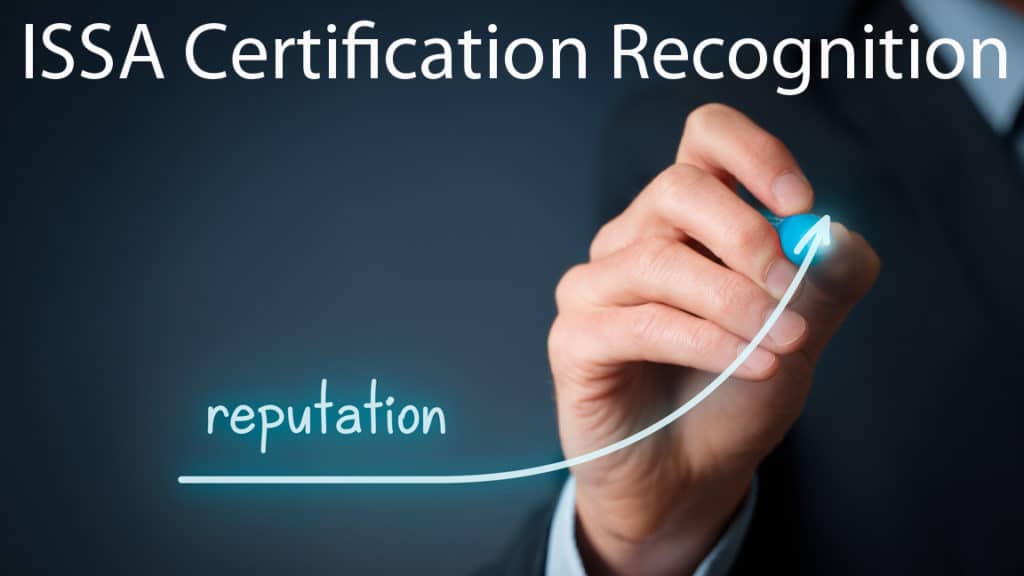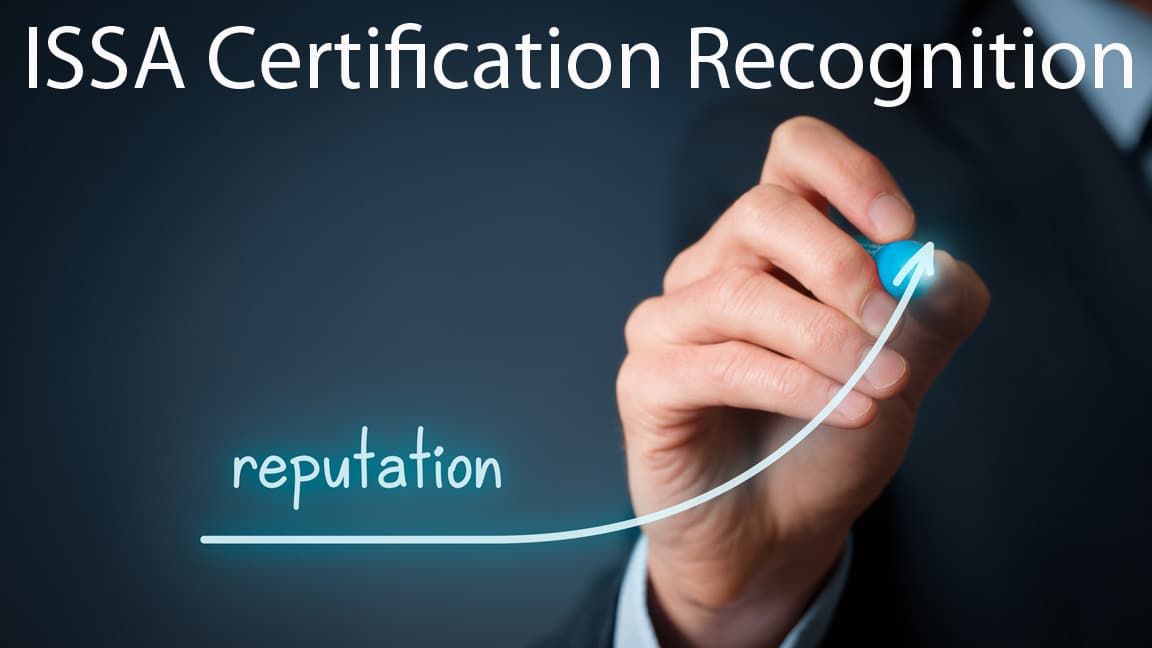 ISSA is well-reputed in the personal trainer degrees industry. It's one of the most recognized certifications, which may have to do with its international adoption.
ISSA is, however, not accredited by the NCCA. Instead, it is accredited by the Distance Education Accrediting Commission or DEAC. Because of the remote delivery nature of ISSA, it's only fitting that a remote learning accreditation provides street cred.
I believe DEAC is just as legitimate as the NCCA as an accrediting body and is necessary in cases such as ISSA.
In Fact, in some cases, ISSA is preferred, making the DEAC the go-to accreditation in that case.
As with most certifications, the personal trainer education requirements are simply that you be 18 years of age or older and hold current first responder certifications (CPR and AED).
Certification study materials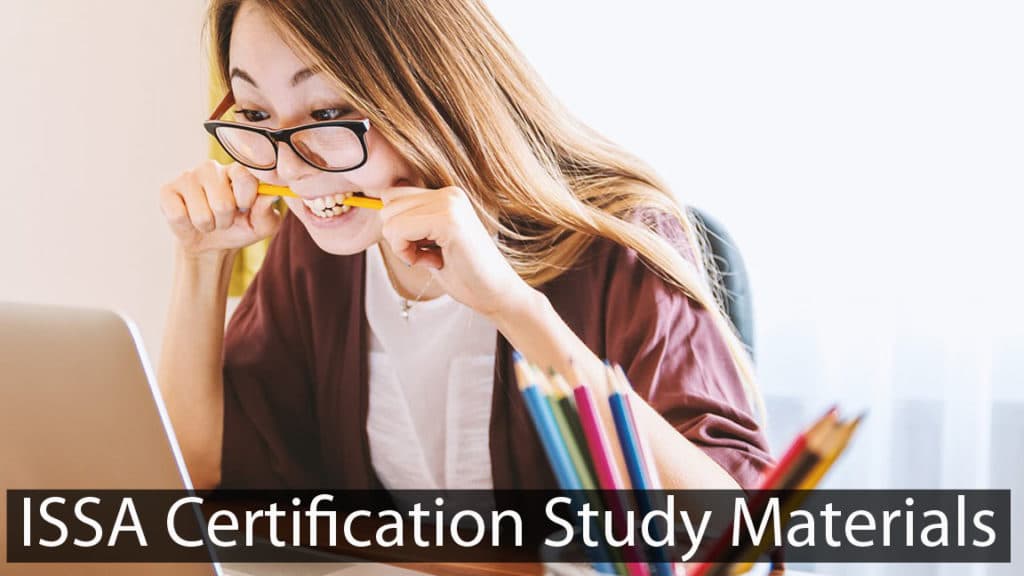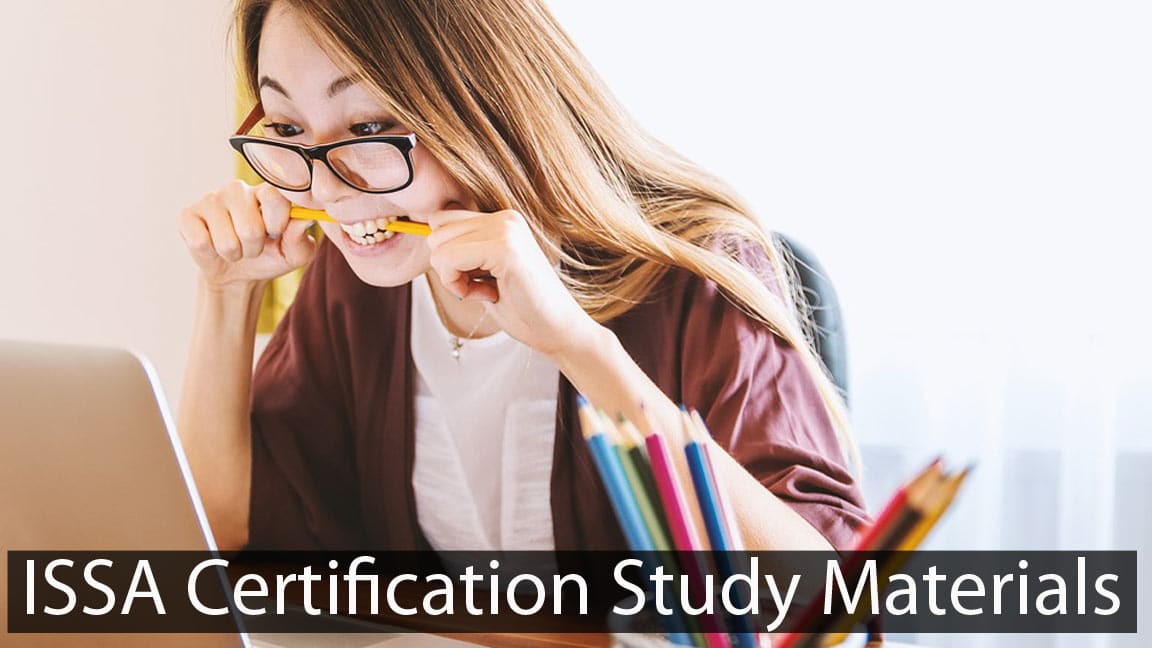 So far, you have understood that ISSA differs from the other certificates on the block. One aspect of this I really enjoy is the inclusion of the hard copy textbook with the basic package.
While most cert packages only give you an ebook for their basic tier, ISSA gives you a hard copy textbook immediately!
Other materials you'll receive with ISSA are:
Chapter by chapter practice exams and quizzes
Exercise guide video package
Online student forum
3D animated online exercise lab
Unlimited support for learning and test prep
A fully comprehensive business and marketing guide
Including a business and marketing guide is one of the crowning achievements of this study material package. It's an aspect of the PT business that often sees new trainers thrust into the deep end. Certs often don't focus enough or completely neglect the business side of things.
Recognizing that business acumen is just as essential as having a head full of facts is a welcome approach and ISSA gets bonus points for that.
Unlimited student support is also another amazing feature included in the package.
Last but not least is the post-certification support. Most certs are getting the hint and have created an ecosystem for you to function in after you pass the cert. ISSA has a foot in the water by offering a free 5-page website for you to gain online traction.
You can choose the design and profile info; ISSA handles the rest.
Check out my awesome free ISSA study guide in practice test here.
Certification Test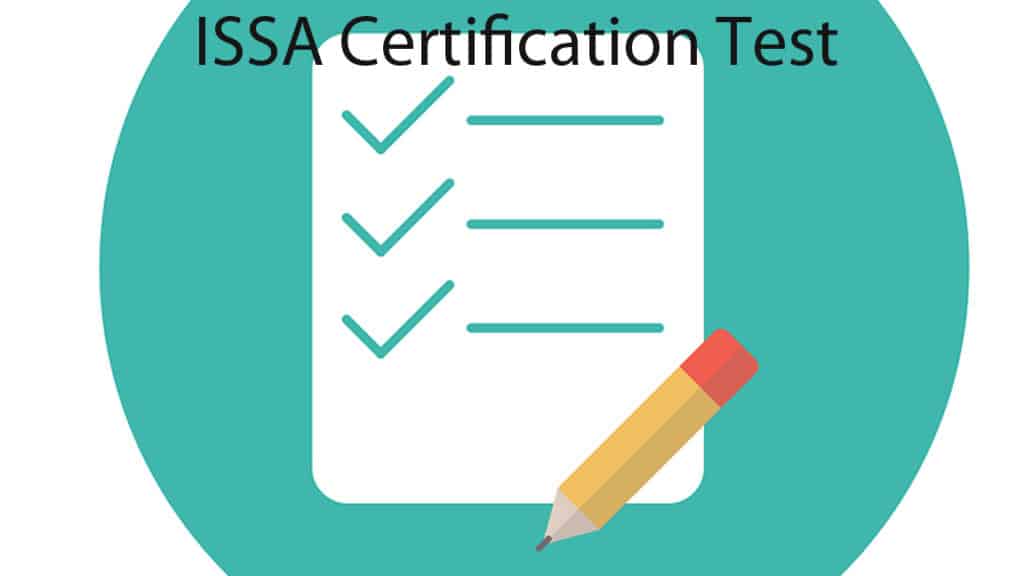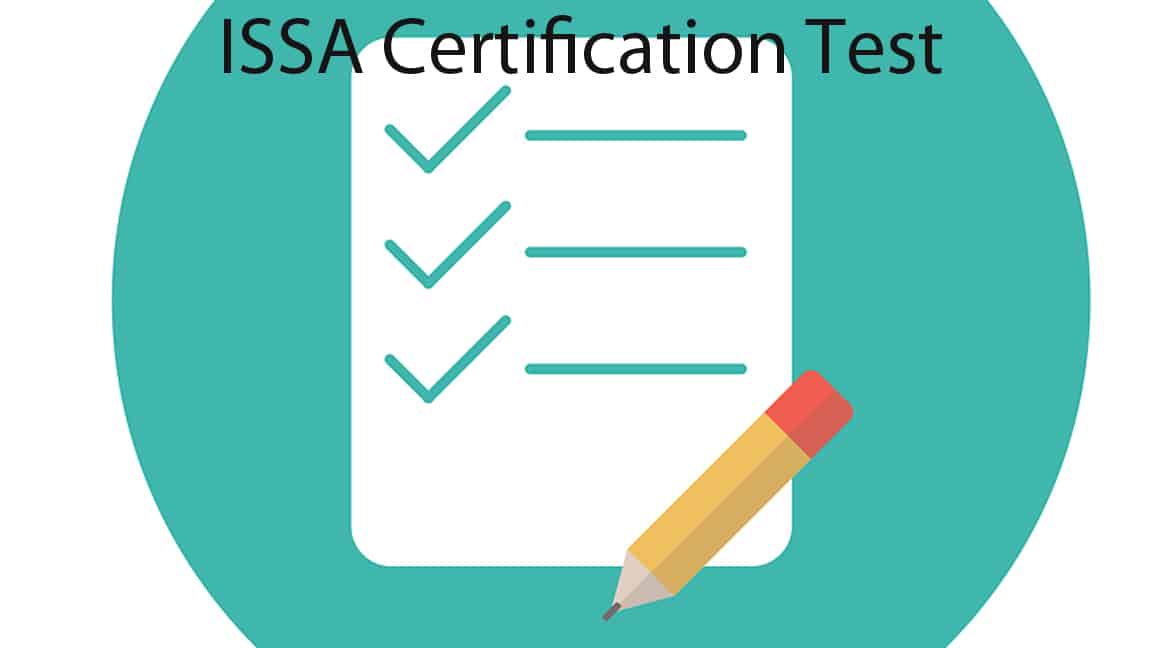 The ISSA test is remarkably different from anything else here. Unlike most strictly multiple-choice certifications, ISSA is divided into four sections, each with different testing methods.
The first is a true/false section, the second is a multiple-choice section, the third is six short essay questions, and lastly, section 4 is two case studies.
Definitely, the most challenging section to pass is the case study section. This section goes in-depth into program design and special populations. Study these sections of the textbook religiously!
You will be asked to design two 12 week programs for clients with varying needs and goals.
The true-false and multiple-choice sections comprise about 160 questions. You'll need a score of 75% or higher to pass.
You will need to receive at least 75% in each of the four sections to get a passing grade.
This test is honestly one of the most challenging but rewarding ways. It encourages you to apply the knowledge you've gained in practical ways instead of just marking a box.
The fact that you actually design workout programs in the middle of a test is quite a different take and one that definitely gives you a unique edge.
ISSA is an open book test that drastically reduces the "hardness" of memorizing and reproducing facts. That is why it has one of the highest pass rates of 90%. Despite this, ISSA offers a challenge in the form of critical thinking and practical engagement of trainer concepts.
Even with an open book format for the exam, you need to know where to look and be sharp with the facts. It pays to prep well, especially for the case study and essay question section. An open book exam is a breeze regarding multiple-choice, but when you have to apply knowledge to unique scenarios, it's not a silver bullet.
A 90% pass rate means a 10% fail rate. If you happen to be one of the unfortunate minorities, you get to retake the test free on your first retake attempt.
Most first-time failures pass on the second attempt, with an almost 100% pass rate. If you still fail after that, you will need to pay $50 for a retest, which is still considerably cheaper than most cert exam retake fees.
Certification Price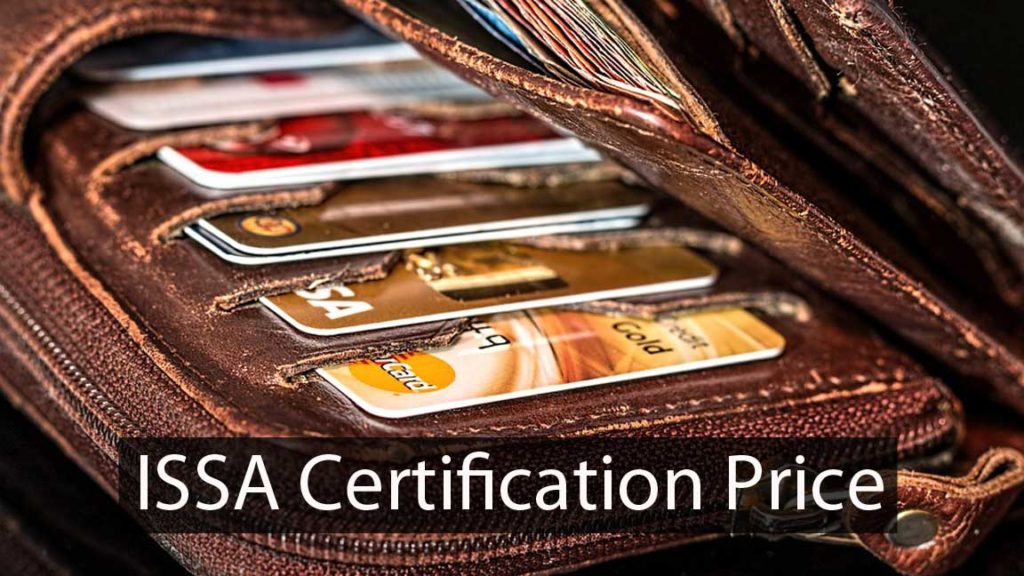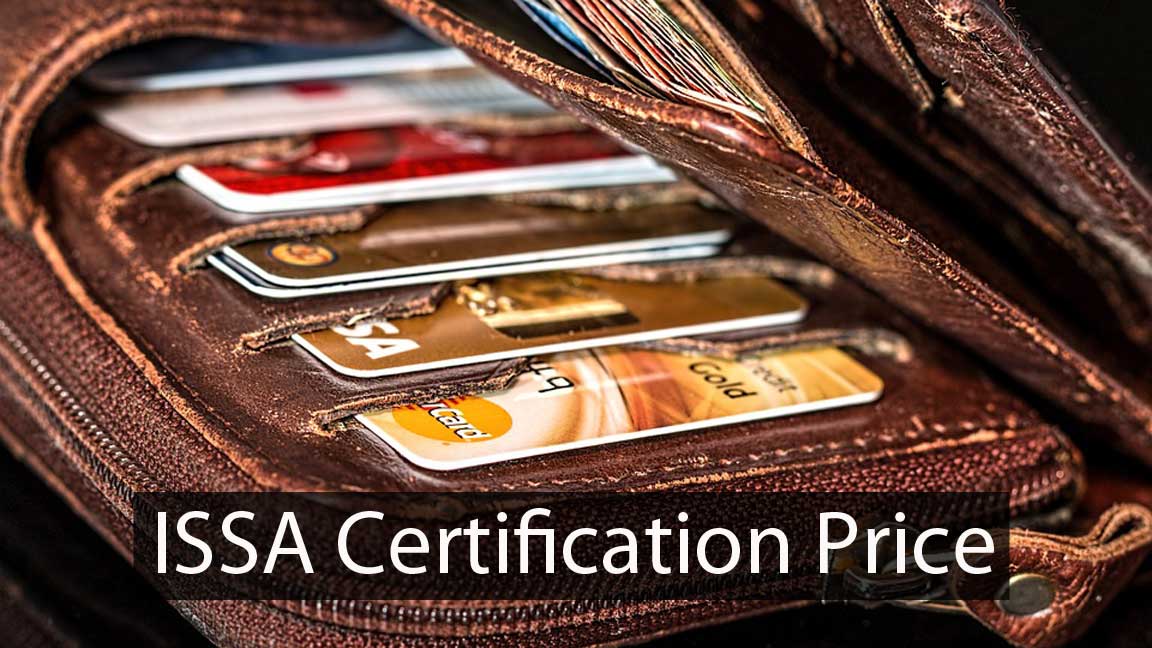 The general ISSA cert package costs $599. This fee regularly gets slashed for seasonal promo or periodic discounts. You can have a look at the current price here. Check the current price of ISSA here.
Up every now and then, there is a fantastic deal where you can get the ISSA CPT; they are nutritionist certification and the third certification of your choice for only $999. They called this the ISSA elite program. This is a fantastic deal that is difficult to pass up When they are running. Check the current price of the elite trainer program here.
You will get the exam entrance, the standard textbook, and tons of online training resources for this.

The American Council on Exercise, known as ACE, was founded in 1985. ACE is one of the top dogs. Recognized the world over as a pioneer and leader in exercise science, ACE is a truly professional credential. Many businesses and fitness organizations nationwide prefer the ACE cert as the go-to credential.
A quick glance at google trends will reveal that ACE and NASM are neck to neck when it comes to PT cert searches. This makes ACE one of the top two most popular certifications in the fitness field.
ACE is not as long-established as ACSM or NSCA. However, it was one of the first NCCA accredited agencies. This means ACE has a time-honored reputation in delivering cutting edge applied fitness trainer knowledge.
There are over 50,000 trainers certified through ACE. This number is growing every year and spreading across the globe rapidly. You will find ACE certified trainers almost anywhere where fitness is concerned.
ACE is also a non-profit organization. It uses this position to advocate for the advancement of policy concerning the intersection between healthcare and fitness. ACE is on a mission to improve America's health while also empowering those who want to be equipped to do so.
As an ACE-certified trainer, your trust in the front line of the battle against poor diet and the sedentary lifestyle. This has become the greatest health concern of the modern age.
ACE uses a proprietary training model called IFT. It's similar in implementation to NASM's OPT training model. The goal of IFT is to create a scalable, progressive and dynamic workout for a wide range of clients while still maintaining a standard of safety and injury prevention.
Check out the ACE website here for more info on the cert as well as the IFT model.
Just as with most other certs on this list, you will need a few basic prerequisites to be eligible for the program. You firstly need to be at least 18 years old and hold a high school diploma or equivalent. You also need to make sure your CPR/AED cards are up to date.
Just to give you a quick clue-up on ACE, and for you to figure out if it is for you, let's weigh the pros and cons quickly.
Pros:
One of the most credible and recognized certs in the industry
Second to none study material range
A beginner cert which gives you a seasoned professional edge
Accredited by the NCCA
A non-profit with a focus on positive societal impact through policy and education
Cons:
Relatively expensive compared to other certs
Not as specialized as some other top tier certs
I would put ACE in the "General Certification" box. This is because it offers a great handle on the essentials of fitness science for the mainstream consumer. You will be able to handle general population groups and deliver common goals such as weight management, hypertrophy and strength gains.
The personal training programs are all-encompassing. Obtaining a personal trainer license with them is very beneficial.
I wouldn't rely on ACE for more special population groups such as the differently-abled or pro athletes. There are better certs for that.
This makes ACE ideal if your aim is to function in the general fitness market. Gyms, fitness clubs and boot camps are a great arena to apply your ACE credentials
Certification recognition.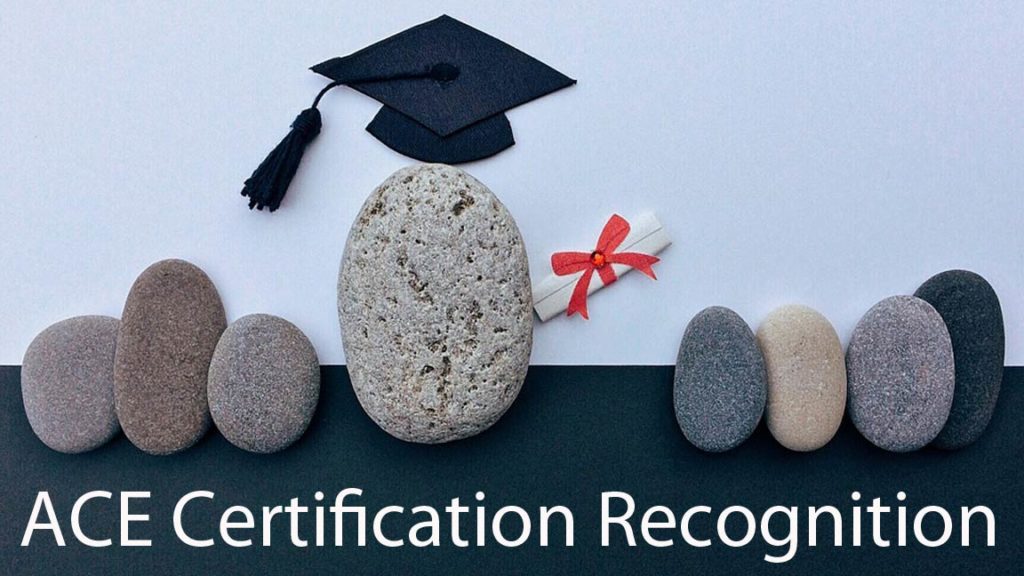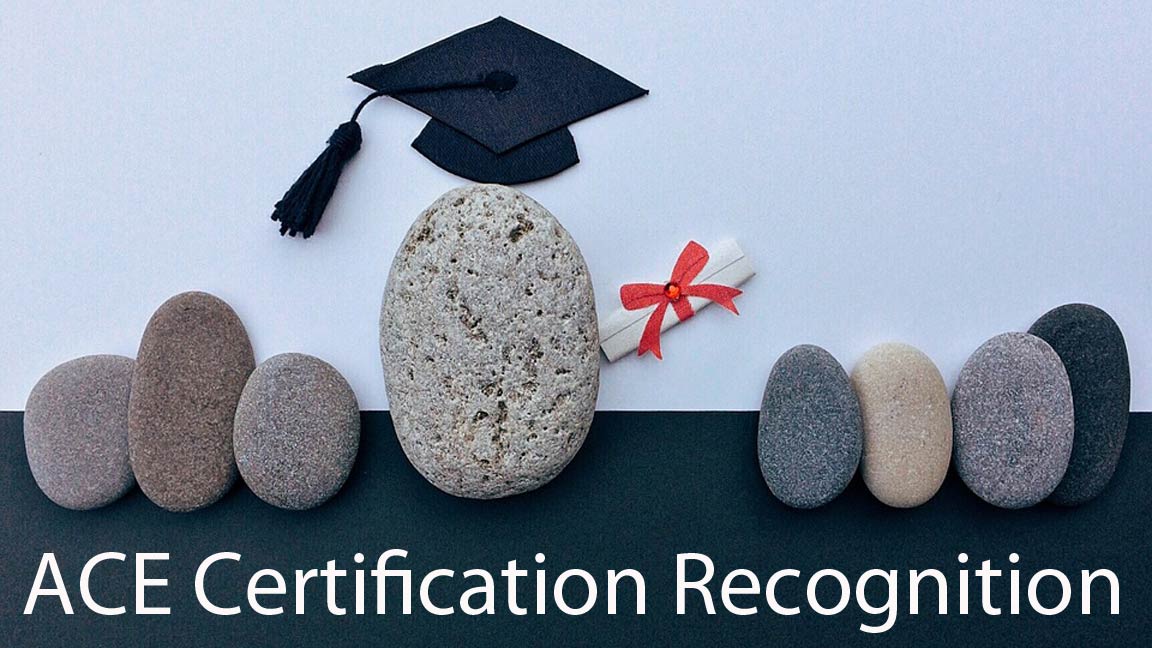 ACE is NCCA accredited. In fact, as I've probably mentioned, it was one of the first to be recognized by the NCCA.
The NCCA is known as the leading accrediting agency around. So getting an ACE cert is a guaranteed open door to success and credibility as a PT.
All four of ACE's core programs are accredited, not just the CPT program.
Accreditation means more than just credibility for you. It means continued support for research and advancement and a guarantee of only the best resources.
Certification study materials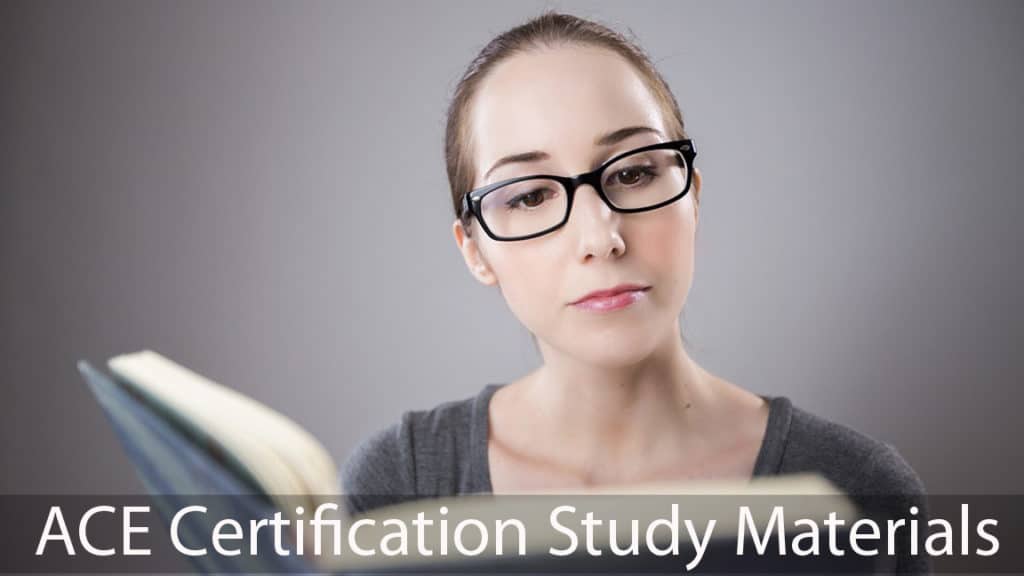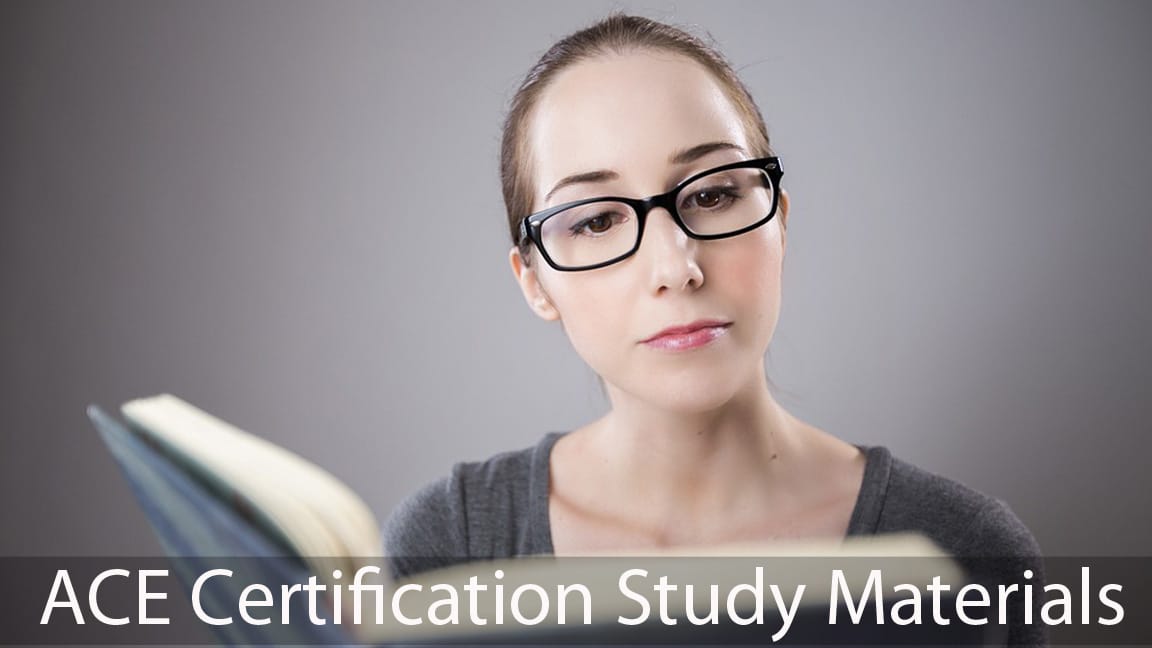 ACE has robust and fully comprehensive stock of study materials. These study resources are rated very highly when it comes to CPT learning outcomes.
The materials included are different based on which study package you choose from. There are two study packages currently available, Basic and Plus.
Study materials you will get include:
The ACE Academy Elite. This is an online, interactive study guide designed to help you plan, execute and track your learning objectives and maximize the outcome
Various textbooks. This includes the ACE Essentials to Exercise Science for Fitness Professionals and ACE Personal Trainer Manual, both definitive guides to fitness science.
Study Companion. The study companion works to condense complex concepts from the trainer manual into bite-size chunks for easy prep.
ACE Answers. A suite of dynamic study support options from webinars, Facebook groups, and Q&As
Practice Tests. There's no better way to enter prep mode than with some in-house practice tests. ACE has you covered.
ACE Applied Exercise Science Workbook. This workbook gets you up to speed with what you'll actually be doing as a qualified personal trainer. 24 real-life scenarios to put your applied knowledge to the test.
Speaking of tests…
Check out my awesome free ACE study guide in practice test here.
Certification test.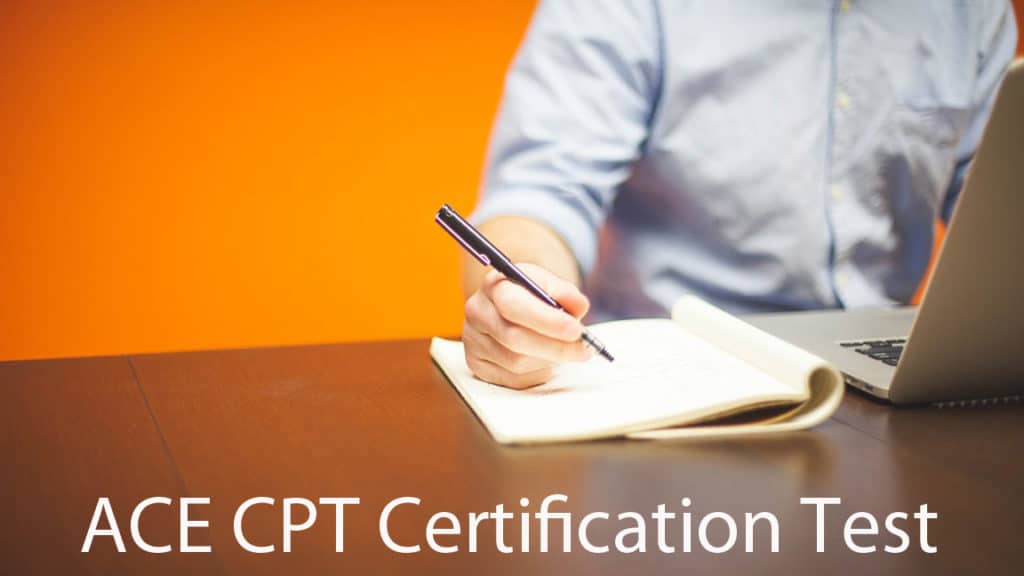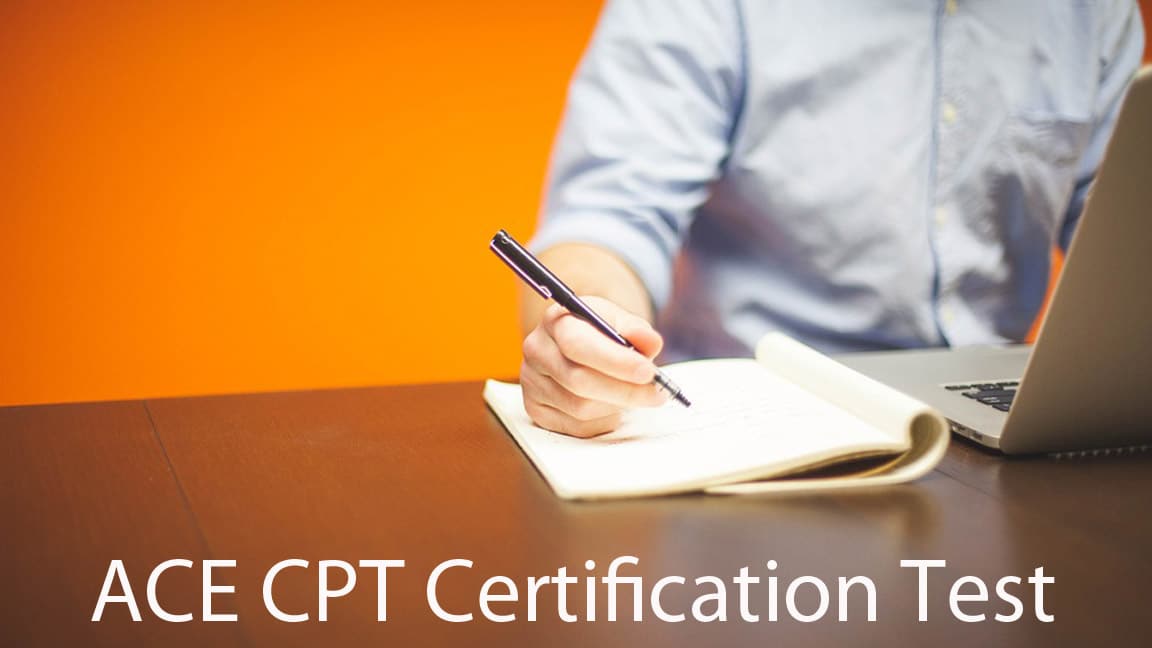 To earn that sweet sweet NCCA accredited cert, you need to pass the exam of course. The ACE CPT exam was actually changed as of 2018 with a revamped breakdown and format.
This is important for you to know if you're considering the ACE exam. That's because a lot of the third-party study and prep resources you'll come across on the internet haven't adjusted with the change. So using this material will render your entire prep process useless, to say the least.
But you're reading this, which means you're in luck. I took the liberty of updating my exam prep content to fall in line with current 2019 standards.
The exam consists of 4 domains. Each domain focuses on a different essential aspect of personal training. Each domain is weighted differently, but you need to ace (no pun intended) all four in order to pass the exam.
The domains are as follows:
Domain 1: Interviews and assessments: (23%. 29 questions)
In this domain, the focus will be on your ability to gather correct and relevant information from your clients and evaluate the best course of action.
Domain 2: Program design and implementation (31%. 39 questions)
Here you're tested on your ability to apply the raw data gathered in your assessment and interview. By implementing what you have gained in domain 1, you will be required to display an ability to design well-structured fitness and exercise programs tailored to a client's specific needs and scalable for progressive outcomes.
Domain 3: Program modification and progression (26%. 32 questions)
This domain tests your ability to not just be a trainer, but to be a coach. That means consistent follow up and tracking of client program implementation, behavior, and program adherence. You will also need to know how to adapt or modify programs based on shifting variables and data from client conditions and feedback.
Exclusive PTP CPT Offers



Gold Standard Cert

Most Popular Cert

Best Study Materials

A Good Option

A Good Option

Best CPT for you?

Domain 4: Professional conduct, safety, and risk management (20%. 25 questions)
Here you'll be tested on your ability to apply health and safety protocols in accordance with ethical policy, industry standards, laws, and bylaws. This domain is aimed at maximizing your protection and that of your client. You'll also be assessed on your ability to secure a safe training environment free of health hazards.
Each ACE Certification Exam contains strictly multiple-choice questions. You need to score at least 500 points in order to get the cert.
If you pass, you can immediately print a proof of certification letter from your student portal account. This isn't quite the fancy cert itself, but it counts just as much and can be used as a credential until you finally get your pretty certificate.
If you happen to fail, not to worry, you're allowed to retake the exam. If you happen to have a retest voucher from your package purchase, you can redeem it and retake the exam within 60 days. If not, you can grab a voucher for $199 in the US or $299 internationally.
A bit overpriced if you ask me, but such is the nature of a lot of these certifications and their retake policies.
Certification price.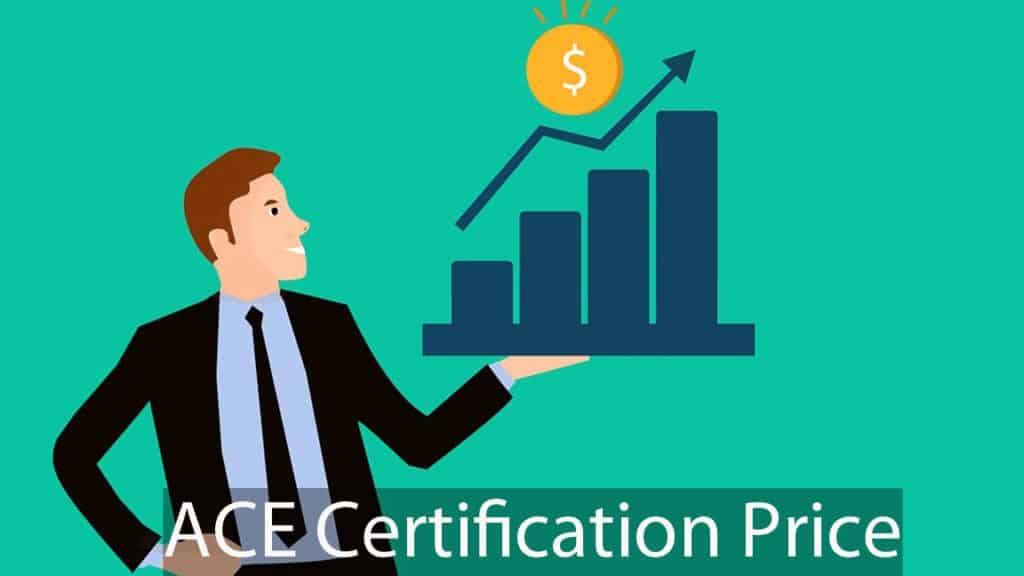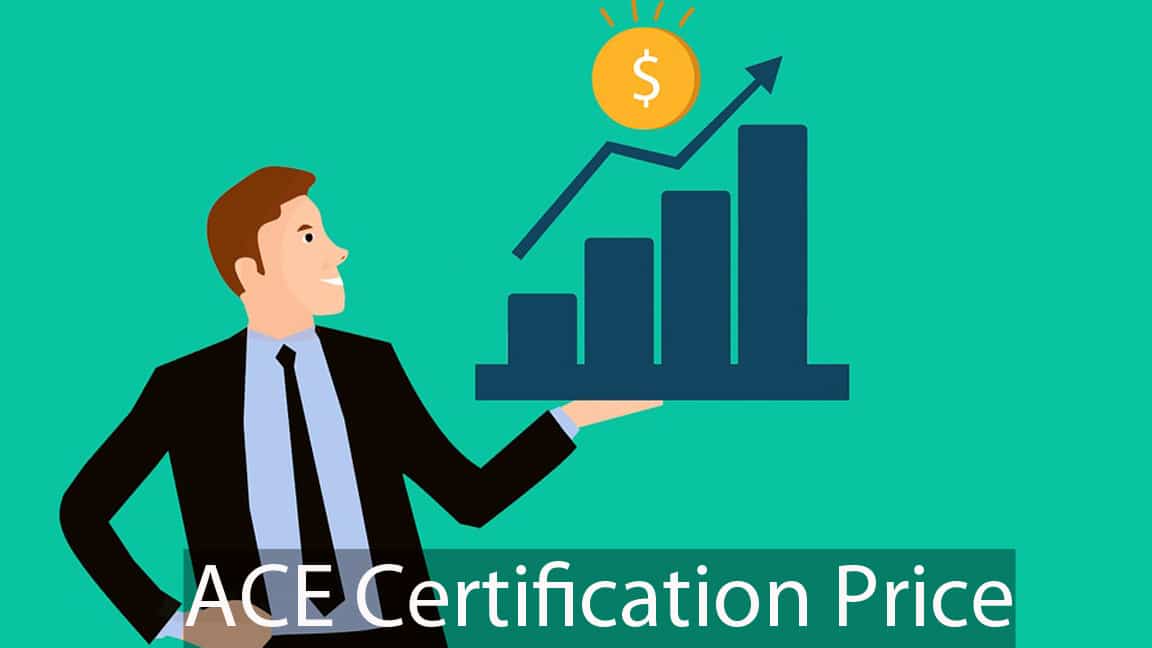 The ACE Personal Trainer Certification is available in two packages, Basic and Plus. Each study package includes a different combination of study material from textbooks to exam prep to career guidance. This means ACE has two price tiers currently available.
The Basic Package goes for $299 and includes:
The ACE Academy Elite.
Various textbooks.
Study Companion
ACE Answers.
Practice Tests.
The plus package is going for $499. It's pretty much the same as Basic, with the addition of the ACE Applied Exercise Science Workbook as well as free shipping for all physical material.
You have the option of paying the one-time fee or paying in installments. The installments for Basic split into three payments and Plus is split into 4 payments. Installments for both are equivalent to the one-time payment price.
Lastly, you could just purchase each piece of study material separately, but that shoot the price up to a ridiculous level, so let's not even go into that.
In case you fail your exam, you will also need to purchase a retest voucher in case you didn't get one with your package.
The retest will cost $199 if you're taking it from the US. for international test-takers, it's gonna cost you about $299, subject to currency conversion at the time of course.
Ace regularly runs seasonal promos and sign up discount prices. Go to their personal trainer bundles page here to check it out.
Check the current price of the American Council on exercise certification here.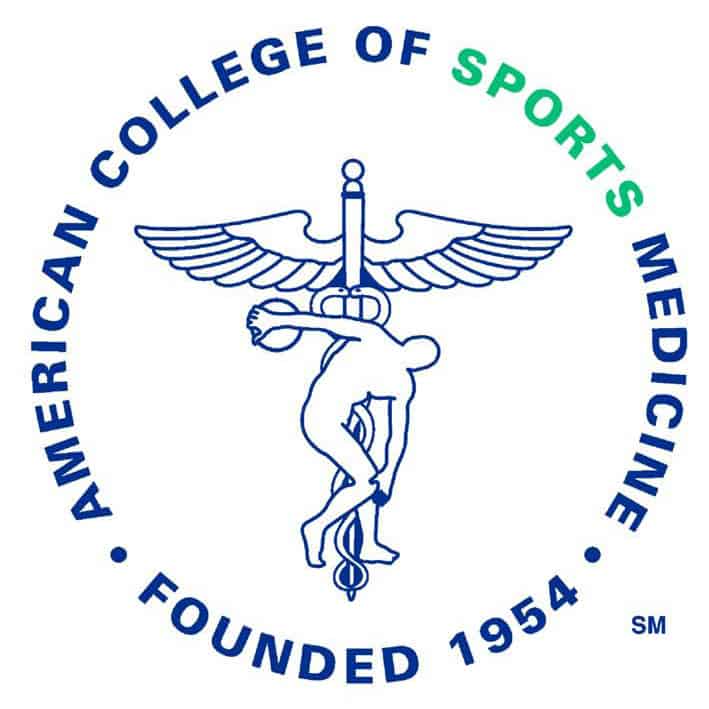 ACSM is a sort of best of both worlds. It offers you the opportunity to qualify as a general fitness professional or a more specialized health and fitness practitioner.
ACSM history spans back right to the beginning. It was the first-ever certifying agency for personal training since all the way back in 1954. This deep heritage is a reason why ACSM is a highly regarded authority with a certain prestige about it.
ACSM is also a leader in research. It functions as a scientific body. The organization's financial resources and grants it receives all contribute to leading the edge in new discoveries in exercise science.
This research capacity is to such an extent that other certifying agencies cite, reference and even apply ACSM research in their knowledge service delivery.
I would describe the scope of the ACSM model as a "corrective exercise" format. This means you will focus on correcting physical ability and fundamental aspects of human physiology. This makes sense considering ACSM's medical leaning.
As I mentioned, ACSM has two different programs available. ACSM CPT, which is your typical, entry-level personal trainer card. And the ACSM HFI or Health Fitness Instructor.
The ACSM CPT's prerequisite isn't that different from the others on this list. You need to be 18 years or older, hold a high school diploma or equivalent and have your CPR/AED cards up to date.
The ACSM HFI however, has a stricter policy. You need to hold a university or college degree in order to qualify for the exam. This puts it in league with institutions like NSCA and its CSCS certification
This is because ACSM HFI is considered and designed as a component of medical practice.
For the sake of brevity, this review will focus on just the ACSM CPT certification and exam.
First, let's look at the pros and cons
Pros:
One of the most established institutions in the fitness world
Accredited by the NCCA
A tremendously deep focus on the science of exercise and fitness
A leaning towards corrective training methods for improved performance
Globally present allowing for worldwide access and a wealth of research potential
Focuses on equipping cert holders for top tier fitness careers
Is a research hub for the latest findings in fitness.
Is socially responsible and stands behind policy aimed at improving health and wellness.
Cons:
Skimps on some fundamentals of general personal training in favor of deeper scientific concepts
The textbook is not very comprehensive
Bare-bones study material offering.
One major con for me is the study material. It's pretty weak for what you're paying and what ACSM is meant to represent.
The program also tends to skip over essential personal trainer elements such as program design.
This means that while your depth of knowledge will be great with ACSM, your level of applied knowledge will be relatively low.
Certification Recognition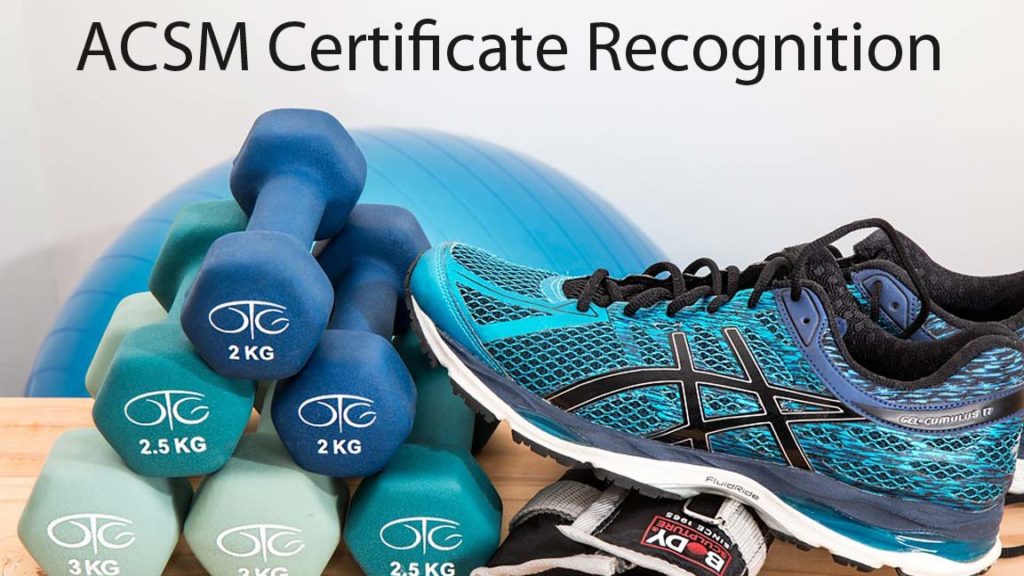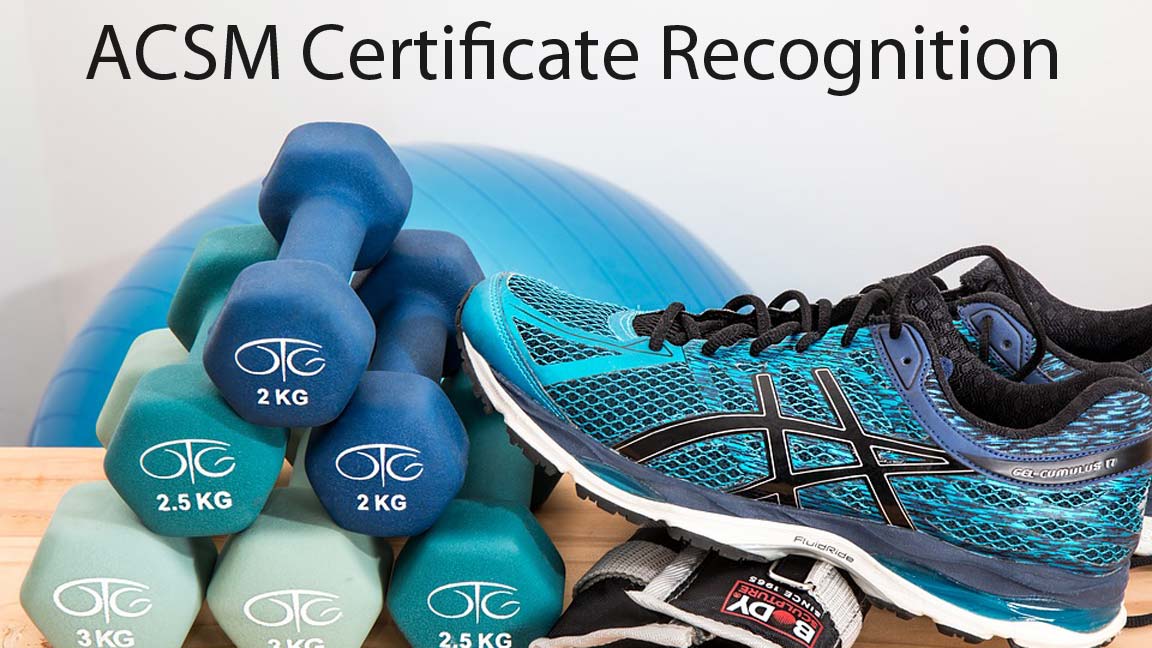 ACSM is globally recognized and considered a gold standard in health and fitness. ACSM certified trainers tend to get in the door first due to the prestige and scientific heritage of the institution.
ACSM has over 50 000 members and certified trainers across the world. Present in 90 countries around the world, ACSM's status has a global resonance in the general discussion of sports science.
This far-reaching influence caters to over 70 different career fields with many lucrative opportunities for growth and income.
ACSM cert holders typically deal with special population groups, especially elite athletes. This is because of the medical approach taken by the institution.
The medical ethos of ACSM and its active hand in sports medicine research set it apart. Even so, the ACSM CPT is accredited by the NCCA.
The NCCA is the key to the lock of the credibility of any knowledge delivery agency in the health and fitness field.
ACSM also stands behind the policy, similar to ACE's social protocol. It advocates for several pieces of legislation and policy guides aimed at improving health quality in America and the world in general.
This sets ACSM's recognition apart from being just another great certifying agency, they are a proactive entity in the national health conversation.
Certification study materials
Like I said, the study material is a bit weak. It's also not included as part of the exam package. In order to actually study to the full extent, you'll need to purchase the 3 prescribed textbooks separately.
The primary textbook is the largest of the 3. This one will set you back about $70. The other two textbooks act as complementary to the primary one and each cost roughly $40.
The first one is assessment-based and focuses on testing and fitness screening protocols, it's a great go-to reference even beyond studying for the cert. The second textbook focuses on training special population groups such as people with disabilities. It also examines a few case studies.
There are also ACSM live workshops you can access, held by certified instructors that provide hands-on training. On offer is a one-day workshop that costs $129, and a 3-day training seminar which will set you back $375.
Your total cost should ring up to about $450. This includes the test and all the materials I just mentioned. There are several extended study resources floating around online, but they are very difficult to find in my attempts.
Certification test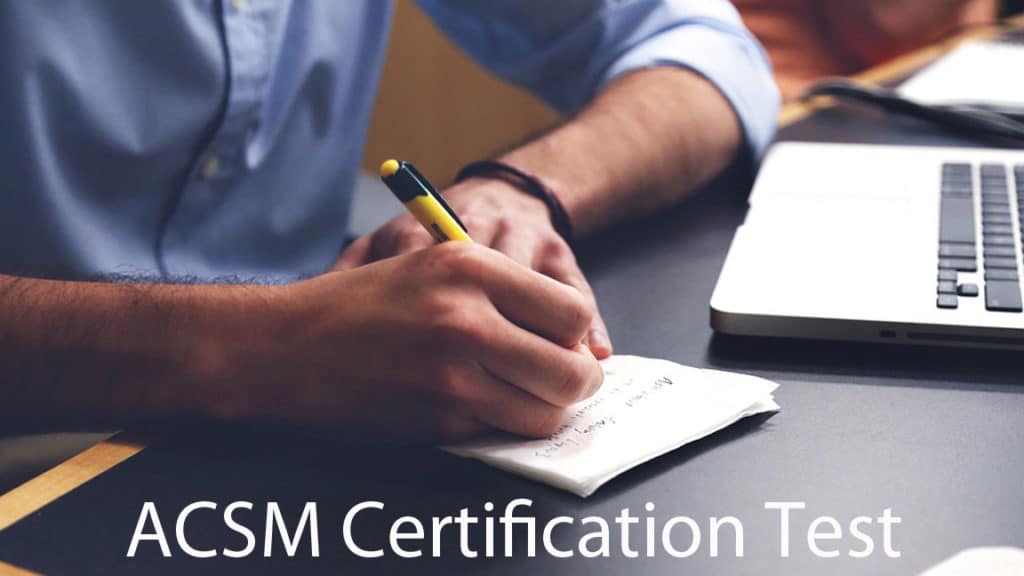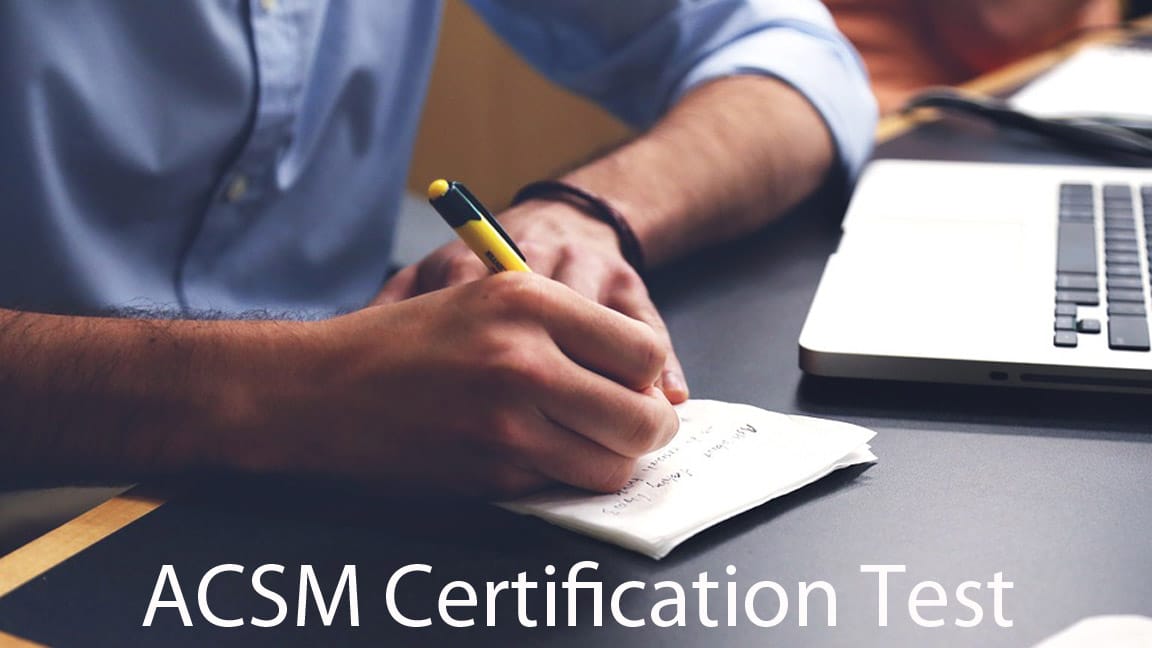 The ACSM test is a challenge. It's made up of 150 questions in total, with 120 of these counting towards your final grade.
If you're wondering what happened to the other 30, these are non-graded questions. The reason they are included is to give ACSM a continuous assessment on how to develop their testing standards for future exams.
You won't be able to single out the unscored questions so my best advice is to try to do your best with each and every question.
You will have 2 hours and 45 minutes to complete the test. The test is split into 4 domains.
The content in each domain covers the core concepts of executing an applied trainer methodology. You will be tested on these domains in the general order you'd have to deal with them in a real-life scenario. These domains are:
Domain 1: Initial client consultation and assessment
This domain covers client consultation and communication skills, the ability to assess client and design programs in accordance with that assessment and your knowledge of anatomy, physiological function, and basic biokinetics.
Domain 2: Exercise programming/implementation.
This domain looks at how to extrapolate data from client assessments, feedback medical history, and desired goals and implement a strategy through correct exercise guidelines and the FITT-VP model (frequency, intensity, time, type, volume, progression)
Domain 3: Exercise leadership and client education
This domain covers your transition from trainer to coach. You interact with clients, motivate their activity, monitor And guide their behavior in ways that optimize outcomes and results.
Domain 4: Legal and professional responsibilities.
In this domain, you will be tested on establishing a health and safety protocol that allows your clients to train safe, and you to remain legally protected. You will touch on policy and law as it relates to the PT industry.
The domains are weighted as follows:
Domain 1: 25%
Domain 2: 45%
Domain 3: 20%
Domain 4: 10%
The passing grade is 70% or 550 out of 800. You can check your score immediately after completion. If you pass, congrats, you are now ACSM certified.
If you unfortunately failed, then you'll need to get a retest voucher from Pearson VUE. You can retake the exam after 15 days, giving you a couple of weeks to brush up on your prep and try again.
ACSM has a 71% first-time pass rate. You will need to get re-certified every 3 years. And just like the NSCA, you will be required to produce proof of continuing education in order to get the recertification.
Certification price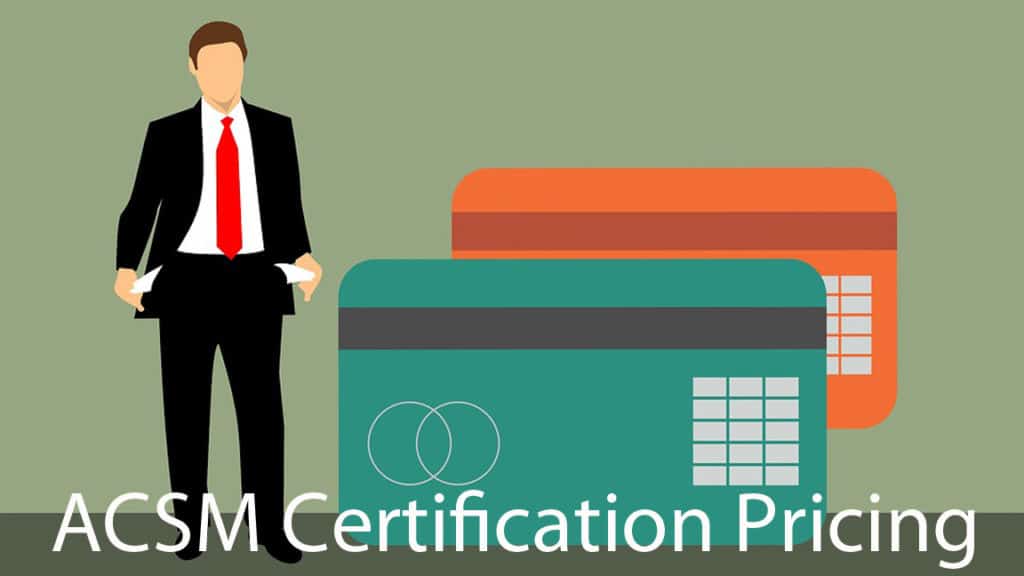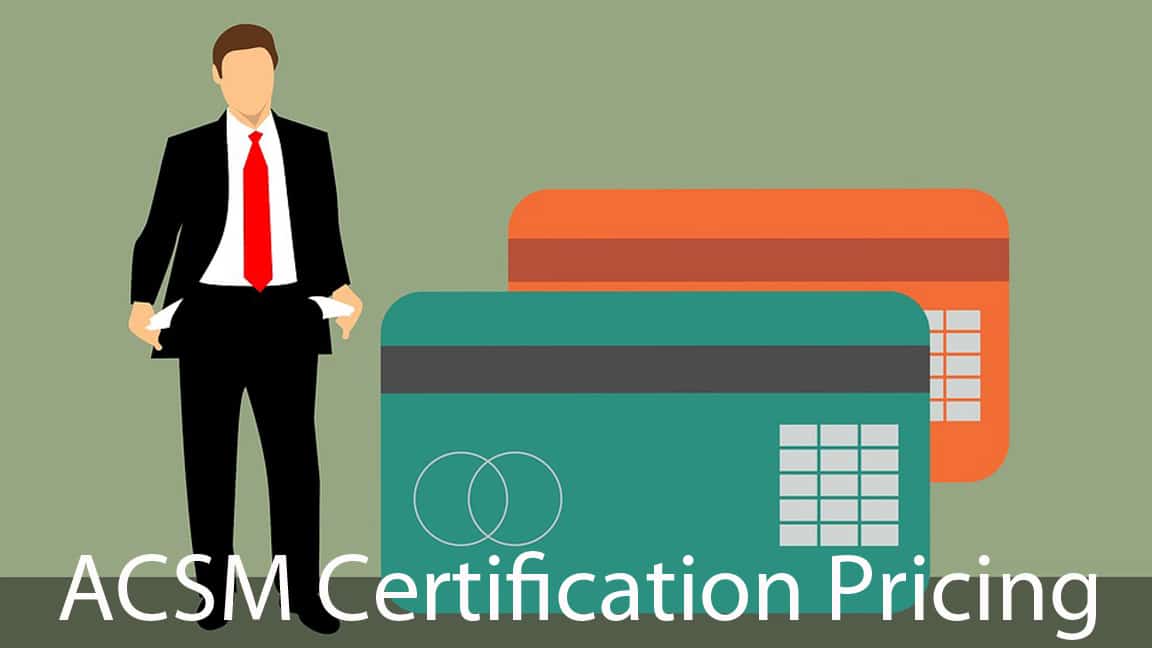 You will need to buy 3 textbooks as part of your study suite. The primary textbook and the two secondary ones cost $70, $40 and $40 respectively.
I suggest you get all three so you can squeeze out as much as possible during prep. You will need to broaden your study material horizons in order to gain a full grasp.
The live workshop and 3-day webinar go for $129 and $375 respectively. Due to the limited scope of the textbooks, I highly suggest you add these to your cart.
In total, you're looking at approximately $950 if you get a full suite of study and prep material. There are, as I mentioned, a lot of third party materials out there on the web which will add to the cost, but also increase the value if you manage to find them.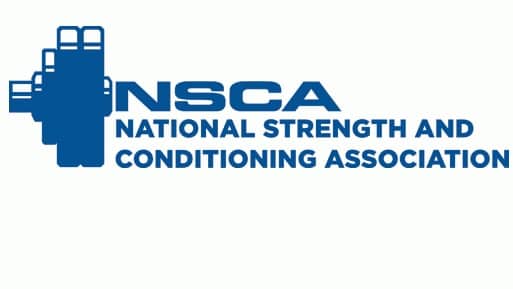 In this, I'll be giving you a break down of the NSCA cert. You will gain some insight into what NSCA can offer and whether it suits your career preference.
You'll also be able to weigh it up against the other options in this breakdown and see which is the best for you. Make sure you also have a look at my article on the top 5 best personal trainer certifications. Also, check out my step by step guide on becoming a personal trainer.
So with that out of the way, let's get straight into NSCA and find out what it's all about.
The NSCA was established in 1978. It is considered a pioneer and has been at the forefront of fitness and exercise science for over 40 years. Because of this time-honored heritage, it has become one of the few Gold Standard certs and is guaranteed to get your career off to a great start. its value has its certifications described as physical trainer degrees.
The prerequisites for the cert are pretty standard. A high school diploma, being 18+ years old and having current AED and CPR cards.
Did you know that NSCA was the first certifying institution to be accredited by the NCCA? Over the course of their 40-year history, the NSCA has only certified about 9600 trainers. That's a rate of 240 each year. That is pretty low, especially compared to the other top certs on this list.
I can chalk it up to the notoriously low pass rate and super tough exam, which we'll get into later in this review. What I can say for sure is its worth the hassle. This course will grant you some insane credibility.
NSCA, just like ACSM has a more advanced option called the Certified Strength and Conditioning Specialist or CSCS. This is on the same tier of specialization as ACSM HFI. The CSCS is designed to equip you for specialized training with elite athletes.
I have a whole review on NSCA CSCS which you can check out here. But in this article, we'll just focus on the general CPT cert.
Let's break it down a bit more and weigh up the pros and cons of NSCA:
Pros:
An industry-leading certification and highly recognized nationwide.
One of the most comprehensive textbooks you'll find. A great companion even for your day to day PT work.
While most institutions require biennial recertification (every 2 years), NSCA recertification happens every 3 years.
Tried and trusted with a heritage of excellence in research.
Available in 5 languages other than English, making it accessible to a global community.
Unlimited retake policy.
Cons:
Great textbook, but the rest of the study material is quite limited
Not enough prep or guidance for how difficult the exam is
Super difficult exam
You'll come to find that the amount of prep material available for the NSCA exam is a bit lacking. Despite having a stellar textbook, there's not much to help you fully prepare for what is already a super touch exam.
Luckily you can find tons of third party prep material such as practice tests and tutorials, you just need to know where to look.
Certification Recognition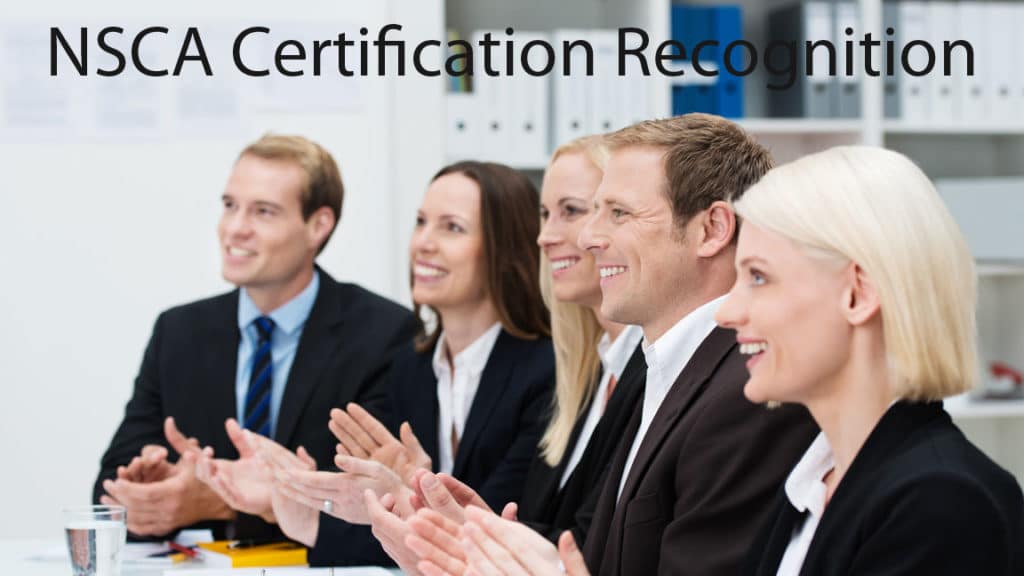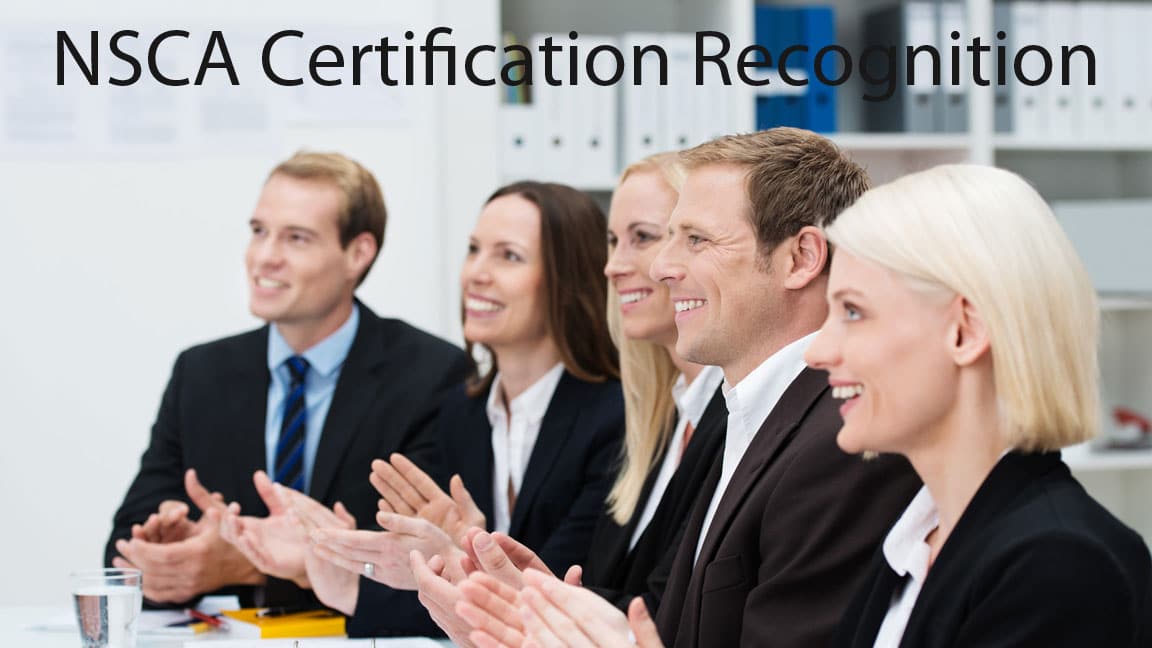 NSCA was the second certifying agency ever to get accredited by the NCCA. This means they've officially been in the game longer than most. An NCCA mark of approval is the highest quality approval you can ask for.
Aside from NCCA, NSCA is generally revered within the global fitness community. You're likely to get the job you're after with this one. Because of its reputation and the exceedingly low pass rate, an NSCA card is basically a statement. It means you're not here to mess around.
With only 9600 certified members today, there's also very little competition. That itself just adds to the value of being one of the few to hold the certification.
NSCA is also a recognized contributor to society. The NSCA Foundation contributes to continued education and research. The foundation was established in 2007 and over the past decade has funded over 465 scholarships and provided over 135 grants towards expanding the field of interest in strength and conditioning knowledge.
Certification study materials
Right off the bat, we have the Essentials of Personal Training textbook. It's currently available in its second edition. This is one of the most comprehensive texts I've laid my hands on. It goes into detail without getting too complex and covers all bases.
The textbook is great to have even if you never actually plan on taking the NSCA CPT cert.
Besides the textbook, the NSCA study material suite is pretty average at best. Not because it's terrible, but it just isn't enough for what you need to prepare for.
The NSCA-CPT Exam Content Description helps give you a basic idea of what to expect in the exam so you can target specific domains and core topics. It also acts as a sort of decoder, helping you navigate NSCA's very proprietary delivery model.
Third on the list is the Exercise Technique Manual for Resistance Training, 3rd Edition. This is a full-color image and online video reference guide to correct exercise form and execution. It's handier in the field than in the actual exam room, so it's not that helpful when it comes to prep. Still, great to have nonetheless.
Finally, we have the NSCA-CPT Online Practice Questions which are domain-specific mock tests. The aim is to help familiarize you with the structure, format and challenge level of the actual exam questions.
You can choose how to package the practice question you receive. You can buy individual domains, section bundles or complete bundles depending on what you think you need.
All the study materials I've just covered are available either as separate purchases or in several bundle packages. Each package is tiered based on the amount and combination of study material.
The NSCA-CPT Essential Package comes with all your basics which includes:
The Essentials of Personal Training Textbook
The NSCA-CPT Exam Content Description
The NSCA-CPT Online Practice Questions
This package is aimed at candidates who already have a sound applied knowledge of the content in the exam.
The NSCA-CPT Essential Plus Package includes everything you find in the Essential Package plus the addition of an online study course and the Exercise Technique Manual.
NSCA also offers live exam prep clinics across the country in an effort to guide candidates through what will be a tough test. You can check out which clinic is nearest to you by visiting the NSCA CPT exam study material page.
Certification test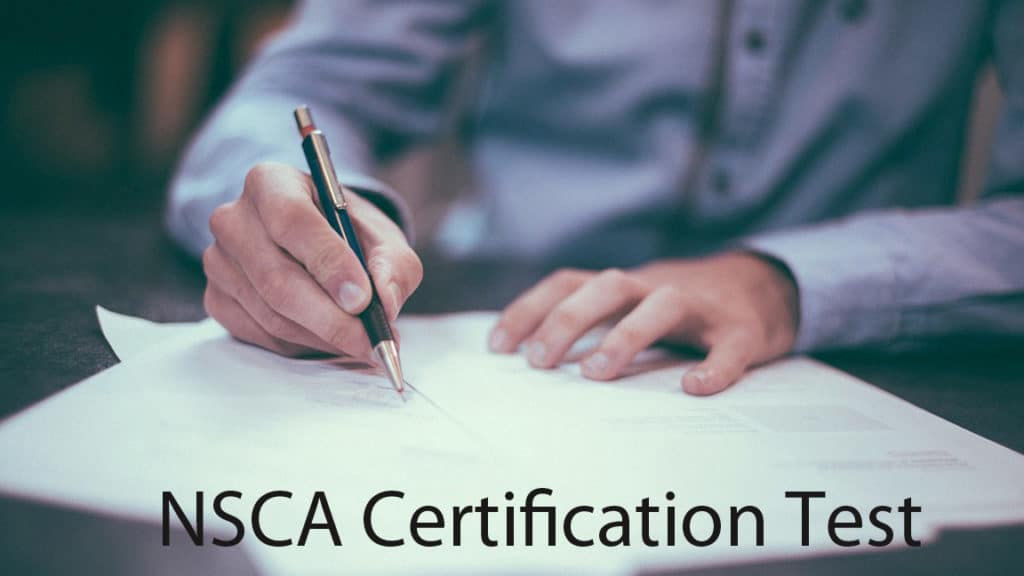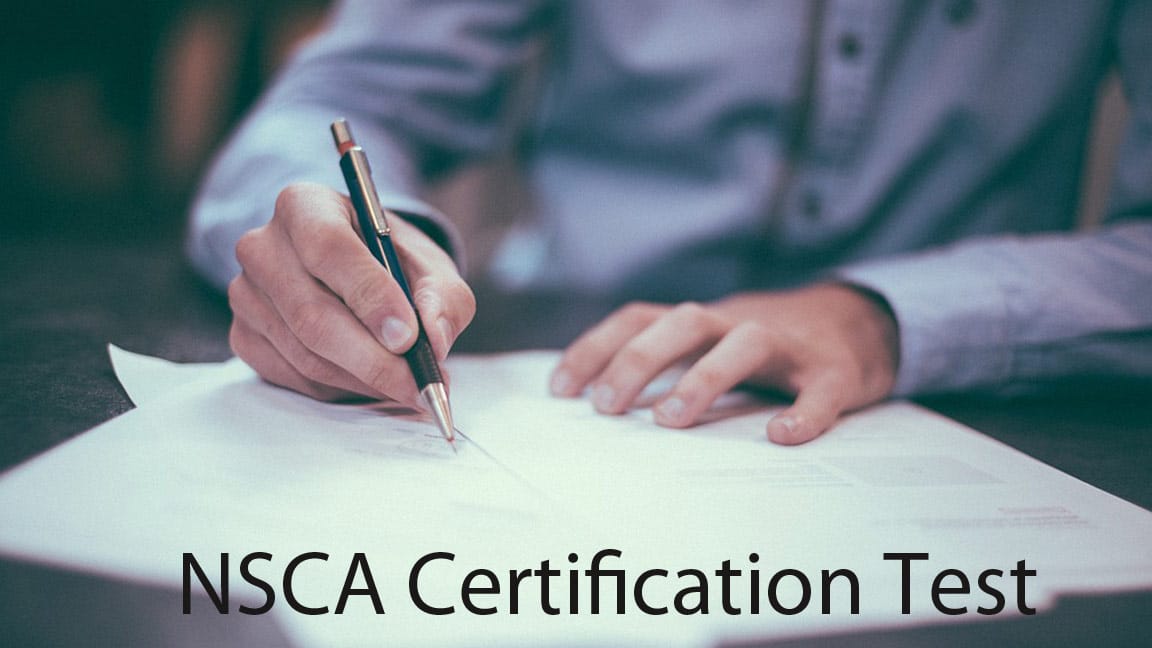 The NSCA exam is made up of 155 multiple-choice questions. 140 of the questions are scored, while 15 are unscored. This is a common practice in cert exams.
The unscored questions act as a sort of sneaky survey. They are embedded throughout the exam, so you can't really tell which ones they are.
They are included as a way to evaluate general responsiveness to potential future questions and help keep the testing standards fair and up to date.
The exam's content is divided into 4 domains. Here's a quick summary of each domain as it appears in the exam:
Client Consultation/Assessment 25% 35
This domain goes into the first important phase of conducting a successful PT procedure. You'll be tested on your ability to assess your client based on their needs and goals as well as data gathered from correct observation of important aspects. Your ability to communicate and use the correct assessment tools and methodologies will be tested.
Program Planning 31% 43
Here you'll be assessed on your ability to design and implement a comprehensive exercise program by implementing the successful outcomes of domain 1.
Exercise Techniques 31% 43
This domain focuses on the correct, safe and beneficial execution of exercises. Technique and proper form as well as volume and progression methodologies for specific training outcomes.
Safety, Emergency Procedures and Legal Issues 13% 19
The final domain tests you on your knowledge of industry policy related to health and safety standards, emergency protocols, laws, bylaws, and insurance standards. It also looks into what to do when incidents arise and test you on ethical responsibility.
The exam includes some video-based questions within the total question count.
The NSCA CPT exam is a 3-hour-long test and you need to score at least 70%
You can nab the detailed content outline PDF on the NSCA site for a more in-depth angle on what the test is like.
Once you're ready, and by ready I mean REALLY ready, to take the exam, you just register online. Within 2 to 3 working days, you get your exam Authorization to Test notice from Pearson VUE via email. This will contain instructions on how to schedule your exam. Make sure you select the most convenient date, time and venue.
You must then take the exam within 120 days of registering.
If you fail, which is a real possibility if I'm being honest, you'll have the chance to retake the exam with an unlimited number of attempts.
You will have to wait at least 90 days before you can go in for a retest. This is an industry-standard retest policy although the cool down period tends to be different from institution to institution.
This is done so that you have enough of an opportunity to brush up on the prep you missed.
This test is harder than most on this list, so make sure you prepare adequately. A 54% pass rate is not something you want to take a chance with.
Certification price
The cost of the NSCA CPT exam registration is $300 for members and $435 for non-members.
Depending on how you want to go about it, membership might be a great option. Not only do you save on the registration fee, but you also get access to a lot of exclusive content and perks.
Membership fees are also tiered. The Student Membership goes for $65 per year and is a discounted membership for undergrad and grad students.
The CPI membership costs $349 per year. As the priciest option, it includes all the member benefits you get in the Pro Membership plus liability insurance and other career enhancement resources.
The Professional Membership goes for $120 per year and grants you access to 5 journals on strength and conditioning, online study and research content, loads of package discounts and a bunch more.
Conclusion on Personal Trainer Schools
So there you have it folks, my full breakdown of the top 5 personal trainer qualifications out there.
If you have not done so yet, take the quiz to find out which one is most likely the best option for you.


Taking a decision on how to get certified as a personal trainer will be based on the niche you want to focus on.
Out of these five options, my favorite organizations to go with are:
And, if ISSA as their special deal to get the elite trainer program for only $999 ( three full certification's) this is the best overall bang for your buck in my opinion. Check out the current price for the elite trainer program here.
If you've read through this carefully you'll start to pick up on what you might feel is best for you. When considering a personal trainer cert, my top criteria are:
Recognition: is it accredited by either the NCCA or DEAC. Recognition also means industry reputation and how the cert is regarded vs the career field you wish to pursue.
Cost: how much does it cost to study, take and even retake the exam. This includes study materials and how the cost measures up to the quality and relevance of these.
Recertification policy: how long do you have to wait between re-certification and do you need to provide proof of continued education etc…
Exam structure and difficulty: are you willing to risk failure and the financial and time cost it brings with it?
Areas of focus: is the certification aligned with the areas you personally want to specialize in as a fitness professional.
I would also suggest you take a squiz at my quiz just to help fast track your decision.
Overall, I rank NASM and ACE as the best certs you can get. They offer a quality recognized credential with a tremendous amount of popularity to back them.
The level of dedication to core evidence-based concepts makes these two my go-to. They also come with a comprehensive and versatile suite of study materials.
ISSA is very close behind, its biggest selling point being the level of worldwide accessibility it provides its candidates. It also brings a lot to the table in terms of offering a versatile alternative to the other four certs. It's almost completely distance-based, including the exam.
It falls short with me on the open-book exam policy, otherwise, it's a fantastic cert.
NSCA and ACSM are great certifying agencies, but the vibe here is top tier specialization. Because of this, the exams are woefully difficult and the amount of prep material doesn't really match up with the required level of preparation.
These are the types of certifications you should only really consider if you're a veteran in the game.
These rankings are based on a general impression of the personal trainer landscape. That is to say, I'm looking at what the average fitness professional would typically benefit from.
Of course, if you're going to specialize in certain key areas, one of the lower-ranked certs in this review might edge out the top ones.
Remember to check out each respective certification website for a detailed breakdown of what they have on offer. If you're lucky, you might land up with a sweet discounted rate.
So, to bring it full circle, what degree do you need to be a personal trainer? the answer is NONE! just get certified.
Making a decision on how to become a certified personal trainer is not as difficult as you think.
If you still have any further questions, please drop a comment below the FAQ and make sure to share this article by using one of the social share links, it might just help someone else and sharing is caring after all.
5 Best Personal Trainer Schools FAQ
How do you obtain a personal training certification?
You will obtain a personal training certification by attending a certified school for personal training where you need to display your level of competence from the knowledge acquired and passing the certifying exams.
What makes a body qualified to issue personal training certification?
A body that is qualified to issue CPT certification must have the official seal of approval granted by a unifying authority such as The National Commission for Certifying Agencies (NCCA) and the Distance Education Accrediting Commission (DEAC formerly the DETC) which specializes in personal trainer school online and remote learning.
Do you need a degree to become a personal trainer?
No, except for those who have a degree in Kinesiology or sports/exercise science. All you to do is get a certification from an accredited personal training school.
How do you become a CPT?
You can become a CPT by following these few steps:
– Choose a certification of your choice based on your qualifications
– Choose the package that suits you and study for the exams
– Choose a date that is convenient for you to write the exams
– Pass the test and the journey to becoming one of the best personal trainers begins
What is the job of a certified personal trainer?
Personal trainers work with individuals or small groups to set up personalized workout models after analyzing the fitness level of the clients.
They show the clients the rope when handling equipment, offer advice and encouragement needed to achieve set goals while ensuring they don't get injured during training.
What are the two major accrediting bodies for personal trainer schools?
– The National Commission for Certifying Agencies (NCCA)
– The Distance Education Accrediting Commission (DEAC formerly the DETC)
What are the requirements for applying to personal trainer schools?
– Be at least 18 years old
– Have a high school degree or equivalent
– Complete a CPR/AED certification
– Have a current government-issued photo ID with signature
Are there relevant personal study materials from these schools?
Yes, they have adequate materials that can be used to prepare for the exams in the form of e-books, hardcopy books, instructional videos, flashcards, online tests, quizzes, and practice questions.
However, You can obtain extra study materials from the PT Trainer Academy.
How long does each personal training certification last?
Whereas ACSM and NSCA certification qualifies you to be a personal trainer for three years, NASM, ISSA, and ACE are for two years. Before the time frame elapses, you are required to apply for recertification by getting your CEC (Continuing Education Certification) and paying for the recertification process.
What is the personal trainer certification cost?
– ACSM cost for members is $279 and non-members $349
– The NASM personal training certification cost is between $524 and $1,499 depending on the package opted for.
– The ISSA Personal Trainer Certification course costs $599 for online enrollment and $299 for a guided study option.
– NSCA exam and membership fee is about $300 for members and $435 for non-members
– ACE Exam will cost you $299 or $499 for any of its packages
What is the personal trainer exam pass rate of each school?
The pass rate of each personal training schools are as follows:
– ISSA (90%)
– NCSA (low pass rate)
– ACSM (71%)
– ACE (65%)
– NASM (60%)
You can boost your pass rate to 99% by using study materials available for each body from the PT Trainers Academy.
Which is the most recognized personal trainer certification issuer?
NASM and ACE are highly recognized credentials with a tremendous amount of popularity to back them up.
Which personal trainer certification is accredited by NCAA and DEAC respectively?
– NASM CPT-NCCA
– ISSA CPT-DEAC
– ACE CPT-NCCA
– ACSM CPT-NCCA
– NSCA CPT-NCCA