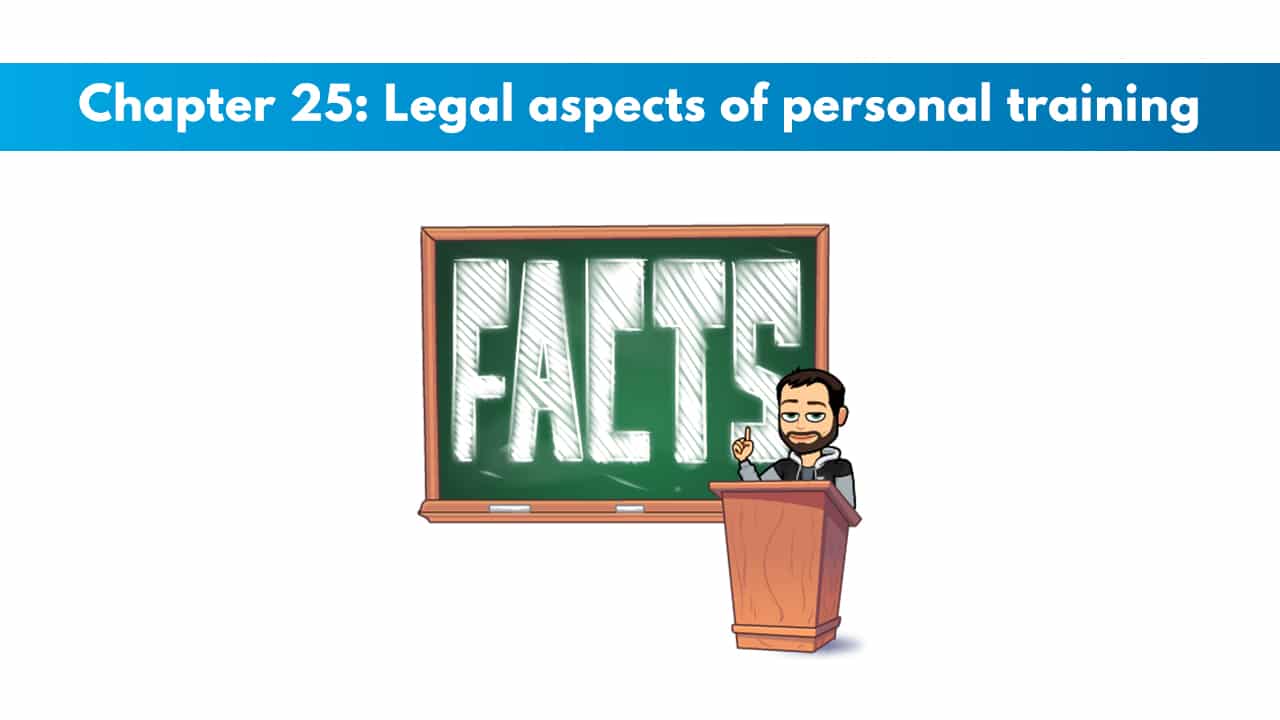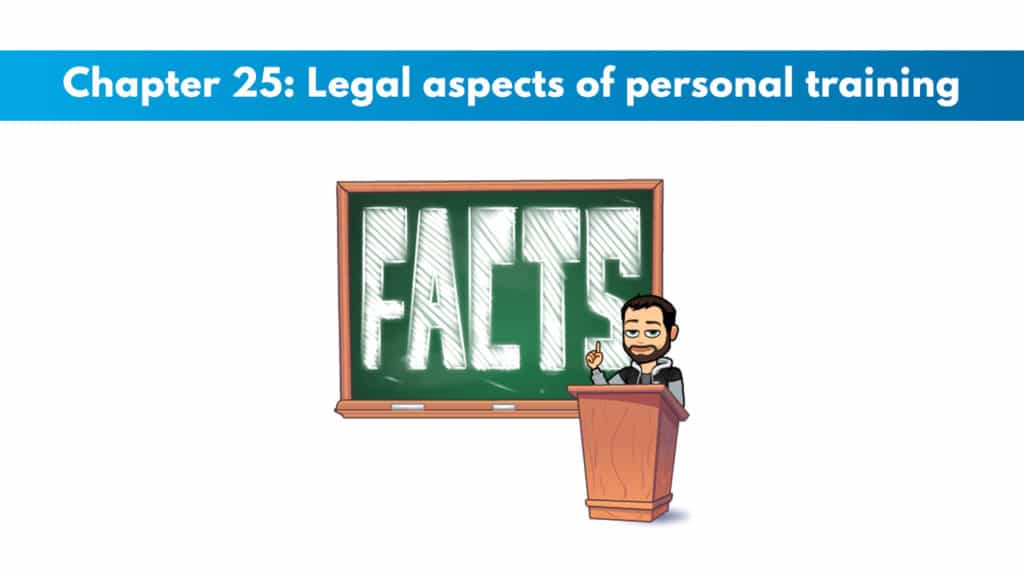 Get your copy of the NSCA CPT exam cheat sheet. It helps immensely for studying for the exam.
Make sure to check out Trainer Academy for premium NSCA CPT study materials. They will reduce study time by 50% and have an exam pass guarantee. Read my full review on them here. You can save $100 on their MVP study system with the code: PTPSUB
Post 27 of 27 in the NSCA CPT Study Guide
Chapter Objectives:
Know basic aspects of the law, particularly tort law, and the legal system as they are applicable to the delivery of personal training services.
Discuss negligence and then delineate the four elements that an injured client must prove in a lawsuit against a personal trainer based on negligence.
Find the professional and legal responsibilities of a personal trainer and know the consequences of those responsibilities.
Take on risk management strategies to minimize the risk of claims and litigation in personal training.
Claims and Litigation
It is important to know the process because while many trainers will never see litigations or claims due to the delivery of service, some might.
One of the reasons for the rise in the number of trainers that are being found in claims and suits is the tendency for the population to seek redress for anything that happens that they feel was wrong.
Fitness Industry Response to Claims and Litigation
The industry has made standards and guidelines that apply to the appropriate delivery of service for trainers.
The industry has also moved forward in its education, training, and certification of the fitness professionals in it.
The last response is that the industry has proposed legislation for the regulation of and licensing of personal trainers.
Claims in Health and Fitness Activities
The typical claims in the health and fitness fields are:
Exclusive PTP Offers



Gold Standard Cert

Most Popular Cert

A Good Option

Best Study Materials

Best online PT course

The Top PT Software

The application of recommendations, standards, and guidelines to the delivery of particular.
Screening duties and responsibilities.
Preexercise evaluation or functional testing of clients.
Exercise or fitness activity prescription or recommendations to clients.
Exercise activity supervision.
Selection, assembly and installation, and maintenance of equipment and the design and maintenance of facilities for client use.
Emergency Response.
Insurance.
Releases and waivers.
Records and ethics.
We have two sides of the law. The criminal side includes just criminal law. The civil side consists of contract law and tort law.
Criminal Law
Criminal laws are sometimes used to deal with issues relating to conduct that is prohibited and made criminal by the US federal or state statutory laws or both.
Trainers need to look out for staying in their scope of practice.
Contract Law
These are often referred to as agreements also. These involve a promise or negotiation or bargain between two parties that are supported by some consideration.
In the training world, breaking contract law would mean something along the lines of promising to give services for a certain number of weeks, and then not living up to that agreed upon contract.
Tort Law
This refers to the wrongful acts or omissions between the relevant parties, this is typically the trainer and their client.
Negligence Claims
Tort laws require claims of negligence typically. These lawsuits require proof of certain elements by the party bringing claims against the party defending from such claims. These are based on:
Duty
Breach of duty
Proximate cause
Harm or damage
Negligence is defined as the failure of one person to comply with a legally determined duty to protect another person, which failure proximately causes the other person harm.
Defenses on Negligence Actions
Adherence to Industry Standards and Guidelines
It is important for the trainer to be prepared to support their defense for their delivery of service and how it applies to the standards that are set. These standards would be the ones that apply directly to their chosen certification. This would make the case legally defensible.
Securing Proper Informed Consent for Testing
Informed consent in personal training is the process by which a certain procedure is described to a client that is going to undergo the procedure with an explanation of the risks and benefits of such a procedure, and through this process the client will determine to undergo or not undergo the procedure.
Informed consent is required when participants are treated by health care providers also.
Assumption of Risk Prospectively Given Waivers or Release of Liability
An assumption of risk may protect a personal trainer in cases where there is a personal injury or a wrongful death. If there is no duty, then there may be no liability for some injury that arises from the activity.
Exclusive PTP Offers



Gold Standard Cert

Most Popular Cert

A Good Option

Best Study Materials

Best online PT course

The Top PT Software

Prospectively Given Waivers or Release of Liability
In the context of training, the waivers, also called the releases of liability, are contractual promises where on person agrees prospectively not to bring a claim or a suit in the event she is injured during the activity.
Insuring Against Negligence Actions or Omissions
Insurance in the context of this text is a contractual promise from the insure where they promise to defend and indemnify the insured from certain defined liability risks at the insurer's cost in exchange for the payment of a premium.
Records and Documentation
Many people involved in law are trained to ask first about the nonexistence of records that should actually be present. They will also question the poor records that are not prepared or fully present.
It is important as trainers that we keep record of any and everything we can and for as long as is required by the state that you reside in.
Ethical Codes
The four main parts of the NSCA code of ethics are:
Discrimination on the basis of gender, race, religion, nationality, or age is prohibited. All clients must be treated equally, and their confidentiality must be protected.
Personal trainers should obey all relevant federal, state, and local laws; as well as all institutional guidelines and NSCA bylaws, policies, and procedures.
Personal trainers should not misrepresent their skills, training, or certification; and should provide only those services for which they are qualified.
Personal trainers should avoid professional or personal behavior that reflects negatively on the NSCA. For instance, they should never place their own financial gain over the well-being of a client, and they should avoid substance abuse.
If you want assistance wrapping your head around this material, make sure to check out Trainer Academy for some awesome NSCA study materials. They have Practice tests, flashcards, and a fantastic study guide. They even offer an exam pass guarantee.