Hello everybody, and welcome to yet another PT Pioneer career review.
This article and many others are part of a state-by-state series on carving a career in fitness around the US.
It is so important to have insight into your choice of location, given the fact that it is one of the critical factors in determining success in any career.
This is especially true when considering some of the nuances behind working as a certified personal trainer.
Each state has a different industry and population make-up, which influences the potential outcomes you can expect.
In this article, I'll be looking at how to become a personal trainer in Mississippi and figuring out what it's worth to work as a PT in that state.
To keep things simple and to the point, I'll only address personal trainer jobs in Jackson and other key areas.
I'll also introduce you to the various options when it comes to gaining the necessary credentials, such as personal trainer certification in Southaven, for example.
So with that out of the way, Let's get right into it.
Make sure to check out the general guide on how to become a personal trainer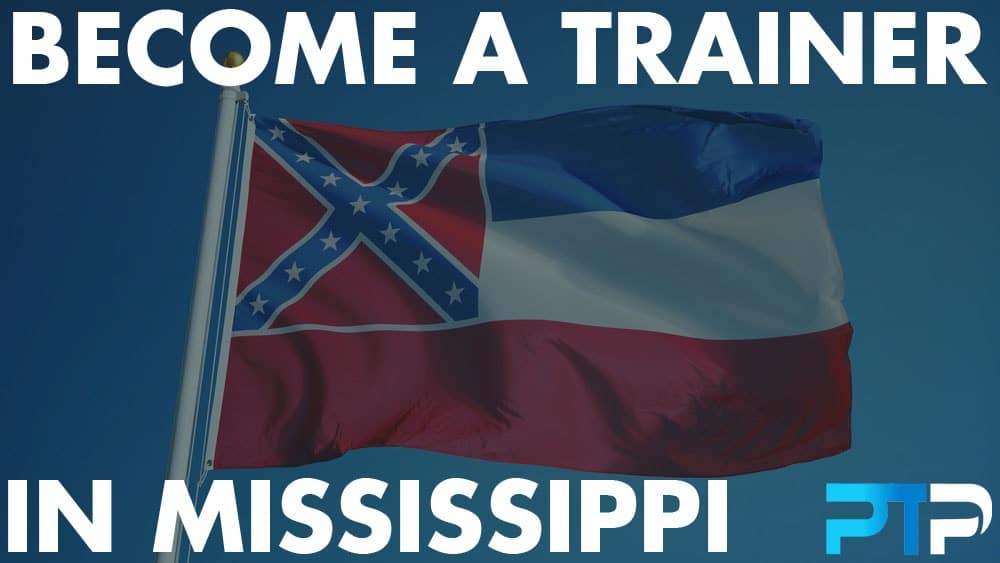 Post 24 of 50 in the PT By State Series
State Fitness Rating
The first thing I want us to do is to understand the state's fitness profile.
The state fitness rating is a measure of how healthy the population is and how much access they have to infrastructure that may improve health and fitness.
The data I'll be using was collected from the good folks over at exercise.com.
This data includes two key aspects in understanding the state fitness rating.
They are obesity prevalence and top gyms per capita.
Obesity is one of the key indications of the health of an individual. Becoming obese means a litany of general health protocols for nutrition and fitness have been overlooked.
Another reason obesity is so useful is it shows how engaged a population is with the health and fitness industry.
High prevalence shows low engagement, which means less overall opportunity for fitness service providers.
As for Mississippi, the obesity prevalence is 37.30, making it the second-worst state for obesity figures.
This paints a dire picture when it comes to finding secure opportunities with the local state population.
Next, we have the top gyms ranking.
Firstly, let's discuss what top gyms are, to begin with.
Top gyms as it relates to the statistics we're looking at are those mainstream gym chains—the large commercial gyms with a mainstream appeal and wide-area access.
Such gyms include the likes of:
Orange Theory Fitness
Planet Fitness
Snap Fitness
YMCA
LA Fitness
Gold's Gym
Crunch Fitness
Anytime Fitness
24 Hour Fitness
The reason these gyms are an indication of a state's fitness rating is that they signify how accessible health and fitness is to the public.
The more access, the healthier a population will be.
Mississippi has a total of 136 top gyms to a population of 2 988,726 locals.
That's a ratio of 4.55 gyms per 100 thousand people.
Exclusive PTP Offers



Gold Standard Cert

Most Popular Cert

A Good Option

Best Study Materials

Best online PT course

The Top PT Software

That gives the state a top gyms ranking of 44 out of 51, which is still remarkably low.
Overall, Mississippi has a state fitness rating of 49, making it the third most unfit state in America.
This already means finding success in this market will be a tall order, but let's see what the market looks like before jumping to conclusions.
Fitness Market Makeup
With the stars we've just looked at, we can suggest that there isn't as robust a fitness market as one would hope in Mississippi.
Nevertheless, there still is an operating fitness industry, which means enough opportunity for fitness trainers exists.
With the low number of gyms available, your market approach should involve helping many private individuals to achieve their fitness goals.
The right exercise programs will help them trim down and lose body fat for health reasons.
One thing I've also noticed in overweight population groups is the affinity towards group fitness training.
This is possible because of how motivating training in a group environment is for sedentary and overweight clients.
Having a decent understanding of group training might come in handy.
Personal Trainer Certifications in Mississippi
Personal trainer certification in Gulfport and other cities is needed to get a job as a personal trainer in Mississippi.
I have written an article on my best personal trainer certifications. Use this as a guide on how to become a certified personal trainer in Mississippi.
Overall here are my top 2 best personal training certifications in Mississippi. Ensure you have all or any of them when you decide to become a personal trainer in Gulfport and other areas.
These and a few others are the most recognized personal training certifications that are acceptable by top fitness centers in Mississippi.
Personal training certification rankings help make the right decisions.
With the right study materials and understanding of the exam modalities, you will ace your certification exams.
Personal training schools in Mississippi
Aside from getting nationally accredited personal training certifications in Jackson, which I highly recommend, you can upgrade your credentials for a better value proposition.
By a value proposition, you can earn a qualification like a bachelor's degree, which will increase your credibility.
This will allow you to leverage for better jobs, opportunities, and income.
It's an established fact that trainers with at least a bachelor's degree have better odds and net a higher average income than those without.
Fortunately, if you're looking for the option to do a degree program, there are a few exercise science schools in Mississippi you can choose from. Let's take a look:
Given the size of the state in terms of population, this is a pretty decent selection of kinesiology schools in Mississippi.
One thing you should think about, however, is if doing a degree program is worth it.
While statistics indicate better career prospects in fitness for trainers with degrees, the time and financial investment demands careful consideration.
If you simply obtain your personal trainer certification in Gulfport, you won't deal with much pushback in any case.
Personal Trainer Jobs in Mississippi
Mississippi has one of the least active fitness markets in the country by state.
Ranking pretty much at the bottom indicates a lack of viability compared to pretty much anywhere else.
If you were to become a personal trainer in Southaven, your access to opportunity would be relatively limited.
Despite this, you should still apply and see where the chips fall.
Personal trainers in Jackson MS, have better chances of setting up fitness programs for potential clients.
Being a gym employee is a great way to launch your career in fitness because of all the exposure and experience you will gain.
It's also a safe way to begin since your income is secure, and employment benefits kick in.
I would suggest setting up an online fitness service to coincide with your real-world services.
Online fitness is the fastest growing sector of fitness as a service, which will allow you to optimize your reach and income potential.
Best Cities to Be a Personal Trainer in Mississippi
When looking at a state, we can skim over the general data and statistics, but to gauge where success lies, we have to take things city by city.
Ideally, you'll want to go to the city with the biggest and busiest population. In this case, you'd be looking at personal trainer jobs in Jackson.
With recognized personal trainer certifications, it's easier to get a job in fitness centers in Jackson MS.
Exclusive PTP Offers



Gold Standard Cert

Most Popular Cert

A Good Option

Best Study Materials

Best online PT course

The Top PT Software

It is the largest city by far with a population of more than double the next most populated area.
Regardless, personal trainer jobs in Gulfport, the second-largest city, would still present some opportunity for fitness professionals.
| | |
| --- | --- |
| City In Mississippi | Population |
| Jackson | 160,628 |
| Gulfport | 71,705 |
| Southhaven | 55,780 |
| Biloxi | 46,212 |
| Hattiesburg | 45,863 |
| Olive Branch | 38,924 |
| Tupelo | 38,313 |
In my opinion, any population of below 100k will be an uphill battle.
Fitness client conversion is a numbers game, so the larger the population, the more opportunity to organize training programs.
Personal Trainer Salary in Mississippi
According to salary.com, if you choose to become a personal trainer in Jackson or any other city in Mississippi, you can expect an average income of $54,355 per year.
Mississippi salaries are considerably lower than the national average of $61,802.
This falls in line with the low level of engagement the local fitness industry experiences.
Having said that, the cost of living can have significant sway on the actual value of one's salary.
Let's take a look at that, along with other quality of life indicators.
Make sure to check out the full guide on personal trainer salary.
Quality of Life Rating
From what I could gather, Mississippi regularly ranks low in terms of quality of life than other states.
The obesity prevalence, which is a reliable indicator of health, already points to this. That's because general population health is a reliable indicator of the quality of life.
This is further evidenced by the low healthcare ranking and the fact that Mississippi has one of the highest infant mortality rates in America.
On the upside, the state does rank high in terms of the natural environment, and crime, although not great, is much lower than one would expect.
Methodology
After in-depth research, I was able to come up with this detailed review based on the following points:
The population of the state and its major cities.
The obesity figures as compared with other states.
Personal trainer certifications available in Mississippi
Availability of personal training schools & colleges.
Career prospects for personal trainers.
Earning potential for certified PTs.
Quality of Life (QoL).
Final Words on How to Become a Personal Trainer in Mississippi
Mississippi is one of the last places I would suggest launching your career in fitness.
There's no practical reason to move there just to pursue a career.
However, you may already call it home, in which case, launching your career in either Jackson, Gulfport, or Southhaven is possible and can pay off with the right strategy.
FAQs on How to Become a Personal Trainer in Mississippi
References
https://www.exercise.com/learn/ten-fittest-states-in-the-us/
https://www.americankinesiology.org/SubPages/Pages/Kinesiology%20Institution%20Database