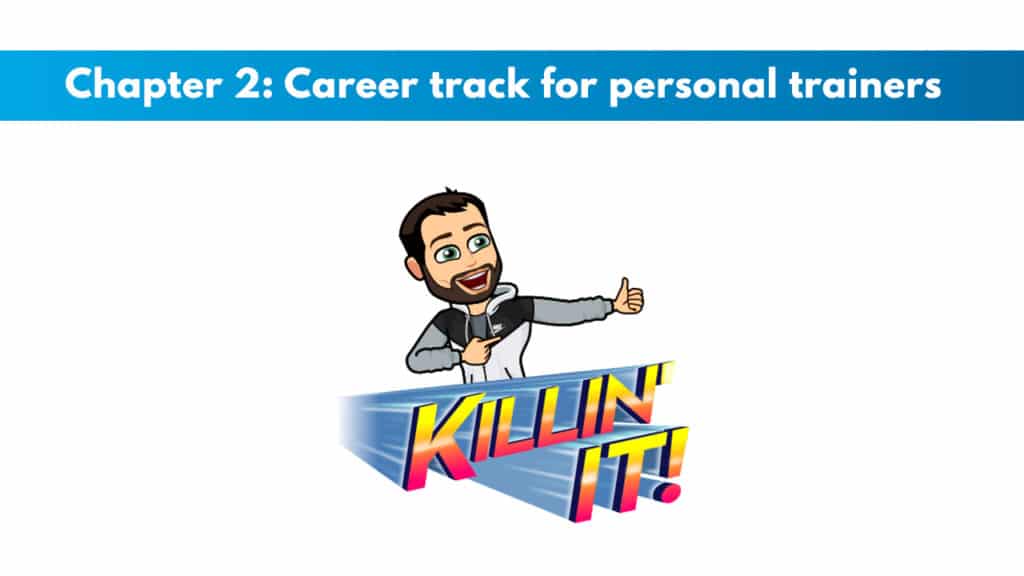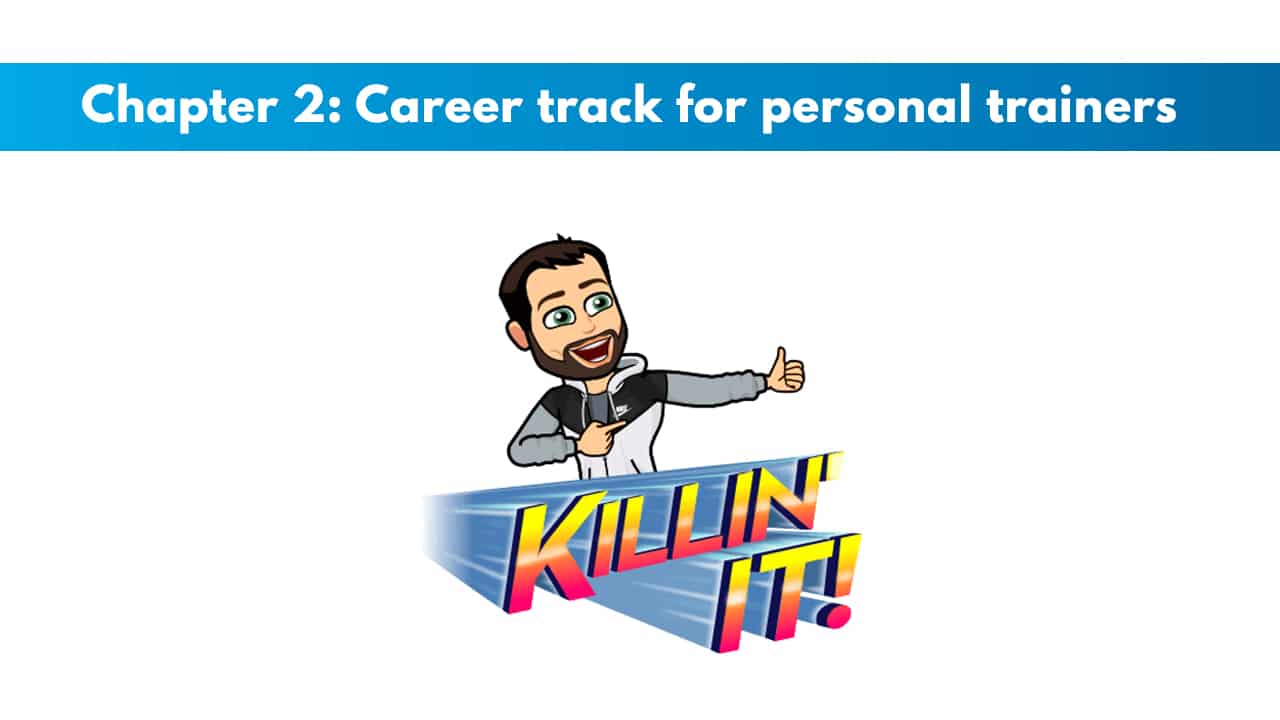 Get your copy of the ACSM CPT exam cheat sheet. It helps immensely for studying for the exam.
Make sure to check out Trainer Academy for premium ACSM CPT study materials. They will reduce study time by 50% and have an exam pass guarantee. Read my full review on them here. You can save $100 on their MVP study system with the code: PTPSUB
Chapter Objectives:
Talk about client expectations of a personal trainer.
Determine potential career starting points and career paths.
Find out the options you have for continuing education and career development.
Learn the expectations of a career as a personal trainer.
Client Expectations of a Personal Trainer
Know the Goal
The trainer will be employed by the client once they have decided to start their fitness journey, and the trainer is the expert that will guide them to their vision of success.
All clients typically set a goal when hiring a trainer, and a lot of people set goals that are unrealistic for many possible reasons. Trainers should make sure that clients have realistic goals and know the types of goals.
Be Knowledgeable and Experienced
Having experience is good when the trainer has been successful in documenting the outcomes from different training sessions, acquiring employee and client references, and building their resume for a stated career objective.
Present a Clear and Concise Plan
The mode, frequency, duration, intensity, and other general components for the exercise prescription is first made and then the written plan is put together and presented for the client. Outside of this exercise prescription, a plan for communication is set in place. This regards late, cancelled, or even abbreviated sessions.
Be Innovative, Creative, and Resourceful
Innovation and creativity are essential for effective trainers. Innovators introduce new techniques and methods often; they are essentially always changing it up in some way. Creativity is essential when training because of the need for little things like equipment and the chance of it not being available and the need for you to adjust quickly to that for each session.
Exclusive PTP CPT Offers



Gold Standard Cert

Most Popular Cert

Best Study Materials

A Good Option

A Good Option

Best CPT for you?

Educate
A goal while training is to teach the clients basic tenants of effective and safe physical activity so they may eventually be able to do these things on their own and even one day teach these things to other people.
There should be a working knowledge of anatomy, kinesiology, and physiology for trainers so that they can describe what is happening in the body and throughout an exercise.
Inspire
It is hard for many people to exercise on a regular basis in a level that yields visible results, so personal training has become popular because a major element of training is having that trainer for inspiration. Trainers should take time to find out what force is driving the clients to want to succeed.
Focus
Individual attention is one of the most important features of personal training. Giving someone your undivided attention and having focus on their form, speed, posture, grip, stance, breathing, and facial expressions will sometimes differentiate between an easy exercise and a hard one.
It is important that we prepare for every session so that the need to stop and add things to the area or for the workout is not required.
Track and Recognize Progress
Trainers will determine what the metric for success are for every one of their clients. These are things like benchmarks that are used to see if their programs are effective or not. We also use these different metrics to help to motivate the client and give them something to shoot for. The trainer should be making their clients aware of their small advances as they are training and after so that they know progress is coming. Simply having small graphs and charts regarding the clients' activity will work very effectively.
Positive reinforcement and recognition are two other responsibilities and expectations of personal trainers. These just say that trainers should react and respond when clients are doing their job well, even if it is only something small. This will bolster someone's self-efficacy.
Where Do I Start My Career?
Background
Job prerequisites are decided by the employer and depend on the description of the job and the types of clients serviced in the scope of work. Many of the employers in commercial health clubs expect a certification in the personal training realm.
First Find Your WHY
A lot of trainers will start because of their own personal experience, whether it is direct or related.
Exclusive PTP CPT Offers



Gold Standard Cert

Most Popular Cert

Best Study Materials

A Good Option

A Good Option

Best CPT for you?

Personal trainers have a challenging profession. They work long hours that are sometimes really early and extend really late into the night, they focus intently on an individual client and all of their needs for 45 minutes or more at a time, and they have 8 – 10 clients per day. Trainers also do a lot of reading, researching, and attending of webinars and conferences for their professions. It is also important that they maintain the right physical condition so that they can sustain this level of work and serve as a role model for both prospective and current clients.
Next: Start your HOW
Certification
No matter where you want to work, attaining a certification can help immensely and is oftentimes required. When looking for where you want to get your certification, you should think of these things: The eligibility requirements. The fees and if they are within your budget. Logistics needed for when you are obtaining certification. And lastly, you should know if the certification and company applies to your desired field and where you want to take it one day.
Find a Mentor
A mentor is someone that will invest time, energy, and their own personal experience into your career development. Mentors should match up with the background and experience needed. Mentors are used to provide the guidance needed to avoid business and training mistakes that often occur for newcomers in the field.
What Are Some Examples of Rewarding Career Paths?
In today's fitness world there are many different types of clients, venues for work, schedules, and unique opportunities in the field of personal training. This now allows a personal trainer to extend their career over many years and many geographies.
Trainers can be commissioned employees or independent contractors in commercial health and fitness centers. Here, they would essentially be their own boss.
For minimized risk, trainers can be franchisees. This has a lot of advantages in branding, marketing, and operating.
Another bolder option is for the trainer to set up their own training business. Here they must find, rent, and renovate a location. This is the most expensive journey of all of them.
Trainers may also set up their business within another service facility.
What Are My Best Options for Continuing Education and Career Development?
Reading and Research
Trainers must always read professional journals consistently and keep current and fresh on research in the field of personal training. The ACSM has publications that provide information on a wide range of personal training topics.
Clinics, Conferences, and Conventions
There are many different opportunities available for trainers at the local, regional, and international level. These can be attended both in person and virtually. These educational sessions are held for one day and up to around 5 days. They are sponsored by professional membership organizations, certifying agencies, suppliers, customers, the government, and institutions for academics.
Coursework
Trainers should first look to their employer for opportunities to continue their education. Many organizations have their own internal training department that will offer informal and formal courses for assistance in day to day activities and responsibilities and they also will prepare people for advancement within the company. Continuing education credits are required for certifying agencies. Courses are offered by the agencies, and upon completion they will award the trainer with various amounts of CECs.
What Can I Expect from a Career as a Personal Trainer?
Training has grown rapidly and become very dynamic. The field has less than 30 years of existence in modern day and the biggest change happened with the introduction of accredited certifications. This has been used to promote better personal training and has given clients a safer and more improved experience with personal training.
The Satisfaction of Seeing Healthy Results
Working with trainers has always been used to give quicker and more effective results as you have someone else looking after your health. One of the most satisfying things in personal training is seeing and being an integral part in the clients health and the positive health benefits that arise from training.
Exceeding Client Expectations
When a trainer is successful in knowing the goals of their client, then the likelihood for success of the client will increase too. When clients have set realistic goals, then it is possible that training will help them exceed them.
A minimum expectation is for the trainer to document the sessions and workouts. Charting and graphing the results would be a major plus.
Entering the World of Lifelong Learning
Lifelong learning is an expectation as a higher education level is now expected of personal trainers. As discussed before, reading, research, and continuing education are all done on a regular basis.