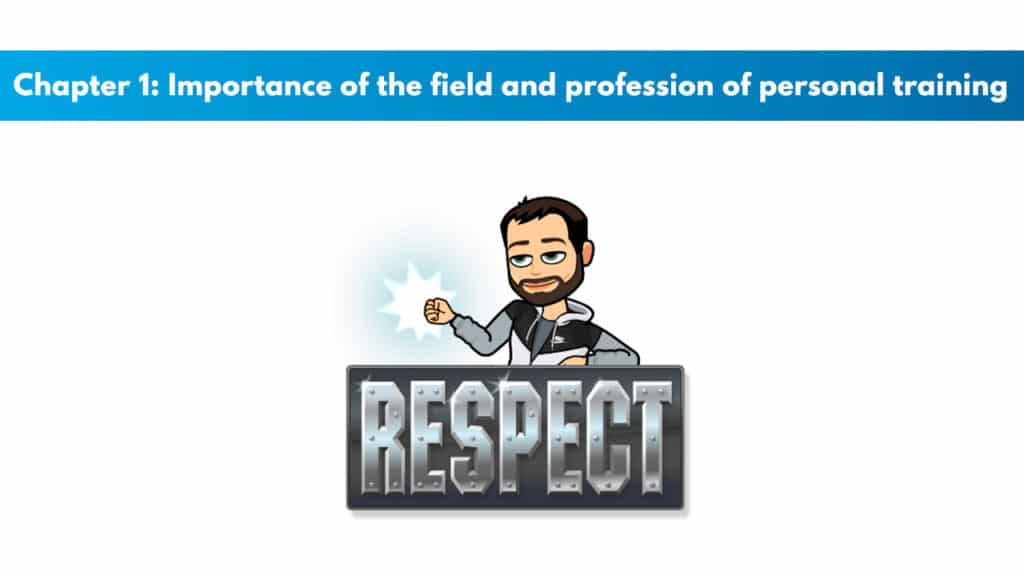 Get your copy of the ACSM CPT exam cheat sheet. It helps immensely for studying for the exam.
Make sure to check out Trainer Academy for premium ACSM CPT study materials. They will reduce study time by 50% and have an exam pass guarantee. Read my full review on them here. You can save $100 on their MVP study system with the code: PTPSUB
Chapter Objectives:
Know the needs for a Personal Trainer that people have.
Discuss a personal trainer's scope of practice, including the background and experience needed for becoming a personal trainer.
Know the information regarding professional career environments and other educational opportunities for personal trainers.
Find the future trends that will affect the fitness industry and personal training.
The Fitness Industry: An Overview of the Landscape
The fitness industry is doing really well, even though the population as a whole is more physically inactive than ever.
The U.S. Department of Labor predicts that the profession will grow faster than the average for all occupations from the years 2014 – 2024.
Only 15% of the population has a membership to a fitness center.
Only 1 in 5 adults meet their recommendations of physical activity and less than 3 of every 10 high school students achieve at least 60 minutes of activity per day.
Only 16% of states require their elementary schools to have recess daily. And the numbers are worse for middle school students where only three states require the recommended 225 minutes per week for their students.
Definition of a Personal Trainer
The ACSM Certified Personal Trainers will have a minimum of a high school diploma and they work with healthy individuals and those that have health challenges and are able to exercise independently to manage their health risks, promote lasting changes in behaviors, enhance people's quality of life, improve their health related physical fitness, and improve their performance. The Personal trainers will conduct health screening assessments prior to working out, use the sub-maximal cardiovascular exercise tests, and test for people's muscular strength and endurance, flexibility, and body comp. The personal trainers will help to facilitate motivation and adherence for exercise and also make and give programs that are designed for enhancing muscular strength, muscular endurance, flexibility, motor skill components of physical fitness, flexibility, cardio fitness, and body comp.
Personal Trainers' Scope of Practice
The following tasks are potentially for personal trainers, but are also not limited to these:
Interview and screen the potential clients in order to find their readiness for exercise and physical activity. The clients other health professionals in their life may need to be involved.
Perform fitness tests or assessments on the clients so you are able to find their fitness level.
Help with Goal setting and motivation for your clients in order to promote adherence.
Make exercise programs and regimens for clients.
Demonstrate safe and effective technique for various exercises.
Spot clients when needed.
Supervise the clients well.
Exclusive PTP CPT Offers



Gold Standard Cert

Most Popular Cert

Best Study Materials

A Good Option

A Good Option

Best CPT for you?

Keep good records of client progress with respect to exercise prescription.
Answer the questions the clients have regarding fitness and health.
Educate clients about fitness and health so they can exercise on their own.
Becoming a Personal Trainer
The prerequisites vary greatly due to the large number of organizations.
ACSM has two tracks for certification: health/fitness and clinical)
Trainers should consider their career plans and their future professional goals when determining their required educational prep and certifications.
The certifying agency should be NCCA accredited.
The Background of Personal Trainers
Educational Background
There are many opportunities available as personal training grows and evolves. Certificate programs take 1 year – 18 months. Associate degree programs take 18 months – 2 years. Bachelor's degree programs take about 4 years. Master's degree programs take 18 months – 2 years following a bachelor's degree. Doctoral programs take 3 – 4 years after a master's and it also involves a research project. Also, there are internships, practicums, or student work experiences.
Work-Related Background
It is also possible to receive a job as a trainer without a degree. This is usually with a certification and some prior experience in the industry.
Experiential Background
Some trainers may pursue a job in this field if they were once a really good athlete in school or at some time in life. This experience makes them essentially want to help others do the same.
Certifications
ACSM Exercise is Medicine
This certification is for fitness professionals who are collaborating with other healthcare professions to assist clients for changed behavior and greater fitness achievements. There are three levels for this certification depending on level of current cert. and the educational background of the trainer.
ACSM/NCPAD Certified Inclusive Fitness Trainer
This is for people with a disability who are healthy or have been medically cleared to exercise and they are referred or are currently under care of a physician.
This leads and demonstrates safe, effective, and adapted methods of exercise.
ACSM?ACS Certified Cancer Exercise Trainer
These trainers train people with cancer that have not started treatment, are getting treatment, or have recovered from treatment.
ACSM/NSPAPPH Physical Activity in Public Health Specialist
These trainers conduct needs assessments, pans, develops, and coordinates the physical activity interventions at state, local, and federal levels.
Establishing a Solid Knowledgeable Base
The Exercise Sciences
Trainers need to have a strong knowledge foundation in exercise sciences. Leadership and coaching training also helps to have a foundation.
ACSM partners with the fitness education network for 1 day and 3 day workshops to help prepare for the CPT certification.
Developing Your Tool Kit
Essential tools
Effective communication
Exclusive PTP CPT Offers



Gold Standard Cert

Most Popular Cert

Best Study Materials

A Good Option

A Good Option

Best CPT for you?

Appropriate motivation
Influential for behavior change
Interviewing and screening is effective
Goals and objectives are effective
Sound and proven business models used
Social networking sites are used effectively
Communication Skills
The most overlooked skill. This is more than just verbally communicating. It includes nonverbal things such as visual and kinesthetic aspects. Also, the emotional states are observed an understood.
Screening, Assessment, and Referrals
The initial view has the trainer obtaining the demographic information and their health history. The minimum forms are the health history form and the PAR-Q. These allow to screen.
The client is assessed next with the information found in those previous forms. With that information the trainer then decides whether they are going to refer the client to another person or not.
Professional Work Environments
For Profit
Commercial fitness centers are the most present type of facility for trainers to work in. These include independent gyms, chains, studios, licensed gyms, and franchises. You should investigate the policies and advancement opportunities before going there.
Not For Profit
A large part of the market is also nonprofit.
Medical Fitness Centers
Trainers have had an ever growing relationship with the health care field. This is evident in the many types of certifications and specializations in working with people who are recovering from many of the various diseases and health conditions.
Corporate
More than 50% of profits for businesses are spent on employees' and dependents' health care. A lot of this is achieved with worksite health promotion programs.
Ethics and Professional Conduct
Ethics are the standards of conduct that will guide us in our decision making and the actions we do based upon our core values.
Code of Ethics for ACSM Certified and Registered Professionals
Purpose
This is intended to help all the credentialed professionals within the ACSM for establishing and maintaining high ethical conduct. The code essentially determines how appropriate their conduct is.
Principles and Standards
Responsibility to the Public
They should provide the things within their scope of practice and the skills of their certification. They should show integrity, competence, diligence, and compassion.
Evidence based science and medicine are provided for exercise.
The clients, colleagues, and other health care professionals are respected.
The professionals are truthful regarding their qualifications and the limit of their experience.
Responsibility to the Profession
High professional standards are kept.
Their practice always stays in their scope of practice.
Good standing with the government is always maintained.
Principles and Standards for Candidates of ACSM Certification Examinations
People who are applying for their credential or certification exam must meet the requirements and accurately complete the application. Irregular behavior is avoided before, during, and after the exam.
Public Disclosure of Affiliation
The ACSM is able to disclose the person's affiliation with the ACSM credentialing.
The credentialing status is disclosed by the ACSM.
The affiliations may be on the business cards.
Institutions may inform the public of affiliations with the group.
Discipline
Discipline or the loss of their job may occur if the person goes against the principles put forth in the code.
National Campaigns to Promote Physical Activity
Exercise is Medicine
This certificate has three levels based upon the health status of the patient referrals and the education and certifications of the candidate.
American Fitness Index
This is an example of a nationwide initiative to help people understand how the health of residents and community assets within a city will help support active and healthy lifestyles.
This uses the collection and dissemination of city health data, provision of resources, and community assistance to connect with health promotion partners.
ACSM's Role and the Educational Continuum
Founded in 1954, ACSM was first for professional organizations to have certifications for health and fitness.
Identification of a Core Body of Knowledge
The other textbook is the Guidelines for Exercise Testing and Prescription. It is seen as the core body of knowledge for the assessments of fitness and the prescription of exercise.
Continuous Revision of Knowledge and Skills
The exam and the importance in the workplace is sorted by domain (there are 4) and those domains are weighted based on their importance.