It is no surprise that weight loss is the most common fitness goal across the United States as more and more American's struggle with their weight and obesity is one of the leading causes of heart disease, cancer, and type 2 diabetes in the US.
As you are reading this article, I assume you have decided to take action, and I would like to personally congratulate you on wanting to take your fitness and health to the next level by shedding those extra pounds and most importantly, practicing a healthier lifestyle!
For so many of us, it is hard to know how to get started on this weight loss journey as well as sustain the motivation and drive to reach one's desired weight and maintain it successfully.
When we look on the internet, we are blasted with an endless array of fitness blogs which can be quite overwhelming. With so many blogs out there, I think it makes it harder to find one that you can resonate with.
Not only is it essential for the blog to provide useful practical knowledge to help you reach your goals, but it is essential to find a blog that you can personally connect with and inspires you.
These are the blogs that uplift you and pull you through the pitfalls and struggles you will inevitably encounter along the way.
This is why we have compiled and analyzed virtually every weight loss blog on the web and ranked them accordingly based on seven criteria to provide you a definitive list of the top 50 weight loss blogs.
As personal trainers, we know to be able to assess the practicality and accuracy of the information presented in these blogs.
Through our interactions with hundreds of clients from all backgrounds, we have learned what inspires and motivates people.
We utilized this knowledge along with countless hours of research and surveys to determine which are the best weight loss blogs out there today.
Many of these blogs started out as personal journals with the mere intention of merely documenting their weight loss journey.
Little did they know the breadth of the impact they would have on thousands of people, changing their lives for the better and possibly even saving them.
I want to thank every one of these bloggers for what they have done to help people achieve their fitness goals and significantly improve the quality of their lives. So without further delay, below is the top 50 weight loss blogs:
If you happen to have made our list of the top 50 weight loss blogs, you are more than welcome to display this award badge on your site any way you see fit (refer to the code below).
Congratulations and thanks again for your contribution to helping people live healthier happier lives!
Many of you bloggers who have struggled and even have continued to fight through the ups an downs of weight loss make some of the best personal trainers as many of your clients can easily relate and connect with you.
If you have considered this as a potential career option, I highly advise you to check out our ultimate guide on turning in to a personal trainer as well as a guide on finding the perfect personal trainer certification for you.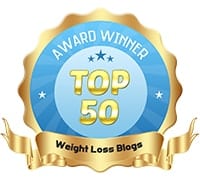 <a href="https://www.ptpioneer.com/top-50-weight-loss-blogs/"><img src="https://www.ptpioneer.com/wp-content/uploads/2016/05/top-50-weight-loss-blogs-award.jpg" ></img></a>