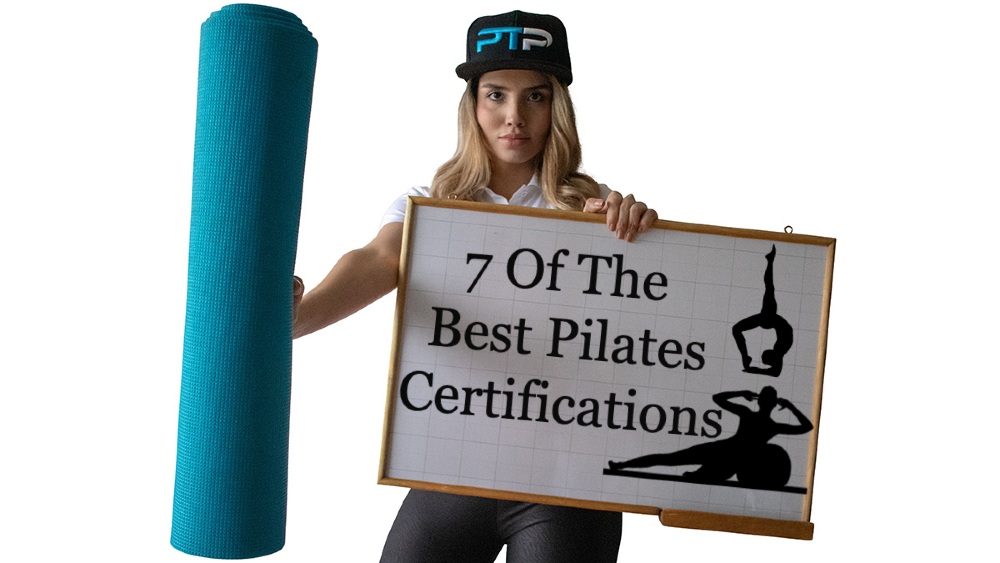 Hi, everyone!
In today's blog post, I wanted to check on a form of fitness training that is becoming extremely popular the world over. And that's Pilates.
I particularly want to explore Pilates teacher training, looking at the kind of accredited Pilates certification programs that you can consider if this is a field you see as your entry into the world of fitness.
The thing is, to become a teacher of this popular fitness discipline, you need to complete a Pilates certification program. That's why I have taken the time to do some in-depth research on the subject.
So below, you will find some of the Pilates instructor certifications that I think you should consider. But before we get into them, it's important to get a background on Pilates and what exactly it is.
So let's begin!
What Exactly Is Pilates?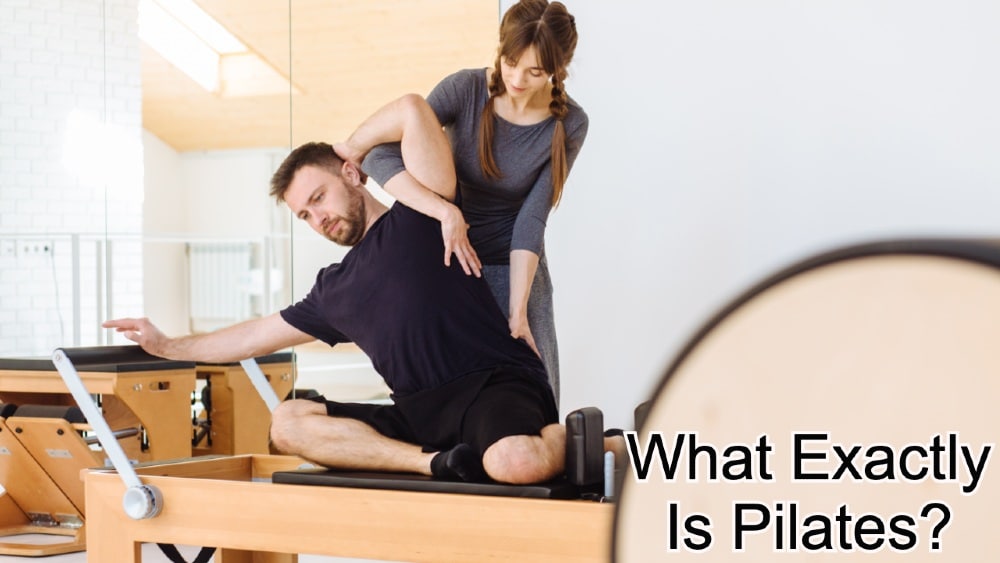 Devised in the early 20th Century, Pilates is a fitness regime that helps to improve strength, endurance, stability and flexibility in the human body. This is done through a series of low-impact exercises that also incorporate alignment and breathing.
Various equipment pieces form also part of the exercises used in a Pilates training program. While most training will start on a mat, Pilates equipment will speed up the ability of muscles to get stronger and stretch. The equipment also helps to improve overall core strength and body alignment.
The great thing about Pilates is the exercise routines can be easily modified depending on the level of the person doing them, from beginners to experts. The intensity can also be increased as those practicing Pilates start to improve in fitness.
A brief history of Pilates
Pilates was developed in German by Joseph Pilates in the 1920s. Although we know it today as Pilates, he didn't call it that, instead he used the name "Contrology". Pilates said he came up with the idea for this form of exercise while held as a prisoner of war during the First World War.
He based his exercises on six core principles: concentration, control, center, flow, precision, and breathing but today, modern pilates has included more principles.
Classical Pilates versus Contemporary Pilates: What's the difference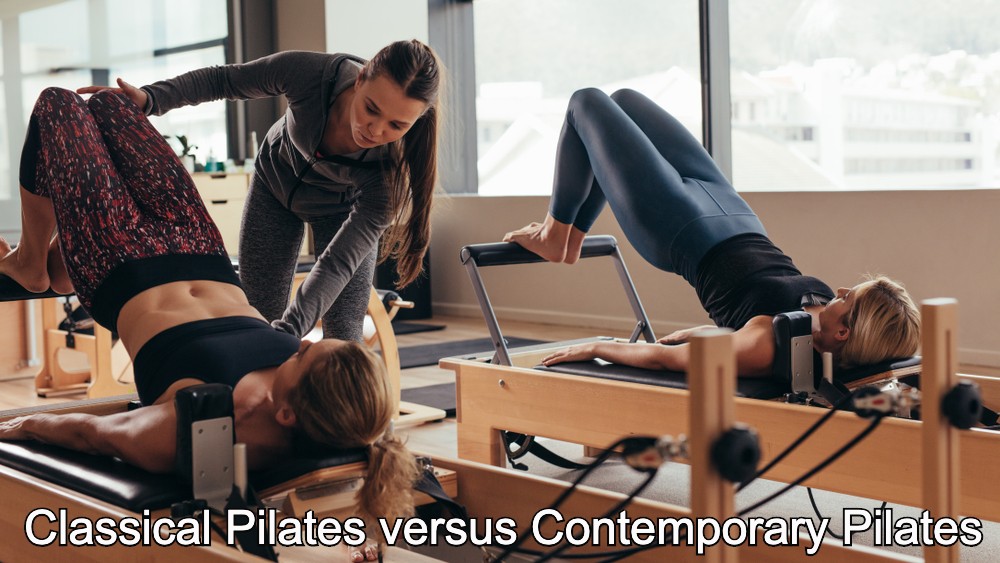 In Pilates, there are two main concepts: classical and contemporary pilates. So when it comes to choosing which Pilates teachers training you want to earn your certification as you should keep this in mind. So let's see the difference then.
In classical Pilates, all exercises and methods are based strictly on the concepts as devised by the founder of this form of exercises, Joseph Pilates. That said, there are still some variations of the order of exercise as well as the exact way that Pilates wanted the exercises to be performed. Another area to note with classical Pilates deals with the pelvis and where it is positioned during mat work. This impacts abdominal exercises in particular where they are conducted with a posterior tilt.
In contemporary Pilates, a more modern approach has applied to the exercise concepts first envisioned by Joseph Pilates. Exercises used in contemporary Pilates are impacted by biomechanics as well as physical therapy. While that means some of the exercises are the same as in classical Pilates, many more have also been added. Contemporary Pilates is often used for injury rehabilitation as a result. Also, in contemporary Pilates, the pelvis is in a more neutral position.
So what's the difference between Pilates and Yoga?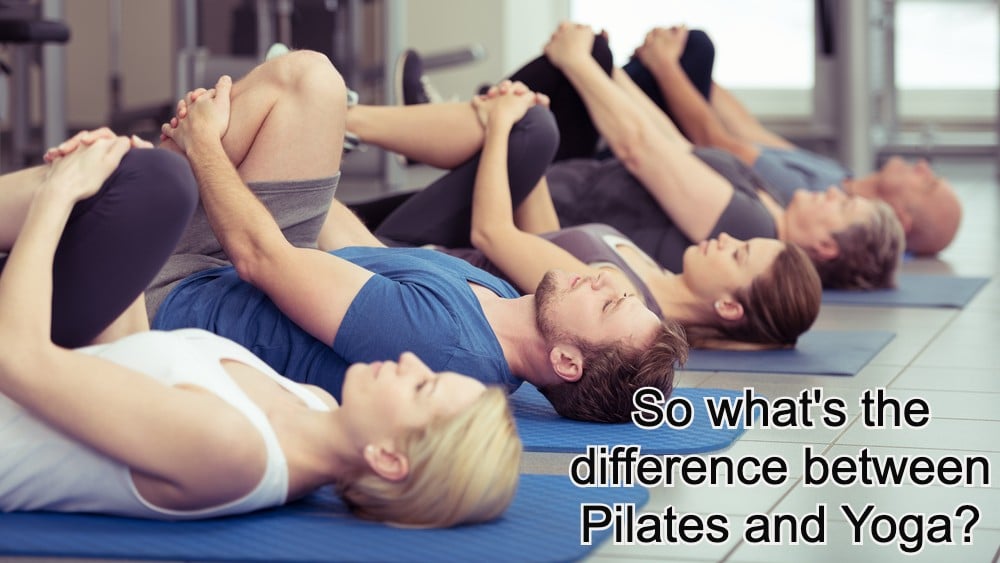 While they might seem similar, Pilates and Yoga are certainly different.
Yoga is about improving physical and spiritual health with the aim of connecting our consciousness as individuals with that of the universe using exercise. That's why yoga includes a meditation aspect. It's also an effective form of stress relief and that's certainly one of the main attractions of yoga for many in our modern world.
Pilates is about improving strength, endurance, stability and flexibility in the human body by using resistance techniques. It also differs significantly from yoga that while both often take place on a mat, Pilates also has equipment that can be used to achieve one's goals with everything focusing on improving the core of the body and moving outwards from there.
The Benefits Of Pilates
While we have now looked at what Pilates is, it's important for you to know its benefits as well.
It provides whole-body fitness
It can be adapted to anyone, from beginners to regular gym goers
It's the perfect way to strengthen muscles without bulking them up
It enhances posture
It improves muscle flexibility
It builds incredible core strength
It can help increase weight loss
Helps connect body and mind
Pilates Instructor Training Programs – Here Are Some Factors You Should Consider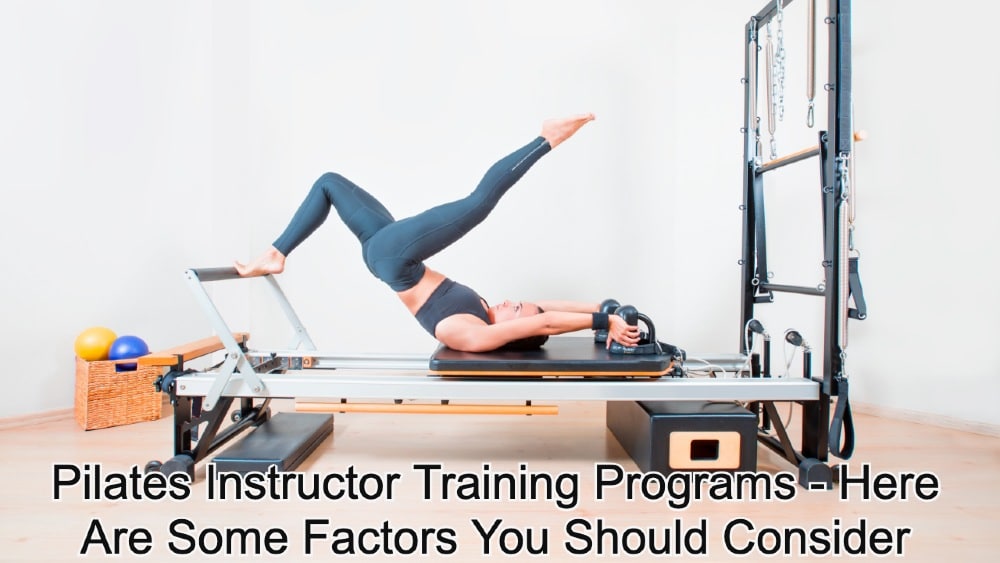 When it comes to Pilates teacher training like many other forms of accreditation, there are plenty to choose from. In this section of the blog, I want to outline a few that I have come across in my research but note, many of them actually have some prerequisites to consider before you can sign up for the course.
The thing is, like many other jobs in the world of fitness, finding the right Pilates instructor training course for you can sometimes be a little daunting. But when it comes to certification, I always say do take your time, do your homework and you will come up with something that will benefit you in the long run.
So let's take a look at a few options for you to consider. Remember, most of these will include the necessary course work as well as practical sessions that must be completed before you can pass.
Balanced Body Pilates Instructor Training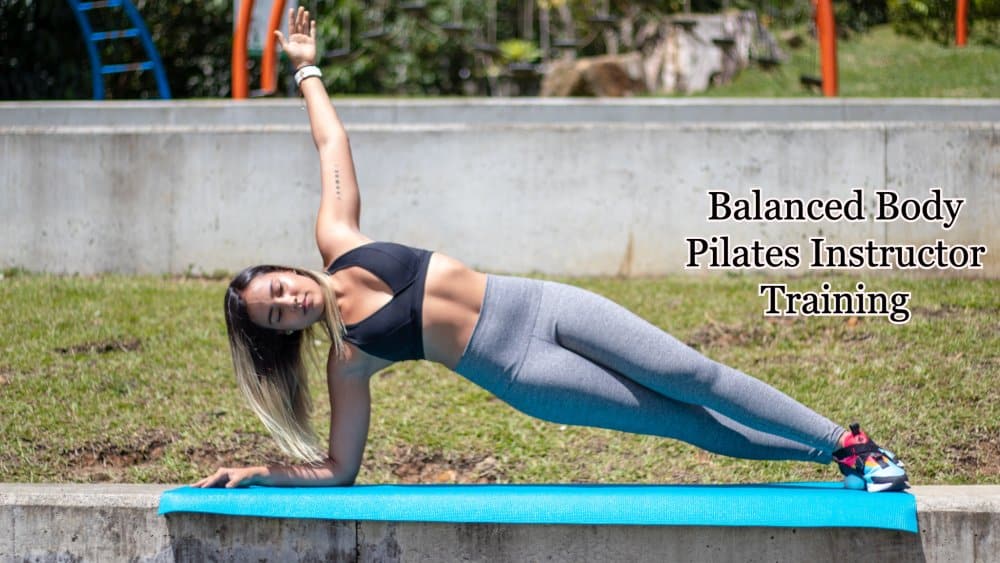 Balanced Body Pilates has training centers in over 50 countries around the world and offers four separate training certifications. These are:
Mat Instructor Training
Reformer Instructor Training
Mat And Reformer Instructor Training
Comprehensive Instructor Training
I want to specifically focus on the first, mat instructor training which consists of four modules. These are Movement Principles and Mat 1,2 and 3.
Prerequisites
To sign-up for this course, you would need to complete the following:
At least 10 mat sessions of Pilates
Worked for 6 months in a similar field of movement
Body Balance Pilates recommend that you complete an anatomy course
Program Length
All-in-all, the breakdown for this program is as follows in terms of length.
Movement Principles (16 hours)
Mat 1 (16 hours)
Mat 2 (16 hours)
Mat 3 (16 hours)
20 personal mat sessions
15 hours of observation
35 teaching hours as a student
That's an overall time of 134 hours. This course is a great entry point into the world of Pilates, that's for sure.
Basi Pilates Teacher Training Program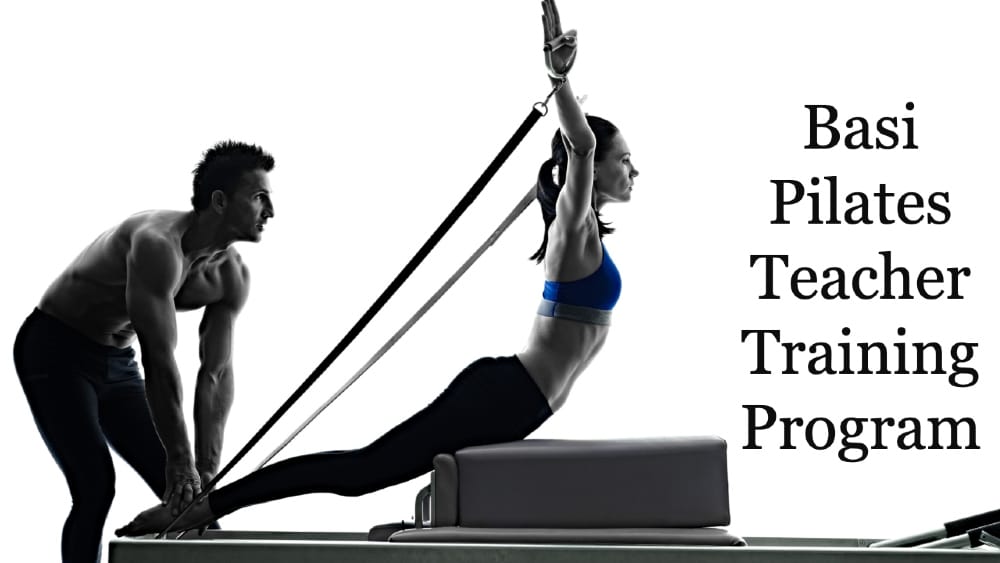 With over 25 years of experience in Pilates training, Basi Pilates offers two specific training certifications. These are:
Mat Training
Comprehensive Training (split into a U.S and global option)
Let's look into the Comprehensive Training certification.
This is split into two sections: the Foundation Program and the Graduate Program which follows it. The first focuses on work on the mat as well as in introduction to some equipment while the second focuses on the full range of Pilates equipment.
The modules in Foundation Training are:
Fundamentals
Anatomy Overview Parts I and II
Posture Assessment
Core Strength: Back and Abdominals
Exercise Adaption
The modules in Graduate Training are:
Exclusive PTP Offers



Gold Standard Cert

Most Popular Cert

A Good Option

Best Study Materials

Best online PT course

The Top PT Software

Muscle Balance and Imbalance
Lower Limbs
The Shoulder
Program Design
Specific Populations I and II
Prerequisites
There are no specific prerequisites listed to partake in these programs
Program length
These courses take place over 3 to 6 months and you will need to attend between 3 to 6 weekends to complete the coursework.
Program Cost
A cost breakdown for both of these programs sees the Foundation Program cost $2,199 and the Graduate Program, $1,999. Additional fees are charged for studio work as well as final testing.
If you enroll in both programs at the same time, you will receive a $200 discount.
Power Pilates Comprehensive Program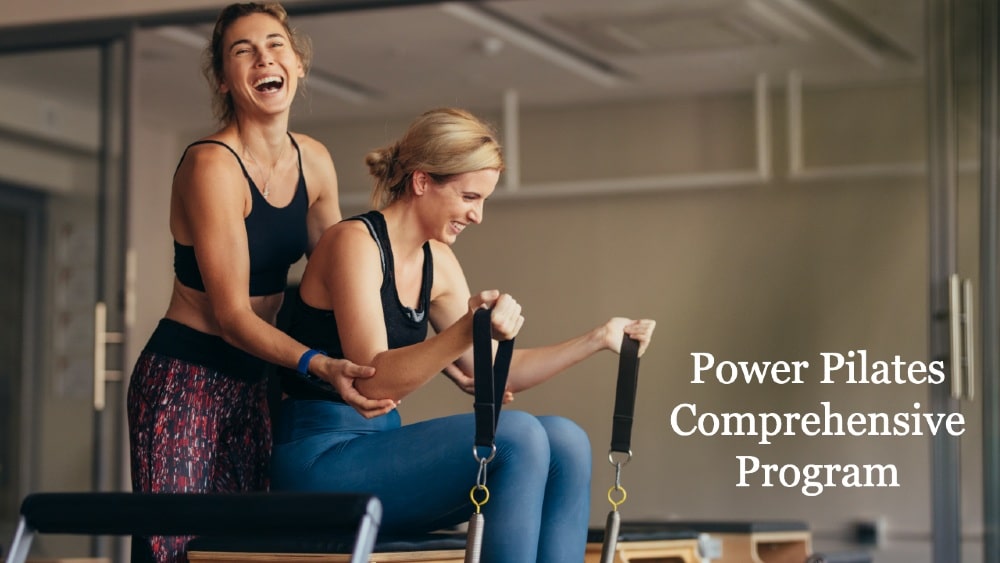 Power Pilates are based in New York but offer this course throughout the United States. This is a Pilates teaching training course that covers the classical discipline at both beginner, intermediate and advanced levels.
Other than working with regular clients, the course also covers special groups such as for overweight clients as well as pregnant women. It includes the use of various apparatus such as the magic circle, barrels, cadillac, reformer, mat and more.
Prerequisites
To sign up for Power Pilates' comprehensive Pilates course, you will need to meet a number of prerequisites.
You need to have taken part in at least 25 apparatus sessions with Pilates instructor (in a classic Pilates environment)
You must have already completed two other courses offered by Power Pilates – Core Mat I & II
You must have read the Joseph Pilates book, "The Pilates Prier: Millenium Edition – Return to Life Through Contrology and Your Health
Within a two-year period before taking the course, you need to have done a Basics of Anatomy workshop from Power Pilates. This can be completed online
Program Length
In total, if you live in New York, the program will take between 6 to 9 months to complete. If you live in another state, expect to take between 6 to 12 months in total.
This includes 600 hours in total comprising lessons, special weekend intensive (of which there are 5 in total) as well as apprenticeship prerequisites to complete the course.
Cost
The cost of this course is $4,995.00 and while that may seem pretty steep, there is no denying that this is an extremely comprehensive offering. This price also includes:
Coursework including a manual
Training
Relevant exams as well as a single retest where needed
Apprenticeship hours (including practice teaching)
Core Pilates Comprehensive Immersion Course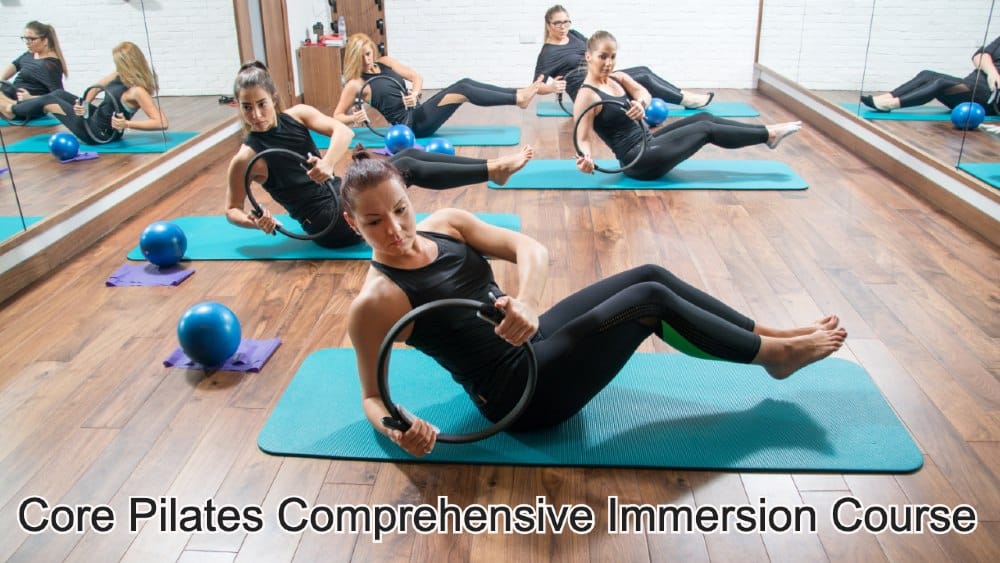 Based in New York, Core Pilates has a wide range of courses on offer. Their most comprehensive and the one I would recommend, however, is their Immersion Course. This classical Pilates course is both hands-on but also incorporates an online aspect.
The course is broken down into the following six components taking place over a six-month period.
An online pre-study course. This includes videos, quizzes and other coursework to get you ready for the main course
A beginners module which includes plenty of theoretical work as well as a live studio apprenticeship
An intermediate module which includes private "feed-back" classes
An advanced reformer module where students work with one of the main pieces of Pilates equipment, the reformer
Various workshops that are a benefit for new Pilates teachers including special case and small equipment discussions
Preparation for the final exam
During all of these modules, hands-on apprenticeship training is carried out and your overall knowledge is tested through two exams.
Let's break down all the other aspects of this course.
Prerequisites
According to the Core Pilates website, there are a number of prerequisites that need to be completed before you sign up for the Comprehensive Immersion Course.
These are as follows:
10 private apparatus classes
10 semi-private apparatus classes
10 regular apparatus classes
These are not part of the pricing for this Pilates program.
Program Length
This six-month course is extremely comprehensive, with all lessons included. It also includes 600 hours of apprenticeship done in a Pilates studio.
Cost
As you can see, this course covers so many aspects of classical pilates. I also love the fact that parts of it are done online. The thing is, it's not the cheapest out there.
In fact, it is going to set you back $5,495. I really have no doubt that if you can afford it, this is the course for you.
And for that price, you get:
Access to all the online material including manuals, videos and written coursework for life
All exam fees are included (but not re-tests. Those will cost an additional amount)
600 hours of live studio apprenticeship
6 extensive Pilates modules
Access to mentors/coaches
Peak Pilates Comprehensive Certification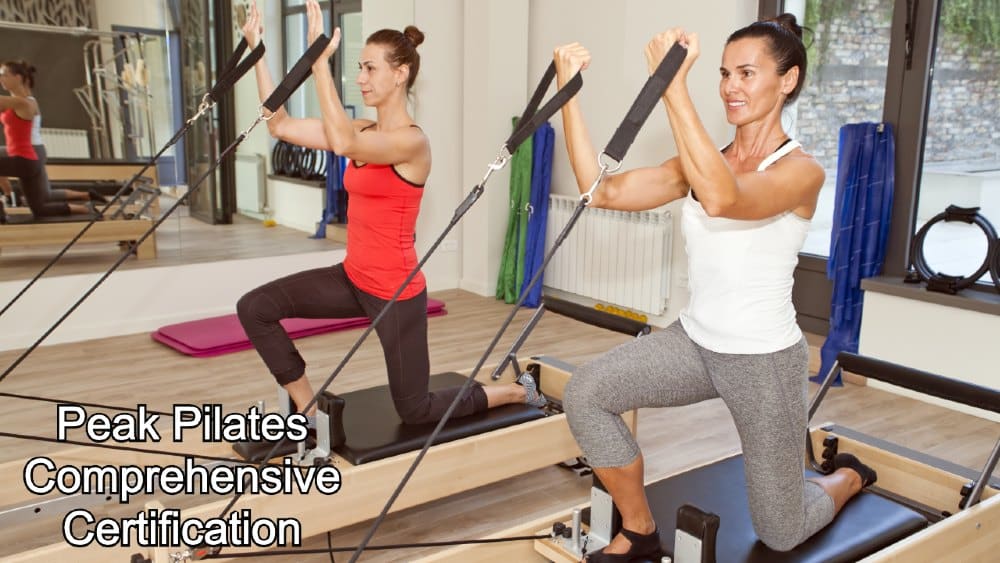 The Comprehensive Certification from Peak Pilates includes a modular program incorporating three levels of learning. These cover core Pilates principals like the mat, reformer, barrels, tower, chairs and other supplementary equipment. The focus here is to teach Pilates as the integrated movement system that Joseph Pilates envisaged.
This certification is offered around the country in most major centers or close to them. For now, I think it's necessary that I show you a breakdown of the three different levels of training and the modules they include.
Level 1: This includes four modules. They are broken down as follows:
Module 1: Foundation – An introduction to Pilates principals (20 hours)
Module 2: Introduction to apparatus such as the reformer, barrel and more (20 hours)
Module 3: Beginner/Intermediate apparatus includes more work on the reformer and other added apparatus as well as how to structure a session (20 hours)
Module 4: Teaching, techniques and assessments include final apparatus instructions as well as teaching practice (20 hours)
Students who complete level 1 must have 120 logged hours and pass all assessments.
Level 2: This includes two modules: They are made up of the following:
Module 1: Mat – intermediate level (20 hours)
Module 2: Chairs and barrels – intermediate level (20 hours)
Students who complete level 2 must log 60 hours and pass all assessments.
Level 3: This includes four modules. They are:
Module 1: Advanced level mat and equipment (reformer and cadillac) – (20 hours)
Module 2: Advanced level equipment (auxiliary, chairs and barrels) – (20 hours)
Module 3: Final assessment (take place over a day)
Students who complete level 3 must log 60 hours and pass all assessments.
Prerequisites
If you sign up for Level 1 of this course, there are a few prerequisites that you will need.
You need to understand and have a general basic knowledge of kinesiology as well as the human anatomy
20 hours of Pilates training
It is also recommended that you hold a CPR/AED and First Aid certification
Program length
In this certification program, each module takes place over a weekend. Because it depends on where you live in the United States and the schedules that these modules are run on, it's difficult to pinpoint an exact program length.
That said, each module is run from a Friday to a Sunday. In terms of hours, you will need to log around 400 hours in total as per outlined in the three levels and nine modules
Cost
The total cost for this course is $5,619. But please note that each module is paid for separately.
Level 1 Module 1,2,3 – $685 each (Total = $2055)
Level 1 Module 4 – $599
Level 1 overall total: $2654
Level 2 Module 1,2 – $685 each (Total = $1370)
Level 2 overall total: $1370
Level 3 Module 1,2 – $685 each (Total =$1370)
Level 3 Module 3 – $225
Level 3 overall total: $1595
All course materials are included in the price of each module.
Fletcher Pilates Comprehensive Program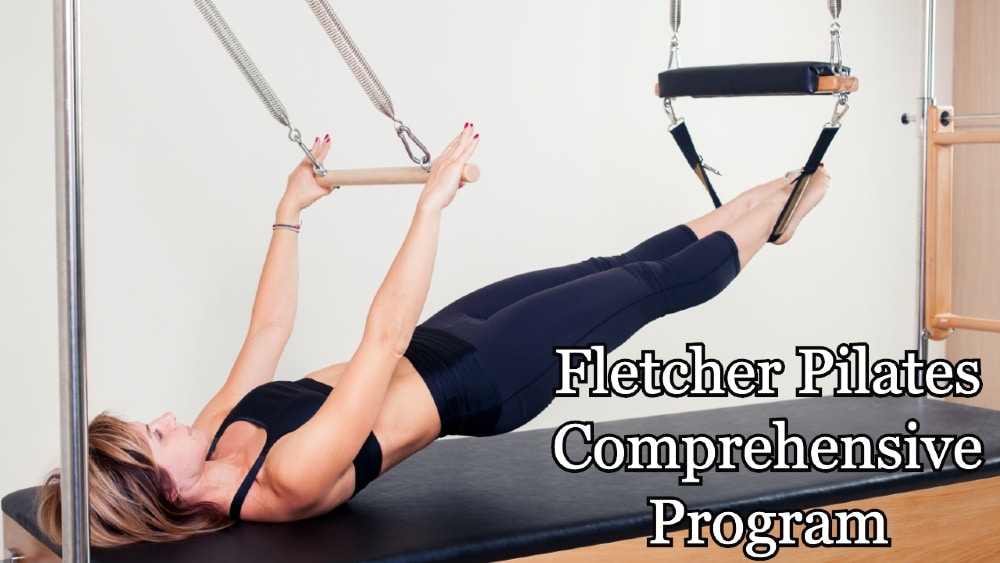 Fletcher Pilates was started by Ron Fletcher, considered to be one of the forerunners of the discipline in the United States. Sadly, Fletcher passed away in 2011 but his extensive knowledge of Pilates can be found in the Comprehensive Program.
This is a classical Pilates program that is offered in various studios around the country. In fact, studios interested in hosting a course can contact Fletcher Pilates to come and run one.
Exclusive PTP Offers



Gold Standard Cert

Most Popular Cert

A Good Option

Best Study Materials

Best online PT course

The Top PT Software

The Comprehensive Program has three modules.
Preparatory Course
Foundational Program
Professional Program
There is also a bridge program for students who have other certifications but would like to study the Comprehensive Program as well. Let's some time to look at the three modules in a little more detail.
Firstly, the Preparatory Course. This course provides an overall view of what exactly the Comprehensive Progam includes. And it's practical. So each student will learn to partake in each of the exercises they will learn to teach in the Foundational Program. This is a 30-hour course.
Secondly, we have the Foundational Course. The core part of the Fletcher Pilates Comprehensive program, the Foundational course classroom sessions, casework, practical studies, anatomy studies and more. Students who have completed this course are certified to train others in Pilates.
Last, we have the Professional Program. Once a student has passed this program, they are considered to be a professional Pilates teacher. The Professional Program includes classroom sessions, casework, anatomy and practical studies.
Prerequisites
All students interested in participating in the Comprehensive Program must first complete 30 private lessons so as to learn important Pilates concepts through their own bodies first.
A bridging course must be completed by already certified Pilates trainers with other forms of accreditation who want to undertake the Comprehensive Program.
Program length
As you would expect, for such comprehensive training, there are hundreds of hours that a student will put in to become a certified Fletcher Pilates instructor. Here's a breakdown.
The Preparatory Course is a review of the whole syllabus, as well as practical aspects of Pilates. It will take 30 hours to complete.
The Foundational Course takes 10 months to complete and includes 600 hours of training. The core of this is classroom sessions (120 hours) and practical participation (140 hours) but also includes anatomy studies, casework, observing and assisting and more. You will attend four 5-day sessions in a classroom as well have 3-hours each week of anatomy study as well as homework. Over and above that, each week also includes 10 to 12 hours of practicals and casework.
The Professional Cours takes an estimated 8 months to complete and includes 400 hours of training. This comprises classroom sessions (120 hours), observing and practical work (120 hours) and casework (90 hours) as the main sections. Others include mentoring, anatomy study as well as homework. You will attend four 5-day sessions in a classroom as well as cover anatomy studies for 3-hours each week. There are also 10 to 12 hours spent on practicals each week.
Cost
I am sure you would agree that when it comes to Pilates studies, this course is as comprehensive as it gets. And for that reason, it pretty expensive.
All-in-all, the Comprehensive Program will set you back $10,000 but that covers the Foundational and Professional Programs as well as all the coursework associated with both of them.
There are some additional aspects to consider. For example, as I mentioned you will need to complete the Preparatory Course before you are allowed to sign up for the Comprehensive Course. And that costs $1,500.
You would also need to complete 30 private lessons, currently $70 per session.
Stott Pilates Comprehensive Program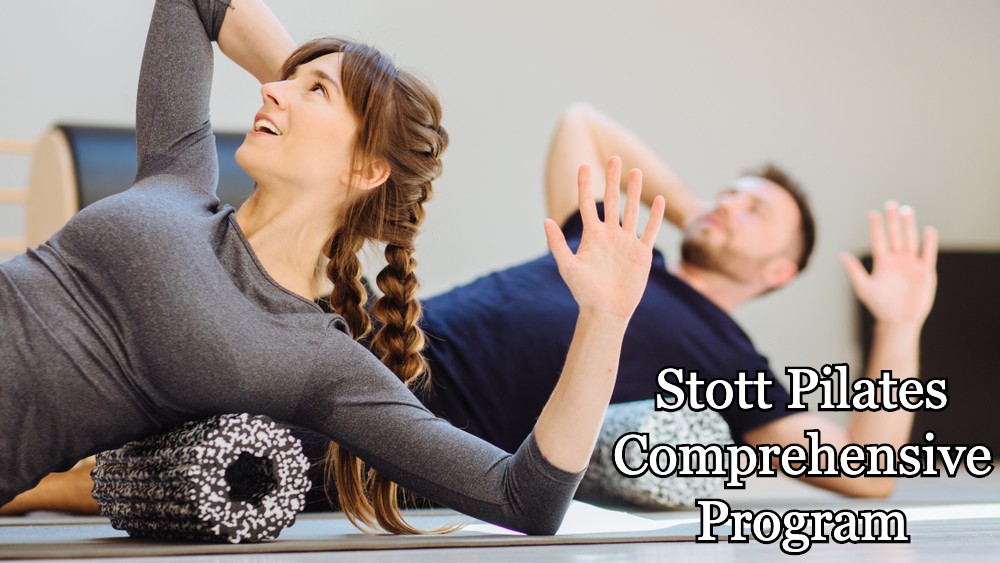 Our last certification is the Comprehensive Program from Stott Pilates. This full-time course includes two modules that cover mat work as well as equipment. They are:
Comprehensive Mat Work and Reformer
Comprehensive Cadillac, Chairs and Barrels
Once these modules are completed and the relevant exams passed, students are now Stott Pilates certified instructors. Note, Stott also offers an Intensive Program.
Prerequisites
To sign up for the Comprehensive Program, there are two basic prerequisites. Participants must have some experience in the world of movement, fitness or even dance and they must have completed 30 hours of Pilates classes.
Program Length
The length of the two programs is as follows:
Comprehensive Mat Work and Reformer – 12 to 15 weeks at which point an apprenticeship period follows
Comprehensive Cadillac, Chairs and Barrels – 8 weeks at which point an apprenticeship period follows
Cost
The costs for these two modules on the Comprehensive program is $2,890 for Comprehensive Matwork & Reformer and $1,520 for Comprehensive Cadillac, Chair & Barrels.
Note that this does not include course work, which needs to be bought separately. Course work includes workbooks and DVDs. All other necessary materials are supplied.
I think this is a great course to get your Pilates certification and its not as expensive as some others. But that may be because you need to buy your own study materials.
Last words…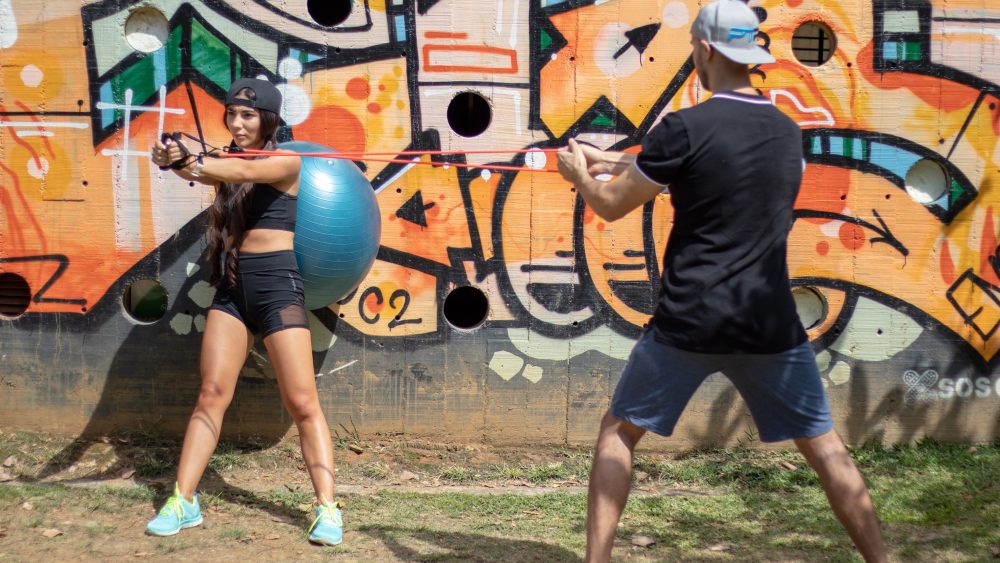 Well, I hope that you have enjoyed this piece on Pilates instructor certifications as much as I enjoyed researching it. Without a doubt, taking a Pilates training certification is the only way that you should be thinking if you want to become a Pilates instructor in the future.
And I have certainly highlighted some of the best Pilates teacher training programs out there. It's up to you know to do your research and from these Pilates training programs, pick the one that best suits your needs.
Remember, many of these courses do have prerequisites before you can sign up. These are not factored into the overall price so you need to remember this important aspect when budgeting.
Well, I hope that you found this blog interesting. The awesome news is that if you want to become a Pilates teacher in the United States, a decent certification that will teach you everything you need to know, including the crucial practical aspects, is not that difficult to find.
If you have any questions about Pilates or anything else, please leave me a comment below and I will get back to you as soon as I possibly can.
Bye!
References
Discover All PTP Fitness & Wellness Career Articles
Tick a box from each section to narrow the results.
×
I want to know more about: