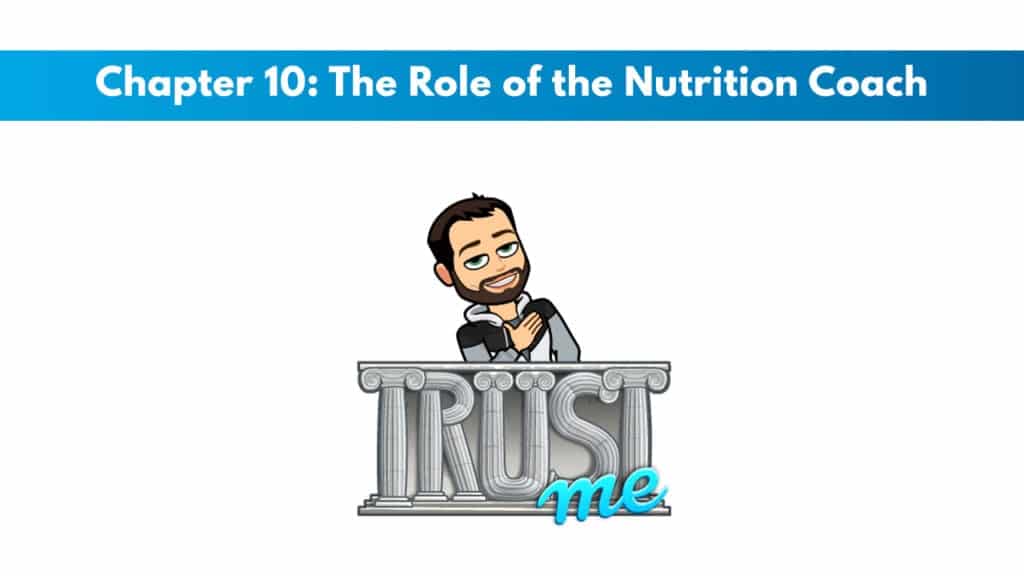 Post 10 of 18 in the ISSA Nutritionist Study Guide
Chapter Goals:
Be able to define the job of a nutrition coach.
Know the differences between a nutrition coach and a licensed professional.
Be able to understand the best practices for referring clients to medical professionals.
Be able to summarize the qualities of an effective nutrition coach.
Be able to explain the health insurance portability and accountability act.
Introduction
It is thought that five million people will go on restricted plans for dieting each year, and then spending is around 33 billion dollars for weight loss products. This shows how big of a market there is for nutrition in general.
The most common reason for positive energy balance leading to gaining weight is the excess intake of calories, and then nutrient shortfalls that contribute.
Some common nutrients lacking in the diet of Americans are things like vitamin D, calcium, potassium, and fiber.
With all of the advice, information, and resources that are available about diets, nutrition, and fitness, it can be rather hard for the general public to find the best advice for their own situation. This is where the nutrition professional comes in.
What is Nutrition Coaching?
Nutrition coaches do not only act as knowledgeable guides, but they also help to apply the information from clients and their life and health situations.
Every client is unique. They have different health statuses and goals, and the coach has a job to tailor the nutrition to that specific client.
Nutrition Coaching empowers clients to take responsibility for their own health through the provision of resources and nutritional advice, and the coaching of non-dietary aspects, also.
Scope of Practice
A nutrition coach will find themselves with a diverse population of clients, and some will have pre-existing conditions with their health.
The nutrition coach will often deal with clients that struggle with obesity, food addiction, eating disorders, food allergies, and medical conditions.
The scope of practice for nutrition coaches is limited by state and federal laws and what they allow a health care practitioner to do regarding their education and experience levels.
Every state and province in North America has differing rules for the provision of nutrition advice.
The only states that don't have legal limitations on nutritional coaching or nutritionists are Arizona and Michigan. These two states has it legal for both trainers and nutrition coaches to make nutritional suggestions for healthy, active people.
The academy of disease and dietetics gives a current list of states, statutes, and their regulations.
The ultimate goal for the scope of practice, is to allow the nutrition coach to give healthy people advice and information , to answer general questions about nutrition, and to make a plan with the clients to reach the nutrition goals.
Nutrition coaches often make suggestions regarding the sleep levels, adequate hydration, pre and post workout nutrition.
Some other things that coaches may offer to help with, are on the topics of Calorie management strategies, food selection, food timing, and healthy lifestyle choices.
Exclusive PTP Offers



Gold Standard Cert

Most Popular Cert

A Good Option

Best Study Materials

Best online PT course

The Top PT Software

Some nutrition coach CAN DO's are:
Provide general nutrition information like the role of fats, carbs, and proteins or healthy sources of those macronutrients.
Share their research regarding the absorption, effects, or the uses of macronutrients or micronutrients for normal and healthy individuals.
Discuss the information, advice, tips, or research about the effective behavior change strategies and reaching set nutrition goals.
Some nutrition coach Can't Do's are:
Diagnosis, treatment, or the giving of advice for medical nutrition needs.
Offering treatment advice for specific medical conditions.
Offering treatment advice for any mental health conditions or eating disorders.
Discuss personal relationships, career, and life advice.
Referring Clients
It is important for nutrition coaches to create a network for referral of their clients, since the scope of practice places the limits on what they can do, and often clients will want things outside of those limitations.
Here is a list of some of the common conditions and the professionals to which that client would be referred to:
Disordered eating – therapists, psychologists, and clinical social workers who specialize in eating disorders.
Digestive issues – Gastroenterologist
High Blood Pressure – Physician or cardiologist
Food Allergies – Allergist or Physician
Diabetes – Endocrinologist
Thyroid Issues – Endocrinologist
Sinus Issues – Physician or ear, nose, and throat specialists
Building basic relationships with various professionals may lead to them using you for referrals when their clients wish to have your nutrition services.
A nutrition coach can market their services to these other professionals in order to generate excitement and stay relevant.
Qualities of an Effective Nutrition Coach
The nutrition coaches have unique opportunities to affect the nutritional habits of people and their overall lifestyle choices with well-rounded and inclusive approaches.
There are several qualities to help with being an effective nutrition coach:
Well educated
Work inside the scope of practice
Meet the needs of clients
Assess the clients accurately
Build rapport
Motivate other people
Set the right goals
Gain commitment
Build mental toughness
Refer clients to the right places
Be professional
Quality and Current Education
All professions need some form of requirements for education and training, and nutrition coaching is not free of that. It is also important for the nutrition coach to stay up to date regarding the current research and information in the field of nutrition.
Working Within the Scope of Practice
In order to be effective as a nutrition coach, you must be aware of the lines that govern the scope of practice.
Meeting Client Needs
Like with clients, there are different coaches based on shape, size, and life experience.
Motivational interviewing is important to implement as a coach in order to be successful. There are five basic steps or principles:
Resist telling, convincing, or directing a client regarding the right path for them.
Understand their values, abilities, needs, motivations, and potential barriers to behavior change.
Listen with both empathy and understanding for the client's perspectives.
Empower the client to set achievable goals and to provide techniques for which they can do that.
Encourage both autonomy and self-sufficiency.
Assessing Accurately
Some clients are ready to change, and other clients have thought about change for a long time and just have not taken the steps to do it.
The stages of change, also known as the transtheoretical model, is used to find the readiness to change for the client, and the nutrition coach can use this information to accurately assess the stage of change and match the intervention used for that stage.
Pre-contemplation stage has the client with no intention of addressing a behavior.
Contemplation stage is when the client is aware of the need for change but have barriers to overcome it.
Preparation stage is when someone has the desire to change, but they are also seeking a way to do it.
Action stage is when someone is taking the needed steps to address their own behaviors and change them.
Maintenance stage is when someone is continuing to do what is needed for them to keep going with their desired behavior.
Building Rapport
Clients that seek help from professionals will most likely seek a level of comfort and trust with people. Without trust, the efficacy of treatment is reduced and may even deter the professional relationship.
Motivating Others
Motivation describes the reason for which someone is acting or behaving in a certain way and it is important to identify for people contemplating or making a change.
A nutrition coach is also tasked with keeping clients connected to their own motivations throughout the process to prevent or minimize the regressions.
Exclusive PTP Offers



Gold Standard Cert

Most Popular Cert

A Good Option

Best Study Materials

Best online PT course

The Top PT Software

Setting Goals Appropriately
SMART goals are the types of goals we should aim to make.
SMART goals are the ones that are specific, measurable, attainable, realistic, and timely, and they ensure that a client has a clear plan of action.
Goals should be client-appropriately, they should align with the beliefs, values, and motivation of the client.
Gaining Commitment
Lasting lifestyle changes are difficult to make and they may be complicated by external and internal influences.
Commitment is the quality of being dedicated of a cause or goal.
Commitment strategy is a way to gain leverage on oneself or others and make desired changes.
Building Mental Toughness
Mental toughness and grit is used to describe the way a client approaches and responds to adversity and it is closely related to the stages of change that the belief of building mental toughness will have an end goal of self-efficacy and interdependence in thought and process.
Referring to Clients Appropriately
An effective nutrition coach needs to know when they should refer a client to the right medical professional.
Ethical Considerations of a Nutrition Coach
All health care providers, fitness and nutrition professionals, and mental health professionals have ethical and legal challenges to consider and to be aware of in their practices.
Client privacy
Protecting health and medical privacy means that you are maintaining the security and confidentiality of the client's records. This can mean protecting the client records and the discretion of the health care providers themselves.
With the introduction of electronic medical records, protecting the privacy of your clients has become an even greater concern. These electronic records are at risk for privacy issues when not stored or handled well.
Health Insurance Portability and Accountability Act
This was enacted to protect the clients' privacy and confidentiality, and it is also simply known as HIPAA.
The rules of HIPAA are three central ones:
Privacy rules
Breach notification rule
Security rule
These HIPAA laws are put in place and followed by all health professionals.