Hey everybody, and welcome to yet another PT Pioneer article.
Today we'll be continuing with my state by state series, where I'll be using location to help you decide on where best to take your career in fitness.
To do this effectively, I'll use a blend of data and statistics and my own educated opinion based on years in the industry.
This article will focus on how to become a personal trainer in Wyoming, looking at the ins and outs of the local health and fitness industry.
For the sake of relevance, brevity, and sticking to the point, I'll only focus on the top 3 cities by population.
That means we'll seek to become a personal trainer in Cheyenne, Casper, and Gillette.
I'll show you the opportunities available in these major cities' fitness industries.
I'll also briefly introduce you to qualifications and credentials by showing you personal trainer certification in Cheyenne and other Wyoming cities.
With that said, let's jump right into it.
Make sure to check out the general guide on how to become a personal trainer.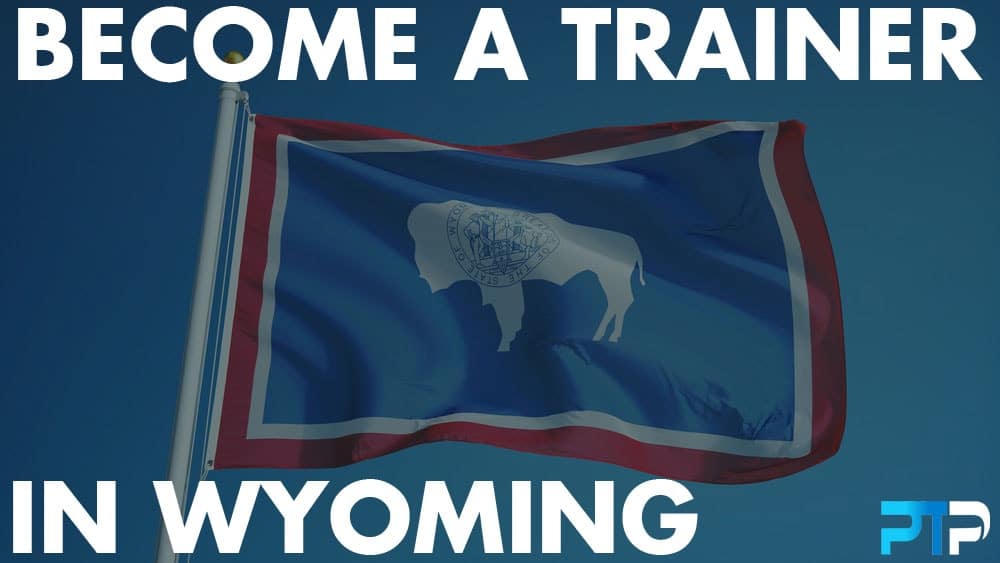 State Fitness Rating


Right before we look at Cheyenne's personal training jobs or how to become a personal trainer in Casper, we need to get a handle on Wyoming's industry status.
The best way to do this is to look at the population's consumer habits regarding the fitness industry, and the quickest way to do this is by evaluating the state fitness ranking.
The good folks over at exercise.com have compiled a ranking of all 50 states and one district (DC) to help us understand the fitness levels on a state by state basis.
Two key aspects are analyzed in this rating. The first is the obesity prevalence rate. The next is the top gyms per capita ratio.
Where obesity is concerned, the prevalence indicates how health-conscious the local population is.
A high level of health consciousness, indicated by a low obesity prevalence, would suggest high consumer activity in the fitness industry.
Wyoming has an obesity prevalence of 27.7%, making it the 17th least obese state in America.
This decent figure assures that Wyoming's fitness industry is well enough engaged for a successful career to be forged.
Now let's look at the top gyms per capita statistic, but we need to understand what "top gyms" are before we do that.
In this case, top gyms are simply the popular mainstream gyms that most people will have at least heard of or come across.
Such gyms include:
Gold's Gym
24 Hour Fitness
Anytime Fitness
Crunch Fitness
LA Fitness
Orange OrangeTheory Fitness
Planet Fitness
Snap Fitness
YMCA
Apart from the ones I mentioned above, others also fall into the category of top gyms, such as:
Fitness one Casper WY
Gold's Gym
Cheyenne Barbell
HIX Fitness center
These gyms are valued as reliable indicators of a state's health rating because they represent the most widespread, accessible, and affordable fitness solutions for the general consumer.
Exclusive PTP CPT Offers



Gold Standard Cert

Most Popular Cert

Best Study Materials

A Good Option

A Good Option

Best CPT for you?

They also signify the most immediate employment opportunities for trainers such as yourself.
Wyoming has 36 top gyms for a total population of 585,501 residents.
This means for every 100k members of the population, there are 6.15 top gyms, giving us the gyms per capita ratio.
This is great news for Wyoming's tiny population; they are indeed spoiled for choice.
This is why the state ranks 16th regarding gym access by population.
However, despite how good this figure may seem, it means you are limited to a maximum of 36 potential job openings.
It's actually more productive to your career goals to be based in a place with a low gym per capita ratio but many gyms overall.
Fitness Market Makeup
The fitness market in a place like Wyoming will be a mixed bag.
The relatively low obesity stats indicate that the average gym-goer's fitness goal level and exercise knowledge would be above average.
This category of clients requires a more meticulous approach to adopting a healthy lifestyle since the level of discernment, as well as the level of their goals, will be higher.
Brushing up on athletic training methodologies, exercise physiology, and exercise programs that will help enhance performance and correct imbalances is essential in that case.
From experience as a fitness instructor, you must be on top of your game and have an "extra" that you are always offering.
Personal Trainer Certifications in Wyoming
I need to let you know that before you can embark on a career as a personal trainer, you need to obtain some certifications.
Personal training certification in Gillette and other cities is needed to get a job as a personal trainer in Wyoming.
I have written an article on my best personal trainer certifications. Use this as a guide on becoming a certified personal trainer in Wyoming.
Overall here are my top 2 best personal trainer certificates in Wyoming. Ensure you possess any of them when you decide to become a personal trainer in Gillette and other areas.
Personal Training schools in Wyoming
Personal trainer certification in Gillette and other cities in Wyoming is a necessity.
However, it is possible and maybe even beneficial to take things a step further and upskill your credentials in the form of a bachelor's degree.
Enrollment and graduation in an exercise or fitness-related field can do wonders for your profile within the industry.
From my findings, having a degree in an exercise science field like Kinesiology will certainly boost your chances of getting a great job.
For instance, applying for a job as a fitness trainer will see you pushed to the front of the line, as most applicants would probably have a certification.
It also qualifies you for more senior positions that are inherently better paying.
Lastly, running your own independent business or practice in fitness programs will mean your name, brand, and services are associated with a high-level credential, allowing you to price accordingly.
The only drawback is that there aren't many kinesiology schools in Wyoming.
Exclusive PTP CPT Offers



Gold Standard Cert

Most Popular Cert

Best Study Materials

A Good Option

A Good Option

Best CPT for you?

In fact, when it comes to exercise science schools in Wyoming, there is only one: the University of Wyoming, Kinesiology and Health department.
In any case, getting a degree in the field of fitness and strength training can be a massive benefit. With that said, you should only consider enrolling in a degree program if it serves a deeper passion for immersing yourself fully in the field of fitness professionals.
Getting a degree, especially post-grad, is quite a financial and time investment.
I did a little research and discovered some community colleges where you could also get a degree in Kinesiology, and they are:
Personal trainer certification in Casper, Wyoming strength and conditioning certification, and any other city should suffice.
Personal Trainer Jobs in Wyoming
Personal trainer jobs in Cheyenne and other locations will require a little creativity and a lot of dedication.
This is due to the sparsity of gym employment options and the generally small population.
While employment in one of the top gyms is an ideal starting point for any newbie trainer, it might not be an easy option for the reasons above.
Diversify your activity by building an online presence of a wellness training program and making yourself known beyond just your immediate location.
Best Cities to Become a Personal Trainer in Wyoming
As I've already pointed out, the best places to work are those with the most significant populations.
Overall, Wyoming is a small state, so to make anything of your career in fitness there, you must strictly focus on the biggest cities and accept nothing else.
That means Cheyenne should be your plan A, Casper your plan B, and Gillette your plan C.
I generally consider a population of more than 100k residents as a decent minimum, but as you can see, not a single city in Wyoming cracks this threshold.
But still, you should learn to maximize the opportunities that abound in these cities irrespective of the population.
| City In Wyoming | Population |
| --- | --- |
| Cheyenne | 63,607 |
| Casper | 58,446 |
| Gillette | 32,857 |
| Laramie | 32,381 |
| Rock Springs | 23,319 |
| Sheridan | 17,844 |
| Green River | 12,069 |
Personal Trainer Salary in Wyoming
Personal trainer jobs in Gillette and other cities require you to put some forethought into a few things.
One of those being the potential income you could be earning.
In Wyoming, personal trainers earn an average of $55,180 per year. This is much lower than the national average of $61,802, according to salary.com.
Jobs in Yellowstone national park's salary is worth checking out from my research.
This might seem unimpressive at face value, but to truly tap into the value of an income, you need to match it up against the cost of living.
The cost of living is one of the measures of quality of life, so let's take a look at that as a whole.
Make sure to check out the full guide on personal trainer salary.
Quality of Life Rating
Where you work is typically where you live, so personal trainer jobs in Casper will require you to consider the quality of life in Wyoming.
The quality of life in Wyoming is considered pretty high.
It's not uncommon for states with tiny populations to have a high standard of living.
That's because such small populations often form clusters of close-knit communities that care for each other and abide by a code of social order that keeps things more or less civil.
Wyoming does reasonably well with crime and safety, education, and infrastructure.
Health care is a bit of a drawback, as is the economy's general state, which indicates the state's small size.
As for the cost of living, Wyoming is more affordable than most places in America, but not significantly enough to offset the lower income figure.
Overall, I'll give Wyoming a 6 out of 10 QoL rating.
Methodology
After a series of research, this detailed review was concluded using the following parameters:
The population of the state and its major cities.
The obesity figures as compared with other states.
Wyoming certification programs.
Availability of personal training schools & colleges.
Career prospects for personal trainers.
Earning potential for certified PTs.
Quality of Life (QoL).
FAQs on How to Become a Personal Trainer in Wyoming
What does it take to become a personal trainer in Wyoming?
You can become a Personal Trainer in Wyoming through the following process:
Start and complete an exercise science, physical education, and kinesiology degree program from an accredited college or university.
Obtain a certified personal trainer through a recognized certifying body.
What certs do I need to become a personal trainer in Wyoming?
How much is a personal trainer salary in Wyoming?
According to salary.com, a personal trainer earns an average of $55,180
In Wyoming, personal trainers earn an average of $55,180 per year.
Final Words on How to Become a Personal Trainer in Wyoming
Wyoming is a beautiful, idyllic tiny slice of heaven as far as states go.
However, the small population and lackluster economy mean a successful fitness career will be harder fought than in most other parts of the country.
You should not allow the small population to deter you from setting up your own fitness business.
Let it rather spur you to give your best to the community, which will earn you to charge a premium for your service, thus increasing your income to industry standard.
The more years of experience, skills, education level, and certifications you possess, the better the opportunities you'll eventually be able to maximize.
References
https://www.exercise.com/learn/ten-fittest-states-in-the-us/
https://www.americankinesiology.org/SubPages/Pages/Kinesiology%20Institution%20Database