Hey everyone, and welcome to yet another insightful PT Pioneer article.
My goal is to help you achieve career success through the right qualifications and business strategies.
One of the key strategies is understanding all the factors that affect your career success.
One such factor is location, which is why this and many other articles will be going state by state, revealing what it takes to make it big based on where you're located.
I'll be using a combination of raw data gathered from various sources, as well as my expertise in the fitness training industry.
This time around, we're dealing with how to become a personal trainer in Wisconsin.
I want this article to bring you valuable insight for the purposes of making the right decision.
For that reason, I'll be limiting my focus to the main three metropolitan centers in the state.
That means we're looking at how to become a personal trainer in Milwaukee, Green Bay, and Madison.
We will also take a look at personal trainer certification in Milwaukee and other cities.
And with that said, let's get right into it.
Make sure to check out the general guide on how to become a personal trainer.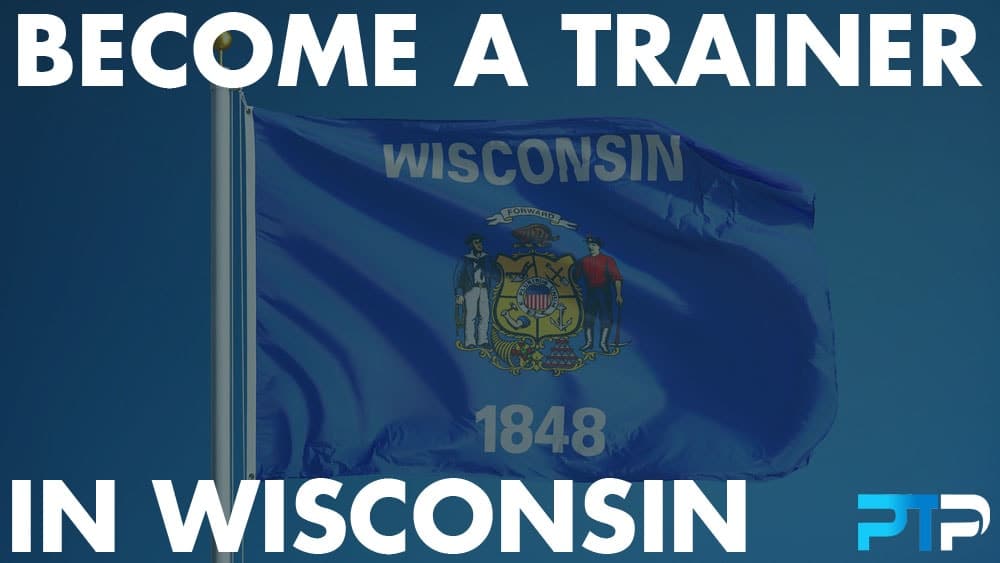 State Fitness Rating
Before we look at how to become a personal trainer in Madison and other parts of Wisconsin, it's important to understand what the local fitness industry looks like.
To do that, I've decided to use data compiled by exercise.com.
They developed a ranking system of all states, looking at each state's population health and ranking them accordingly.
This data is primarily focused on how healthy people are and also helps us understand how viable each state's industry is when it comes to career prospects.
We'll be looking at two categories of data in this regard, those being the obesity prevalence and the top gyms ratio.
Obesity stats let us know how health-conscious a population is. The less obese, the more health-conscious, the more likely to spend on health and fitness services.
Wisconsin has an obesity prevalence of 30.7%. This is considerably high and gives the state a rank of 28 when it comes to obesity.
This isn't ideal when it comes to potential opportunities, although there are worse places out there.
Next, let's look at top gyms, but what even are top gyms before we do that?
Top gyms include the following well-known brands:
Exclusive PTP CPT Offers



Gold Standard Cert

Most Popular Cert

Best Study Materials

A Good Option

A Good Option

Best CPT for you?

Gold's Gym
24 Hour Fitness
Anytime Fitness
Crunch Fitness
LA Fitness
OrangeTheory Fitness
Planet Fitness
Snap Fitness
YMCA
These are regarded as reliable indicators of a state's fitness rating due to their widespread availability, affordability, and ease of use.
They represent the lowest hanging fruit when it comes to access to fitness.
Wisconsin has 431 top gyms to a population of 5,778,708. That means for every 100 thousand people in the state; there are 7.46 gyms at their disposal.
This is a great top gym per capita ratio, putting Wisconsin in 3rd place when it comes to gym access.
And it's also great news for personal trainers like yourself. That's because you'll have at least 431 potential employment opportunities.
Overall, Wisconsin ranks in at number 9, making it one of the top 10 fittest states in America.
Fitness Market Makeup
Before jumping on Personal trainer jobs in Milwaukee, we need to look at the market.
Despite the high fitness rating, we need to remember that Wisconsin has somewhat of an obesity problem compared to other fit states.
The high rating is really just bolstered by the huge availability of gyms.
Having said that, using the "build it and they will come" approach means the market will develop simply based on the fact that there are gyms available for them to achieve their fitness goals.
Your typical fitness consumer will likely be more of the overweight/sedentary side of the spectrum.
Personal Trainer Certifications in Wisconsin
Personal trainer certification in Green Bay and other cities is needed to get a job as a personal trainer in Wisconsin.
I have written an article on my best personal trainer certifications. Use this as a guide on how to become a certified personal trainer in Wisconsin.
Overall here are my top 2 best personal training certifications in Wisconsin. Ensure you have all or any of them when you decide to become a personal trainer in Green Bay and other areas.
The nationally certified training certificate required is important to becoming a CPT, such as International Sports and Fitness Trainers Association, National Exercise and Sports Trainers Association, or Ace specialty certifications.
Personal Training schools in Wisconsin
Besides getting your personal trainer certification in Madison or a personal trainer certification Wisconsin, you might consider going above this by getting a degree from a college or university.
An associate or bachelor's degree in a health and fitness-related field can really set you up for greater things.
Firstly, having a degree places you ahead of the pack of job applicants, most of which would just have a fitness trainer certification.
You can also apply for more senior positions in management or even executive levels.
As an independent business owner, you can leverage your higher credentials for higher rates on your services.
It is important to stay relevant and up-to-date with changes in the industry via continuing education.
As far as exercise science schools in Wisconsin go, you do have quite a few options.
Exclusive PTP CPT Offers



Gold Standard Cert

Most Popular Cert

Best Study Materials

A Good Option

A Good Option

Best CPT for you?

Let's take a look:
That's quite a selection, so you're sure to find something that suits your needs and preferences.
With that said, it's important to understand the pros and cons of enrolling in a degree program.
The pros we've already spoken of, but the cons include time, money, and lingering student debt.
That's why your decision to enroll in a degree program should come after careful consideration and planning.
Whatever the case, you need a solid qualification if you want to break into the industry.
Personal Trainer Jobs in Wisconsin
For the best odds of success, you should be looking at personal trainer jobs in Madison and other big cities.
Your best approach to working as fitness professionals in Wisconsin would be to take advantage of the multitude of gyms, health clubs, and fitness centers available. 
This signifies numerous employment opportunities, opportunities that will pay you and help you grow in skill and experience.
Other employment opportunities might crop up if you google "Wisconsin athletic club jobs" "exercise physiology jobs Wisconsin" "athletic training jobs in Wisconsin".
From experience, checking out personal trainer listings for "fitness jobs milwaukee" is also not a bad idea.
In fact, working as a fitness instructor at a gym won't be that glamorous in terms of income, but your main objective is to gain stability at the beginning of your career while learning the ropes and paying your dues.
Beyond this phase, you will need to rely on entrepreneurship in your career, which means having good business acumen, discipline, and drive to create great exercise programs.
Best Cities to Be a Personal Trainer in Wisconsin
As I mentioned, I'll only be looking at the top 3 cities in Wisconsin when it comes to population.
This is an ideal approach since these cities are the only ones with population figures above 100,000 residents.
I generally regard a population of at least 100,000 as good odds when it comes to business prospects in fitness.
Always be on the lookout for personal trainer jobs Milwaukee or personal trainer jobs Madison WI.
| | |
| --- | --- |
| City In Wisconsin | Population |
| Milwaukee | 594,548 |
| Madison | 254,977 |
| Green Bay | 104,777 |
| Kenosha | 99,688 |
| Racine | 77,081 |
| Appleton | 74,139 |
| Waukesha | 72,412 |
Personal Trainer Salary in Wisconsin
The projected salary of any career field is an important primary consideration, and fitness is no exception.
Wisconsin has an annual average income of $61,070 per year for personal trainers there.
This is slightly below the national average of $61,802 but to a negligible degree.
To truly understand the value of an income, we need to measure it up against the state's cost of living, and while we're at it, let's look at other measures of the Quality of Life.
Make sure to check out the full guide on personal trainer salary.
Quality of Life Rating
Quality of life is an important thing to consider since you won't just be working in Wisconsin but also living there should you decide to become a personal trainer in Madison and other cities.
Wisconsin is often placed as one of the best states to live in.
Leading factors are a business opportunity, education, and health, all of which actually benefit your career in fitness, directly and indirectly.
As for the cost of living, Wisconsin is one of the most affordable states in the country, giving your potential income a massive boost.
For that reason, I'll give Wisconsin an 8.5 out of 10 QoL rating.
Methodology  
I approached this review based on carefully curated facts and figures and my final verdict was based on:  
The population of the state and its major cities.  
The obesity figures as compared with other states.  
Personal trainer certifications that are obtainable.  
Availability of personal training schools & colleges.  
Career prospects for personal trainers.  
Earning potential for certified PTs.  
Quality of Life (QoL).  
Final Words on How to Become a Personal Trainer in Wisconsin
Wisconsin is one of the best states in this series when providing stable footing for a fitness career.
Personal trainer jobs in Green Bay and other cities present themselves as lucrative opportunities.
If you are ready to get on board, pick up the fastest personal trainer certification course, ensure you pass the certification exams, decide whether you want to be a group fitness instructor or not.
With a great amount of opportunity, a relatively good fitness market, and a standard of living that makes it all worth it, you have a great shot being based here.
FAQs on How to Become a Personal Trainer in Wisconsin
References
https://www.exercise.com/learn/ten-fittest-states-in-the-us/
https://www.americankinesiology.org/SubPages/Pages/Kinesiology%20Institution%20Database