Hey everyone, and welcome back to PT Pioneer.
This article is part of a series that looks at how location plays a role in the successful outcome of a fitness career, specifically how the fitness industry differs from each state.
To do this, I'll be using a blend of compiled data from various sources and my own expertise cultivated from years in the industry.
This article is going to look at how to become a personal trainer in West Virginia and how the industry fares for personal trainers.
To do this in the most effective way possible, I'll only be dealing with the top three cities in the state based on population.
Fitness is a numbers game so situating yourself in areas with the most people means exposing yourself to the most opportunities.
For that reason, I'll be focusing on personal trainer jobs in Charleston, Huntington, and Morgantown.
This article is a byproduct of years of experience culled from possessing several PT certifications and gauging their impact on the career prospects of a personal trainer in West Virginia.
I'll also delve into what sort of credentials you should aim for, presenting you with personal trainer certification in Charleston and other areas.
So without further ado, let's check out West Virginia.
Make sure to check out the general guide on how to become a personal trainer.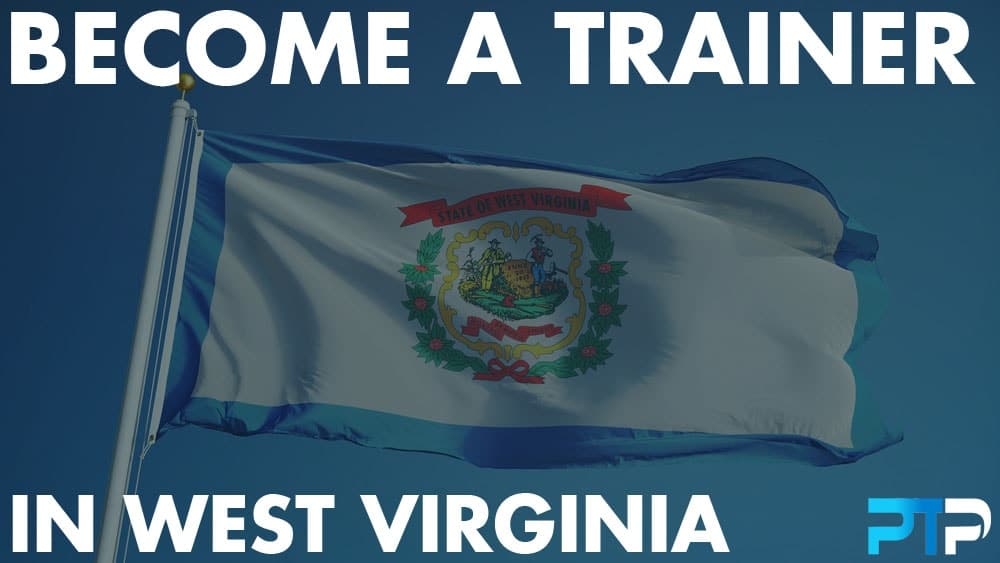 Post 48 of 50 in the PT By State Series
State Fitness Rating
Before you become a personal trainer in Charleston or anywhere else, for that matter, you need to get an idea of the industry as it stands.
So, how do you do this?
The best way to do this is to grasp the local population's consumer habits regarding exercise programs and fitness.
This is indicated by the state fitness rating, a ranking system compiled by exercise.com showing how fit and healthy local residents in each state are.
The healthier the state, the more its residents are probably spending on the services you offer.
There are two key data points I will look at to paint this picture.
Those are the obesity prevalence and the gyms per capita (per 100,000 residents).
Starting with obesity, I'll use this to highlight the level of health consciousness members of the general population adhere to.
A high obesity prevalence indicates a low level of adherence to healthy lifestyle habits, and by extension, a low level of spending in the health industry.
West Virginia has a staggering 37.7% obesity prevalence, making it one of the most obese states in America.
From my findings, this does not augur well for its fitness industry.
This means you'll have your work cut out for you if trying to attract prospective clients to your business or services.
Next, we'll look at the top gyms per capita, a ratio that provides insight into how many options West Virginia's population has when it comes to accessible fitness facilities.
Top gyms are classified as those large commercial gyms with a widespread mainstream appeal due to brand prominence, accessibility, and affordability.
You will easily find these fitness centers scattered all over the country.
They include the likes of the following:
Gold's Gym
24 Hour Fitness
Anytime Fitness
Crunch Fitness
LA Fitness
Orange OrangeTheory Fitness
Planet Fitness
Snap Fitness
YMCA
The stats on these gyms is a reliable indicator of a state's fitness rating and industry viability.
Exclusive PTP Offers



Gold Standard Cert

Most Popular Cert

A Good Option

Best Study Materials

Best online PT course

The Top PT Software

In West Virginia's case, there are 83 top gyms with a population of 1,831,102.
One of which is Extreme family fitness.
That means for every 100k people in the state, there is access to only 4.53 top commercial gyms, giving us the gyms per capita ratio.
This leads to a low ranking of 45th out of 51 when it comes to gym access.
The low number of gyms also shows a less than ideal level of potential opportunity for yourself to enter the West Virginia fitness market.
As a personal trainer, you have lots of work to do to get the populace interested in exercise physiology and fitness activities.
Overall, West Virginia ranks in at number 50, making it the second most unfit state in America.
Fitness Market Makeup
Before you become a personal trainer in Morgantown, it's vital to get a feel of the fitness trainer market.
The fitness market in West Virginia will likely comprise of clients at a generally low fitness level if the state rating is anything to go by.
That means your client's goals will likely deal with just the fundamentals of basic movement and healthy weight loss.
This market profile will also likely have a preference towards group fitness activities since these are fun and require less of the discipline and motivation that comes with the more lofty fitness goals.
In my opinion, getting a personal trainer license for group fitness training will be valuable here.
You should also brush up on your nutritional coaching. In order to see results with such a client base, nutrition is the main factor.
Personal Trainer Certifications in West Virginia
Personal trainer certification in Huntington and other cities is needed to get a job as a personal trainer in West Virginia.
I have written an article on my best personal trainer certifications. Use this as a guide on how to become a certified personal trainer in West Virginia.
Overall here are my top 2 best personal trainer certificates in West Virginia. Ensure you have all or any of them when you decide to become a personal trainer in Huntington and other areas.
These personal training certification programs will bring lots of credence to your career.
Personal Training schools in West Virginia
National certification from any of the recognized and accredited certification agencies is enough to get you going.
A personal training license is essential to start up your career.
So, it's worth considering upgrading your credentials if you have a truly unbridled enthusiasm to succeed and be dominant in the fitness industry.
Enrolling in a degree program in a health and fitness-related field is a sure-fire way to climb towards this goal.
That's because trainers with degrees are well understood to be in the fitness world's top-earning bracket.
Having a degree can be leveraged towards gaining better opportunities, higher positions, as well as being a bargaining chip that allows you to charge more for your services.
A degree shows a level of dedication and acquired skill that very few fitness professionals strive for in the world of fitness.
Possessing a degree will certainly give you an edge if you decide to start your own business, it will show your clients that you know what you are doing, which will translate to offering premium services and charging better in return for services rendered.
West Virginia has a number of options. Exercise science schools in West Virginia include the likes of:
With a good selection of kinesiology schools in West Virginia like West Virginia University (WVU), you're certainly spoiled for choice.
With that said, take time to consider and map out your wellness career trajectory carefully.
From my perspective, unlike Medicine, Law. Engineering or Accounting, for instance, a degree in exercise science is not a necessity.
It can be a huge benefit, but the heavy time and financial investment have the potential to hinder your aspirations.
if you don't want anything to stop you from getting your personal training licensing, you can get a certification from a reputable certifying body to get off your feet.
Personal Trainer Jobs in West Virginia
With only 83 top gyms available in the state, the job market in West Virginia leaves a lot to be desired.
With that being the case, it's still a good idea to aim for an employment position in a gym when you're starting as a trainer.
I will advise you to check out the personal trainer listings in West Virginia to know which one has vacancies.
Being an independent trainer takes a lot of work and wisdom, two traits that can only be cultivated by going through the growth phase of working in a commercial gym.
Your confidence, knowledge, and expertise will grow while being supported by stable, albeit small, income and employment benefits.
I believe setting up your own gym, while it might be capital-intensive, will be worth it income-wise in the long run.
Exclusive PTP Offers



Gold Standard Cert

Most Popular Cert

A Good Option

Best Study Materials

Best online PT course

The Top PT Software

It will help you make a positive difference in the lives of the populace of West Virginia.
Best Cities to Be a Personal Trainer in West Virginia
Personal trainer jobs in Morgantown and other areas rely on the number of client prospects you have exposure to.
West Virginia's cities are generally sparsely populated, Charleston's top city, not even making it above 50k residents.
You should focus your efforts on packaging exercise techniques that will attract potential clients from the top three in any case.
| | |
| --- | --- |
| City In West Virginia | Population |
| Charleston | 48,006 |
| Huntington | 46,667 |
| Morgantown | 30,712 |
| Parkersburg | 30,021 |
| Wheeling | 27,062 |
| Weirton | 18,670 |
| Fairmont | 18,458 |
Personal Trainer Salary in West Virginia
Before you jump on personal trainer certification in Morgantown or anywhere else, it's important to understand the state's average income.
Personal trainers in West Virginia earn around $55,266 per year on average. That's much lower than the $61,802 per year national average.
This low figure can only make sense once we understand the state's cost of living and other quality of life indicators.
Make sure to check out the full guide on personal trainer salary.
Quality of Life Rating
Personal trainer jobs in Huntington and other cities will mean you will be subject to the state's living standards.
West Virginia's quality of life is considered one of the lowest in America.
It is considered to have the worst economy, infrastructure, and health care in the US.
However, it does manage to shine when it comes to the cost of living, which is one of the lowest in the country, making it very affordable even on a below-average income.
Personal Training can be classified as a highly rewarding career in West Virginia due to the low cost of living.
It does not matter whether you are working at Planet fitness Martinsburg, Planet fitness charleston WV, Planet fitness Huntington WV or Planet fitness Morgantown, West Virginia salaries will be sufficient for you.
Overall, West Virginia gets a 5 out of 10 QoL rating. It would have been lower had it not been for the attractive level of affordability.
Methodology
I approached this review based on carefully curated facts and figures and my final verdict was based on:
The population of the state and its major cities.  
The obesity figures as compared with other states.  
Personal trainer certifications that are obtainable.  
Availability of personal training schools & colleges.  
Career prospects for personal trainers.  
Earning potential for certified PTs.  
Quality of Life (QoL).  
Final Words on How to Become a Personal Trainer in West Virginia
West Virginia fails to give me good reasons why you should pursue a career in fitness there.
It is one of the worst states for pretty much everything.
Whether you are a personal trainer (Charleston WV) or personal trainer (Huntington WV) or personal trainer (Morgantown WV), you have to be able to convince people of the importance of fitness to their health.
Success is all about adaptability. If you manage to employ the right strategies with the right attitude, discipline, and timing, you can water to a well.
FAQs on How to Become a Personal Trainer in West Virginia
References
https://www.exercise.com/learn/ten-fittest-states-in-the-us/
https://www.americankinesiology.org/SubPages/Pages/Kinesiology%20Institution%20Database