Hello everyone, welcome to PT Pioneer, your one-stop shop for career guidance and growth in the fitness industry.
This article and many others are part of a state-by-state series that looks at how location plays a role in your career's potential success.
It is meant to help you understand how location is vital to your overall success as a CPT.
I've collected data from various sources as well as using my own industry experience to show you what it takes to be a personal fitness trainer in each state.
This time around, we're going to be dealing with how to become a personal trainer in Washington state.
In Washington, we'll only be dealing with the top 3 cities in the state. This is for the sake of relevance since fitness is a business reliant on numbers.
I'll be looking at personal trainer jobs in Seattle, Spokane, and Tacoma.
I'll also give you insight into the various qualifications you can get to become a fitness professional.
For that, we'll be looking at personal trainer certification in Seattle and other major cities.
With that said, let's take a trip to Washington state.
Make sure to check out the general guide on how to become a personal trainer.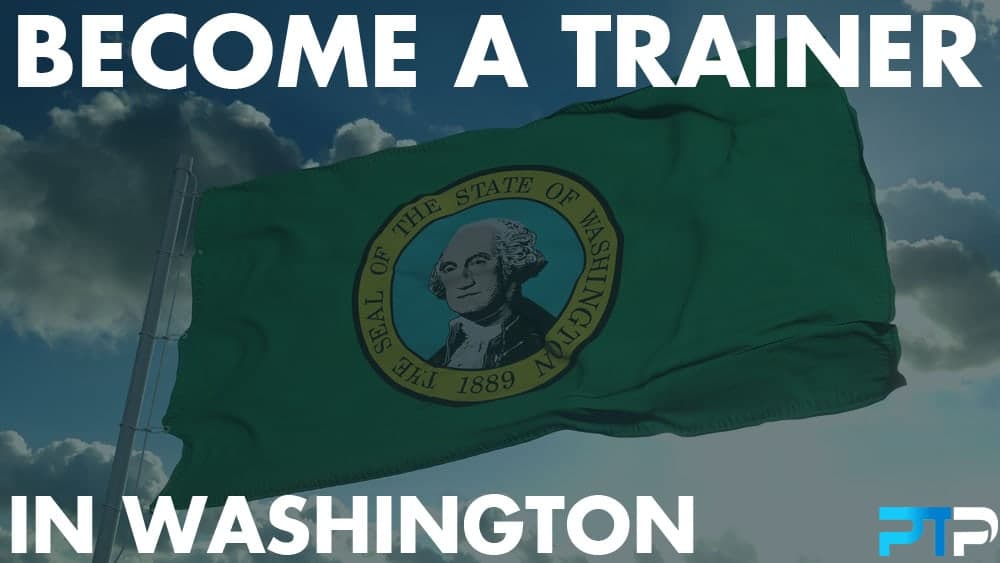 Post 47 of 50 in the PT By State Series
State Fitness Rating
Before you become a personal trainer in Washington, you need to figure out the industry, and to figure out the industry, you need to figure out the market.
That's why I've used the state fitness ranking as provided by exercise.com.
This ranking or rating is based on two main data pieces.
The first is the obesity prevalence rate and the second is the top gyms per capita.
Let's start with obesity, as this is a good indication of a population's responsiveness to health and fitness levels.
That's because it shows how conscious residents are when it comes to matters of wellness, and that level of consciousness is what translates to consumer spending in the fitness industry.
Washington's obesity prevalence sits at 28.6%, making it the 20th least obese state.
This means you'll have a decent amount of engagement with the local fitness market, although it could be better.
Next, let's look at the top gyms per capita rating.
Top gyms are considered those fitness facilities with a mainstream appeal based on their popularity and widespread presence.
These gyms are also more affordable and easy to use, making their availability a reliable indicator of local residents' health status.
Gyms in this category include:
Gold's Gym
24 Hour Fitness
Anytime Fitness
Crunch Fitness
LA Fitness
Orange Theory Fitness
Planet Fitness
Snap Fitness
YMCA
Washington state has 467 top gyms to a population of 7,288,000.
This means that for every 100k members of the public, there are 6.41 top gyms available, giving Washington a rank of 13 when it comes to top gyms per capita.
The top gyms per capita ranking is great news for Washington's residents, but your main concern is really just the number of gyms.
The number of gyms indicates the number of potential job openings, and when it comes to Washington, 467 gyms aren't terrible odds.
Exclusive PTP Offers



Gold Standard Cert

Most Popular Cert

A Good Option

Best Study Materials

Best online PT course

The Top PT Software

Overall, Washington ranks at 11, tied with Utah.
Fitness Market Makeup
Before looking at personal trainer certification in Spokane and other cities, its vital to understand the market.
Washington has a decent fitness ranking, which means your prospective clients will lean more towards fitter individuals looking to maintain a proper lifestyle approach.
You will, of course, still deal with sedentary, inexperienced individuals.
You should have different training programs or fitness programs to help them achieve a healthy lifestyle.
Having a focus on exercise physiology and strength training will also help clients achieve their fitness goals at a fitness center.
The majority of these types of clients will be looking at healthy weight-loss and some motivation to move.
Personal Trainer Certifications in Washington
Personal trainer certification in Tacoma and other cities is needed to get a personal trainer job in Washington.
I have written an article on my best personal trainer certifications. Use this as a guide on how to become a certified personal trainer in Washington.
Overall here are my top 2 best personal trainer certificates in Washington. Ensure all of them when you decide to become a personal trainer in Tacoma and other areas.
The best personal trainers Seattle are certified with the National Council for Certified Personal Trainers or have other highly recognized personal trainer certifications Washington state.
Personal Training schools in Washington
Having a certification from one of the accredited agencies is a great way to launch your career, but it is possible and sometimes worth it to take your credentials to the next level.
Enrolling in a degree program in a health and fitness-related field could take your career to higher heights than a mere cert would.
You'll be a preferred candidate when it comes to job hunting, also allowing you to gun for higher, more lucrative positions in fitness.
As an independent business owner, having your degree listed next to your title or brand name, especially if it's a master's or doctoral, provides a level of credibility you can leverage for higher premiums on your packages and services.
There are several exercise science schools in Washington to choose from. Take a look below:
With a plethora of kinesiology schools in Washington, you're sure to find something to suit your needs.
A degree is almost like getting your trainer license in Washington as it grants you more authority than a certification.
Remember to take some time and forethought to figure out if a bachelor's degree program is necessary for you.
The time and financial investment can become staggering, which may hinder your career in the long run.
Student loan debt is a burden to success, so make sure you have a clear idea of what you want and what you need to do to get it.
Personal Trainer Jobs in Washington
In order to become a personal trainer in Spokane, you need to survey the number of prospects.
With at least 467 potential employment opportunities, gym employment is your best entry into the Washington fitness industry.
The advantage of starting your career in this way is that you get to start your career with somewhat of a safety net in the form of fixed income and employment benefits.
When you're just starting, this is crucial as a form of initial stability while you find your feet.
You'll also gain experience in sales and marketing, vital skills once you become a solo act.
Once you are ready to take that next step, the world is your oyster, but with that freedom comes a lot of hard work, trial, error, and some risk-taking.
Having an online component to your business model is also crucial in this day and age.
Best Cities to Be a Personal Trainer in Washington
As you learn how to become a personal trainer in Seattle and other cities, you'll soon find that your best opportunities lie where there are more potential clients.
This simply means you should go to where the most people are.
In Washington, Seattle is the best option, with a population larger than the next two most prominent cities combined.
You will find out that personal training in Seattle is a far better option because there is a high search for " personal training jobs Seattle" and "kinesiology jobs Seattle" alongside "personal trainer salary Seattle".
Having said that, Spokane and Tacoma may be much smaller than Seattle, but with over 200k residents each, still present good odds.
| | |
| --- | --- |
| City In Washington | Population |
| Seattle | 724,305 |
| Spokane | 217,353 |
| Tacoma | 212,869 |
| Vancouver | 180,556 |
| Bellevue | 144,403 |
| Kent | 131,118 |
| Everett | 109,766 |
With a nationally recognized personal training certification from schools for personal trainers, you will get your fitness license and begin to earn the average personal trainer salary Washington state.
With the right personal trainer program, you will be a success at personal training Tacoma WA, personal training Vancouver WA and personal training Olympia WA
Personal Trainer Salary in Washington
Understanding income potential is vital when looking at personal trainer jobs in Spokane and other cities in Washington.
Exclusive PTP Offers



Gold Standard Cert

Most Popular Cert

A Good Option

Best Study Materials

Best online PT course

The Top PT Software

The annual average salary for fitness instructors in the state is $66,725 per year.
This is well above the national average, which sits at $61,802 per year.
Having a high-income potential, however, isn't an automatic win.
Since you'll be working in Washington, you'll most likely live there, and the cost of living is ultimately what sets the value on your income.
Let's have a look at affordability along with other quality of life measures.
Make sure to check out the full guide on personal trainer salary.
Quality of Life Rating
Personal trainer jobs in Tacoma and other cities mean you will be subject to Washington's quality of life.
Luckily, it is considered a state with a high quality of life.
Personal trainers Spokane WA, personal trainers Olympia WA, personal trainers Tacoma WA will certainly get value for their salary.
It ranks highly when it comes to health care, education, infrastructure, and the local economy.
Most other indicators of quality of life are, at the very least, above average.
The cost of living in Washington is slightly higher than the national average, but compared to what you stand to earn, it's barely a compromise.
I give Washington an 8.5 out of 10 QoL rating for personal trainers.
Methodology
After a thorough review using different methodologies, I was able to come up with this complete review based on the following parameters:
The population of the state and its major cities.
The obesity figures as compared with other states.
Personal trainer certifications available in Washington
Availability of personal training schools & colleges.
Career prospects for personal trainers.
Earning potential for certified PTs.
Quality of Life (QoL).
Final Words
If you choose to become a personal trainer in Tacoma, Seattle, or Spokane, you'll have your work cut out for you.
This fitness market is slightly more difficult to read than most but tends to be on the more favorable side in terms of opportunity.
Just remember to brush up on your qualifications, and you're good to go as a personal trainer Spokane WA, personal trainer Tacoma WA, personal trainer Bellevue, WA, personal trainer Everett WA,
FAQs on How to Become a Personal Trainer in Washington
References
https://www.exercise.com/learn/ten-fittest-states-in-the-us/
https://www.americankinesiology.org/SubPages/Pages/Kinesiology%20Institution%20Database