Hey everybody, welcome to PT Pioneer for another article geared towards helping you with fitness success strategies.
This article is one of 51 that makes it big in fitness, state by state.
By blending data, statistics, anecdotal evidence, and my expert opinion, I've come up with a comprehensive overview of each state's fitness industry and what you'll need to do to find your place.
Today we're going to Virginia, where we will crack the code for becoming a successful PT there.
I'll only be dealing with the top 3 cities in the state of Virginia.
That means we'll just be looking at personal trainer jobs in Virginia Beach, Norfolk, and Chesapeake.
I will also examine personal trainer certification in Virginia Beach and other areas since credentials are crucial.
With that said, let's get right into it.
Make sure to check out the general guide on how to become a personal trainer.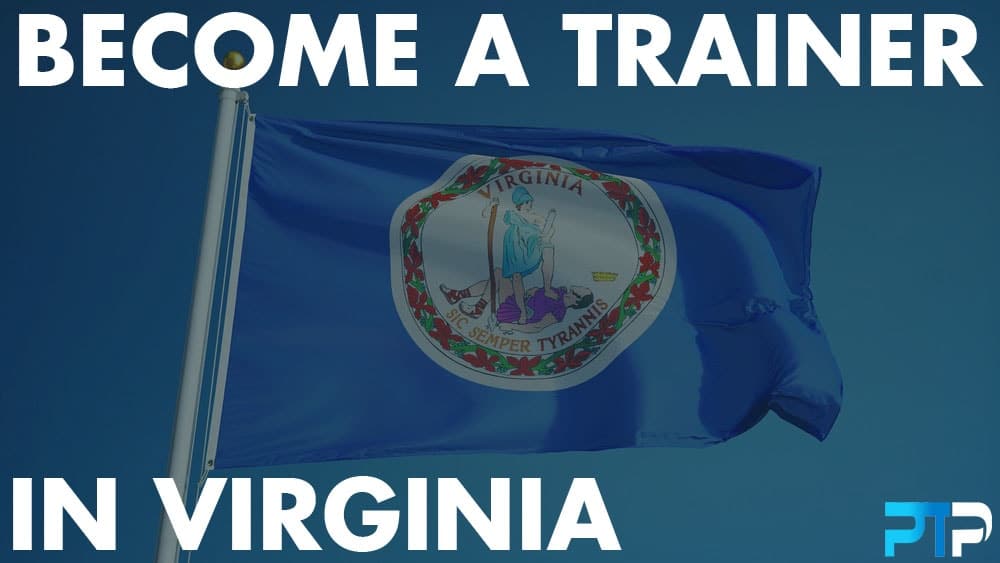 State Fitness Rating


Before you become a personal trainer in Virginia Beach, or any other city for that matter, it's important to understand what you're getting into.
We first need to check how healthy the health industry is; to do that, we'll need to look at the state fitness rating.
This rating is based on a ranking of all states and one district (DC) compiled by the good folks at exercise.com.
This ranking takes into account two important metrics. These are the obesity prevalence rate and the top gyms per capita ratio.
Based on these two aspects, the health of a state's general population paints a picture of how invested they are as consumers of the health and fitness industry.
Let's start with obesity, as it's a more immediate indicator of market activity and lack of exercise programs.
That's because lower obesity figures would suggest more spending on health and fitness training programs.
Virginia has an obesity prevalence of 29%, putting it in 22nd place out of all states in America.
That's neither impressive nor terrible and shows a state whose obesity stats sit barely above the national average.
That means you're not being exposed to a tremendous amount of opportunity, but at the same time, you won't suffer a lack thereof.
Next, we need to look at top gyms, but what exactly are these "top gyms."
Top gyms are classified as large chain commercial fitness facilities or fitness centers with wide accessibility, affordability, and ease of use.
Their presence represents the best possible opportunities for general population groups to get fit, active, and achieve their fitness goals.
The more access to these facilities residents have, the more likely they will use them.
Exclusive PTP CPT Offers



Gold Standard Cert

Most Popular Cert

Best Study Materials

A Good Option

A Good Option

Best CPT for you?

Such facilities include:
Gold's Gym
24 Hour Fitness
Anytime Fitness
Crunch Fitness
LA Fitness
OrangeTheory Fitness
Planet Fitness
Snap Fitness
YMCA
Virginia has a total of 571 gyms with a population of 8,411,808 residents.
That means for every 100k people, there is access to 6.71 gyms, putting Virginia in the 12th spot for gyms per capita.
For you, as a personal trainer, this means you have an active population when it comes to consumer spending in your industry, and you also have a great variety of potential job opportunities.
Overall, Virginia is the 14th fittest state in America, which is not bad at all for fitness professionals.
Fitness Market Makeup
Before you become a personal trainer in Norfolk or any other city, you need to understand the market to develop motivating fitness programs.
The fitness market in Virginia seems active. Therefore, expect to deal with clients in the moderately fit to the very fit range in maintaining their fitness levels.
That said, you'll still have a large percentage of your potential client base on the less active/unfit end of the spectrum.
Brush up on your corrective exercise, strength, conditioning, and group fitness training understanding to capture as much of the market as possible.
Personal Trainer Certifications in Virginia
Personal trainer certification in Chesapeake and other cities is needed to get a job as a personal trainer in Virginia.
I have written an article on my top personal trainer certifications here. Use this as a guide to becoming a certified personal trainer in Virginia.
Overall here are my top 2 best personal training certifications in Virginia. Ensure you have all or any of them when you decide to become a personal trainer in Chesapeake and other areas.
A personal trainer certification in Virginia is part of the physical trainer requirements to earn the right hourly rate.
Personal Training schools in Virginia
Getting certified as a fitness trainer is a necessary step when forging a career in fitness.
Most of the advice and guidance I provide through PT Pioneer is based on my experience having certification programs with the right accreditation.
But as useful as a personal trainer certification VA may be, you can bolster your credentials with something more substantial.
This would be in the form of a college or university degree.
Having a degree program allows you to leverage yourself into better situations and more opportunities.
For instance, when looking at personal trainer jobs in Norfolk, you'll find that having a degree, especially post-grad, usually puts you ahead of the pack of applicants.
You'll also qualify for more senior positions and, with that, higher-income prospects.
As an independent business owner, having a degree can take your brand and business to the next level. The prestige and credibility it awards you will help Fastrack your reputational value.
That means you can charge more for your time and services.
Fortunately, there are numerous exercise science schools in Virginia or you can search for a "personal trainer school near me" to find a suitable one.
Below are some of them for you to take a look at:
Exclusive PTP CPT Offers



Gold Standard Cert

Most Popular Cert

Best Study Materials

A Good Option

A Good Option

Best CPT for you?

As you can see, Virginia has a wide selection of kinesiology schools. There's something for personal trainers in Virginia with a decent spread across all categories in the health and fitness space.
You also have plenty of post-grad options; going post-grad with a master's or doctoral degree will do wonders for your resume.
That said, it's essential to manage your investment in your credentials.
While gaining a degree elevates fitness careers, the trade-off is the time and money you'll spend.
At the end of the day, as advantageous as a degree might be, it's far from necessary in the field of fitness instruction.
Personal Trainer Jobs in Virginia
Personal trainer jobs in Chesapeake and other cities will rely on job openings in the available gyms and fitness clubs.
Working as a personal trainer in Virginia can be lucrative with many commercial gyms.
That's great because starting your career off as an employed fitness instructor has many benefits.
Fort of all, you'll have an initial safety net of a fixed trainer salary and employment benefits.
Starting off, you will need that stability to have a good enough space to learn as you earn.
Working as a gym employee will also fast track your understanding of the business operation, allowing you to develop marketing, sales, and client management skills.
Best Cities to Be a Personal Trainer in Virginia
When looking at jobs and personal trainer certification in Norfolk and other cities, you'll very soon realize that the bigger the city is by population, the better your odds.
That's why Virginia Beach, Norfolk, and Chesapeake should be your first choices. Arlington and Richmond actually come pretty close, and the rest present decent odds.
| City In Virginia | Population |
| --- | --- |
| Virginia Beach | 450,201 |
| Norfolk | 244,601 |
| Chesapeake | 239,982 |
| Arlington | 233,464 |
| Richmond | 226,622 |
| Newport News | 179,673 |
| Alexandria | 157,613 |
Personal Trainer Salary in Virginia
Getting busy is one thing. But getting paid is a different story.
Regarding Virginia, the annual average salary for a personal trainer is $62,102.
This is very slightly lower than the national average of $61,802.
This means you won't be straying away from what most trainers are expected to earn in America.
However, income is dependent on how quickly it's spent.
Affordability and cost of living come into play to help us determine the value of a wage.
To understand this, we'll take a look at the cost of living as well as other quality of life stats:
Make sure to check out the full guide on personal trainer salary.
Quality of Life Rating
According to national surveys from multiple sources, Virginia is often considered a great state.
Excellent health care, education system, and economy increase the quality of life.
Methodology
After in-depth analysis, I was able to come up with an intensive review based on the following variables:
The population of the state and its major cities.
The obesity figures as compared with other states.
Personal trainer certifications available in Virginia
Availability of personal training schools & colleges.
Career prospects for personal trainers.
Earning potential for certified PTs.
Quality of Life (QoL).
Final Words on How to Become a Personal Trainer in Virginia
Virginia seems to present an adequate degree of opportunity.
One thing that sticks out is its great quality of life above-average personal trainer salary in Virginia.
Becoming a personal trainer VA is definitely a plus if you have the right certifications.
Personal trainers in Virginia have high chances of working with clients on aerobics, strength training, Pilates, and small group training sessions.
FAQs on How to Become a Personal Trainer in Virginia
How to get ace personal trainer certification in Suffolk, Virginia?
If you want to get ACE personal trainer certification in Suffolk, Virginia, you should have the following requirements:
– Be 18 years old
– Have completed high school
– Have a current CPR/AED certification with a live skills check
– A current government-issued photo ID with signature ( Passport, Driver's license, Military ID)
How to get a personal trainer certification?
To get a personal trainer certification, you should register with a certifying body that DEAC or NCCA accredits.
Likewise, you can enroll in a degree program in an exercise or health-related field.
What is the best personal trainer certification?
The following are the best personal training certification based on certain criteria:
– Best Online: International Sports Sciences Association (ISSA)
– Best for Continuing Education: American College of Sports Medicine (ACSM)
– Best for Basic Certification: American Council on Exercise (ACE)
– Best In-Person: National Federation of Professional Trainers (NFPT)
Do personal trainers have to be certified?
Yes!
Personal trainers must write a certification exam to prove they are worthy of their certifications and have the competence to keep clients fit and healthy.
Do personal trainers need to be certified?
Certainly, they need to be certified before they can practice or get employed in a gym.
How to become a personal trainer in Virginia?
As a personal trainer in Virginia, You should possess a professional cert from:
– National Strength and Conditioning Association (NSCA)
– American Council on Exercise (ACE)
– National Exercise Trainers Association (NETA)
– National Council on Strength and Fitness (NCSF)
– National Council for Certified Personal Trainers (NCCPT)
– Academy of Applied Personal Training Education (AAPTE)
How much do personal trainers make in Virginia?
As a certified Personal Trainer in Virginia, your average salary as of May 27, 2021, is $62,102.
What you'll receive will depend on your city of residence, education,
certifications, skills, and years of experience on the job.
References
https://www.exercise.com/learn/ten-fittest-states-in-the-us/
https://www.americankinesiology.org/SubPages/Pages/Kinesiology%20Institution%20Database