Hey everybody, and welcome to PT Pioneer for another career review article.
Today we will be dealing with locations and how they play a role in forging a successful career.
Your location will significantly influence your career prospects, as you will learn from my state-by-state series.
Using data, expert analysis, and my own experience in the fitness game, I'll reveal what a fitness career looks like in different parts of America.
This article will be dealing with how to become a personal trainer in Vermont and learn what the fitness training industry is like there for you.
I'll only deal with the top 3 cities by population size to keep things to the point.
That's because fitness is a numbers game, so your best odds lie in the biggest population centers.
Therefore, I'll focus on personal trainer jobs in Burlington, Essex, and South Burlington.
Your credentials are also important, so we'll examine personal trainer certification in Burlington and other major cities.
With that said, let's buckle up and take a trip to Vermont.
Make sure to check out the general guide on how to become a personal trainer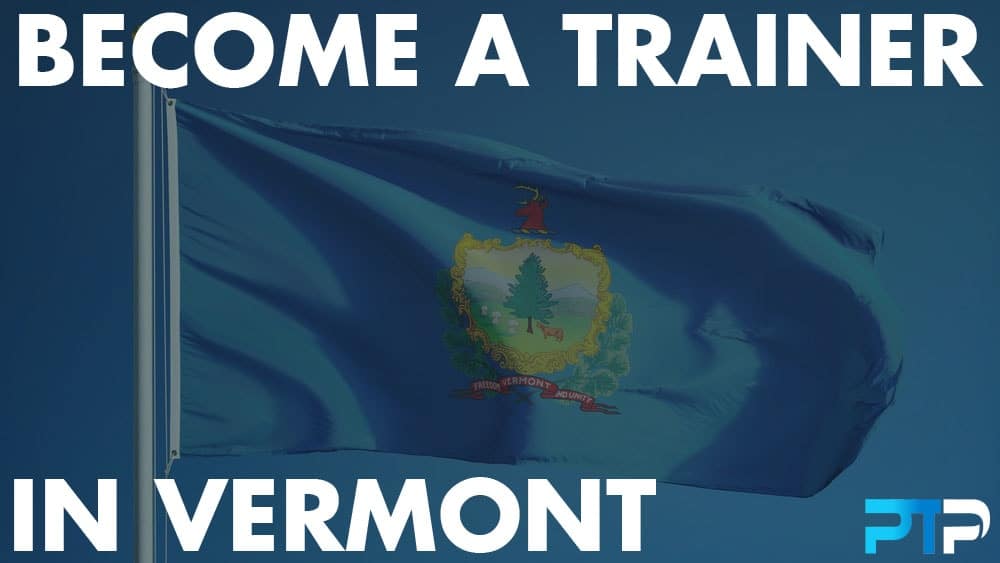 State Fitness Rating


Before you figure out how to become a personal trainer in Vermont, you need to understand the local industry's viability.
The health and fitness status of members of the general population can determine this.
How healthy a state's residents are correlates to how much they spend on fitness services and products, such as what you'll offer as a PT.
Using data compiled by exercise.com, I'll determine if Vermont is an ideal location.
To do this well, I'll look at two data categories, obesity prevalence and top gyms per capita.
The obesity rating of a state tells us how health-conscious members of the population are.
Being health-conscious often means paying for healthy things like good nutrition, gym memberships, and personal trainers.
Vermont has a decent obesity prevalence of 27.1%, making it the 13th healthiest state in America based only on obesity stats.
A low obesity prevalence means people are generally fit and healthy, and to be that way, there must be a decent investment in the fitness industry, meaning more opportunities for you.
Next up, we have the top gyms statistics. It's important to understand what top gyms mean before we actually get into it.
Exclusive PTP CPT Offers



Gold Standard Cert

Most Popular Cert

Best Study Materials

A Good Option

A Good Option

Best CPT for you?

Top gyms are fitness facilities with a mainstream appeal based on strong brand presence, widespread availability and accessibility, ease of use, and affordability.
The top commercial gyms most are familiar with are the following:
Gold's Gym
24 Hour Fitness
Anytime Fitness
Crunch Fitness
LA Fitness
Orange Theory Fitness
Planet Fitness
Snap Fitness
YMCA
The number of top gyms shows us how much access the population has to fitness services and indicates the number of employment opportunities for a CPT.
Vermont has a total of 33 top gyms to a population of 624,594. This gives it a top gyms per capita rating of 5.28 gyms per 100k residents.
That means the population has generally limited options, as shown by the top gyms ranking of 30th out of all states.
This is less ideal from a trainer's perspective because it means just 33 potential job openings in the entire state.
Overall, Vermont is the 19th fittest state in America.
Fittness Market Makeup
To become a personal trainer in Burlington, a clear idea of the local fitness market is crucial.
Vermont's fitness market will be a mixed bag, comprising some sedentary and some relatively fit individuals.
With such a small population sample, you'll deal with people of similar interests regarding physical activities and adventure hobbies.
These include a mix of hiking and watersports due to the expansive natural environment.
As a personal trainer in Burlington, VT, you should style your workouts and branding to cater to this market, and you won't go wrong.
Overall, the fitness goals should focus on aerobics, strength training, weight loss, and group fitness training programs.
Personal Trainer Certifications in Vermont
Personal trainer certification in South Burlington and other cities is needed to get fitness trainer jobs in Vermont.
I have written an article on my best personal trainer certifications. Use this as a guide to becoming a certified personal trainer in Vermont.
Overall here are my top 2 best personal training certificates in Vermont. Ensure you have all or any of them when you decide to become a personal trainer in South Burlington and other areas.
Personal Training schools in Vermont
Getting certified is a necessary step for sure, but you can also look at furthering your credentials for more opportunities.
Getting a degree is a great way to upskill yourself as a PT and gives you plenty of leverage in the industry.
That's because a degree is prestigious and an indication of dedication and expertise.
You will have far better odds in the job market than certified trainers when applying for jobs. You'll also be in line for higher and better-paying positions.
As an independent business operation, your degree can elevate your brand, allowing you to charge much more than average.
Exclusive PTP CPT Offers



Gold Standard Cert

Most Popular Cert

Best Study Materials

A Good Option

A Good Option

Best CPT for you?

There are a few kinesiology schools in Vermont you can look into. Check these out:
Compared to other states, there aren't that many exercise science schools in Vermont. However, I feel there are still enough to choose from for most.
Just be sure that a fitness career is your ultimate passion. Enrolling in a degree program is both time-consuming and financially exhausting.
Personal Trainer Jobs in Vermont
After obtaining a personal trainer certification in Essex or anywhere else, it's time to go on the hunt.
With only 33 top gyms in the entire state, job prospects in Vermont don't seem too appealing.
That said, gym employment is your best way into the industry for personal trainers in Burlington, VT. Of course, your ultimate goal is to build a business, but you need to start somewhere.
From experience, becoming a full-time personal trainer in one of Vermont's gyms will allow you to gain experience and confidence in the areas of fitness instruction, sales, and marketing.
You'll also find jobs as a health coach in fitness centers such as marketplace fitness Burlington VT.
You'll also be rubbing shoulders and building rapport with prospective future clients.
I suspect, due to the high fitness ranking and low gym availability, working as an independent trainer would potentially be very lucrative in Vermont.
That's because there is a clear fitness demand, which the commercial gyms industry doesn't sufficiently satisfy.
That's where private personal trainers such as yourself can step in with the right fitness programs.
Best Cities to Be a Personal Trainer in Vermont
The biggest is always best; by that, I mean population size.
When looking at personal trainer jobs in Essex and other cities in Vermont, you'll notice that population stats are pretty low. Vermont is a tiny state, so you're dealing with low numbers whichever way you cut it.
This means you should concentrate all your efforts on Burlington. It has a population figure almost double that of the next biggest city Essex.
| City In Vermont | Population |
| --- | --- |
| Burlington | 42,545 |
| Essex | 21,467 |
| South Burlington | 19,162 |
| Colchester | 17,303 |
| Rutland city | 15,398 |
| Bennington | 15,097 |
| Brattleboro | 11,524 |
Personal Trainer Salary in Vermont
Before you become a personal trainer in Essex or any other city, you must have a good handle on the state of Vermont pay grades or what you will earn.
Personal trainers in Vermont earn an average of $59,706 per year, according to salary.com.
This falls below the national average of $61,802 per year.
While not ideal, the actual value of an income depends on how much of it you'll need to spend on living expenses.
Let's take a look at the cost of living along with other Quality of Life statistics in Vermont.
Make sure to check out the full guide on personal trainer salary
Quality of Life Rating
Vermont, the green mountain state, is considered one of America's safest places when it comes to crime statistics.
Business opportunities, health care, and education are also pretty good draws.
As for the cost of living, Vermont manages to be more affordable than the national average, making the below-average income figure more reasonable than you would initially project.
I'll give Vermont an 8 out of 10 QoL rating.
Methodology
I approached this review based on time-tested facts and figures and my final verdict was based on the following:
The population of the state and its major cities.
The obesity figures as compared with other states.
Personal trainer certifications are obtainable.
Availability of personal training schools & colleges.
Career prospects for personal trainers.
Earning potential for certified PTs.
Quality of Life (QoL).
Final Words on How To Become A Personal Trainer in Vermont
Vermont has a great status when it comes to the health and wellness of its population.
Personal trainer jobs in South Burlington and other cities will have you dealing with relatively fit individuals.
This normally translates well when it comes to developing lucrative careers in fitness.
However, fitness is a numbers game, and Vermont's low population figures make fitness a hard game to play there.
FAQ
How do I become a personal trainer in Vermont?
You should earn a relevant college degree and/or a nationally recognized personal trainer certification such as:
– American Council on Exercise (ACE)
– American College of Sports Medicine (ACSM)
– International Sports Science Association (ISSA)
– Aerobics and Fitness Association of America (AFAA)
– National Academy of Sports Medicine (NASM)
– National Strength and Conditioning Association (NSCA)
What personal trainer certificate is most respected in Vermont?
NASM can be described as one of the most respected personal training certifications.
It has detailed study materials and a well-designed exam, making it suitable for anyone with a personal training qualification.
What certifications should a personal trainer have?
A personal trainer can obtain any of these certifications or those mentioned above in this writeup.
– National Federation of Personal Trainers (NFPT)
– National Exercise Trainers Association (NETA)
– International Fitness Association (IFA)
– The Cooper Institute
– Professional Personal Trainers Association (PROPTA)
– National Personal Training Institute (NPTI)
– Lifetime (LT) Academy
Which trainer certification is best?
Most gyms accept any of the certifications as long as they are nationally recognized and accredited by either the NCCA or the DEAC.
References
https://www.exercise.com/learn/ten-fittest-states-in-the-us/
https://www.americankinesiology.org/SubPages/Pages/Kinesiology%20Institution%20Database