Hey everybody, and welcome to yet another PT Pioneer career review. In this article, I'll be taking you through the ins and outs of working as a fitness professional in different parts of the US, specifically in different states.
Location is one of the critical aspects of making it big in any career field, including fitness. With a blend of expert analysis and data, I'll give you the power to decide which location is best for you.
Ultimately you can work anywhere as a PT and be successful if you have the right strategy. Which state you're located in is just a piece of the puzzle.
This time around, we're dealing with how to become a personal trainer in Utah and find out what the scene is like for PTs like yourself.
For relevance's sake, I'll only be dealing with the major urban centers in Utah. That means we'll be looking at how to become a personal trainer in Salt Lake City, West Valley City, and Provo, as these are the top 3 based on population.
Also, look at qualifications, meaning personal trainer certification in Salt Lake City and other areas.
With that said, buckle up! We're going to Utah! Make sure to check out the general guide on how to become a personal trainer.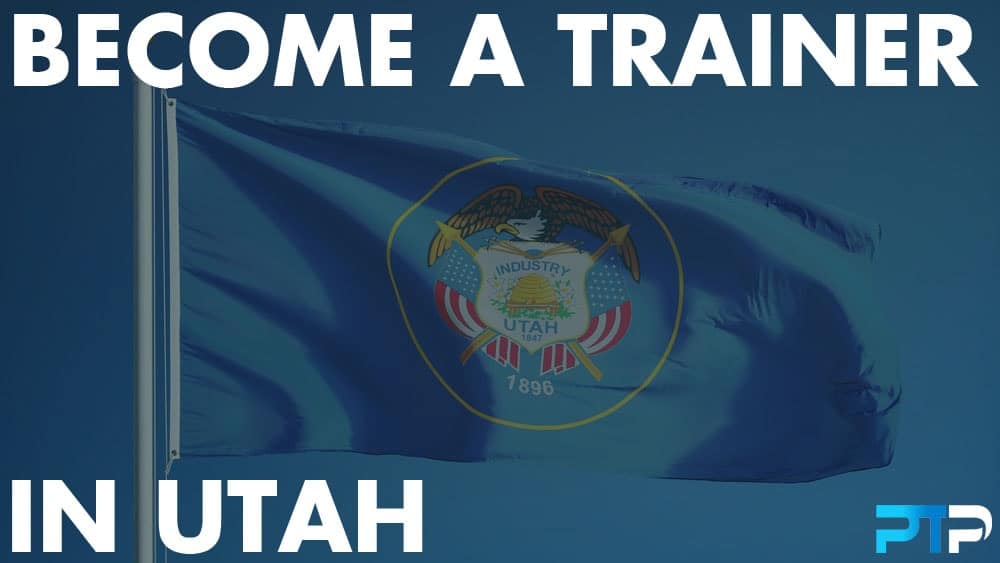 State Fitness Rating


When looking at personal trainer jobs in Salt Lake City and other cities in Utah, one thing to consider is the general population's health status.
But why is this so important? That's because an area's health and fitness levels correlate to how big and engaged the local fitness market is.
This determines how much potential opportunity you'll have at your disposal.
To figure this out, I've gone and used data crunched by exercise.com which has compiled each state's ranking based on how healthy the population is.
This ranting is based on two key data categories. The first is obesity prevalence. Obesity prevalence is a good indicator of a population's health status from a medical and general lifestyle perspective. The second is top gyms per capita, which shows how primed the local infrastructure and fitness industry is to receive willing consumers.
Obesity prevalence indicates how well the population buys into fitness services such as personal training.
The less obese the population is, the more likely is subjects are to exercise. The more people exercise, the more they book a personal trainer.
Utah has a relatively low obesity prevalence of 25.4%, making it the 6th least obese state in America. This is great and indicates a good market response, which you can use.
As for top gyms, their prevalence shows us how many options people who choose to adopt a fit lifestyle have.
But what exactly are "top gyms"?
Exclusive PTP CPT Offers



Gold Standard Cert

Most Popular Cert

Best Study Materials

A Good Option

A Good Option

Best CPT for you?

Top gyms are facilities whose presence and popularity are widespread due to their ease of use, size, accessibility, and affordability.
These are the large commercial gyms most people are familiar with.
Just to give you an idea, top gyms include the following:
Gold's Gym
24 Hour Fitness
Anytime Fitness
Crunch Fitness
LA Fitness
Orange OrangeTheory Fitness
Planet Fitness
Snap Fitness
YMCA
Utah has a total of 165 top gyms  to a population of 3,051,217
That means the top gyms per capita ratio (top gyms per 100k residents) is 5.41.
This means Utah ranks at number 27 out of all the states regarding gym access.
This is quite an average figure, but having said that, 165 gyms is a decent amount of opportunity, albeit not the best.
Utah is the 11th fittest state, just missing out on a top 10 spot.
Fitness Market Makeup
The market is determined in large part by the fitness ranking.
In Utah's case, a high fitness ranking means there is a good chance you will be dealing with healthy clients of an intermediate to high fitness level.
This means your approach to training will need to cater to a more discerning client.
Another aspect that determines a state's fitness market is culture and geography.
Utah is a mountainous state with its own share of the Rocky mountains. Thus, the fitness culture has developed around outdoor adventure activities like Colorado, a neighboring state.
To cater to such a market, brush up on your HIIT protocols and your strength and conditioning.
Personal Trainer Certifications in Utah
Personal trainer certification in West Valley City and other cities is needed to get a job as a personal trainer in Utah.
I have written an article on my best personal trainer certifications here. Use this as a guide to becoming a certified personal trainer in Utah.
Overall here are my top 2 best personal trainer certificates in Utah. Ensure all of them when you decide to become a personal trainer in West Valley City and other areas.
Exclusive PTP CPT Offers



Gold Standard Cert

Most Popular Cert

Best Study Materials

A Good Option

A Good Option

Best CPT for you?

Personal Training schools in Utah
While personal trainer certification in Provo and other Utah cities is necessary, you can take things a step further and upskill your credentials.
This can be done by getting a university or college degree in sports or exercise science field.
There are a few options when it comes to exercise science schools in Utah; let's take a look at some:
As you can see, there are not too many kinesiology schools in Utah to choose from, but it is a small state, after all.
In any case, getting a degree can do wonders for your career. The advancement potential is tremendous when applying for jobs. You are placed in the form of the line while also being eligible for higher, better-paying positions.
You'll also be able to leverage your private services based on the credibility and authority a degree grants you.
Just remember to put careful thought into your decision to get a degree. Enrolling in college is expensive and time-consuming.
Personal Trainer Jobs in Utah
A good scanning of the job market is in order to become a personal trainer in Provo or anywhere else.
With 165 top gyms at your disposal, you don't have the best amount of opportunities, but you also don't have the worst.
Working as an employed fitness instructor will do you wonders when it's time to branch out on your own.
That's because you'll have gained immense experience in sales, marketing, and fitness instructors, all while having the safety of a fixed income with benefits.
Once you're on your own, the goal is to build a business focused on a niche you will have developed to stand out. On top of this, having an online fitness component is a must!
Best Cities to Be a Personal Trainer in Utah
The success of personal trainer jobs in West Valley City and other locations depends on the number of potential prospects.
As mentioned, your best odds of success lie in the most populated cities.
For Utah, Salt Lake City comes in on top. West Valley City and Provo are also great options, with west Jordan not doing too bad either.
| City In Utah | Population |
| --- | --- |
| Salt Lake City | 197,756 |
| West Valley City | 136,009 |
| Provo | 116,403 |
| West Jordan | 114,138 |
| Orem | 96,725 |
| Sandy | 96,127 |
| Ogden | 86,833 |
My general rule of thumb is that you should try and set up in areas with a population of at least 100k inhabitants.
Personal Trainer Salary in Utah
When looking at personal trainer jobs in Provo, it's important to understand your earning potential.
Utah's trainers earn an average of $58,741 per year.
That's considerably lower than the national average of $61,802, making it less attractive at face value.
However, your salary's real value is determined by your lifestyle's costs and affordability based on your location.
For that, we'll need to look at the cost of living in Utah and, while we're at it, other quality of life indicators.
Make sure to check out the full guide on personal trainer salary.
Quality of Life Rating
Utah is generally considered a good place to live with a high quality of life. The fitness ranking is already a good source of evidence for this.
That's also backed up by the great healthcare system, which would naturally contribute to a population's health. 
Education, economy, and infrastructure are also really good, giving Utah a strong standing as one of the nicest places to live in the US.
Utah does, however, fall short regarding the cost of living. Quite a downer when looking at the below-average salary figures.
Utah would have gotten a pretty high QoL rating, but its affordability is down to 7 out of 10.
Final Words on How to Become A Personal Trainer in Utah
An active and receptive market backs up Utah's booming fitness industry.
However, it is a small state, meaning the opportunity is less than expected.
You'll also have to deal with a below-average income potential despite having a decent quality of life there.
References
https://www.exercise.com/learn/ten-fittest-states-in-the-us/
https://www.americankinesiology.org/SubPages/Pages/Kinesiology%20Institution%20Database