Hello everybody, and welcome back to PT Pioneer for yet another career review article.
This and 50 other articles are part of a series where I go to each state in America and find out what makes the fitness industry tick and whether or not it's a good fit for you as fitness professionals.
Location is one of the critical factors in determining fitness success.
Demographic shifts across geography have a significant influence on the market makeup, the size, and growth of the industry.
I'll use a blend of raw data and my educated take- having worked in the fitness business for several years.
In this article, we'll be taking a look at how to become a personal trainer in Texas and also checking out how the fitness industry accommodates professionals like you.
For the sake of relevance and simplicity, I'm only going to bother with the top 4 cities in Texas.
That means we're only going to look at becoming a personal trainer in Dallas, Houston, Austin, and San Antonio.
Apart from career opportunities in the personal fitness industry, I'll also be discussing qualifications.
I'll also be discussing qualifications, so we will be looking at personal training certifications in Dallas and other cities.
And with that said, let's get into it.
Make sure to check out the general guide on how to become a personal trainer.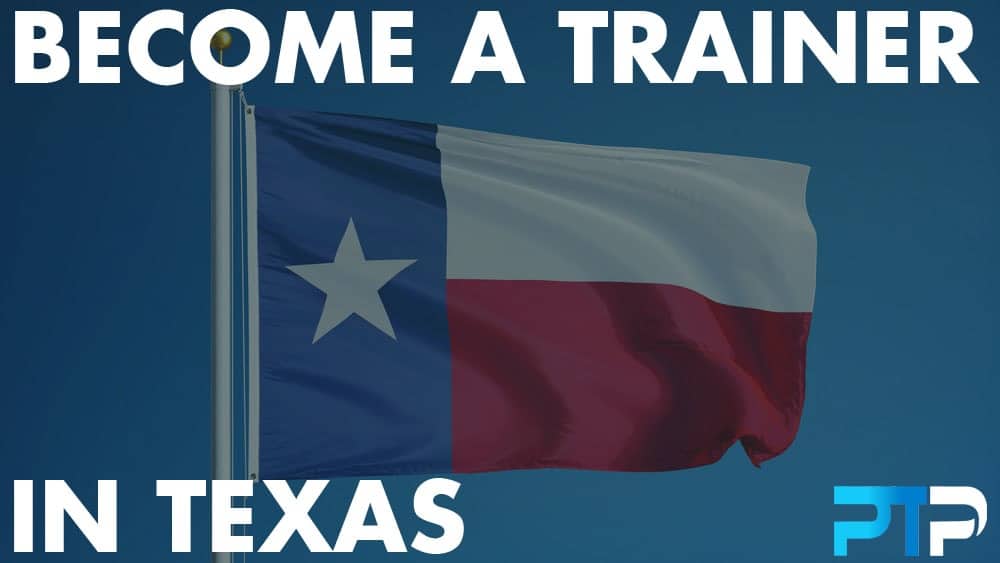 Post 43 of 50 in the PT By State Series
State Fitness Rating
Before we discuss becoming a personal trainer in Houston, or indeed any other city in Texas, I'd like us to look at is the overall state fitness rating.
This is a ranking compiled by exercise.com and allows us to peer into America's health status on a state-by-state basis.
How healthy the local population of a state is linked to how healthy and viable the fitness industry is.
The fitness industry's viability gives us a clear indication of the opportunities and potential success you can expect as a wellness or fitness instructor.
Two key categories are considered when it comes to the state fitness rating.
Those are obesity prevalence and top gyms per capita.
Obesity and overweight are reliable indications of how healthy or health-conscious a population group is.
In the case of a high obesity prevalence, we can conclude that a relatively large portion of the population is not health-conscious, and this doesn't buy into the fitness industry, the same industry you're a part of.
Texas has such a prevalence, with 33.7% of all Texans being dangerously overweight.
This puts the state in 44th place out of 51, making it one of America's most obese states.
They did say everything is big in Texas, after all.
Jokes aside, Texas's obesity problem means a less than ideal portion of the population invested their money into the same industry that ultimately pays your bills.
However, Texas is one of the biggest states in America.
You would probably have as many prospects as you'd with a healthy state with a far smaller population by sheer numbers.
Now let's look at top gyms access.
Top gyms are identified as popular, mainstream commercial fitness centers.
The type you would typically find dotted around the country.
These facilities tend to be more accessible, easier to use, larger capacity, and the most affordable.
Exclusive PTP Offers



Gold Standard Cert

Most Popular Cert

A Good Option

Best Study Materials

Best online PT course

The Top PT Software

Top gyms include facilities such as:
Gold's Gym
24 Hour Fitness
Anytime Fitness
Crunch Fitness
LA Fitness
Orange OrangeTheory Fitness
Planet Fitness
Snap Fitness
YMCA
Texas has 1,409 of these top gyms to a population of 27,862,596.
That means every 100 thousand residents have access to 5.06 gyms.
That's Texas's gyms per capita ratio, which ranks 36 out of 51.
With stats like that, Texas might not seem like a great place to work as a fitness instructor, but two things stand out that may change your outlook.
Firstly, Texas is huge when it comes to population size.
Even if the general impression is that people aren't buying into fitness based on percentage, the sheer number probably eclipses many healthier states.
Another thing is the number of gyms.
While this low ratio might make for a tight squeeze for local Texans, having 1409 gyms really brings your odds up tremendously.
Overall, Texas is ranked 44 out of 51.
Fitness Market Makeup
Personal trainer jobs in Dallas and other cities depend on the size and demand from the market.
With a high obesity prevalence rate, your fitness market will consist of many overweight, sedentary individuals who might not have specific fitness goals rather than lose some weight.
These types of clients require just the fundamentals, including an excellent lead to nutritional coaching.
Personal Trainer Certifications in Texas
Personal trainer certification in San Antonio and other cities is needed to get a job as a personal trainer in Texas.
I have written an article on my best personal trainer certifications.
Use this as a guide on how to become a certified personal trainer in Texas.
Overall here are my top 2 best personal trainer certificates in Texas.
Ensure all of them when you decide to become a personal trainer in San Antonio and other areas.
Personal Training schools in Texas
Personal trainer jobs in Austin and other cities hinge on your qualifications.
Getting your personal trainer certification in Dallas is a step in the right direction, but you might consider taking things further.
By that, I mean gaining a degree or qualification from a higher learning institution such as a university or college.
You can take your full-time personal training career to greater heights by taking exercise programs and earning continuing education units.
This means that taking an online course on group fitness, biomechanics, exercise physiology, and the likes might avail you of the opportunity to work in a gym or medical fitness facility.
These online training programs and certification courses provide study materials and practice exams after enrollment.
When seeking employment as a PT, being one with a degree usually allows you to cut ahead in the line of applications while also placing you in contention for bigger and better positions.
Also, like in many other industries, a personal trainer salary with a bachelor's degree is higher than without a degree.
As far as running your own business is concerned, having a degree means you can market yourself as an authority figure and leverage that to justify charging more for your fitness training services.
There's quite a vast number of exercise science schools in Texas to choose from; take a look below:
With this many options when it comes to kinesiology schools in Texas, you'll find something that suits you.
Obtaining a college degree is much different from just taking a certified personal trainer course.
Getting into college or university shouldn't be taken lightly.
It is a big-time and money investment, with the potential of a lingering student loan debt.
Be certain of your goals and objectives and make sure your current circumstances allow you to spend that much time and money on your credentials.
There are several certification programs for personal trainers that will cost much less than a university degree in Texas.
You can check for one close to you by simply searching "personal trainer courses near me" on Google and you should have more than a handful of results.
A degree is great, but getting your personal trainer certification in Houston is an adequate step.
Personal Trainer Jobs in Texas
Before you become a personal trainer in Dallas and other cities, a job market review is in order.
With over 1400 commercial gyms around the state, job opportunities won't be hard to come by, especially if you have a fitness license.
Due to the COVID-19 pandemic, CPR/AED certifications are in high demand in almost every state.
Starting in a gym while offering a relatively low income provides you with security and experience as you begin your career.
As you take on the role of running your own fitness business, your time in one of the large gyms will pay off.
Exclusive PTP Offers



Gold Standard Cert

Most Popular Cert

A Good Option

Best Study Materials

Best online PT course

The Top PT Software

Best Cities to Be a Personal Trainer in Texas
Personal trainer jobs in Houston and other cities are all about the numbers.
Without a doubt, Houston, San Antonio, Dallas, and Austin should be your go-to locations.
All but one has a population of over 1 million residents, with Houston sitting in the 2 million range.
Austin is just shy of 1 million residents.
Fort Worth, El Paso, and Arlington are actually pretty decent despite being eclipsed by the big 3.
| | |
| --- | --- |
| City In Texas | Population |
| Houston | 2,310,432 |
| San Antonio | 1,508,083 |
| Dallas | 1,330,612 |
| Austin | 950,807 |
| Fort Worth | 874,401 |
| El Paso | 679,813 |
| Arlington | 395,477 |
Personal Trainer Salary in Texas
The average annual salary for trainers in Texas is $56,237.
That's considerably lower than the national average of $61,802, according to salary.com.
Income can only really be measured based on the cost of living.
So let's take a look at that.
Make sure to check out the full guide on personal trainer salary.
Quality of Life Rating
On your way to becoming a personal trainer in Austin, you'll also want to consider what living in Texas would be like.
Texas often ranks around the lower half out of all states regarding the quality of life; while it has a vast economy, Texas struggles with crime and health care.
Texas does, however, have the cost of living below the national average.
Overall, I'll give Texas a 7 out of 10 quality of life rating.
Methodology
I approached this review based on carefully curated facts and figures and my final verdict was based on:
The population of the state and its major cities.
The obesity figures as compared with other states.
Personal trainer certifications that are obtainable.
Availability of personal training schools & colleges.
Career prospects for personal trainers.
Earning potential for certified PTs.
Quality of Life (QoL).
Final Words on How to Become a Personal Trainer in Texas
While Texas indicates a health and fitness industry with limited engagement, this is based on proportions.
The overall numbers show a viable market and great potential for opportunities.
Getting your qualifications and personal trainer certification in Austin and other cities also presents numerous opportunities.
However, you may require a high school diploma or GED as prerequisites to enroll in most NCCA accredited personal trainer programs.
FAQs on How to Become a Personal Trainer in Texas
References
https://www.exercise.com/learn/ten-fittest-states-in-the-us/
https://www.americankinesiology.org/SubPages/Pages/Kinesiology%20Institution%20Database