Hello everybody, and welcome back to PT Pioneer for yet another career review article.
This article forms part of a series where I go to each state and discover what it takes to be a successful personal trainer.
I'll use a combination of statistical data, anecdotal evidence, and my professional opinion to help you decide if it's worth moving to a new state or staying where you are.
This article will focus on how to become a personal trainer in Tennessee, and in that state, I'll be looking at only the top three cities by population.
The reason for that is to succeed as a CPT truly, one must locate themselves in the most populated areas possible.
Fitness is a numbers game so I will look at personal trainer jobs in Nashville, Memphis, and Knoxville.
To become a successful fitness trainer, you must have the right qualifications in place. Therefore, I'll also introduce you to personal trainer certification in Nashville and other major cities.
So without further ado. Let's take a trip to Tennessee.
Make sure to check out the general guide on how to become a personal trainer.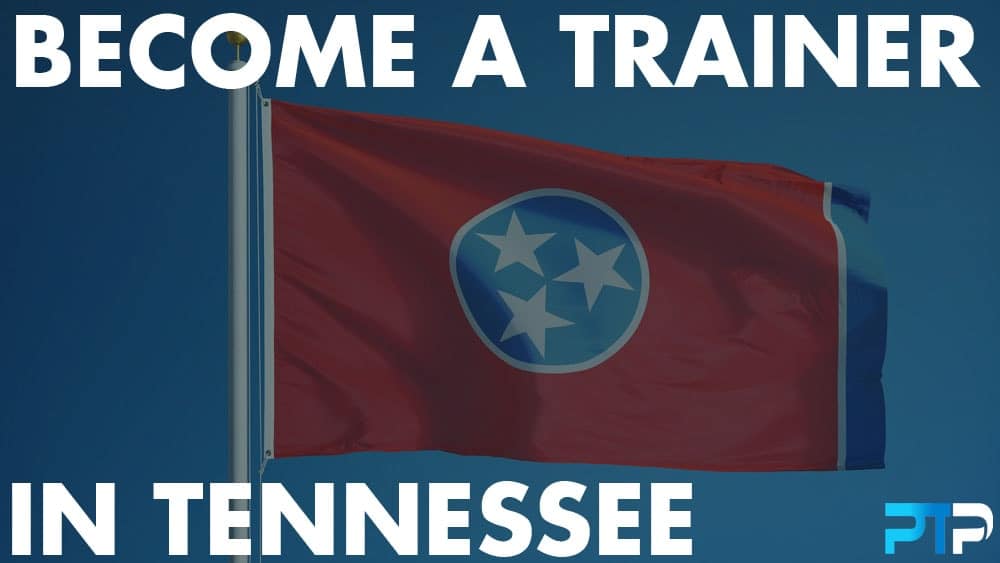 State Fitness Rating


As you prepare to become a personal trainer in Tennessee, you must know how sustainable the fitness industry is for you.
So the first thing we will look at to this end is the state fitness rating.
This rating is based on a ranking of all states, as compiled by exercise.com.
We'll be looking at how healthy the local population is, which naturally correlates with the local fitness industry's activity.
For this, two important statistics come into play: obesity prevalence and the top gyms access.
Obesity plays an important role in understanding how healthy or health-conscious a population is, especially in America, where many people struggle with achieving their fitness goals.
Obesity is a good indication of one's state of health by medical standards and shows how much of the general population takes their health and good lifestyle habits seriously.
This extends into how much people are willing to buy into the health and fitness industry.
Tennessee has a staggering obesity prevalence of 34.8%. This shows a population with a serious health problem and, consequently, a population with a relatively low engagement with the sort of fitness services you would offer.
Tennessee is the 46th state regarding obesity statistics making it one of the worst in America.
Let's look at gyms, but it's important to recognize what top gyms mean before we look at stats.
Top gyms are essentially mainstream commercial gyms with a nationwide presence and popular appeal.
Gyms in this category represent the easiest, most accessible, and most affordable fitness facilities available to the general public.
Exclusive PTP CPT Offers



Gold Standard Cert

Most Popular Cert

Best Study Materials

A Good Option

A Good Option

Best CPT for you?

Thus, they are a reliable indicator of how healthy a population has the potential to be.
The number of gyms also indicates the number of potential job opportunities you would have as a personal trainer.
Gyms in this category include the likes of:
Gold's Gym
24 Hour Fitness
Anytime Fitness
Crunch Fitness
LA Fitness
Orange Theory Fitness
Planet Fitness
Snap Fitness
YMCA
Tennessee has a total of 342 top gyms to a population of 6,651,194.
This gives the state a gyms per capita ratio (gyms per 100,000 residents) of 5.14, putting Tennessee in the 35th position.
While this is quite a low ranking, you still have 342 gyms as potential job openings. That actually isn't bad when focusing on just the numbers.
Tennessee ranks 45 out of 51, making it one of America's unhealthiest states.
Despite this, the relatively large number of gyms means there is an adequate level of opportunity for fitness professionals with the right certification programs.
Fitness Market Makeup
In a state like Tennessee, with a high obesity prevalence, your typical fitness client would likely be a novice, overweight, and sedentary.
That means most of your tasks should focus on the fundamentals of healthy weight-loss and simple movement mechanics training programs.
Avoid intricate exercises, especially those that involve high impact.
You'll also find that group fitness classes are popular in this market, so brush up on your group fitness training repertoire.
Personal Trainer Certifications in Tennessee
Personal training certification in Knoxville and other cities is needed to get a job as a personal trainer in Tennessee.
I have written an article on my best personal trainer certifications. Use this as a guide to becoming a certified personal trainer in Tennessee.
Overall here are my top 2 best personal trainer certificates in Tennessee. Ensure you have all or any of them when you decide to become a personal trainer in Knoxville and other areas.
Always ensure you have the basic requirements for personal trainer certification for Tennessee.
You can attend an online personal trainer school; there are many online personal trainer schools.
Personal Training schools in Tennessee
Credentials are essential when it comes to any career, but especially ones where the health of individuals is at stake, such as fitness.
So before you become a personal trainer in Memphis, it's important to have at least a certification to your name.
You can take things a step further and get more solid credentials through a college or university degree.
Trainers with this level of expertise and qualifications tend to net a higher income on average.
When it comes to employment opportunities, having a degree will often place you at the front of the line while also opening you up to bigger and better opportunities.
A degree will also allow you to set higher premiums as you can leverage your credentials as part of your value.
Exclusive PTP CPT Offers



Gold Standard Cert

Most Popular Cert

Best Study Materials

A Good Option

A Good Option

Best CPT for you?

Fortunately for you, there are many of exercise science schools in Tennessee. Check these out:
You're certainly spoiled for choice regarding kinesiology schools in Tennessee.
But you also need to remember that enrolling in a degree program, especially if you're going to go post-grad, is a heavy undertaking in terms of cost and time.
Make sure you clearly know where you want to take your career before choosing this direction. Student loan debt is a real pain.
Personal Trainer Jobs in Tennessee
With up to 324 potential work opportunities to choose from, Tennessee provides a decent level of opportunity when it comes to employment at a gym or health club.
This is great because setting your foundation through fitness jobs in Tennessee provides a great springboard for future endeavors.
While a Nashville personal trainer's earnings may be meager, they have the security of a fixed income and employment benefits.
On top of this, you'll also gain experience with your national personal training certification in marketing and sales.
Going beyond this point, your independent fitness business operator career gives you more freedom and flexibility.
The key here is to hone in on your marketing and business skills, including developing a strong online fitness business model.
The fitness industry is taking a more online approach, so this should be an area you place a lot of focus on.
It would help if you searched for "personal trainer jobs Nashville TN" or "personal trainer jobs Knoxville TN" to know how marketable your services are in your city of choice.
Best Cities to Be a Personal Trainer in Tennessee
As already mentioned, fitness is a numbers game in which your best odds lie where there are the most people.
When it comes to Tennessee, Nashville, and Memphis are your best bets. They have similar population figures both in the 600k region. 
Going below those two cities, things don't look too bad. I consider a population of at least 100k to be an ideal location to set up shop.
Let's take a look at the top 7 cities by population size.
| City In Tennessee | Population |
| --- | --- |
| Nashville-Davidson | 687,488 |
| Memphis | 651,932 |
| Knoxville | 186,173 |
| Chattanooga | 179,690 |
| Clarksville | 152,934 |
| Murfreesboro | 136,366 |
| Franklin | 77,939 |
"Personal training Knoxville, TN," "personal training Nashville, TN," and other major cities are perfect for you whether you want to be a full time or part time personal trainer.
Personal Trainer Salary in Tennessee
Understanding your income potential is important regardless of your chosen career path.
Regarding working as a personal trainer, Tennessee's annual average is $56,237 per year.
That figure sits well below the national average of $61,802 per year.
With a considerably lower than average income potential, you would think Tennessee is a write-off, but expenses only determine income.
For that, let's look at the cost of living and other quality of life standards in the state of Tennessee.
Make sure to check out the full guide on personal trainer salary.
Quality of Life Rating
Despite the low rating for health and fitness, Tennessee typically ranks somewhere in the middle regarding quality of life.
Leading the charge is the stable economy and a very affordable living standard.
This should restate any concerns you might have about the relatively low average income.
Tennessee gets a 7 out of 10 quality of life rating.
Methodology
After a detailed research, I was able to come up with this comprehensive review based on the following points:
The population of the state and its major cities.
The obesity figures as compared with other states.
Personal trainer certifications available in Tennessee
Availability of personal training schools & colleges.
Career prospects for personal trainers.
Earning potential for certified PTs.
Quality of Life (QoL).
Final Words on How to Become a Personal Trainer in Tennessee
Tennessee is a mixed bag regarding opportunities and prospects in fitness.
On the one hand, it's a low-income state with a generally unhealthy population; on the other hand, many gyms suggest numerous opportunities.
It will all come down to the strategy you decide to follow up on.
Personal trainers in Nashville, TN, or Knoxville, TN, should be creative with their exercise techniques or exercise programs to attract clients and help them maintain their fitness levels.
Independent personal trainers can use one-on-one training sessions to test-run their fitness programs.
FAQs on How to Become a Personal Trainer in Tennessee
How to become a personal trainer in Tennessee?
If you want to become a personal trainer in Tennessee, there are some essential qualifications you should possess:
– A high school diploma
– A CPR/AED certification
– First Aid certification
It is vital to have a college degree in an exercise-related field or a nationally recognized personal training certification.
What is the best personal trainer certification to get?
The best personal trainer certs to get are:
– American Council of Exercise (ACE)
– American College of Sports Medicine (ACSM)
– Aerobics and Fitness Association of America (AFAA)
– National Strength and Conditioning Association (NSCA)
– National Federation of Personal Trainers (NFPT)
– National Exercise Trainers Association (NETA)
– International Fitness Association (IFA)
– Lifetime (LT) Academy
How much do part time personal trainers make?
The amount a part-time personal trainer will make will depend on the number of working hours they achieve each day.
References
https://www.exercise.com/learn/ten-fittest-states-in-the-us/
https://www.americankinesiology.org/SubPages/Pages/Kinesiology%20Institution%20Database