Hey everybody, and welcome back to PT Pioneer.
If you're new here, this is a platform developed to provide insight and practical knowledge on succeeding as a fitness professional. From certification to running a successful business.
This article forms part of a series where I'll be going to each state and unraveling what it takes to succeed as a personal trainer there.
By blending statistical data from various sources and my own expertise in the field, I'll be bringing you all the information you need to help you decide which location is best.
I have discovered that location has a major role to play in your success as a personal trainer, and you have to learn how to make your chosen location be a plus for your profession.
In this article, we're going to learn how to become a personal trainer in South Dakota.
To keep things to the point, I'm only going to discuss personal training as it relates to the state's top 3 cities.
That means we'll be focusing on personal trainer Jobs in Sioux Falls, Aberdeen, and Rapid City.
I'll also look into personal trainer certification in Sioux Falls and other cities, as this is a crucial step in the foundation of your career.
At the end of this article, I should be able to help you out with the latest fitness ranking for South Dakota.
With that said, let's jump right into it.
Make sure to check out the general guide on how to become a personal trainer.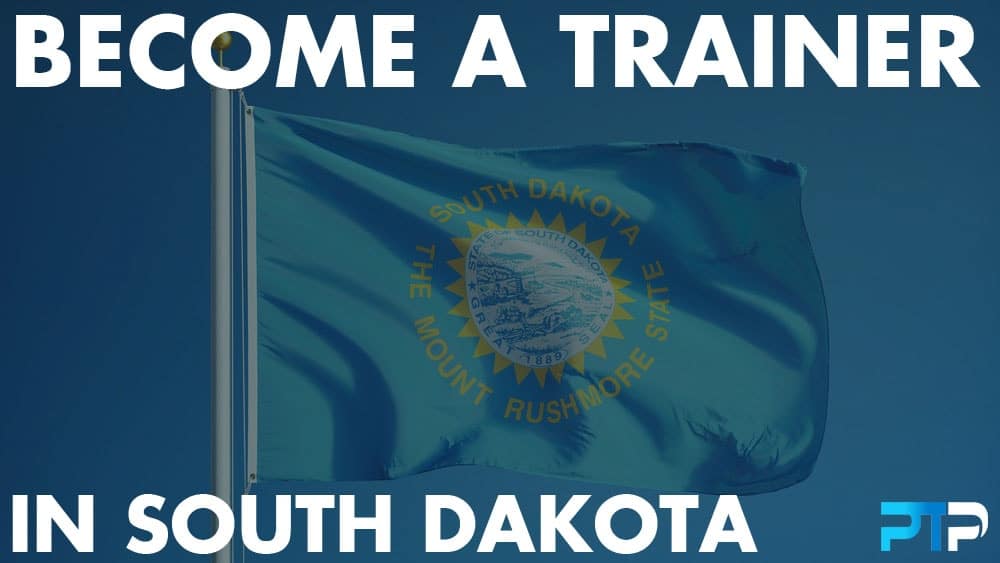 Post 41 of 50 in the PT By State Series
State Fitness Rating
The first order of business is the state fitness rating.
This rating is based on a ranking system put together by the good people at exercise.com.
From my understanding, it basically paints a picture of how healthy each state is in comparison to the rest.
This helps us understand how healthy people in America generally are, but for the sake of this article, it helps us understand how viable the fitness industry is for people like you coming in.
I observed that two important data categories were used to help us come to this understanding and they are the obesity prevalence rate and the top gyms per capita ratio.
The obesity stats help us understand how health-conscious a local population is.
And the level of health consciousness helps us realize how much of a market demand exists for your industry's health and fitness industry.
A low obesity prevalence would suggest a high demand for health and fitness products and services, while a high prevalence would indicate the opposite.
With a prevalence rate of 29.6, South Dakota can be considered more on the unhealthy side when compared to other states, but barely. It ranks at number 24 out of 51.
That means you'll have your work cut out for you since a high rate of obesity can be seen as fewer people willing to get fit and book PT sessions and programs.
Next, let's look at the top gyms category.
Here we're dealing with gyms that are the most accessible and widespread.
These large chain commercial gyms include the likes of:
Gold's Gym
24 Hour Fitness
Anytime Fitness
Crunch Fitness
LA Fitness
Orange OrangeTheory Fitness
Planet Fitness
Snap Fitness
YMCA
The reason these are considered useful metrics is the accessibility and affordability aspect of such gyms.
South Dakota has 60 top gyms to a population of 865,454. That means for every 100,000 residents, there are 6.79 gyms available, giving the state 12th place.
This is a great ratio if you're a gym-goer, but with only 60 gyms available as employment opportunities, there are better places to be as a Fitness Trainer.
Exclusive PTP Offers



Gold Standard Cert

Most Popular Cert

A Good Option

Best Study Materials

Best online PT course

The Top PT Software

Overall, South Dakota ranks at number 14. That's pretty good and shows a good engagement from the market.
However, South Dakota is a tiny state with not even a million residents, so no matter how you cut it, it will be a tall order.
Fitness Market Makeup
South Dakota's fitness market would probably present a mixed bag of clients.
Given that the fitness ranking is quite high, you can expect a decent variety from your avid, already fit gym junkies all the way to your novice sedentary individuals.
From my professional point of view, I'll advise you to prepare a fitness program and training sessions that will cater to the different categories of potential clients.
Brushing up on corrective exercise would be a good idea since the high fitness rating would suggest a population focused on functional fitness levels.
Personal Trainer Certifications in South Dakota
Personal trainer certification in Rapid City and other cities is needed to get a job as a personal trainer in South Dakota.
From my experience, you will be gaining a lot careerwise, if you invest in obtaining the right personal trainer certification.
You should obtain a CPR certification Sioux falls SD with other requirements needed to kickstart your career.
I have written an article on my best personal trainer certifications. Use this as a guide on how to become a certified personal trainer in South Dakota.
Overall here are my top 2 best personal training certifications in South Dakota. Ensure you have at least one it of when you decide to join the personal trainers Rapid City SD and other major cities.
Personal Training schools in South Dakota
When considering personal trainer certification in Aberdeen and other cities, it's also worth looking into higher learning qualifications such as a degree.
A degree in a sports or exercise science-related field has been shown to boost the average PT's career prospects.
I can confirm that my degree in Kinesiology has helped my career tremendously since I started as a personal trainer.
But, be reminded that it was not an easy task, but the positive side was worth it.
That's because obtaining a bachelor's degree requires a level of dedication and exposes you to a wealth of skills and knowledge a certification simply doesn't have.
This means you will gain preference when applying for jobs, and the type of jobs you can apply for will be wider in variety and higher in terms of position.
As an independent fitness business owner, having a degree as part of your brand identity allows you to leverage your credentials for higher premiums on your services.
So, it is worth considering if you are just starting your career as a personal trainer.
There are several exercise science schools in South Dakota you can choose from. Let's take a look:
For such a small state, there are quite a number of kinesiology schools in South Dakota to choose from.
But before you get too excited, bear in mind that obtaining a degree is an arduous process, one with a heavy time and financial investment attached.
I'll advise you ensure you're absolutely ready for that journey and understand its value for your career.
A careful analysis of the pros and cons of obtaining a degree or not will help you out here.
Personal Trainer Jobs in South Dakota
South Dakota has limited options when it comes to gym jobs.
With only 60 top gyms in the whole state, you don't have as many openings as you would like.
Getting fitness jobs Sioux falls will not be as difficult as you think.
In any case, landing a job in a gym is worth the hassle; that initial safety net you get from having a guaranteed fixed income and employment benefits is a great place to start.
You'll also gain loads of experience in exercise instruction, group fitness, sales, and marketing, all in preparation for the big jump you will eventually make as an independent fitness business.
Having an online component to your business model is essential, especially in this day and age as economies and industries become more digital.
Best Cities to Be a Personal Trainer in South Dakota
Personal trainer jobs in Aberdeen and other cities are reliant on the size of the population.
As I've already mentioned, personal training is a numbers game, so your success is dependent on having exposure to the largest possible population group with fitness goals to achieve.
As far as South Dakota goes, Sioux Falls is your best bet.
Sioux Falls personal trainers have higher chances of getting good jobs in top gyms or fitness centers, likewise, personal trainers (Rapid City SD).
It has a population of at least 100k inhabitants, which is what I consider should be the bare minimum to aim for.
| | |
| --- | --- |
| City In South Dakota | Population |
| Sioux Falls | 177,117 |
| Rapid City | 75,258 |
| Aberdeen | 28,225 |
| Brookings | 24,108 |
| Watertown | 22,166 |
| Mitchell | 15,727 |
| Yankton | 14,573 |
Other cities such as Rapid City and Aberdeen have less than ideal population figures, with Aberdeen not even going beyond 30 thousand residents.
Exclusive PTP Offers



Gold Standard Cert

Most Popular Cert

A Good Option

Best Study Materials

Best online PT course

The Top PT Software

However, these are the second and third most populated cities, so should your ambitions towards Sioux Falls fail, you'll have these as fall back options.
Personal Trainer Salary in South Dakota
En route to becoming a personal trainer in Aberdeen and other South Dakota cities, it's imperative to have a general idea of what SD state salaries look like.
The annual average income for PTs in South Dakota is $53,395 per year.
This is quite a lot less than the national average of $61,802 per year.
It seems like working as a fitness instructor in South Dakota isn't worth it with a figure like that, but before we make any hasty conclusions, let's find out what the cost of living is.
That's because what you earn is only ever worth how much you'll need to spend.
Make sure to check out the full guide on personal trainer salary.
Quality of Life Rating
According to dakotaroots.com, South Dakota is the second-best state to live in terms of general well being.
That's because the cost of essential services such as health care, transportation, utilities, and housing is lower than the national average.
With that said, the cost of living in South Dakota is considerably lower than the national average.
It also has excellent preservation of its natural environment.
I give South Dakota an 8 out of 10 QoL rating.
Methodology
I undertook an analysis of this review using some well-researched facts and figures and my outcome was based on:
The population of the state and its major cities.
The obesity figures as compared with other states.
Personal trainer certifications that are obtainable.
Availability of personal training schools & colleges.
Career prospects for personal trainers.
Earning potential for certified PTs.
Quality of Life (QoL).
Final Words on How to Become a Personal Trainer in South Dakota
South Dakota seems like a great place to live and work in terms of living standards.
If you have no problem living and starting a career in a city that is not crowded, South Dakota might be good for you.
The hands-on experience you will gain from here will certainly be of massive help when you intend to relocate elsewhere in the nearest future.
But I wouldn't say it's an ideal location if you have any lofty ambitions regarding building a fitness empire.
The prospects are low with such a tiny population.
I'll advise personal trainers Sioux falls SD to maximize the opportunities that its population has by creating programs online and offline that will always keep them interested in keeping fit.
FAQs on How to Become a Personal Trainer in South Dakota
References
https://www.exercise.com/learn/ten-fittest-states-in-the-us/
https://www.americankinesiology.org/SubPages/Pages/Kinesiology%20Institution%20Database