Hello everyone and welcome back to PT Pioneer.
Today, I'll continue with my state by state series on how to become a successful PT across America.
Location is one of the most significant determining factors when it comes to solidifying your career success.
The demand for your services and the industry's size change from place to place with several variables at play.
To unravel the nuances of each state's fitness industry, I'll be using a combination of statistical data, anecdotal evidence, and my personal opinion based on years in the industry.
In this article, we're going to focus on how to become a personal trainer in South Carolina.
For the sake of relevance and brevity, I'll home in on just 3 of the biggest cities in the state based on population figures.
Personal training is a numbers game, after all, so the bigger the local population, the better your chances.
That means we'll be dealing with becoming a personal trainer in Charleston, Columbia, and North Charleston.
I'll also introduce you to the credentials and qualifications aspect by looking at personal trainer certification in Charleston and other cities.
So with that said, let's look at what it takes to make it big as a personal trainer in South Carolina.
Make sure to check out the general guide on how to become a personal trainer.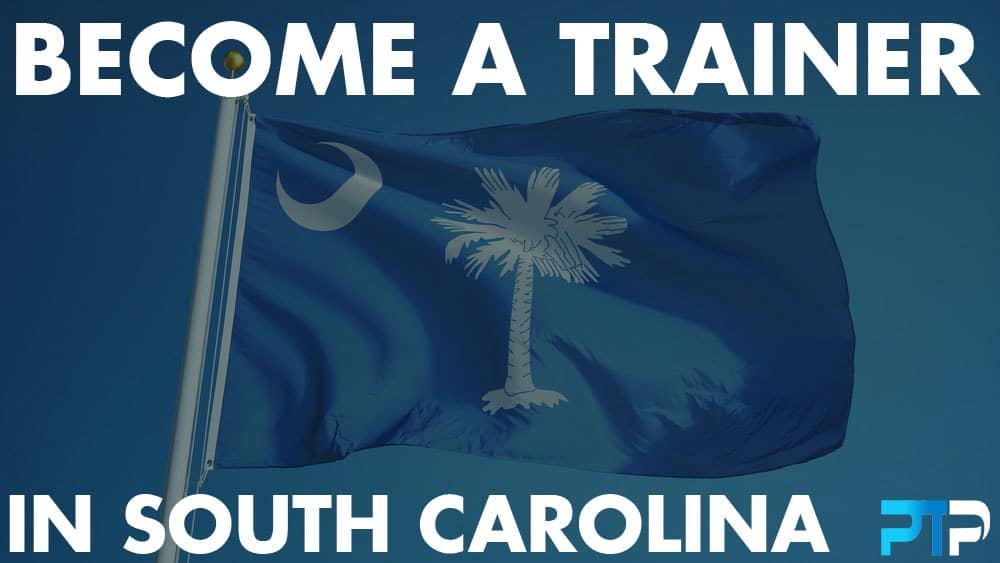 Post 40 of 50 in the PT By State Series
State Fitness Rating
The first thing I want to look at is the state fitness rating.
This ranking system is compiled by the good folks over at exercise.com, indicating how healthy each state's local population is.
While this ranking aims to provide an impression of health, it also gives a good read on the state of the fitness industry.
Two main data categories are used to arrive at the state fitness ranking.
Those are access to top gyms and obesity prevalence.
Let's start with obesity prevalence, as this shows us how engaged the market is when it comes to health and fitness services.
That's because obesity stats indicate the level of consciousness towards pertinent health and fitness goals concerns, which translates to how much people are willing to invest in the wellness industry.
South Carolina has an obesity prevalence rate of 32.3%. This is quite high, indicating a relatively unhealthy population.
By extension, this means there is a limited market engagement from people buying into the health and fitness industry.
South Carolina's obesity stats put it in 40th place out of 51 states and districts.
As a fitness trainer, this isn't the best situation, but let's take a look at the gym's stats before we make any conclusions.
Top gyms, in this case, are categorized as popular, mainstream commercial gyms.
These gyms are household names and have a large nationwide presence because of their exercise programs and training sessions.
Top gyms include the likes of:
Gold's Gym
24 Hour Fitness
Anytime Fitness
Crunch Fitness
LA Fitness
Orange Theory Fitness
Planet Fitness
Snap Fitness
YMCA
These gyms are chosen as a reliable metric because they present the most accessible means by which most members of the public can gauge their fitness level and access fitness facilities.
Exclusive PTP Offers



Gold Standard Cert

Most Popular Cert

A Good Option

Best Study Materials

Best online PT course

The Top PT Software

Top gyms are more affordable, easy to use, and commonly available.
South Carolina has a total of 267 top gyms with a population of 4,961,119. This gives the state a top gym per capita ratio (per 100k residents) of 5.38 gyms. Compared to other states, that puts South Carolina in 29th place overall.
That isn't terrible, but not great either when it comes to access to gyms for the population.
As a trainer, 267 gyms mean at least 267 potential work opportunities as far as you are concerned.
Those aren't bad odds and may work in your favor to offset the not-so-ideal obesity statistics with great fitness programs.
Overall, South Carolina is 40th out of 51 in terms of state fitness ranking.
Fitness Market Makeup
The fitness market trends correlate with state fitness statistics.
When it comes to South Carolina, a low fitness ranking suggests that the demand from the market is relatively low.
You will likely be dealing with general population groups—people looking for weight loss programs more for the health aspect than for any aesthetic or vanity reasons.
The personal training sessions are to achieve these goals.
Personal trainers working in health clubs, fitness clubs, and fitness centers will have a lot to do with helping the populace with fitness assessments and training programs to help achieve their fitness goals.
From my findings, there will be a need for "personal trainer jobs Columbia SC", "personal trainer jobs Greenville SC", "personal trainer jobs Charleston SC, fitness jobs Charleston SC.
With a market made up in this way, you should be on the ball with your nutritional coaching as well as some fundamental group training expertise.
Personal Trainer Certifications in South Carolina
Personal trainer certification in Columbia and other cities is needed to get a job as a personal trainer in South Carolina.
I have written an article on my best personal trainer certifications. Use this as a guide on how to become a certified personal trainer in South Carolina.
Overall here are my top 2 best personal training certifications in South Carolina. Ensure all of them when you decide to become a personal trainer in Columbia and other areas.
Personal Training schools in South Carolina
Aside from the necessary certification from an accredited agency, you can take things a step further and gain a higher learning institution degree.
A college or university degree from one of the exercise science schools in South Carolina can set you apart.
Evidence suggests that SC trainers with Associate or Bachelor's degrees in the relevant fields of fitness tend to earn more and are exposed to more opportunities.
That's because a degree signifies a higher level of expertise, experience, and practical knowledge.
The credibility of having earned a degree can easily be leveraged in the job market, putting you ahead of the pack and in line for higher positions.
When running your own personal training business, a degree can also allow you to charge more for your services since you're coming forward as a more established authority figure.
When it comes to kinesiology schools in South Carolina, the pickings are quite slim, but check them out nonetheless:
Having a degree can be equated to gaining a personal trainer license in South Carolina.
But going through the process is often arduous due to the time commitment and financial investment required.
That's why getting a degree should only be undertaken with careful consideration of all pros and cons.
Personal Trainer Jobs in South Carolina
Before you become a personal trainer in North Charleston or anywhere else, for that matter, you need to assess your job prospects carefully.
Fortunately, as far as South Carolina is concerned, there are 267 potential work opportunities to look into.
This is in reference to the top gyms. Working in one of these is so great because it provides that initial safety net of having a fixed income and benefits.
This allows you to start your career on good footing while also building experience in exercise instruction, client interaction, sales, and marketing.
Once you've passed that stage of your career, it's all about building and maintaining a fitness business around the lessons you've learned.
That should also include an online fitness component.
You can decide to be an independent contractor personal trainer or become a personal trainer online.
Online fitness has exploded in recent times, with no signs of slowing down. Online personal trainers tend to be among the top earners in the industry.
Best Cities to Be a Personal Trainer in South Carolina
As I mentioned at the beginning of this article, the bigger the city, the better the opportunities and prospects.
Exclusive PTP Offers



Gold Standard Cert

Most Popular Cert

A Good Option

Best Study Materials

Best online PT course

The Top PT Software

After obtaining your personal trainer certification in North Charleston or anywhere else, you should set your site's on the most viable population centers, which will, of course, be the biggest.
| | |
| --- | --- |
| City In South Carolina | Population |
| Charleston | 135,257 |
| Columbia | 133,273 |
| North Charleston | 111,501 |
| Mount Pleasant | 86,982 |
| Rock Hill | 73,334 |
| Greenville | 67,737 |
| Summerville | 53,037 |
I generally take the stance that any population of 100k or more offers decent odds.
That makes personal trainer Jobs in North Charleston, Columbia, and Charleston your wisest choices.
I'll advise you to search online to know how valuable "personal trainers Columbia SC", personal trainers Charleston SC, personal trainers Spartanburg SC, personal trainers Lexington SC, personal trainers Greenville SC are.
Personal Trainer Salary in South Carolina
The annual average for personal trainers in South Carolina is $58,478 per year.
Salaries in SC fall well below the national average of $61,802.00 per year for PTs across the US.
As dire as that may seem, it all boils down to the cost of living, so let's take a look at that and other quality of life measures.
Make sure to check out the full guide on personal trainer salary.
Quality of Life Rating
South Carolina often ranks as one of the worst states to live in America, according to greenvilleonline.com.
Crime, poverty, low median income, and housing are the major drawbacks.
As far as the cost of living is concerned, at least South Carolina comes out as more affordable than the national average, making the average income more justifiable.
Overall, I'll give South Carolina a 4.5 quality of life rating.
Methodology
I analyzed this review using meticulously gathered data and figures and my final conclusion was predicated on:
The population of the state and its major cities.
The obesity figures as compared with other states.
Personal trainer certifications that are obtainable.
Availability of personal training schools & colleges.
Career prospects for personal trainers.
Earning potential for certified PTs.
Quality of Life (QoL).
Final Words on How To Become A Personal Trainer in South Carolina
South Carolina's economy and health and fitness industry leaves a lot to be desired.
It definitely shouldn't be on your list if you have better options.
Suppose you don't have better options. It is still possible to forge a fruitful career with the right approach to personal training Charleston or personal training Columbia SC.
FAQs on How to Become a Personal Trainer in South Carolina
References
https://www.exercise.com/learn/ten-fittest-states-in-the-us/
https://www.americankinesiology.org/SubPages/Pages/Kinesiology%20Institution%20Database