This is your one-stop shop for optimizing and accelerating your career in fitness.
This article forms part of an in-depth series that looks at one of the most crucial factors in career success – location.
Location, in this case, will be looked at from a state-by-state perspective.
I'll use a blend of statistical data, anecdotal evidence, and my professional opinion to help you gain some insight into the viability of a fitness career in each state.
This time I'll be looking at how to become a personal trainer in Rhode Island and figuring out how to cut it as a CPT in that state.
For the sake of simplicity and relevance, I'll only be looking at the top 3 cities within the state based on population size.
That's because population size is the most useful metric for evaluating opportunity potential.
Fitness coaching is a numbers game, which means your best odds lie where most people are.
That means looking at personal trainer jobs in Providence, Cranston, and Warwick.
I'll also dive into what sort of credentials are required. I'll look at personal trainer certifications in Providence and other major cities.
With that said, let's get right into it.
Make sure to check out the general guide on how to become a personal trainer.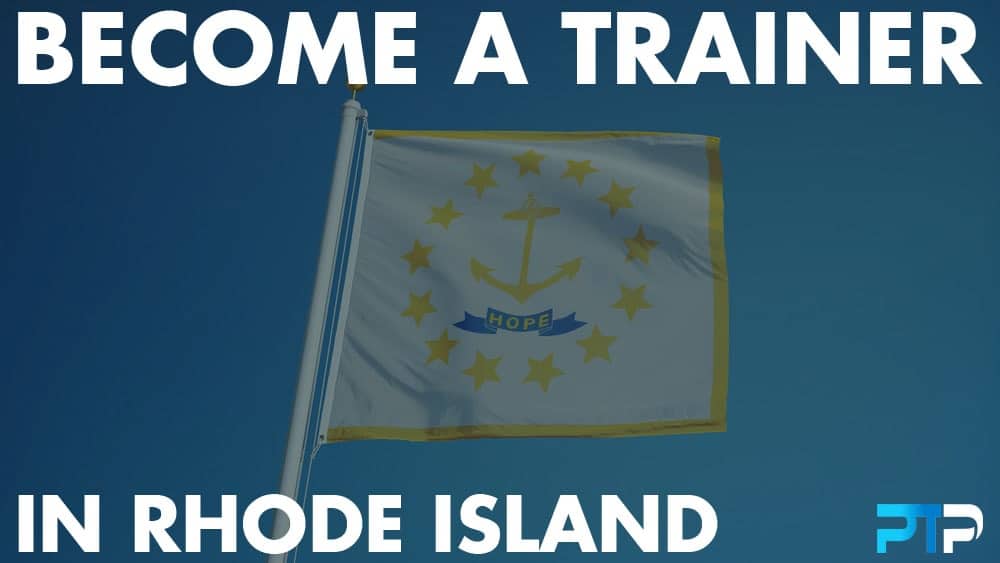 State Fitness Rating
Before I figure out for you how to become a personal trainer in Providence and other major metros, let's look at how willing the population is to buy into such services.
For that, I'm going to take a look at the state fitness rating.
This is a ranking system compiled by the talented crew at exercise.com.
It provides insight into how healthy the population is in each state and ranks each state accordingly.
While these stats were originally presented to give an impression of how healthy and fit certain population groups are, it also helps us understand the health and fitness status of the industry you will be working in.
Two key metrics stand out when discussing the state fitness rating. These are the obesity prevalence and the top gyms access.
The obesity prevalence gives us a good picture of the fitness level and how health-conscious the population is.
That's because obesity is one of the most reliable indicators of general health. There is no such thing as a healthy and fit obese individual.
By extension, this tells us how engaged the population is with the fitness industry.
An above-average obesity prevalence shows us a population less likely to buy gym memberships in fitness centers or hire a personal trainer.
Rhode Island has an obesity prevalence of 26.6%. This is relatively good, putting the state in 11th place.
Exclusive PTP CPT Offers



Gold Standard Cert

Most Popular Cert

Best Study Materials

A Good Option

A Good Option

Best CPT for you?

This shows a population ready and willing to engage with services like those you offer as a qualified fitness expert.
Next, let's look at the top gym access. You might be wondering what is meant by "top gyms."
Simply put, these so-called top gyms are large commercial fitness brands with locations dotted nationwide.
They are the most recognizable, accessible, and affordable options for the general population regarding fitness and wellness services.
Some of these top gyms include:
Gold's Gym
24 Hour Fitness
Anytime Fitness
Crunch Fitness
LA Fitness
Orange Theory Fitness
Planet Fitness
Snap Fitness
YMCA
Rhode Island has a total of 76 top gyms to a population of 1,056,426. This gives the state a top gym per capita (per 100k residents) ratio of 7.19, putting Rhode Island in 7th place out of 51.
This is great news for the tiny population with great access to mainstream commercial gyms, but the figures don't give fitness trainers much reason to celebrate.
Remember, striking gold in fitness is a numbers game, and even though Rhode Island residents might buy into fitness programs, the numbers are small. With only 76 top gyms, the employment opportunities for RI personal trainers are limited.
Overall, Rhode Island is the 4th fittest state in America, according to exercise.com.


Fitness Market Makeup
Rhode Island's fitness culture is centered on outdoor adventure sports such as rock climbing.
This means many of the people and prospects you'll encounter are interested in this way of life.
For that reason, you'll probably find yourself dealing a lot with functional training programs, strength and conditioning, and some corrective exercise programs.
There is also something of physique culture in the state, so you'll also have some clients with body transformation and bodybuilding goals on their agenda.
Having an ISSA nutrition cert with insightful knowledge on fitness nutrition will be very helpful.
Personal Trainer Certifications in Rhode Island
Personal trainer certification in Cranston and other cities is needed to get a job as a personal trainer in Rhode Island.
For those asking, "how do I get my personal training certification programs in RI?"
I have written an article on my best personal trainer certifications. Use this as a guide on becoming a certified personal trainer in Rhode Island health clubs.
Overall here are my top 2 best personal training certifications in Rhode Island. Ensure you have all or any of them when you decide to become a personal trainer in Cranston and other areas.
Personal Training schools in Rhode Island
Getting certified as a personal trainer RI by any one of the NCCA accredited agencies is certainly a step in the right direction. Still, beyond that, you can upgrade your credentials and get the best personal training jobs.
I'm referring to getting a degree in any sports or exercise science-related field.
That's because trainers with degrees categorically earn more than those without.
Having a degree allows you to leverage your expertise for better opportunities.
If you're looking for employment, you'll most certainly receive preference from your prospective employers; not only that, but you'll be presented with much higher positions.
If you're running your own business, having a degree allows you to push your brand's credibility far beyond what a cert would do.
Exclusive PTP CPT Offers



Gold Standard Cert

Most Popular Cert

Best Study Materials

A Good Option

A Good Option

Best CPT for you?

This allows you to leverage your credentials at a premium and charge more for your services.
Luckily, there are some exercise science schools in Rhode Island you can attend on a full-time or part-time basis, although not that many, to be honest. Let's take a look:
You're not exactly spoiled for choice, with only two options for kinesiology schools in Rhode Island. However, it is a small state, so your options are proportionate.
Remember, getting a degree is a huge financial and time investment that you should only pursue after careful consideration.
So, with your national certification, it will still be easy to get fitness jobs in RI.
Personal Trainer Jobs in Rhode Island
With only 76 gyms in the entire state, personal trainer Jobs in Rhode Island are sparse.
Of course, there are probably way more opportunities than other specialist facilities and private gyms, but it's fair to conclude that Rhode Island presents rather slim pickings.
In any case, working in a gym is ideal for a personal trainer in Rhode Island as it allows you to fall back on that initial safety net of having a fixed income and benefits.
You'll also gain a lot of industry experience and technical know-how working the floors and interacting with fitness clients during personal training sessions to achieve their fitness goals.
Going beyond that, you should see yourself running your own operation.
With a personal trainer certification RI, you can set your own price and schedule, but the catch is the hefty administrative responsibilities it comes with.
Whatever the case, a big area you must try and focus on is cultivating an online fitness operation.
Whether your online fitness plays a background role or is the main focus of your business, it's an aspect of doing business in fitness that would be foolish to ignore.
Check out this article on how to make it as an online fitness coach.
Best Cities to Be a Personal Trainer in Rhode Island
As I've already mentioned a couple of times, your modus operandi when it comes to location is situating yourself in places with the most people.
Rhode Island is a small state as it is. With a population of barely more than a million residents, it's slim pickings right off the bat.
So as far as cities go, I consider a population figure of 100k or more your best bet.
| | |
| --- | --- |
| City In Rhode Island | Population |
| Providence | 179,494 |
| Cranston | 81,254 |
| Warwick | 80,993 |
| Pawtucket | 71,844 |
| East Providence | 47,483 |
| Woonsocket | 41,603 |
| Cumberland | 34,846 |
With that in mind, Providence should be your plan A. Becoming a personal trainer in Warwick or Cranston might also present some opportunities.
From there, things get a little less favorable.
Personal Trainer Salary in Rhode Island
When considering personal trainer Jobs in Warwick or any other city, you must go in with an idea of your income potential.
In Rhode Island, the annual average for personal trainers is $64,994. This is significantly higher than the national average of $61,802 per year.
That's promising, but income is only worth how far you can stretch your dollar.
The cost of living is a major factor determining your earnings' value. You'll need to look at the quality of life rating for that and other important aspects.
Make sure to check out the full guide on personal trainer salary.
Quality of Life Rating
Becoming a personal trainer in Warwick, Providence, or Cranston opens you up to one of the best living standards for quality of life.
Rhode Island often ranks as one of the top states to live and work in.
Health care and the natural environment lead the charge to provide one of America's most comfortable living standards.
Business freedom and social cohesion are also great.
However, the cost of living is a tad higher than the national average. This is, of course, offset by the significantly higher average income.
For all that, I'll give Rhode Island an 8 out of 10 QoL rating.
Methodology
I approached this review based on carefully gathered facts and figures and the final verdict was based on the following: 
The population of the state and its major cities.
The obesity figures as compared with other states.
Personal trainer certifications are obtainable.  
Availability of personal training schools & colleges.
Career prospects for personal trainers.
Earning potential for certified PTs.
Quality of Life (QoL).
Final Words on How To Become A Personal Trainer in Rhode Island
Rhode Island is a great place for fitness professionals if you can cut into the sparse opportunities.
But from experience, the industry is small for personal trainers in Rhode Island because it is a tiny state, even with a vibrant market.
This also translates to the limited opportunities for higher learning credentials regarding personal trainer certification in Warwick and other cities.
FAQs on How to Become a Personal Trainer in Rhode Island
What is the best personal trainer certification?
The best personal training certifications are:
– ISSA (International Sports Sciences Association)
– NASM (National Academy Of Sports Medicine)
– NCSF (National Council on Strength and Fitness)
– ACE (American Council On Exercise)
– AFAA (Athletics and Fitness Association of America)
– American College of Sports Medicine (ACSM)
What is the best personal trainer certification to get in Rhode Island?
The best personal training certification to obtain personal training in RI is:
– The International Sports Science Association – ISSA CPT certification.
How to get certified as a personal trainer?
Before you can start the process of becoming a certified personal trainer, you should have these minimum requirements:
– High school diploma or equivalent
– 18 years of age or older
– Be CPR/AED certified
Kindly go ahead to obtain a certification from an accredited body or a degree in an exercise-related field.
References
https://www.exercise.com/learn/ten-fittest-states-in-the-us/
https://www.americankinesiology.org/SubPages/Pages/Kinesiology%20Institution%20Database