Hey Everyone, and welcome to another PT Pioneer career guide.
This article forms part of my state-by-state series, which hones in on the pros and cons of working as a CPT in each state in America.
As you can imagine, your location plays a huge role in your career's success, so it's important to understand where the best and the worst places to work are.
This time around, I'm going to take a look at how to become a personal trainer in Pennsylvania.
In Pennsylvania, I'll only be dealing with the top three cities.
I'll be addressing how to become a personal trainer in Philadelphia, Pittsburg, and Allentown, as well as Personal trainer jobs in Philadelphia and other major cities.
Along with this, I'll also give you some insight into personal trainer certification in Philadelphia and the other top cities.
With that said, let's jump right into it.
Make sure to check out the general guide on how to become a personal trainer.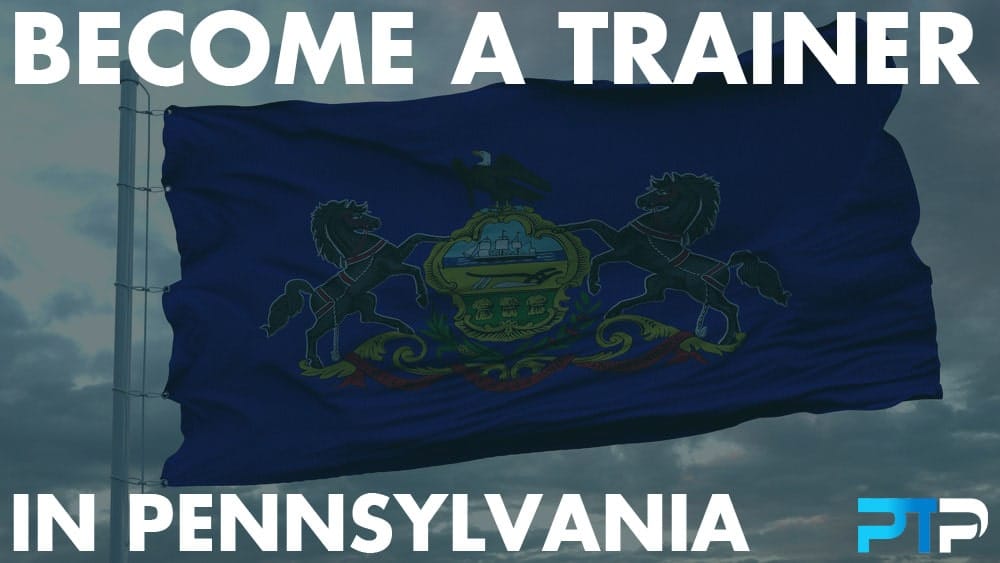 Post 38 of 50 in the PT By State Series
State Fitness Rating
Before I even begin to look at personal trainer jobs in Pittsburg and other cities, we need to handle how receptive the fitness industry in Pennsylvania will be to your presence.
To begin understanding that, I'm going to look at the state fitness rating.
This rating or ranking is a collection of data done by exercise.com, which we will be using to figure out how viable the local fitness industry in Pennsylvania is for you as fitness professionals.
We will be dealing with two categories of data; the obesity prevalence and the top gyms access.
Obesity is a reliable measure of public health as it shows how conscious and engaged people are with fundamental health and fitness training in health clubs, fitness centers, etc.
That engagement translates as interaction with the fitness industry, and that interaction means more work/business for you.
Pennsylvania has a relatively high obesity prevalence of 30.3%. This places the state in 27th place overall when it comes to obesity.
This indicates a less than ideal engagement by the public with fitness services, spelling less opportunity for you.
However, Pennsylvania has a sizable population, so the sheer numbers may help provide a worthy level of opportunity regardless.
Now we look at the gym stats, but before we do that, let's examine what is meant by "top gyms."
Top gyms are categorized as those fitness facilities whose accessibility and affordability make them mainstream options for the general public.
The prominent availability of these gyms also indicates your most immediate possibilities for employment.
These gyms include:
Gold's Gym
24 Hour Fitness
Crunch Fitness
LA Fitness
Orange Theory Fitness
Planet Fitness
Snap Fitness
YMCA
Anytime Fitness
Pennsylvania has a total of 674 top gyms to a population of 12,784,227 residents.
This means that for every 100 thousand people in the state, there are 5.27 gyms available. That's an overall gyms per capita ranking of 31 out of 51.
Those statistics may initially look bad, but that's only from a client/consumer perspective.
From a PT perspective, 674 gyms are plenty of opportunity, and the fact that the demand sort of exceeds the supply means that your career has the potential to accelerate really fast.
Exclusive PTP Offers



Gold Standard Cert

Most Popular Cert

A Good Option

Best Study Materials

Best online PT course

The Top PT Software

Overall, Pennsylvania ranks 31st out of all the states in terms of fitness.
Fitness Market Makeup
The fitness market in a state tells you what sort of clients or customers you can expect in terms of goals, current state of health, and preferences.
In states with high fitness rankings, you can usually expect a decent variety of population groups, including athletes.
In a state like Pennsylvania with a low fitness rating, most of your clients would be categorized as overweight and sedentary.
That means your modus operandi is simply helping them correct fundamental indicators of health, such as engaging them in weight loss exercise programs that eliminate the risk of metabolic diseases, such as aerobics.
This type of client is also typically drawn to the group workout situation.
That means having an idea of running small group training sessions will be a huge benefit.
An understanding of nutrition is also always necessary to help this set of people achieve their fitness goals.
Personal Trainer Certifications in Pennsylvania
Personal trainer certification in Allentown and other cities is needed to get a job as a personal trainer in Pennsylvania.
I have written an article on my best personal trainer certifications. Use this as a guide on how to become a certified personal trainer in Pennsylvania.
Overall here are my top 2 best personal trainer certificates in Pennsylvania. Ensure you have all or any of them when you decide to become a personal trainer in Allentown and other areas.
With the right personal training certification Philadelphia or personal training certification Pittsburgh, you won't have issues getting personal trainer jobs Philadelphia, personal trainer jobs Pittsburgh or personal trainer jobs in PA.
Personal training schools in Pennsylvania
Obtaining your personal trainer certification in Pittsburg and other cities is an important step, but it isn't the highest level of credibility you can aim for.
Getting an associate or bachelor's degree from a college or university is also an option, one which can boost your access to opportunities.
For instance, fitness trainers with degrees typically find themselves in the top-earning bracket.
That's because a degree comes with a level of prestige and recognition that exceeds anything a regular certification would grant you.
This level of credibility can be leveraged towards a higher income and bigger opportunities.
In the job market, you will have access to higher positions, and as an independent trainer, you can charge a premium on your expertise.
The great thing is, there are numerous exercise science schools in Pennsylvania you can choose from.
Take a look at the list below.
Having access to all these kinesiology schools in Pennsylvania means you'll definitely find what you're looking for.
A degree, while advantageous, is not necessary, and getting one comes with a heavy financial and time investment.
Just think things through before you take the plunge.
Personal Trainer Jobs in Pennsylvania
Personal trainer jobs in Pittsburg, Allentown, and Philadelphia will primarily be based in the top commercial gyms.
There are 674 of these gyms, so your options and potential opportunities are decent.
Working in a gym is so great due to the security it offers, especially when you're just starting out.
Even though it's relatively meager, a fixed salary with benefits is very beneficial when you're still climbing the ladder.
Another great thing about gym jobs is the amount of experience and exposure you will get.
This will help you catapult your career when you do venture off on your own.
Best Cities to Be a Personal Trainer in Pennsylvania
Knowing which state is best is what this series is all about, but you also need to understand which cities are the best to work and live in in each state.
Many states have experiences that vary drastically from city to city, town to town.
Pennsylvania is no exception. The largest city, Philadelphia, has a population size roughly double of the next six largest population centers.
That means Philly should be your plan A without question.
Philadelphia personal trainers have lots of opportunities considering its population.
Pittsburgh and Allentown are reasonable alternatives since they have population sizes of more than 100k inhabitants.
Exclusive PTP Offers



Gold Standard Cert

Most Popular Cert

A Good Option

Best Study Materials

Best online PT course

The Top PT Software

| | |
| --- | --- |
| City In Pennsylvania | Population |
| Philadelphia | 1,579,075 |
| Pittsburgh | 302,205 |
| Allentown | 120,915 |
| Erie | 97,263 |
| Reading city | 88,232 |
| Upper Darby | 82,887 |
| Scranton | 77,054 |
Personal Trainer Salary in Pennsylvania
Before looking at personal trainer jobs in Allentown and other cities, it's crucial to understand salaries in PA.
The average Pennsylvania salary for personal trainers is $61,653.
This is very close to the national average, but to truly get a handle on the value of an income, you need to understand how much of it you'll be required to let go of.
For that, we'll need to delve into the quality of life rating and understand what the cost of living is.
Make sure to check out the full guide on personal trainer salary.
Quality of Life Rating
If you decide to become a personal trainer in Pittsburg or any other city, you're also choosing to live there.
Pennsylvania is one of the biggest and busiest states in America.
For this reason, the advancement in economy and infrastructure means it generally offers a good standard of living.
Key areas where Pennsylvania excels include healthcare and business opportunities.
Philadelphia is particularly great in these same areas too.
As for the cost of living, Pennsylvania is affordable, with the cost of living below the national average.
A Philadelphia personal trainer has nothing to worry about in the long run.
Overall, I'll give Pennsylvania a 7 out of 10 QoL rating.
Methodology
After in-depth research, I was able to come up with this detailed review based on the following points:
The population of the state and its major cities.
The obesity figures as compared with other states.
Personal trainer certifications that are available in Pennsylvania
Availability of personal training schools & colleges.
Career prospects for personal trainers.
Earning potential for certified PTs.
Quality of Life (QoL).
Final Words on How To Become A Personal Trainer in Pennsylvania
Pennsylvania, and especially Philadelphia, provide plenty of opportunity due to the sheer size and scope of the population and economy.
While not the fittest state, it has the potential to pave the way for a lucrative career if you are a personal trainer Erie PA, personal trainer Allentown PA. and personal trainer Scranton PA.
FAQs on How to Become a Personal Trainer in Oklahoma
References
https://www.exercise.com/learn/ten-fittest-states-in-the-us/
https://www.americankinesiology.org/SubPages/Pages/Kinesiology%20Institution%20Database