Hey everyone, and welcome to yet another PT Pioneer career review article.
In this article and others in this series, we will look at what it takes to cut it as a fitness coach in different states across America.
Using a blend of curated data, anecdotal evidence, and industry expertise, I'll provide the insight you need to make the right decision.
This time around, I'll be looking at how to become a personal trainer in Oregon and its fitness market.
I'll only focus on the top 3 cities by population size.
As you probably know, working as a PT is a numbers game, so your best opportunities lie where there are the most people.
In the case of Oregon, that means looking at personal trainer jobs in Portland, Salem, and Eugene.
I'll also introduce you to the world of qualifications, with personal trainer certification in Portland and other cities.
With that said, let's jump right into it.
Make sure to check out the general guide on how to become a personal trainer.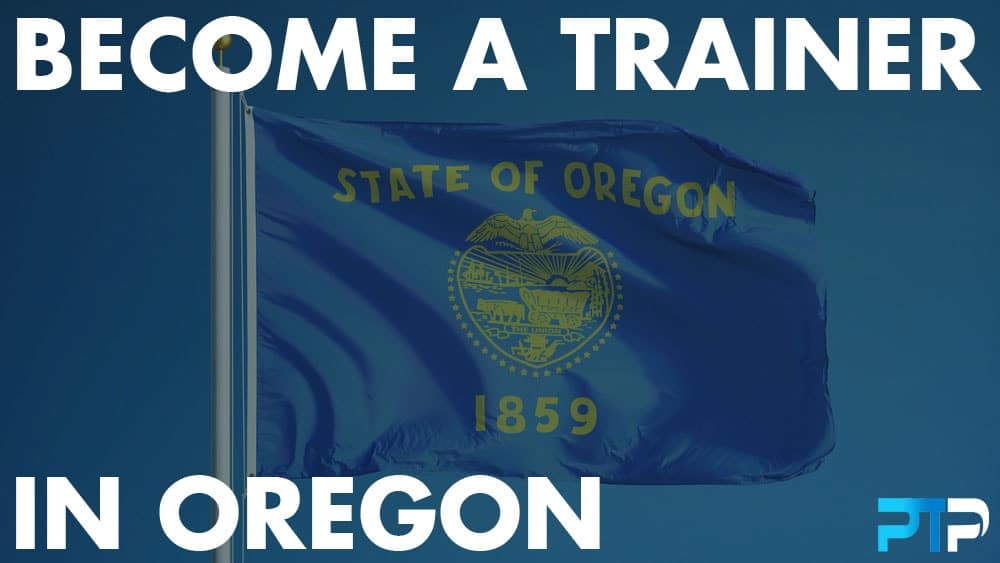 State Fitness Rating


Before you tackle how to become a personal trainer in Portland, Eugene, or Salem, you need to understand how viable that career is.
The first piece of information to understand this is the state fitness rating.
This rating is based on a ranking provided by the good folks over at exercise.com.
The state fitness rating looks at how healthy or health-conscious the general population is, indicating the industry's viability.
The viability of the fitness training industry translates into opportunities for fitness trainers like you.
We'll deal with the fitness rating based on two vital statistics: the obesity prevalence rate and the top gyms per capita ratio.
The obesity prevalence shows us how willing and capable the population is to implement healthy lifestyle habits such as exercise and good nutrition to achieve their fitness goals.
The less obese the population is, the more willing to invest in their health they probably are.
This puts you in a good position as a health and fitness professional.
Oregon has an obesity prevalence of 28.7%.
This is just slightly above average, giving the state a position of number 21 out of 51.
With a reasonable obesity prevalence, you can at least look forward to a population ready to engage with your services, upping the viability of personal trainer jobs in Eugene and other cities.
Next, we look at the top gyms per capita ratio.
This shows us how much access the people of Oregon have to fitness facilities or fitness centers, especially affordable and accessible ones.
Exclusive PTP CPT Offers



Gold Standard Cert

Most Popular Cert

Best Study Materials

A Good Option

A Good Option

Best CPT for you?

Top gyms in this category include the likes of:
Gold's Gym
Snap Fitness
Planet Fitness
OrangeTheory Fitness
LA Fitness
Crunch Fitness
Anytime Fitness
24 Hour Fitness
YMCA
Of these gyms, Oregon has a total of 226 to a population of 4,093,465, which's a top gyms per capita ratio of 5.52: 100,000.
That ratio places Oregon in the 25th position. It shows a gym availability that hovered around the average ratio, neither terrible nor amazing.
Having 226 potential job openings as a fitness instructor is decent odds for you.
Oregon is ranked 21st out of 51 (50 states and one district).
This shows a mediocre but promising level of opportunity for training sessions, especially with the right marketing and sales approach.
Fitness Market Makeup
When considering becoming a personal trainer in Eugene, it's valuable to feel the market and demographics.
Oregon's fitness market will largely comprise your general sedentary adult client.
Those who do a lot of sitting at work or school.
Expect a lot of overweight clients, but not in overwhelming droves.
Clients are also more likely to seek corrective exercises such as fixing imbalances and functional training.
The exercise programs you are putting together for clients in Oregon should be the results of the right fitness assessment and exercise physiology to get them interested.
Personal Trainer Certifications in Oregon
Personal trainer certification in Salem and other cities is needed to get a job as a personal trainer in Oregon.
I have written an article on my best personal trainer certifications. Use this as a guide on becoming a certified personal trainer in Oregon.
Overall here are my top 2 best personal training certifications in Oregon. Ensure you have all or any of them when you decide to become a personal trainer in Salem and other areas.
When you are ready to become a certified fitness trainer, you can take certified personal training courses; check out "personal training classes near me" for the best options.
Personal training schools in Oregon
While obtaining your personal trainer certification in Salem and other parts of the state, it's worth considering other options in terms of credentials.
Enrolling and graduating in a degree program has numerous advantages you can enjoy when embarking on a career as a CPT in Oregon or anywhere else.
Firstly, the prestige and credibility associated with a bachelor's degree can gain you favor in the job market, putting you at the front of the line.
It also means the types of jobs and positions you can apply for will be much higher, therefore allowing you to earn more.
Lastly, as a trainer with fitness degrees, you can leverage your credentials for a higher premium on your products and services, making your business more lucrative.
Regarding exercise science degree schools in Oregon, there are several options.
Take a look below if you are interested in schooling for personal trainers.
The relatively small selection of Kinesiology schools in Oregon indicates how small the state is.
There are more than enough options to choose from.
Exclusive PTP CPT Offers



Gold Standard Cert

Most Popular Cert

Best Study Materials

A Good Option

A Good Option

Best CPT for you?

Just remember to think things through carefully before enrolling in college or university.
The time investment and the financial drawbacks are huge factors you must consider first.
Personal Trainer Jobs in Oregon
With 226 top gyms and more, Oregon has decent, albeit not amazing, job opportunity potential if you include other specialist facilities.
Starting off as a trainer employed in one of the various gyms will allow you to grow in terms of your fitness coaching skills and sales and marketing.
You will also have the advantage of employment benefits and a fixed, guaranteed income, even if that income is not the best.
As we advance from there, you would look at rolling out your own fitness business or operating as an independent trainer.
This requires much hard work and freedom, but the payoff is worth it. Online fitness is a crucial aspect of running your fitness business and is becoming increasingly prevalent.
Trainers with an online fitness component or main focus are often found in the top income bracket.
I'll advise you to quickly search on google for "personal trainer jobs Portland OR."
Best Cities to Be a Personal Trainer in Oregon
As I mentioned earlier, working as a personal trainer is a numbers game. You want to position yourself in places where most people are.
So when talking about the best cities to be a PT in Oregon, we need to look at which cities have the largest populations:
| City In Oregon | Population |
| --- | --- |
| Portland | 645,291 |
| Salem | 169,259 |
| Eugene | 168,302 |
| Gresham | 110,494 |
| Hillsboro | 106,543 |
| Beaverton | 97,861 |
| Bend | 93,917 |
From the table above, it's clear that Portland is the biggest city by far. You should ideally aim to work here if Oregon is your preferred state.
Your best bet is to be a personal trainer in Eugene, personal trainer Portland
personal trainer Salem Oregon.
The other cities in the table offer practical support for a personal trainer's career. I generally believe that a population above 100k is ideal, but no less than 50k.
Personal Trainer Salary in Oregon
Your potential income is a major consideration when relocating to a different state.
So, what is the average personal trainer salary in Oregon?
In Oregon, the average income for personal trainers is $62,227 per year.
This is slightly higher than the national average of $61,802.
That's great, but the real question is, how far can you actually spend that amount of money?
We'll need to take a look at the cost of living and other quality of life metrics to see if it is really worth it for Oregon trainers.
Make sure to check out the full guide on personal trainer salary.
Quality of Life Rating
Oregon is one of those states that tend to sit somewhere in the middle for the quality of life and standard of living.
It has one of the country's best economies and infrastructure while also dealing with some of the worst crime and lack of opportunities in the US.
As for the cost of living, Oregon falls short, with a cost of living of 113 (13 points higher than the national average)
This means the potential income has less value than the national average pay for PTs.
Overall, Oregon gets a 6 out of 10 quality of life rating from me.
Methodology
After a thorough analysis, I was able to come up with this complete review based on the following criteria:
The population of the state and its major cities.
The obesity figures as compared with other states.
Personal trainer certifications available in Oregon
Availability of personal training schools & colleges.
Career prospects for personal trainers.
Earning potential for certified PTs.
Quality of Life (QoL).
Final Words on How to Become a Personal Trainer in Oregon
Oregon seems to be a middling location regarding the potential and viability of personal training opportunities.
I strongly suggest you focus on being in Portland instead of anywhere else.
Regarding credentials, personal trainer certification in Eugene or any other city is possible.
FAQs on How to Become a Personal Trainer in Oregon
What qualifications do you need to be a personal trainer?
The personal trainer qualifications are:
– A high school diploma
– A CPR/AED certification
– A First Aid certification
Registering for a certification program, doing the necessary coursework, or enrolling in an exercise-related field in a college is important.
How do I become a certified personal trainer?
You should obtain nationally recognized fitness certifications from any of these institutes:
– American Council of Exercise (ACE)
– American College of Sports Medicine (ACSM)
– Aerobics and Fitness Association of America (AFAA)
– National Strength and Conditioning Association (NSCA)
– National Federation of Personal Trainers (NFPT)
– National Personal Training Institute (NPTI)
What are the requirements to be a personal trainer?
The major requirement to becoming a personal trainer is to have a passion for keeping fit and helping others stay fit.
You will participate in many health and wellness, group fitness, and weight training programs.
What certification do you need to be a personal trainer?
Any of the certifications you need to be a personal trainer should be certified by NCCA and DEAC.
These certifications can be acquired on a full-time or part-time basis.
How much do personal trainers make in Oregon?
As an average personal trainer in Oregon, you can earn as much as $62,227 as of May 27, 2021.
The salary range will depend on the city, your level of education, certifications, skills, and years of experience on the job.
Which personal trainer certification is the most recognized?
The most respected certifications in the industry are those with an option for NCCA accreditation.
The NCCA is classified as the gold standard for third-party personal training certifications.
References
https://www.exercise.com/learn/ten-fittest-states-in-the-us/
https://www.americankinesiology.org/SubPages/Pages/Kinesiology%20Institution%20Database